Crispy and a beautiful golden-brown on the outside. Light and airy on the inside. It's hard to imagine anyone can resist the joys of tucking into a good waffle. Whether it's a savoury version topped with finger-lickin' fried chicken, or a sweet treat paired with a scoop of ice cream, here is our list of cafes with the best waffles in Singapore!  
Best waffles in Singapore under $15 
1. Carrara Cafe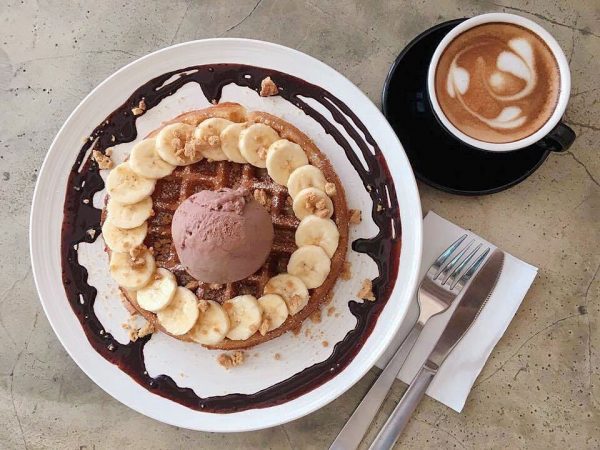 Must-try: Banana crumble waffles ($10.90)
Nestled in the Bukit Merah heartlands, Carrara Cafe is a hangout spot that oozes neighbourhood cafe vibes with its cosy lighting and faux marble tables. Beyond the minimalist aesthetics, you'll definitely be drawn to Carrara Cafe's dazzling food menu that includes Sausage Cheese Swiss Rosti and Turkey Bacon Eggs Benedict. But what makes our Best Waffles in Singapore list has got to be the cafe's signature Banana Crumble Waffles! Featuring waffles with a crisp exterior and a fluffy texture, the scoop of artisanal gelato on top is the cherry on this very yummy cake. We dare say it's almost like feasting on banana crumble in waffle form!
Address: 2 Jalan Bukit Merah, #01-5148, S(150002)
Opening Hours:
Sun – Thu: 11.30am – 9.30pm
Fri – Sat: 11.30am – 10.30pm
2. KARA Cafe & Dessert Bar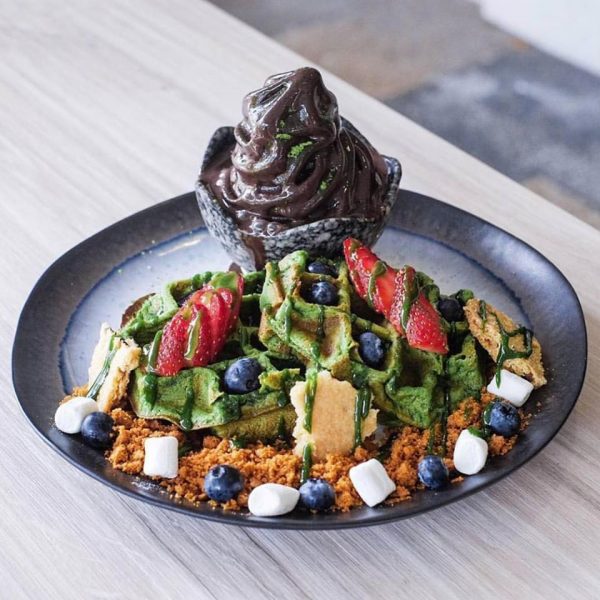 Must-try: Matcha berry mochi waffles ($12.50)
Belgian waffles might be the norm you'll spot on most menus. But KARA Cafe & Dessert Bar reinvents the wheel and stands out from the crowd with its Homemade Mochi Waffles! The whimsical minds behind Sogurt have succeeded at delivering a multi-sensory dessert made from folding mochi into the waffle batter, resulting in a treat that assaults you with its myriad of textures and dazzling presentation. The surprisingly chewy and crisp waffle base lends itself well to the fragrant matcha sauce and acidic tartness of blueberries! The waffles are topped off with dark chocolate froyo which introduces an extra layer of decadence and lightness without overpowering your taste buds.
Address: 617 Bukit Timah Road, S(269718)
Opening Hours:
Mon – Fri: 11am – 10pm
Sat – Sun: 5.30pm – 12 midnight
3. Creamier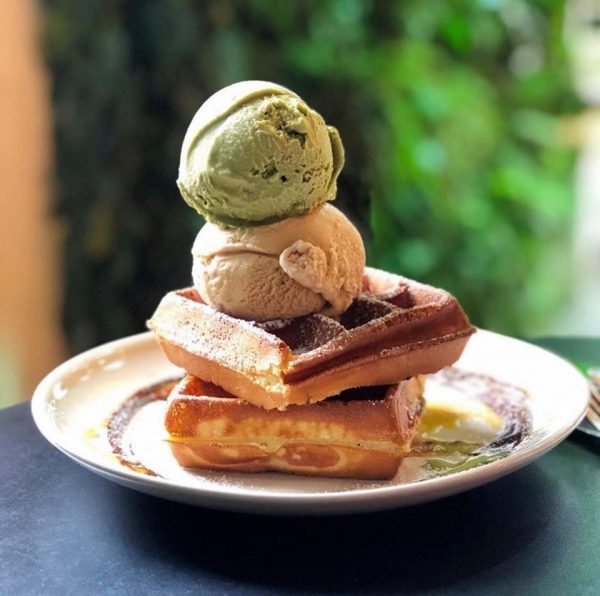 Must try: Double premium scoop with waffles ($12.60)
When it comes to serving the best waffles with ice cream in Singapore, few reach the heights set by Creamier! With three outlets across the island, Creamier's reputation precedes itself as an ice cream parlour dedicated to satisfying life's simple pleasures with their myriad of fresh ice cream flavours and waffles made daily. Using premium ingredients like fresh market eggs, pure butter and full cream milk, Creamier goes all out to ensure each waffle packs a flavourful punch with its fluffy texture and eggy goodness. If you're intending to experience these delectable waffles yourself, make sure to head down early — there's always a queue of excited Creamier fans dying to get their hands on them.
Address: Block 131, Lorong 1 Toa Payoh, #01-02, S(310131)
Check out their other locations here
Opening Hours:
Tue – Sun: 12pm – 10pm
4. Milk & Honey Gelato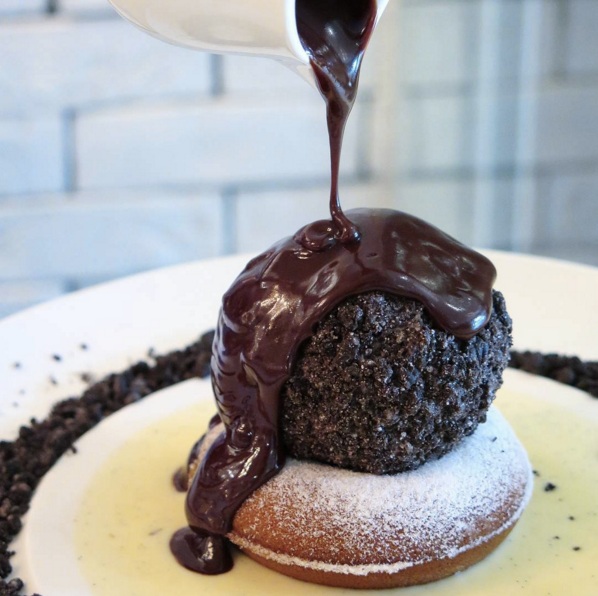 Must try: Mud Ball Pie ($5.90)
Bedok might be known for the famous Fengshan Food Centre, but save some space for dessert at the nearby Milk & Honey Gelato! Located just a quick five-minute walk away, this quaint cafe turns out bite-sized mini waffles made from a doughnut batter. From Berry Malt to Mango Cheese, the doughnut waffles will win you over with their adorable appearance and colourful selection. If you're a fan of rich chocolate flavours, check out their Mud Ball Pie which essentially places a scoop of oreo-encrusted Cookie Monster gelato atop the puffy doughnut waffle before drizzling the dessert with hot chocolate fudge.
Address: 86 Bedok North Street 4, #01-179, S(460086)
Opening Hours:
Mon – Wed: 3pm – 12 midnight
Sun, Thu: 12pm – 12 midnight
Fri – Sat: 12pm – 1am
5. Common Chefs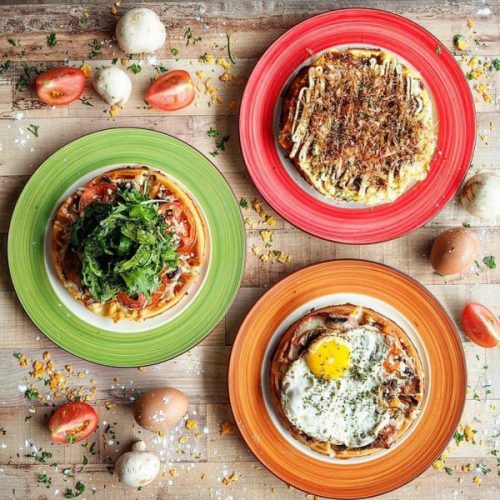 Must try: Okonomiyaki Wazza ($12)
To differentiate themselves in a foodscape already saturated with some of the best waffles in Singapore, cafes are taking more risks with fusion food experimentation! That said, Common Chefs' Wazza definitely turns a few heads by revealing their unexpected meshing of pizzas and waffles. Tasting exactly like a savoury Japanese pancake, the Okonomiyaki Wazza tastes exactly like, well, an okonomiyaki. From the bonito flake garnishing to the generous servings of Japanese mayonnaise and tonkatsu sauce, you'll be blown away by the attention to detail here. With a soft buttermilk waffle as its base, Common Chefs have outdone themselves by taking an existing dish and elevating its flavour with a unique addition!
Address: 8 Jalan Legundi, #01-13, S(759274)
Opening Hours:
Mon – Fri: 12pm – 10pm
Sat – Sun: 11.30am – 10pm
6. Salted Caramel Artisan Ice Cream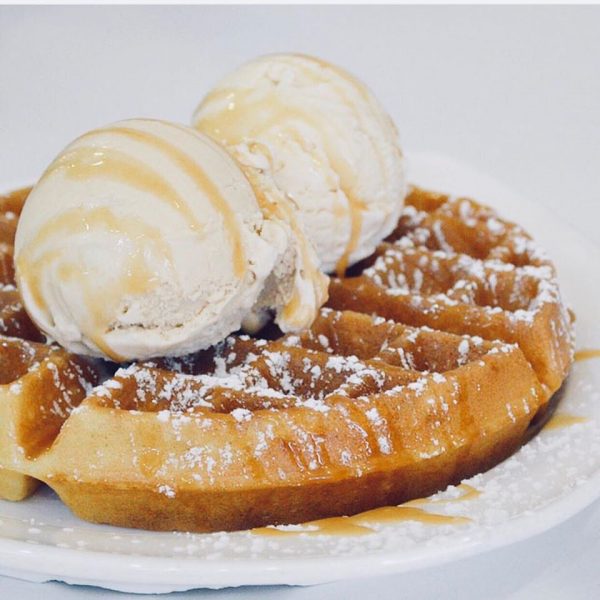 Must try: Double Scoop with waffle ($10.40)
On the hunt for the best waffles in Singapore while you're in the north? Salted Caramel is the OG that got Singaporeans on the cafe-hopping trend. This ice cream cafe needs no introduction to Upper Thomson Road cafe veterans. Besides ordering their namesake ice cream, make sure to also treat yourself to their soft and crispy waffles! The silky smooth ice cream is laced with sweet and salty notes, perfect with the crisp golden-brown waffle. It's no wonder the outlet continues to draw large crowds of supper-goers looking to while the night away with a sweet treat!
Address: 246F Upper Thomson Road, S(574370)
Opening Hours:
Sun – Thu: 12pm – 11pm
Fri – Sat: 12pm – 2am
7. Sweet Garden Dining Cafe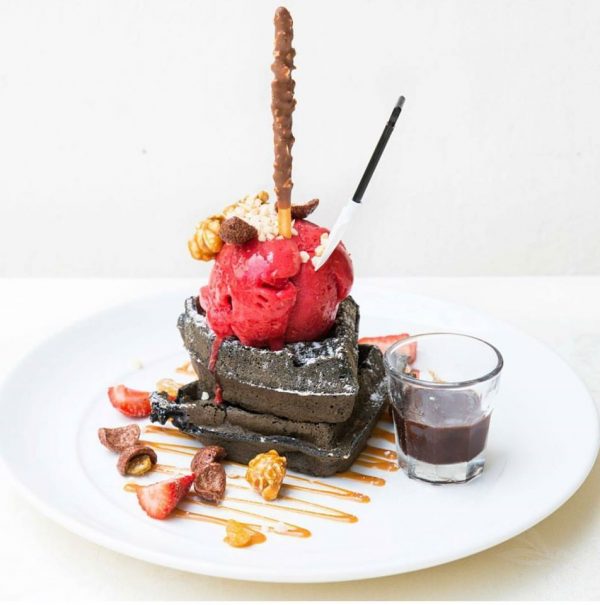 Must try: Belgium charcoal waffle with single scoop 13.9
Can't get enough of Instagram-worthy waffles with ice cream in Singapore? Helmed by chef Barry Lok, a veteran who honed his skills in the kitchens of multiple hotels, this homely cafe near Mountbatten has made its rounds on social media for its Belgium Charcoal Waffles. Fun fact: did you know adding a pinch of activated charcoal powder into the batter turns out extra crispy waffles – besides giving it that dark edge? If you're spoilt for gelato flavours, we'd also recommend pairing the waffles with raspberry sorbet so you get maximum contrast when adding this dessert shot to your Instagram feed.
Address: Cassia Crescent, Block 32, #01-50, S(390032)
Opening Hours:
Tue – Thu: 3pm – 10pm
Fri – Sun: 1pm – 10pm
Bonus: Revelry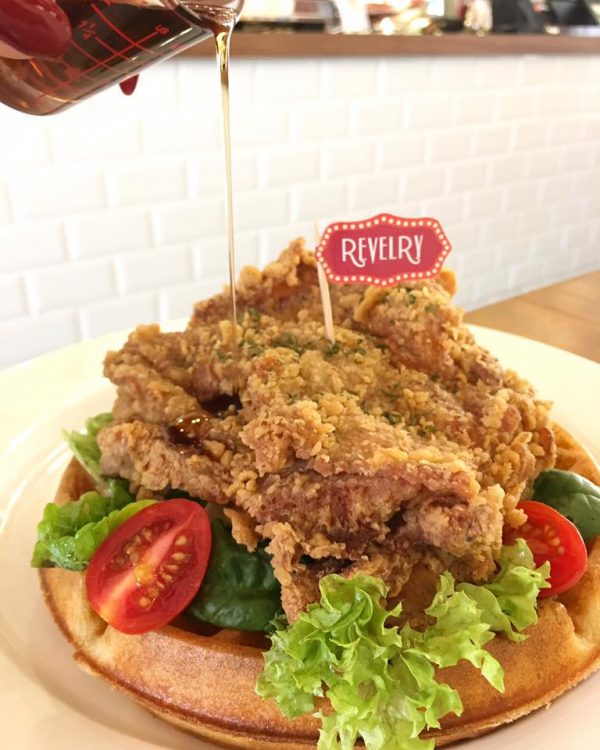 Must try: Chicken & Waffles ($19)
Revelry is our secret find tucked away in the quiet Lorong Kilat neighbourhood. A plain waffle here goes for a pocket-friendly $6.50, complete with generous lashings of butter and maple syrup! Instead of the usual dense and filling buttermilk waffles, Revelry has engineered a Belgian waffle base that is crispy and light, with enough grid pockets to accommodate their huge portions while holding tonnes of maple syrup. So good is their house-made waffle that we're willing to ditch our under-$15 rule and splurge on their signature Chicken & Waffles — featuring a succulent deep-fried chicken thigh for a splendid yin-and-yang combination of sweet and savoury that will win over the sternest of waffle critics! 
Address: 21 Lorong Kilat, S(598123)
Opening Hours:
Mon – Thu: 11am – 10pm
Fri: 11am – 11pm
Sat: 10am – 11pm
Sun: 10am – 10pm
Inspired to go on a cafe hopping spree after reading through our best waffles in Singapore guide? Get a head start by checking out our list of the best cafes near Lavender or the hottest spots to chill in Tiong Bahru! Alternatively, you can also secure the best deals when eating out by checking out our catalogue of deals from our Dining Zone and restaurant vouchers.