Has your child been marveling at your earrings collection? Perhaps its time to get her ears pierced so she can start sporting some fanciful earrings too! As parents, we all want the best for our kids. So it's better to gather as much information as possible before you bring your kids for ear piercing. Read on to find out the different ear piercing methods as well as the places to go to get your child's ears pierced in Singapore! 
Ear piercing methods in Singapore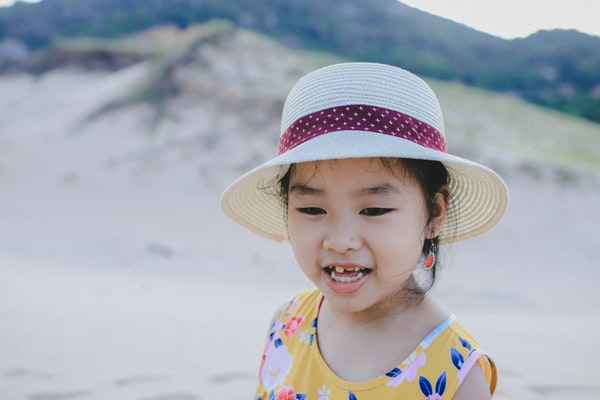 As painful as needle piercing sounds, don't be too quick to frown upon it. It's one of the most reliable and safer options when it comes to ear piercing for kids. This is provided that your child can stay still during the procedure. As needles are one-use-only, they are generally more hygienic. Piercing needles are also designed to ensure a smooth incision through the skin with minimal pain. 
In the past, piercing guns are one of the most common tools used for piercing kids' ears in Singapore. The reason is simple — it's easier to train someone to use this tool as compared to piercing needles. If your child gets fidgety when she's nervous, piercing guns are one of the best methods as the procedure is swift. 
However, this method may cause more tissue trauma. By aggressively firing the blunt studs into the skin via a pressurised spring action, the skin tissues are ripped violently to make room for the earrings. On top of that, the gun squeezes the back of the studs tightly against your child's earlobes, allowing little room for the wound to breathe and heal properly. Piercing guns are also not as hygienic as piercing needles as many stores simply sterilise the gun with alcohol which may not be sufficient to remove blood particles from previous customers. This is also not the best method for children who are afraid of loud noises. 
Disposable cartridge piercing system
Right off the bat, it's easy to see that a disposable cartridge piercing system is more hygienic than piercing guns. That's because the cartridge and studs are pre-packed in a sterile packaging and ready for use anytime. As its name suggests, disposable cartridge piercing systems are single-use so you need not worry about contamination when you bring your kid for ear piercing. Instead of using aggressive force, the cartridge system gently but swiftly pushes the special piercing stud through the tissue to minimise trauma. 
Types of earrings for your child's first piercing
Surgical stainless steel earrings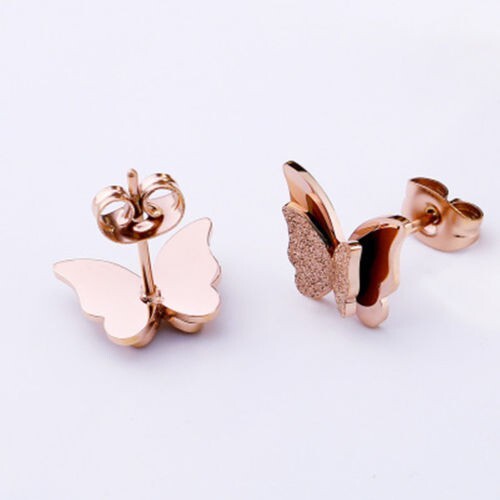 When it comes to ear piercing for kids, you want to minimise any potential risk of infection. Thus, we suggest selecting a pair of surgical stainless steel earrings for your child's first piercing. The Surgical Stainless Steel Rose Gold Butterfly Earrings (available on cuteiu.sg) is a great pair to consider. This type of metal does not contain any nickel or alloy which are more likely to cause an allergic reaction. Earrings that are made of white gold, such as these Goldheart K-Style Diamond 14K White Gold Earrings (available on Goldheart Singapore Official Store) may not be the best choice as they may also contain a small amount of nickel.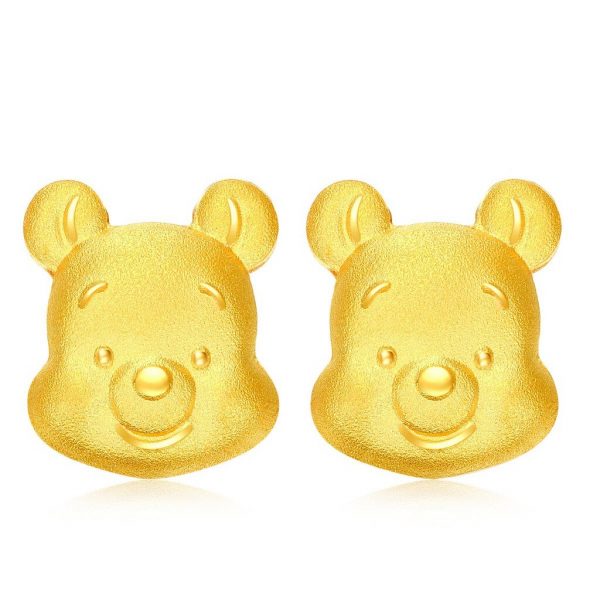 Alternatively, gold earrings are also one of the safer options to buy for your kid's first ear piercing. If your little one is a huge fan of Winnie The Pooh, she will love this pair of Chow Tai Fook Disney Classic 999 Pooh and Friends Pure Gold Earrings (available on Chow Tai Fook). The purer the gold, the lesser the risk for nasty allergies. 
Where to do ear piercing for kids in Singapore
1. B'dazzle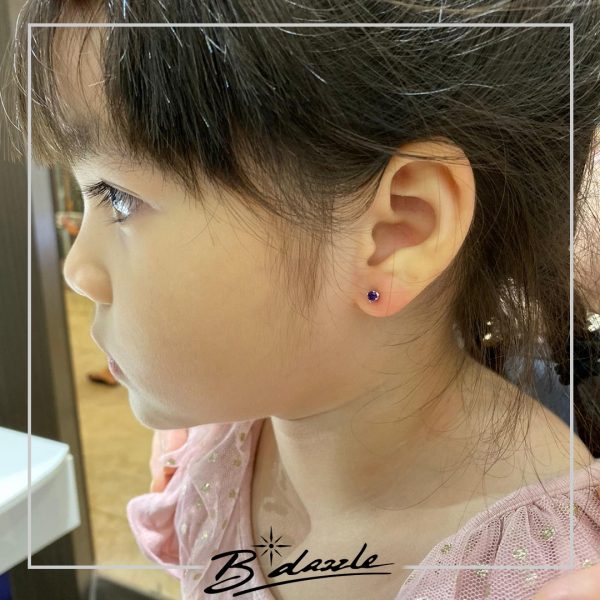 B'dazzle is many mummies' top choice when it comes to ear piercing for kids in Singapore. If you're concerned about the sterility of your child's piercing, you will be pleased to know that B'dazzle uses the disposable cartridge piercing system. With well-trained staffs who are capable of providing ear piercing services even for infants, you can be sure that your child will experience minimal pain during the process. B'dazzle also uses a specially formulated Ear Care Solution that helps to speed up the healing process of fresh piercing. In addition, your child will enjoy a complimentary six-week aftercare service at B'dazzle should any complication occur — how reassuring!
Moreover, all the piercing earrings sold at the store are nickel-free to reduce the risk of allergies. Your little princess can shop from their wide array of earrings including solid gold, titanium and surgical steel ones that are great for her first piercing! Make an appointment wit B'dazzle today to have your child's ears pierced! 
Address: Raffles City Shopping Centre, 252 North Bridge Rd, #B1-31, S(179103)
Check out their other locations here
Opening Hours: 10.30am – 9.30pm
2. Piercing Clinic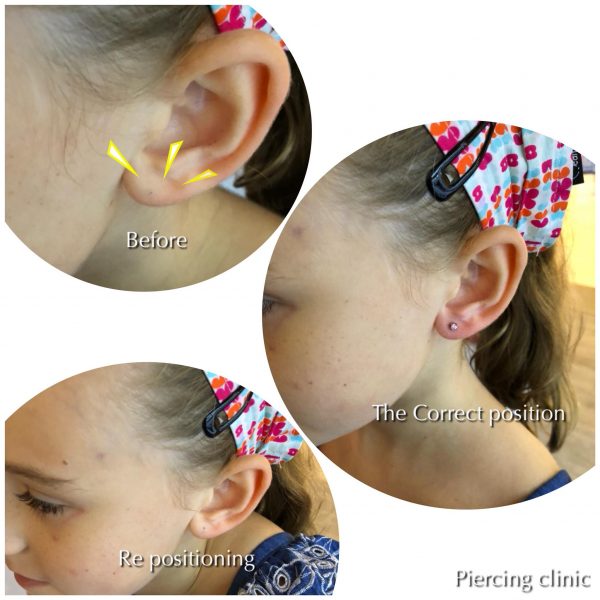 Also known as Stege Gallery, the Piercing Clinic is another great place to go to get your child's ears pierced in Singapore. While the Piercing Clinic may be more well-known for their body piercing services, their staffs also specialise in ear piercing for kids. They offer various piercing methods such as piercing needles but the disposable cartridge piercing system is their most recommended method for kid's ear piercing. The store's clean and minimalistic interiors will ensure your child feels safe and comfortable during her visit! 
Address: Marina Square, 6 Raffles Boulevard, B1-06, S(039594)
Opening Hours: Daily, 2pm – 8pm
3. Cherisheart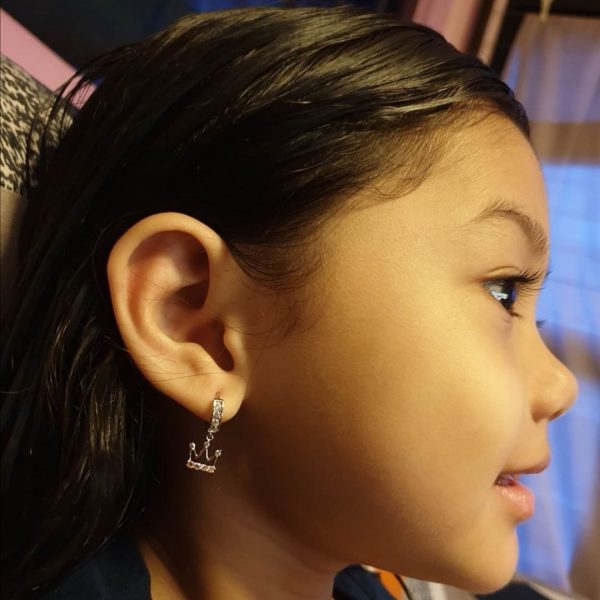 If your little one gets all jittery at the thought of having her ears pierced, why not let her do it at home? Janice, the founder of CherisHeart, provides convenient home piercing services for kids above three months old so your child can have her ears pierced in a familiar environment! Janice is amazingly good with kids and many parents appreciate her patience when handling their little tots. She is a certified ear piercing specialist for USA Studex and Inverness Safety Back Ear Piercing — two safe and technologically advanced hand-pressured ear piercing systems trusted worldwide. Both systems deliver smooth and accurate piercings that are silent and mostly pain-free! 
Besides providing ear piercing services for kids, CherisHeart also stocks an array of kids-friendly earring designs online! Think earrings with adorable Disney characters, dazzling princess crowns and endearing animal designs! You can also find screwback earrings that are safer and more secure for younger kids here. Your daughter will definitely be spoilt for choice! 
Address: Appointment-based house call service only
Opening Hours:
Mon – Fri: 9am – 6pm
4. Stellar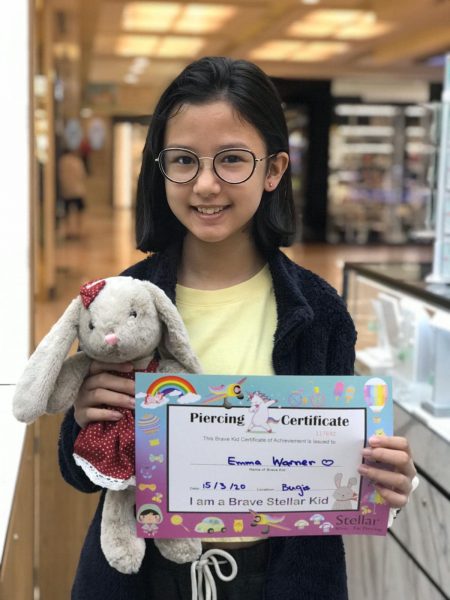 Kids often associate ear piercing with pain and Stellar is here to change that perception! Stellar awards each brave child with a piercing certificate to congratulate them on hitting this exciting milestone. Your child will walk out feeling proud of her achievement and also leave behind happy memories of having her ears pierced! 
We understand that some parents are also equally nervous when their children get their piercings done. But you can set your heart at ease because the certified piercing technicians at Stellar have performed more than 1000 piercings and are very experienced with the procedure. Book an appointment to get your child's piercings done simultaneously so she can get the procedure completed in a blink! Other than using disposable cartridge piercing systems, the piercing earrings here are also made of premium hypoallergenic metal. They come with kids-friendly rounded backing to protect your child against the sharp needle tip and potential overlocking complications. 
Address: Wisma Atria, 435 Orchard Road, #01-18A, S(238877)
Check out their other locations here
Opening Hours: Daily, 11am – 9.30pm
5. Lovisa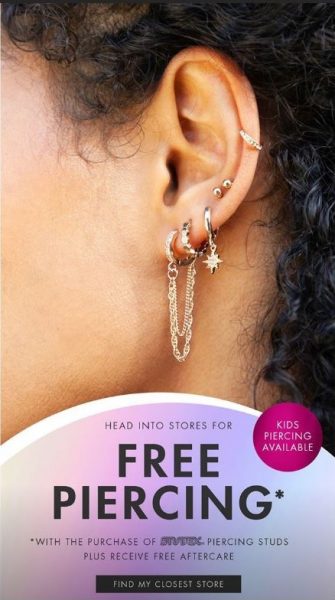 Chances are that the eye-catching accessory collections at Lovisa have probably caught your (and your daughter's) eyes several times. But did you know that Lovisa actually provides ear piercing services for kids and adults? Your child can simply walk-in to have her ears pierced or you can make an appointment with one of Lovisa's outlets if your little one prefers doing her piercings simultaneous. 
Piercing at Lovisa is fuss-free and safe. The store sanitises the piercing station before and after every procedure is performed. In addition, Lovisa uses the 'touch-free' STUDEX System 75 piercing hand-pressure device that works with disposable cartridges for ultimate hygiene. Your child can enjoy complimentary piercing service when a STUDEX ear piercing stud is purchased! All STUDEX piercing studs are hypoallergenic and made using surgical grade stainless steel as with 24-carat gold plating. After your princess gets her piercings, she can finally wear all the attractive earrings that Lovisa has to offer! 
Address: Tampines One, 10 Tampines Central 1, #01-16, S(529536)
Check out their other locations here
Opening Hours: 10am – 10pm
More activities to get your little ones excited
While ear piercing for kids usually don't hurt during the process, your child's ear lobes may start to sting or swell moments later. Thus, it's important to pay special attention to the aftercare instructions provided by the piercing technician and also to avoid high-intensity kids' activities for the next few days. If your little one gets bored at home while waiting for the piercing to heal, these easy art and crafts projects for kids are a great way to keep her entertained at home! You can even impart her some of your marvellous cooking skills by trying these kids-friendly baking recipes! Meanwhile, join us as a member of Shopee Mum's Club to gain access to unbeatable deals on baby supplies!
---
New to Shopee? Get $7 off (min. spend $15) with code*: HOLEYEAR
* TNC Applies. Valid for new users from 13 to 20 Apr 2020 only.