For many men today, haircuts are more than just about getting a cheap trim. As the hairdressing industry moves towards the experiential aspect, it's definitely understandable for men to have a hard time deciding where is best for a suave cut. From no-frills passion projects to upscale themed salons, here are our picks for the best barber shops and men's hair salons in Singapore!
Best barber shops and men's hair salons in Singapore for fresh hairdos 
1. The 'A' Street Barber Shop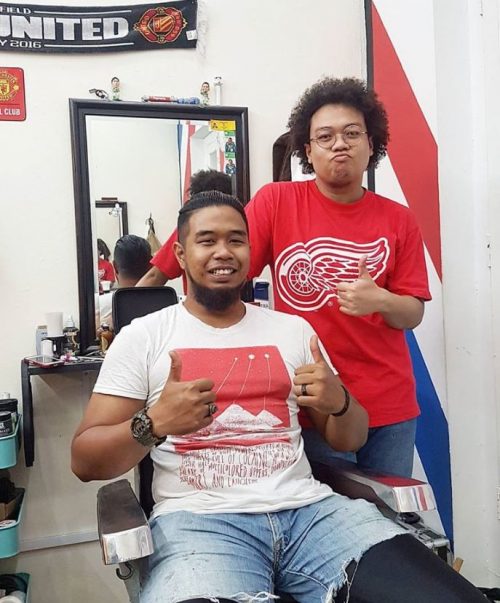 Not many of the best barber shops in Singapore can say they've serviced world-famous football players! With customers like Manchester United's Ashley Young and Marcus Rashford, it's safe to say your hair's in good hands at The 'A' Street Barber Shop. Featuring services like hot towel shaves and buzz fades, the barbers here take great pride in ensuring customers leave their shop 100% satisfied! They even offer hair darkening dyes for ladies if they wish to get in on the grooming service.
Address: 53A, Haji Lane, S(189246)
Opening Hours:
Mon – Sat: 10am – 9pm
Sun: 10am – 6pm
2. Limpeh Barbershop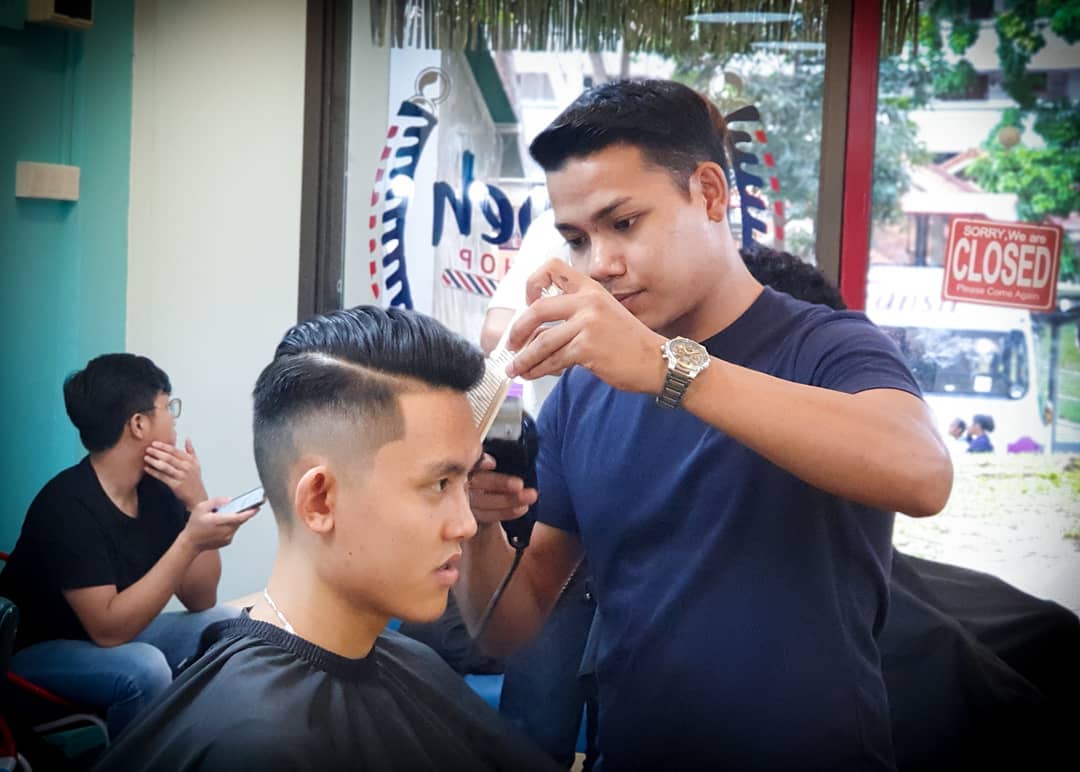 Introducing the hipster barber shop concept to the heartlands, Limpeh Barbershop is conveniently located in Bedok North. On first impression, it seems like your run-of-the-mill barber shop, pledging to give haircuts that will make you "Hensem Like Your Limpeh". Dig deeper and you'll discover that it's actually the passion project of Siti Rafidah. Upon discovering her hairdressing flair, she opened Limpeh Barbershop in 2015. Despite fears of not thriving in a male-dominated industry and after years of hard work, her outlet is now filled with loyal customers who believe they're patronising one of the best barber shops in Singapore!
Address: Block 537, Bedok North Street 3, #01-511, S(460537)
Opening Hours:
Mon, Fri: 11am – 9pm
Tue – Thur: 11am – 10pm
Sat – Sun: 11am – 7pm
3. Sultans of Shave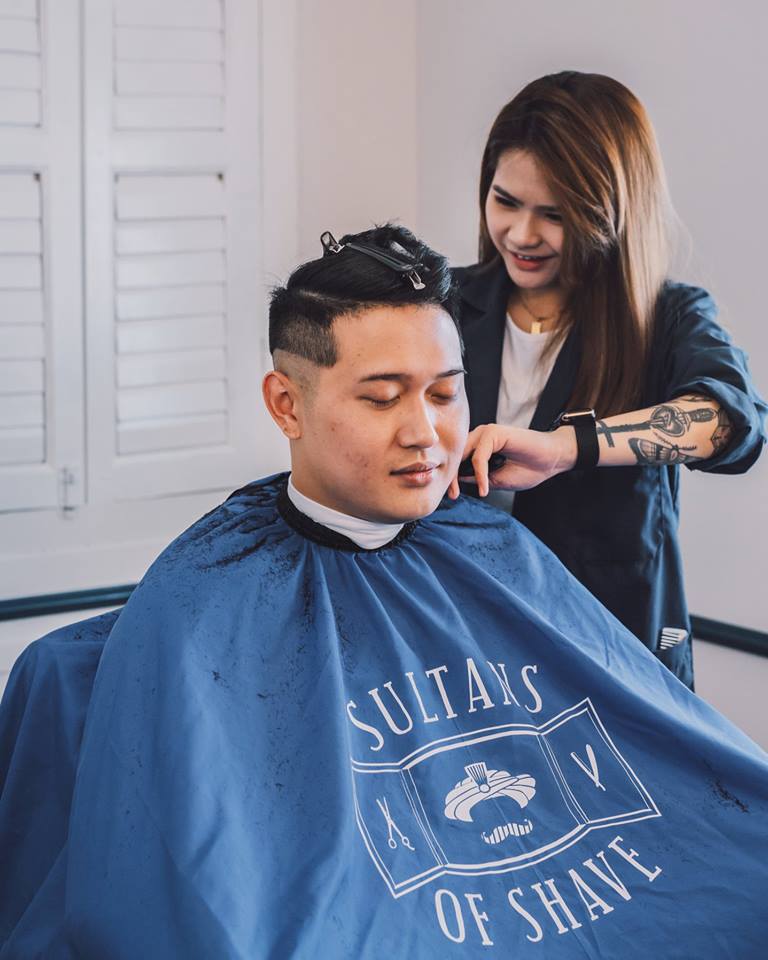 Ever wondered what makes Sultans of Shave stand out from the rest of the barber shops in Singapore? Established in a refurbished shophouse, Sultans of Shave's flagship store setting is fitting for a brand looking to glamourise the trade of the back alley barber. After familiarising themselves with the skill sets of London barbers, Sultans of Shave's barbers have become highly adept at perfecting a classic gentleman's haircut and traditional straight razor shave. Definitely consider heading down if you're looking to indulge and bask in the luxury of their posh interiors and snazzy gentlemen's lounge.
Address: 11 North Canal Road, #02-01, S(048824)
Opening Hours: Daily, 10am – 8am
Check out other Sultans of Shave outlets here
4. Liem Barber Shop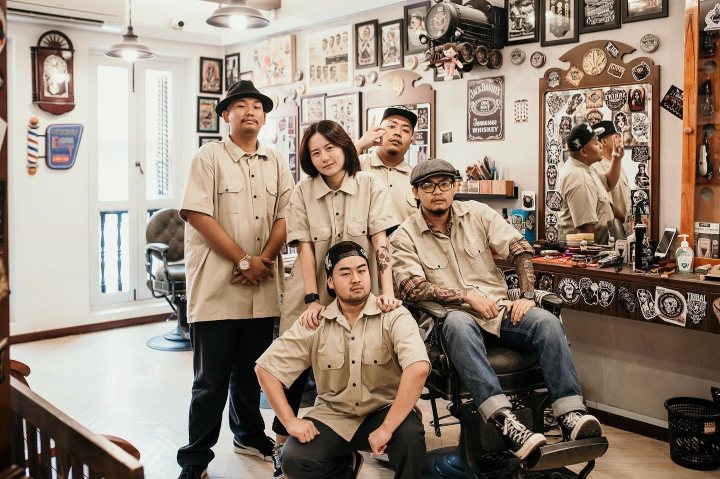 With a reputation of being Saigon's best barber shop, you can surely expect Liem Barber Shop to bring that same fire and passion for hairdressing with their Singapore outlet. We're not going to lie — stepping into Liem's can feel daunting initially since the space looks like it's straight out of a classic Latino gangster flick. Get past this and you'll discover one of the best barber shops in Singapore that can deliver the type of mean haircut you'd only get in Vietnam.
Is your kid interested in getting a fancy hairdo? Liem Barber Shop specialises in providing fantastic haircuts for kids. In fact, it was a YouTube clip of a kid getting a unique haircut that shot Liem Barber Shop to fame! Check it out below:
Address: 48 Haji Lane, #02-01, S(189241)
Opening Hours:
Mon – Tue, Thur – Sat: 11am – 8pm
Sun: 11am – 5pm
5. DeepCuts Barber's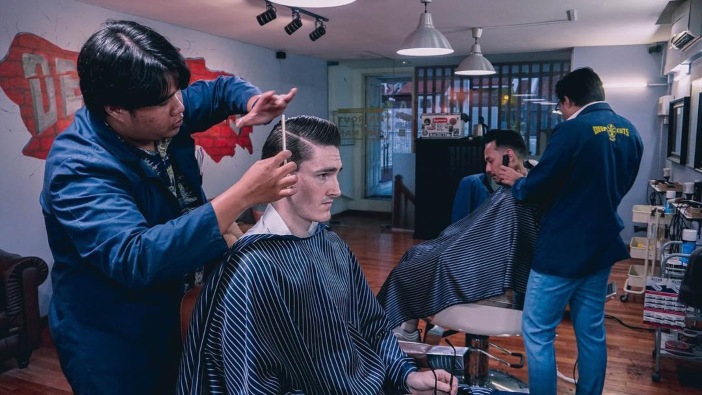 Deciding back in 2013 that the best barber shops in Singapore weren't catering towards dapper gentlemen, Faiz Ismail opened DeepCuts Barber's — a barber shop specialising in pompadour hairstyles! Located in a cosy shophouse attic, you'll admire their dedication towards recreating a personalised old-school greaser hairstyle. Plus, we appreciate how all haircuts come with a consultation to first decide what suits you.
With experience from the renowned Schorem Barber Shop in Rotterdam, head on down if you're up for a no-frills experience. Faiz and his motley crew of passionate barbers would love nothing more than to leave you with a stylish haircut and elevated sense of confidence.
Address: 77 Kampong Bahru Road, #02-01, S(169376)
Opening Hours:
Mon – Thur, Sat – Sun: 11am – 9pm
Fri: 3pm – 9pm

6. Grease Monkey Barber Garage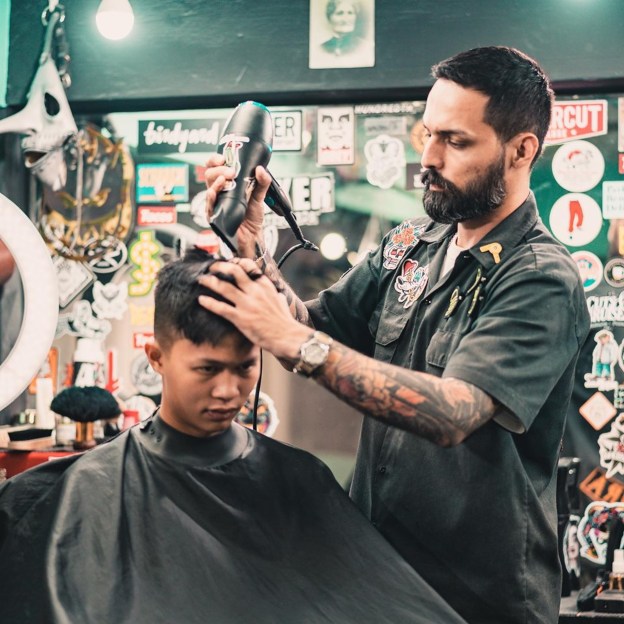 If you're a motorhead who's obsessed with bikes and cars, you'll appreciate what Grease Monkey Barber Garage offers. Enter the barber shop and you'll see the entire space packed with cool metal fixtures and stylish motorcycle accessories. Even the barbers are dressed in gruff outfits that will give actual mechanics a run for their money! 
Hit Grease Monkey up if you're down for a dose of Americana as the barbers showcase their passion by delivering timeless fades and hairdos. While there, make sure to try their full cut and shave service which uses premium pomade, a straight razor shave and traditional hot towels!
Address: 15 Mayo Street, S(208312)
Opening Hours:
Mon – Thur, Sat – Sun: 10am – 8pm
Fri: 11am – 5pm
7. Truefitt & Hill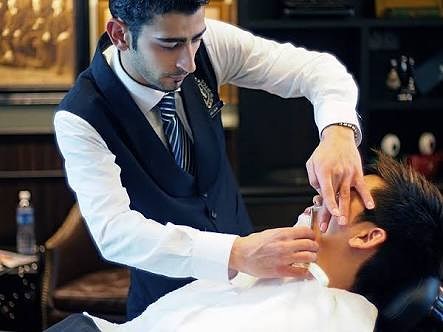 Recognised as the world's oldest barber shop, it's safe to say that Truefitt & Hill tops our list of the best barber shops in Singapore when it comes to having a storied history. With clients that range from Charles Dickens to members of the British royal family, it's certainly impressive to see an establishment retain its flair for men's grooming over the past two centuries. After you're done with their royal cut, be sure to browse their range of premium products that include aftershaves, shaving kits and colognes.
Address: 9 Ann Siang Road, S(069690)
Opening Hours: Daily, 10am – 7.30pm
Check out other Truefitt & Hill outlets here

8. We Need A Hero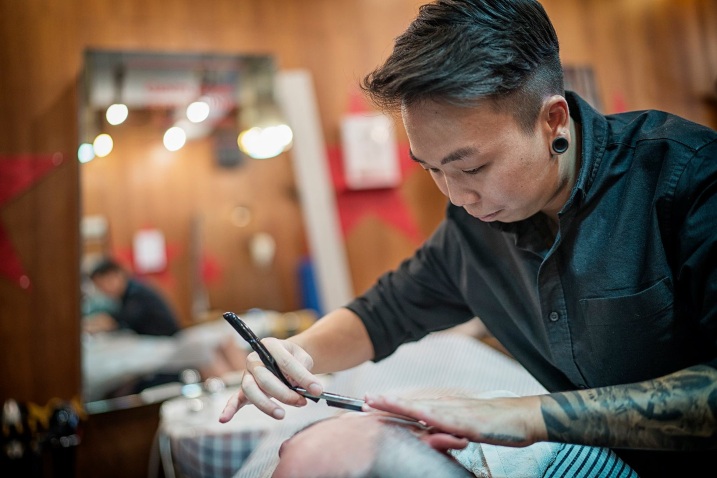 Brought to you by the same folks behind Strip and Browhaus, We Need A Hero (WNAH) aims to deliver an all-in-one male grooming experience. From haircuts and shaves to brow threading and waxing, the barbers and beauticians guarantee you'll leave feeling like a new man! Speaking of barbers and beauticians, WNAH features an entire crew of dedicated craftsmen featuring tiered hairdressing services from junior barbers all the way to their chief barber — albeit at an increasing price point.
Address: Block 57, 57 Eng Hoon Street, S(160057)
Opening Hours:
Mon – Fri: 11am – 9pm
Sat: 10am – 9pm
Sun: 10am – 8pm
9. Jermyn Street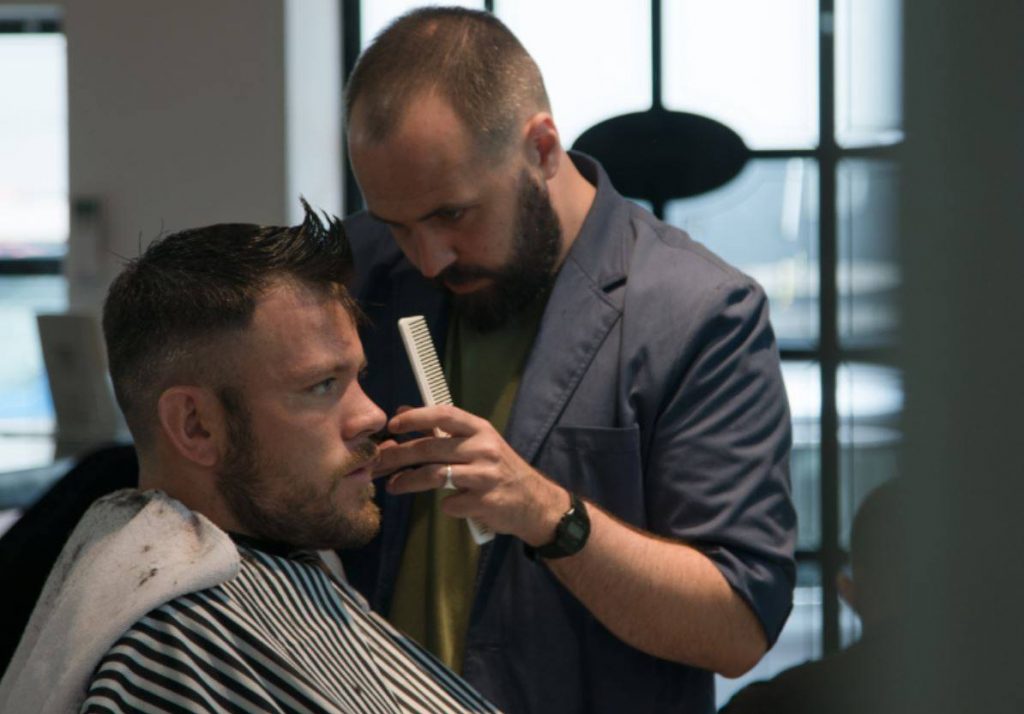 Looking for a quick trim during office hours? Located in the heart of the Central Business District, Jermyn Street is named after the same street in London that's famous for its skilled barbers and tailors. With their exquisite interiors and expert barbers, Jermyn Street is one of the best barber shops in Singapore for its overall ambiance and comfort. You'll love how the place is fueled by a passion to introduce English-style grooming in the setting of a traditional Gentlemen's Club. Did we also mention that you'll receive complimentary liquor or coffee while the barbers work their magic?
Address: 108 Amoy Street, S(069928)
Opening Hours:
Mon – Tue, Thur – Fri: 11am – 9pm
Wed: 7am – 9pm
Sat: 10am – 8pm
10. The Panic Room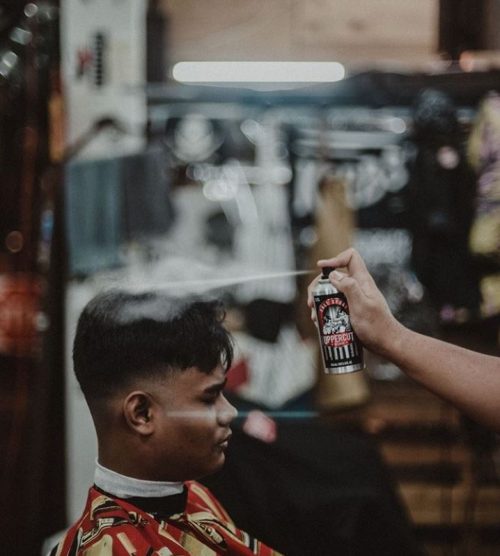 The Panic Room started off with humble beginnings as a mobile barbering unit that called several void decks their home. Over the years, even though they have managed to put a roof over their heads, nothing has changed in terms of the kind of quality and pride they put into the work that they do. Their constant strive for perfection and attention to detail will put you at ease – that your crown of hair is in good hands and they will make you look and feel good about yourself as you step out of the salon.
Besides getting a haircut there, The Panic Room also has other products and services, from shaving soaps, beard oils and moustache waxes to beard trims, basically a one-stop package to make you suave and handsome before you head out to meet your date. 
Address: 311A Geylang Road S(389350)
Opening Hours:
Mon – Fri: 11am – 830pm
Sat – Sun: 930am – 7pm
11. Autocutt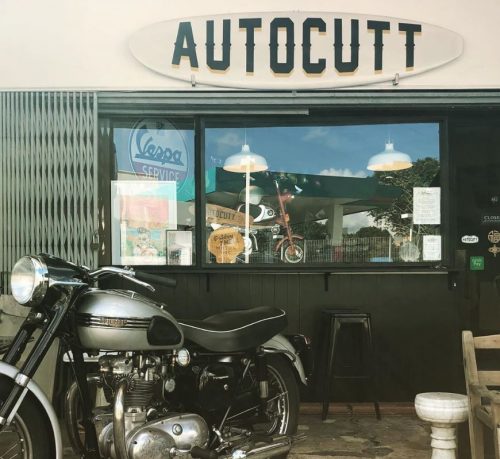 Autocutt is a vintage inspired old-school barber shop tucked cosily in the Yio Chu Kang neighbourhood. Upon stepping into the shop, you will feel as though you are being transported back to the past with Triumph Tigers, recycled autoparts and memorabilia decors lining the shop's interior. They offer a myriad of services, from haircuts, styling and their specialty hot towel shaving services.
Not forgetting their award-winning in-house pomade range, the O'Boy which was created with water and oil base and a matte paste that caters to Asian hair needs. Another note-worthy mention is that Autocutt offers on-site barbering in retro Volkswagen Kombi vans so do follow them on their socials for the latest event updates. If you are going for the gentleman style vibes, you definitely have to check out Autocutt soon.
Address: 68 Yio Chu Kang Road, S(545569)
Opening Hours: Mon – Sat, 11am – 8pm
Check out other Autocutt outlets here
12. The Golden Rule Barber Co.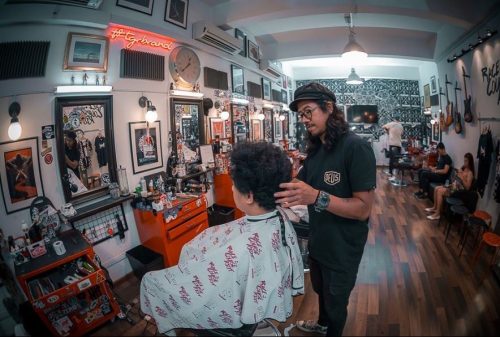 Stepping into The Golden Rule Barber Co. made me feel like I might have walked into the wrong shop. Was I in a music store when I was supposed to go for a haircut? For a start, lining the walls of the shop are pictures of bands hailing from the 90's era, and also guitars hanging along the sides.
Not surprisingly, they have their very own record label, TGR Studio, and have even released their own EP before. The classic western garage interior also promises a chill and relaxing vibe so that you can settle down peacefully and leave it to their skilled hands to make you look your best. Before you leave after a suave haircut, remember to grab their in-house pomades and razors to continue to upkeep that look in days to come. 
Address: 66A Race Course Road, Level 2, S(218570)
Opening Hours:
Mon – Sun: 11am – 9pm
13. Hombre Barberblade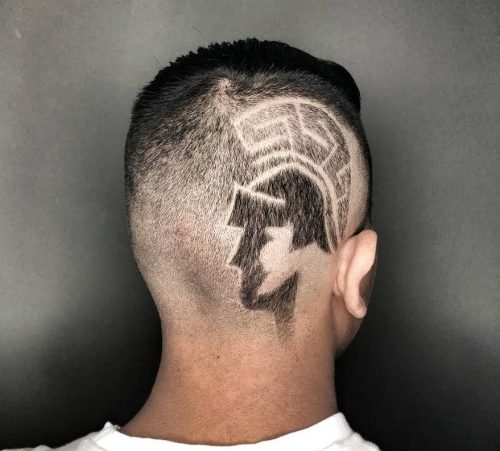 If you are the adventurous type, Hombre Barbers is the place for you to get your next haircut. Aside from the usual haircuts, Hombre Barbers also offers audacious designs for the brave souls. Prices starts from $35 for a patterned design depending on the complexity. Simply show them a design that you have been yearning to be shaved on your head and their skilled hands should be able to tackle it.
We have seen floral, warrior and all sorts of other intricate designs – that we must say will probably not be appropriate for school or a job interview. But we'd say if you have a chill work culture and you are feeling bold, give this a shot. You might just end up looking like a whole new upgraded version of yourself. Not for the faint-hearted though so try it at your own risk. Oh, and did we mention that they provide beard colour enhancement services too? If you have greying beards, you can drop by to have a colour refresh (only black) and you will look younger in no time at all!
Address: 228 Changi Road, #01-04, S(419741)
Opening Hours:
Mon – Thur: 12pm – 9pm
Fri: 2pm – 10pm
Sat – Sun: 12pm – 9pm
With these best barber shops and men's hair salons in Singapore, getting a suave cut will be a cinch! From classic pompadours to razor-shaved fades, no hairdo will be deemed too difficult for these passionate barbers. 
Looking to condition your body instead? Why not start by reading our easy home workout routine so you're in tip-top shape! Alternatively, if you regularly style your hair, you'll want to own these essential men's hair products. While at it, stock up on some men's skincare products to get your entire grooming routine sorted!
This article was updated on 26 March 2020. Additional research done by Jaslynn Yeo.
---
New to Shopee? Get $7 off (min. spend $15) with code*: SUAVESHAVE
*TNC Applies. Valid for new users from 28 Mar to 4 Apr 2020 only.