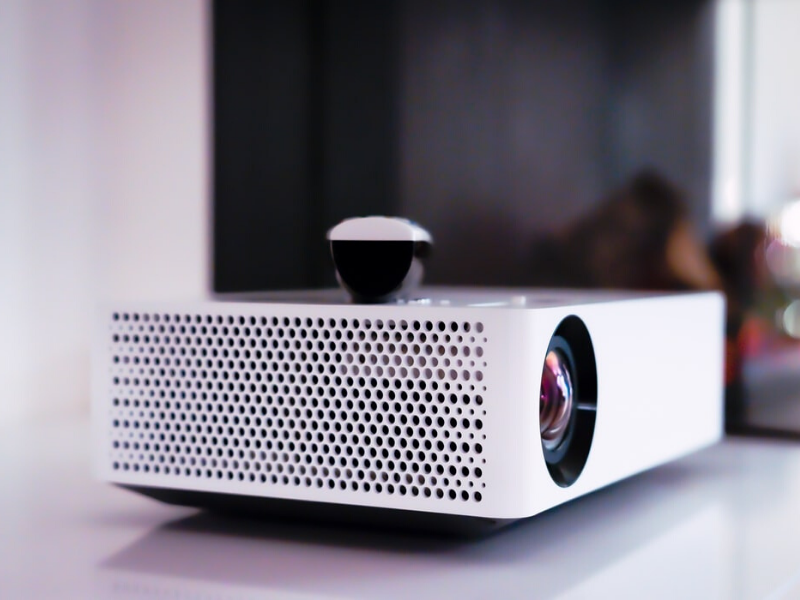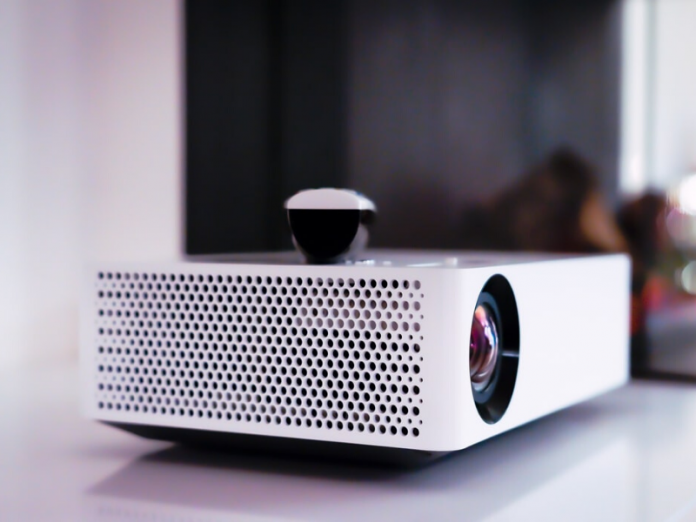 There's nothing better than having your own private cinema to cosy up to with your loved ones. Long gone are the days of investing in a huge TV. With a lack of space in your home, a projector is a perfect solution for your home entertainment needs! With a projector, gather your friends (not more than 8 please!) and have a laid-back movie night or a weekend Korean drama marathon with these 10 best projectors for home use! 
Best Port

able, Short-Throw, and Laser Projectors for Home Use from $49
Portable Projectors
1.

YG300
($48.50)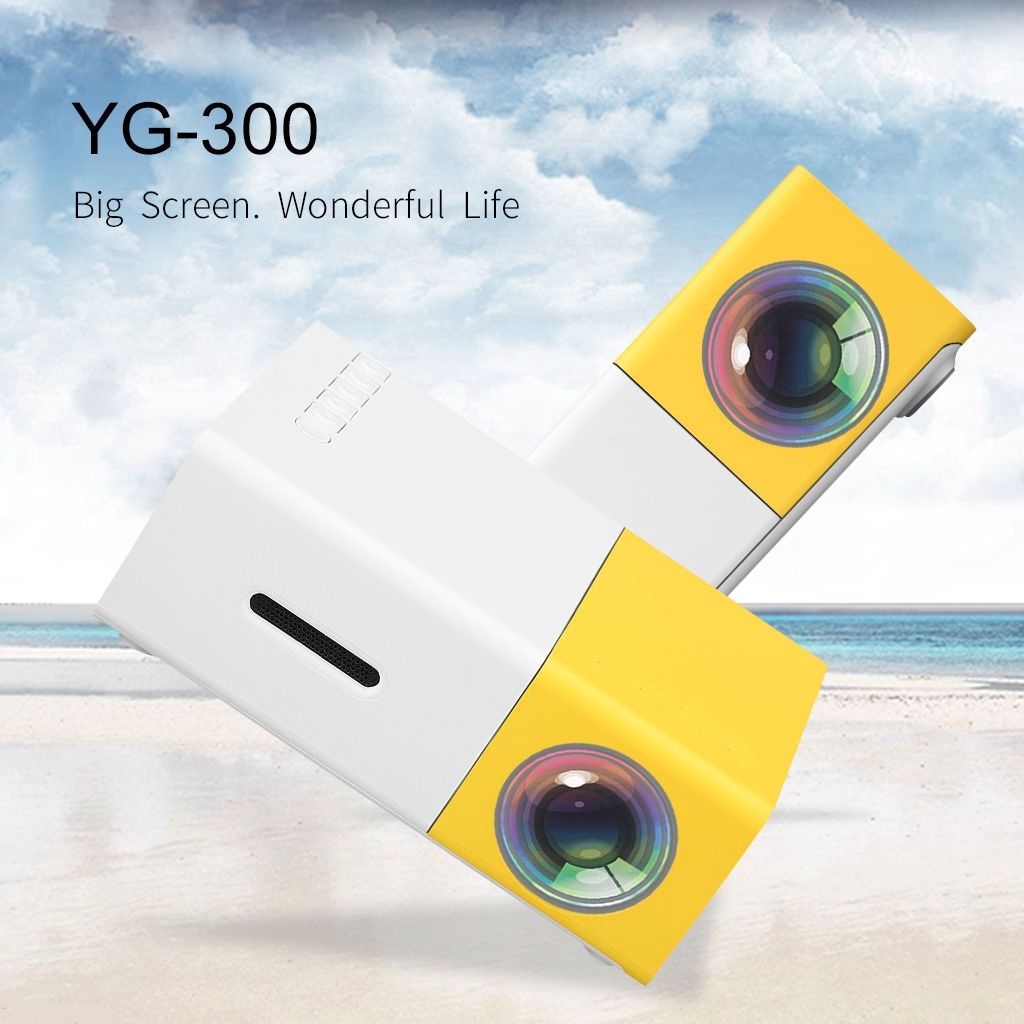 A mini projector that fits in the palm of your hand, the YG300 is one of the best projectors for home use if you have a lack of space and you are on a budget. With its small and handy size, you can choose to even have it in bed with you. Beam your favourite shows on the ceiling for ultimate comfort! With a projected screen size of up to 60" and a resolution of 1920 x 1080, the YG300 comes with an inbuilt speaker with the ability to connect to HDMI or USB devices. You can even use it to project your favourite Nintendo Switch Games for the ultimate game night with the gang!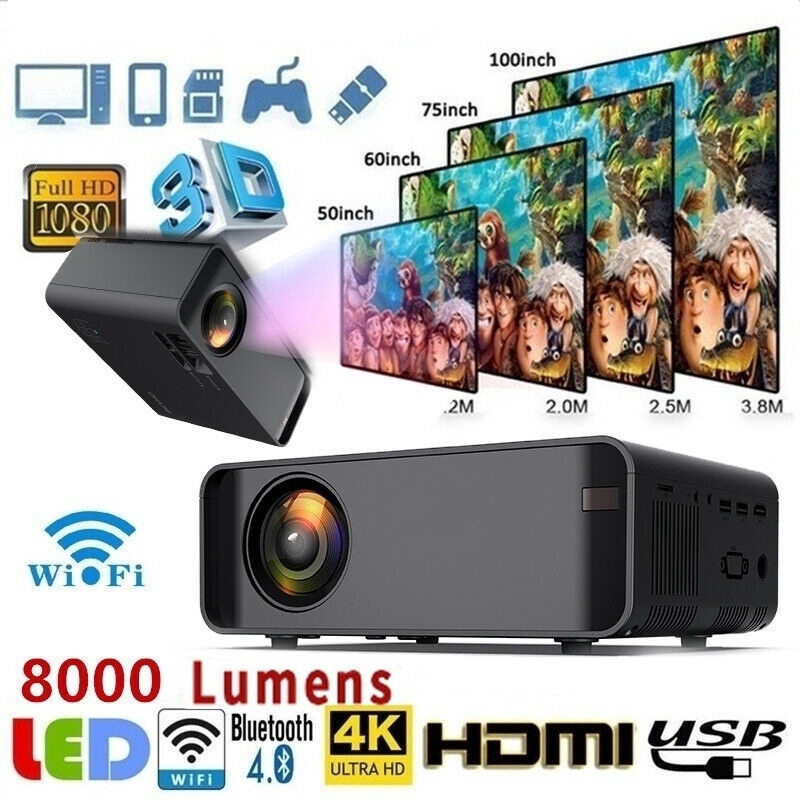 Bust out your blackout curtains for the ultimate cinematic experience with the 8000 Lumens Wireless Projector! One of the best projectors for home use that is reasonably priced, it even comes with built-in microphone and call functions. This allows you to take video conferencing to the next level as some of you continue to work from home. Load your favourite movies into a USB thumb drive or a memory card, plug in and kickstart your movie marathon!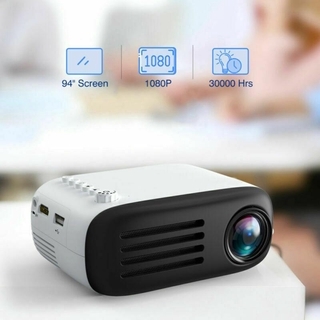 Despite the compact size of this projector, the Mini LED Projector can project a 94-inch large screen at a distance. It comes with multiple interfaces for connection, allowing you to connect with different devices like your PC, smartphones, tablets, and TV boxes. This is definitely perfect for a Netflix and chill pampering session in the comfort of your own home, or for staycations and holidays when we can travel in the future. With the 320*240 native resolution and affordable pricing, the Mini LED Projector is definitely one of the best projectors for home use that gives you a bang for your buck.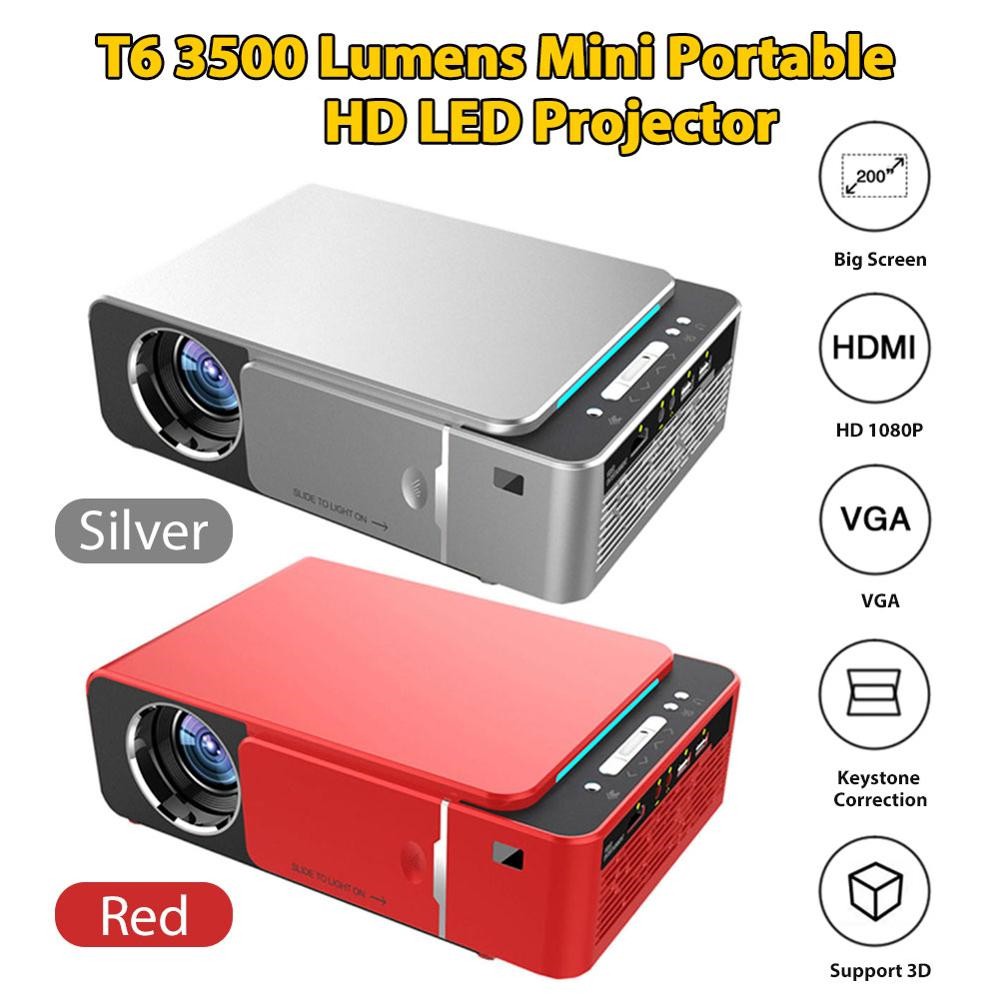 Add a pop of colour to your home with the T6 Mini HD LED Portable Projector that comes with 6 different colour options for you to pick from. Select the Screen Mirror versions of the projector that will allow you to stream directly from your phone or your laptop. Otherwise, the traditional method of wired connection works perfectly too! The LED lamp provides a brightness of 3500 lumens that is not too dark or overly bright for the best viewing experience you can possibly get from a portable projector.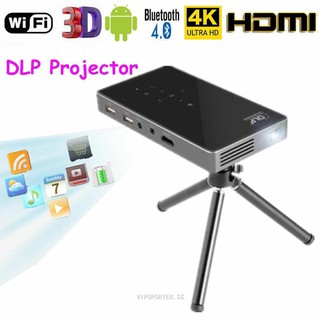 A micro projector that provides 4K HD projection, the P8I 4K Smart DLP Mini Projector even enables wireless connection with your mobile devices for easy access. With a slim build of just 3.11 x 5.71 x 0.71 inches, it's great for events and presentations – just find a white wall and beam your slides up. On top of that, you can connect a mouse and a keyboard to the system. So if you're looking for a second screen, the P8I 4K Smart DLP Mini Projector is perfect for both work and play!
6.

Mirval Y7
($109.90-$149.90)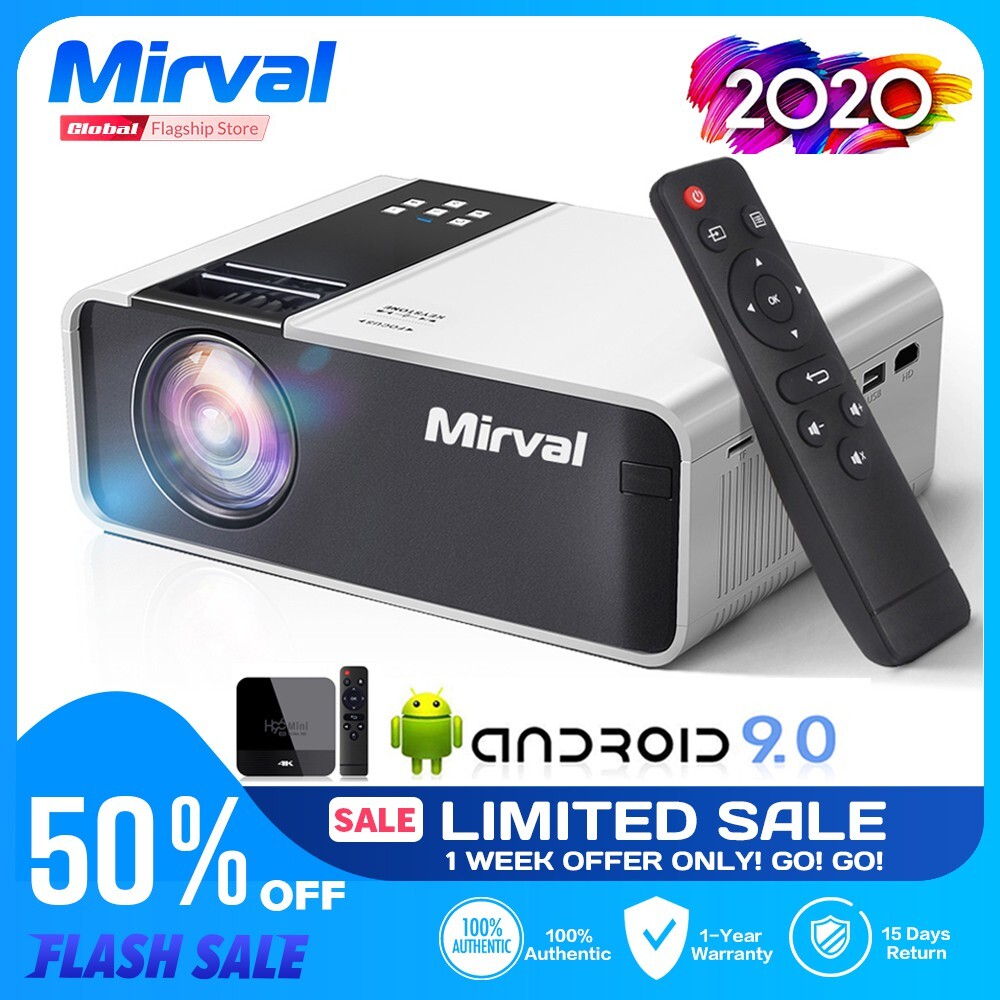 With 4K ultra HD quality, the Mirval Y7 is one of the best projectors for home use if space is one of your concerns when it comes to upgrading your entertainment system! The Mirval android TV Box Version comes with pre-installed Netflix, YouTube, and Google Play Store. With built-in AirScreen & Miracast abilities, stream from your mobile devices fuss-free. Say goodbye to ugly cables destroying the carefully planned aesthetics of your house. In addition, the smart control touch panels allow you to operate them easily. You no longer have to worry about major family arguments that can happen when remote controls cannot be found!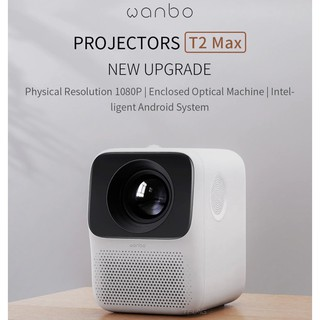 A lightweight device that makes it one of the best projectors for home use (and travel too), the Wanbo T2 MAX LCD Portable Mini Projector is so tiny it can fit into the back pocket of your jeans! The HDR10 decoding technology provides a dynamic range and image detail for the visuals displayed. The product is designed with three fans that effectively dissipate heat and prolong the life of the LED lights. With a long battery life, setting up viewing spots at any corner of your house is made easy!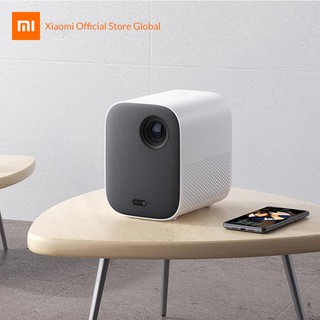 While your standard projectors come in a rectangle format, the Xiaomi Mi Smart Projector Mini Global Version is a cute little boxy device that looks like your own mini pet robot. Integrated with 2 stereo speakers that support Dolby/DTS codes, be prepared for the "all surround sound" experience you'd get at the cinema! With an optimal screen size of up to 120", the 1080p viewing experience will not disappoint. This is one of the best projectors for home use if you're setting up a smart home! With a built-in Google Assistant that can be activated via remote control, use your voice to control your viewing experience. Another bonus is that you don't have to get a separate Android TV Box for your home entertainment system as it comes installed with it!
Best Short Throw and Laser Projectors for Home Use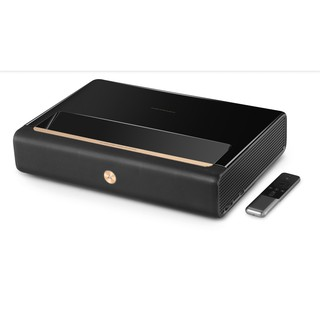 The Appotronics A300 Laser USTprojector is the perfect alternative to the large LCD television and is a must-have if you are looking at re-creating a cinematic experience at home. With a 3840 x 2160 ultra-high resolution 4K display and built-in stereo speakers, the Appotronics A300 Laser USTprojector is perfect for homebodies that love to chill on the couch! Beam your favourite shows onto your television, lie down and get comfy for the best optimal viewing experience.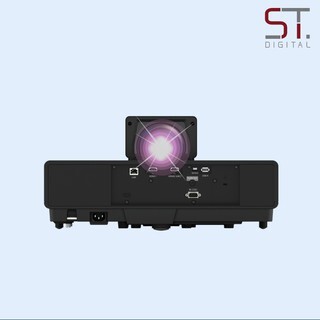 Looking for an ultra-high-definition option? The Epson LS500 Laser Projection TV definitely fits the bill. This laser projection combines an advanced ultra-short-throw laser projector with an ultra-high-definition ambient light rejecting screen with unique optical layering technology to produce vivid colors and deep blacks for any type of viewing environment. Redefine your television experience with 4K projection technology that is a level up from the regular class of projection. Besides that, you can also enjoy a two-year warranty and complimentary technical support for the life of the product. Skip the theatres and binge-watch your favourite Netflix and Disney+ movies at home!
So which projector will you be getting to upgrade your home entertainment centre? Let us know in the comments below! And while you're at it, why not get the best bluetooth speakers to allow for an immersive experience from any device! Or if you're looking for some shows to watch, check out these 25 Addictive K-Dramas Of 2021 that are not to be missed.

This article was updated on 26 April 2021. Additional research done by Jamantha Lim.
---
New to Shopee? Get $7 off (min. spend $15) with code*: PROJECTOR7
*TNC Applies. Valid for new users from 27 April to 4 May 2021 only.