In this competitive age of high-resolution content streaming, getting a smart TV is almost a must for every home. How else can you enjoy the latest Korean drama on Netflix, with your legs comfortably propped up and your favourite snacks by your side? Thankfully, the best smart TVs in Singapore don't have to cost a fortune — you can easily get one for as low as $539. Baffled by complex terms like 4K resolutions and High Dynamic Range (HDR)? Check out our glossary of terms so you know what to look out for when buying your smart TV!
How to choose the best smart TV in Singapore?
Smart TV properties
What you should know

Screen resolution

Screen resolution affects picture sharpness. The more pixels, the better the image quality

Ultra-HD (4K) > Quad-HD (2K) > Full-HD (1080p)

UHD resolution is slowly becoming industry standard 

Display panel type

Type of display panel determines the overall colour quality

LCD and OLED dominate the market

OLED > LCD because OLED provides greater colour contrast and viewing angles

QLED provides brighter pictures while OLED offers greater contrast and black levels

Audio

Thin display panels leave little room for quality audio drivers

Buy a soundbar to give your smart TV that added audial

oomph

Operating system

Popular OS include Android, Tizen (Samsung), Roku (Hisense, Sharp, TCL) and WebOS (LG)

Avoid smart TVs that run on generic operating systems as they provided limited app selection and poor user interfaces

HDR

High Dynamic Range (HDR) refers to the TV's ability to show contrast between a picture's darkest blacks and brightest whites

HDR displays are usually paired with terms like Wide Colour Gamut (WCG) to signal that the TV is capable of showcasing superior colour contrast and vibrancy

Dolby Vision > HDR 10 > HLG

Dolby Vision's Active HDR dynamically adjusts contrast and brightness with each scene transition

HDR 10 sets one optimal brightness and contrast level throughout a movie

Hybrid Log Gamma (HLG) is the only HDR format that's compatible with non-HDR TVs

Refresh rate

Higher refresh rates ensure less blurry images during fast-moving scenes

120Hz > 60Hz

Curvature

Purely aesthetic and does not affect picture quality

HDMI

Look out for ones with HDMI 2.1 that supports 4K videos and improves refresh rates for smoother action
Now that you understand the basics, you're ready to take the plunge and purchase a new TV for your living room or bedroom! Wondering what models to look out for? Read on for our guide to the best android and smart TVs in Singapore!
Best 43 inch smart TVs in Singapore
1. Samsung 43″ AU7000 UHD 4K Smart TV ($799)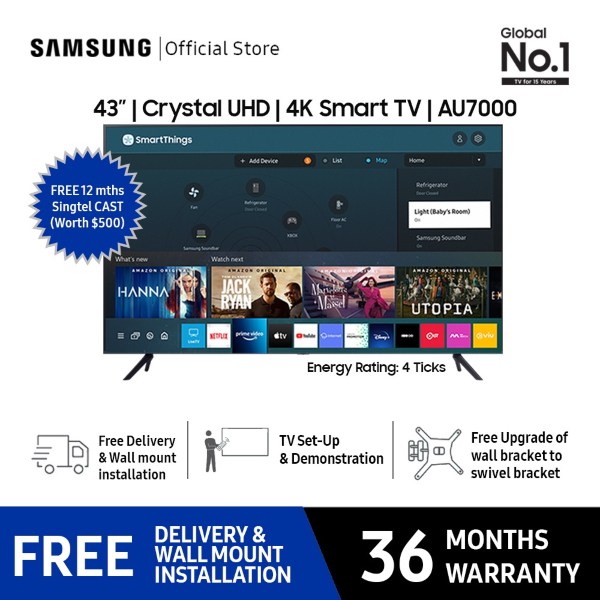 If you're in the market for the best smart TVs in Singapore that offer 4K resolution at affordable prices, look no further than the Samsung 43″ AU7000 UHD 4K Smart TV (available on Samsung Brand Store). Offering a certified true 4K Ultra High Definition viewing experience, this smart TV takes advantage of its Crystal Display that boasts features like HDR and Motion Xcelerator. These combine to provide a display that's bursting with vibrant colours and incredible sharpness!
Want to build an ecosystem around your Samsung TVs? You can easily connect your Samsung smart device to the TV via Samsung Cloud. This seamless connectivity will allow you to broadcast photos and videos on the big screen! It's this one-stop entertainment option that makes the overall user experience a blast. 
2. PHILIPS Full HD LED SAPHI 43" TV ($539)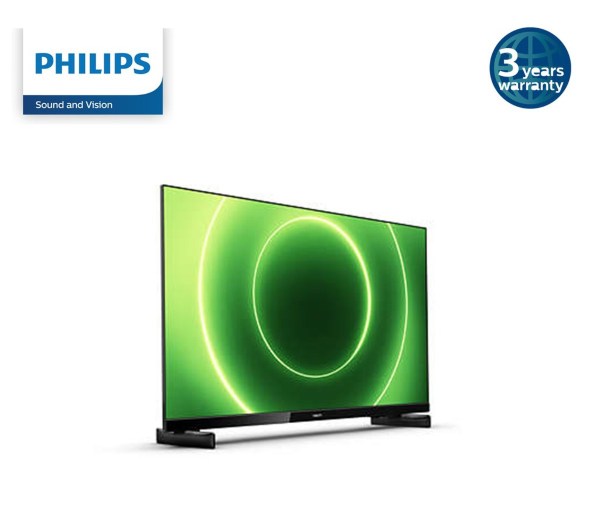 If you're in a pinch over your TV budget, PHILIPS Full HD LED SAPHI 43" TV (available on Philips Certified Store) has you covered! As one of the best value-for-money smart TVs in Singapore, this model provides everything you'll need for an optimal TV viewing experience. With enhancements like Full HD resolution and Philips' Pixel Plus HD technology, it's definitely rare to find a smart TV with such specifications at such a bargain!
Considering having this Philips TV as the centrepiece of your living room? This smart TV features an Ultra Slim silhouette that gives it a depth of fewer than nine centimetres, allowing it to fit even the slimmest of TV consoles. Talk about maximising space in your flat!
3.  iFFALCON 43″ QUHD K72 4K Android TV (from $699)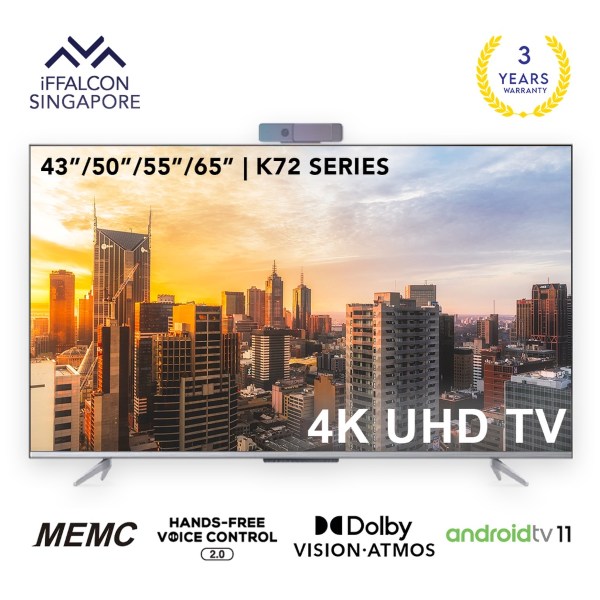 The all-new, highly anticipated iFFALCON 43″ QUHD K72 4K Android TV (available on iFFALCON Singapore) sure does live up to its hype! Despite being a budget-friendly 4K TV, this is one of the best Android TVs in Singapore as it delivers a complete package in audio, display and performance. 
From its Quad Core Processor to its large in-built data storage (2GB DDR3-1866 + 16GB eMMC5.0), iFFALCON shows no signs of cutting corners when it comes to its comprehensive features. By including bells and whistles like built-in Google Assistant and Android 11 OS, this best android TV in Singapore effectively streamlines your viewing experience with minimalistic menus and crisp voice commands! It's no wonder many users consider this to be one of the best smart TVs in Singapore that's perfect for smaller bedrooms.
Best 55 inch smart TVs in Singapore
4. LG 55"​ NanoCell​ ​4K​ ​TV​​​​ ($1,893)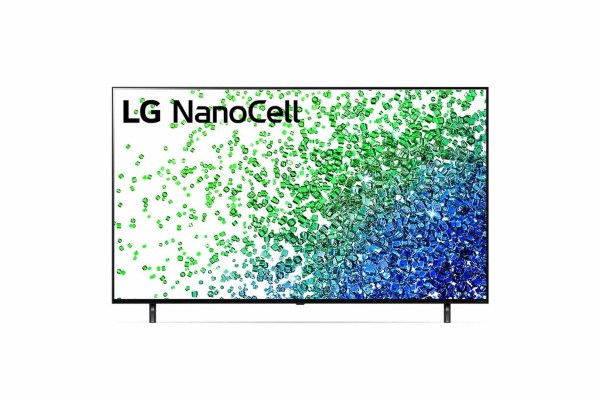 Keen on pushing the limits of smart TV picture quality? The LG 55″ Nanocell 4k TV 55NANO80TPA (available on Gain City Official Store) will certainly exceed your expectations as one of the best smart TVs in Singapore. Thanks to its revolutionary NanoCell technology, whole new shades and colours are displayed with stunning accuracy as light is refined and filtered. It doesn't matter where you're seated — the colours will dazzle audiences thanks to its wide viewing angles!
The pure cinematic experience of the NanoCell television doesn't stop there, especially when turning on the Filmmaker Mode. By removing all post-processing effects like noise reduction and motion smoothing, you can view shows as their creators intended! Add to this effects like local dimming and HDR10 Pro and you have a TV that'll give multiplex cinemas a run for their money.
5. Xiaomi TV 55" P1 ($829)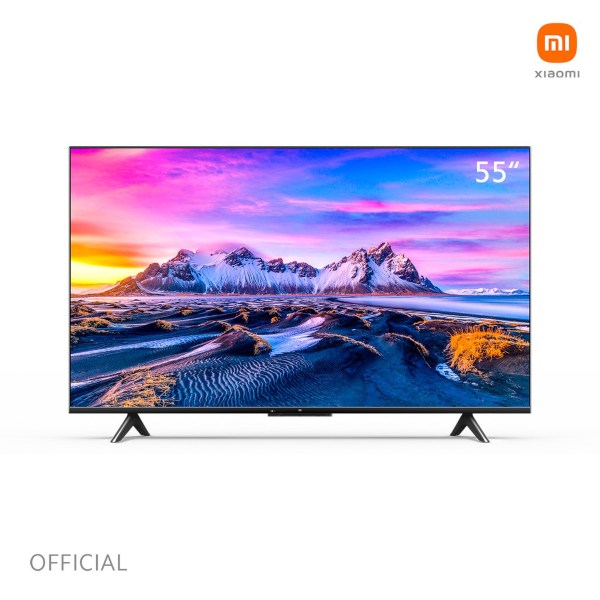 Want to purchase an Android TV in Singapore but are tight on budget? We recommend checking out the Xiaomi TV 55" P1 (available on Xiaomi Official) going at less than a thousand dollars. Right from first impressions, you'll gawk at how little you're paying for such a huge screen size. 
Instead of simply letting display size be its main draw point, Xiaomi follows through with numerous supporting features to sweeten the deal. From minimal bezels to 4K resolution and HDR10, the P1 offers everything you could want in a modern Xiaomi TV. This allows it to punch above its weight and prove itself as a valid contender among the best android TVs in Singapore!
6. Philips 55" Razor Slim 4K UHD OLED TV ($4,099)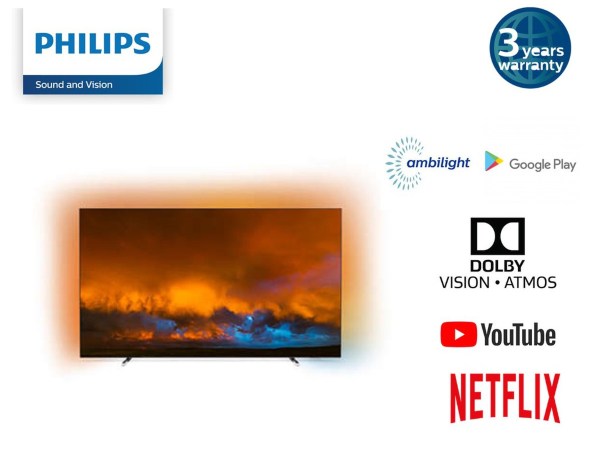 Philips has continually refined the tried-and-true OLED smart TV formula in pursuit of chasing the title of building the best smart TV in Singapore! The minimalist design of Philips 55" 4K UHD OLED TV 55OLED804 (available on Philips Certified Official Store) impresses with its sleek two chrome-finished feet. Although there isn't room for a soundbar, this Philips 804 OLED TV has built-in speakers that pack a bass-filled punch!
The highlight of this smart TV is definitely Ambilight! While other brands break boundaries for issues like input lag or HDR reproduction, Philips' innovative backlighting intelligently mimics the content displayed. You'll be wowed by how the lighting dynamically shifts with a combination of shadows and patterns, creating an immersive experience that you have to see to believe.
Best 65 inch smart TVs in Singapore
7. Panasonic TH-65HX750S 65″ 4K LED Android Smart TV ($2,199)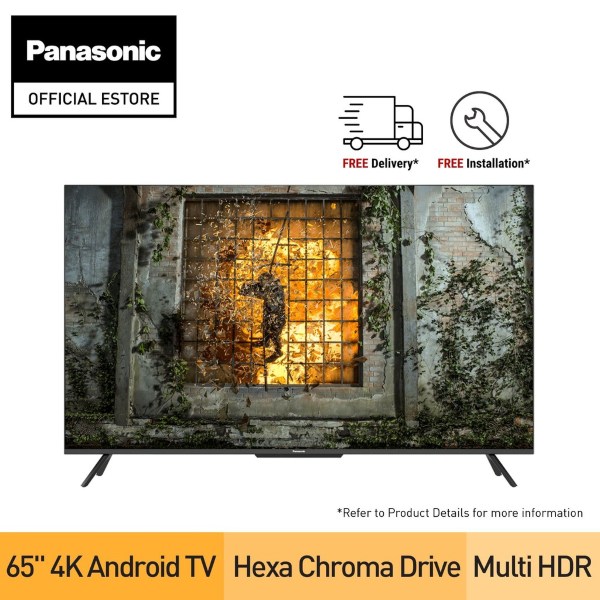 Purist when it comes to picture fidelity and quality? Check out the Panasonic TH-65HX750S 65″ 4K LED Android Smart TV (available on Panasonic Singapore Official Store) that's seen as one of the best smart TVs in Singapore for its amazing display performance! Receiving the seal of approval from Hollywood's movie professionals, you'll notice a world of difference when upgrading to the HX750S's stellar display. From retrieving minor shadow details to offering deep black levels, the image details and dynamic range of colours is deserving of all the praise this smart TV receives.
As the premium flagship model of Panasonic TVs, it has more to showcase under the hood. Beyond its larger-than-life display is the Dolby Atmos sound system that'll impress the staunchest of audiophiles! By making use of multiple audio drivers, you'll be blown away by the simulated 3D surround sound that can easily rival the best home speakers.
8. Samsung 65" Qled 8K Smart TV ($10,489)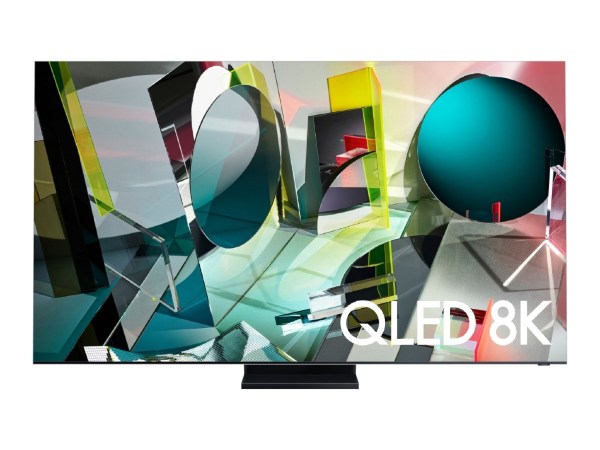 With industry forefront technology, the Samsung 65" Qled 8K Smart TV (available on Gain City Official Store) is equipped with a revolutionary Neo QLED 8K revolution for realistic graphics. Imagine this: the Samsung 8K smart TV produces four times the clarity of 4K resolution, ensuring every single detail is articulated to precision. Don't have any 8K videos to test out this brilliant screen? Fret not, the 8K AI Upscaling technology utilises deep learning algorithm to maximise the potential of every frame.
Aside from the impressive resolution, this best smart TV in Singapore also comes with dynamic Object Tracking Sound Pro function. The audio tracks every motion happening in the scene and emits the audio all around the TV for an immersive experience. At this point, you'd probably see why this Samsung smart TV is worth its price tag. But there's more to uncover — especially the infinity screen with a 99% screen-to-body-ration. You literally won't notice the bezels at the sides!
Incredible experiences await with these best smart TVs in Singapore
Didn't find your favourite model or brand here? Check out Shopee's 9.9 Super Shopping Day for our catalogue of smart TV listings and discover a whole array of hidden gems! If you're thinking of getting a high quality display for your computer, read our comprehensive gaming monitor guide. Conversely, if you're a gamer and want to improve your rig, these best gaming laptops will improve your performance.
This article was updated on 18 August 2021. Additional research done by Iris Tan.