Perhaps you've just got the keys to your new 3 or 4 BTO flat. Or maybe you've decided to rent a studio apartment with your partner while waiting for your flat to be ready. Either way, you'll need to pick some new furniture to turn your space into a cosy abode. However, with limited space to work with, going for big and grand furnishing may not be the best idea. Instead, opt for space saving furniture like sofas for small living rooms! Many space saving furniture pieces are also multi-purpose and easy to move, providing flexibility and allowing you to design your home just the way you want it!
Buy space saving furniture with Shopee sea shipping delivery and save more!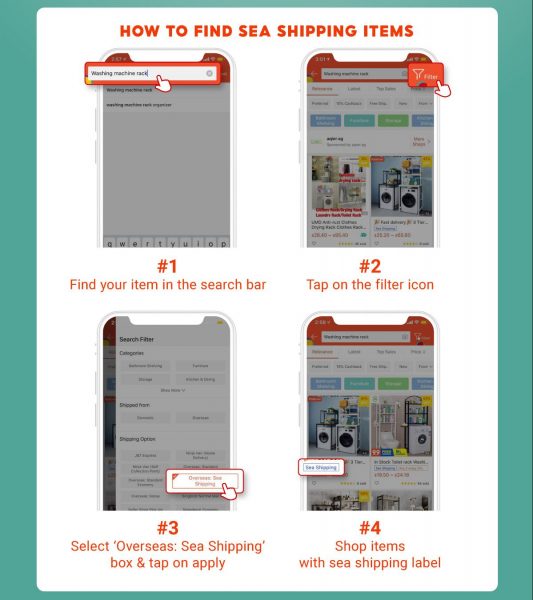 Shipping your desired furniture such as a sofa for a small living room by air can rack up quite a large sum. To save you from the nasty surprise, Shopee has introduced sea shipping. Enjoy discounts on your sea shipping fees based on the amount you spend on your items. This can potentially mean free sea shipping on your purchases — hooray! 
| | |
| --- | --- |
| Weight of Product | Sea Shipping Cost |
| <30KG | $2 |
| 30.1 – 80KG | $6 |
| >80KG | $10 |
Discount:
Spend more than $30/product to enjoy $2 off shipping cost

Spend more than $50/product to enjoy $6 off shipping cost
Additionally, sea shipping also opens up your options to choose bulky furniture from across the globe without worrying about the cost. Despite the longer waiting time (up to four weeks) compared to air freight, sea shipping is definitely a more cost-efficient choice. To browse our wide range of sea shipping applicable products, simply filter for the 'Overseas: Sea Shipping' option before shopping!
Space saving furniture for your living room
1. Nanling Lazy Foldable Sofa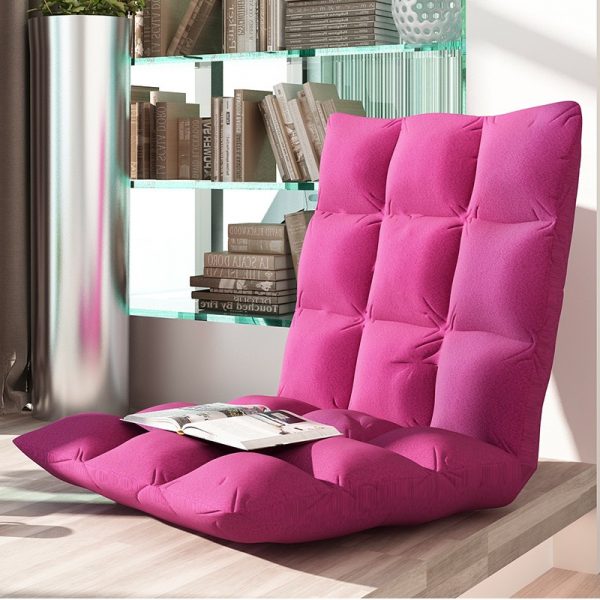 Not all apartments are able to fit a two seater couch. And that's ok! This Nanling Lazy Foldable Sofa (available on nanlingfurniture.sg) is a great substitute. This single-seater lazy sofa for small living rooms has an adjustable backrest for maximum comfort. 
You can prop yourself up on the seat when reading or eating and also flatten the chair completely to turn it into a mini daybed — perfect for toddlers or even your pets to curl up on! Moreover, this space saving furniture comes in various sizes (from 75cm to 103cm) and designs to suit your interiors.
2. Modern Folding Japanese Tatami Sofa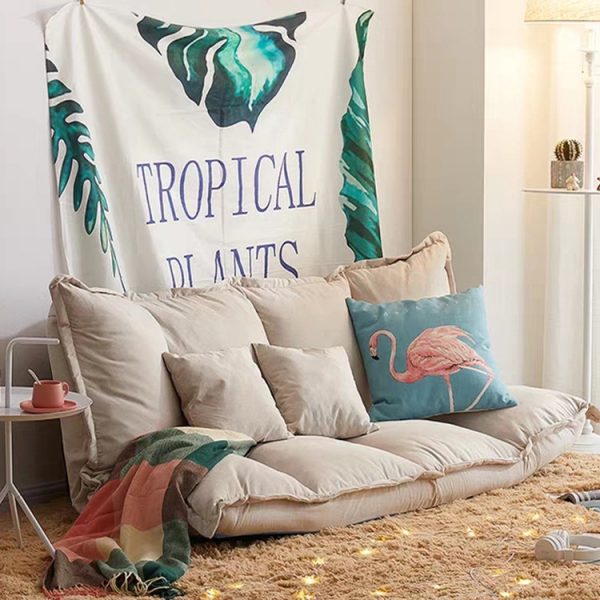 Newlyweds tend to prefer loveseats as they can cuddle up with one another while watching TV. But even though loveseats can accommodate two, they may still take up some space in your living area. This is why many young couples are turning to the Modern Folding Japanese Tatami Sofa (available on Trinomic.sg) instead. With an option of 130cm and 160cm length sofas, this space saving furniture can accommodate up to three people if necessary. However, when it's just an intimate time between the both of you, simply bend the bottom corners at the edges to transform the sofa into a loveseat with two armrests! You also have the option to completely flatten the seat for a soft and fluffy tatami bed — great for your guest who's staying the night. 
To style this sofa for small living rooms and make your space even more homely, we suggest laying a rug underneath, such as the Prielle Anti-Slip Long Rug (available on decoone_prielle.sg). Then, drape the HOOGA Aspen Throw (available on Hooga Official Store) over the sofa along with some cushions for an Instagrammable setup!
3. Dual Purpose Foldable Sofa Bed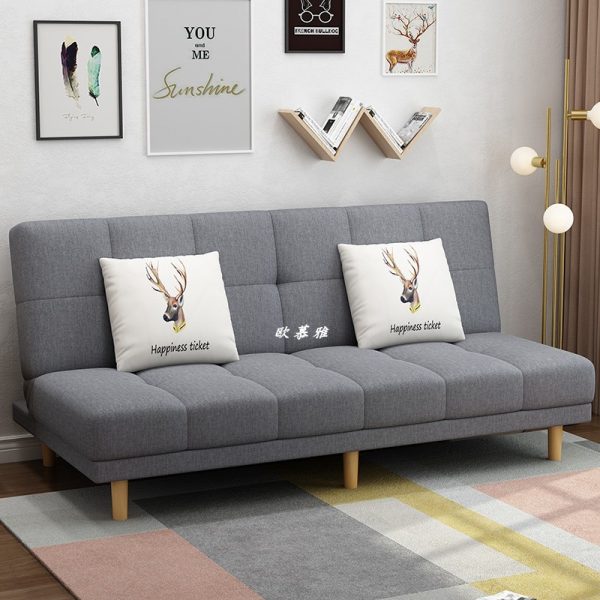 If you're a self-proclaimed couch potato, the Dual Purpose Foldable Sofa Bed (available on ingkoo.sg) will be right up your alley. Unlike the floor level sofas for small living rooms mentioned above, this is a proper sofa with six legs. When seated, your legs can bend comfortably, plus there's a medium backrest of about 50cm to support your back — a must-have for those who spend hours on the couch. 
Despite its relatively larger size, what makes this a great sofa for small living rooms is its ability to be transformed into a sofa bed! Simply push the backrest down to create a temporary sleeping space for friends and family. 
4. Bamboo Folding Coffee Table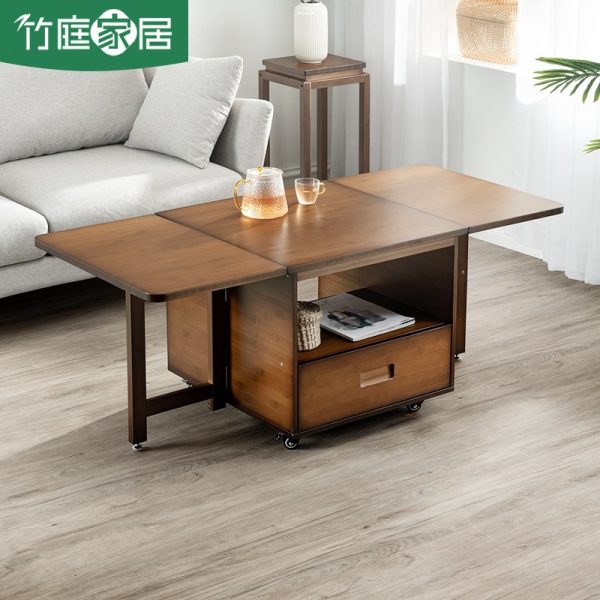 A living room isn't complete without a coffee table. However, a wide coffee table can instantly make a small apartment appear even smaller. Thus, you'll need a space saving furniture such as this Bamboo Folding Coffee Table (available on hotfurniture152.sg). This coffee table has wheels, allowing you to shift it whenever you want to create a larger  space in front of your couch. Additionally, it has an extendable design so you have the option to transform the piece into a longer table. Another thing we love about this furniture is its storage ability. It features a built-in shelf and a drawer to hold magazines or even stationery — especially useful for small homes with limited storage space! 
5. Luxury Vintage Triangle Table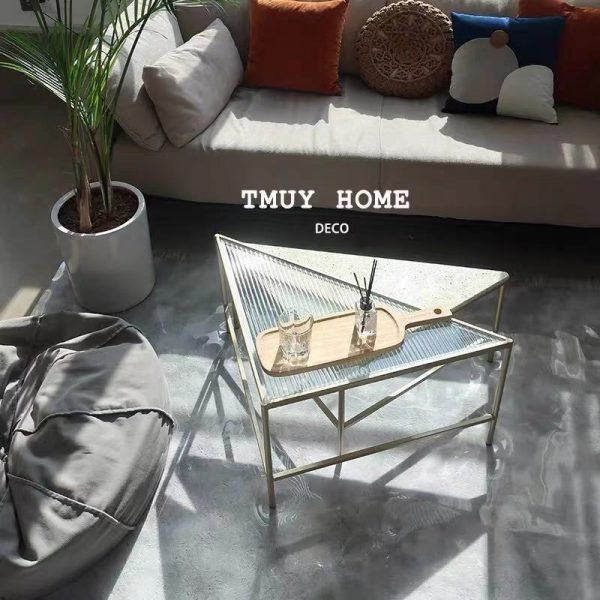 Having a small home doesn't mean you need to compromise on aesthetics. If having an Instagrammable home is your dream, there's no better coffee table to pick than the Luxury Vintage Triangle Table (available on idealhome11.sg). This coffee table comes in a pair — a larger tempered glass top as well as a smaller quartz top table. Put them side by side to create artistic dimensions in the room or tuck the smaller quartz table into the larger one when you need to create additional space. 
Space saving furniture for your bedroom
6. Devonne Faux Leather Storage Bed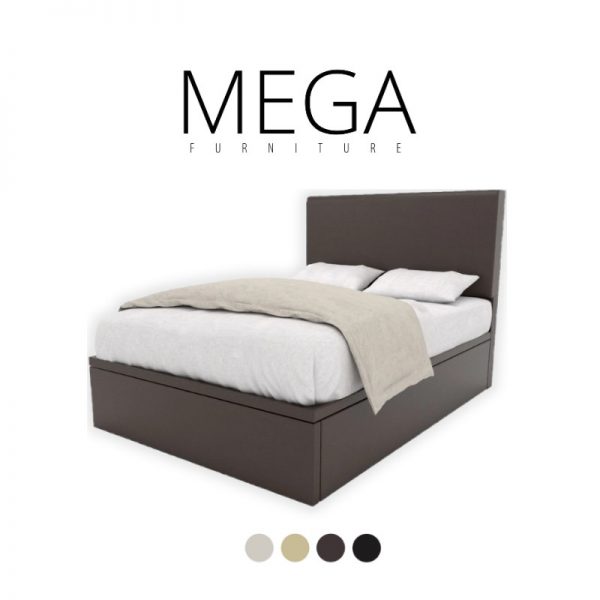 Racking your brain to create more storage space in your bedroom? Fret not, storage beds are here to help! Storage beds are a godsend for small apartments because they offer ample storage space that's easily accessible while hidden away from sight. This means you can store your spare bedding, luggage or even kids' toys under the bed without cluttering your space!
The Devonne Faux Leather Storage Bed (available on Megafurniture Official Store) has a lift-to-open mechanism that reveals a generous storage space beneath — nearly as large as the size of the bed! Moreover, it comes in four leather colours to choose from — white, beige, walnut and black. Don't stop here. Read up on this guide on building a cosy bed to create a quality sleeping environment for your family.
7. Loft bed With Side Step Ladder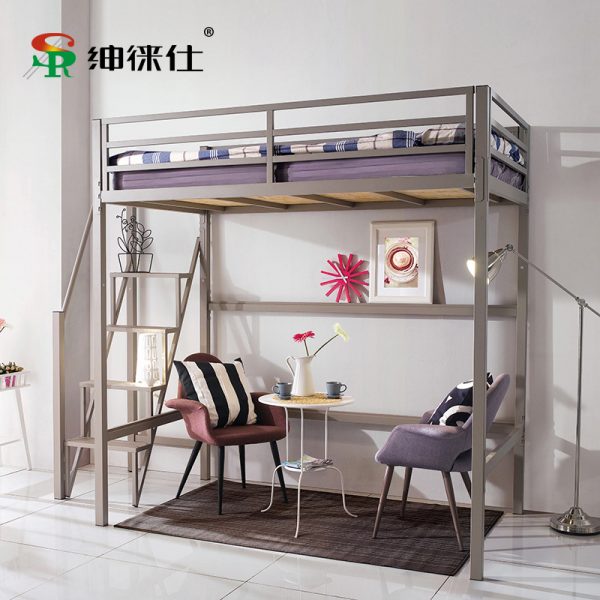 If the storage bed still does not provide enough space in your bedroom, we suggest you go for a loft bed instead. Loft beds are often mistaken as bunk beds, but these two space saving furniture are not the same. While both make use of vertical space, the bunk bed has both top and bottom bunks and can accommodate two or more people. Meanwhile, the loft bed only has one top bunk but the space beneath can be reserved for other purposes such as for a desk or even a play area! This makes it perfect for small rooms as you get to maximise the use of the room. 
This Loft bed With Side Step Ladder (available on panadinan.sg) is a sturdy addition to small apartments. Instead of a straight attic ladder seen on many loft beds, it's designed with a step ladder and comes with a handle bar. This makes it safe even for kids to go up and down the loft bed! With at least two metres of headspace underneath the bed, standing up straight will not be an issue for most people. This allows you to set up your workstation, gaming pad or even a lounging area below with ease! 
8. Multi-functional Storage Cabinet Bedside Table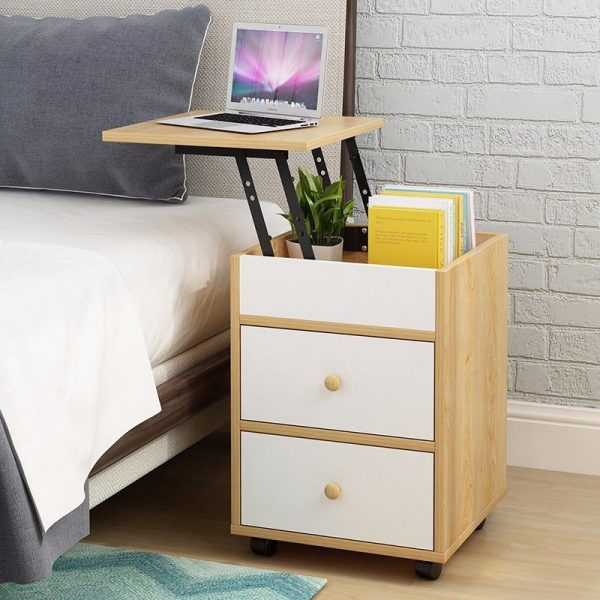 Need a bedside table to keep your bedtime reads? The Multi-functional Storage Cabinet Bedside Table (available on IKEA element) can do just that and more! This space saving furniture comes with two drawers and a built-in laptop table — perfect for reading your Kindle or even to watch your favourite Netflix drama. 
9. Modern Portable Plastic Wardrobe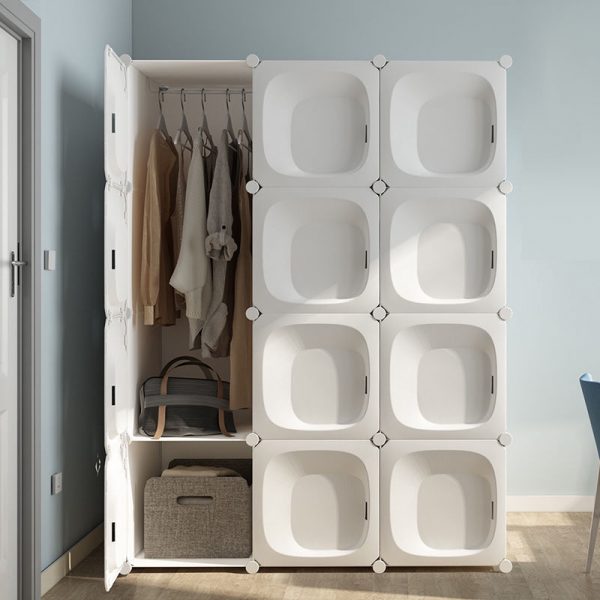 The Modern Portable Plastic Wardrobe (available on Health and furniture) is a unique piece of space saving furniture that offers ultimate flexibility. It comes with a combination of boxes, shelves and hanging racks so you can create a wardrobe that fits your space to the tee! 
Moreover, it's a breeze to assemble — simply stack the boxes together with the connectors and voila! This wardrobe is also perfect for those who are renting as it can easily be disassembled and moved to your new place. 
Pro Tip: For a better organisation system for your clothes, use a wardrobe organiser. 
10. Open Single-Pole Clothes Rack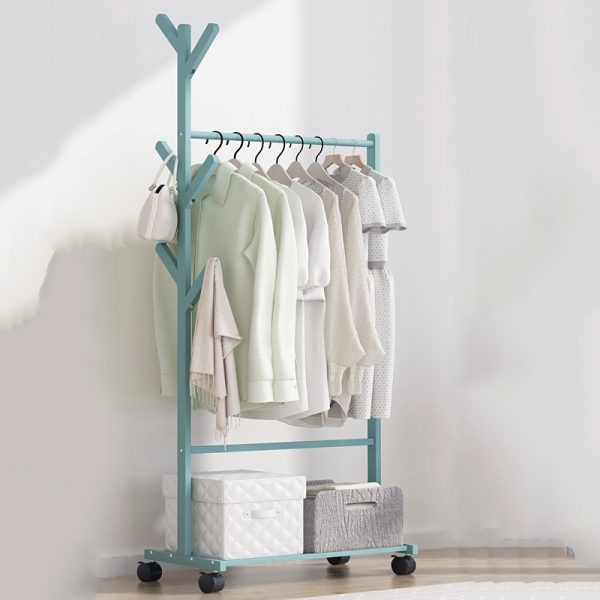 While the space limitation means that a walk-in wardrobe is pretty much out of the question, you can still live your Sex In The City dreams with the use of a clothes rack! The Open Single-Pole Clothes Rack (available on xzxuntao.sg) allows you to view all your apparels at one glance. You can line a few of these clothes rack together against the wall to transform the side of your bedroom into a mini walk-in wardrobe. They come with wheels for easy mobility so you're always free to switch up the setup in your room anytime! 
11. European Wood Dresser Makeup Table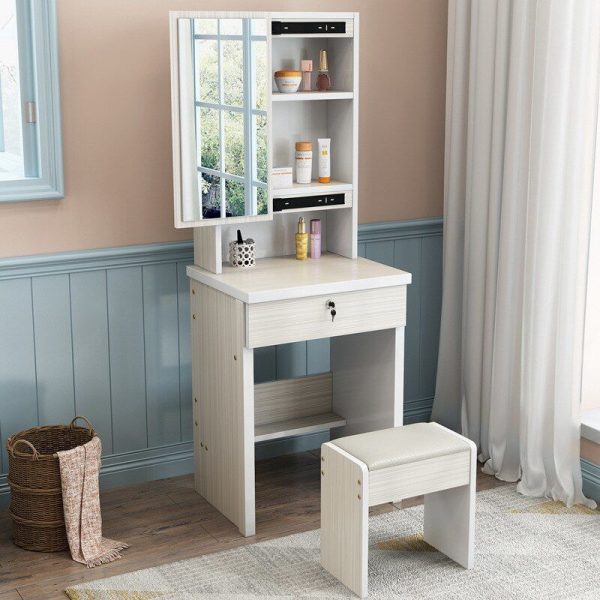 Ladies, we always need a vanity table for our skincare and makeup routine. The European Wood Dresser Makeup Table (available on globalmallsc.sg) may seem a tad bit small, but don't be fooled by its size. It comes with ample built-in storage including a lockable drawer and shelves behind the sliding mirror! Moreover, this space saving furniture will not take up too much room because the matching stool is designed to be tucked completely under the vanity table. 
Space saving furniture for your study room
12. Wooden Foldable Study Table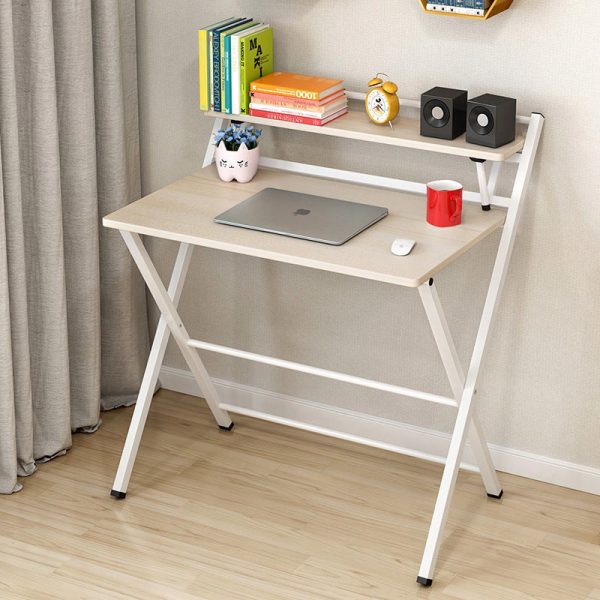 Work from home is still the norm for many Singaporeans. While you can work on the bed or couch, having a conducive working environment at home can boost your productivity. Have a tiny nook to spare in your apartment? Make good use of it and transform it into a study! All you need is a decent-sized study table such as the Wooden Foldable Study Table (available on petssmall.sg). It's designed to fold flat, which means you can slot it behind the bed, cabinet or even under the sofa when not in use.The desk also comes with an elevated shelf which doubles as a mini bookshelf. Parents, this will also make for a good study desks for your kids!
13. Foldable Backrest Computer Chair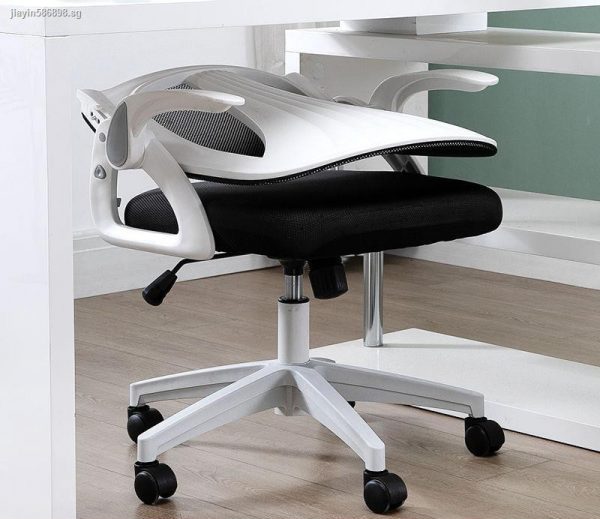 Whether you're studying or working at home, you need a good office chair to support your back and maintain a healthy posture. We highly recommend this Foldable Backrest Computer Chair (available on 霄凡jiayin586898.sg) which comes with a high backrest for full support. Additionally, the seat cushion is made of soft and breathable material to protect the bottom of your spine. Even if you're working in a non-air conditioned environment, you need not worry about heat retention with this high quality chair. That's because the backrest is made of high density mesh that facilitates ventilation. The highlight of this space saving furniture lies in its ergonomic design. The backrest can be folded down fully against the seat to reduce the overall size of the chair. This allows you to tuck the chair neatly underneath your desk to free up more space in your study room! To improve comfort, try adding one of these back supports to your seat. 
14. 360 Degrees Swivel Bookshelf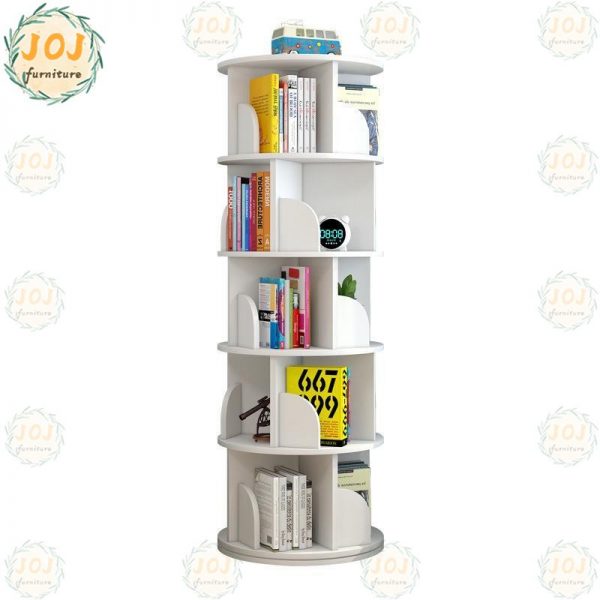 Don't let the small apartment hold you back from collecting your favourite books. With the 360 Degrees Swivel Bookshelf (available on JOJ Creative Home Furniture), starting your own home library is entirely possible. Taking up only about 160 square centimeters of floor space, this multi-layered storage bookshelf can hold up to 275kg of books, including your coveted and very heavy Harry Potter book collection. 
Moreover, the revolving bookcase is made of durable scratch proof and waterproof material built to last the years. If you're starting a small home library for your kids, we suggest opting for the two or three tiered swivel bookshelf instead to ensure the little ones can reach for their books. 
Amp up your home with space saving furniture and other creative ideas
We hope our list of sofas for small living rooms and ergonomically designed furniture has helped you in planning for more room in your humble abode. Be sure to check out Shopee sea shipping when you're in search of other beautiful pieces to elevate your interiors! If you're looking for alternative ways to create an illusion of a bigger space, try using mirrors. These stylish wall mirrors are all it takes for an Instagrammable home. And if you're sensitive to noise while you work or sleep, our guide on how to soundproof your room so you can keep your sanity at home.