Wireless technologies are all the rage now, and this has extended to keyboards too. The biggest benefit that wireless keyboards have is that it offers great portability and mobility. This means that you can move the keyboard around without having to keep it directly on a desk. For those with a messy table top, wireless keyboards can definitely help reduce clutter and give it a cleaner look. Whether they're for your home office or for playing games, read on for our recommendations of the best wireless keyboards!
What's better — wired or wireless keyboard?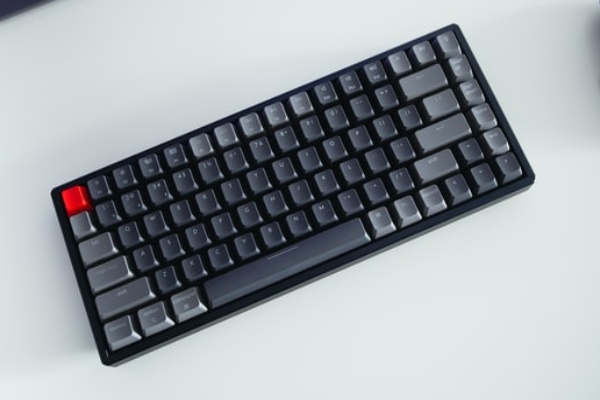 Wondering if a wireless keyboard is really worth it? Here are some factors to consider: 
| | | |
| --- | --- | --- |
| | Wired keyboards | Wireless keyboards |
| Portability | Fixed location | Can be used at a location of your convenience  |
| Organisation | Wires can get tangled up and look messy | No wires, less clutter |
| Battery life | Do not need batteries | Need replacing every few months |
| Interference | No lag or interference  | Potential interference with other wireless signals  |
| Cost | Affordable  | Slightly more expensive |
Best wireless keyboards in Singapore for your home office
1. Apple Magic Keyboard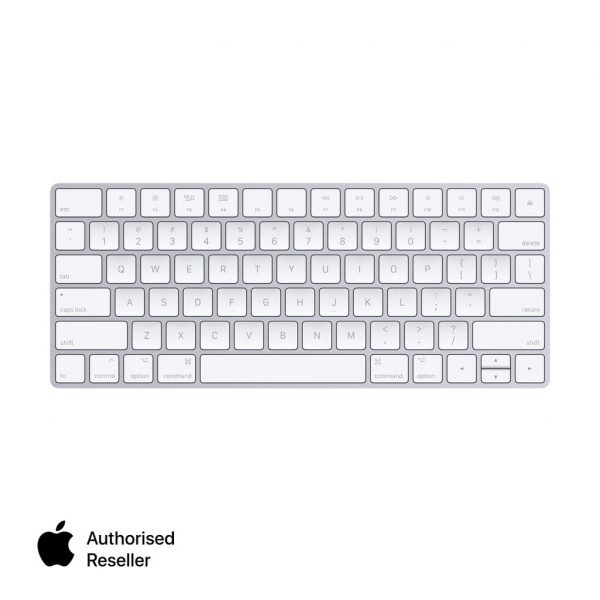 When looking for the best wireless keyboards for your home office, it's good to start with a premium option like the Apple Magic Keyboard (available on Apple Flagship Store). Thanks to its sleek design, the Apple Magic Keyboard will make your work-from-home set-up look superior. More importantly, this Apple keyboard has a built-in rechargeable battery that is incredibly long-lasting — it can last for about a month! Being compatible with over 20 Mac models, you'll most probably be able to connect your Apple device to it as long as it is of iOS 9.1 and above. Alternatively, if you need to use numbers at work frequently, you can consider getting the Apple Magic Keyboard with Numeric Keypad (available on Apple Flagship Store) for a more convenient typing experience. 
2. Seenda Wireless Keyboard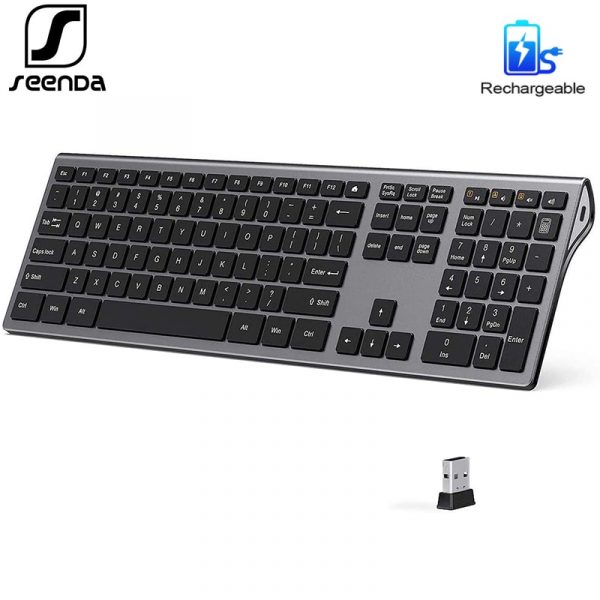 Another frontrunner on our list of best wireless keyboards is the Seenda Wireless Keyboard (available on Seenda Official Store) which is perfect for use when you're working from home. Its quieter keys also mean you won't have to worry about typing too loudly. This is great if you have a sleeping baby or if you're sharing your study space with someone else. Designed ergonomically, this Seenda keyboard comes with a 2.4GHz frequency technology that has a reliable connection of up to 10m without any delays. Moreover, there's an automatic sleep mode to conserve energy, allowing your keyboard's battery to last longer. All you have to do is press any key to wake it up! 
3. Ranger Wireless Keyboard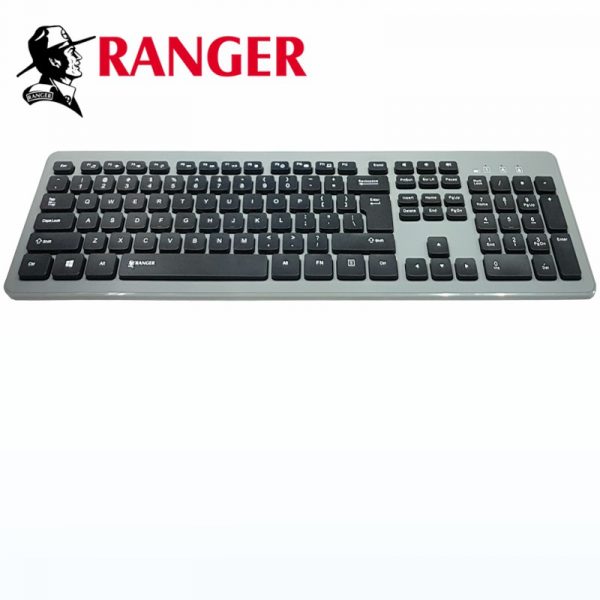 It's hard to find a wireless keyboard that's practical yet stylish at the same time. One good recommendation would be the Ranger Wireless Keyboard (available on Systems Technology Official Store) which comes with functional multimedia control keys. This is great for those who listen to music while doing work as you can play or pause your songs. There are also shortcut keys to your web browser home page, email, and search engine to speed up the process of your work — a true gem for your home office! 
4. VictSing Wireless Keyboard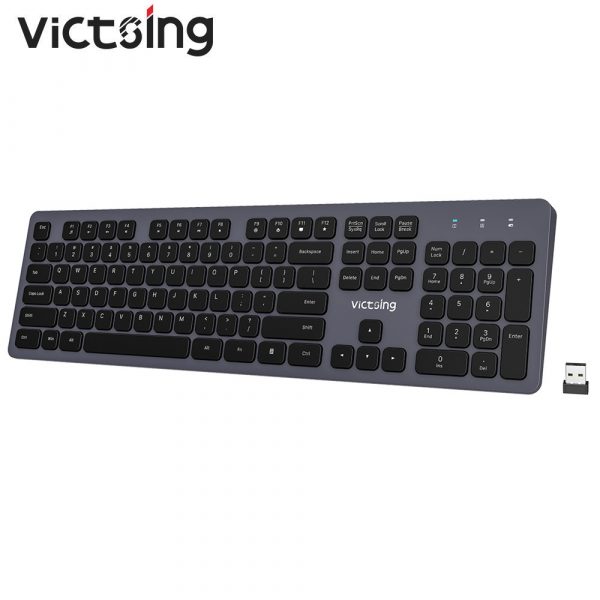 Working from home can be tiring at times so it's important to have a good keyboard!  The VictSing Wireless Keyboard (available on VictSing Official Store) is a good buy as it comes with 12 multimedia shortcut keys that provides maximum convenience while typing away at work. As one of the best wireless keyboards in Singapore, this VictSing keyboard also has a foldaway back kickstand that tilts at an 8 degree angle for an even more enhanced typing experience to match your eye-level. Made with a scissor-switch design, these quiet keys are great for those with other family members working at home. 
5. Keychron K8 Wireless Keyboard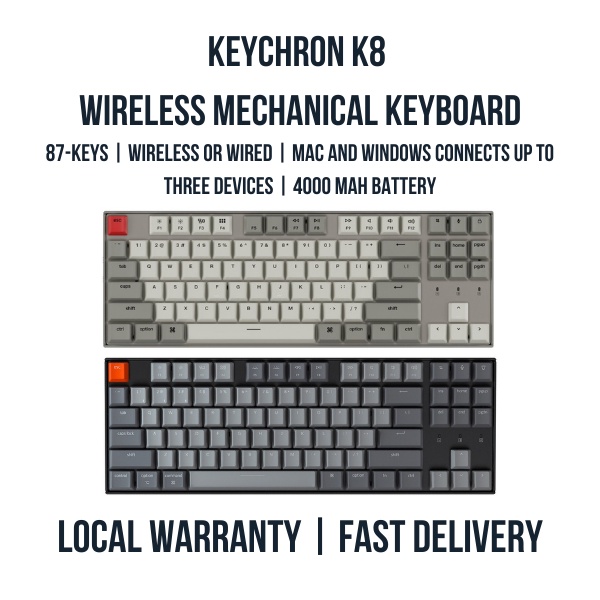 The Keychron K8 Wireless Keyboard (available on Aftermarket) should also be up your alley if you're looking for some of the best wireless keyboards that are compatible with your Mac. Crafted to maximise your workspace and enhance productivity, this Keychron keyboard allows you to connect with up to three devices via Bluetooth — great for those who need to use their mobile phones, laptops and tablets at the same time for work. Additionally, extra keycaps for both Windows and Mac operating systems are included as well — how worth it is this Keychron keyboard! 
Best wireless keyboards in Singapore for gaming
6. Razer BlackWidow Wireless Gaming Keyboard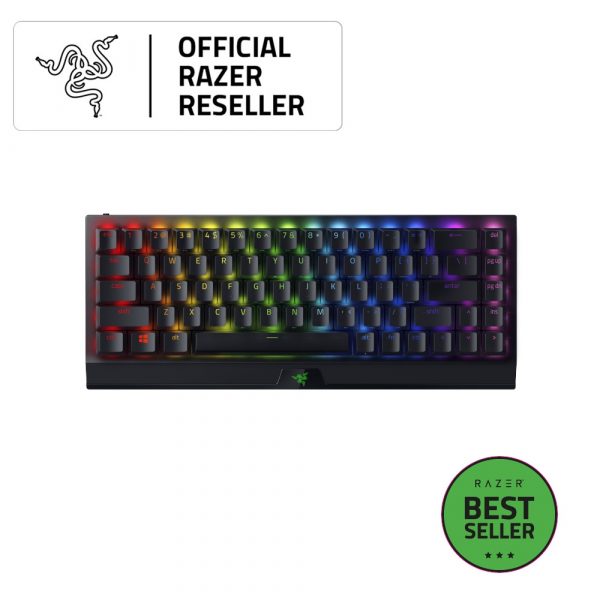 When it comes to the best wireless gaming keyboards, it is important to get one that perfectly balances form and functionality. A good place to start would be with the Razer BlackWidow Wireless Gaming Keyboard (available on Razer Flagship Store), a 65% wireless mechanical keyboard. This means that the keyboard comes without a function row, home cluster and number pad, but still has arrows keys which provides more functionality and convenience while gaming. On top of that, this Razer keyboard showcases up to 16.8 million colors in varying effects such as Wave, Breathing, and Ripple, and reacts to in-game events when playing Razer Chroma integrated games. 
7. Corsair K57 Wireless Gaming Keyboard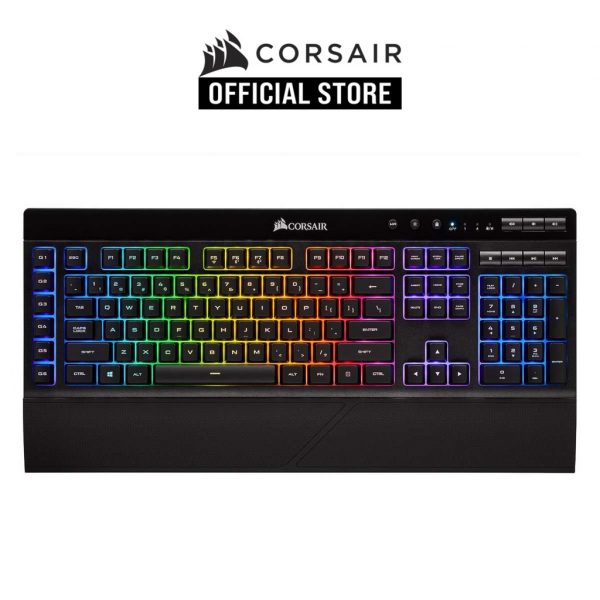 While most best gaming keyboards stand out for its programmable keys, the Corsair K57 Wireless Gaming Keyboard (available on Corsair Official Store) shines with its sleek design and dynamic per-key RGB backlighting. With dedicated volume and multimedia controls, you'll never need to worry about a poor gaming experience ever again! Additionally, this Corsair keyboard also comes with a detachable soft rubber palm rest so that your wrists have added support which helps during intense gaming battles.   
8. Armaggeddon MBA-61R Bluetooth Wireless Mechanical Keyboard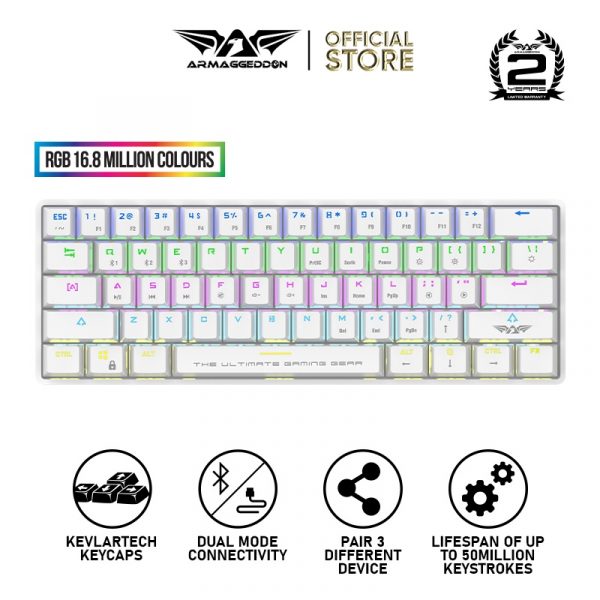 With a lifespan of up to 50 million keystrokes and cycles, the Armaggeddon MBA-61R Bluetooth Wireless Mechanical Keyboard (available on Armaggeddon Official Store) is definitely one of the best wireless gaming keyboards in Singapore! This Armaggeddon keyboard has 18 different pre-set back lights and a programmable keyboard lighting effect which will surely enhance the gaming experience by a notch. Available in both black and white, you'll find one that suits your preferred aesthetic. Since it is made of mechanical keys, a keycap puller and switch puller are also provided — in case you want to customise your mechanical keyboard!
9. Logitech K270 Wireless Keyboard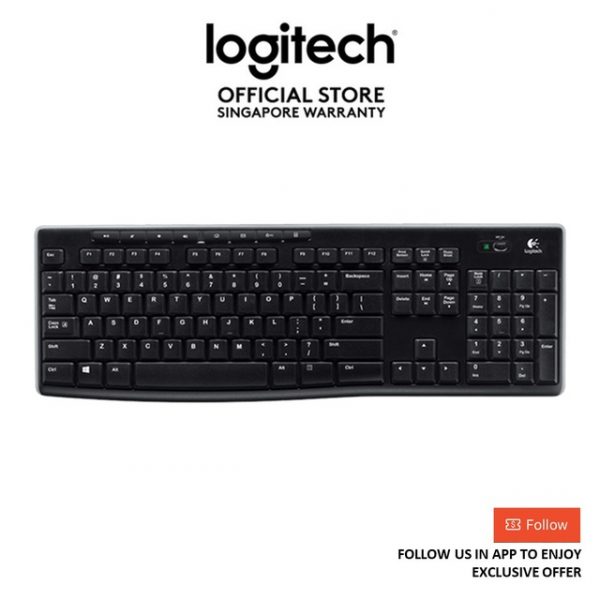 Looking for a keyboard that can be used for both gaming and work? The Logitech K270 Wireless Keyboard (available on Logitech Official Store) is the perfect choice! With eight hotkeys, you can have instant access to the Internet, your email inbox or your favourite music. With a connectivity range of up to 10m, you can work or game in more places (like a comfy sofa) with no virtual delays or interferences! For more funky options from Logitech, check out their Minimalist Wireless Illuminated Keyboard (available on Logitech Official Store) that will definitely enhance your gaming experience! 
Say goodbye to cluttered table tops with these best wireless keyboards 
We hope that this list has provided you with the best wireless keyboard for your work or gaming needs. If you still need other suggestions, do check out our list of best mechanical keyboards, as well as our guide to building a custom mechanical keyboard in Singapore. Additionally, don't forget to browse through our recommendations of the best gaming monitors and best gaming mice that can help enhance your overall gaming performance.