Any girl who has watched Sex in the City dreams of having a walk-in wardrobe just like Carrie Bradshaw's. So it's good to know that it's possible to live out the Hollywood dream in your HDB apartment. Whether it's a studio or a three, four or five-room flat, these ingenious walk-in wardrobe ideas prove that you don't need tons of space to dress up like a queen!  
1. L-shaped walk-in wardrobe ideas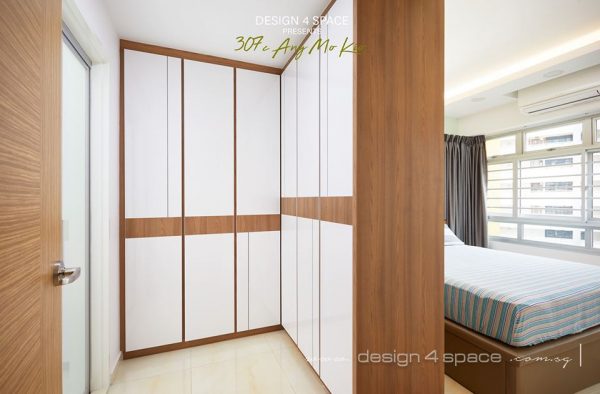 Can't seem to free up a room for your walk-in wardrobe? That's usually the case for HDB flats. There's no need to sweat it because we've got the perfect walk-in wardrobe idea for you! The L-shaped walk-in wardrobe is an excellent choice for smaller HDB apartment owners. Thanks to its unique design, it doubles as a partition for your bedroom — perfect if you want more privacy. 
How to adopt this walk-in wardrobe idea?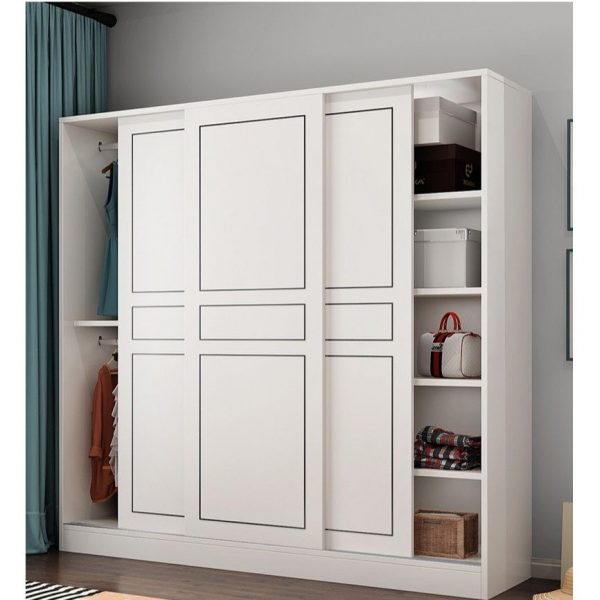 You don't have to go through massive carpentry work to create that desired L-shaped wardrobe. Put together your own L-shape wardrobe ensemble by combining two of the LULU's Simple Sliding Door Wardrobes (available on Lulu's Furniture). They come in various dimensions so you can find the ones that best suit your space! We especially love that these wardrobes have sliding doors to save on space.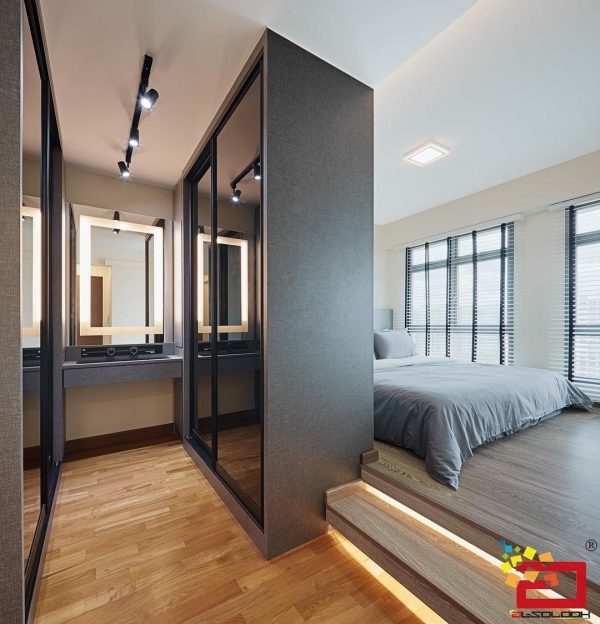 For a quirky alternative, why not switch out one of the wardrobes for a vanity table? The Wooden Vanity Table Set (available on Centum Singapore) would make a great combination in your makeshift walk-in wardrobe design! This vanity table features a concealed storage area behind the mirror so you can store your knick-knacks and makeup brushes!
2. Enclosed walk-in wardrobe ideas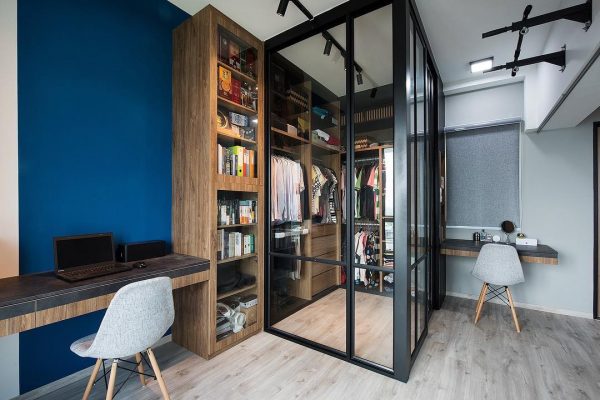 Go ahead and explore this enclosed walk-in wardrobe idea if you've got more room to spare in your master bedroom. As its name suggests, this design involves building a partition made of glass panel or a temporary wall to section off the wardrobe from the rest of the room. With the partition, you now have more corners to work with and can set up additional storage solutions if necessary! 
How to adopt this walk-in wardrobe idea?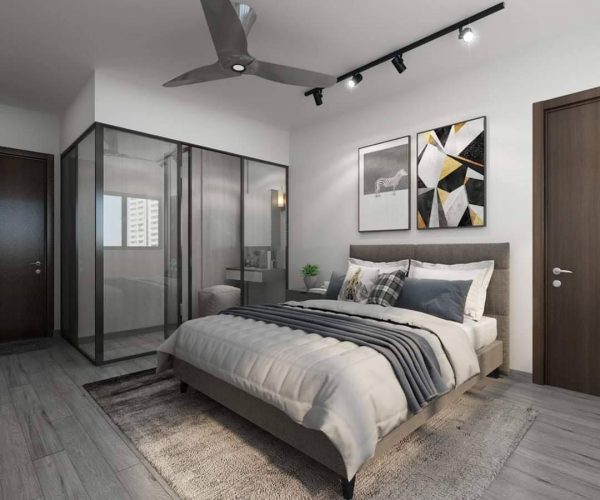 Building a glass partition can rack up extra renovation cost. If you're on a budget but would still like to apply this walk-in wardrobe idea to your apartment, a blackout curtain and a clothes rack will suffice! Simply pick a corner of your bedroom for this walk-in wardrobe idea. Display your favourite clothing pieces on this Adjustable Bedroom Clothes Rack (available on Mimi home&living).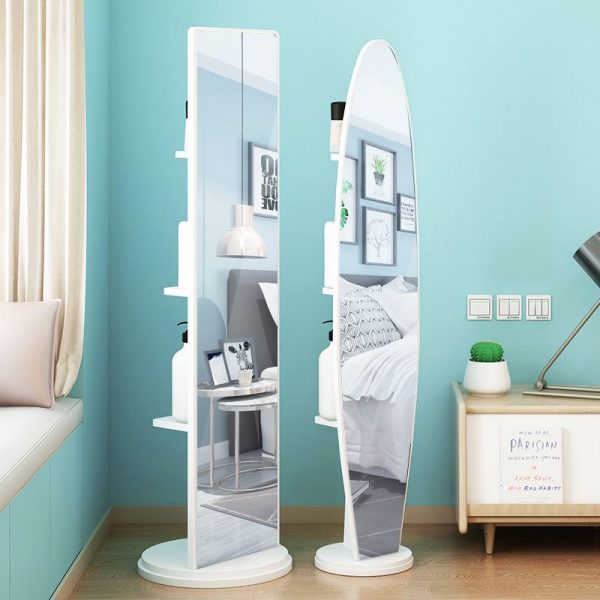 Then, attach these Blackout Grey Curtains (available on qiqi curtains/ cartoon curtain) on a long L-shaped curtain rod and voila — your personal walk-in wardrobe is complete!  There might be leftover space for you to add a Rotating Full-Length Mirror (available on Muyan official store) and take your stylish #OOTD shots too. Psst, the mirror even has several built-in shelves at the back for you to place other accessories and fashion must-haves! 
It can get really dark in your walk-in wardrobe especially with blackout curtains. Thus, it's important to install some LED Track Spotlights (available on led888.sg) in the walk-in wardrobe. Track lights not only illuminate your cosy corner but also turn it into a glamorous fashion showroom to provide you with more styling inspiration!
3. Open concept walk-in wardrobe ideas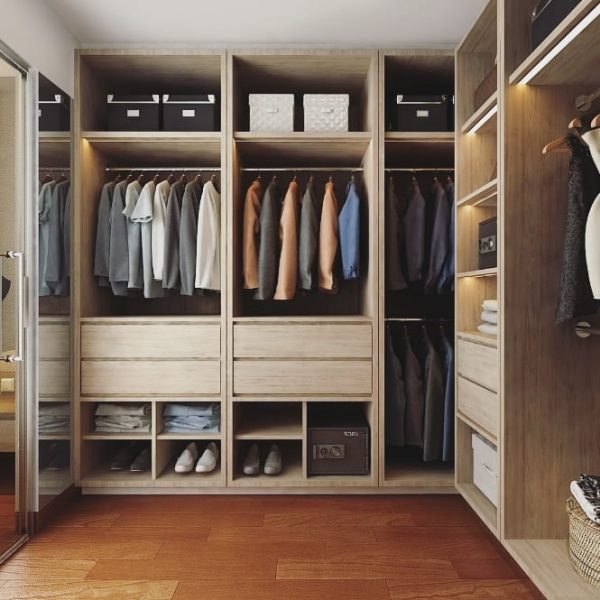 A statement piece good enough for Vogue should not be hidden behind closed doors. Opt for an open concept walk-in wardrobe idea to show off your impressive collection of the latest fashion essentials. You can even color code your wardrobe for a pretty and organised appearance. This setup works great for rushed mornings as you can see all your clothing items at a glance! 
How to adopt this walk-in wardrobe idea?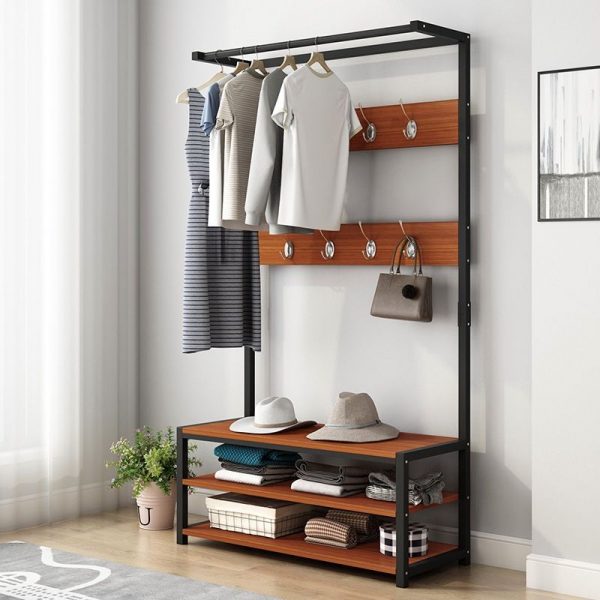 Hold up, before you start hacking away the doors of your existing wardrobe, there are easier ways to adopt this open concept walk-in wardrobe idea! Simply put together several of these Multi-functional Clothes Racks (available on Muyan official store) against a wall to create the same effect. This clothes rack even comes with shelves so you can store your footwear and bags. For a more budget-friendly solution, position several Extendable Spring Tension Rods (available on chuanhaigg02.sg) at various heights to hang your tops, pants and maxi dresses so they don't sweep the ground! 
No need to air your 'dirty laundry'. We suggest storing your panties and bras neatly in Drawer Storage Cupboard Boxes (available on inkPainless.sg). These cupboard boxes come in various sizes and with partitions for better organisation. You can even stack them up to create your own chest of drawers!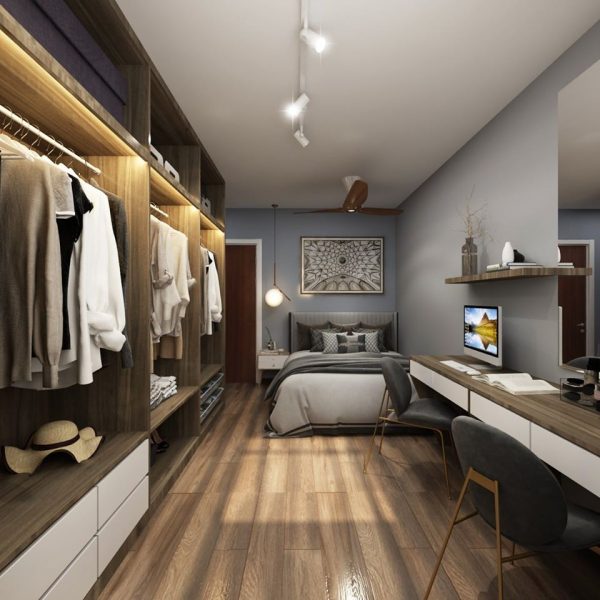 Having an open concept walk-in wardrobe also means your apparels are more exposed to dust and dirt. Keep your clothing pieces looking fresh and clean with a portable Electrolux Rapido Wet & Dry Handheld Vacuum Cleaner (available on Electrolux Official Store). Simply run the vacuum across your clothes, and be sure to focus more on the collar area  where the most dust usually accumulates. A garment steamer may come in handy too when you need to fix those creases in a jiffy!
4. Adjoining walk-in wardrobe ideas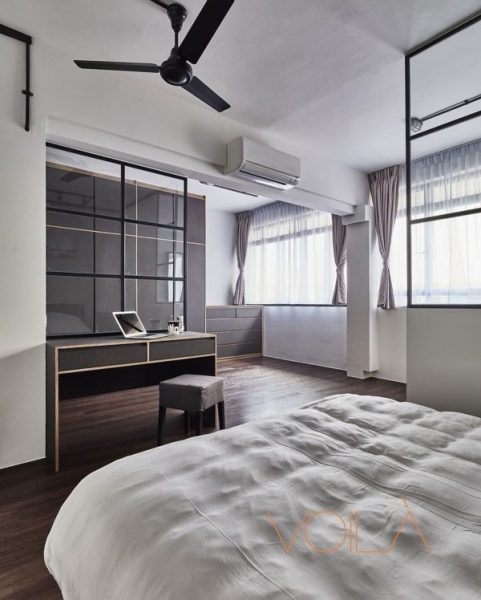 Have an extra room to spare? Well, you're in luck! Hack away the walls between the rooms to create an adjoining walk-in wardrobe for your HDB flat. This method ensures ample space for the shopaholic's newest collections and gives you more room to play around with your home interior. You can even practise your catwalk in this spacious walk-in wardrobe! We love how this adjoining walk-in wardrobe idea also helps to make your master bedroom look larger than it actually is.
How to adopt this walk-in wardrobe idea?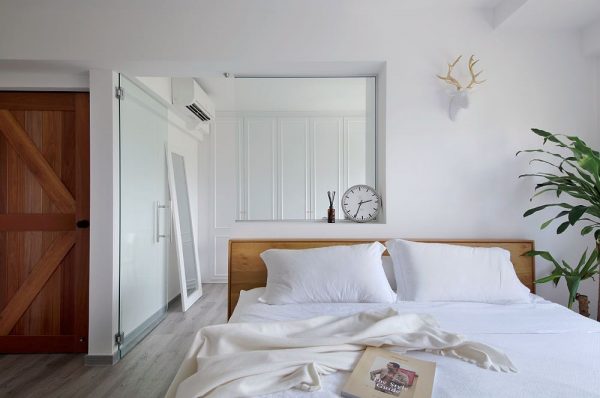 If you want to set your walk-in wardrobe apart for the rest of the extended room, lay on Vinyl PVC Flooring Plank Sheets (available on thejoyland) are your best bet! Without having the need to put up a door or partition between the adjoining room, a transition in the flooring creates the illusion that you've stepped into an entirely different space. An easier way is to lay a huge Nordic Style Scandinavian Carpet Rug (available on sgsmartbuys) in the middle of your walk-in wardrobe to achieve the same effect.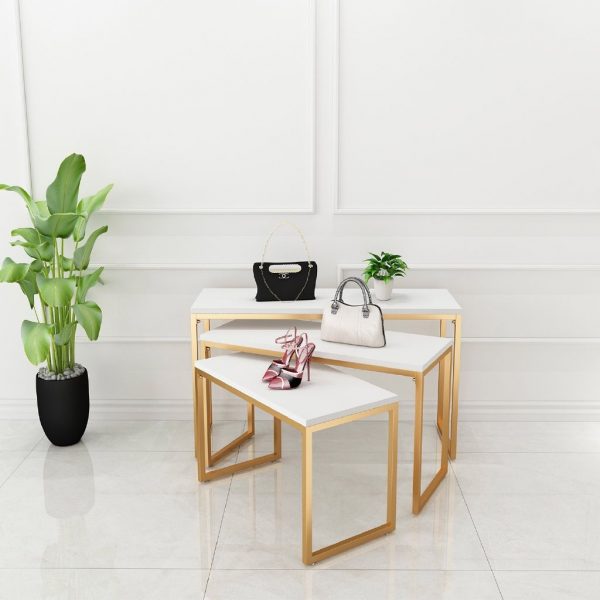 With so much space to work with, there's no need to settle for a compact wardrobe anymore. Splurge on the huge Sprint 4 Door Wardrobe (available on V.HIVE) which comes with drawers and hanging racks for all your storage needs. Buying a ready-made wardrobe also saves you unnecessary expenditure on the carpentry of built-in wardrobes. 
For those who prefer an elegant flair to their interiors, this Gold Clothing Display Table Set (available on Yunling.Home.Furniture) adds a luxurious touch to your walk-in wardrobe. Display your collection of branded bags and luxury watches here — it'll be your feel-good corner, no doubt! You can even dress a mannequin (available on adorableyou.sg) up in your favourite outfit to give you more fashion inspiration! 
5. Bomb shelter walk-in wardrobe ideas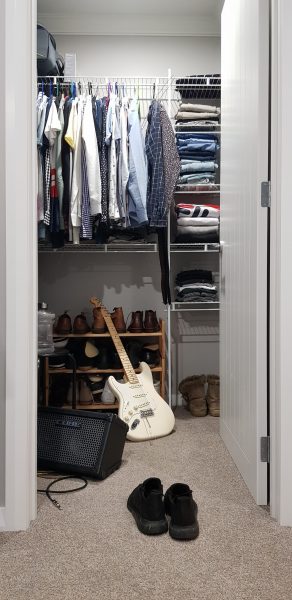 Desperate times call for desperate measures. Not all hope is lost if you can't seem to squeeze room out for your walk-in wardrobe. Since many homeowners are already converting their bomb shelters into storerooms, why not put in some cabinets and shelves to create your personal walk-in wardrobe? However, it is important to keep in mind that it's against HDB rules to make any alterations to the walls, floor slab, ceiling and steel door that may 'weaken or damage the structural elements of the bomb shelter'. So, be mindful when you're adding in more storage solutions to this small space!
How to adopt this walk-in wardrobe idea?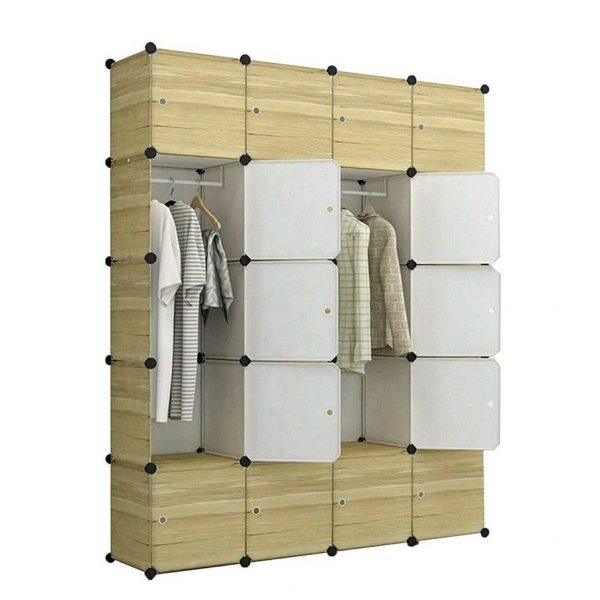 Since drilling or nailing isn't allowed in the bomb shelter and you may need to empty out the space in times of emergency, a suitable storage solution is one that's portable and easily disassembled. The DIY Modular Cube Wardrobe (available on Azonexsg) fits the bill with its ultra-lightweight yet durable polypropylene plastic material. You can arrange these cube cabinets any way you like. For more efficient use of space, hook this Handbag Storage Organiser (available on biling.sg) on the wardrobe hanger to create more room for your precious handbags! They help to prevent your bags from getting dusty if you don't use them often.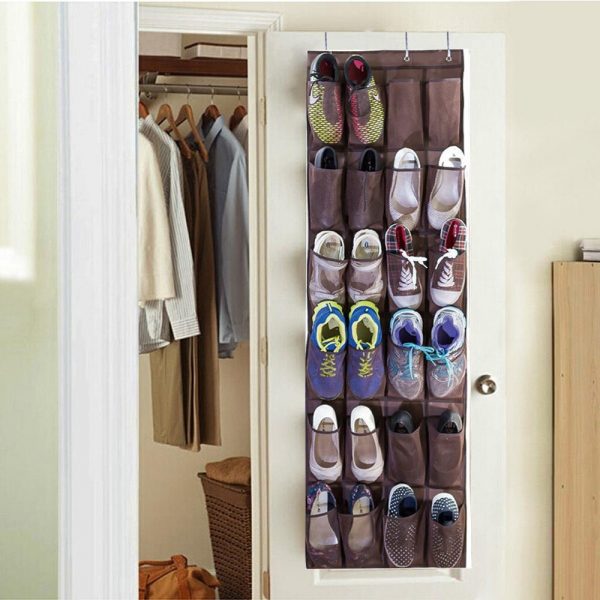 You can do more with your bomb shelter by putting up an Overhanging Shoe Rack (available on Home, Storage, Kitchen, Beauty) on the door. Designed to be hung on the back of any door, this nifty storage solution has 24 pockets to store your sneakers, heels and more! Now you can coordinate your outfit from head to toe before heading out for a date!
Other ways to spice up your humble abode
Aside from these creative walk-in wardrobe ideas, we've got more ways for you to switch things up at home. Check out these Insta-worthy HDB bathroom design ideas and pet-friendly home decor designs that can make Mr Whiskers feel more comfortable at home! Meanwhile, excited parents-to-be who are getting ready to welcome their new family member should also explore these beautiful nursery decor ideas to create a cosy environment for your little one.
---
New to Shopee? Get $7 off (min. spend $15) with code*: WALKINWARD
* TNC Applies. Valid for new users from 16 to 23 Apr 2020 only.