Do you have a dizzying amount of inspiration for your home decor but absolutely zilch when it comes to bathroom design ideas? If you wish to transform your humble HDB into one swanky apartment, don't forget about the bathrooms —  they can brim with character too! Keep scrolling for insta-worthy HDB bathroom design ideas that'll definitely rake up your #bathroomgoals meter!  
1. Modern Luxe
https://www.instagram.com/p/BYXQKLgngUF/
Turn your regular HDB bathroom into a modern sanctuary with a luxe design. Include simple, geometric tiles and juxtapose with dark wood cabinets to lend the bathroom a chic, sophisticated flair. 
How To: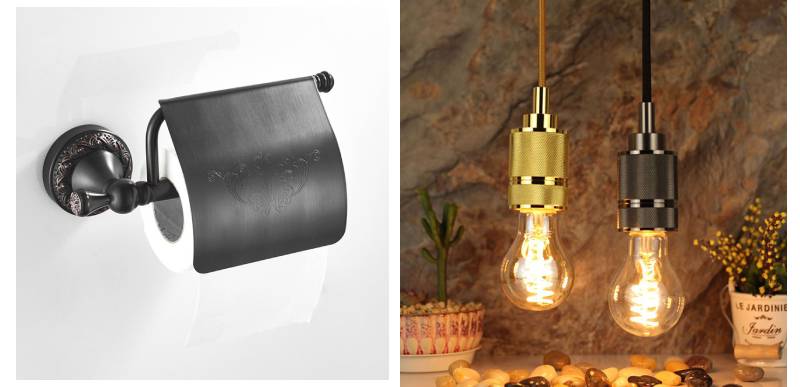 While choosing bathroom accessories may seem like a cinch, make your life easier by getting pieces that integrate with the theme of your HDB bathroom design. For instance, this black wall-mounted toilet paper holder (available on hotkeystore.sg) is classy and easy to install!
Vintage-style light bulbs (available on bahpaud.sg) are also growing in popularity. If you love the look of old-school incandescents, you can even play it up with the funky filament designs. These vintage-style bulbs will provide an interesting contrast in your modern bathroom, yet cast a warm, cosy glow that'll enhance the mood of the bathroom.
2. White and Wood Bathroom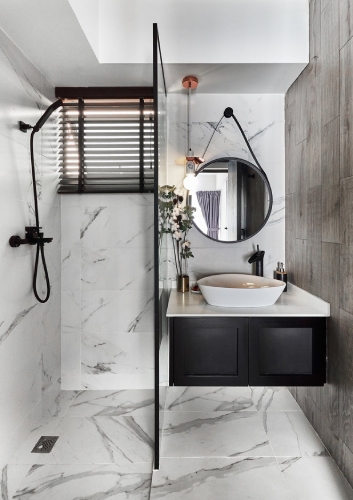 A neat way to give the bathroom a spacious look is to use lots of white and dark wood. It's easier than you think, since most of your bathroom fixtures are white too. Going with a white palette also means yes to marble finishing! Perfect for those with a weak spot for marble. 
How To: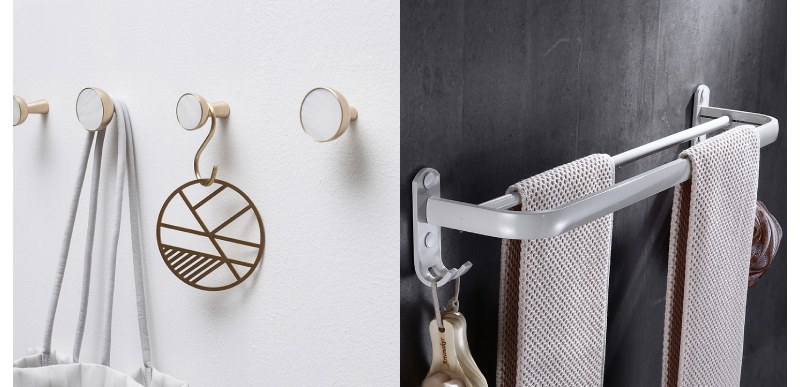 A bathroom's handles and knobs often get overlooked. But those are the details that will make or break the look! For a clean, neutral palette, we'd go for these minimalistic, white hooks (available on enmoo_home.sg) for the bathroom. 
Alternatively, a double-bar towel rack (available on jiangjiang groceries) can be extremely functional yet sleek. Wall-mounted towel racks help to reduce clutter, giving you more storage space for other needs. If you have a smaller bathroom, a towel rack can be a savvier option for letting your towels air.
3. Millennial Pink
https://www.instagram.com/p/BnaV3lXAqkY/
A pink palette provides a trendy alternative to the run-of-the-mill HBD bathroom designs. Marble finishing and gold accents also pare down the saccharine pink tones for an edgy look. Instead of the full-blown millennial pink design, the decor can be distilled down to several small elements that tie the look together. 
How To: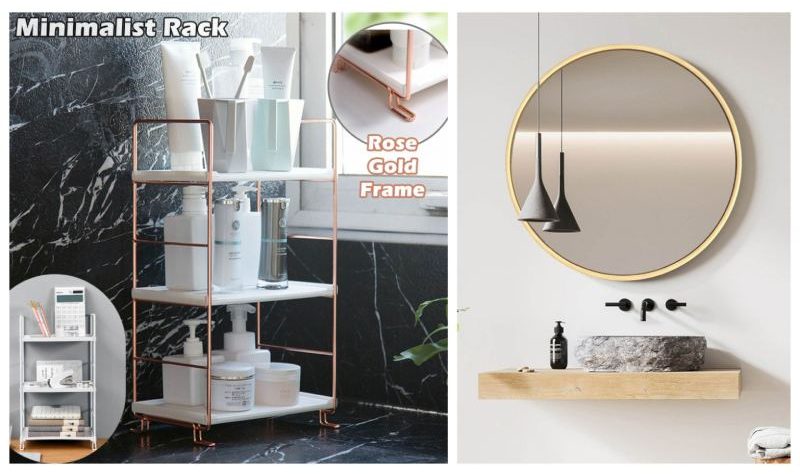 Pick rose gold bathroom shelving like this rose gold rack organiser (available on JRKREATION). It's perfect for tidying up your skincare products while still keeping them at arm's length.
Embellish your walls with this gold, round mirror (available on enmoo_home.sg) for some modern glamour. It doesn't steal attention from the signature pink hue but serves as a muted complement to the overall millennial pink design. Gold finishes also add splendour to your HDB bathroom design, so be on the lookout for those gold bathroom accessories while shopping! 
4. Rustic
https://www.instagram.com/p/B1tJTflBwpT/
If you're blessed with a constant stream of natural light, you have free reign to do what you want! We love this welcoming, rustic space decorated with nature-inspired pieces, such as rattan baskets and wooden stools. 
How To: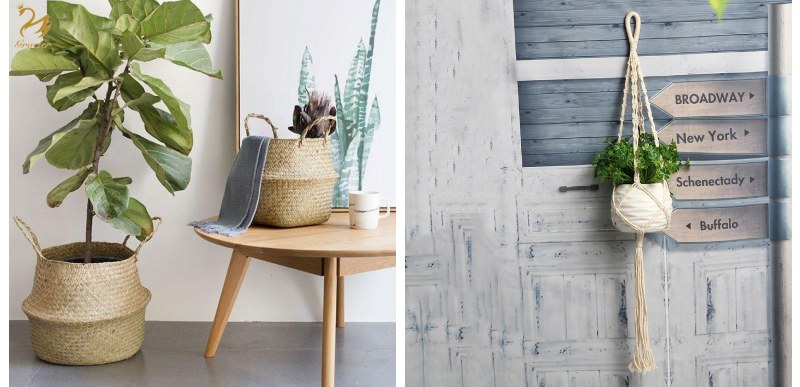 Rattan is back in a big way — you see them in everything throughout home decor. It has an uncanny ability to work with cosy, rustic spaces, completing the nature-inspired theme. You can easily embrace this trend in your own HDB bathroom design, with these multi-purpose rattan baskets (available on gracier.sg) that score major points on style and function. They serve as excellent storage solutions for laundry or a stack of fresh towels!
Weave in some greenery to your space with a macrame plant hanger (available on uperfector888). Macrame is the art of tying decorative knots to create unique wall hangings, placemats and more. Most importantly, it'll bring texture and warmth to the room and spruce up your bathroom design.
5. Contemporary Chic
https://www.instagram.com/p/BmuigImgdtq/
One of the easiest ways to bring energy to a room is with colour or pattern. Why not introduce an unexpected element like geometric tiles onto your bathroom walls?  Alternatively, go for muted wall colours for a fresh, playful and timeless interior look.
How To: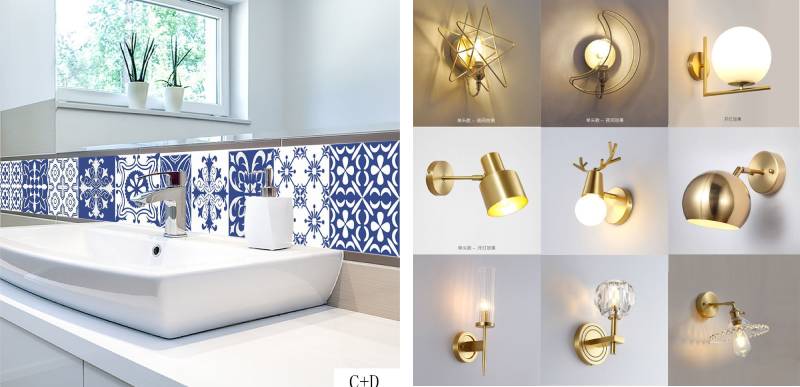 Give your bathroom a handcrafted feel with these Mediterranean-style tiles with a floral motif (available on fashionmakeup.sg). Its elaborate striking blue patterns resemble maiolica or tin-glazed pottery and will look stunning in your new bathroom.
Having geometric tiles might mean introducing tons of visual stimuli. If you struggle to keep the balance, a simple trick is to introduce symmetry. That could mean placing two identical cabinets next to each other or get a pair of bathroom wall sconces (available on qhe007.sg) to flank the bathroom mirror! It also doesn't hurt that it provides great vanity lighting too (yes to more bathroom selfies!) 
6. Monochrome
https://www.instagram.com/p/B0tFlUIHGOK/
Let this charming monochromatic black-and-white palette be the talking point of your HDB home decor. For an unexpected piece of glamour, use marble in monochromatic tones and include a deep bowl vessel sink! 
How To: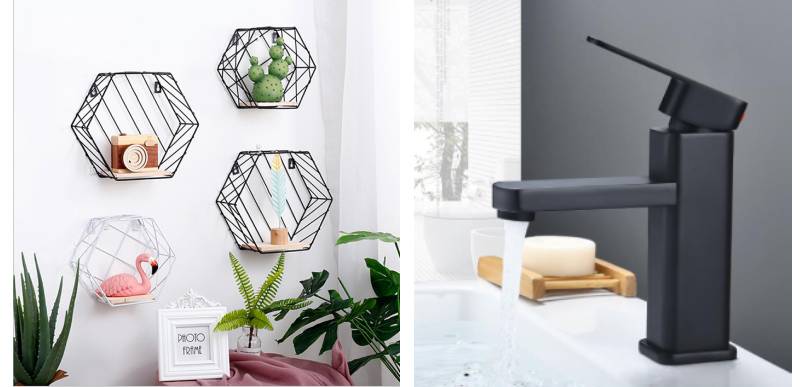 Take your HDB bathroom design into seriously chic territory when you add decorative accents. A monochrome choice calls for maturity and serenity, but that doesn't mean it has to be boring. Add
geometric wall shelves
(available on
Sanmubo Boutique
) to your bathroom for more storage space with a quirky twist! 
How about a sleek, black sink tap to tie in with your theme? This square design matte black tap (available on puay00) gives a sharp, tailored look in your bathroom. Take it a step further with a black sink to match your tap too! 
7. Earthy Tones
https://www.instagram.com/p/B2dqNv4F1tx/
Neutral and warm tones are abound in this HDB bathroom design with strategic lighting placements to create playful shadows. Wooden accents are one of the best ways to make the space feel warm and inviting. If you wish to stick to white tiles, consider the herringbone arrangement to add an element of interest to your bathroom. 
How To: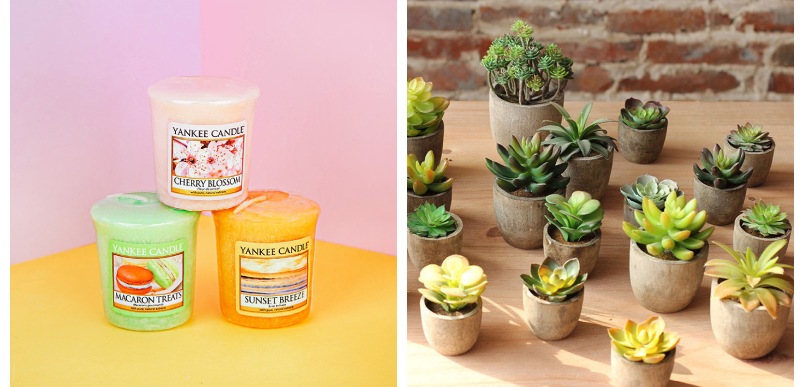 To enhance the serene and spa-like ambience, light up a scented candle (available on Romantic house). It'll keep your bathroom feeling fresh while enhancing the overall natural ambience!
Complete the earthy tones with some plants. If you're after fuss-free, low maintenance plants, we recommend these mini artificial succulents (available on qinjue.sg). With its size, they'll fit into any nook and cranny of your bathroom and brighten up the place with its greenery. 
Planning your home renovation? Then you'll know the struggle is real when it comes to deciding on a design theme or stocking up on essential equipment. Sometimes, you may not know where to begin at all. But that's why we're here! Check out this lifesaver list on essential kitchen equipment for your new home. Or these unique home bar counter design ideas? Finally, check out our Home & Living category for more ideas (and deals!) for your new home!