Setting up a home bar may seem like a frivolous concept in Singapore when space is precious real estate. However, don't be quick to ditch the idea! With the festive season almost upon us, we bet many of you will be scrambling to spruce and preen your homes to make it look chic for guests. Planning to host a Christmas or New Year party this year? Let us help with some bar counter design ideas to transform your space – whatever the size of your home. We promise you'll be skipping those Thirsty Thursday deals and staying home sipping on cocktails instead!
Bar counter design ideas for different types of home bars
1. Vintage home bar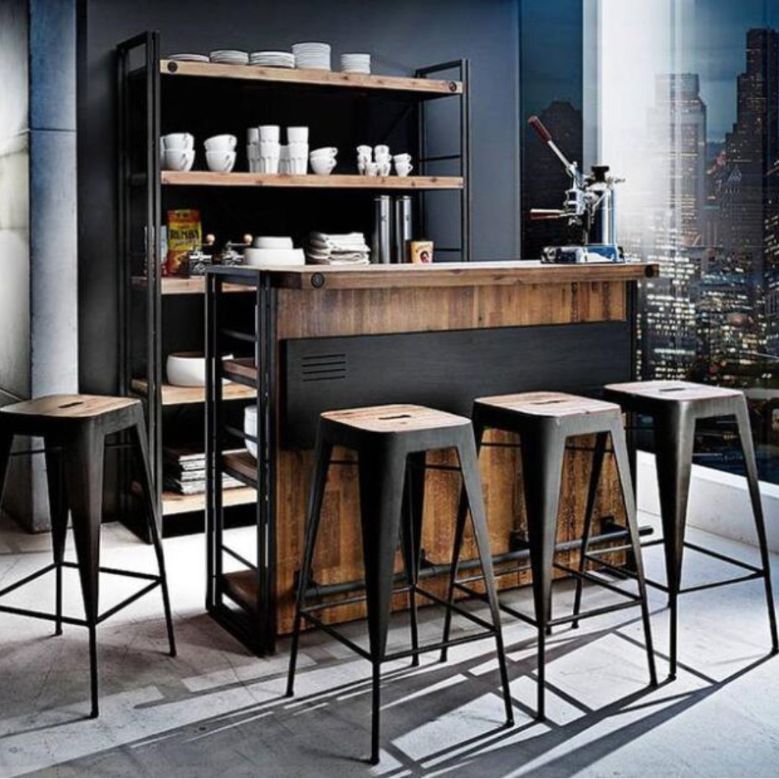 This is one of our favourite bar counter design ideas! A vintage or retro themed home bar is easy on the eyes and can be created in many ways. From well-worn wooden to retro colour-block furniture, the idea is to recreate the nostalgia from days long gone.
Get this rustic high table and chair set (available on shopperparadise) which features extra shelving so you won't have to fret about buying a separate cabinet to store the booze. The length of the table and four high-top chairs allow for merry-goers to gather comfortably while sipping on aerated wine from the decanter.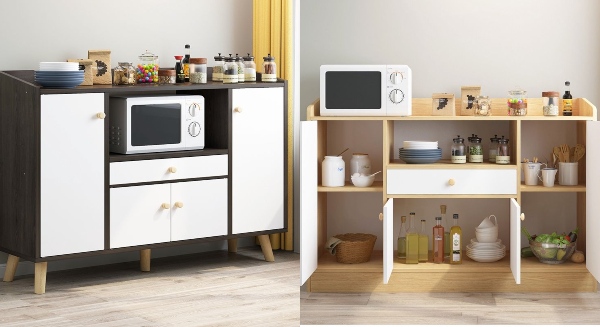 A vintage home bar can also encapsulate several other bar counter design variations. Ever admired those old-school bar cabinets which open to reveal rows of alcohol bottles? This side cabinet (available on Nanfeng Furniture) belies a regular cabinet when closed, but we know the debauchery that lies within! Line mini booze bottles on the open shelves and stow wine bottles behind the taller cabinet doors.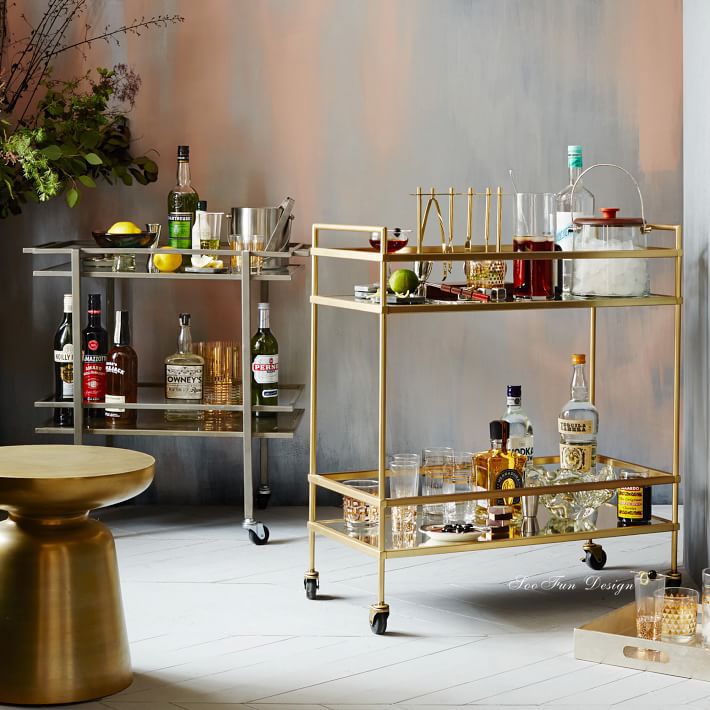 Bar carts are also becoming a favourite among home bar enthusiasts. A bar cart takes up almost no space at all and is an easy HDB bar counter idea to try for your flat. How cute is this Nordic cart trolley (available on castleryhome.sg)? A bar cart comes in most useful when you want to enjoy a tipple away from the bar counter — either in bed or while lounging on your sofa with your favourite Netflix shows! Store a couple of whiskey glasses as well as a bottle of your favourite spirit with a bucket of ice and you'll be ready to sip the night away!
2. Luxurious home bar
Who doesn't want a luxe and swanky home bar? If you have the money (and space) to splurge, we suggest going all out with designing a lavish and dedicated home bar. The trick here is to decide on an overall concept for your bar counter design and incorporate elements that fit with the theme. We suggest going with a dark, woody vibe, embellished with gold accents and high-quality glassware.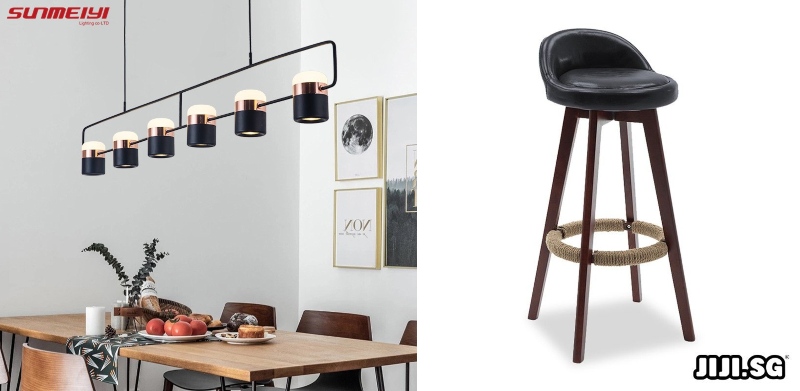 Invest in a marble top kitchen island, some shelving and a wine cabinet (available on bnmdbdb.sg). Also, don't forget that lighting makes all the difference! Hang a few high-grade modern LED pendant lights (available on SUNMEIYI Official Store) above the counter and dim the lights for a romantic and non-startling glow. You could even sink into a couple of these gorgeous leather high stools (available on JIJI.SG Official Store) too!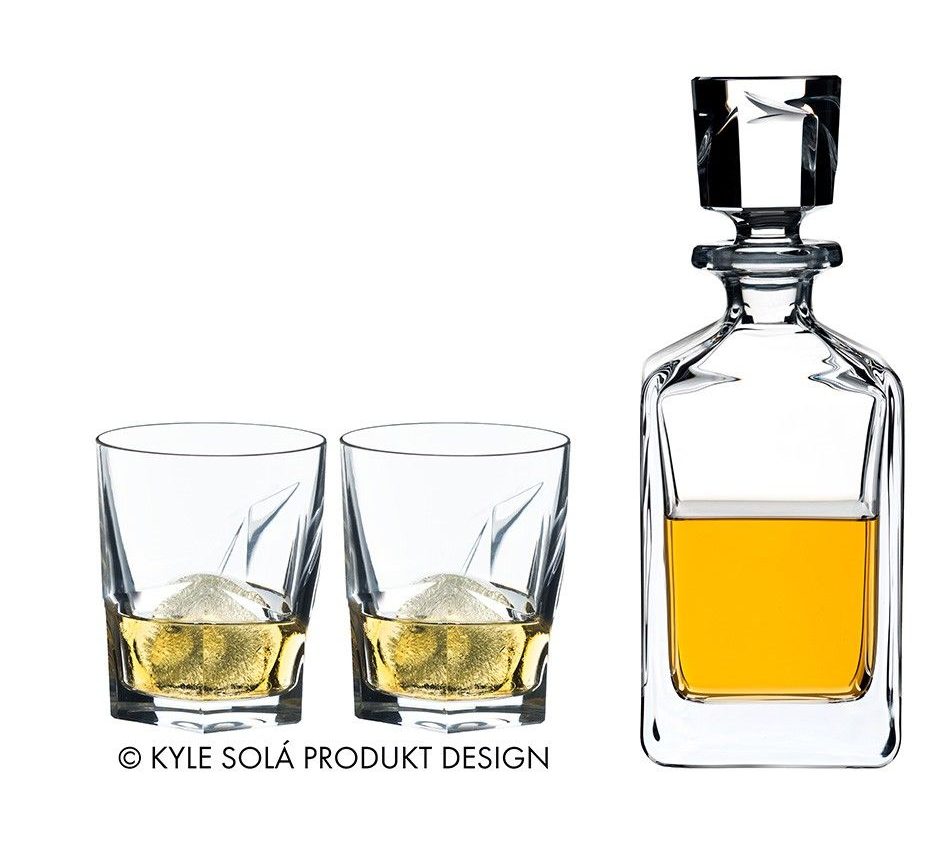 Don't skimp on the drink accessories! Dress up your drinks with this whiskey glass and decanter set (available on RIEDEL Singapore). This could also make a classy housewarming gift idea. Hate having diluted drinks? Keep your drinks chilled for longer with some whiskey cubes! Stock your luxe home bar with some bottles of the best alcoholic beverages and keep your guests entertained throughout the night.

3. Tropical kitchen bar counter
One of the best ways to create an HDB bar counter design is to utilise the space in the kitchen. If you're sorely missing the beach bar vibes, then this tropical bar idea will serve as the perfect inspiration!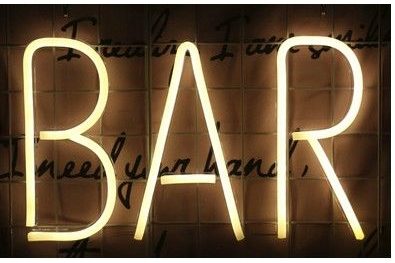 Go loud or go home with a funky 'BAR' neon sign (available on MULTIPLE X CHOICE). Install gold ledges to store accessories like cocktail shakers and of course, your favourite type of poison!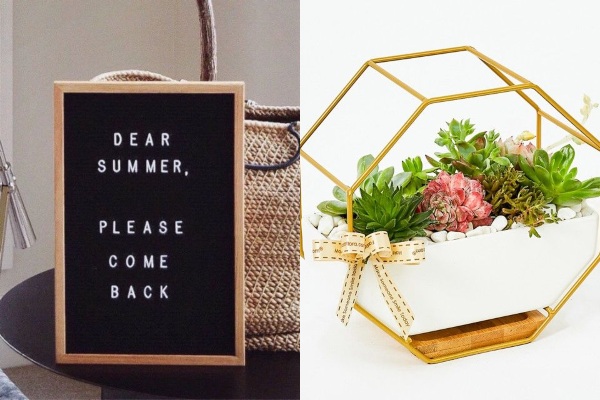 You can also consider placing pots of artificial flowers or succulents to soften the entire look. Instead of photo frames, why not prop up this felt leather board (available on Partyforce) with the cocktail menu of the week! As a final touch, garnish the shelf with the citrus fruits you'd use in the cocktails — we hear citrus peels, cinnamon and mint leaves even help to keep insects at bay!

4. Minimalist home bar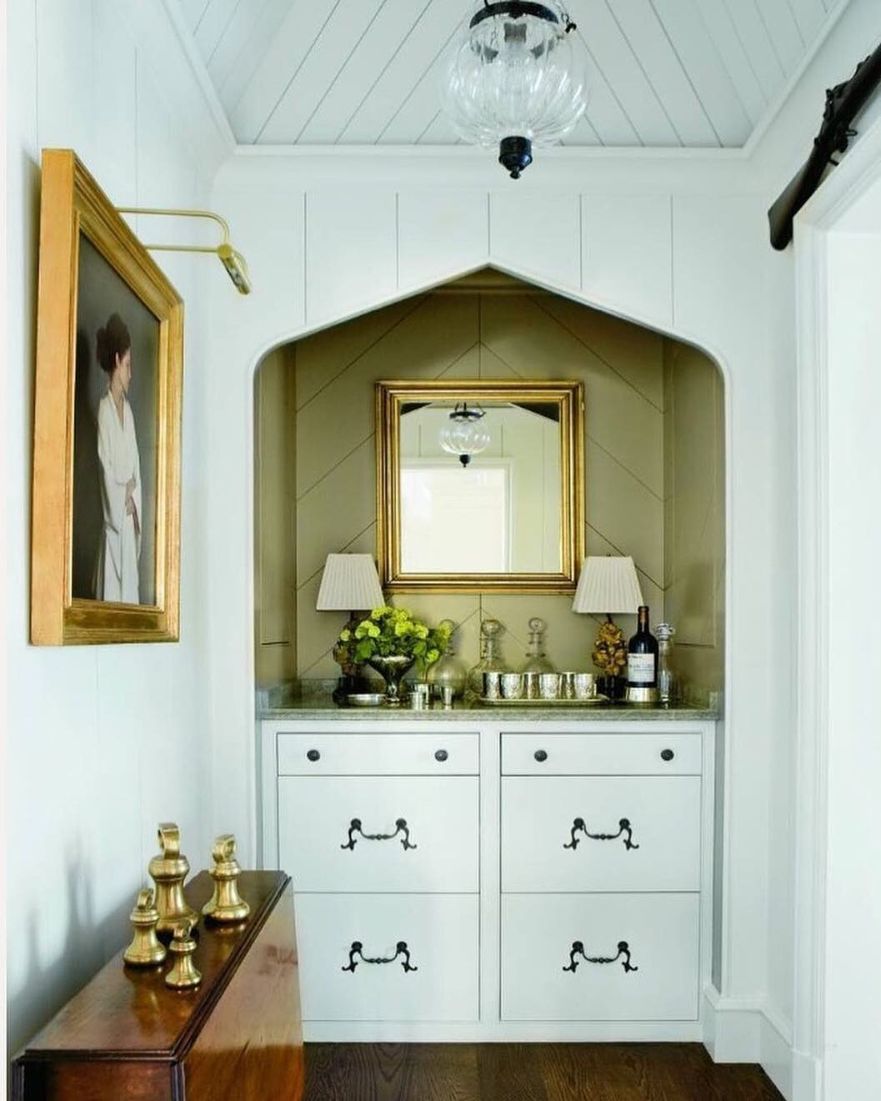 If you're looking to keep things simple and breezy then a minimalist style will be right up your alley. By building a home bar into a feature wall, this HDB bar counter design will allow you to keep your bar's aesthetics clean and simple without needing to incorporate too many extra furniture pieces.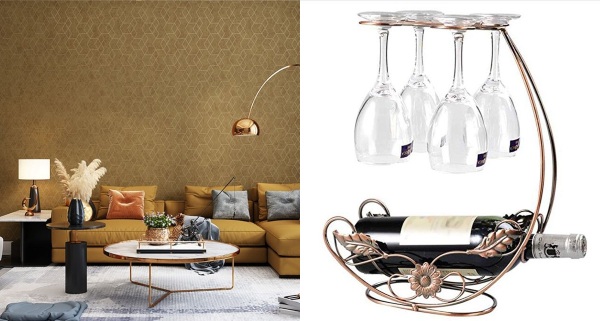 Pick a geometric patterned wallpaper (available on 5288shop) and put up a large mirror to give the illusion of space. Install a short wine glass rack (available on dbaigaudnh84.sg) and place these marble storage trays to house a few select bottles of alcohol. Though it may be tough to incorporate chairs or tables into this concept, a minimalist feature-wall home bar will be the talking point of your home in its own right!
5. Scandi home bar
Who doesn't love a clean Scandinavian bar counter design idea? Scandi designs may seem muted and simple but are actually more impactful and functional than they look! We adore the functionality of this bar and kitchen design, perfect for an HDB bar counter in Singapore. Find out what you need to create a similar bar vibe.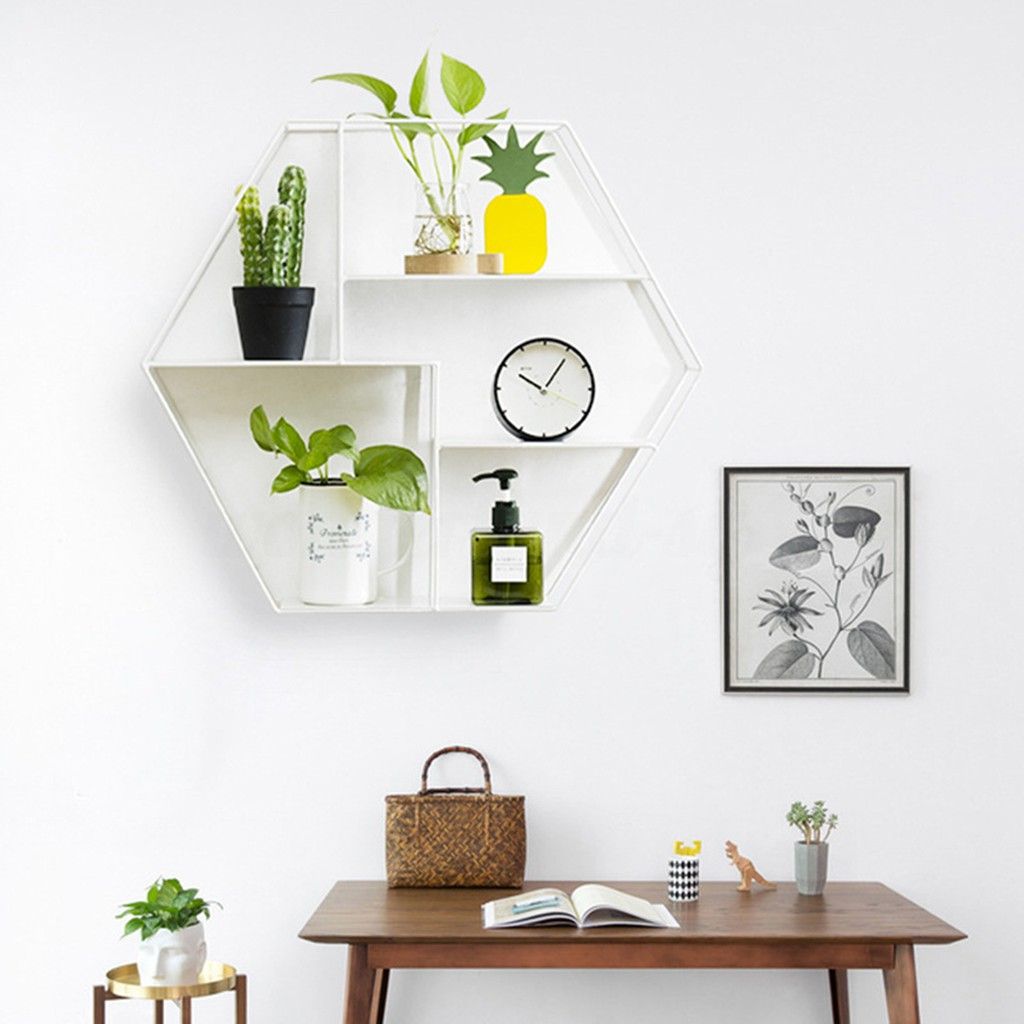 Drawing inspiration from the home bar shown above, we suggest investing in one of these hexagonal metal shelves (available on wonderland.sg) and installing them on the walls beside your kitchen island. These will not only save space but allow you to display your booze in an interesting manner! Use the additional shelf space to store other bar paraphernalia like stainless steel wine glasses and ice buckets.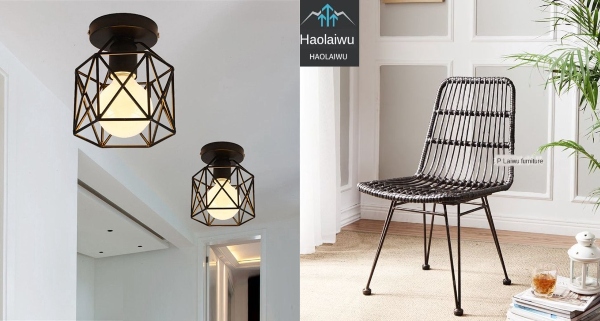 Scandinavian-inspired interiors also boast good lighting with many having large windows and pendant lamps. Most Singapore homes may not have the covetable French windows but fret not, you can always use pendant lamps! Get a black pendant lamp (available on veemm.sg) to complement the white interior. Have a little more space to spare? Complete this cosy home bar with a cute black rattan chair (available on Wonzom Furniture Official Store) and a modern rug — who said Scandinavian interior design needs to be all monochrome?
6. Bookshelf bar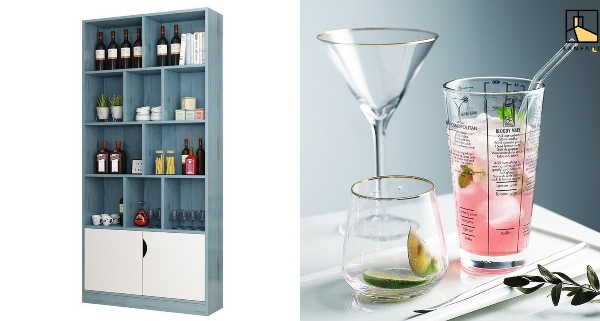 An HDB bar counter can easily be integrated into everyday furniture like bookshelves. If you can't afford to carve out a niche area for your bar then go with a home bar design that lets you amalgamate it with your existing furniture.
This Nanling porch ark cabinet (available on nanlingfurniture.sg) comes in several configurations — four and six-layer shelves and can be used to house anything from books to your favourite bottles of wine. Be sure to arrange the bottles on shelf liners so there won't be accidental spills and stains on the shelves. Display other bar accessories like this BANFANG bartending glass cup (available on Banfang Home Official Store). You can also arrange the shelf beside your dining table and as a divider between your living room and dining space. It'll be convenient when you need to top up your glass in between meals!
7. Wall cabinet bar
Don't be restricted by the space in your home! Use your imagination and experiment with a wall bar counter design instead!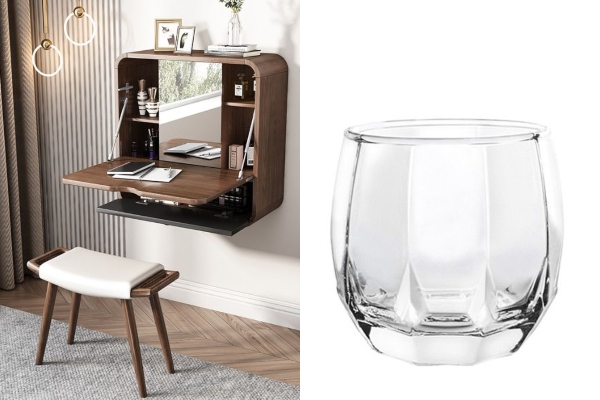 Although a solid wood dressing table (available on Sheep), this save-saving dresser can be used as a bar counter too! Place mini bottles of your favourite alcohol, rocks glasses and cocktail stirrers. When entertaining guests, simply pull down the lever to reveal your minibar. This contraption will surely wow your guests and is a great space-saving design to consider for your HDB bar counter.
Spruce up your living space with your favourite bar counter design

Inspired by these bar counter design ideas? If you've been thinking of setting up a home bar in Singapore, start now and enjoy your weekly tipple within the comfort of your own home. You can also sign up to become a Shopee Alcohol VIP Lounge member to enjoy more savings on your favourite spirits, liquors and beers!
Meanwhile, make a date at one of these hidden bars in Singapore if you've yet to amass a large enough alcohol collection to start your own home bar! Also, don't forget to check out thees bathroom design ideas for that Instagram-worthy bathroom you've always wanted.