With Tokyo's famous souffle pancake chain, Flipper's, opening on our shores this month (in fact, on 6 Nov), we thought there was no better time to do a round up of the best souffle pancakes in Singapore. These popular Japanese pancakes taste airy, light and can be served sweet or savoury. They differ from the regular pancakes in that they use a souffle consisting of beaten egg yolks and whites. This makes the pancakes taller, puffier and also slightly eggier tasting. From fluffy stacks at the to-be-opened chain, Flipper's to $4 souffle pancakes at SweetT. Rex, make a date and dig into a stack of these wobbly, golden-brown pancakes!
Best souffle pancakes in Singapore
1. Flipper's at Takashimaya (Opening Fri, 6 Nov)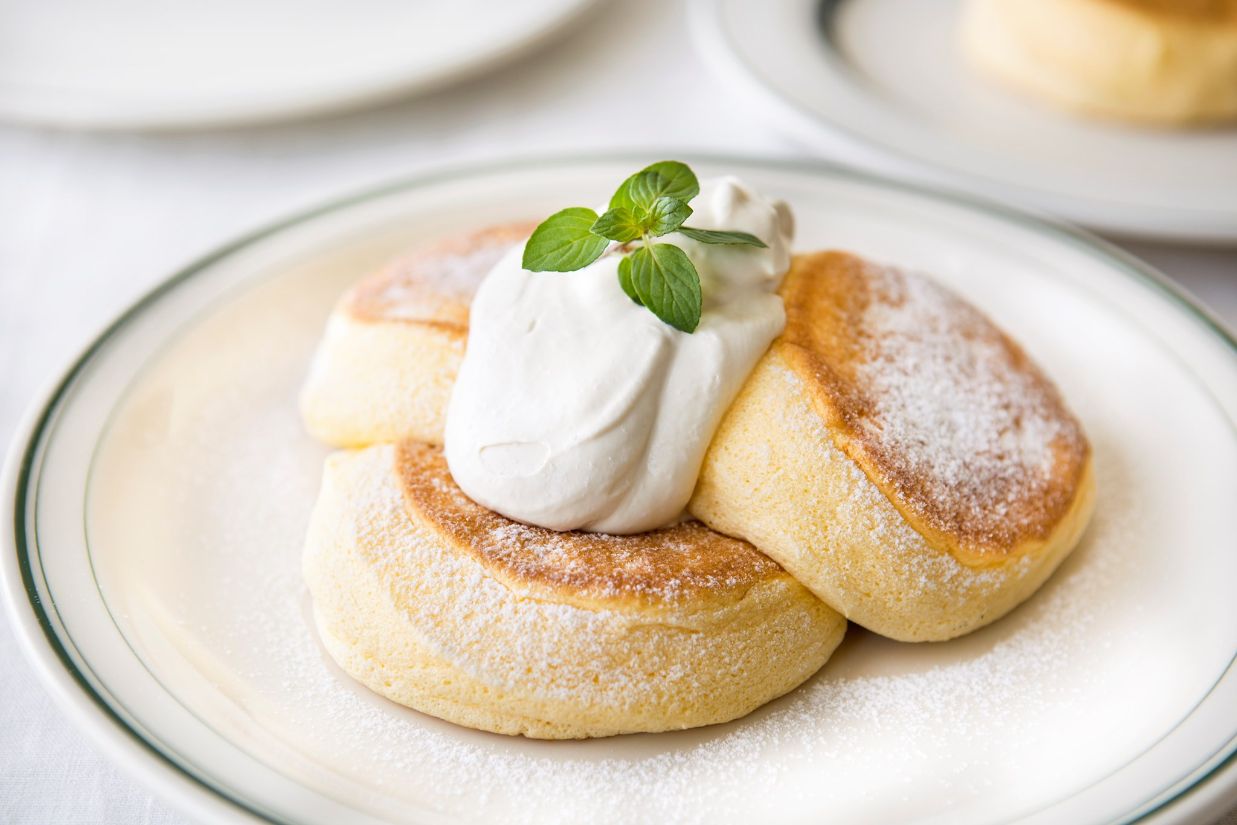 Set to open on 6 Nov, Flipper's is touted to serve up some of the best souffle pancakes in Singapore. This famous Tokyo chain specialises in kiseki (Japanese for 'miracle') soufflé pancakes. The pancakes are made from premium eggs, quality butter and Hokkaido Kitahonami wheat flour – all flown in fresh Japan. With such ingredients being used, it's no surprise that these pancakes are expected to be pillowy soft, so much so that no knife is needed. Instead, you'll be handed two forks to work your way through the golden brown cloud.
You can look forward to six souffle pancake flavours in stacks of three; the original Kiseki Pancake Plain, Matcha Azuki, Hazelnut Chocolate, Millennial Strawberry (two stacked), Fresh Fruits and an Eggs Benedict (two stacked). The original pancake is priced at $16.80 with prices going to about $20-plus for the rest. Its 58-seat capacity may seem accommodating at first but knowing how Singaporeans can go ga-ga over food, we suggest heading there super early if you want first dibs on Flipper's famed pancakes.
Address: Takashimaya Shopping Centre, Ngee Ann City, #B1-56, 391A Orchard Road, S(238873)
Opening Hours: Daily, 10.30am – 10pm
Online reservations can be made from 9 Nov onwards here
2. Gram Cafe & Pancakes Singapore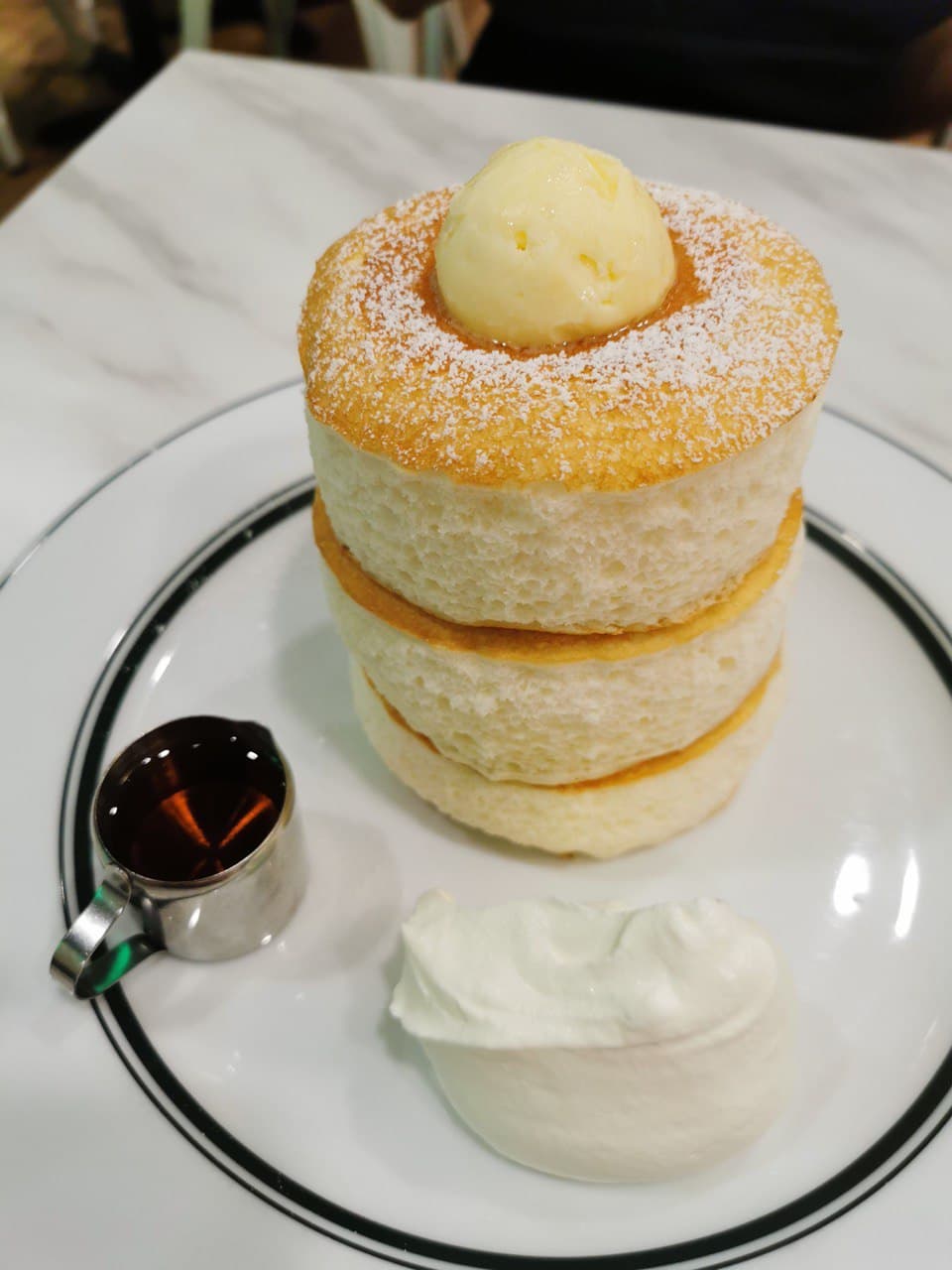 It's debatable whether a jiggly stack of souffle pancakes, a dollop of whipped cream and maple syrup is too indulgent for a weekday dessert. We obviously think not. I arrived at Gram with a friend, just in time to place an order for the fast-selling Premium Pancakes. The order took less than 10 minutes to arrive, with the pancakes precariously arranged in a three-tiered tower, topped with a scoop of margarine. After the necessary snaps, we drizzled maple syrup over the stack and dug in… they were heavenly.
Gram pancakes is a famous Japanese pancake chain in Singapore that opened its doors last year. The souffle pancakes here are light, sweet and have a creamier texture when paired with whipped cream. If you're thinking of heading down, be ready to fork out $18.90 per stack and get there early as they only serve 90 pancakes a day!
Address: VivoCity, 1 Harbourfront Walk, #02-110/111, S(098585)
Opening Hours: Daily, 11am – 8pm (10 portions of premium pancakes served every hour)
3. Belle-Ville Pancake House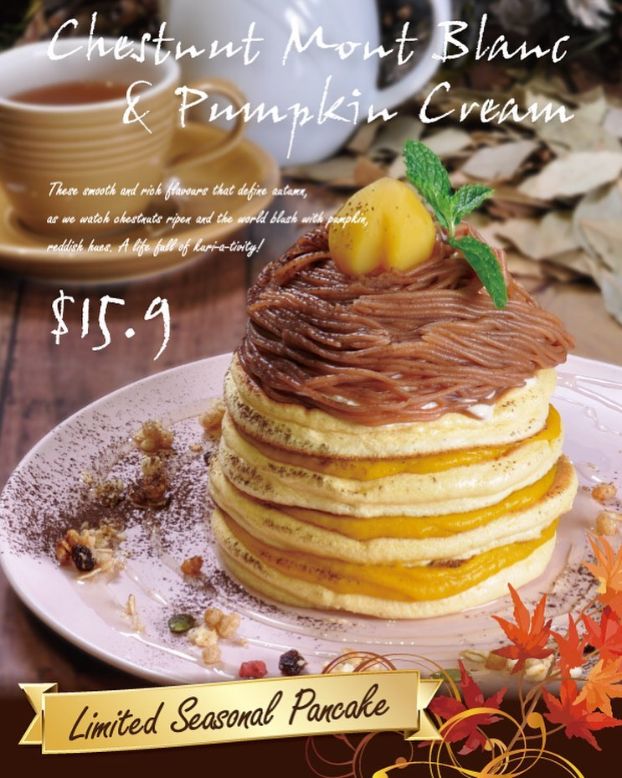 Mille-feuille pancakes are the name of the game at this best souffle pancakes spot in Singapore. Mille-feuille (French for 'thousand sheets') are thinner yet still fluffy. Upon order, the meringue will be whipped into the batter and grilled on the spot. These made-to-order pancakes come in a variety of flavours including Matcha with Rice Ball and Red Bean Pancake. Belle-Ville Pancake House also has a current autumnal special — Chestnut Mont Blanc & Pumpkin Cream (pictured above). Otherwise, you can order the standard Mille-feuille pancakes with toppings ranging from Azuki red bean to vanilla and chocolate ice-cream.
Address: Bugis Junction Towers, 230 Victoria Street, #01-01B, S(188024)
Check out other locations here
Opening Hours: Daily, 11am – 8pm
4. Cafe de Nicole's Flower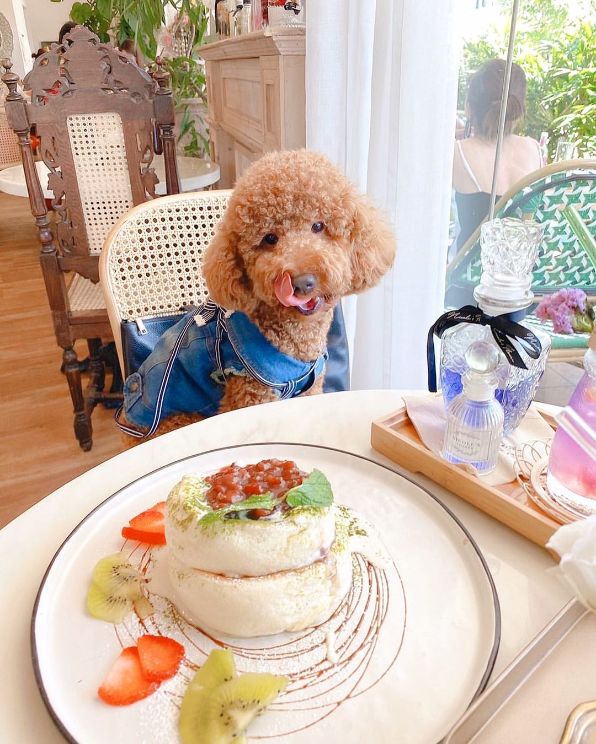 How cute is this picture! This pet-friendly cafe serves up one of the best souffle pancakes in Singapore! Nicole's Flower is a florist and cafe rolled into one. Their souffle pancakes are plated with seasonal fresh fruits, maple syrup, homemade sweet cream and a scattering of dried flowers. From matcha to blueberry and earl grey with boba, there is a souffle variety pancake to suit your taste buds. If you're after an Instagram-worthy Japanese pancake spot in Singapore and don't mind travelling to the East for it, then this is the spot to hit up!
Address: UNI Building, 224 Telok Kurau Road, #01-01, S(423836)
Opening Hours:
Mon – Fri: 9am – 8pm
Sat – Sun, PH: 9am – 9pm
5. Gong Cha Fluffy Pancakes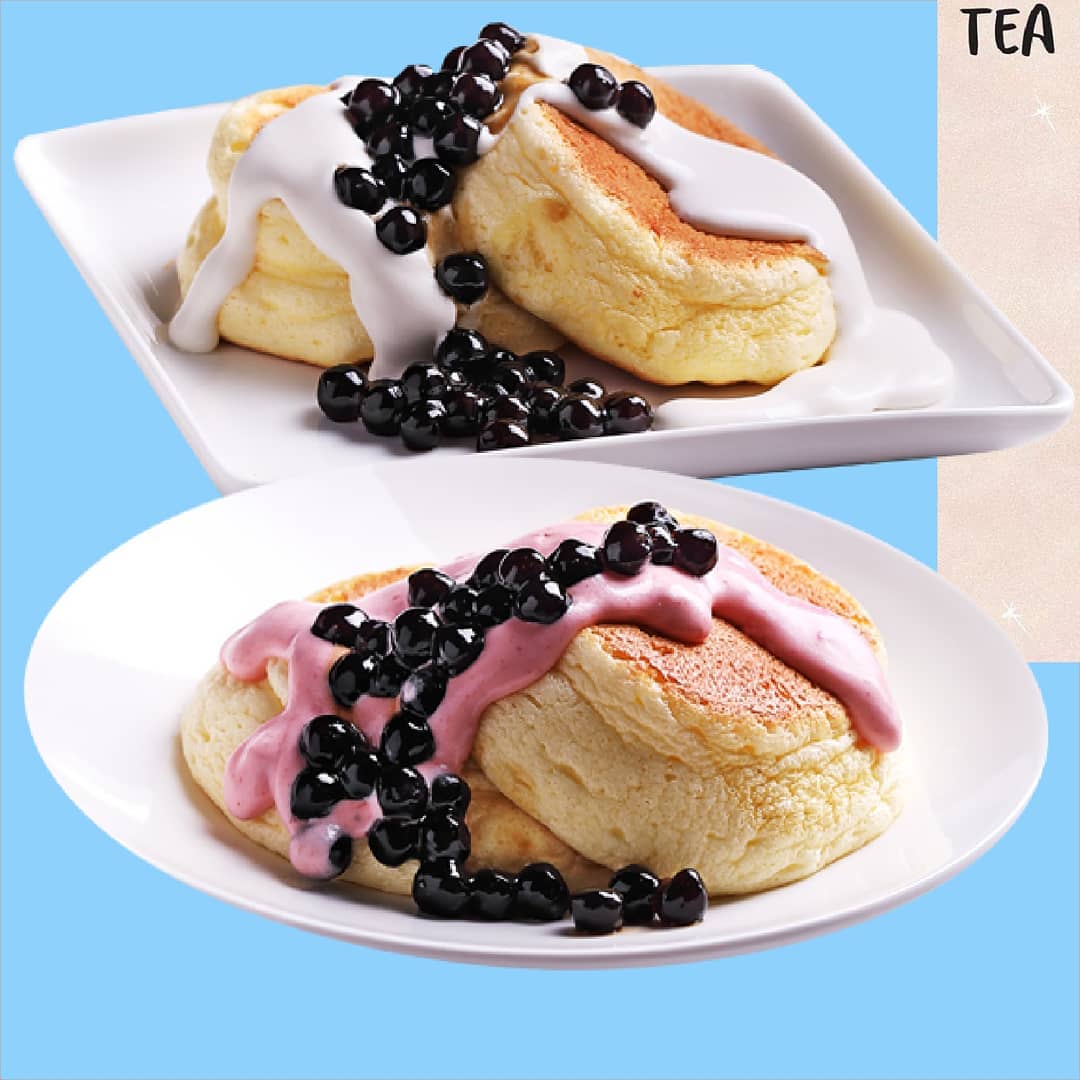 Did you know that Gong Cha's Causeway Point and Paya Lebar Quarter outlets sell souffle pancakes too? As one of the best bubble tea brands in Singapore, it differentiated itself from the competition by dishing out the popular Japanese pancake in Singapore! Look forward to digging into their Chilled Souffle Bites (in mango, strawberry and matcha) flavours or order their Bobba Fluffy Pancakes — two souffle pancakes, drizzled with cream and pearls (pictured above). This addition definitely makes them the best bubble tea with souffle pancake spot in Singapore!
Address: Paya Lebar Quarter, 10 Paya Lebar Road, #B2-15, S(409057)
Opening Hours: Daily, 10am – 10pm
6. Fluff Stack
Northerners, you needn't travel to town for a plate of the famous Japanese pancakes in Singapore. Having opened its first outlet in Suntec City, Fluff Stack has recently started welcoming diners at its second outlet at Yishun's Northpoint City. The souffle pancakes come in varieties like Strawberry Cheese Souffle Pancakes and Peanut Butter Soufflé Pancakes. As more egg whites are used in these pancakes, they may taste eggier than other ones you would have tried but still are oh-so-delicious. Make a dessert date here and indulge in the best melt-in-your-mouth souffle pancakes in Singapore!
Flagship Address: Suntec City Mall, 3 Temasek Boulevard #B1-K4, West Atrium, S(038983)
Opening Hours:
Mon – Thurs, Sun: 11am – 9.30pm
Fri – Sat: 11am – 9.45pm
7. SweetT. Rex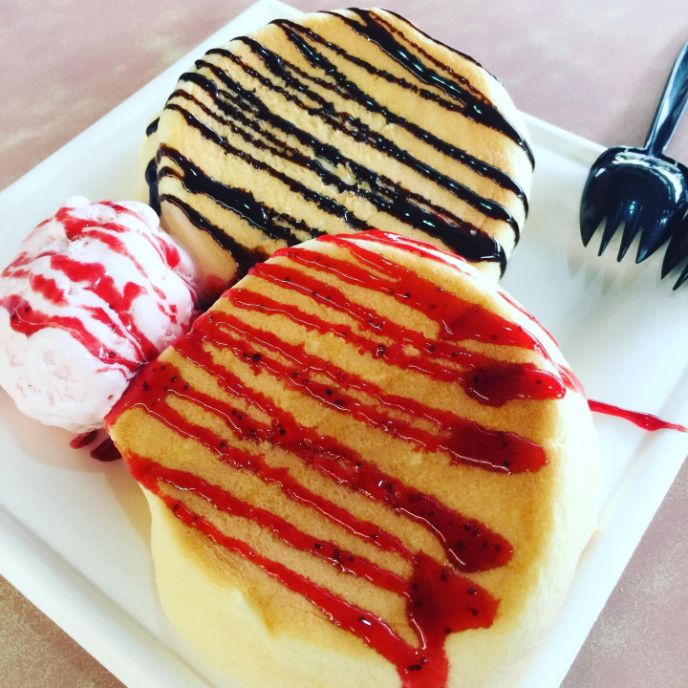 An average souffle pancake stack will set you back on average $15 especially if they come with toppings and in eclectic flavours. So when we chanced upon this $4 souffle pancake spot tucked in Alexandra Village Hawker, we knew we had to feature it in this list of best souffle pancakes in Singapore. The pancakes served here are simple, no-frills and hit the spot with their light and creamy texture on the inside. Top up a dollar for a scoop of ice-cream and you'll get yourself a pretty decent dessert, perhaps after a meal there? We hear the hawker stalls can rival some of the best hawker stalls on the island!
Address: Alexandra Village Hawker Centre, 120 Bukit Merah Lane 1,#01-79, S(150120)
Opening Hours:
Sat – Sun: 10am – 3pm, 5pm – 8pm
8. Seiwaa Okonomiyaki & Teppanyaki Restaurant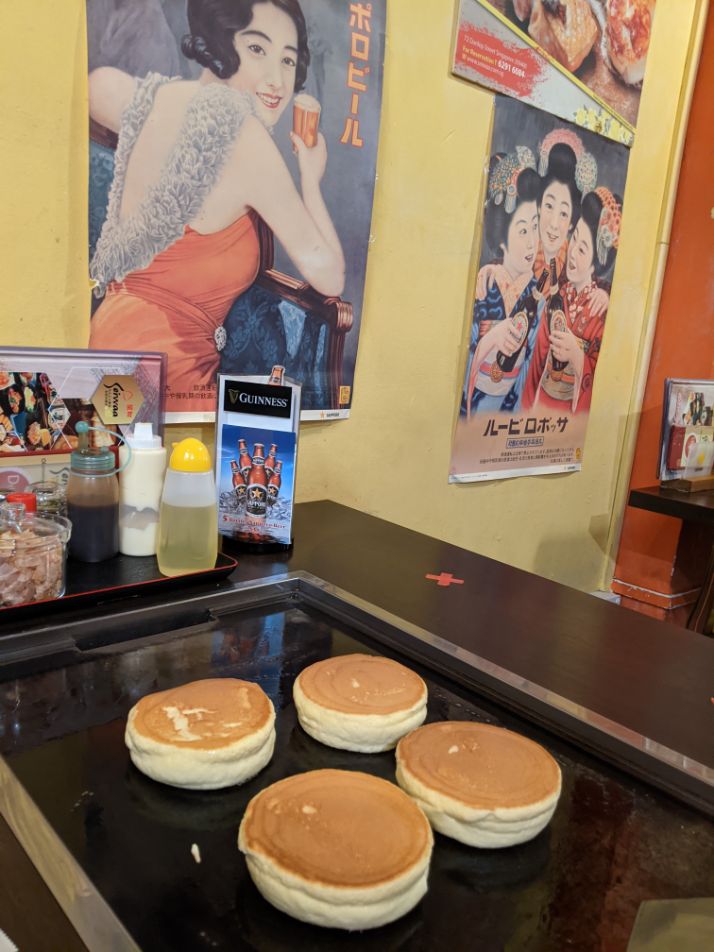 If you thought a hawker stall was the most bizarre place for a souffle pancake place to set up a store at, wait till you read about the Japanese pancakes served at this Singapore teppanyaki restaurant! The highlight here is that you'll get to watch the souffle pancakes being cooked right in front of you on the hotplate. The waiter will, free-handedly, pour the batter (to make four pancakes) onto the hotplate. You can choose either the Plain Souffle Pancakes ($18) or Cheese Souffle Pancake ($20). The process does take some time as the batter is thick and each side needs to fully rise and cook before flipping it over. Once cooked, gula Melaka syrup is poured on them and they are flipped for a final time before being served. The resultant pancakes do not disappoint — they are creamy and melt quickly in your mouth. For an authentic experience, we think this is one of the best souffle pancakes in Singapore!
Address: 72 Dunlop Street, S(209400)
Opening Hours:
Mon – Sat : Lunch: 11am – 3pm, Dinner: 5pm – 11pm
9. Hoshino Coffee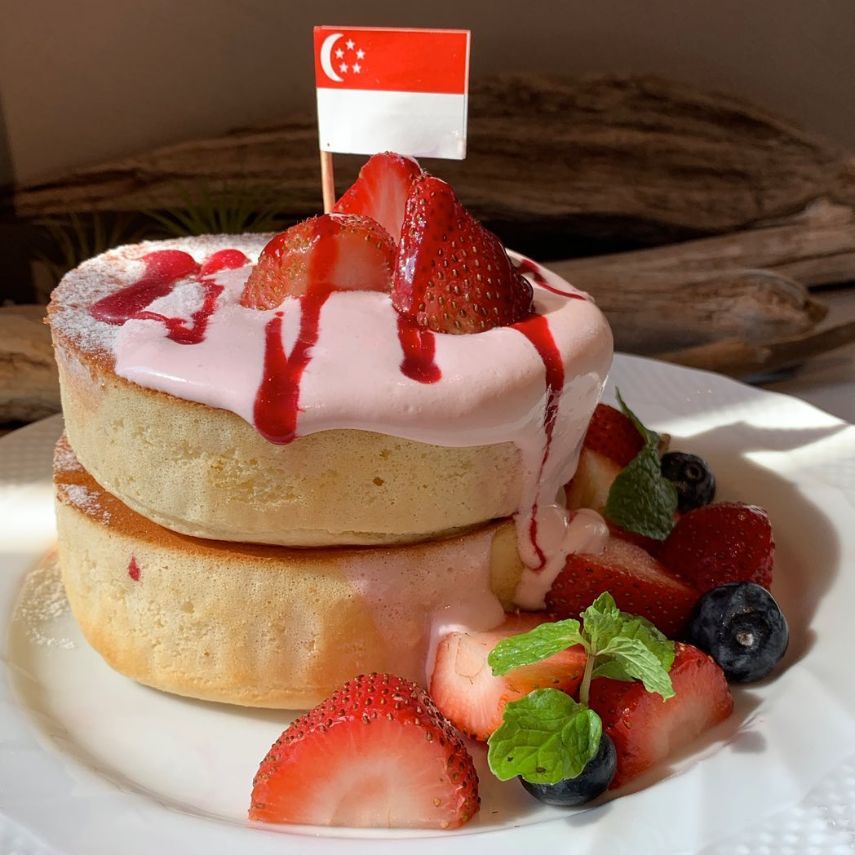 Hoshino Coffee is no stranger to the cafe culture in Singapore. This Japanese cafe serves up a delectable brunch menu and is famous for its hand-drip coffee too. Unbeknownst to many, it also serves up some of the best wobbly souffle pancakes in Singapore. The souffle pancakes here are made on-demand (expect about 20 minutes of waiting time). Order them with items off the brunch menu so they'll be ready by the time you're done. Choose from the plain (single) pancake, the indulgent matcha stack or seasonal flavours like strawberry.
Address: Ion Orchard, 2 Orchard Turn, #B3-25/26, S(238801)
Check out other locations here
Opening Hours:
Mon – Thurs: 11:30am – 10pm
Fri: 11:30am – 10.30pm
Sat: 11am – 10.30pm
Sun: 11am – 10pm
10. Typhoon Cafe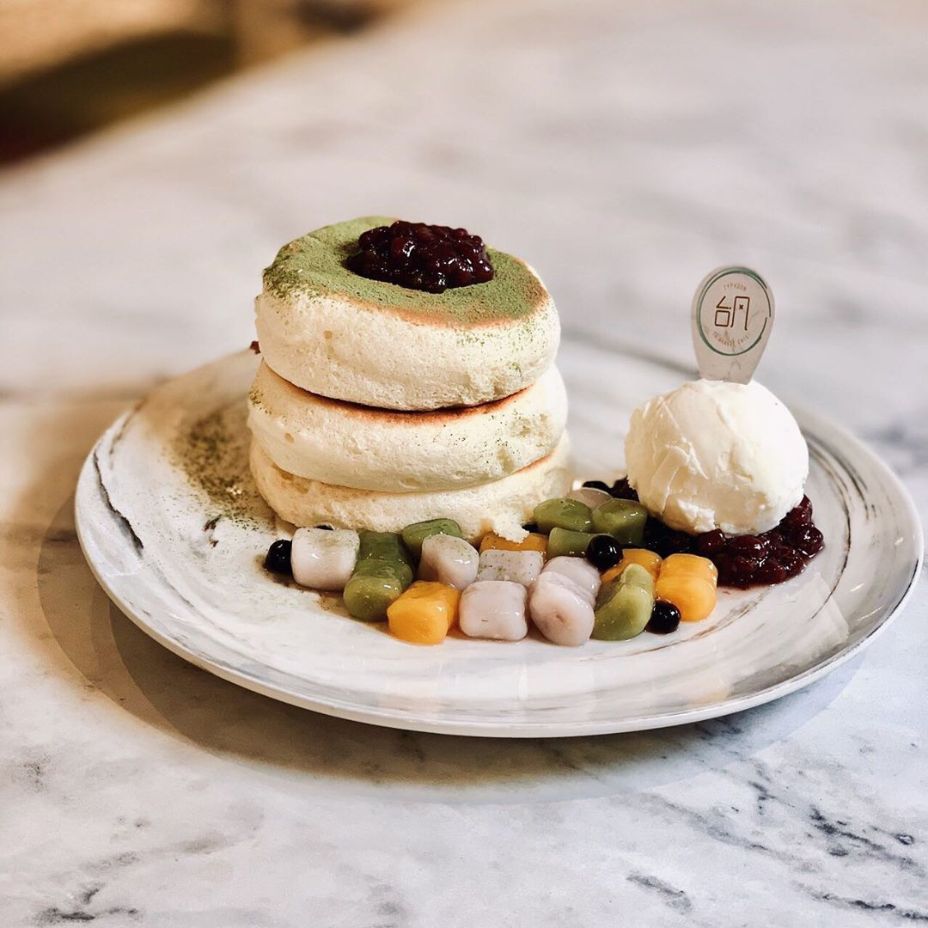 Typhoon Cafe brings a twist to the traditional Japanese pancakes in Singapore. Their souffle stackers come in towers of three jiggly pancakes and plated beautifully. From the Taiwan Milk Tea stacker to the Taro, Bubble, Red Bean & Green Tea Sauce stacker (pictured above), this is one place where both bubble tea lovers and pancake fanatics can agree upon.
Address: Plaza Singapura, 68 Orchard Road, #04-63/67, S(238839)
Opening Hours: Daily: 11.30am – 9.30pm
11. Bangkok Jam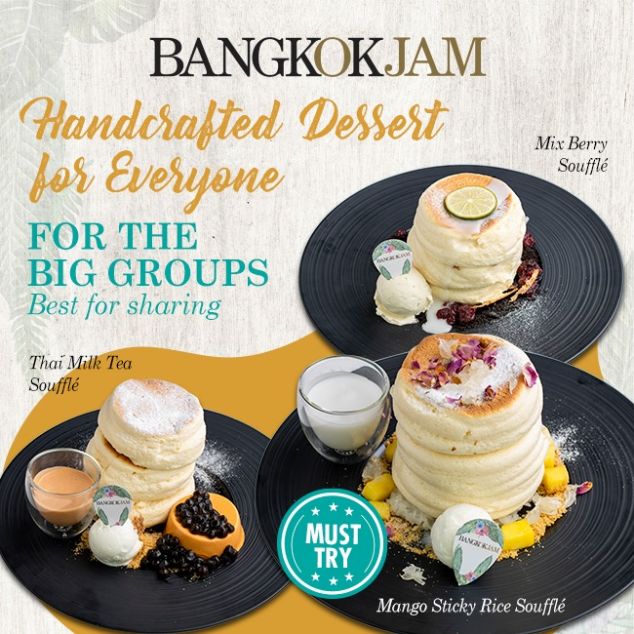 Thai Milk Tea souffle pancake anyone? Bangkok Jam is the go-to place for the best Thai-inspired souffle pancakes in Singapore. Apart from the Thai milk tea flavour and must-try Mango Sticky Rice souffle, you can also look forward to a classic Mix Berry Souffle pancake (all at $16.90++). If you're already a fan of Bangkok Jam's savoury cuisine then you can now stick around to try their dessert menu which also lists tarts, meringue and waffles! Take note that dessert choices are only available at the Plaza Singapura, Great World City and Bugis+ outlets.
Address: Great World City, 1 Kim Seng Promenade, #02-127, S(237994)
Check out other locations here
Opening Hours: Daily, 11.30am – 9.30pm
12. The Coffee Academics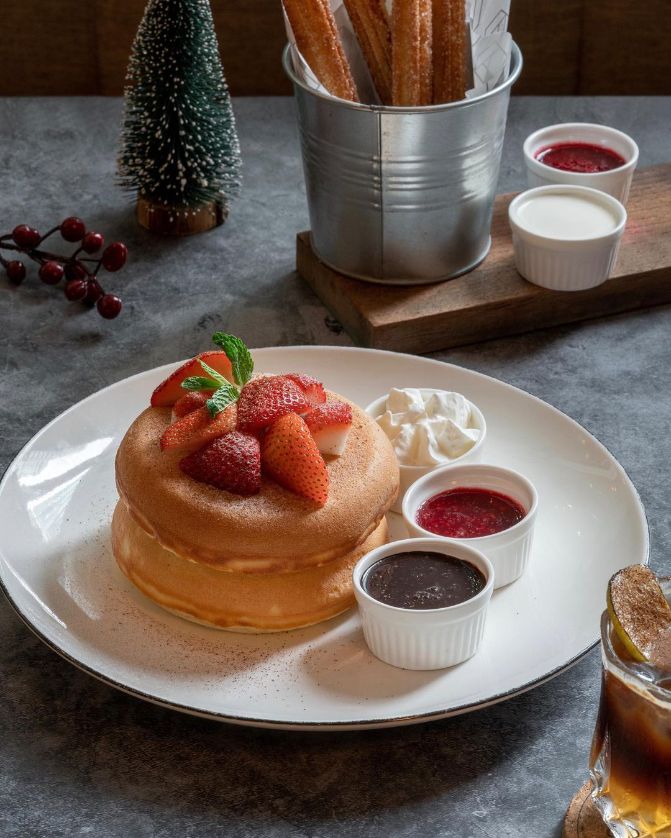 The Coffee Academics' two-layered pancake is a treat for both the eyes and tummies. Only available at their Scotts Square outlet, this is a perfect spot to dig into the famed Japanese souffle pancakes in Singapore with your gals. The Academics Pancake Tower is topped with mixed berries and served with a refreshing berry sorbet on top of the usual whipped cream. While here, take this chance to also try their coffee, whose blends are the highlight of this Hong Kong cafe.
Address: Scotts Square, 6 Scotts Road, #02-01/02,S(228209)
Opening Hours:
Mon-Thurs: 9am to 10pm
Fri-Sat: 9am to 10:30pm
Sun: 9am to 9:30pm
13. Miam Miam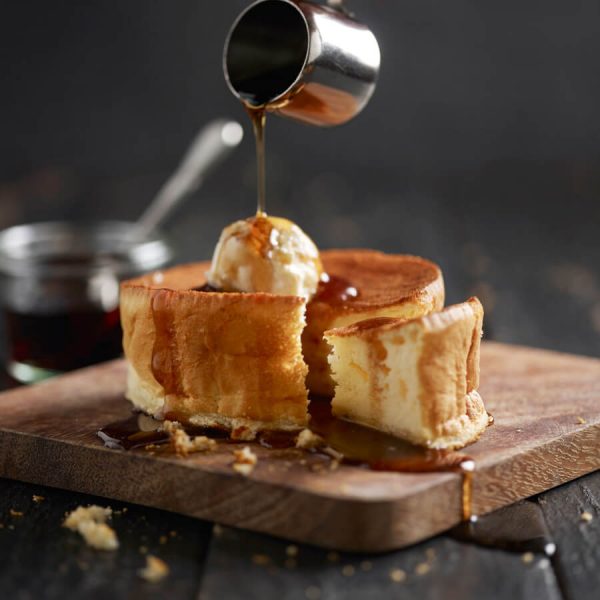 This French-Japanese restaurant is another spot to get your fix of the best souffle pancakes in Singapore. Their Original Souffle Pancake (pictured above) is thick, fluffy and is served with vanilla softee or yoghurt pettie. If you're looking for something sweet to complement the plates of pasta, then this is a great sharing dessert. Otherwise, we hear their Caramelised Banana Pancake is a popular dessert choice too. While if you're in the mood for more French-inspired desserts, then do give their Vanilla Souffle and Chocolate Molleaux a try.
Address: Westgate, 3 Gateway Drive, #01-21/22, S(608532)
Opening Hours:
Sun-Thurs: 11:30 am – 9 pm
Fri: 11:30 am – 9:30 pm
Sat: 11:30 am – 10 pm
Ready to sink your teeth into the best souffle pancakes in Singapore?
We hope you're as excited to try these soft golden-brown pancakes as much as we'd fun writing about them. Working your way through our island's dessert trail? Check out the best waffles and best donuts in Singapore — including local flavours like Milo Dinosaur and Chili Crab. If you love souffle pancakes and want to recreate them at home, you can do so with souffle pancake mixes and of course tons of patience for these padded beauties to work their way up. Enjoy!