Now that you're done watching the sensational Crash Landing On You, you must be wondering what to watch on Netflix Singapore next. Fret not, you've come to the right place! We've highlighted some of the best Asian dramas that to add to your Netflix list and binge watch during the circuit breaker period! From some of the latest Netflix shows to older ones, we're sure there'll be something that catches your attention.
What to watch on Netflix Singapore
1. Kingdom

I'm sure we've all had our fair dose of zombie shows since The Walking Dead. So trust us when we say that Kingdom definitely sets itself apart from the genre with a refreshing premise — a zombie apocalypse in medieval Korea.
Set in Korea's Joseon period, Kingdom follows Crown Prince Lee Chang in investigating a mysterious outbreak that has plagued the King and the country's southern provinces. The series has the perfect mix of horror thriller and period drama politics. Thereby keeping us invested in Crown Prince Lee Chang as he faces a deadly pandemic while fighting for his right to the throne. If you're looking for what to watch next on Netflix Singapore, give Kingdom a try!

Number of seasons : 2
2. Itaewon Class

Itaewon Class tells the tale of ambition and revenge. It revolves around the life of ex-convict Park Sae-ro-yi, played by Park Seo-Joon whom you may recognize from popular Korean drama What's Wrong With Secretary Kim?
After being expelled from school for punching a classmate, Park Sae-ro-yi's life takes a horrible turn when his father dies in a motorcycle accident. The protagonist vows revenge and pledges to destroy those who had wronged him. Following in his father's footsteps, Park Sae-ro-yi opens a restaurant in Itaewon and works hard to rise to success. Watch this for a change from the usual Korean romance dramas, and if you love a good underdog story.If you're a stickler for romance, you have to watch this show for the cute love story between Park Sae-ro-yi and his restaurant's manager Jo Yi-Seo (Kim Da-mi).
Number of seasons : 1
3. She

She is a Hindi language Netflix series that follows Bhumika Pardeshi (Aaditi Pohankar), a female constable who goes undercover as a prostitute to fight a major drug lord. Starting off as a timid police officer, Bhumika realises her potential through her journey. She makes a great show for those looking for an inspiring tale of female empowerment mixed with the thrill of a crime drama. If you're in the mood for some #girlpower, She is definitely a must-watch!
Number of seasons : 1
4. Bangkok Love Stories: Plead

Had enough of mushy romance stories? Well, buckle up and get your tissues ready for Bangkok Love Stories: Plead, a Thai romantic drama albeit with a tragic twist. You may recognize Chanon Santinatornkul, well known for his role as Bank in Bad Genius!
The story follows Ella, a digital marketer, who has just gotten out of a relationship with her cheating boyfriend. Ella is taken to have her fortune read by Tee (Chanon Santinatornkul), a fortune teller who's losing his sight. After reading Ella's palm, Tee predicts that she'll lose someone who loves her. The story takes a twist and romance unravels between Ella and a blinded Tee, but will they be able to stay together?
Check out other installments of the Bangkok Love Stories collection such as Objects Of Affection and Hey You! available on Netflix!
5. Prison Playbook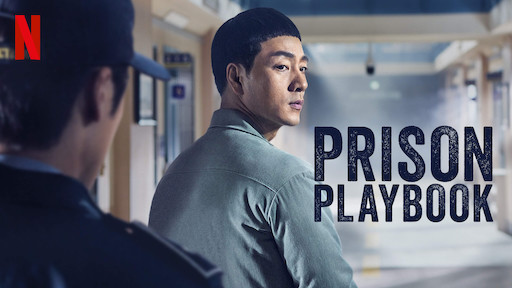 Prison Playbook is a captivating black comedy drama centred around the lives of prison inmates. If you're looking for a Netflix show that truly allows you to connect with the characters, you'll love Prison Playbook
The series features 16 episodes, following Kim Je-Hyuk, a famous baseball player sentenced to jail. Through his journey of acclimating to life behind bars, we get to experience the stories of a variety of characters, you'll laugh and cry at nearly every episode! Prepare yourself for an emotional rollercoaster when you add Prison Playbook to your list of what to watch on Netflix Singapore.
Number of seasons : 1
6. A Love So Beautiful (
致我们单纯的小美好)

Hey, isn't that Shan Cai from Meteor Garden? Your eyes are not playing tricks on you! Go back in time and catch her in A Love So Beautiful — a 2017 light hearted coming-of-age drama.
This 24-episode Chinese drama depicts the young love between Chen Xiao Xi (Shen Yue) and Jiang Chen (Hu Yi Tian). Despite their contrasting personalities, Xiao Xi never shies away from her admiration for Jiang Chen, the smartest and most popular guy in school. Together with their group of friends, watch how these youngsters brave the various obstacles in life as they progress into adulthood!

Number of seasons : 1
7. Man To Man (맨투맨)

If you've had enough of sweet campus romance and pondering over what to watch on Netflix Singapore, why not have a go at some heart pounding Korean action dramas? A great one to catch now is Man To Man, a 16-episode Asian drama that revolves around Kim Seol-woo (Park Hae Jin) and Yeo Woon Gwang (Park Sung Woong).
Celebrity Yeo Woon Gwang is looking for a bodyguard and ends up hiring Kim Seol Woo. Little does he know that Kim Seol Woo is an elite black ops agent who carries a poker face with style. Enjoy the chummy bromance that unfolds between the two characters while Seol Woo tries to achieve his dangerous hidden agenda!
Number of seasons : 1
8. Sacred Games

Don't miss out on the first Netflix original series in India — Sacred Games! Based on a novel of the same name, the drama follows Sartaj Singh (Saif Ali Khan), a suspended police officer in Mumbai who is on an important mission. Through a mysterious phone call, Sartaj Singh learns that he has only 25 days to save the entire city from being destroyed. Uncover the dark underworld as you go on a wild goose chase with Singh, whose quest to save Mumbai keeps you perpetually on the edge of your seat for all of the eight episodes! This definitely deserves a spot on our list of what to watch on Netflix Singapore.
Psst, fans of this Asian drama will be delighted to know that Netflix has confirmed a third season expected to release in September 2020!
Number of seasons : 2
9. A Korean Odyssey (
화유기
)

Are you a fan of fantasy dramas? Look no further than A Korean Odyssey, which features famous celebs such as Lee Seung Gi, Cha Seung Won and Oh Yeon Seo! This drama is adapted from the renowned tale of the Journey To The West, albeit with a comedic twist.
Stuck in the mortal realm, the monkey king and bull king are now housemates in a luxury estate in Seoul. Even though they are often at loggerheads with each other, their budding bromance is one of the greatest highlights of the show. The surprise in this quirky Asian drama lies in the identity of the Tang Monk — a female incarnation named Jin Seon Mi. Watch as the characters' fates entwine while they work together to ward off all evil in this 20-episode blockbuster!
Number of seasons : 1
10. Club Friday The Series 8

Breaking out of the bubble of Korean and Chinese dramas, watch the popular Thai drama, Club Friday The Series 8. The series has attracted international fans for the drama's relatable and heart wrenching plots.
What sets this Asian drama apart from the rest is that the plots are all based on true accounts. Adapted from the stories told by listeners who called in to a radio program known as 'Club Friday', this Thai drama is produced in short stories and aims to express the varying perceptions of life. Watch each episode unfold before your eyes in finesse, thanks to the star-studded cast and high quality production.
Once you're done with Club Friday The Series 8, check out Club Friday The Series 6-7 which can be found on Netflix as well!
11. Love O2O (微微一笑很倾城)

Get ready your favourite snacks and get ready to be engrossed in Love O2O! Produced in 2016, this Chinese drama achieved huge international success, making it one of the most watched Chinese modern dramas to date. Before you dismiss this drama as another typical cheesy romance TV show, know that Love O2O is more than what meets the eyes!
Bei Wei Wei (Zheng Shuang) is an aspiring online game developer who not only excels in her studies but is also one of the best players in the online role-playing game, A Chinese Ghost Story. While playing, she meets the game's top player, Yi Xiao Nai He, who suggests an in-game marriage to complete a couple's quest. However, Bei Wei Wei is unaware that her 'marriage' would lead to an enchanting love story with the university's most popular student, Xiao Nai (Yang Yang), who is the gamer behind Yi Xiao Nai He.
Witness the gaming world come to life as you take a peep into the gaming industry with this light-hearted romance drama!
Number of seasons : 1
12. Little Things

Some Asian dramas are so relatable, they hit close to the heart. Little Things is one of those dramas. It's filled with small and mundane details which add up to be a candid plethora of realistic challenges we face on a daily basis. After all, it's the little things in life that matter the most!
Join a young couple in their 20s as they manoeuvre their way around contemporary Mumbai, dealing with realistic issues such as work, relationships and family. Unlike typical romance dramas with cliche lines and events, Dhruv Vat (Dhruv Sehgal) and Kavya Kulkarni (Mithila Palkar) are an ordinary couple grappling with building a healthy relationship. Be it a heated argument or a silent apology, the simple details of Little Things are bound to remind you of your own experiences and will never fail to tug at your heart strings!
Number of seasons : 3
13. Good Morning Call (グッドモーニング・コール)

With so many interesting titles to choose from, deciding what to watch on Netflix Singapore is always a challenge. If you're looking for an easy watch, you'll fall in love with the youthful plot of Good Morning Call! Adapted from a Japanese manga, this drama is the perfect blend of cliche romance, friendship and comedy.
As teenagers, we've all come across a time when we want to have our own space to do the things we like. That's what Yoshikawa Nao assumed when she finally got to live on her own! However, things are not as they seemed when she moved into her apartment — the most popular and conceited guy from her school, Uehara Hisashi, is occupying the same house! Due to a series of unexpected events, Nao is forced to live with Uehara and keep their cohabitation a secret from the rest of the school. Live out your teenage love fantasy with Nao and Uehara on Good Morning Call now!
Number of seasons : 2
14. Hormones

If you're looking for a drama that packs a punch on Netflix, this Asian drama will not disappoint! Hormones is an extremely popular Thai drama series that's received a jaw-dropping 2 million views during its premiere. Nothing short of a scandalous and controversial plotline, the series is sure to keep you engaged without missing a beat!
Teen pregnancy, drugs, violence and unsettling families — this drama's got it all. Even though it's targeted at younger audiences, Hormones doesn't shy away from addressing sensitive social issues in Thailand. Instead, it aims to educate the younger generation on the dire consequences of their actions through its intense plots. Embark on this rocky journey with the nine main characters, as they brave through the turmoils of adolescence.
Number of seasons : 3
15. Switched (宇宙を駆けるよだか)

Switched is a coming-of-age drama with a dark twist. Adapted from the Japanese manga series 'Sora Wo Kakeru Yodaka', this is a short Netflix original series that addresses the brutal truth about our superficial society in six intense episodes. Welcome onboard this nightmarish roller coaster ride as our main protagonist, Ayumi Kohinata, unveils the ugly side of mankind.
Shunpei Kaga, Koshiro Mizumoto and Ayumi Kohinata are inseparable childhood friends. Ayumi, a beautiful and popular student, is excited to be in her first relationship with Koshiro. However, an unexpected twist of events finds Ayumi in the body of the school's outcast, Zenko, who maliciously acquired Ayumi's body for her own use. While in a body deemed 'ugly' by societal standards, Ayumi opens her eyes to the world of superficiality as she struggles to retrieve her body from the evil grasp of Zenko. Which side are you on — inner beauty or outer beauty?
Number of seasons : 1
No need to fret about what to watch on Netflix Singapore! We got you covered!
Now that you've got a long list of dramas to watch, don't let long buffering time ruin your experience! Check out our list of best mesh wifi routers in Singapore. Don't have a Netflix subscription? Fret not! Have a look at our guide to picking the best Android TV box and enjoy shows from other streaming services.

This article was updated on 16-04-2020. Additional research done by Rachel Tan.]]>