Settling into your new home can be exciting yet stressful. If you're trying to set up your new home and don't know where to begin, the kitchen is a good place to start! Instead of splurging on a variety of kitchen appliances and tools which you might end up not using afterall, we suggest reading this guide to learn about the essential kitchen equipment in Singapore that are necessary for your new home. From innovative Tefal cookware to multipurpose pressure cookers, this list will make setting up your kitchen much easier and more cost-effective! 
1. Refrigerator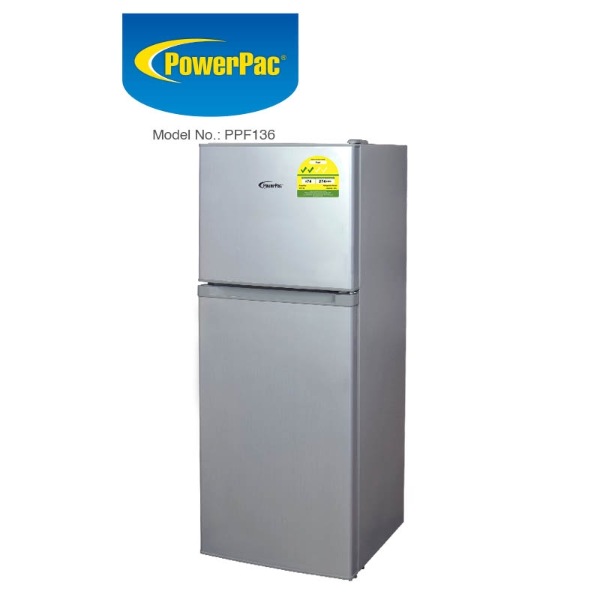 As the most essential kitchen equipment in Singapore to store your food, a refrigerator is the first appliance you need to buy! Refrigerators are one of the most costly appliances to invest in for your new home. Hence, it's important that you consider all factors before you make the purchase. Pick a refrigerator based on your family size, cooking habits and kitchen space. If your family is relatively small — about two to three people — and you don't cook often, a regular-sized refrigerator such as the PowerPac 136L 2 Door Bar Fridge with Freezer (available on PowerPac Official Store) will do the job just fine! We love its optimal door gasket design and energy-efficient compressor — so you won't get any nasty surprises when the utility bill arrives. Plus, the fridge has a compact design and will easily fit into smaller kitchens.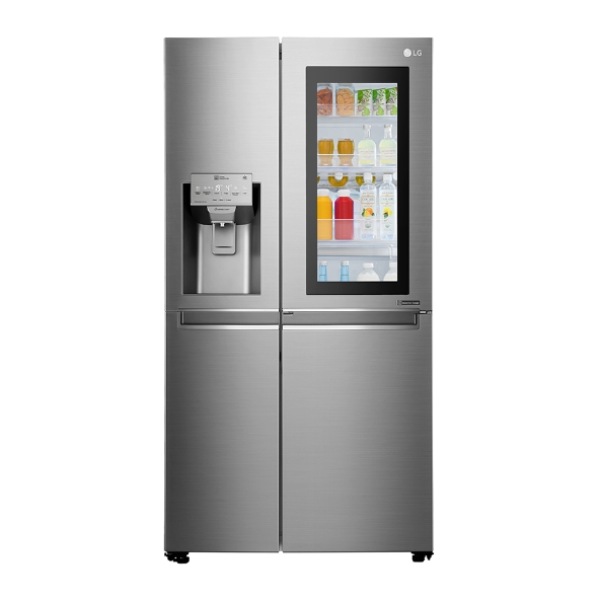 Meanwhile, those with a big family or those who have the habit of meal prepping may need a larger refrigerator such as the LG Side By Side Fridge GSX6011NS (available on Gain City Official Store). With a huge 601 litres capacity, this refrigerator can store large quantities of ingredients for a family of five and even comes with a water dispenser for extra convenience! 
2. Pressure Cooker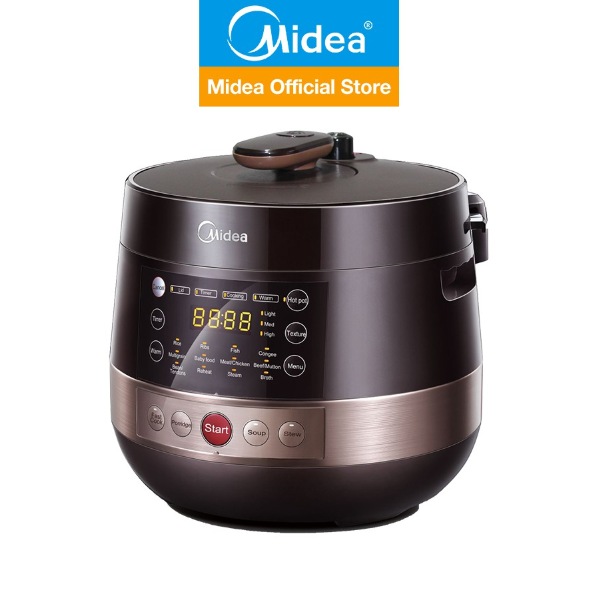 If you find yourself beat from a day's work but still desire homecooked meals, then pressure cookers are essential to have on your list of kitchen equipment in Singapore! Simple and fuss-free, this Midea 5.0L Smart Pressure Cooker (available on Midea SG Official Store) is indeed a lifesaver for those new to cooking! Pressure cookers are preferred for their shorter cooking time as it uses trapped steam for cooking. They are also multi-purpose, allowing you to cook soup, meat, baby food or simply to reheat your leftovers in a jiffy! Plus, a pressure cooker doubles as a rice cooker — that means one less appliance on your kitchen counter! The food is also believed to be healthier as the high temperature is able to better preserve the nutrients. 
3. Microwave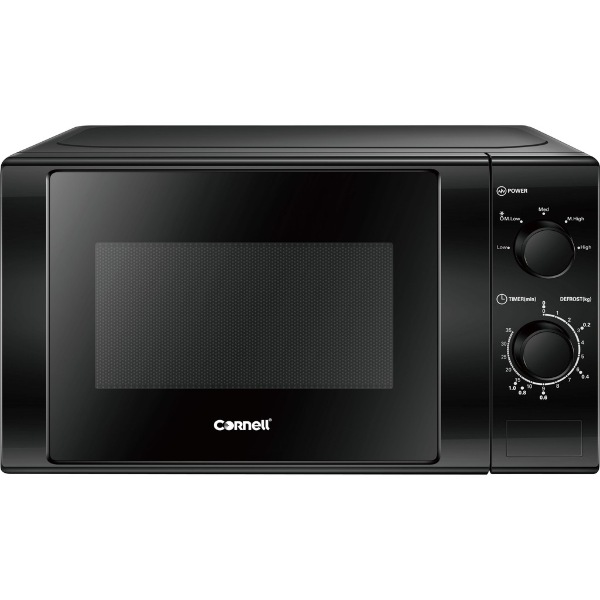 We can all agree that the microwave is on the list of useful kitchen equipment in Singapore. Microwaves like this Cornell 20L Microwave Oven (available on Cornell Singapore Official Store) saves you lots of time when you are in a rush and want to reheat your food in a jiffy! It's also handy when you want to defrost your meat quickly — this does it in under just 10 minutes.  Here's our pro tip on how to clean your microwave: squeeze lemon juice into a bowl and add half a cup of water before placing it into the microwave. Set the timer for three minutes — during this time the lemon will help to dislodge food residue. Let the solution stand for another five minutes before wiping down the inside with a clean dishcloth!
4. Electric Kettle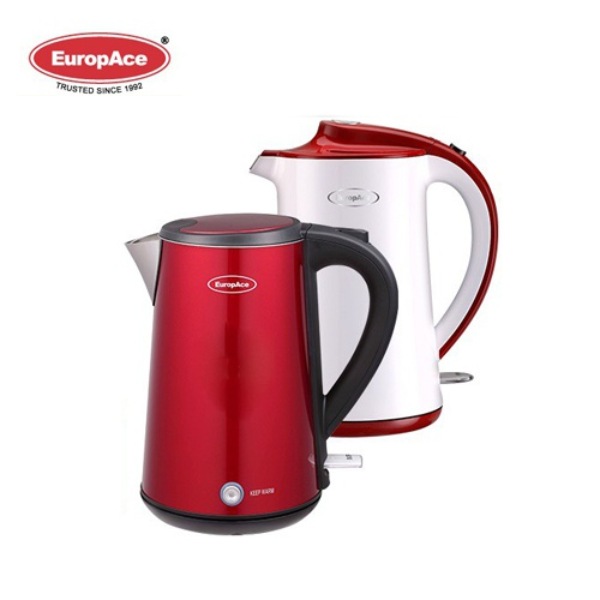 Purifying water through boiling is an important practice which you'll want to continue in your new home! The EuropAce Electric Kettle Jug (available on Europace Official Store) is an affordable and fuss-free kitchen equipment in Singapore. Not only can you get boiling water within just two to four minutes, you can also activate the warming function to keep the water warm throughout the day. The kettle is also designed with a triple layer thermal insulation, to prevent scalding and keep it safe from prying hands of the little ones. 
5. Stand Mixer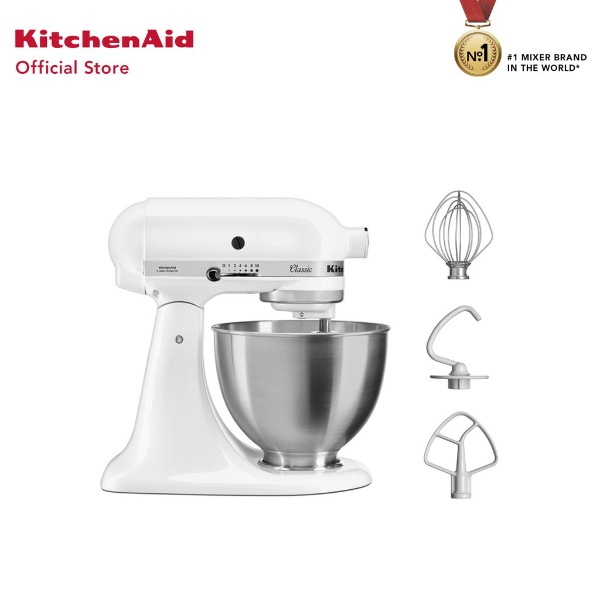 Craving for some sweet treats such as muffins or brownies? Why not bake them yourself in your new kitchen! When it comes to baking, a must have  kitchen equipment to own in Singapore is a stand mixer! The KitchenAid Tilt-Head Stand Mixer 4.3L (available on KitchenAid Official Store) comes with several attachments including mixing, kneading, whisking. You can also buy separate attachments to help achieve different functions such as slicing, pasta cutting and food processing. This stand mixer also comes with 10 adjustable speed modes so you can execute anything from a slow stir to a fast whip effortlessly!
6. Air Fryer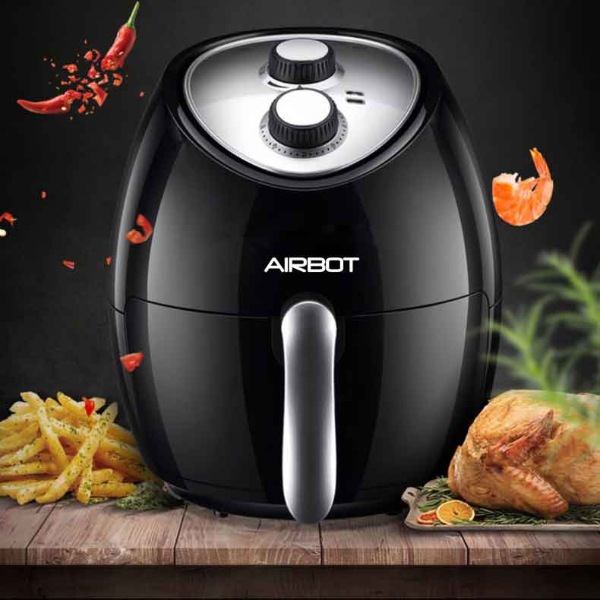 If you're a huge fan of fried food, your new kitchen will not be complete until an air fryer is sitting on the counter. This innovative kitchen equipment in Singapore is a quick and easy way to make fried treats a little less sinful! That's because air fryers such as the Airbot Air Fryer AF100 3L (available on Airbot Singapore) uses little to no oil to whip up the same delicious flavour and texture you love! The elimination of oil cuts the calorie content of your fried dishes by a whopping 70% — perfect for those on a diet! Additionally, the Airbot air fryer is equipped with air circulation technology to ensure your food is cooked evenly throughout. Don't forget to check out our list of delicious air fryer recipes you can try out after you have purchased the best air fryer for your cooking needs!
7. Electric hotpot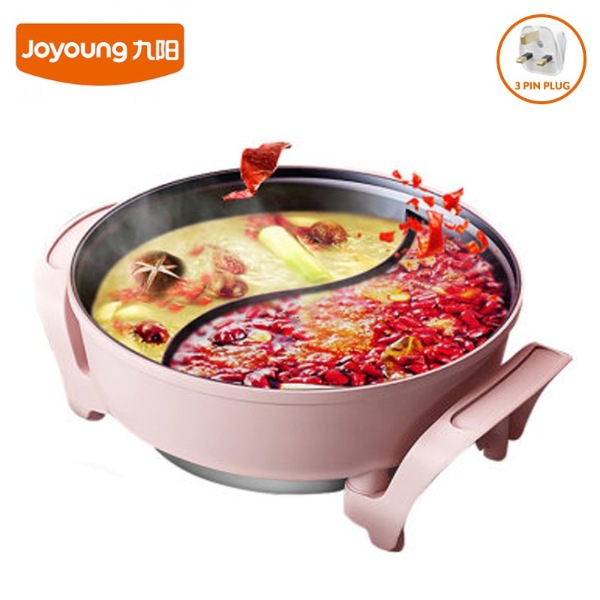 There's no better way to gather with your friends and family than over a bubbling pot of steamboat! Whether you're throwing a housewarming party, Christmas gathering or hosting a reunion dinner in your new home, the Joyoung 3L Dual-Sided Non-stick Electric Hotpot (available on Joyoung Flagship Store) is one kitchen equipment in Singapore you have to prepare! While there are many electric steamboat pots to choose from online, we recommend this model because it has a large capacity and comes with a divider so you can enjoy two soup flavours in one pot! Simply pour your desired hotpot base soup flavours and wait for the soups to boil. After which you can  throw in your favourite hotpot ingredients for a feast. Check out our guide to organising a hotpot gathering so your party goes smoothly!
8. Cookware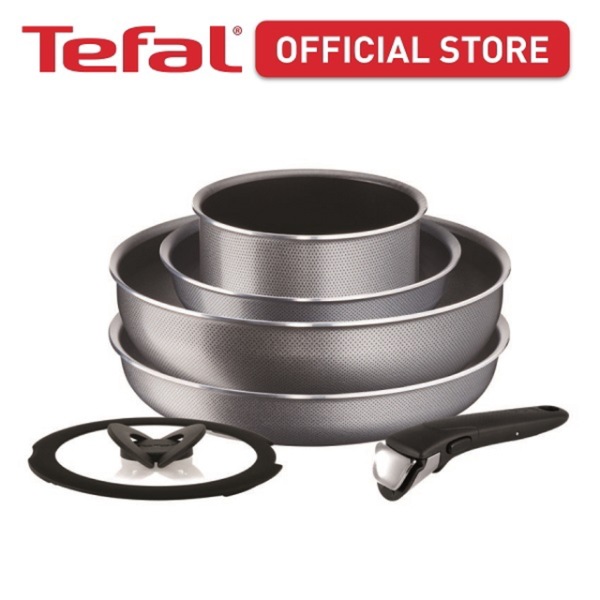 Pots, pans and woks are essential workhorses in your kitchen! However, it might get a little overwhelming while determining which pan shape, size and material you should look out for.  For first-time homeowners, we recommend starting with the Tefal Ingenio Elegance 6pc set (available on Tefal Official Store). This Tefal cookware set contains a frying pan, saucepan, wok pan, glass lid and an Ingenio removable handle. These Tefal cookware pieces are designed with non-stick coating and come with the brand's patented Thermo-Spot technology. When your pot or pan reaches the optimal cooking temperature, the Thermo-Spot pattern will turn red, indicating that you can start cooking! 
Additionally, this Tefal cookware set stands out from other pots and pans because of its innovative removable handle. By offering the option to detach the handle, you can now stack all the Ingenio pots and pans together without taking up much space in the kitchen cabinet. 
9. Knives and chopping board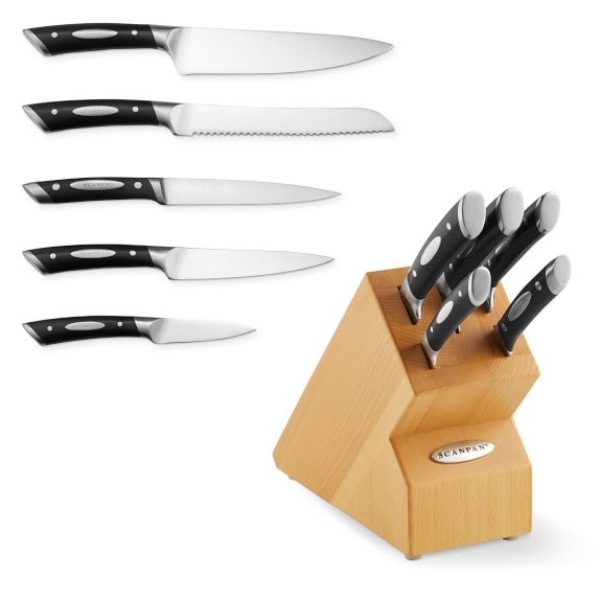 Have all your appliances laid out and ready to start cooking? Make sure you have a few basic knives on hand too! Look for knives that are sharp and sturdy, with comfortable handles and durable construction.
This Scanpan knife set (available on Scanpan), features six different kinds of knives you can use, including the everyday chef knife, serrated or bread knife and a paring knife for slicing smaller food items! Remember to use a knife sharpener from time to time and complement your knives with a solid chopping board too.
10. Kitchen shears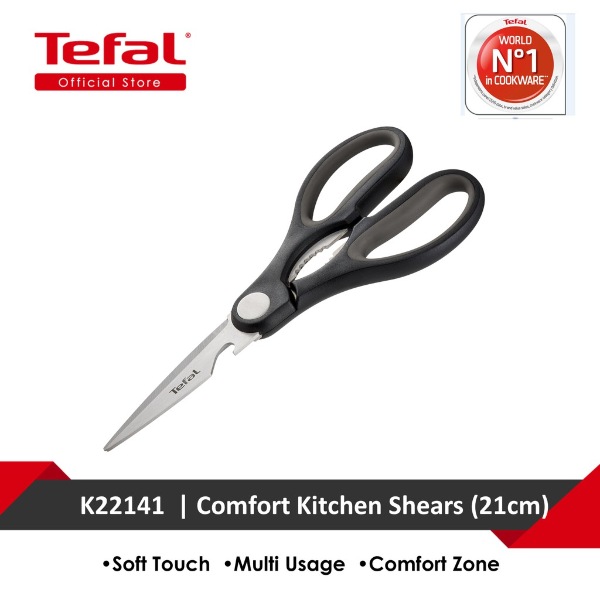 It's important that your new kitchen has a dedicated pair of kitchen shears for food prep. Avoid using a regular pair of scissors as you never know what kind of germs and bacteria are residing on your regular scissors. Additionally, regular scissors may not be as sharp and sturdy as kitchen shears. Kitchen shears, such as the Tefal Comfort Kitchen Shears (available on Tefal Official Store), are a multitool that can be used in many ways such as to cut open food packaging and to  cut poultry bones. 
11. Tongs
Kitchen tongs are another indispensable kitchen equipment in Singapore! These Tovolo Elements 9inch & 12inch Stainless Steel Handled Silicone Tongs (available on Kitchenary SG Official Store) can be used for flipping meat on the grill, shifting food around in the air fryer or serving up salads and pasta! Additionally, the tongs are designed with silicone heads for better grip and will not scratch non-stick cookware! 
12. Dinnerware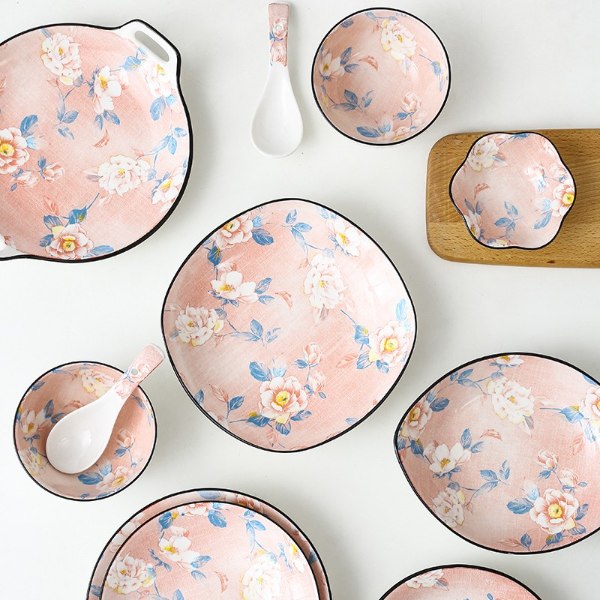 We can't leave plates and bowls (not forgetting your cutlery) out of this list of essential kitchen equipment in Singapore! Arguably the centrepiece of your dining table, you'll want to buy a dinnerware set that'll not just look aesthetically pleasing but is also practical for meals. We adore the Table Matters Camellia Collection Dinnerware (available on Table Matters Official Store) which is decked in a lovely pastel pink hue and delicate floral designs! This exquisite dinnerware  set is  made with high temperature transparent glaze layers that will not discolour or fade even when it comes in contact with piping hot food. 
Furnish your new homes with essential kitchen equipment in Singapore today
Armed with this comprehensive list of kitchen equipment in Singapore, we hope that setting up your kitchen will seem less daunting and more enjoyable! Looking for other kitchen appliances? Check out our recommendations on the best blenders for smoothies and get your daily caffeine fix with the best coffee machines! Meanwhile, snag your desired kitchen equipment at amazing sale prices during the upcoming Shopee 10.10 Brands Festival! 
This article was updated on 6 Oct 2020. Additional research done by Iris Tan.