Craving a cup of mango yoghurt smoothie or perhaps an antioxidant-rich acai berry smoothie? Packed full of flavour and easy to drink on the go, smoothies are a one-stop solution to getting much-needed nutrients. Finding the best blender for smoothies can be pretty tricky. If you're at a loss as to where to begin, here are some factors to consider before making a purchase.
1. Type of blender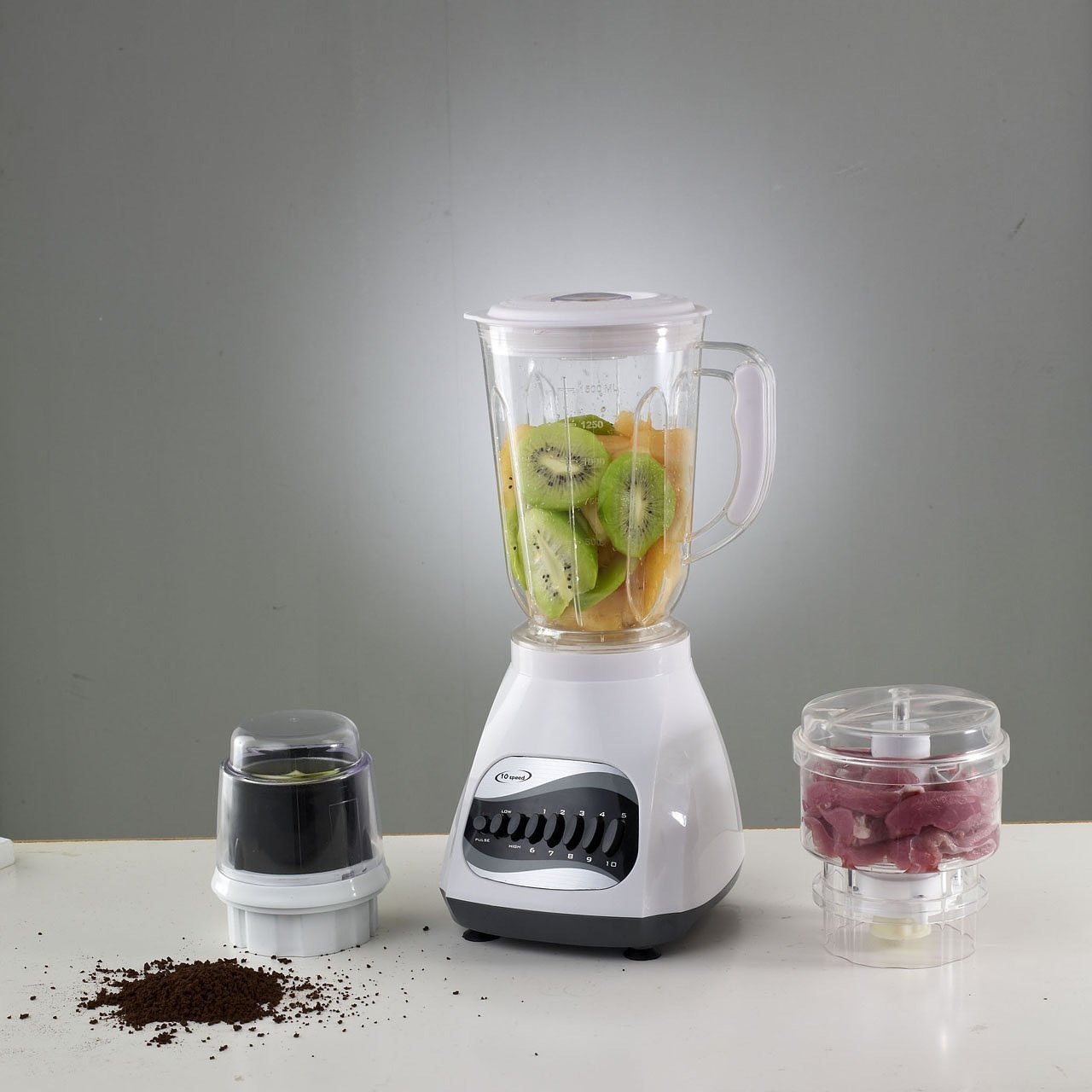 There are three main types of blenders on the market and each is great for smoothie-making in its own way. The best blender for smoothies is the blender that suits you. Consider factors like your lifestyle, family size and kitchen counter space when deciding the type of blender to get.
Personal blenders are often the first thing that comes to mind when people talk about smoothie blenders. These are great if you're the only smoothie drinker in the house. The blending jars usually come with a lid, making it easy to enjoy your smoothie on the go.
With 1-1.5 litres capacity, stand blenders are the usual household blenders. These are good if smoothies are a household affair. They are more powerful and can blend large quantities of fruit and vegetables efficiently. However, the only downside is they require more storage space and can get pretty noisy.
Hand blenders can be used simply by blending your ingredients in a pot or bowl. These are a great option if you have minimal storage space and want the flexibility of being able to use your smoothie blender for other culinary ventures, like pureeing soups.
2. Power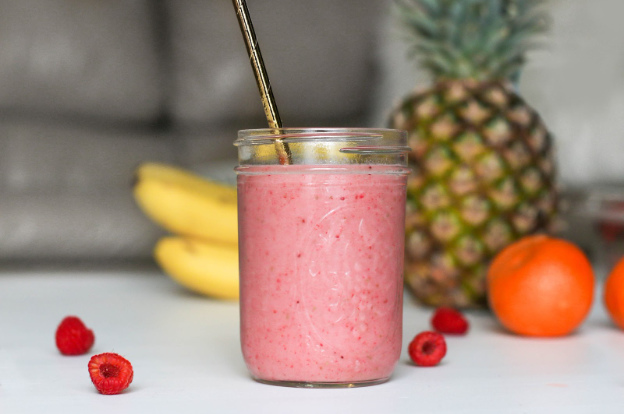 Smoothies often involve frozen ingredients – frozen bananas, frozen spinach, ice cubes…the list goes on. You need a powerful blender to effectively pulverise all frozen ingredients and blend them properly. The last thing you'd want is to encounter a solid chunk of frozen kale halfway through your smoothie.
Most of the best blenders for smoothies are at least 600W and above to ensure your smoothies turn out silky smooth.
3. Speed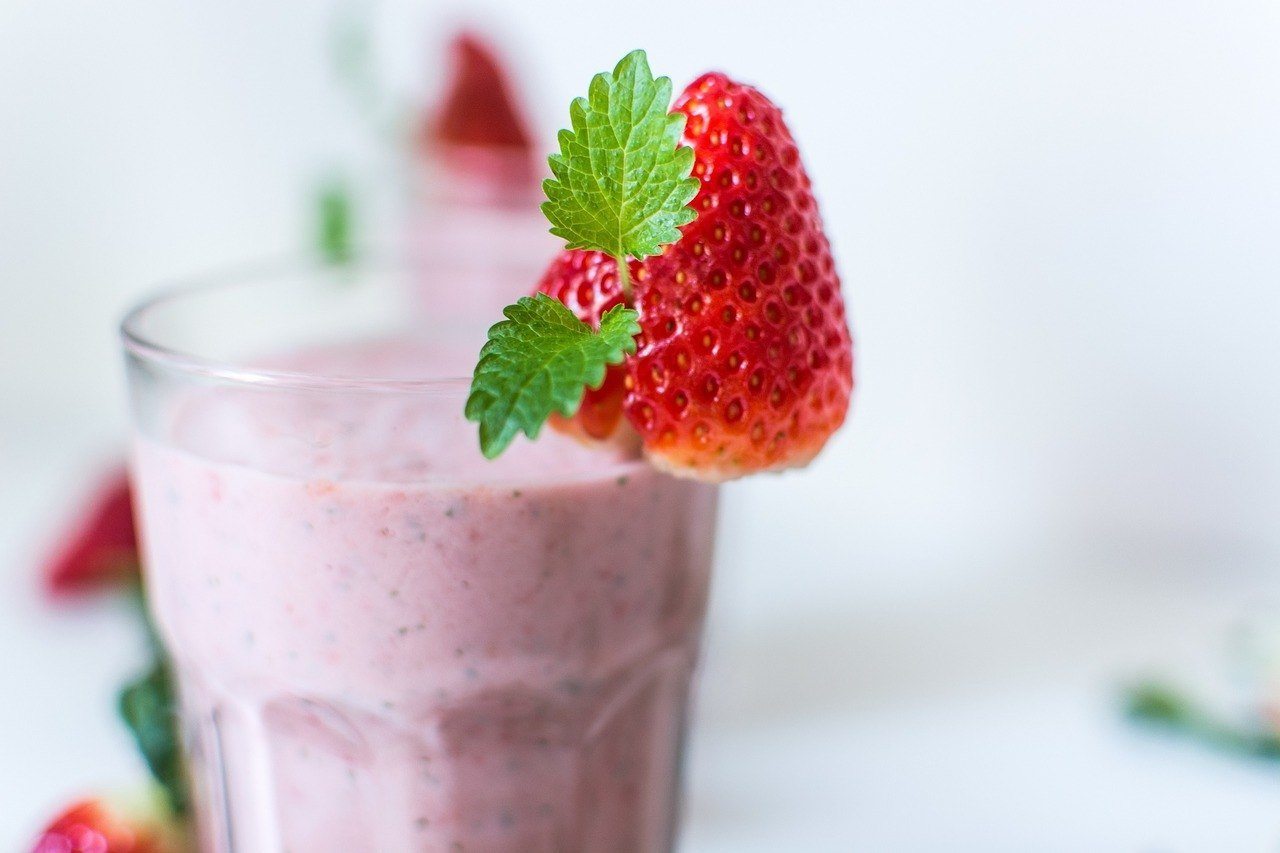 One of the things people like about smoothies is how fast they are to put together. The best blender for smoothies is one that's quick and efficient. Plus, the longer your blender takes to crush your ingredients into itty-bitty pieces, the higher the likelihood of your fruit and vegetables oxidising, which could potentially lead to a loss of nutrients.
You also don't want to wind up blending your smoothie repeatedly in order to get that silky texture — we ain't got no time for that.
The best blenders for smoothies in Singapore
Whether you're looking for a personal blender to prepare a post-workout smoothie or want to blend a huge batch for family breakfast, we've got your back.
Best personal blenders for smoothies
1. Bear Personal Juice Blender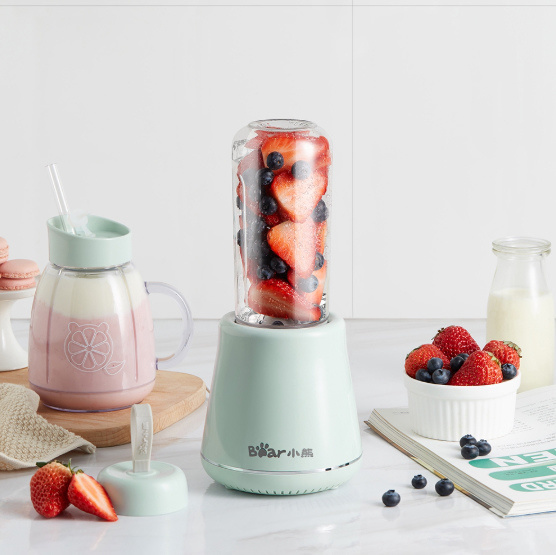 Distributed by PowerPac, the Bear Personal Juice Blender (available on PowerPac Official Store) is an efficient and adorable add-on to your kitchen cabinet. 
This 200W PowerPac blender comes equipped with a 400ml BPA-free Tritan bottle and a 600ml Tritan cup, both of which you can blend and store your smoothies in! The Bear Personal Juice Blender makes for one of the best personal blenders to make smoothies in. You can store on the go or just to sip on through the day at home with their complementary Tritan straw. Not to mention, it comes in a gorgeous mint shade which definitely fits the aesthetic of Instagrammable acai berry yoghurt smoothies!
2. Kenwood Smoothie 2 Go Blender SB055WG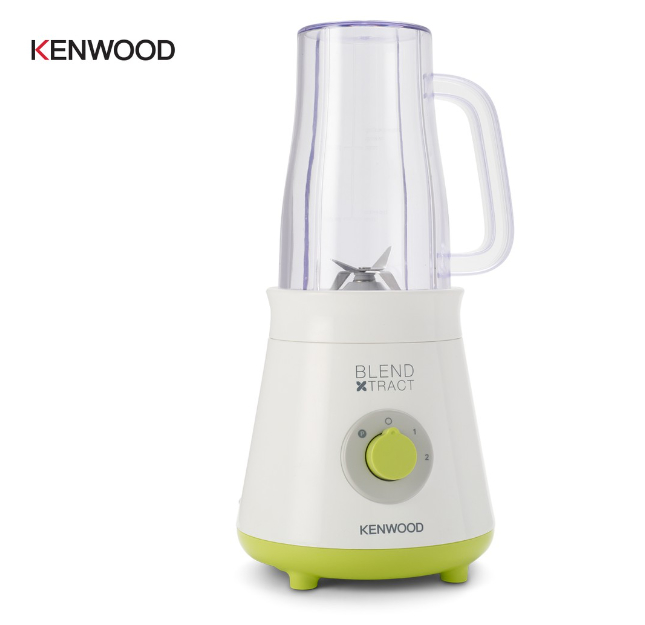 The Kenwood Smoothie 2 Go Blender (available on the Kenwood Official Store), as its name implies, is all about taking your smoothie on the go. The capacity of the blending jug is perfect for a refreshing protein shake after an intense workout!
It has two blender speed options as well as a pulse function – so you have full control over the consistency of your smoothie. It also has a simple on-off dial, so there's no need to stand next to your blender with your finger on the button.
3. XiaoMi Deerma NU05 Portable Blender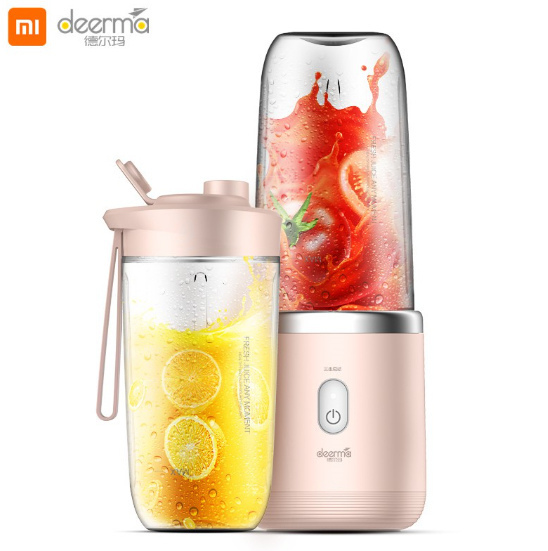 For those looking for the best lightweight and portable personal blender, try the XiaoMi Deerma NU05 Portable Blender (available on Deerma Official Store). It's USB rechargeable making it perfect for rushed mornings as you can charge it on-the-go with a power bank, in the car or with a simple USB plug. 
With a 1500 mAh battery, this Xiaomi blender can be used up to six times when fully charged. You can feel assured in knowing that it won't eat up all of its battery life each time you blend. Equipped with a lid and a simple one-touch button for blending, this portable blender is great for those looking to fit in a healthy boost to their fast-paced lives!
4. Odette UM1050S1N2-MC 2 Speed + Pulse Blender with Beakers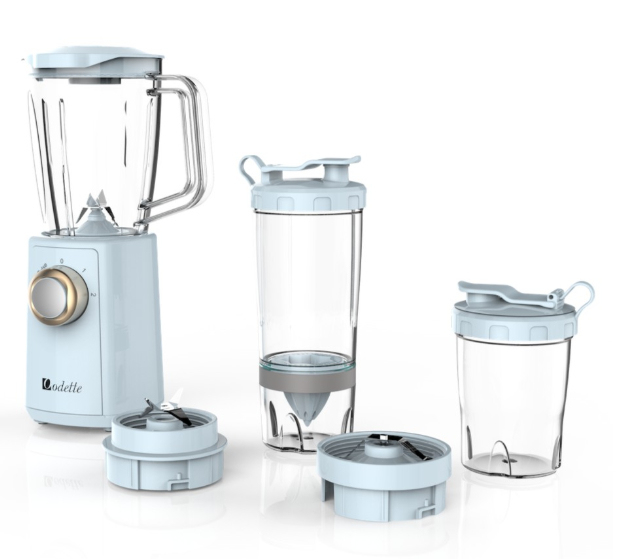 If you're looking for the best affordable multifunctional personal blender, the Odette 2 Speed + Pulse Blender (available on Odette Official Store) is the one for you.
Aside from being a regular personal blender that can be turned into a to-go cup, it also comes with a lemon juicer, a dry grinding cup and dry grinding blades – you can use it to prep your spice mixes as well! It has two speed options and a pulse function, giving you full control over the texture of your smoothie.
Bonus: It also comes in two soothing pastel colours, always a plus in our books!
Best stand blenders for smoothies
5. Tefal High Speed Blender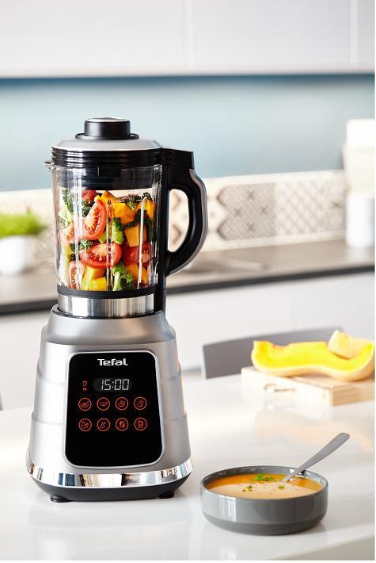 Tefal appliances are often seen as the holy grail of small kitchen appliances and their blenders are no exception. The Tefal High Speed Blender (available on the Tefal Official Store) is one of the best blenders for smoothies. It's certainly an investment but it's worth every dollar if you're planning on making smoothies a daily family affair.
This Tefal blender comes with a smart digital display and ten automatic programs for a wide selection of preparations such as milkshake or ice crush smoothies. With an ultra high speed motor of 1300W and speeds up to 400km/h, you'll feel assured knowing that you'll get the silkiest blends.
6. Philips Viva Collection Blender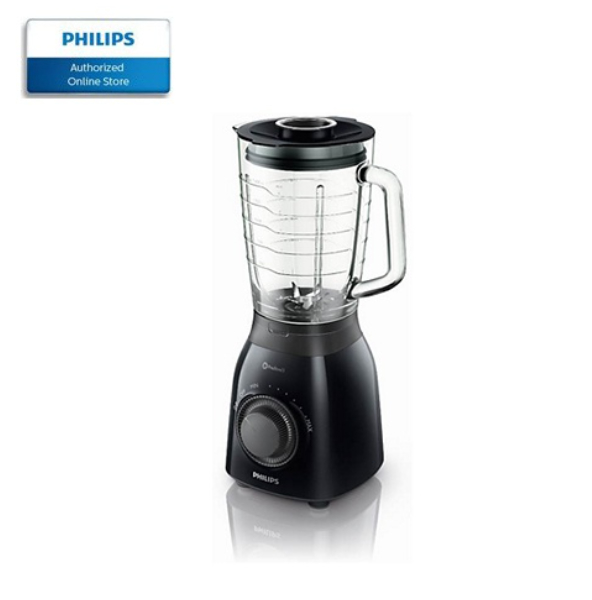 If the Tefal feels a bit much for you (we understand, it is one hefty machine), then good old Philips has your back. The Philips Viva Collection Blender (available on Philips Official Store) is a classic, no-frills stand blender.
Its main selling point is its Problend 5 star blade, making it well equipped to blend smoothies with easy odour-free cleanup thanks to its high-quality 2L glass jar. This Philips blender is best suited for big families looking for a high capacity blender yet lightweight blender.
7. PowerPac 4 in 1 Blender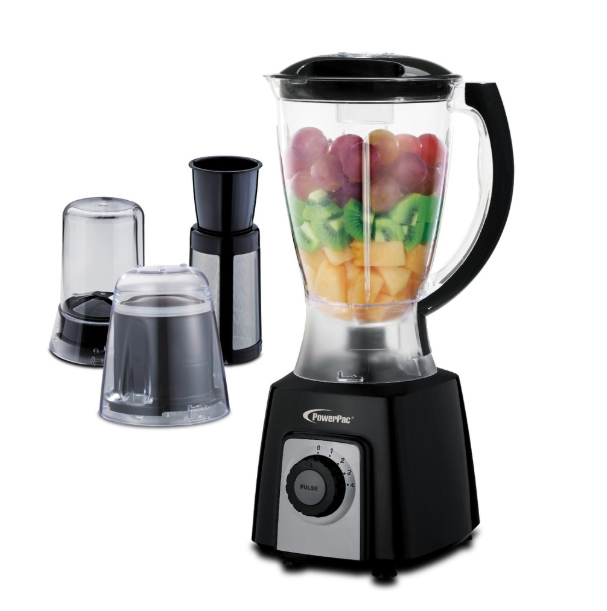 The PowerPac 4 in 1 Blender (available on PowerPac Official Store) is the go-to blender for an affordable and versatile option. Not only is the PowerPac 4 in 1 Blender well equipped to serve your smoothie needs, but it also comes with a dry food mill mincer and filter for other preparations like spice grinding. 
This flexible blender is perfect for those looking for a multi-use blender capable of making smoothies along with ground spices and fresh meats. With four speed-settings and a 400W motor, this is a great add-on for budding home cooks looking to perfect their chops!
Hand Blenders
8. Cuisinart Smart Stick Hand Blender
Get the best bang for your buck with the Cuisinart Smart Stick Hand Blender (available on ToTT Official Store). This foolproof immersion blender uses a variable speed knob to intuitively adjust the speed of the blender. 
Aside from being a handy blender, the Cuisinart Smart Stick Hand Blender also includes a food processor, whisk and masher. That's four useful kitchen appliances, all in one nifty little package!
9. Panasonic Mx-Gs1Wsp 600W Hand Blender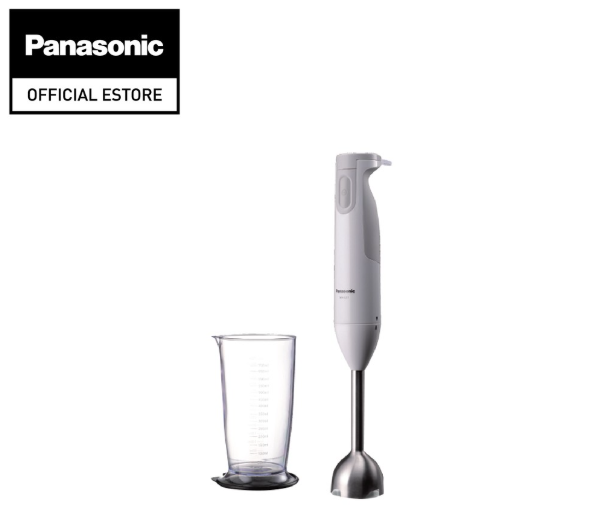 If all you want is a simple hand blender without any bells and whistles, look no further than the Panasonic Mx-Gs1Wsp 600W Hand Blender (available on the Panasonic Singapore Official Store).
This Panasonic blender comes with an ergonomic handle and four-blade blending system for easy smoothies. The best part about this hand blender is that it comes with a wall bracket for easy access and storage. Its beaker is also dishwasher safe, so you won't have to fret over scrubbing off stubborn stains!
10. Kitchen Aid 2 Speed Hand Blender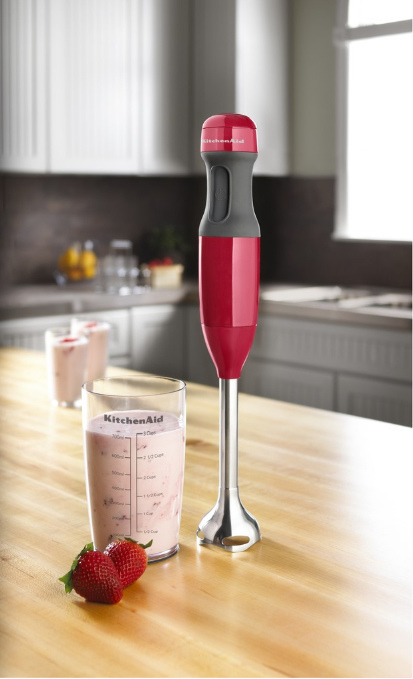 We can't have a complete best blender list without mentioning the reputable KitchenAid! The KitchenAid 2-Speed Hand Blender (available on Mayer Official Store) sets itself apart with its ability to be quieter than the standard immersion blender. Thereby making it great for morning birds looking to avoid waking up their sleeping roommates.

This also makes the KitchenAid 2-Speed Hand Blender great for making baby recipes like purees. On top of that, their blending jar also comes with a lid which allows you to store excess smoothies for later consumption!
11. Vitamer Blender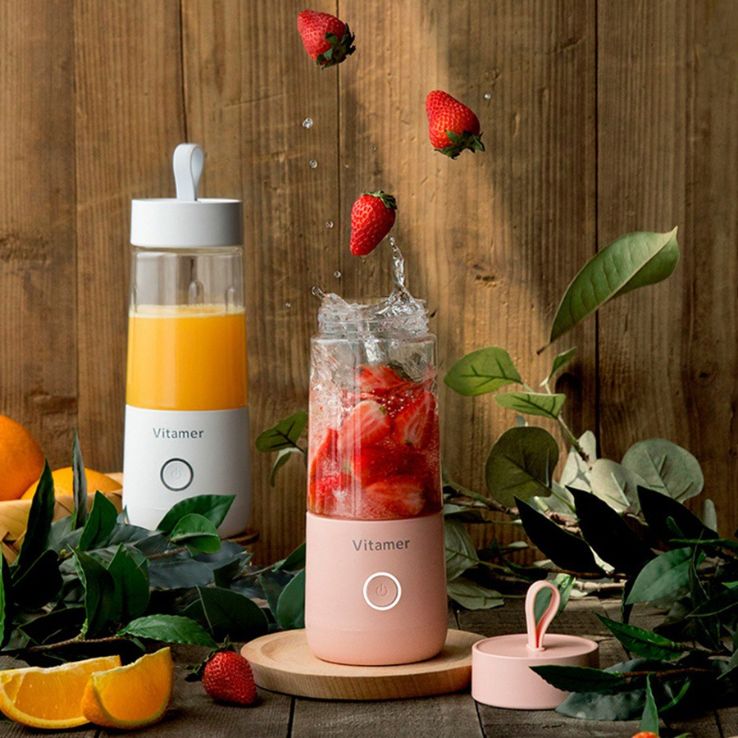 This has to be one of the best-looking blenders for smoothies! The Vitamer Blender (available on joinmind.sg) packs a punch when it comes to delivering your favourite juices. It can churn out fruit smoothies, protein shakes and is also a great tool for baby food recipes. Each full battery charge can blend eight to 15 beverages. After which, simply plug in the USB cable for another round of charge!
It's compact, portable and made of BPA free food-safe materials. We love the colours too white for a minimalist style and baby pink for a splash of colour.
Get the best blender for your smoothie today!
Hopefully, we've shed some light on the vast world of smoothie blenders and you've found something that'll work for you! Once you've gotten your hands on the best smoothie blender for you, pack your smoothies with fresh fruit and vegetables and up your presentation game with some really cute glasses and mugs to serve them in.
Looking to start on a healthy lifestyle that goes beyond a morning smoothie? Pack yourself a nutritious lunch with these easy meal prep ideas or get your heart rate up with some fun fitness apps.
This article was updated on 12-06-2020. Additional research done by Rachel Tan.
---
New to Shopee? Get $7 off (min. spend $15) with code*: BESTBLENDER
* TNC Applies. Valid for new users from 27 June to 4 July 2020 only.