Is your baby showing interest in the food you're eating? Are they able to sit upright and hold their heads up unsupported? These are signs that they're ready for solids! We know it can be daunting to introduce solids to your bub. That's why we've created this guide on easy baby food recipes that you can't go wrong with. Psst, busy mums and dads can check out our quick recipes that take less than five minutes to prepare!
When do I start feeding my baby solid food?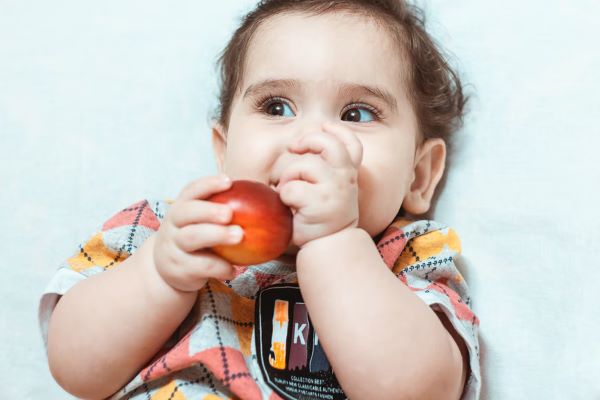 According to HealthHub, parents can start introducing solids to their baby after they cross the six month mark. However, this is just a general guideline. Most importantly, you should look out for these following signs that will tell you whether they are ready.
Your baby can sit up against the back of a chair and hold his head upright with some support

Your baby displays interest in food, such as reaching out for what you're eating

Your baby opens his mouth for an incoming spoon and closes his lips around it

Your baby puts objects in his mouth and wants to chew on them

Your baby appears hungry after you feed him milk
How to start feeding your baby solids?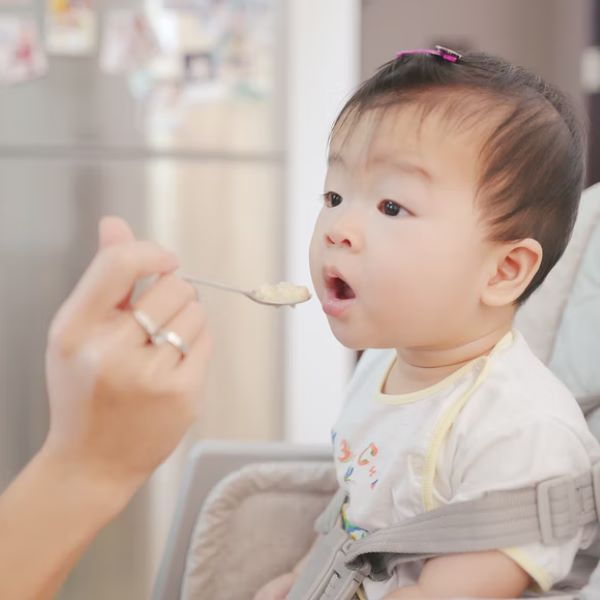 Between six to nine months, babies still need a diet of either breastmilk or formula milk, as that is their main source of nutrition. Solid foods are not to replace milk, but complement them at this stage. HealthHub recommends starting with small amounts, such as one to two teaspoons when you are just starting to introduce solids. You can gradually increase the amount and frequency of feed as your baby gets used to it. 
Refer to the table below for HealthHub's recommended servings of different types of food. When your baby hits the 10 to 12 months mark, you can replace their diet with solid food for all three meals.
Food group
Recommended serving per day
How much is one serving?

Brown rice and wholemeal bread

1 – 2 

Fruit

½ 

130g apple, orange, pear, or mango

130g papaya, watermelon, or pineapple

1 medium banana

Vegetables

½ 

100g cooked leafy vegetable

100g cooked non-leafy vegetable

Meat

½ 

90g fish, lean meat, or skinless poultry

170g soft beancurd
What do you need to make your own baby food?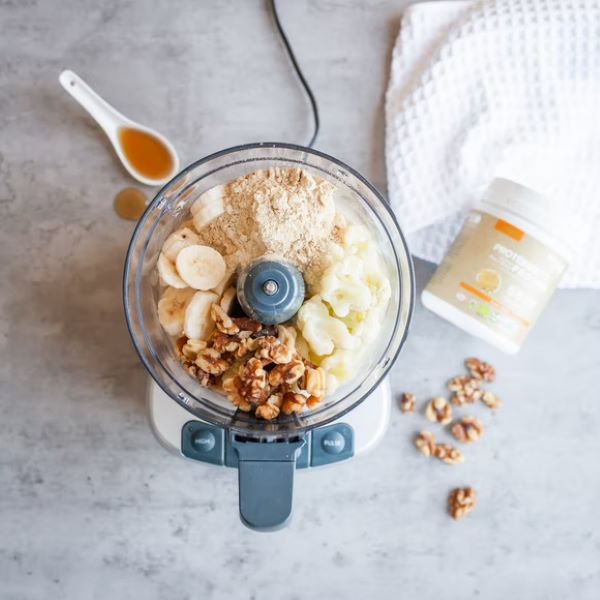 You should start with soft food that is fine in texture when you are introducing your baby to solids for the first time. At 10 to 12 months, the food can be chopped or mashed. In order to make your own baby food, a food processor or a blender will come in handy for making purees. For vegetables, get a food steamer to make them soft and mashable. You can also check out the best baby food makers that'll make preparing baby-led weaning recipes a breeze. 
Baby food recipes for six months and above
Since this will be the first time they'll be introduced to solid food, it's important that you ease them in slowly. Prepare baby food recipes that centre around one main ingredient and ensure that the texture is smooth and consistent so it's easy to digest.
1. Cereal Puree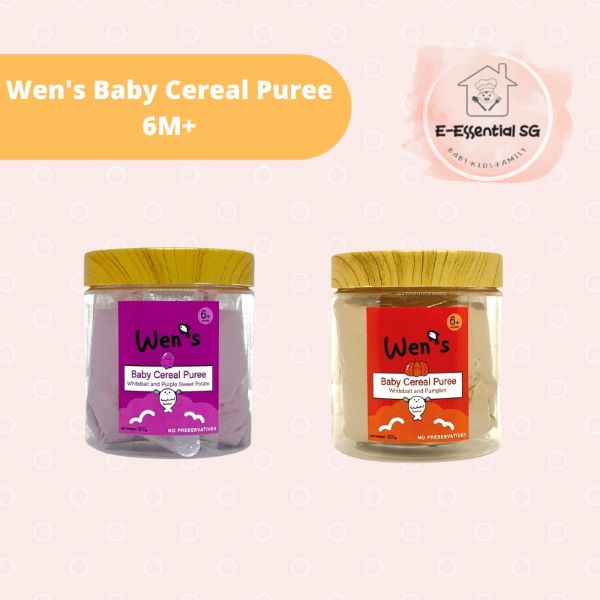 Cereal is always a good idea no matter the age. Start your baby young with a healthy cereal puree baby food recipe that you can prepare in a jiffy! 
Prep time: 3 minutes
Cook time: 3 minutes
Servings: 1
Recipe ingredients:
20g cereal puree

35ml warm water or milk
Recipe instructions: 
Mix

Wen's Baby Cereal Puree

(available on

E-Essential SG Baby Store

) 

Stir the mixture until smooth

You can add fruit puree into the cereal or even mashed banana for extra flavour after your baby is used to solids
Why it's good for your baby: 
Wen's Baby Cereal Puree uses a balanced formula containing red rice, millet, and whitebait as well as a choice between purple sweet potato and pumpkin. Red rice is high in vitamin B1, potassium, iron, and protein, and millet is good for digestion. Furthermore, this baby cereal contains whitebait which is rich in DHA, which enhances your baby's brain development.
2. Apple Puree
Fruit purees are one of the go-to baby food recipes as they're easy to make and are very nutritious. Apart from banana puree, apple puree is also easy to make and promotes good health! Keep the doctor at bay with an apple a day using this easy baby food recipe.
Prep time: 5 minutes
Cook time: 5 – 10 minutes
Servings: 1
Recipe Ingredients:
1 apple

Breast milk or formula milk

Pinch of cinnamon (optional)  
Recipe Instructions: 
Peel the skin of an

apple

before cutting it into cubes and steam it in a pot for about 5-8 minutes 

Use a fork and check on the apple's consistency to ensure they're soft and tender 

After which, transfer them into a

baby food processor

and blend it into a smooth puree

Alternatively, place the cubes into a bowl and use a

food masher

to blend it 

You can add either breast milk or

infant milk formula

to further improve its consistency 

You could also add a pinch of

cinnamon powder

(available on

Shopee Supermarket

) for more flavour
Why it's good for your baby: 
Apples are easy to digest and contain Vitamin C, fibre and antioxidants. They'll help promote overall good health in your babies, living up to the saying "an apple a day keeps the doctor away".
3. Multigrain Rice Pumpkin Porridge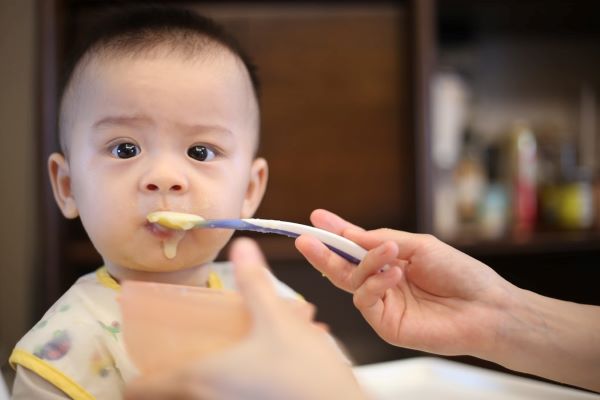 Baby rice is rice that's fortified with nutrients such as zinc and iron, which are important for baby-led weaning. If you want to introduce your little bubs to rice, here's an easy baby food recipe to follow!
Prep time: 10 minutes
Cook time: 35 minutes
Servings: 1
Recipe ingredients:
½ tbsp rice grains

120g seeded pumpkin, skinned

1 cup water
Recipe instructions:
Wash and rinse

Klynn Baby Rice Grain

(available on

E-Essential SG Baby Store

). While waiting, steam pumpkins for 20 to 25 minutes until soft. Make sure the pumpkins are chopped to small pieces.

Add

rice grains

, cooked pumpkins and water in a blender and blend for one to two minutes

Pour the blended mixture into a pot and boil over high heat for 2 minutes

Reduce to low heat and simmer for 5 minutes, stirring constantly

Sieve the boiled porridge using a sift

Cool it for 10 to 20 minutes and serve
Why it's good for your baby: 
The Klynn Baby Rice Grain is a mix of organic quinoa, white rice, and organic millet which contains healthy Omega-3 that helps with brain development. Apart from healthy baby rice, pumpkins are packed with vitamin A which helps strengthen your baby's eyesight and immunity.
Baby food recipes for nine months and above
This is the best time to introduce your kids to baby led weaning recipes like finger foods. This refers to food that babies can pick up and eat by themselves. Although it can get messy — that's where baby bibs come in — it's fun to see babies discover new foods and have fun with them!
4. Minestrone Soup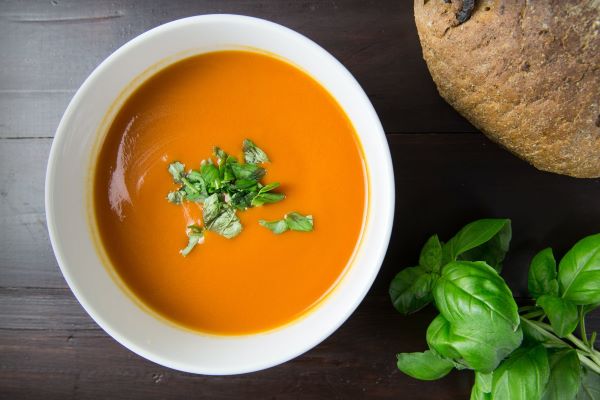 Minestrone soup is easy to make and filled with vegetables to boost your baby's nutrition. This baby food recipe has also included chia seeds and diced chicken to add more texture for your 12 month old to enjoy!
Recipe ingredients:
130g pasta sauce

100ml water

½ teaspoon chia seeds, soaked

¾ tbsp carrots, diced

¾ tbsp celery, diced

1 tbsp potato, diced

1 pc chicken fillet, diced

1 tsp baby's soy sauce

1 tsp whitebait powder
Recipe instructions:
Pour water and

Little Pasta Organic's Pasta Sauce

(available on

E-Essential SG Baby Store

) in a pot and bring to a boil

Add in diced

chicken fillet

and let it boil for a few more minutes

Add pre-soaked

Love Earth Organic Pocket Chia Seeds

(available on

E-Essential SG Baby Store

) and season the soup with

Love Earth Organic Baby's Soy Sauce

and

Wen's Whitebait Powder

(both available on

E-Essential SG Baby Store

)

Let the soup cool for 10 minutes and serve
5. Blueberry And Banana Pancakes
Now who doesn't love pancakes? This easy four-ingredient baby food recipe works for even your older children, saving you time from making separate meals for them. It is also great for baby led weaning, as it is easy for babies to pick them up and eat by themselves. 
Prep Time: 5 minutes
Cook Time: 5 – 10 minutes
Servings: 1
Recipe Ingredients:
1 banana

1 egg

1/2 cup oatmeal

Spoonful of blueberries

Dollop of coconut cooking oil
Recipe Instructions: 
Slice a

banana

into four parts and mash it in a serving bowl 

Add an

egg

, a spoonful of oatmeal and

blueberries

 

Heat a pan on low flame and add a dollop of

coconut cooking oil

(available on

Shopee Supermarket

)

Once the pan is heated, add small portions of the pancake batter into the pan

Flip them over when the sides are browned and transfer them on a plate

Keep them refrigerated for up to 48 hours and heat them whenever you need
Why it's good for your baby: 
Blueberries and bananas are particularly nutritious and are packed with fibre, potassium and a host of other vitamins. Babies also enjoy the naturally sweet flavour of bananas.
6. Salmon And Sweet Potato Fish Cakes
This is a great baby led-weaning food recipe to introduce your little ones to fish and is best prepared in batches during your babies' nap times. Keep them refrigerated in airtight containers and pop them into the microwave whenever they're ready to serve.
Prep Time: 10  minutes
Cook Time: 10 – 15 minutes
Servings: 8
Recipe Ingredients:
300g sweet potato

1/2 onion

600g cooked salmon fillet

80g breadcrumbs
Recipe Instructions: 
Mash and mix

sweet potato

, cooked

Salmon Fillet

(available on

SilverSea Mall Official Store

), half an onion and

breadcrumbs

(available on

Shopee Supermarket

)

in a serving bowl 

Once done, dig in and make palm-sized patties that your baby can hold onto. 

Place them onto a heated pan and fry them for five minutes on each side
Why it's good for your baby: 
Salmon is one of the best sources of omega-3 fatty acids which is important for a child's brain and eye development. In addition, sweet potatoes are rich in carbohydrates and nutrients like A, C and B complex!
7. Mixed Vegetable Puree
It's important to introduce your little one to the world of vegetables as early as possible! This helps them to get used to its taste and helps you incorporate it in their diet in future. This baby food recipe is great for baby-led weaning and it is simple to make.
Prep Time: 5 minutes
Cook Time: 10 minutes
Servings: 4 – 8 
Recipe Ingredients:
1 sweet potato

1 zucchini

1/2 cup peas

1/2 cup carrots 
Recipe Instructions: 
Cut and boil the sweet potato,

zucchini

,

peas

(available on

Shopee Supermarket

) and carrots to soften them 

Once done, toss them into a food blender and puree until smooth

Serve it warm or portion them in baby food freezer trays and refrigerate them for the next meal
Why it's good for your baby: 
Root vegetables like carrots are packed with beta carotene, vitamin A, C and calcium and are easy to digest while zucchini contains good amounts of folate, necessary in building cells in the baby's body.
Baby food recipes for 12 months and above
At 12 months and above, your baby is less dependent on breast milk and slowly making the transition to solid food as their main source of nutrients. That means you can prepare more textured baby food recipes for your babies and include a mix of fruits, vegetables and even meat.
8. Aglio Olio With Salmon Fillet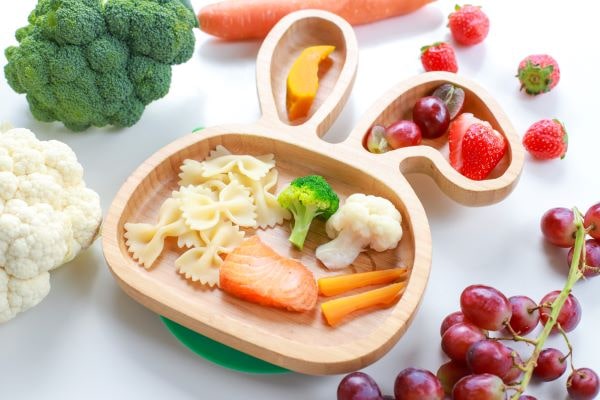 Introduce your baby to their first pasta with this delicious aglio olio baby food recipe! On top of the ingredients stated below, you can also add in your vegetable of choice or throw in some Shimeji mushrooms into the mix.
Prep time: 5 minutes
Cook time: 10 minutes
Servings: 1

Recipe ingredients:
30g pasta of choice

1 slice of salmon fillet

1 tbsp olive oil

1 tsp garlic powder

Pinch of salt

Pinch of dried basil leaf powder
Recipe instructions:
Why it's good for your baby:
Apart from salmon which is an excellent source of protein and fat, and packed with iron and vitamin D, The Bebefood natural blended salt is also suitable for babies that are 12 months and above as it is milder in flavour. It also contains vegetables such as Korean cabbage, turmeric, and spinach.
9. Egg Fingers
Your kid deserves a treat once in a while – and this baby-led weaning recipe is sure to delight the one year olds in the household. Take note that this is a fried recipe, so give them to your kids in moderation.
Recipe ingredients:
2 eggs

1 tbsp shredded mozzarella cheese

Pinch of pepper

Pinch of salt

1 tsp chilli flakes (optional)

Bread crumbs

Cooking oil
Recipe instructions:
Crack an egg into a bowl and add

shredded mozzarella cheese

(available on

Shopee Supermarket

) 

Season with salt, pepper, and

chilli flakes

(available on

Shopee Supermarket

), and mix well

Cover the bowl with a piece of

aluminium foil

(available on

Shopee Supermarket

)

Fill one quarter of a pot with water and bring to a boil

Place the bowl in the pot of water and cover with a lid

Steam for eight to ten minutes over medium heat

Remove the bowl from the pot, take off the aluminium foil and use a knife to separate the egg and the bowl

Cut the egg into half and slice them into 1cm strips

Crack another egg into a bowl and beat the egg

Dip an egg roll in the egg wash and cover it with breadcrumbs. Repeat this for all the egg rolls.

Add oil to a pan and fry the egg rolls

Transfer them to a plate with a

kitchen towel

(available on

Shopee Supermarket

) to soak up the excess oil
Why it's good for your baby:
According to WebMD, incorporating egg yolks into a baby's diet is a great way to provide iron and nutrients at their stage of growth. It is encouraged to feed them four egg yolks a week at the weaning stage.
Try your hand at these easy baby food recipes 
From purees to baby-led weaning food recipes, we hope you now have a better idea of the types of food that can be prepared! For those with newborns, check out our roundup of the best newborn diapers in Singapore that offer comfort for your little one before they are potty-trained. Also read our recommendations on the best baby strollers to bring your kiddo around easily!
This article was updated on 25 May 2022. Additional research done by Liang Shi Nan.