Does your baby show great interest in the food you're eating? Are they able to sit upright and hold their heads up unsupported? These signs show they're ready for solids! We understand that it can be slightly daunting to introduce solids to your bub. That's why we've created this guide on easy baby food recipes that you can't go wrong with!
How often should you feed solids to your baby?
Start with a couple of teaspoons a day supplemented with the usual breast or formula milk and increase the quantity slowly. However, the best way to gauge how much you should feed per meal is to look towards your baby for signs — they'll reach for more food if they're eager and if they turn their heads away, they're full! Introduce new foods every week and don't fret if they don't like most of them. Re-introduce the food a few weeks later and chances are they'll slowly start taking to it!
On the other hand, it'll be wise to start keeping a food log to note the cause of any allergic reactions if they were to occur.
Baby food recipes for babies 4-6 months old
Since this will be the first time they'll be introduced to solid food, it's important that you ease them in slowly. Prepare food that centres around one main ingredient and ensure that the texture is smooth and consistent so it's easy to digest.
1. Apple Puree
Fruit purees are one of the go-to baby food recipes just they're easy to make and are very nutritious. One of the easiest ones is apple puree.
Prep Time: 5 minutes
Cook Time: 5 – 10 minutes
Servings: 1
Recipe Ingredients:
1 apple

Breast milk or formula milk

Pinch of cinnamon (optional)  
Recipe Instructions: 
Peel the skin of an apple before cutting it into cubes and steam it in a pot for about 5-8 minutes. 

Use a fork and check on the apple's consistency to ensure they're soft and tender. 

After which transfer them into a

baby food processor

and blend it into a smooth puree.

Alternatively, place the cubes into a bowl and use a

food masher

to blend it. 

You can add either breast milk or formula milk to further improve its consistency. 

You could also add a pinch of cinnamon for a sweeter flavour.
Why it's good for your baby: 
Apples are easy to digest and contain Vitamin C, fibre and antioxidants. They'll help promote overall good health in your babies, truly living up to the saying "an apple a day keeps the doctor away."
2. Oatmeal Cereal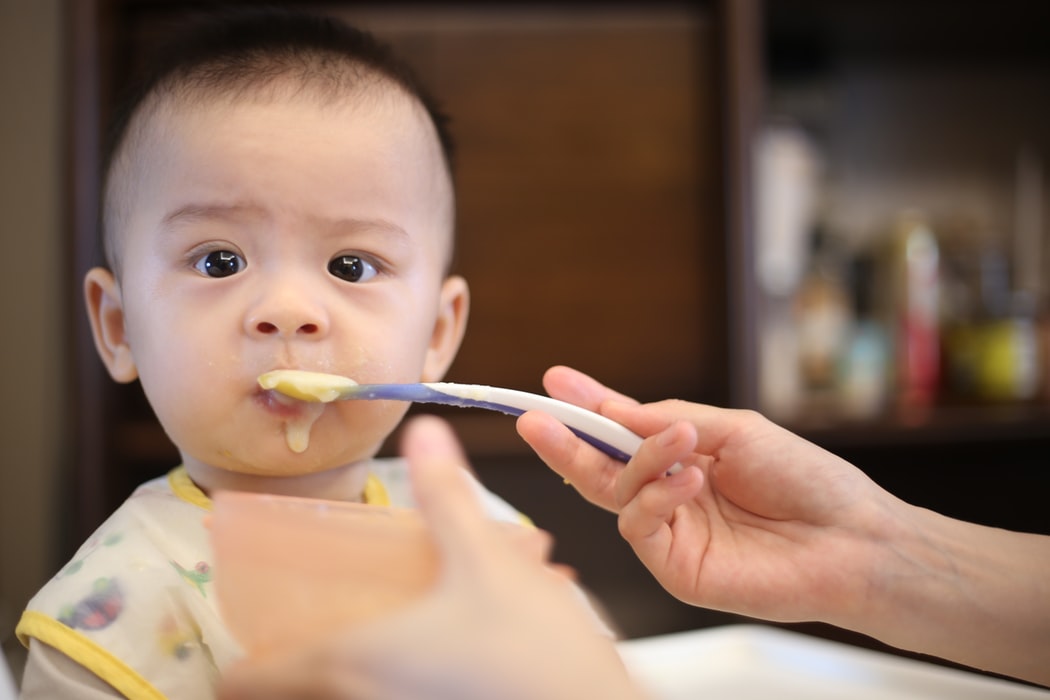 Oatmeal is always a good idea no matter the age. Start your baby young with a simple oatmeal baby food recipe and customise it as they get older.
Prep Time: 5 minutes
Cook Time: 5 minutes
Servings: 1
Recipe Ingredients:
1 tsp Gerber organic oatmeal cereal

Warm water

4 – 5 tsp breast milk or formula milk

Fruit puree (optional)

Mashed bananas (optional) 
Recipe Instructions: 
Mix 1 teaspoon of the

Gerber Organic Oatmeal Cereal

(available on

Nestlé Infant Nutrition Official Store

) with warm water and add 4-5 teaspoons of warm breast milk or your preferred milk formula. 

Stir the mixture till smooth. 

Over time, you could add fruit puree into the oatmeal cereal or even mashed banana for extra flavour.
Why it's good for your baby: 
Oatmeal is rich in fibre, iron and a host of other vitamins to help support the baby's growth and development.
Baby food recipes for babies 6-10 months old
This is the best time to introduce your kids to baby-led weaning recipes like finger foods. This is food babies can pick up and eat by themselves. Although it can get messy — that's where baby bibs come in — it's fun to see babies discover new foods and have fun with them!
3. Blueberry And Banana Pancakes
Now who doesn't love pancakes? This easy four-ingredient baby food recipe works for even your older children, saving you time from making separate meals for them!
Prep Time: 5 minutes
Cook Time: 5 – 10 minutes
Servings: 1
Recipe Ingredients:
1 banana

1 egg

1/2 cup oatmeal

Spoonful of blueberries

Dollop of coconut cooking oil
Recipe Instructions: 
Slice a banana into four parts and mash it in a serving bowl. 

Mix into it an egg, a spoonful of oats and blueberries. 

Heat a pan on low flame and add a dollop of

coconut cooking oil

. 

Once the pan is heated, add small portions of the batter into the pan and cook them! 

The best part is, you can keep them refrigerated for up to 48 hours and heat them whenever you need them!
Why it's good for your baby: 
Blueberries and bananas are particularly nutritious and are packed with fibre, potassium and a host of other vitamins. Babies also enjoy the naturally sweet flavour of bananas.
4. Salmon And Sweet Potato Fish Cakes
This is a great baby food recipe to introduce your little ones to fish and is best prepared in batches during your babies' nap times. Keep them refrigerated in airtight containers and pop them into the microwave whenever they're ready to serve.
Prep Time: 10  minutes
Cook Time: 10 – 15 minutes
Servings: 8
Recipe Ingredients:
300g sweet potato

1/2 onion

600g cooked salmon fillet

80g breadcrumbs
Recipe Instructions: 
Mash and mix sweet potato, cooked salmon fillet, half an onion and breadcrumbs in a serving bowl. 

Once done, dig in and make palm-sized patties that your baby can hold onto. 

Place them onto a heated pan and fry them for five minutes on each side.
Why it's good for your baby: 
Salmon is one of the best sources of omega-3 fatty acids which is important for a child's brain and eye development. While the sweet potato is rich in carbohydrates and nutrients like A, C and B complex.
5. Mixed Vegetable Puree
Introduce your little one to the world of vegetables with this super easy 4 ingredients-mixed vegetable baby food recipe!
Prep Time: 5 minutes
Cook Time: 10 minutes
Servings: 4 – 8 
Recipe Ingredients:
1 sweet potato

1 zucchini

1/2 cup peas

1/2 cup carrots 
Recipe Instructions: 
Cut and boil the sweet potato, zucchini, peas and carrots to soften them. 

Once done, toss them into a food blender and puree till smooth. 

Serve it warm or portion them in

baby food freezer trays

and refrigerate them for the next meal.
Why it's good for your baby: 
Root vegetables like carrots are packed with beta carotene, vitamin A, C and calcium and are easy to digest while zucchini contains good amounts of folate, necessary in building cells in the baby's body.
Baby food recipes for babies 12 months old and above
At this age, your baby is less dependent on breast milk and is slowly but surely making the transition to food as their main source of nutrients. That means you can prepare more textured food recipes for your babies and include a mix of fruits, vegetables and even meat.
6. Fried Chicken Rice
Since fried rice is already the de-facto dish in many Singaporean households, why leave your littlest member out of this time-honoured dish? If you've leftovers from the adult meal the night before, you can use it to whip up a quick fried rice meal for your 1 year-old the next day!
Prep Time: 10 – 15 minutes
Cook Time: 15 minutes
Servings: 1
Recipe Ingredients:
A handful of garlic and shallots

Cooked rice

Vegetables of your choice (carrots, peas, broccoli)

Shredded chicken breast

1 egg

Soy sauce
Recipe Instructions: 
Add minced garlic and shallots to a wok and add cooked rice and vegetables of your choice — perhaps carrots, peas and broccoli. 

Next, add shredded pieces of chicken breast to the wok and let it cook. 

Fry an egg in the centre of the wok and continue mixing it all in. 

Finally, drizzle some soy sauce for added flavour!
Why it's good for your baby: 
Chicken is a good source of protein and aids in healthy muscle growth. It's also rich in iron which is necessary for the growth of red blood cells. Chicken is also one of the first meats most parents introduce their babies to.
7. Baby's Kale & Basil Pesto With Pasta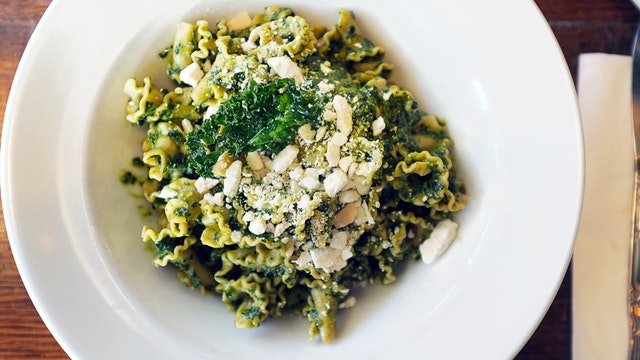 Introduce your baby to their first pasta with this baby food recipe boasting leafy green kale, basil and cheese of course!
Prep Time: 10 – 15 minutes
Cook Time: 10 minutes
Servings: 1
Recipe Ingredients:
1/2 cup kale

1/2 cup basil

1/2 cup parmesan cheese

1/2 cup olive oil

1 clove garlic

Pasta

Nuts (to garnish)

Cheese (to garnish) 
Recipe Instructions: 
Add equal parts of kale and basil to a food processor and pulse it for about four times. 

Next, load it up with parmesan cheese, olive oil and garlic and blend it till you get a silky smooth consistency. 

When done, set the pesto aside in a bowl. 

Then, cook a pack of small pasta on the side and keep aside some of the cooking water. 

Add the cooked pasta and a little bit of the cooking water to the pesto sauce and mix. 

Garnish with some nuts and more cheese and pass it to your eager kid!
Why it's good for your baby: 
Kale is considered another superfood, which is rich in iron and vitamin A, C and K. This combined with the pasta will provide a good source of carbohydrates and nutrients to take on the day!
We hope you now have a better idea of the types of baby food recipes that can be prepared! Need some recipe ideas for your older kids? These yummy lunch box recipe ideas will sort you right out! Mothers (and fathers), don't neglect your own health while preparing food for your kids! Check out these breakfast ideas and easy meal prep ideas for all the hardworking parents!