Can't ever seem to differentiate a blush brush from a powder brush? Makeup amateurs may be intimidated by the different types of makeup brushes available on the market. If you've been using the same makeup brush for all the steps in your makeup routine, it's time to change things up! This guide will brush up your knowledge on the best makeup brushes for your face, eyes and lips! Ready? Let's swirl! 
Types of makeup brushes for the face 
1. Tapered foundation brush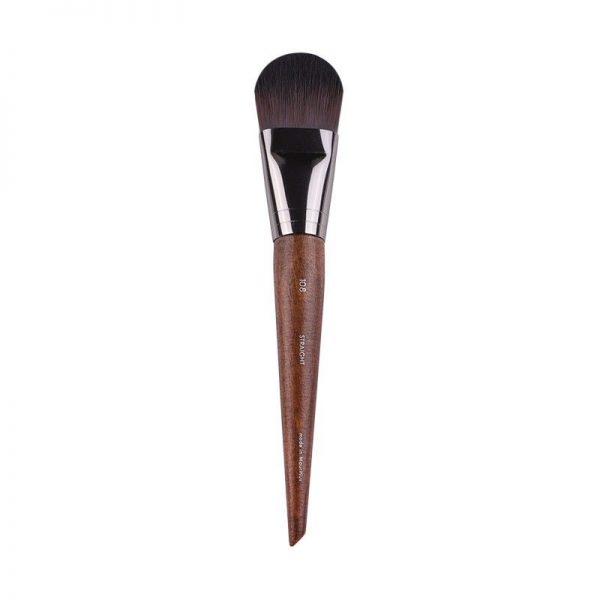 While you can use your fingers or a blending sponge to apply your foundation, we recommend getting a tapered foundation brush for your beauty starter kit. This type of makeup brush provides higher coverage, making it perfect for covering discolouration or blemishes. Moreover, using a tongue-shaped foundation brush like the No. 108 Straight Makeup Brush (available on easia.sg) helps to create an even application by using lesser product. 
How to use a foundation brush: 
Using a foundation brush, draw outward strokes from the centre of your face to spread the foundation 

Wipe the brush on a clean piece of tissue to remove excess product before blending the foundation towards the edges of your face 

Lightly tap the brush all over your face to smooth out any streaks

For the best result, go in with a clean blending sponge to ensure everything is blended out nice and even
2. Stippling brush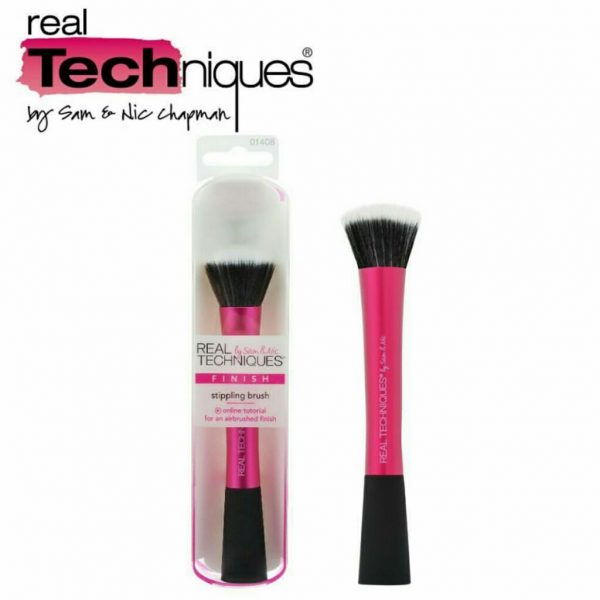 Stippling brushes may be preferred by those who're not a fan of thick and full coverage makeup. Made of two types of bristles, a good stippling brush should have a longer layer of white synthetic fibres supported by a layer of black natural fibres at the base. The white synthetic fibres pick up the foundation while the black natural fibres help to push the product into your skin for a flawless, airbrushed finish. Whether you're a makeup beginner or expert, you'll find that the Real Techniques Stippling Brush (available VanitYouth) is one of the best makeup brushes for smooth foundation application. 
Pro tip: Stippling brush can also be used for other cream products such as the Canmake Cream Cheek (available on Tsupply). 
How to use a stippling brush:
Lightly dab the foundation onto your face using the stippling brush. Ensure that only the white bristles touch your skin

Gently press the brush against your skin and swirl it in a circular motion to blend the foundation out with the dense black bristles
3. Concealer brush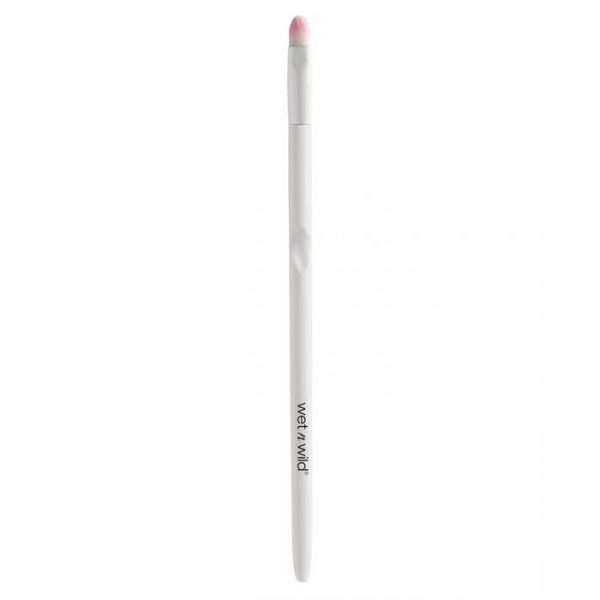 Need more coverage for your blemishes? Use a concealer brush for better results! For spot concealing, pick a small concealer brush like the Wet N Wild Concealer Brush (available on Ton Ton Beauty). The best concealer brush is one made of synthetic bristles as they don't absorb too much product. These are also often stiffer, allowing you to target specific blemish spots with more precision. 
How to use a concealer brush:
After applying foundation, use a concealer brush to pat a small amount of

concealer

onto your trouble areas

Lightly blend the edges of the concealed spot to make it look more natural.

Set the area with loose powder
4. Powder brush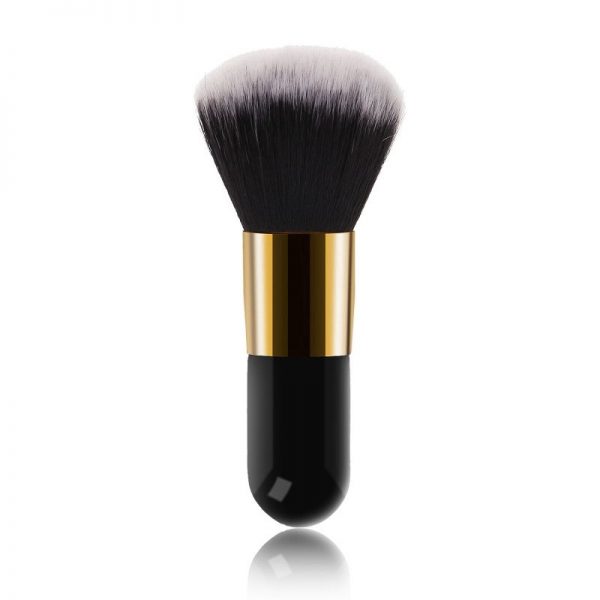 When it comes to powdering your face, the bigger and fluffier your brush, the better the results. That's because loosely packed bristles can hold more product. It also distributes them all over your face in a thin layer for a soft matte appearance. The Big Size Makeup Powder Brush (available on Warm Station) is one of the best makeup brushes for the face because of its huge size and soft, rounded tip! 
How to use a powder brush:
After running your powder brush through your compact or loose powder, lightly tap the brush to remove excess product

With a soft sweeping motion, dust the powder all over your face. Make sure to focus more product on your T-zone if you have oily skin
5. Blush brush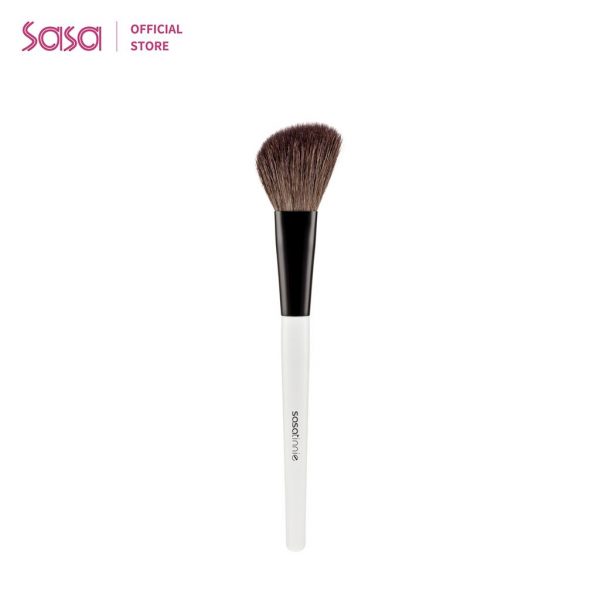 Don't mistake a blush brush for a powder brush. While the two may look the same, blush brushes are often smaller in size. There are two types of blush brushes — domed and angled. Pick  an angled blush brush like the SASATINNIE Slant Blush Brush (available on Sasa Official Shop) if you prefer a precise application for a sculpted effect. Those looking to achieve natural rosy cheeks can go for the dome-shaped e.l.f. Studio Blush Brush (available on Jessilogy). This type of makeup brush blends powder blushers like a dream! 
How to use a blush brush:
Swirl your blush brush in a powder blusher and tap off the excess 

Lightly sweep the brush back and forth on the apples of your cheeks. You can also apply some blush on the tip of your nose for a naturally flushed finish 
6. Contour brush
Contouring is one of the most important steps in your makeup routine. By applying a contour powder or stick that's one to two tones darker than your skin, you can create the illusion of chiselled cheekbones and slimmer face shape. Use a densely packed flat contour brush such as the GUJHUI Pro Flat Contour Brush (available on ontheway Beauty Makeup) to apply a concentrated amount of bronzer right under your cheekbones. 
How to use a contour brush:
Suck in your cheeks to identify your cheekbones 

Pop the

bronzer

under your cheekbones in an upward sweeping motion using the contour brush

Dust the bronzer along the edges of your face and near your hairline. This helps to warm up your face and also create an illusion of slimmer face shape 
7. Fan brush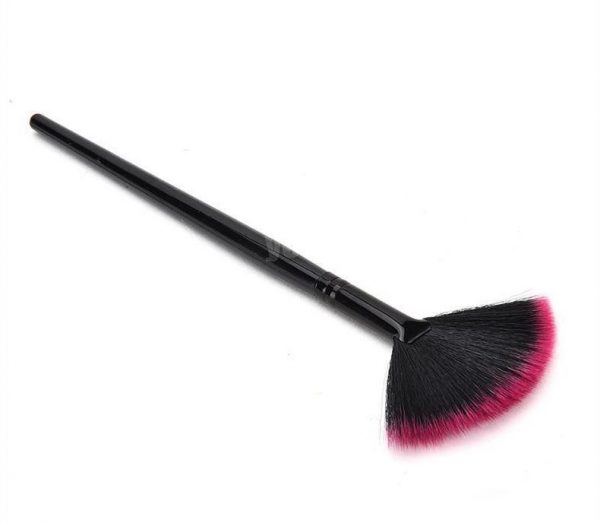 To make your features pop even more, consider highlighting the highest points of your face with a fan brush (available on youngmg.sg)! As its name suggests, a fan brush is designed in a fan shape with soft and flat bristles. This type of makeup brush creates a soft-focus effect when used with a powder highlighter — almost like an inner glow! 
How to use a fan brush:
Gently sweep some powder highlighter on your cheekbones, nose bridge, chin and forehead with the fan brush 

Dust on a few more layers to create a radiant strobe effect
Types of makeup brushes for the eyes
8. Eyeshadow base brush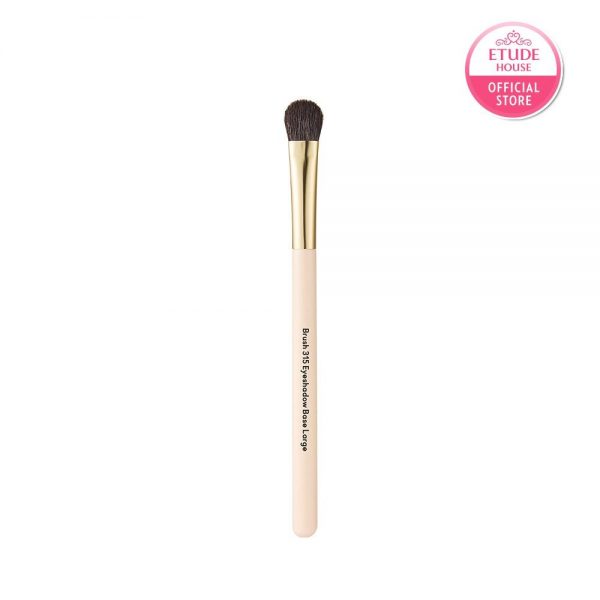 When doing your eye makeup, always begin by applying a base eyeshadow all over your upper eyelid. This step helps to even out your eyelid and create a clean canvas for other shades to pop. The best makeup brush for this purpose is an eyeshadow base brush. The Etude House My Beauty Tool Brush 315 Eyeshadow Base Large (available on ETUDE Official Store) is large  enough to cover your upper eyelids, allowing a quick and even colour application with one swipe! 
How to use an eyeshadow base brush:
Pick up some light eyeshadow colour (preferably one that's closer to your skin tone) with the base eyeshadow brush, then tap off the excess 

Pat the eyeshadow onto your lids to get maximum pigmentation  
9. Blending brush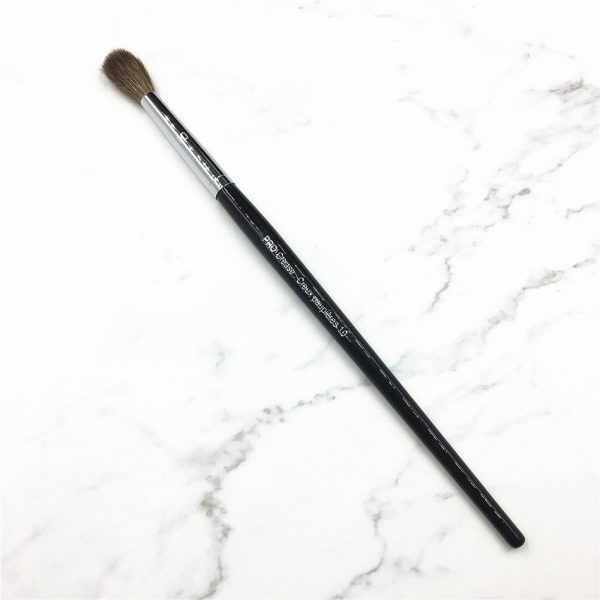 One of the biggest eye makeup mistakes is not blending out your eyeshadows. If your eyeshadow appears patchy, you need to use a blending brush to sweep the edges of your shadow colours! The PRO Crease No.10 Eyeshadow Blending Brush (available on easia.sg) has a rounded brush top with soft and fluffy bristles. This type of makeup brush allows for effortless blending to diminish any harsh lines. 
How to use a blending brush:
If you simply want to blend out your eyeshadows, simply use the blending brush (without any product) and dust around your lids in a circular motion 

To create an illusion of deeper set eyes, use a blending brush and apply shadow into your crease with a wind wiper motion 
10. Precision eyeshadow brush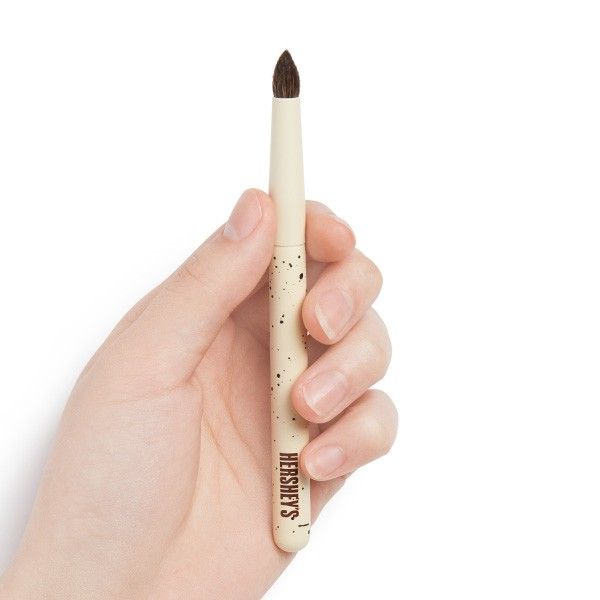 The rounded tips of both the base eyeshadow brush and the blending brush are not suitable when you want to do accented eyes. For example, if you want to emphasise your eyes' outer corners with a darker eyeshadow shade or line your eyes naturally with eyeshadow. To do these, you'll need a brush like the Etude House Cookies 'N' Cream Brush (available on marketkueen.sg) which has a sharp tapered tip for precise application. 
How to use a precision eyeshadow brush:
Press the brush tip into your desired eyeshadow shade and steadily apply the shadow into your outer corners or near the lash line 

You can also use the eyeshadow precision brush to pop shimmery eyeshadows in the inner corners of your eyes for a brightening effect
11. Eyeliner brush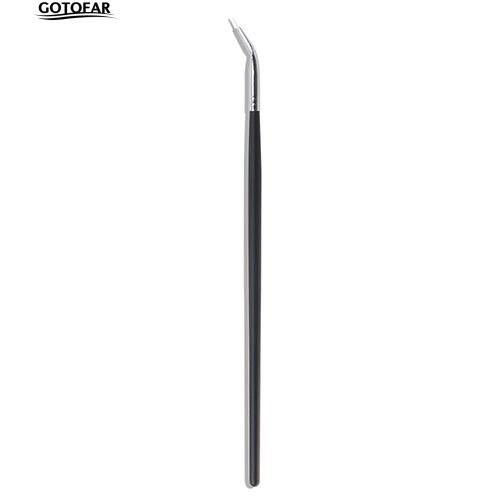 Are you a gel liner kinda girl? If so, you've got to have a fine eyeliner brush in your beauty kit! The Bent Angled Eyeliner Brush (available on gotofar.sg) allows for superb control and accuracy. This makes it a breeze to draw different eyeliner styles, whether tightlined or winged! Among other types of makeup brushes, the bent angled eyeliner brush is the best for beginners as you won't be blocking your view while you draw your liner!
How to use an eyeliner brush:
Dip your eyeliner brush into a gel pot and remove excess product on the back of your hand 

Look down into a mirror and steadily tightline your eyes 

To create a wing, gently tug the edge of your eyes back and draw a straight line in the direction of your temples 

Don't forget to line your bottom lash line for a bolder eye look
12. Brow comb and brush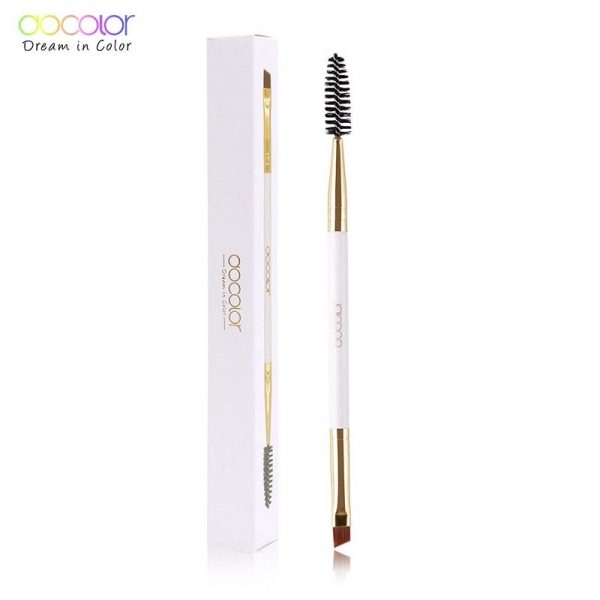 A brow comb and brush is one of the best types of makeup brushes to have when you're trying to tame your unruly brows. This multi-purpose tool comes with an angled brush on one end and a spoolie on the other. The Docolour Brow Comb And Brush (available on yueyun.sg) is best used with brow gel liner or brow powder for extra definition. 
Pro tip: Learn how to draw the most suitable brow shape for your face shape!
How to use a brow comb and brush:
Use the spoolie end to neaten up your brow hair 

Using the angled brush, outline your brow shape with either a brow gel liner or brow powder 

Fill in your brows, focusing most of the product at the brown tail to create a natural ombre brow look 

If your product appears clumped or patchy on your brows, use the spoolie to blend it out 
Types of makeup brushes for the lips
13. Lip brush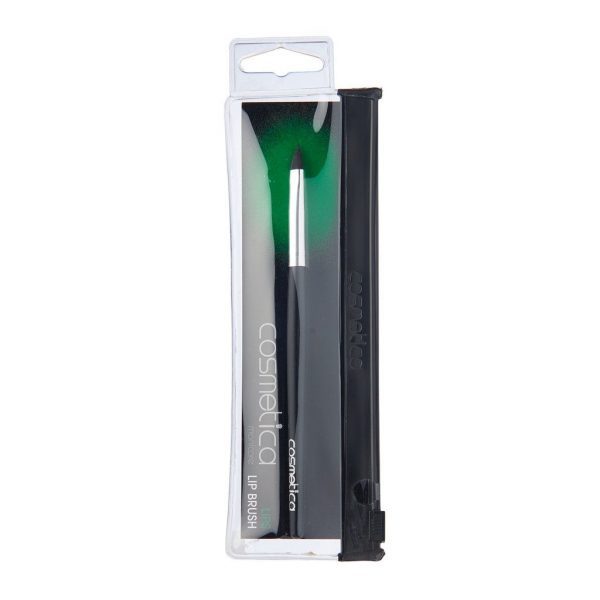 No beauty started kit is complete without the addition of a lip brush. Use the Cosmetica Lip Brush (available on McPherson's Consumer Products (MCP)) for a defined pout. Its tapered synthetic bristles allow for a uniform wash of colour and works great with any lip product. 
How to use a lip brush:
Starting from the edges of your lips, apply your lip product steadily with the lip brush

Fill in the remaining gaps evenly 

If you prefer a gradient lip effect, apply concealer on the edges of your lips to complete the look
More makeup tips and tricks for the beauty junkie
It's now time to get experimental with your makeup looks! Try these long-lasting lipsticks for a pout that will last all day or get your lashes on fleek with some of the best mascaras for Asian lashes. Don't forget that a good skincare routine is key to beautiful skin! Give your skin a much-needed pamper with these super easy DIY face masks!
Meanwhile, don't forget to reward your beauty obsession by signing up for our Shopee Beautyholics membership for exclusive deals and discounts!