If you're a lover of nature and its beauty, you would probably have heard of Innisfree, an eco-friendly Korean Beauty Brand whose products emphasise natural ingredients derived from the island of Jeju. Their skincare range features 12 unique ingredients from Jeju, each carefully researched about and selected to target specific skincare functions. Apart from their ever popular signature Green Tea line, we guarantee you'll also fall in love with the other wallet-friendly and eco-friendly products that they offer. We've compiled a list of 23 best Innisfree products (categorised into each distinct skincare and product line for your convenience), so you can keep your skin looking fresh and dewy from the inside out!
Known for its hydrating properties, Innisfree's best-selling skincare products range features its key Jeju-derived ingredient: Beauty Green Tea. This special ingredient was selected after sifting through over 2,000 green tea varieties and is treated with a "Double Squeeze" process to capture the optimum amount of active ingredients and deliver deep moisturising benefits to the skin.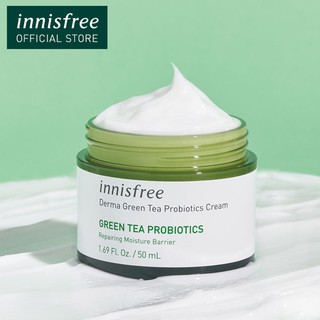 A brand new online exclusive launch, the Derma Green Tea Probiotics Cream is one of the best Innisfree products in the Green Tea range! Probiotic skincare has been a trend for years thanks to its notable properties that encourage a lower skin pH and more production of natural antimicrobial compounds. What does that mean for your skin? You can expect fewer breakouts and lesser skin irritation! Both repairing and strengthening your skin thanks to the green tea oil that is rich in unsaturated fatty acids, it even retains moisture for up to 48 hours. Not to mention, the green tea ceramide also improves your skin barrier and protect it against external irritation such as fine dust. Talk about multi-beneficial!
It's impossible to talk about Innisfree without mentioning their highly-raved about and bestselling Green Tea Seed Serum. This well-loved serum is definitely one of the best Innisfree products, with over 10 million bottles sold since its launch. Infused with 16 types of amino acids and Dual-Moisture-Rising Technology™, its lightweight texture is perfect for our humid, sunny weather – it nourishes your skin from within and retains moisture without adding too much shine. Simply apply a thin layer of this formula to your face after cleansing and toning, and you're good to go! Don't forget to couple this up with the Derma Green Tea Probiotics Cream for soft and hydrated skin that will leave you glowing for days.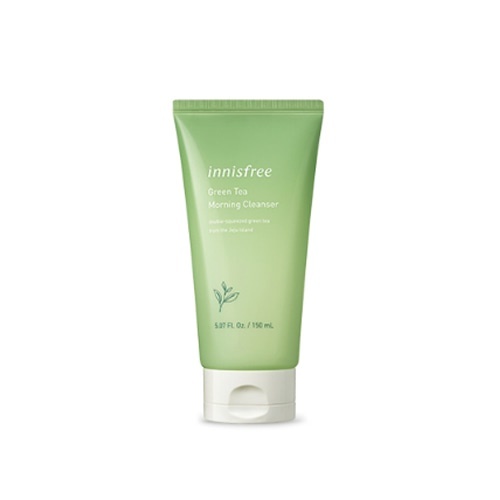 Innisfree's Green Tea Morning Cleanser has a clean and subtle scent and is known for its ability to remove impurities from your pores while keeping your skin feeling moisturised and dewy. Simply squeeze an appropriate amount of gel and lather onto your face for a thorough and light morning cleanse. Tea-terrific!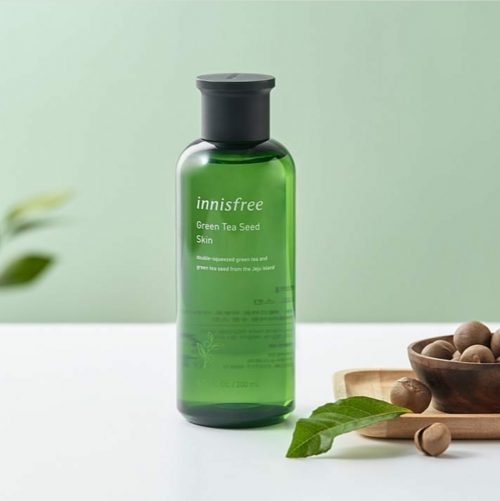 Another all-time crowd favourite, the Green Tea Seed Skin is a gentle yet hydrating toner that helps to smoothen the skin and strengthen its natural moisture barrier. Gently apply onto the face and neck after cleansing for a refreshing and supple glow!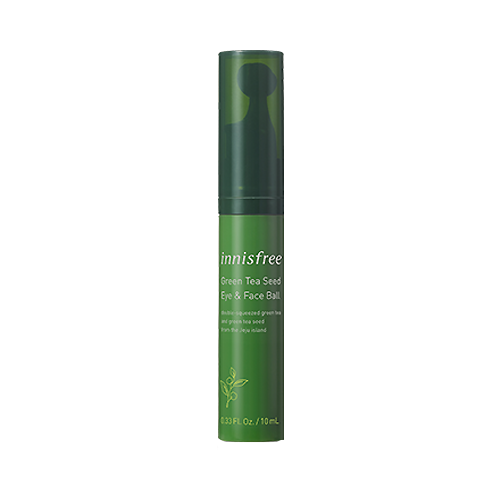 This multi-purpose portable rollerball packs a punch and is chock full of antioxidants to help relieve and depuff your tired eyes anytime you need. Its metal ball applicator helps to enhance the cooling sensation when used – simply massage gently around the eye contour to relieve and relax your tired eyes, or other areas of your face you want to revitalise. It's the perfect item to throw in your bag for a convenient midday pick-me-up!
A new anti-ageing skincare line just introduced in 2021, the Black Tea Youth Enhancing range is specially designed for those aged 25 and above. Infused with Reset Concentrate™ – an active ingredient from black tea that relieves skin fatigue, it is an ingredient unique to the brand! Naturally fermented from green tea, its powerful antioxidant and anti-ageing benefits make it one of the best Innisfree products that help to boost skin recovery after a long and tiring day.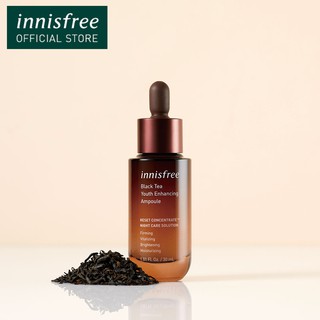 The Black Tea Youth Enhancing Ampoule is such a hit that over 10,000 bottles were sold within 10 days of its launch! Known to be a night intensive care ampoule, it aims to restore stressed skin overnight, targeting conditions such as dryness, dull skin, and skin texture. Thanks to its Night Defense Formula™, it quickly absorbs into your skin for that dose of nourishment and moisture all night long. One plus point would be that it is also hypoallergenic and is perfect for sensitive skin types!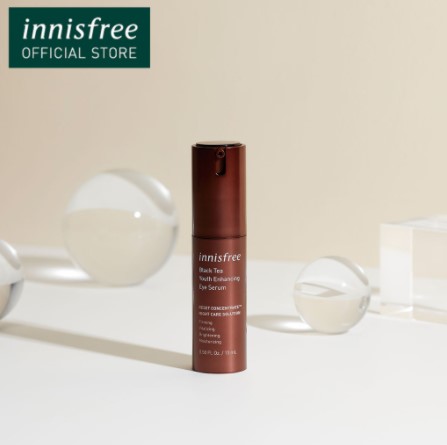 We all know that eye-care is essential, especially if you want to avoid looking like a panda when out and about! That's why the Black Tea Youth Enhancing Eye Serum is one of the best Innisfree products to dispel your dark eyebags and nourish the delicate skin surrounding your eyes. Its light gel-type formula allows it to be easily spread and absorbed, leaving a bouncy feeling without any stickiness at all!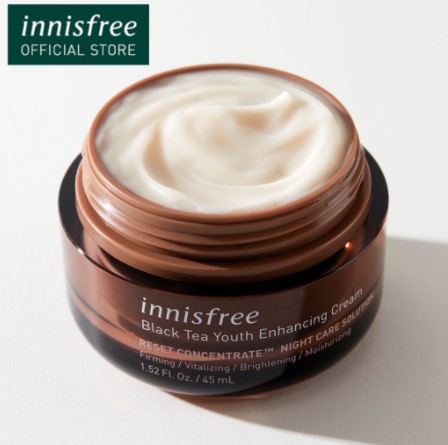 If you feel that you have dehydrated skin, this Black Tea Youth Enhancing Cream will help to quickly relieve your skin with its rich texture! The cream is filled with nutrients such as hyaluronic acid that helps with the reduction of fine lines and wrinkles. With a moisturising and firming effect, it's lightweight and spreadable texture will melt softly into your skin for quick absorption leaving you with bouncy skin!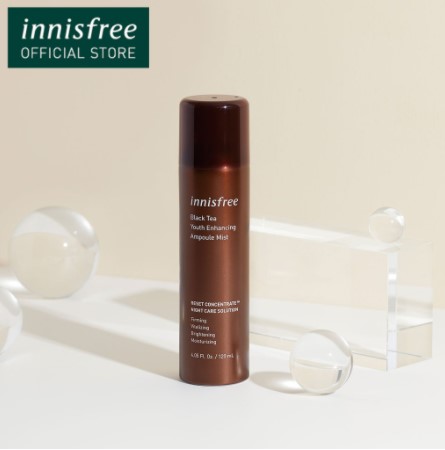 Face mists are perfect to give your skin a little boost of hydration while you're on the go! Combined with the magical ingredient of Black Tea, this Youth Enhancing Ampoule Mist can even double up as a toner. Simply spray it on a cotton pad and wipe your face with it for an instant glow!
As the next most popular line after the Green Tea series, Innisfree's Jeju Volcanic Line is most effective for sebum control, minimising pores and exfoliating dead skin. If you tend towards an oily/combination skin type, these may be one of the best Innisfree products for you.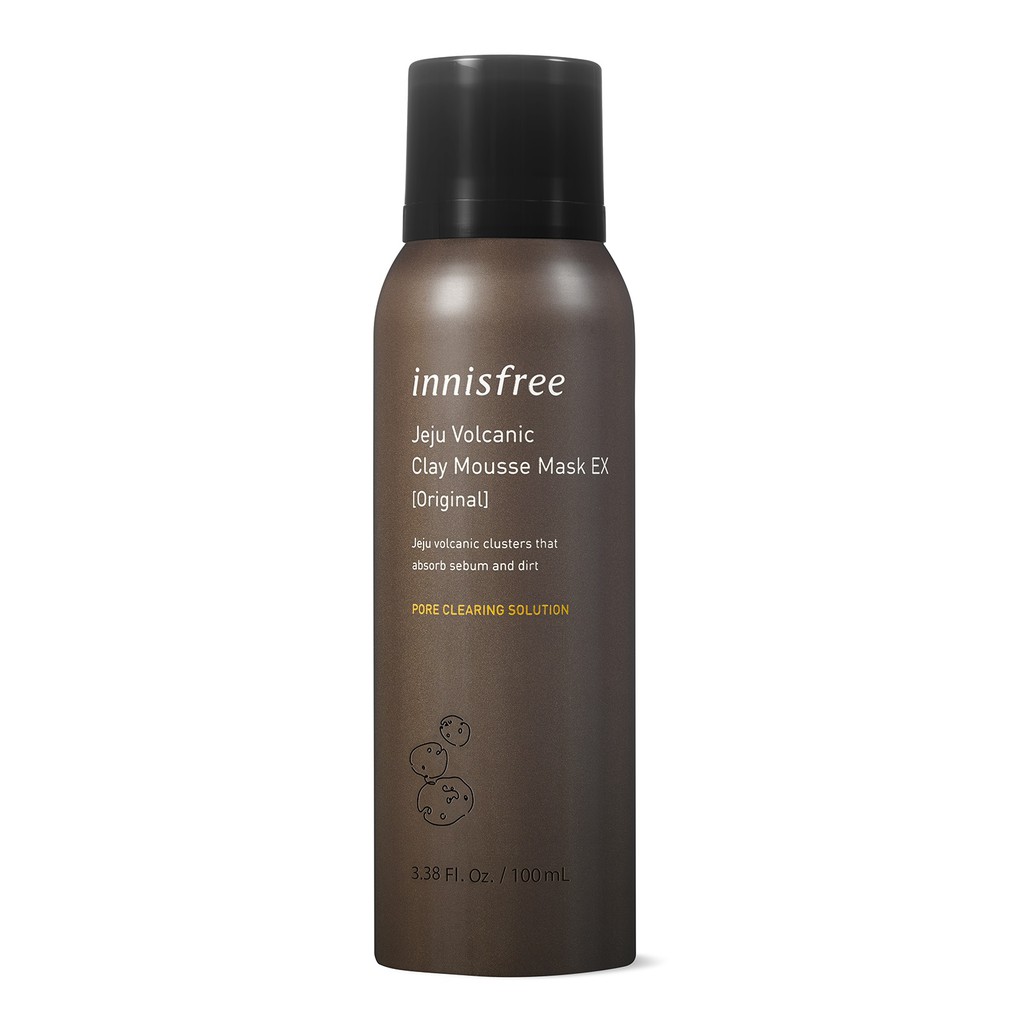 [/su_button]
This cult favourite mask has a clay-like texture as its name suggests, and contains super volcanic scoria clusters that help to absorb excess sebum without stripping your skin overly dry. It also helps to deep clean, unclog and tighten your pores, leaving them squeaky clean – even getting rid of dead skin. Just don't forget to moisturise after!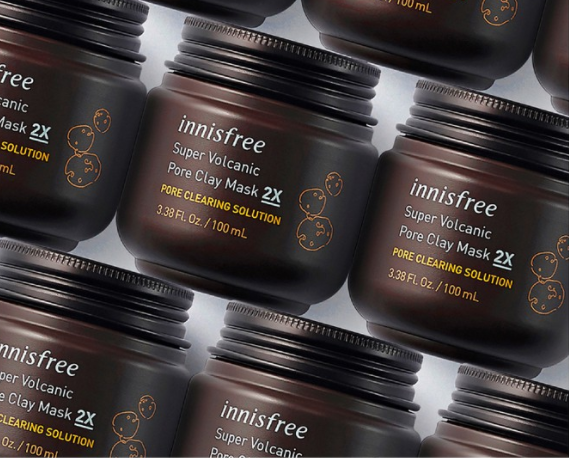 This volcanic pore clay mask offers similar deep-cleansing benefits as the original clay mask, just in a creamier and lighter texture that does not dry up as easily. What's more, this soothing mask is formulated with Volcanic Cluster Capsules, Walnut Shells and AHA, providing triple exfoliation to remove dead skin cells, leaving your skin clean and smooth in no time. After leaving the mask on for 15 to 20 minutes, rinse it off with lukewarm water and voila, your skin will feel soft and squeaky-clean!
For those of you who are looking for clay masks that provide specific benefits such as whitening, brightening or moisturising, you may want to check out their Super Volcanic Colour Clay Line as well, which has a different coloured mask curated specifically for each function!
Innisfree's Jeju Orchid Line is one of the most popular anti-ageing skincare lines in the Korean beauty realm, which features the elixir of Jeju Orchids known for their vitality and resilience in surviving through the harsh Korean winter season. Infused with other ingredients such as hyaluronic acid from Jeju green beans, this line helps to combat signs of ageing and wrinkles by improving the skin's elasticity, smoothness and brightness.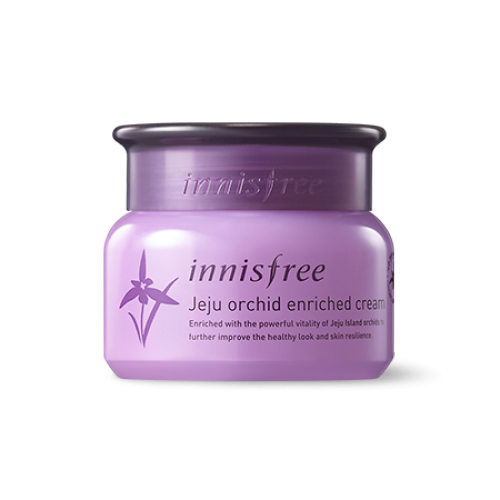 With a slightly thicker consistency, this makes the perfect night cream to add to your skincare routine. In addition to anti-ageing benefits such as smoothing wrinkles, brightening and nourishing the skin deeply, it also absorbs into the skin rather quickly for such a rich cream product – meaning you won't have to worry about waking up with a greasy face the next morning!
The Innisfree Bija line is designed to keep those pesky blemishes away! Featuring Bija oil which has antibacterial properties, these products will help to soothe troubled skin and treat blemishes while helping to prevent future breakouts.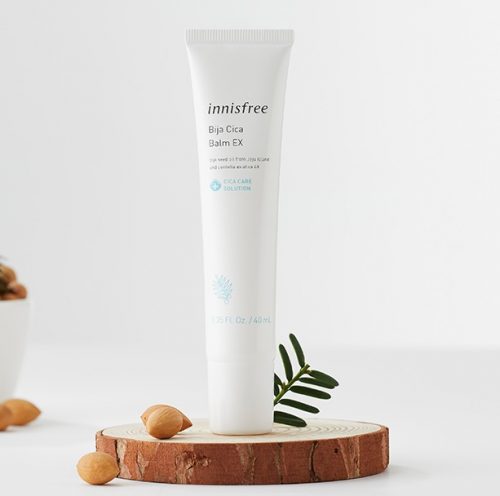 Dubbed as the #Eraserbalm, the Innisfree Bija Cica Balm EX will be your go-to balm for emergency blemish and spot treatments! Infused with Cica and Bija seed oil, it also helps to effectively strengthen your skin's protective barrier against bacteria and improve skin texture.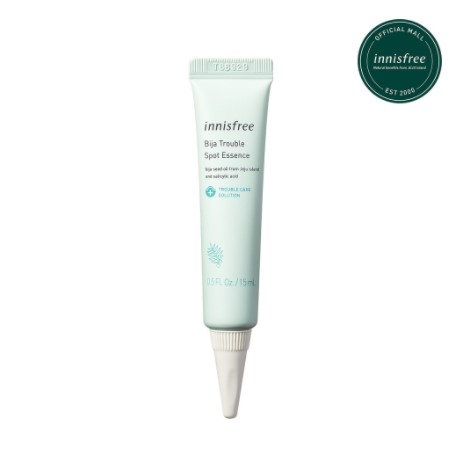 If you have acne-prone skin, the Innisfree Bija Trouble Spot Essence is just the thing you need! Made with nutmeg oil and Torreya seed oil, it expels acne while not drying your skin out. It doesn't cause irritation or redness thus you can safely use this product if you have sensitive skin. Say goodbye to acne and hello to clear looking skin!
Hallabong, also known as Jeju citrus, is a type of sweet and seedless mandarin orange rich in Vitamin C that can be found growing in Jeju during the winter months. This brightening line stars Hallabong peel extract (obtained through ultrasonic extraction) and three other vitamin derivatives (Vit C, B3 and B5), which work together to help target blemishes, dark spots and pores, and brighten up your overall complexion.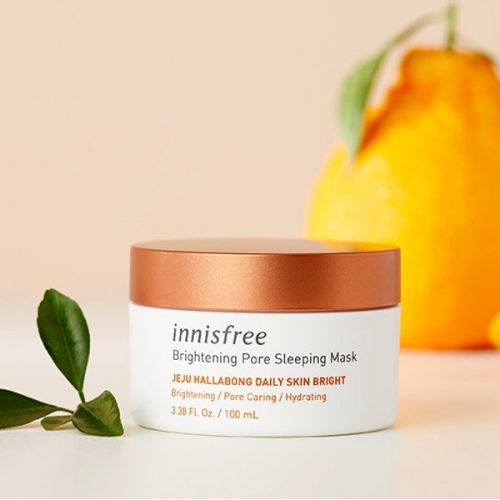 This soothing yet nourishing sleeping mask helps to build your skin's protective barrier overnight and leaves your skin looking smoother and more radiant after washing off the next morning. The active ingredients found in Hallabong peel extract also help to improve firmness and overall skin texture.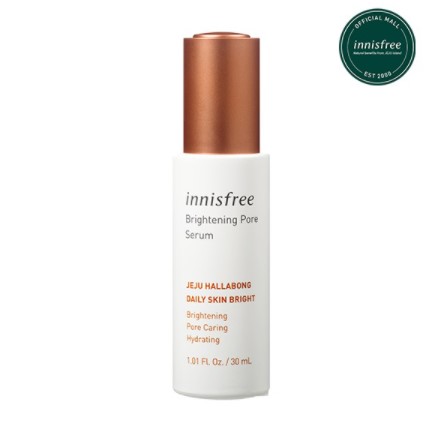 Thanks to its triple vitamin derivatives combined with Jeju Hallabong peel extract, the Brightening Pore Serum is a great daily serum – especially if you're looking to brighten your skin! Get rid of pigmentation and blemishes, all while soothing and protecting your skin from external irritants. On top of that, it is easy to apply thanks to the dropper that dispenses just the right amount you need for application!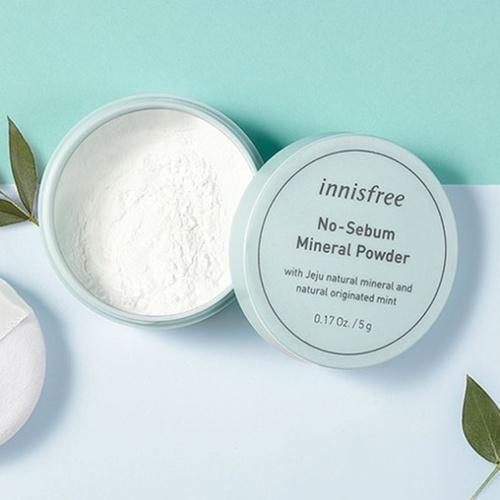 This is one of Innisfree's top-selling products, and its name says it all! If you are constantly worried about your skin being overly shiny after you step out of the house, fret no more. With this miracle powder in a compact size and even a sponge for added convenience, you can bring this gem of a product anywhere along with you, for touch-ups whenever and wherever (especially the T-zone). It'll keep your skin and makeup looking matte and fresh all day!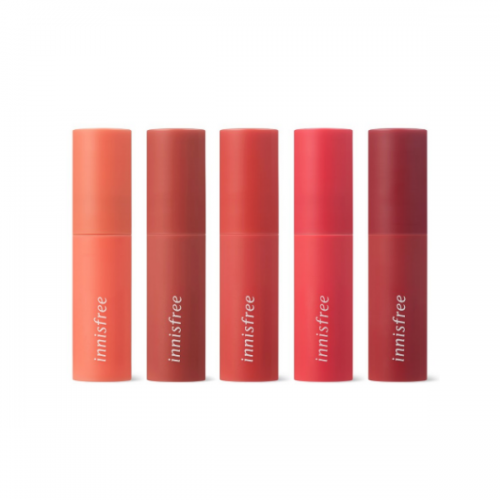 This long-lasting lip ink is so light (hence cotton), you won't even feel it on your lips! Dab it in the centre of your lips and smudge it out for the tinted lip look, or apply it on fully to achieve a vibrant and opaque wash of colour. The best part: it'll stay looking matte all day but won't dry your lips out!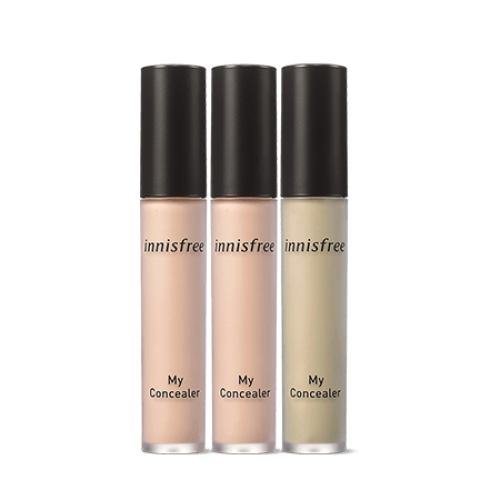 Innisfree's My Concealer range has quickly become a crowd favourite since its launch. If you're exploring the range for the first time, we recommend the Wide Cover concealer. It specifically targets the under eye area but is also versatile enough to be used on the rest of the face, and provides effective coverage with a natural skin-like finish. You'll be going back for seconds!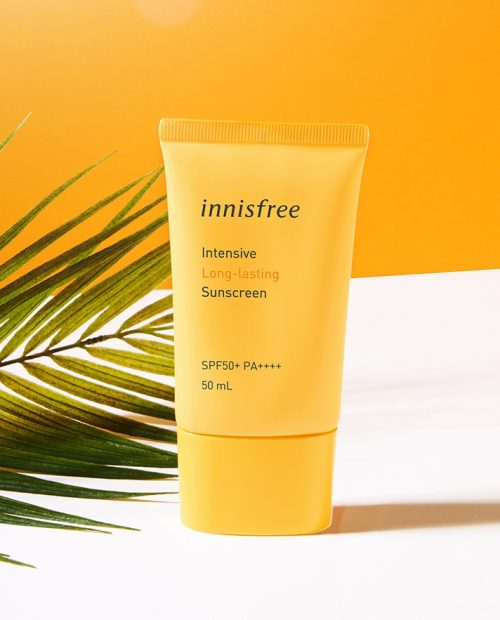 PSA: Don't neglect sunscreen in your skincare routine, because it really is one of the most important steps. If you're looking for a sunscreen that boasts an SPF50+ waterproof formula and is non-sticky and lost-lasting, try Innisfree's Intensive Long-Lasting Sunscreen. It even contains Centella and green tea extract that provide hydrating benefits. Hailed as one of the best Innisfree products, it doesn't have that strong sunscreen scent or white cast that typical sunscreens tend to have. Now, there's no excuse not to add this into your daily routine!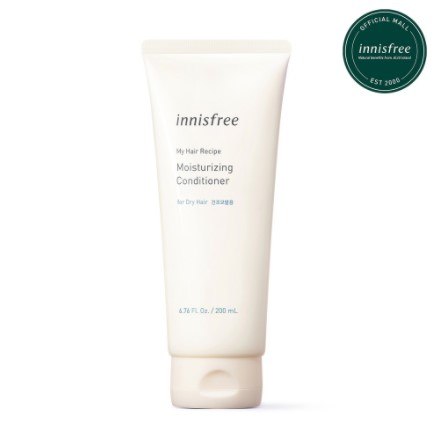 Besides makeup and skincare products, Innisfree also has products that help you care for your hair. If you suffer from frizzy and dry hair from constantly being in humid weather, we recommend giving this Moisturizing Conditioner a go! Made with undiluted Jeju soybean juice and oil that boosts natural protein to improve hair elasticity, it also deeply moisturises each strand of hair to give your hair a natural radiance. With an oil complex of argan, jojoba and macadamia infused into the formula, your hair will look better with just a single wash.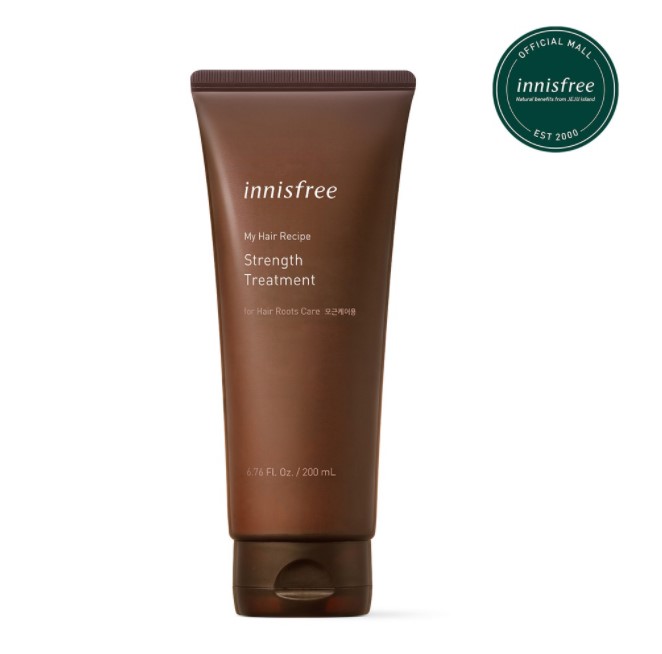 Created as an after shampoo in-shower treatment, this Strength Treatment is formulated for scalp care! If you find that you have an itchy or sensitive scalp, this silicon-free treatment will help relieve scalp stress thanks to the ingredients such as Jeju pine, cedar and cypress. On top of that, the Ginseng extract helps to strengthen hair roots while the sunflower seed oil helps keep your hair moisturised. Talk about a 2-in-1 solution!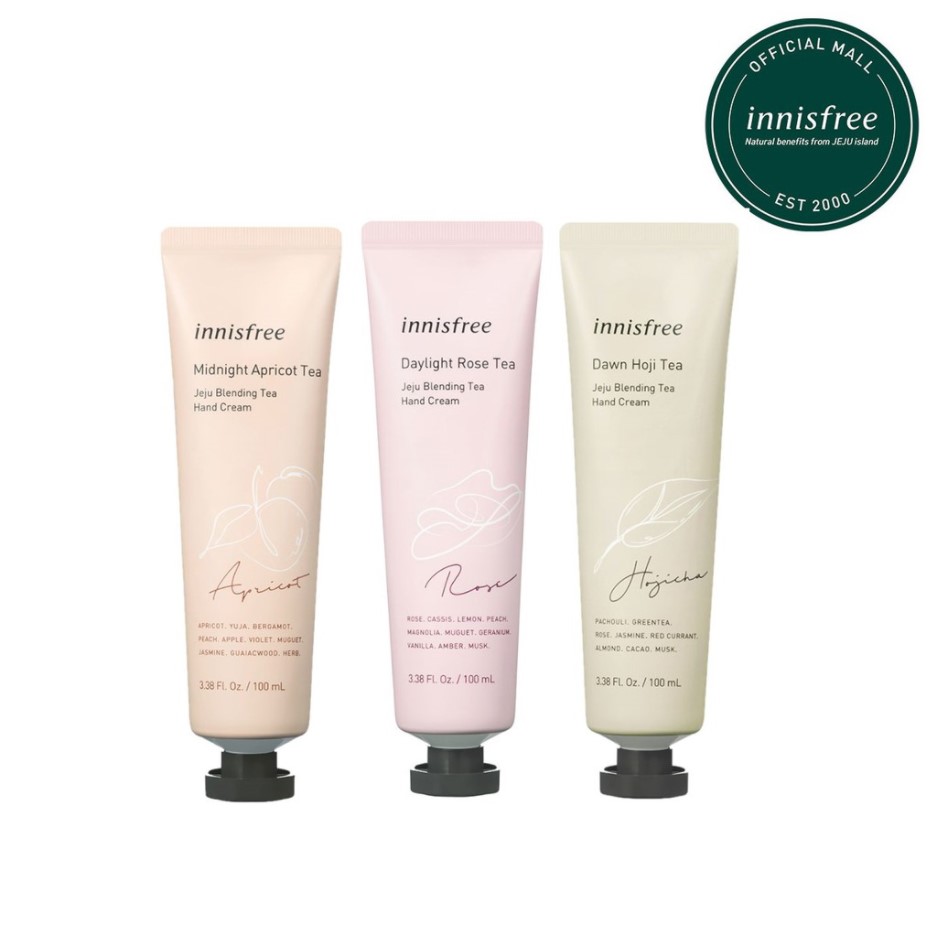 Keep your hands soft and moisturised (especially now that we've been washing our hands a lot more frequently) with Innisfree's Jeju Blending Tea Hand Cream. Made from olive-derived wax and shea butter, this cream is sure to make your hands smell and feel good without any sticky residue. They have three different flavours to choose from – Midnight Apricot Tea, Daylight Rose Tea and Dawn Hoji Tea. Psst, our personal favourite is the Hoji Tea due to its unique scent!
Pamper your skin with the best Innisfree products
Besides these 23 best Innisfree products, here are some other highly-raved anti-ageing products from Innisfree. And while you're taking care of your skin, why not check out the best hair colours for Asian skin and give your complexion an extra glow? What are some other Innisfree cult-favourites that you cannot live without? Share the love and let us know in the comments section below!
This article was updated on 20 July 20201. Additional research done by Jaslynn Yeo.
---
New to Shopee? Get $7 off (min. spend $15) with code*: INNISFREE4YOU* TNC Applies. Valid for new users from 21 to 28 July 2021 only.