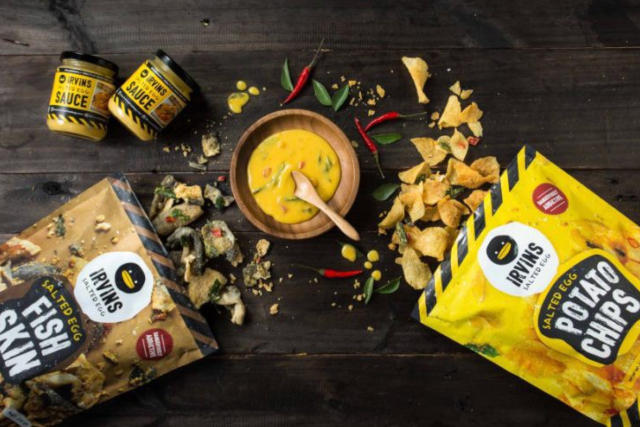 Think that the hype for salted egg is no longer in Singapore? Think again because IRVINS Salted Egg Yolk is still loved by Singaporeans and you'll be egg-static to see all the different salted egg snacks that IRVINS has to offer!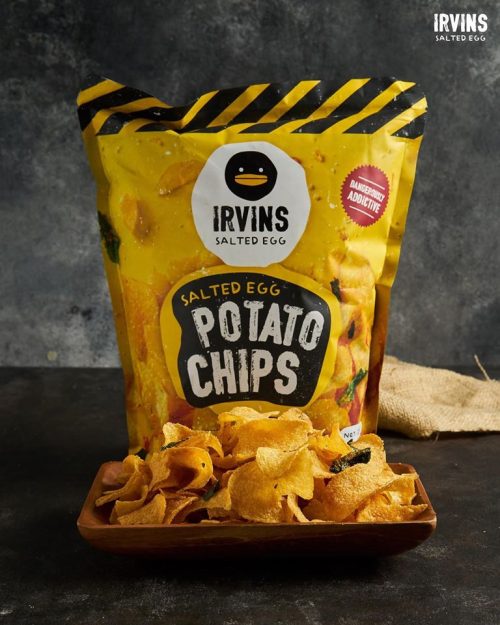 Made from fresh, thinly sliced potatoes and coated with IRVINS' signature salted egg recipe, you'll be delighted with the crisp and light-tasting Salted Egg Potato Chips. The IRVINS Salted Egg Potato Chips are highly-raved amongst Singaporeans and we obviously know why! With its air-tight zip-seal pouch, this go-to snack is definitely great as a Netflix companion and even when you're on the go! If you prefer your potatoes a little more unique, IRVINS also offers this Salted Egg Potato Chips in a Zig-Zag cut or better known as #ThickerCutBetterCrunch!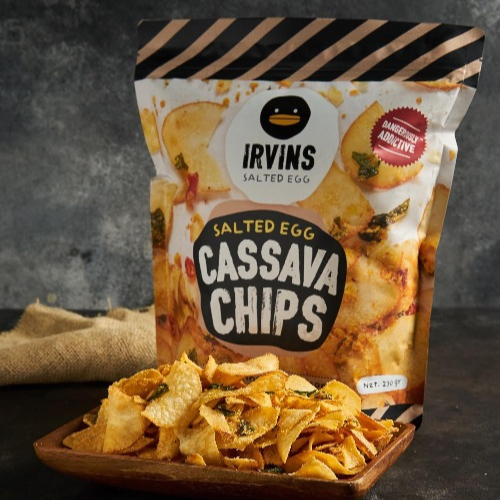 If you're a health-conscious individual and prefer to snack on something that is guilt-free, IRVINS also has a Salted Egg Cassava Chips for you too! Fret not, even though it is healthier, you'll still get that colossal burst of the fragrant and flavourful Salted Egg taste. Now, you don't have to worry about feeling guilty when snacking on IRVINS!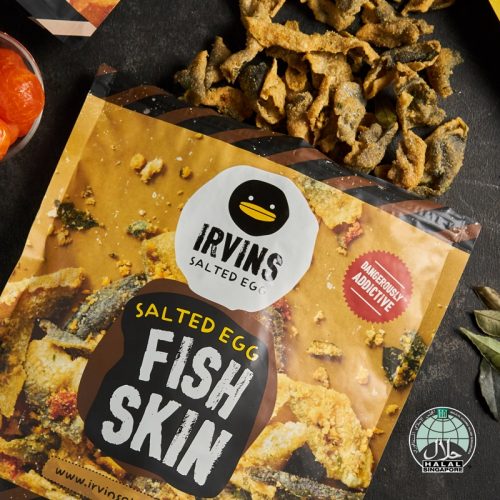 Think of IRVINS and this is the first thing that comes to mind. The Salted Egg Fish Skin is IRVINS' #1 Bestseller and has been a cult-favourite in all parts of the world! Take a bite into this salty, spicy and creamy piece of premium Dory fish skin, and you'll understand why there's always a long queue for this baby. Once you have a taste of this mouth-watering snack, you'll never ever look back.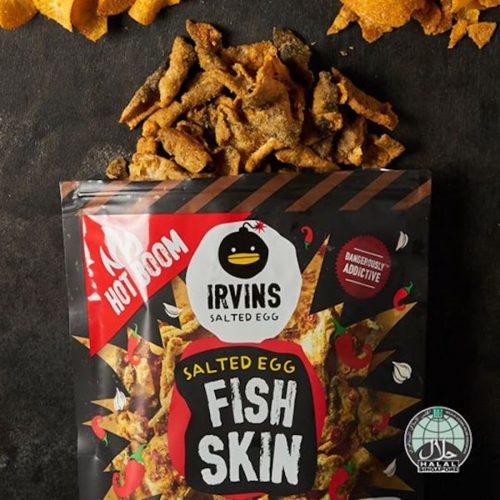 Fans of spicy food? We heard you! If you're up for an explosive challenge, the Hot Boom series is the perfect flavour for spicy food lovers! Besides the signature salted egg crunch, the Hot Boom Salted Egg Series will enchant you with a dangerously addictive garlicky and spicy kick! For more diverse choices in your snack stash, IRVINS also offers their Salted Egg Potato Chips, Salted Egg Cassava Chips and Salted Egg Fish Skin in the Hot Boom series too!
5. Salted Egg Crunchy Roll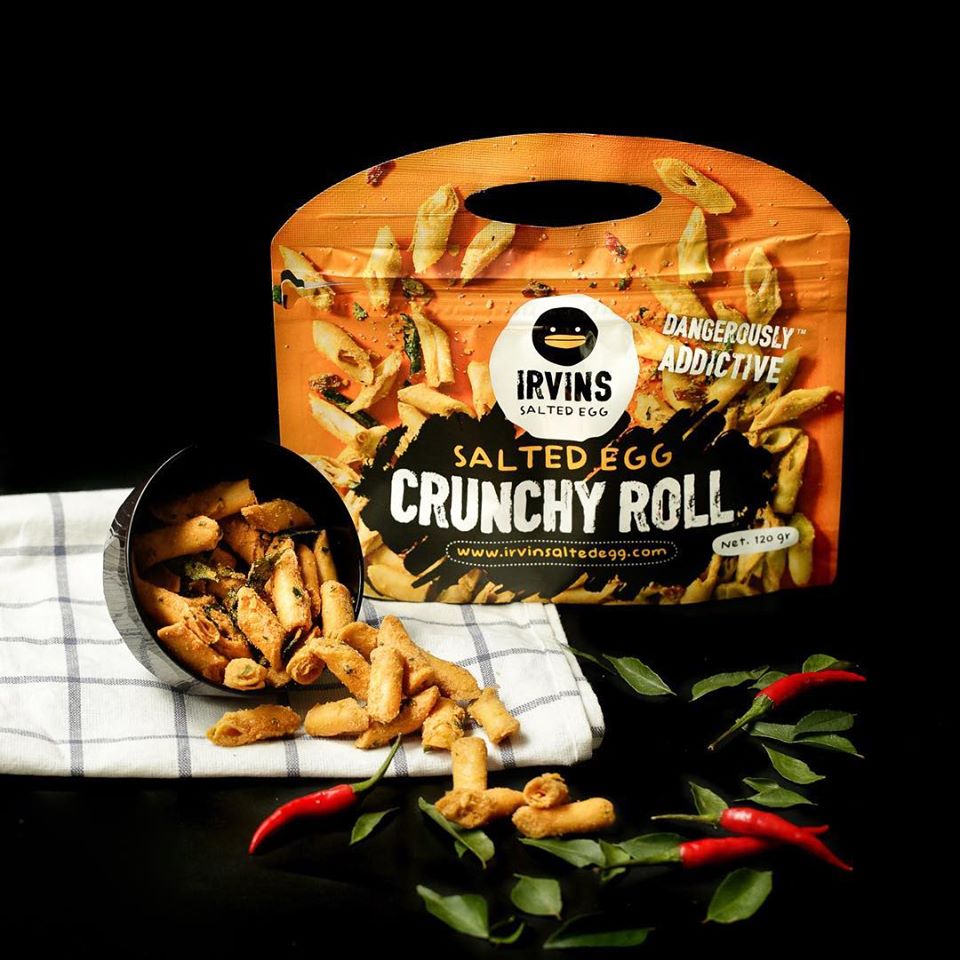 The Salted Egg Crunchy Roll is IRVINS' very own reimagined spring rolls. Made with layers of deep-fried popiah skin and coated with their signature salted egg goodness, IRVINS Salted Egg Crunchy Roll is crunchier than anything you have ever eaten before! This light and delightful tasting snack is perfect for days when you just want to snack on something quick and easy! Indulge in this extremely addictive snack and it'll leave you begging for more.
6. Salted Egg Krumbs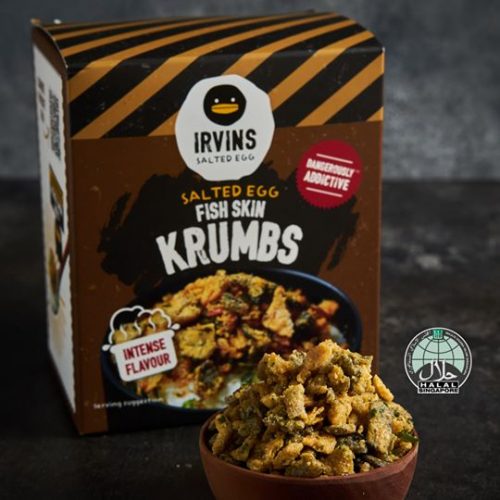 What better snack to krunch on than IRVINS Salted Egg Krumbs? Specially created with a more intense salted egg flavour, the IRVINS Fish Skin Krumbs is everyone's all-time favourite iconic salted egg fish skin. You know what's even better? This snack isn't just a snack. The versatility of the savoury and crunchy Salted Egg Krumbs allows you to pair it with any dish! Fried Rice, Loaded Fries, Wanton Mee and even Salad – you name it, you got it!
7. Salted Egg Pineapple Tarts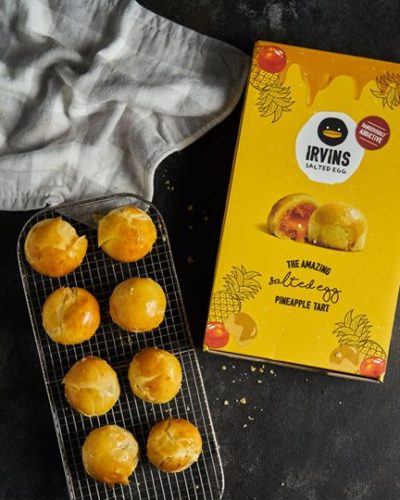 Who says you can only eat pineapple tarts during festive seasons? IRVINS is here to prove that pineapple tarts are for all occasions! Ooh, and what's an IRVINS Pineapple Tart without Salted Egg right? The Amazing Salted Egg Pineapple Tart combines the sweet and savoury signature Salted Egg Core with the sticky, Salted-Egg infused sweet pineapple and the buttery crust. If you're feeling more adventurous, you can opt for The Amazing Salted Egg Pineapple Tarts with Hazelnut! Quick tip: Microwave the pineapple tarts for 8 minutes and you'll be graced with a sinful pleasure, oozed with warm salted-egg lava.
These IRVINS snacks are sure to make you drool and leave you begging for more salted-egg action! You don't have to be terri-fried of scrambling in long queues now because IRVINS is available on Shopee! IRVINS Super Brand Day is happening on 24 February 2020 and you wouldn't want to miss all the egg-cellent deals! Let us know which IRVINS snacks you'll be getting in the comments section below! Happy Shopee Brands Festival~ ?
---
New to Shopee? Get $7 off (min. spend $15) with code*: IWANTTRY
* TNC Applies. Valid for new users from 24 Feb to 2 Mar 2020 only.