While regularly neglected in favour of colourful toys and comfortable beds, children's study tables are essential furniture that should be a priority in your child's study room. From being a homework zone to a workbench for craftwork, a designated space for productivity can make all the difference. By isolating them from toys and entertainment, the best study tables for kids become a place where they can zero in on their tasks without external distractions!? Read on as we uncover their benefits and some of the best kids study tables and chairs for both toddlers and older kids!
How to pick the best study tables for kids
It can certainly be a struggle to pick out the best study tables for kids among the many listings with vibrant colours and fancy designs. Here are some factors to help you with shortlisting them: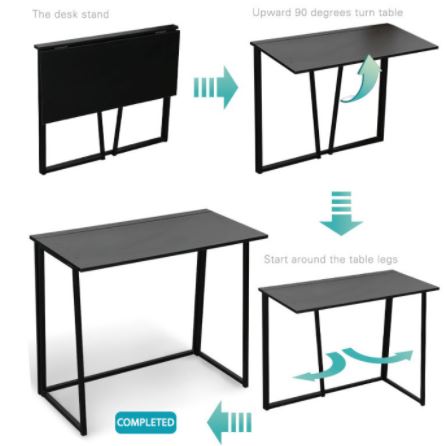 If you're tight on space, then compact tables can make all the difference when buying the best study tables for kids. After all, there's no point cramming all of your kids' furniture into their bedroom if they have a desk that's too small for work to be done comfortably. Ideally, you should look out for the best study tables for kids that are easy to put away. From being easy to disassemble to having foldable legs, this helps you maximise the use of space in the room.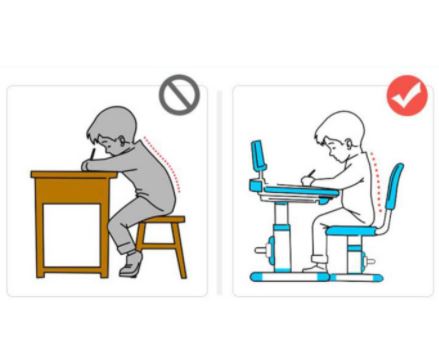 While it's convenient to let your home's dining table act as your children's homework space, it can prove detrimental in the long run as these tables are not designed for prolonged studying. As kids have to strain their bodies to accommodate existing furniture, it can lead to poor posture and musculoskeletal disorders over time. To give your little ones the comfort they deserve, invest in the best study tables for kids that have adjustable heights to match their growth spurts.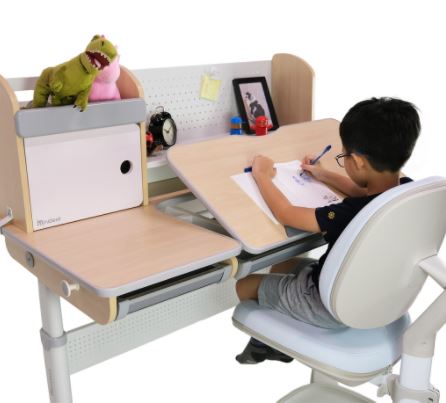 The last thing you'll want when buying the best study tables for kids is to have ones that aren't safe for their use. From sharp edges to wobbly table legs, it's important to look out for these build issues that may harm you little ones. Additionally, certain study tables use toxic paints and materials in a bid to cut costs so make sure you do your research to avoid such health hazards.
Now that you're aware of the qualities to look out for, here are some of the best study tables for kids in Singapore you can buy!
Best kids study tables for toddlers
1. Height-Adjustable Study Table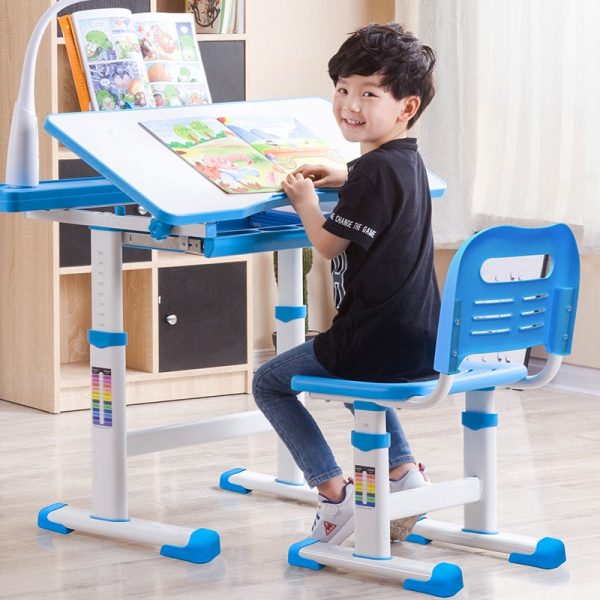 Is your little one an aspiring artist? Then you'll want to consider the height-adjustable children study table (available on dwbsh365.sg)! From offering an 80cm wide table top to place stationery to adjustable legs that help to accommodate your child's sitting height, this children study table focuses on maximising comfort and utility. This is so your children can solely focus on the creative aspect of drawing and painting. Did we also mention the table comes with a 60-degree angular tilt? Drawing on an elevated surface helps your children minimise visual distortion so the drawing surface matches the angle in which the subject is being viewed!
2. MUtable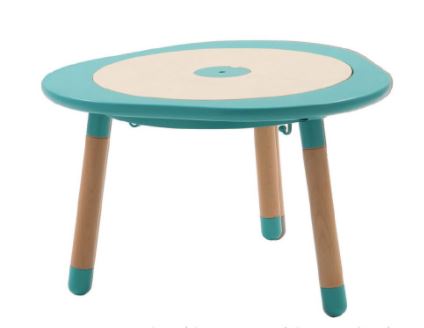 Want to avoid having toys strewn on the floor? Adertek's MUtable (available on Adertek Baby & Kids) takes the conventional roundtable idea and flips it on its head with playboard customisation. Beneath its unassuming table aesthetics lies a trove of interactive playboards for your little ones to discover! This Italian-designed children's study table can be used to suit any learning situation! From whiteboards to world landscapes, all you have to do is simply swap out table tops to promote different learning opportunities for your little ones.
3. Puku Kids Table And Chair Set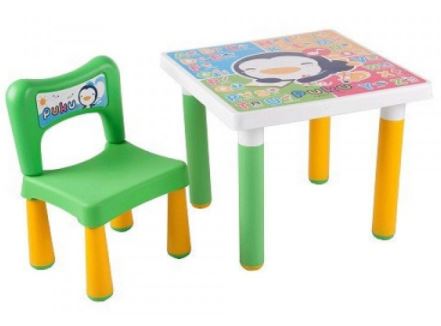 Shopping on a budget for a toddler-friendly study table? Don't fret — Babytoddly has you covered with this affordable Puku Kids Table And Chair Set (available on BABYTODDLY Official Store)! Despite being lightweight in nature, this kids study table and chair set is durable and sturdy enough to be used both indoors and outdoors. This lets you easily shift the adorable set around for study or play time. At just $59, it's certainly a bargain worth considering for the younger ones who might need a personal table.
4. Cartoon Folding Study Table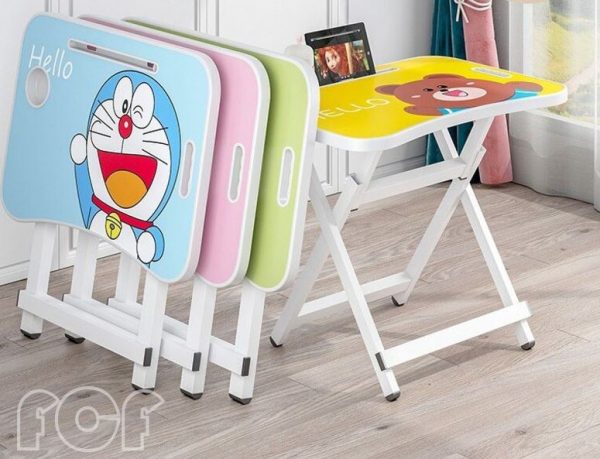 Are your little ones huge fans of cartoons like Peppa Pig and Doraemon? Then they'll definitely love using these Cartoon Folding Study Tables (available on Falaison Children Furniture). Besides being easy to store away when not in use, these brightly coloured foldable study tables will capture the attention of your little ones. They'll definitely look forward to study time with these tables! Apart from its aesthetic appeal, we also loved how the foldable study table comes with slots ready to hold cups and kids' tablets.
5. Kids' Table And Chairs Set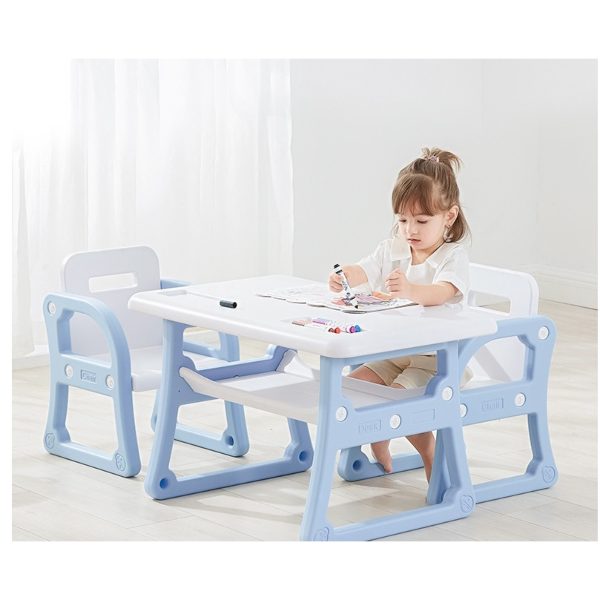 How good-looking is this Kids' Table And Chairs Set (available on puritywhite)? This minimalistic-looking set is a fine addition to any household and will be able to fit into any interior design without a hitch. Upon close inspection, you'll discover child-friendly additions that make this table a must-own children's study table! These include rounded edges that protect against accidental bumps and easy to clean surfaces in case of spills. The set also comes with two matching chairs so the kids can learn together easily!
6. IFAM Easy Mini Desk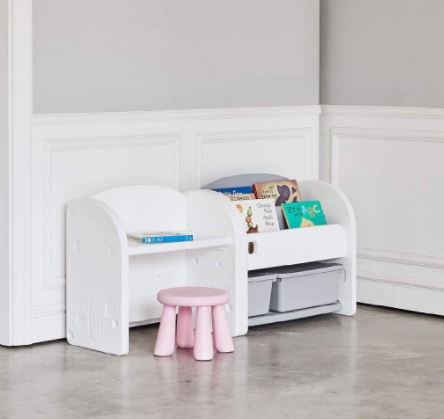 Don't sweat it if your home has a minimalist theme — IFAM's Easy Mini Desk (available on Adertek Baby & Kids) will fit any interior. With its rounded design and neutral pastel colour scheme, this best study desk for kids will look great in any setting! In addition to its clean and simple aesthetic, we also loved how it takes less than five minutes to assemble. This combined with its lack of protruding parts and simple curved design  makes this mini desk a must-own for any parent keen on beautifying their child's room.
7. Lego Study Play Desk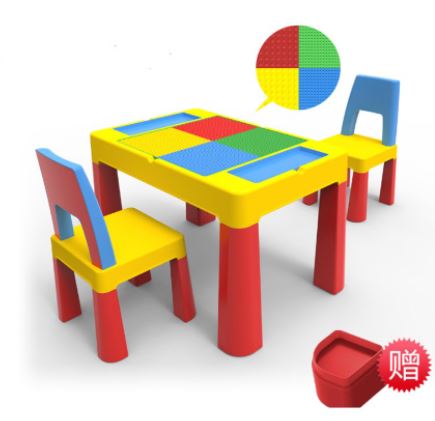 Of the various best study tables for kids on this list, we dare say this Lego Study Play Desk (available on Ann & Ann) is the most eye-catching one that's bursting with whimsical charm! With its bright shades of primary colours, your little ones will certainly love using this kids study table and chair bundle thanks to its vibrant colour combination. Once your kids are done with their work, the entire kids desk can be converted into a play area. Simply attach the removable cover and let your kids build away by interacting with the various Lego bases.
Best kids study tables for older kids
8. Minidesk Premium Height Adjustable Desk For Kids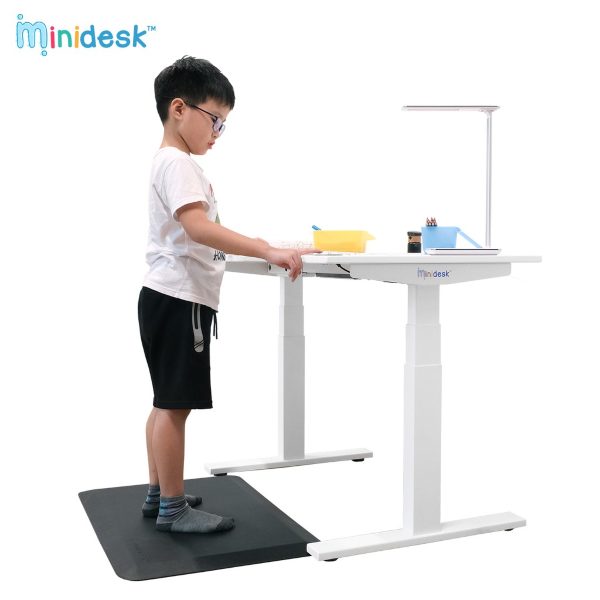 While Omnidesk's latest kid-friendly furniture doesn't come cheap, the Minidesk Premium Height Adjustable Desk For Kids (available on Omnidesk) is certainly worth every penny as it prioritises comfort and ergonomics for your little one. The Minidesk is pegged as the ultimate all-in-one workspace bundle for your kids and earns this title with its handy features! From its expandable desk frame to its safety child lock, everything is designed with your kids' development and safety in mind. With a maximum height of 110cm, this is one kids' study table that will last your little one with the years to come.
9. Minimalist Full Foldable Table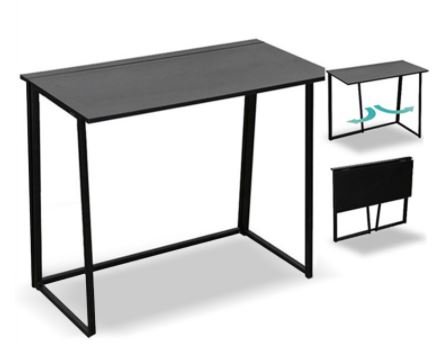 Struggling to fit a full-sized study table in your child's room? Why not invest in a Full Foldable Table (available on JIJI.SG Official Store) instead! Thanks to its space-saving folding design, there'll be no trouble installing this desk. Your kids can simply unfold the legs and set up the table on their own! With its sleek carbon steel frame and slim compressed wood top, this children's study table can fit into most room motifs and be easily stored away when not in use.
10. CIAXY Student Desk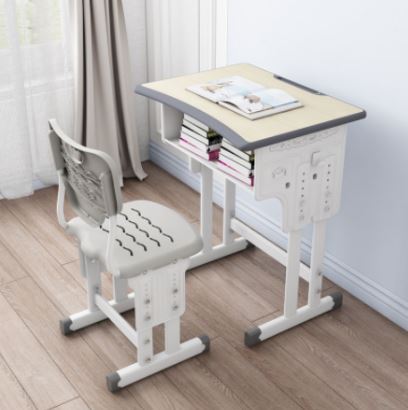 Nothing beats the reliability of a classic school desk and chair combo! With CIAXY's Student Desk (available on CIAXY-Furniture), you can easily help your children recreate their school's learning environment. CIAXY's Student Desk comes with handy features for students to ace their homework. This includes a pen slot and mounted table edges that prevent anything from falling off the desk's top. There's even a 35kg-bearing side hook to hang school bags!
11. Bookshelf Combination Table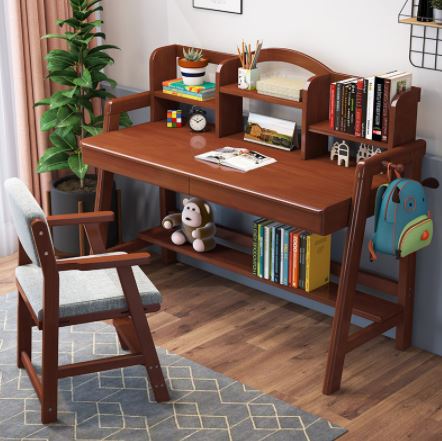 If you're intending to give your kid's room a Nordic vibe, look out for this Scandinavian-inspired Bookshelf Combination Table (available on Falaison Children Furniture)! With seven different colours to pick from, this children's study table is perfect for any study room design thanks to its wealth of cool and warm colours. In addition to saving you from buying shelving units, this study table with shelves allows your kids to get creative with how they want to decorate it. Thanks to its timeless design, you won't have to fret about your kids growing out of this table as your kids can use it through their schooling years.
Create a conducive study space for your kids
From stylish kids' furniture to minimalist foldable study tables, you'll definitely be spoilt for choice when shopping for the best study tables for kids at our Shopee Home Furniture Sale! Alternatively, get some of the best standing desks and best desk organisers to keep your works station clean and neat! Want to cultivate healthy habits with that brand new kids study table and chair? Check out these best children's books that your little ones are bound to love. Alternatively, try these sensory activities with your children to engage their five senses and boost motor skills!
This article was updated on 21-09-2021. Additional research done by Iris Tan.