Is your company organising a secret santa for this year's Christmas party? With most Christmas parties and gift exchanges being held online this year, getting your colleague or friend a great present could really be the bright spark of this difficult year. We've cobbled together some cool secret santa gift ideas, with items you can get on a budget (under $20) no less! Here's a tip: Do some 'detective work' and get to know your secret santee's likes beforehand so you can pick the right gift for him or her!
1. For the detailed planner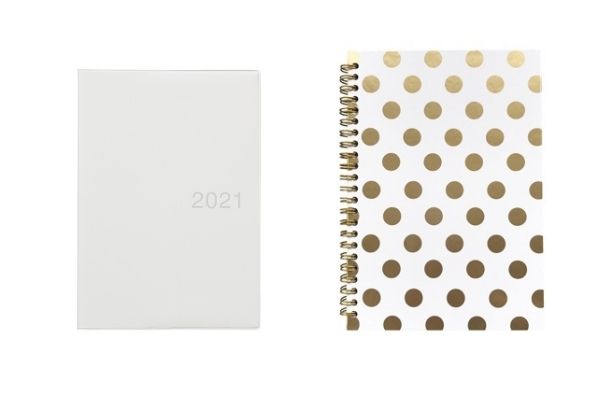 Is your santee an organised person who likes to stay on top of their schedule? In that case, you won't go wrong with a pretty planner or organiser! If you're not sure what their design or colour preferences are, opt for a neutral option like this White MUJI Monthly Planner (available on MUJI Official Store) with a monthly and weekly schedule. Is your colleague one who loves glitter? Then choose this Rose Gold Spiral Notebook (available on Lunarbaystore Stationery & Lifestyle) which includes lined pages for easy note-taking!
2. For the chic fashionista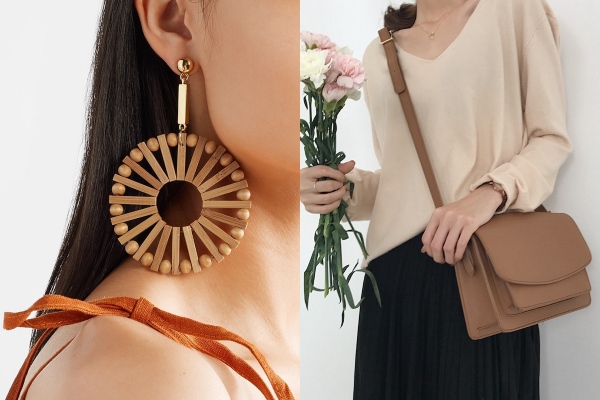 Secret santa gift ideas for the office fashionista are not as scary they seem. Start with jewellery and accessories for they are truly a girl's best friend! Not sure what kind of jewellery gift to get for your female colleague? You won't go wrong with a pair of Korean Wooden Geometric Earrings (available on Warm Station) that'll make a bold fashion statement. If your santee doesn't have ear piercings, go for a stylish tote bag instead! The IELGY Retro Shoulder Bag (available on IELGY Official Store) is roomy enough to hold her weekend essentials and looks good with most outfits!
3. For the colleague who gyms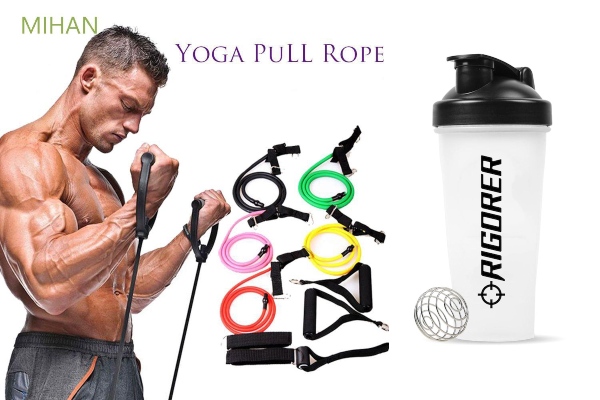 If your secret santee is into looking fit and toned, then these Elastic Resistance Bands (available on mihan.sg) will make a great #fitspo secret santa gift idea! They can be used in the gym or even outdoors to tone and sculpt muscles. Your co-worker will also love you for gifting him or her a Rigorer Shaker Blender Bottle (available on Rigorer Singapore Official Store). This protein shaker bottle is a great tool to make protein shakes and keep your colleague on track with a nutritious gym diet!
4. For the beauty junkie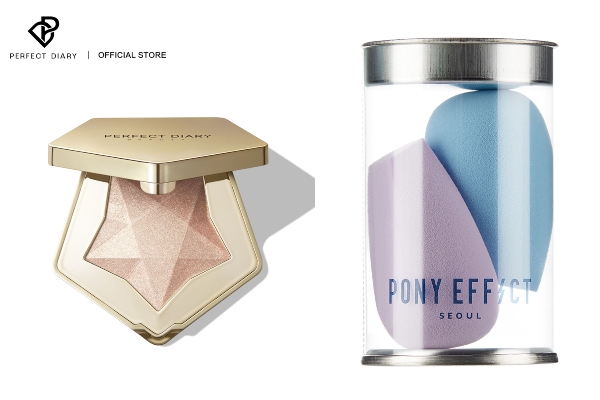 There are some holy grail makeup products that are suitable when looking for gifts for colleagues! Two of which being a highlighter and beauty blender, you can thank us later!
The Perfect Diary Star Dust Diamond Highlighter (available on Perfect Diary Official Shop) is the icing on the cake for any makeup look! Your santee would just have to dust it on the high points of her face to achieve that goddess glow. Not sure about which shade to pick? 02 Light Champagne highlighter features a yellowish-beige shimmer sheen that's perfect fit for warm and neutral Asian skin tones. If you'd prefer to avoid getting makeup that requires you to pick a shade, then makeup tools like this [PONY EFFECT Official] Mini Pebble Blender (available on ponyeffect_official.sg). This nifty sponge has both a flat and round edge to blend foundations and concealers flawlessly! Who would have thought you could get these gifts under $20 in Singapore?
5. For the Among Us fan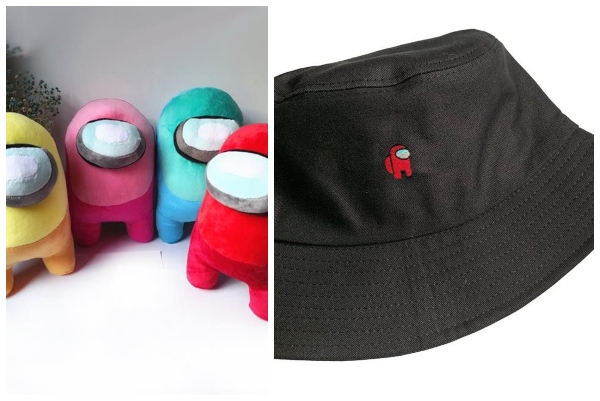 "He was acting sus!" This popular mobile game has been all the rage recently. If you've been playing Among Us with your colleagues, this is one of the best secret santa gifts that will remind them of all the fun — and frustration — that comes with playing the game together! They'll definitely love some Among Us merch. These colourful Among Us plush toys (available on Y@M lovely home) can be propped on their work desks while this customisable Among Us bucket hat (available on the92shop) will earn him or her some brownie points as bucket hats are currently in trend.
6. For the creative powerhouse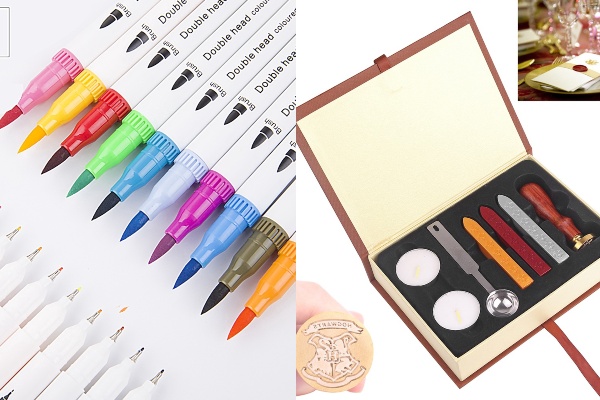 We all have that one colleague who's extremely artistic. One of the best gifts for colleagues with a creative flair is a set of Watercolour Brush Marker Set (available on eastweststore). These are even great for those new to calligraphy and will help in mastering that cursive font we all admire!
Other secret santa gifts under $20 in Singapore include a Retro Wax Seal Stamp Kit (available on hengzhineng.sg). This comprehensive kit contains a wax stamp, candles and sealing wax sticks in three different colours to create beautiful wax seal designs that your colleague can use on Christmas cards!
7. For the coffee/tea lover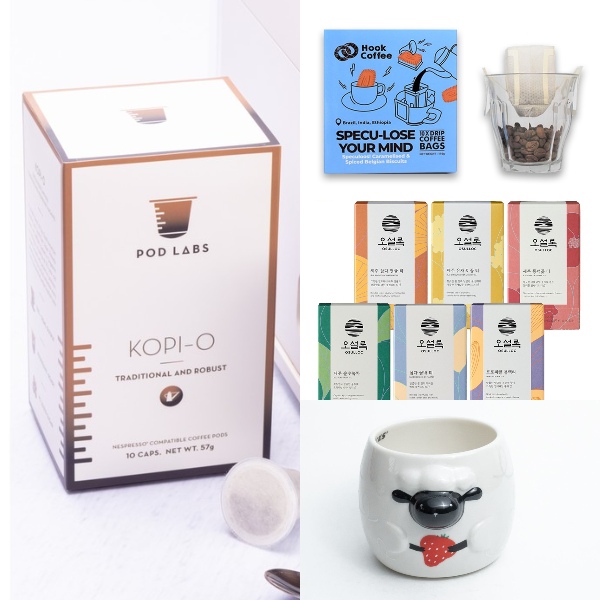 Often see your secret santee sipping on coffee or tea? Why not surprise him or her with a Pod Labs Nespresso Compatible Kopi-O (available on Pod Labs)! Find Singaporeans' beloved Kopi-O in an all natural blend with no additional preservatives. Think they don't own a Nespresso machine? This Specu-Lose Your Mind (available on Hook Coffee Official Store) contains drip coffee bags for a delicious Speculoos-tasting coffee — yum!
Your colleague may also enjoy sipping on OSULLOC Tea Bag Series (available on Tea from Jeju since 1979, OSULLOC) with flavours like Tangerine Tea, Honey Pear Tea and Canola Honey Tea — all harvested with tea leaves from Jeju Island. For the affordable price point of both the Kopi-O and tea, these are one of the classiest secret santa gift ideas on our list! There's no better secret santa gift idea for coffee and tea lovers than this Starbucks Holiday Sheep Mug (available on Starbucks Official Store). Whether he's an animal lover or not, this adorable mug that's suitable for both hot and cold beverages will surely brighten their day!
8. For the spiffy colleague 
Is your santee a slicked-back or mussed-up kinda guy? Either way, your male colleague will love the Ubersuave Original Hair Pomade (available on SGPomades Mens Grooming). With its natural shine finish and maximum hold, his hairstyle will be sure to last the whole day — even in Singapore's hot and humid weather! 
Another useful secret santa gift ideas for your male colleagues is a shaver. The Pritech 3D Floating Head Shaver (available on PRITECH Official Store) is a steal under $20! Your santee will be glad to find that it's waterproof and features three floating heads for a neat and close shave!
9. For the gamer colleague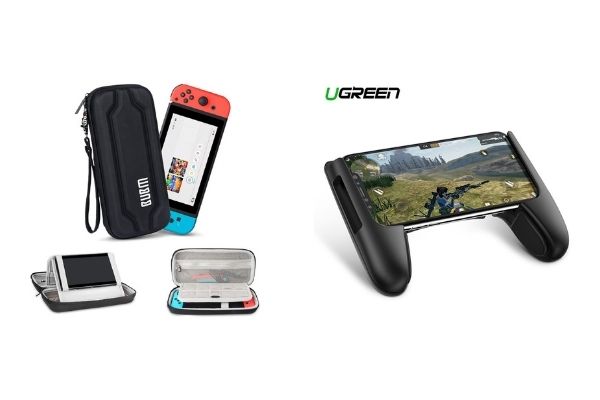 Brainstorming gifts for colleagues can be challenging but if your santee is a gamer, you're in luck. We think they'll surely adore gaming accessories like this BUBM Nintendo Switch Hard Shell Case (available on NEBXY-Just For Games). With a stand included, they'll be able to prop up their Nintendo Switch for a fun gaming session whenever, wherever! If your colleague is more into mobile games, the UGREEN Mobile Game Joystick Controller Gamepad L1R1 Shooter (available on Ugreen Official Store) will definitely make their day! The gamepad can support mobile phones of width 4.7-6 inches and is designed to give you a comfortable grip while gaming for long hours.
10. For the weekend adventurer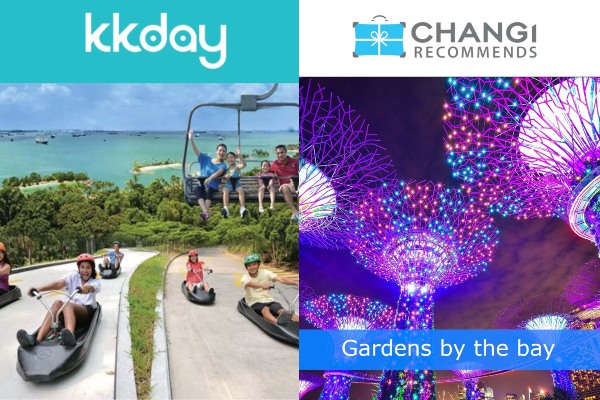 If your co-worker is big on exhilarating rides and intense speed, one of the best secret santa gifts under $20 in Singapore is a ticket to the Singapore Skyline Luge and Skyride at Sentosa (available on KKday Official Store). They will have a blast racing down the tracks and can also later explore other Sentosa activities! Otherwise, gift them tickets to the Flower Dome and Cloud Forest at Gardens by the Bay (available on Changi Recommends). They'll be mesmerised by the lush greenery and beautiful flora and fauna in this horticulture attraction!
11. For the techy co-worker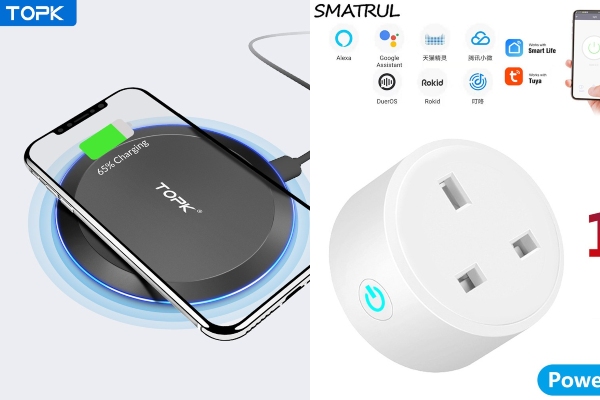 One of the best secret santa gift ideas that's fit for the office tech geek is the TOPK Wireless Charging Pad (available on TOPK OfficialFlagship Store). Using the Qi wireless charging technology, this sleek wireless charging pad can power up most smartphones in a short amount of time!
If your co-worker already owns a wireless charger, consider buying them the SMATRUL 16A UK Plug Tuya WiFi Socket Adaptor (available on SMATRUL Brand Official Store) then. This smart plug can be synced with a smartphone for customisable control. But that's not all! This awesome gift for colleague can even be synced with Google Assistant (available on SIMCard.SG | Stay Connected) or Amazon Alexa (available on Bizgramsg Official Store -"Your Trust It Partner") for voice control capabilities.
12. For the eco-friendly colleague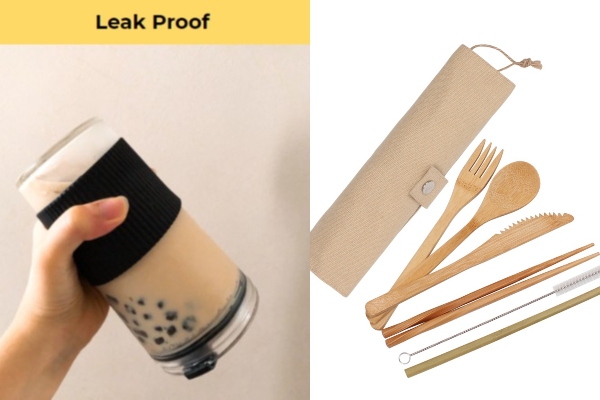 Support your colleague's efforts in saving the environment with some eco-friendly secret santa gift ideas! We suggest getting the Tumbler for Bubble Tea with Straw (available on Save Mama Earth) if your colleague has bubble tea on a daily basis. Your colleague can request her favourite drink be filled in this tumbler instead which can be reused indefinitely to cut down on material wastage. You can also get your santee a chic Basics Reusable Bamboo Cutlery Set (available on White Magic Official Store) to substitute disposable cutlery.  
13. For the pantry raider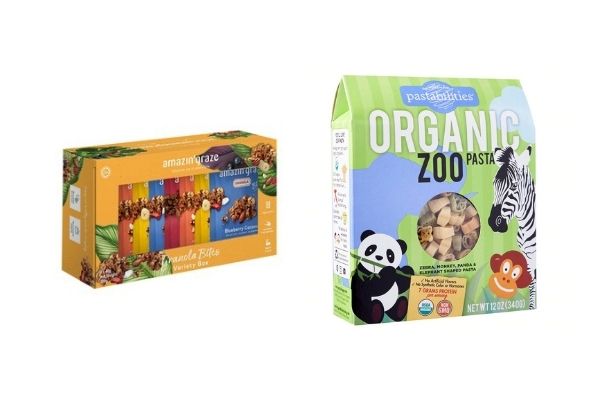 Did you know that healthy snacking may help boost productivity? This Christmas, pick some healthy but yummy snacks for the colleague who often sneaks off to munch on chips and sugary treats! The Amazin' Graze Care Box Version (available on Amazin' Graze) is one of the perfect gifts for those with a nutty addiction. Each care pack includes Hazelnut Blackforest Granola Bites, Blueberry Goji Coconut Granola Bites and two other yummy flavours with a care card thrown in! You should also check out Pastabilities Organic Zoo Pasta Shaped (available on VitaKids Official Store) which are healthy and delicious! Brighten up your kids day with these irresistibly cute animal shapes. Check out other healthy snacks that make for great gifts under $20 in Singapore.
14. For the colleague with a green thumb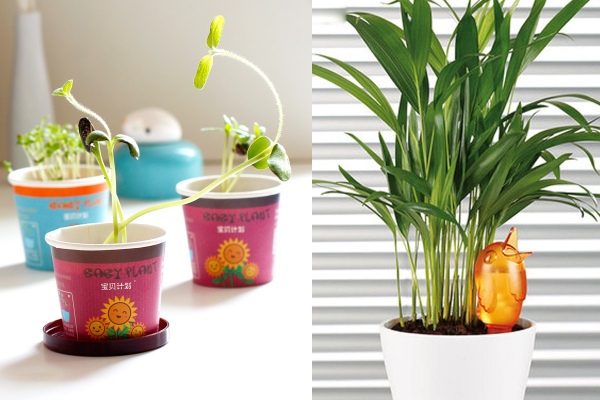 Office plants can improve air quality, reduce stress levels and make the office a happier environment to work in. Surprise your green thumb colleague with secret santa gift ideas revolving office plants! We suggest gifting him or her various types of IMP House Mini Indoor Plants (available on imp_lifestyle) which comes pre-packed with soil and seeds for convenient planting. If they've already got a mini garden going on their desk, help enhance their setup with the Auto Drip Irrigation Device (available on alisondz.sg). This promises to be a lifesaver on weekends or when they are out of office!
15. For the deal hunter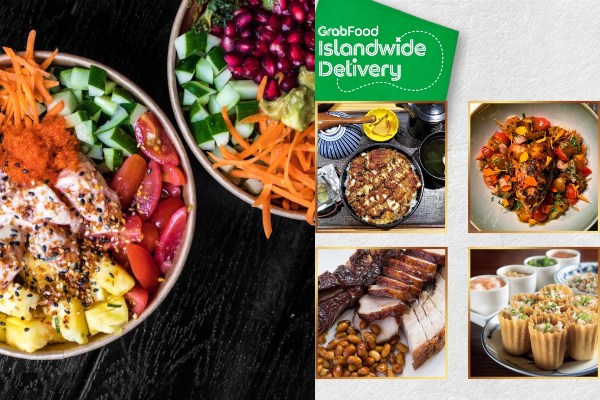 There's always one particular colleague in the team who's updated on the latest bargains in town! If this individual is your santee, you definitely won't go wrong with F&B discount vouchers! Treat your colleague to a yummy Poke Theory 2 Course Set Meal (available on ChopeDeals) at lower prices or gift them a free meal with a GrabFood SGD15 Voucher (available on Shopee Digital Official Store). Though unconventional, these secret santa gifts under $20 in Singapore will be right up their alley!
*Do note that the GrabFood voucher is only viewable on mobile
16. For the bookworm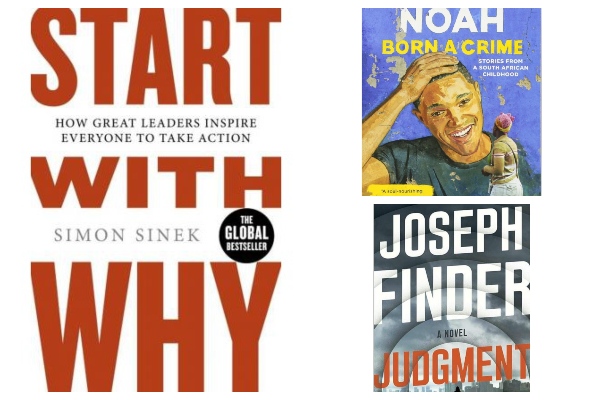 The avid reader in your team would be stoked to receive some good reads at the secret santa party! Your manager can gain some inspiration from Simon Sinek's Start With Why: How Great Leaders Inspire Everyone To Take Action (available on UrbanfoxBooks), with case studies of  successful leaders like Martin Luther King Jr and Steve Jobs. While the humorous colleague will love Born A Crime (available on UrbanfoxBooks) an autobiographical coming-of-age story by comedy star, Trevor Noah.
If they are not a fan of non-fiction books, get them a fictional book such as Judgment: A Novel (available on UrbanfoxBooks) instead. This New York Times bestseller is bound to keep them on the edge of their seat throughout, as they fear for the possible destruction of a judge's life and career after being blackmailed by the man she's had a one-night stand with. 
17. For the post-it addict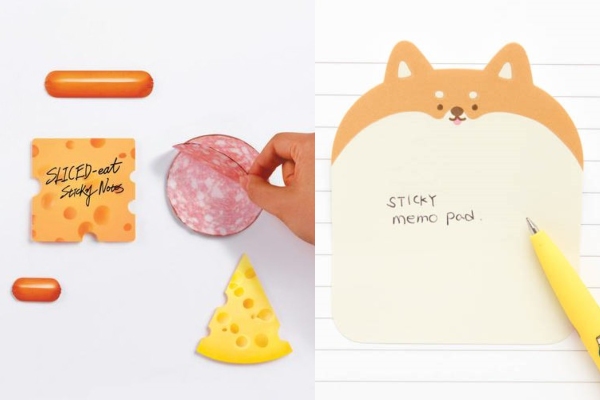 It's easy to spot a post-it addict from miles away — their cubicle is decked with colourful sticky notes which contains to-do lists and other (non) work information. Some great secret santa gift ideas for them would be the unique Sliced Eats Mini Sticky Notes (available on Amebastuff Official Store)! You can also pick the [ARTBOX] Sticky note Shiba (available on Artboxmall), featuring the cute Shiba dog — we bet your santee would never forget their to-do list with one of these!
18. For the soap lover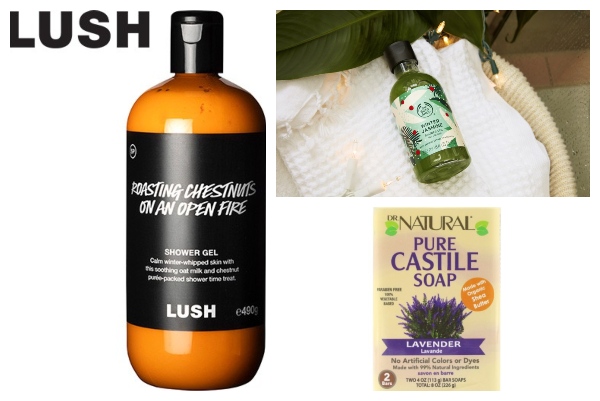 If you know that your secret santa loves the finer things in life — including a pampering bath time, then body washes will make great secret santa gift ideas. This Roasting Chestnuts On An Open Fire Shower Gel (available on Lush Singapore Official Store) is a fuzzy concoction of soothing oat milk, chestnut puree and sweet smelling almond essential oil. Otherwise, this Winter Jasmine Shower Gel (available on The Body Shop), made with Jasmine extract will surely make the cut. It'll leave the skin feeling refreshed with a lingering fragrance.
Alternatively, some of the best bar soaps also make for great gifts under $20 in Singapore. We love the Dr Natural 2 Bar Pack Castile Bar Soap (available on DrNaturalSingapore) that's gentle enough for sensitive skin. Pick from Almond, Lavender, Peppermint and Pure Black types for a luxurious shower time.
19. For the colleague who drives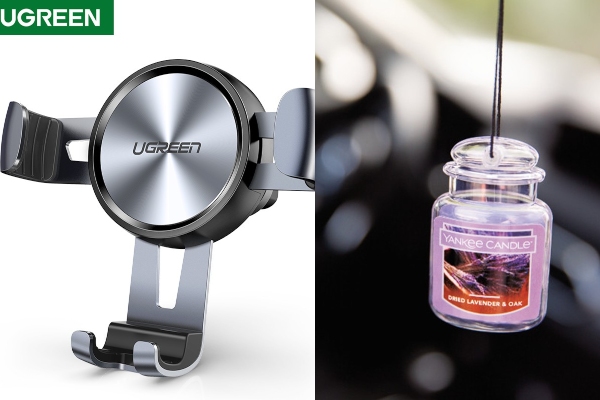 If you're looking for a last minute secret santa gift idea for the santee who drives, why not buy them car accessories for Christmas! The UGREEN Gravity Car Air Vent Mobile Phone Holder (available on Ugreen Flagship Store) is easy to install and suitable for all car models. Instead of the regular duo clamping system, this car phone holder is designed with three aluminium alloy clamping arms to secure the phone in position. Another option is to get your colleague a Yankee Candle Car Jar Ultimate (available on koreafarm.kr) — car fragrances are essential for most vehicles so they'll definitely be thanking you for helping them stock up on this!
20. For the new hire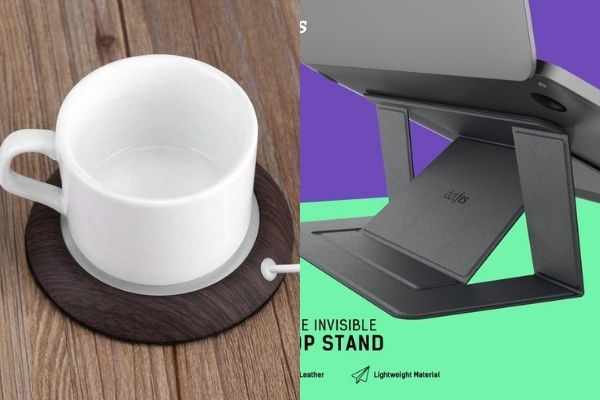 The Christmas party is a good chance to bond with the newest member of the team. However, we won't be surprised if you end up racking your brain for secret santa gift ideas as you guys may not know each other well. We suggest going for a Wood Grain Cup Warmer (available on magicstore) which will help keep their beverage warm throughout the day. . Alternatively, get them the Portable Invisible Laptop Stand (available on Dotfes Official Shop) to elevate their laptop to a more comfortable viewing angle. 
21. For the drinker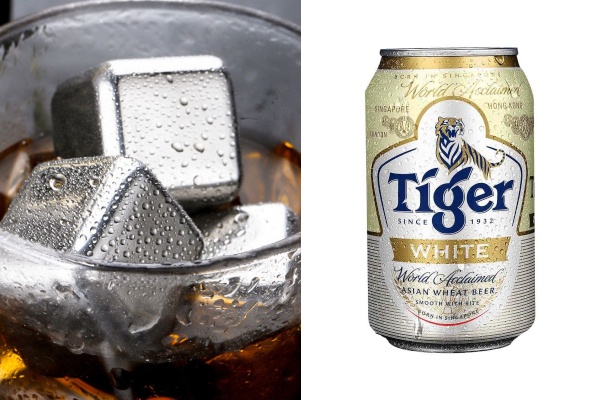 There are many secret santa gift ideas to choose from when it comes to surprising the drinker. Depending on the type of alcohol your santee favours, he or she may find good use for Stainless Steel Whiskey Ice Cubes (available on Nordic Home Essentials). These ice cubes will keep their drink chilled without diluting its flavour. Other great gifts for colleagues include this Tiger White Wheat Beer (Pack of 4) (available on S-Mart by Shopee Official Store) — a great gift under $20 in Singapore for beer lovers.
22. For the Asana lover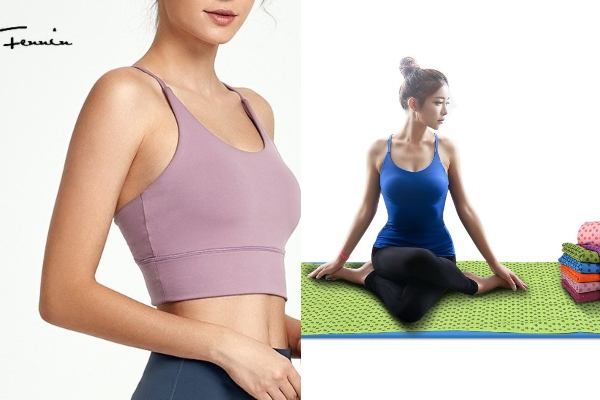 There is just something so meditative about keeping up with a yoga practice. Motivate your secret santee to keep up with their Asana and feel good about themselves at the same time. This gorgeous FENNIN ACTIVE Yoga Bra Vest (available on Fennin active) is a chic fitness top that can support them through tough poses and even on long runs. While this yoga towel (available on Moving Peach Official Store) will provide an anti-slip grip for their yoga mats. If your santee has hinted about needing more activewear then check out this list of affordable activewear brands with several gifts under $20 in Singapore!
23. For the minimalist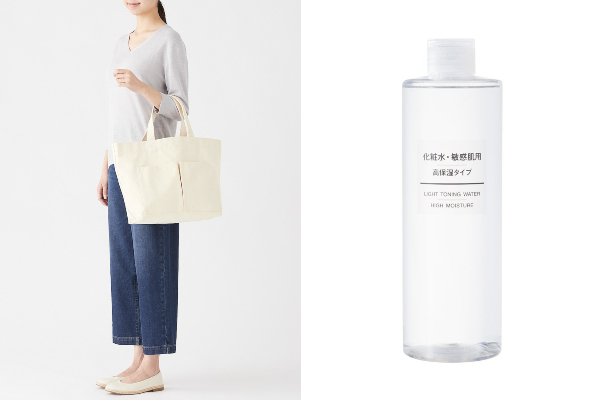 We all have that one colleague — the super minimalist, organised, whose desk you can spot from a mile away! Muji is the place to go for secret santa gift ideas for these colleagues. This MUJI Indian Cotton My Tote Bag (available on MUJI Official Store) is of a thick canvas material using organic cotton and is able to support laptops without a hassle. On the other hand, minimalism is also a skincare ethos your santee probably believes in. Surprise them with the MUJI Sensitive Skincare Series Toning Water (available on MUJI Official Store) made with natural spring water and delicate enough for sensitive skin.
24. For the Marvel fan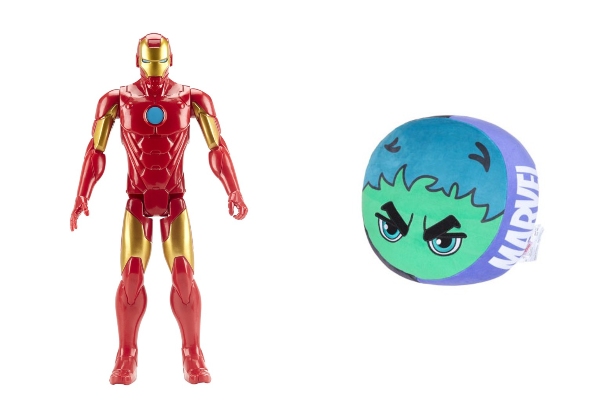 If your colleague is a huge fan of Marvel movies and is a walking encyclopedia on all things Marvel then it's a no-brainer you should look out for Marvel merchandise. We wouldn't have guessed that you'd be able to find Marvel gifts under $20 in Singapore! But you can! Add this Marvel Avengers Titan Hero Series 12-Inch-Scale Iron Man Action Figures (available on Hasbro Singapore Official Store) to their superhero figurine collection that they can proudly display at home or on their office desk. While this cute Marvel cushion (available on Miniso Singapore Official Store) is perfect for those who need a snuggle up.
25. For the colleague who's always travelling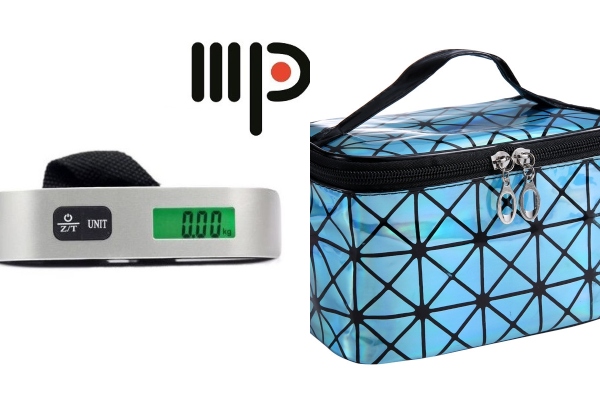 Although leisure travelling is not advisable as of yet, it's always good to be prepared with the accessories when you need them. There are many travel-related secret santa gift ideas you can consider! The Moda Paolo Electronic Luggage Scale (available on Moda Paolo) is one nifty Christmas gift idea to avoid baggage problems at the airport. It can measure in various units and will not take up much space in your colleague's luggage! Other great secret santa gift ideas include this Ossayi Fashion Travel Toiletries Cosmetic Bag (available on Ossayi Official Store). This waterproof bag is perfect for storing both shower gels and grooming accessories!
Need more secret santa gift ideas? 
If you have a flexible budget, check out our ultimate Christmas gift ideas that will come in useful when buying presents for your loved ones! Rather than getting gifts, why not buy experiences instead and spend some quality time with family and friends! Just remember, 'tis the season to be jolly, so go out and have some much-needed fun!
Treat yourself to even more deals with our 25 Days of Christmas and buckle up for daily exciting giveaways this season!
---
This article was updated on 12 December 2020. Additional research done by Quah Si Yu.
New to Shopee? Get $7 off (min. spend $15) with code*: 53SSANTA20
*TNC Applies. Valid for new users from 14 to 21 Dec 2020 only.