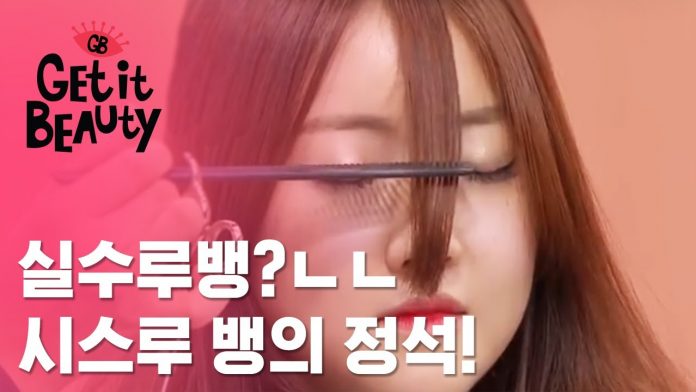 The Korean wave definitely took the world by storm since it emerged a few years back and we can be sure it isn't going away anytime soon! Korean bangs, in particular, have attracted many girls' attention because of how feminine yet trendy they look. If you're looking for a new hairstyle or are inspired by your favourite Korean celebrities' hairstyle and not willing to queue for a haircut just yet, then you've come to the right place!
Read on to learn about the different types of Korean bangs and how to create these beautiful Korean bangs effortlessly!
1. Air Bangs
Seen on: Kim So Hyun and IU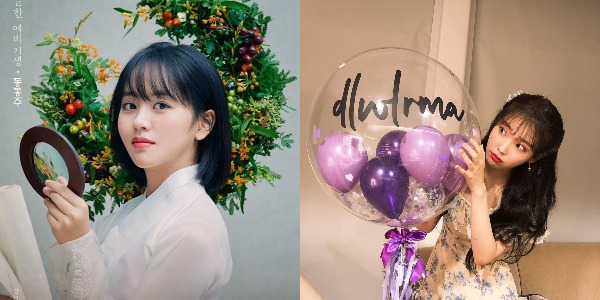 Even if you're not a fan of the Korean wave, you would know about the popular Korean air bangs. Also known as see-through fringe, air bangs are a thin layer of fringe that ends between your top lashes and eyebrows. Unlike thick and tidy bangs, air bangs allow your forehead to peek through and do not give a suffocating appearance. These Korean bangs help to add a subtle and natural contour for a slimmer and youthful appearance to your face.
However, air bangs can be a little hard to maintain outdoors as they can be blown out of shape easily. Girls with oily skin may also notice that their air bangs lose volume quicker than girls with normal or dry skin.
Not sure if air bangs are suitable for you? Fret not! Air bangs can be very versatile. Sweep it to the side to create a side fringe or hide it under the rest of your hair when you want to go fringeless!
How to cut Korean air bangs:

Step 1 – Find out where you want your fringe to begin and comb the hair forward to create a parting
Step 2 – Gather the pieces of hair that fall between your brows. These will become the main part of your air bangs
Step 3 – Cut the bangs to your desired length (in between your brows and upper lashes). Next, hold your Brainbow cutting scissors (available on Party Garden) vertically and create vertical cuts — this technique is known as point cutting.
Step 4 – Section out the remaining hair to form side bangs. Imagine a diagonal line connecting your nose bridge to your jaw bone.
Step 5 – Cut along the imaginary diagonal line to create sloping side bangs which help to cover wide jawlines to create a slimmer face. When you're done, part the bangs to both sides, leaving a thin layer of fringe on the forehead to create wispy and natural air bangs!
Step 6 – Using a USB Heated Hair Roller (available on Fenteer1), curl your air bangs for two minutes to give your fringe volume that will last all day!
2. Choppy Bangs
Seen on: TaeYeon and Luna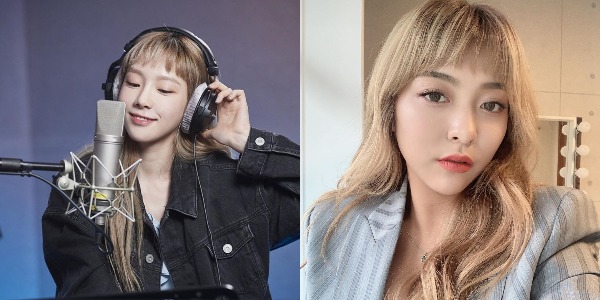 This is the hairstyle to go for if you want to shave a few years off your age! Choppy bangs are making a comeback as one of the most unique Korean bangs styles. This hairstyle is suitable for girls with smaller, rounder face shapes. It brings attention to the eyes and will give you a childlike appearance.
Choppy bangs come in many variations, for different looks. Cut them in a straight and thick manner for a high fashion, chic vibe. Go for slanted choppy bangs for a bold and funky look! Curl your choppy bangs to look feminine and cute. Or thin the Korean bangs out (so it's choppy bangs plus air bangs) for a sophisticated and refined image.
How to cut Korean choppy bangs :

Step 1 – Decide where you want your fringe to begin and comb the hair forward to create a parting
Step 2 – Position the scissors vertically and begin shortening your fringe using vertical cuts. The final length of your choppy bangs should end from the middle of your forehead to the area just above your brows.
Step 3 – Trim the fringe to make sure the length is consistent and voila!
3. Baby Hair Bangs
Seen on: Kim Da Mi and Tzuyu (Twice)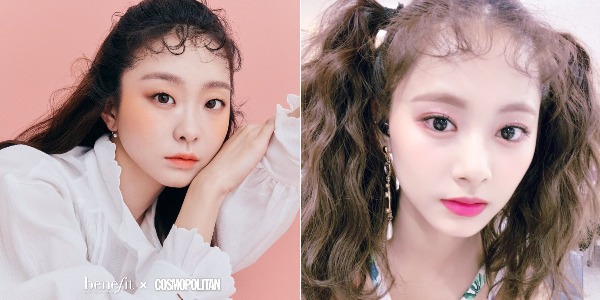 Do you want to look like a lovable baby? Apparently, many Korean girls do! This explains why baby hair bangs have been all the rage since the end of 2017. If you are wondering how to cut these Korean bangs, it's pretty simple! Instead of having an actual fringe, this hairstyle makes use of your baby hair to help frame your face.
This style of Korean bangs is great for those who are developing bald patches along their hairline or for those who have an M-shaped forehead. Girls who are conscious of these features can use baby hair bangs to cover and conceal. Baby hair bangs are also great for girls who want to hide their wide forehead but do not want to commit to an actual fringe. This style gives a young and playful appearance to your face!
How to cut Korean baby hair bangs:

Step 1 – Comb all your hair back as if you're going to tie a ponytail
Step 2 – From the centre of your forehead, create a 45-degree angle parting to the right. Use a rat tail comb (available on treeling.sg) for easier control. Repeat on the left.
Step 3 – Starting from where your brows are, grab a small section of hair (about 3 cm wide) from the side of your head. These are the hairs that will become your baby hair bangs. Using an ANLAN eyebrow razor (available on ANLAN Official Store), trim the hair in short strokes, creating gradual length to shape your face. Repeat on both sides.
Step 4 – Style your baby hair bangs with a Pritech mini hair curler (available on Pritech Beauty Health Store Official Store) to give your baby hair bangs more volume!
4. Curly Bangs
Seen on: Gong Soo Ah (3CE's Model) and Song Hye Kyo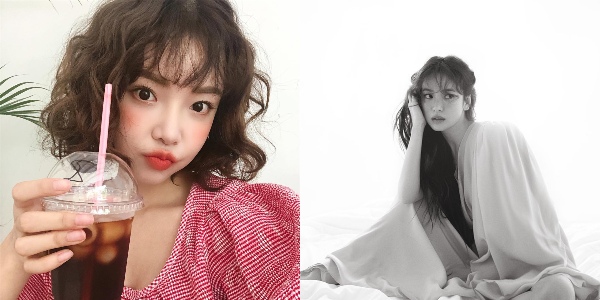 Bored of having straight and flat bangs? Why not whip out a Philips StyleCare Curler (available on Philips Certified Store) and give your Korean bangs a perm? Curly bangs are a great way to draw attention away from a wide forehead or a huge pimple on your nose. This hairstyle also adds dimensions to your face, creating a sweet and youthful charm!
For a feminine vibe, create long curly bangs that frame your face like Song Hye Kyo. Alternatively, combine both air bangs and curly bangs together to achieve a wispy and dolly image like Gong Soo Ah!
How to cut Korean curly bangs:

Step 1 – Preheat your curling iron and part your fringe to your preference.
Step 2 – Grab a small section of fringe (about 3 cm wide). Using the curling iron, curl your fringe inwards (towards yourself) to create bouncy curls
Step 3 – While the hair is still hot, you can shape it into any style you want. Scrunch it for tighter, more long-lasting curls or stretch it to create loose waves. Repeat steps 2 and 3 on the rest of your fringe.
Step 4 – Complete the look by curling the hair on the sides of your face too. They help to frame your face and make you look slimmer! For a better effect, curl them inwards.
Step 5 – Separate the curls and arrange them to your preference. Apply hairspray to secure the curls and ensure they last all day!
5. Long Bangs
Seen on: Seo Hyun and Park Min Young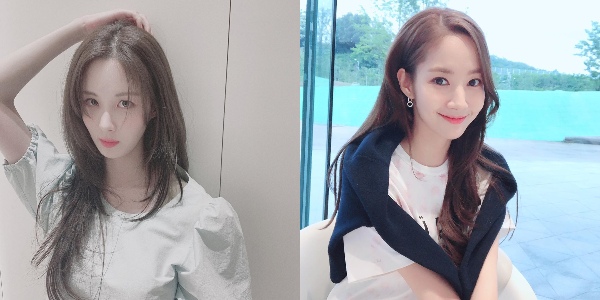 This hairstyle is perfect for girls who have wide or short face shapes. In general, long bangs extend beyond the eyes and can sometimes reach the corners of the lips. This means that long bangs can help to lengthen and make the face narrower.
This is one hairstyle you don't have to fret about how to cut as the Korean long bangs is one of the simplest. Long bangs also require less maintenance than shorter bangs, which makes it a great fuss-free hairstyle for girls who want to sport Korean bangs without the hassle!
How to cut Korean long bangs:
For girls who do not have a fringe:
Step 1 – Part your hair forward from the middle of your head. This portion of hair will become your fringe.
Step 2 – Depending on your preference, you can choose to part your fringe through the centre or all to one side
Step 3 – If your fringe is too long, cut it at a 45-degree angle such that the strands furthest from the face are longer than those closer to the face
For girls with shorter bangs:
Step 1 – To create long, side-swept Korean bangs, part your hair (including your fringe) into a 6:4 ratio, using a rat tail comb. Your fringe should be hidden underneath the rest of the hair.
Step 2 – Choose the side where you want your bangs to be. Section the hair before your ears, these will become your long bangs.
Step 3 – Imagine a line connecting the corners of your mouth to your jawline. Cut your long bangs at a 45-degree angle towards your jaw, creating a gradual length for a softer look.
Step 4 – Using the ANLAN ceramic flat iron (available on ANLAN Official Store), curl your long, side-swept Korean bangs loosely to create waves that add dimensions to your face!
6. Curtain Bangs
Seen on: Kang HanNa and TaeYeon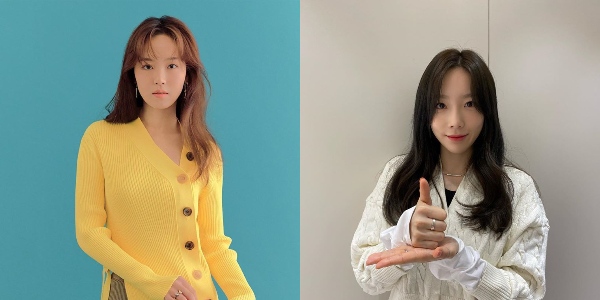 If you are still unsure about having a Korean bangs hairstyle, the curtain bangs may be a good place to start! With a centre parting and bangs that fall around the side of your face, curtain bangs follow the shape of the Chinese character of the number eight (八). This helps to frame your face to look achieve a slimming effect!
This hairstyle exudes elegance and it's another commonly worn style among Korean celebrities besides air bangs. You can wear it short like Kang HanNa to add a youthful vibe to this style!
How to cut Korean curtain bangs:

Step 1 – Determine the amount of hair that is going to be your fringe and comb it forward to create a parting. Then part this portion of hair in the middle to achieve a centre parting.
Step 2 – Grab one side of your fringe with two fingers, in line with the corner of your eyes or to your desired length. Pull this portion of hair towards the opposite side.
Step 3 – With a Brainbow thinning scissors (available on Brainbow Beauty Tools Shop), cut the portion of the hair at a 45-degree angle such that the strands on your forehead are the shortest
Step 4 – Comb your hair out and trim again if necessary. Repeat step 2 to 3 for the other portion of your fringe.
Step 5 – Curl the shorter part of your curtain bangs with a hair curler to add more volume to your curtain bangs!
7. Voluminous Side Bangs
Seen on: Yuri and Hyeri (Girl's Day)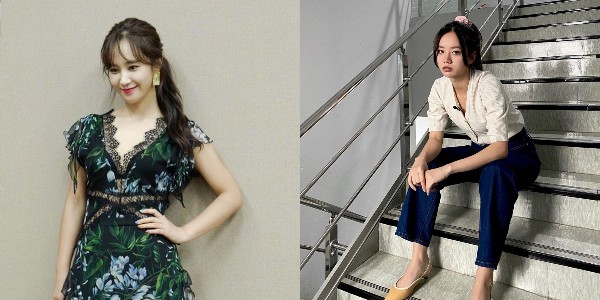 Enjoy wearing your hair up often? These trendy Korean side bangs will suit you! Also known as the Goddess bangs, this hairstyle frames the shape of your face with its curls. Korean side bangs has been trending since mid-2019 after being spotted on many celebrities. It's definitely one of the most loved K-pop hairstyles right now!
Korean side bangs stay visible even when your hair is tied up, giving a feminine vibe at all times. Curl your side bangs to achieve the goddess look that many Korean girls are after!
How to cut Korean side bangs:

Step 1 – Section out the amount of hair that will be your bangs. Grab the portion of hair that falls between your eyebrows and cut to where the length falls just below your nose.
Step 2 – Bring together a small portion of the bangs from both sides to the centre and hold it forward. Position your scissors horizontally and cut such that the length ends slightly beyond your lips.
Step 3 – Comb out the rest of your bangs and cut the length at your chin line.
Step 4 – Part your bangs into half. Grab one side of the hair and pull it to the opposite side. Cut your bangs at a 45-degree angle such that the longest strands are furthest from your face. Repeat this step for the other side.
Step 5 – You may notice a few strands of hair along your side line that are uncut. Trim these sections of hair to the length of the longest bangs on both sides.
Step 6 – Complete your look by adding volume with hair rollers! Curl the bulk of your bangs with a big hair roller (available on happylifes.sg) and curl the side hair (in step 5) with a small hair roller. Using your Mi Ionic hair dryer (available on Mi Official), lightly blow over the hair rollers and leave to cool for three seconds before removing them and voila!
Bonus tip – To create a sweeter look, trim your hair shorter in each of the steps! Cut the first portion of hair in step 1 to between your eyebrows and your eyes. Follow through with the rest of the steps, ensuring that there is a 45-degree angle gradient in the bangs for a softer look. This combines the look of air bangs and side bangs just like Yuri did above!
Enjoy your new hairstyle with trendy Korean bangs
Try some of these Korean bangs for a fresh change. When it comes to cutting your own fringe, practice makes perfect! Work your magic with hair tools like hair straighteners. Feeling adventurous? Determine the best hair colour for your skin tone and dye your hair at home. Don't forget to take care of your hair with some of the best hair masks for gorgeous, healthy locks too!
This article was updated on 22-05-2020. Additional research done by Brenda Fong.
---
New to Shopee? Get $7 off (min. spend $15) with code*: 7KBANGS
*TNC Applies. Valid for new users from 12 AUG to 19 AUG 2020 only.]]>