They say investing in your hair is key because it's the crown that you never take off. But that doesn't mean you have to spend hundreds of dollars at hair salons. From automatic curling irons to heatless options, you can get beautiful locks for any occasion with our list of the best hair curlers in Singapore!
How to choose the best hair curler in Singapore?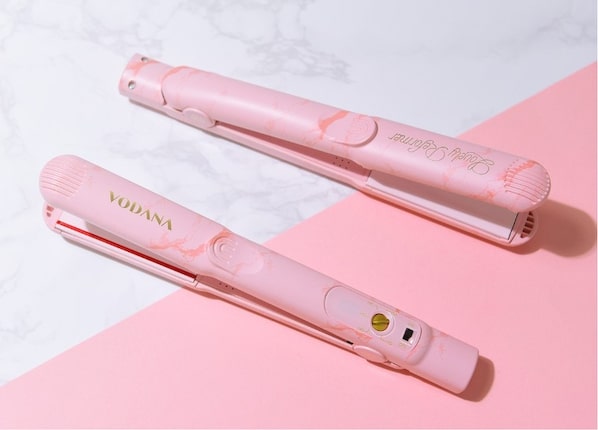 With so many hair curler options, it might be overwhelming to choose. To get the one that suits you best, consider the following factors:
Size matters when it comes to the best hair curler in Singapore. Barrel size determines how tight the curls are – the bigger the barrel, the larger the waves. Smaller barrels (20mm) are also more suitable for those with shorter hair, while bigger ones (>30mm) will make styling easier for those with longer hair. 
Although heat helps to hold your curls, we'd caution against using too much of it to avoid damaging your precious locks. This is especially so for those with chemically treated hair. That's why it is important to get a hair curler with the adjustable temperature settings. Those with thick hair can afford to opt for 150 to 200 degree celsius, while those with finer hair can stay below 150 degree celsius to be safe. We also recommend applying a heat protection spray before styling your hair with a hair curler.
Curling irons in Singapore are usually made of ceramic, titanium, or tourmaline. Here's how they weigh against each other:
Material
Pros
Cons
Best for

Ceramic

Even and efficient heating

Durable

All hair types

Titanium

Even and efficient heating

Lightweight

Durable

Not beginner-friendly as it heats up quickly, and can cause damage if not properly used

Coarse hair

Tourmaline

Achieves shiny hair using negative ions that eliminates frizz

Achieves results with low temperatures

Expensive

Shorter shelf life

Fine hair
Best hair curlers in Singapore for wavy curls and C-curls
If you love the fresh, bouncy look that C-curls and wavy curls give you, get a solid curling wand to create them yourself! These are old-school, but they certainly work. You can also choose curling wands with clamps which make it more convenient as you won't have to hold them in place as they curl.
1. Philips Stylecare Sublime Ends Curler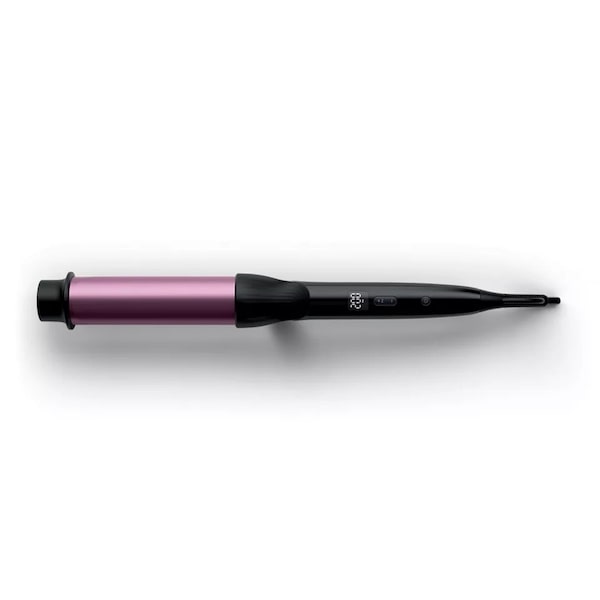 To avoid split-ends and damaged hair after rounds of styling your hair, get the Philips Stylecare Sublime Ends Curler (available on Philips Official Store) which uses ceramic that's coated with keratin to better care for your locks. It also boasts a unique SplitStop technology that prevents split ends from forming with the use of this hair curler. The Philips Stylecare hair curler is also one of the best curling iron for those who prefer long waves as it sports a 38mm barrel. It  features eight temperature settings for precise heat control!
2. Braun Satin Hair Curler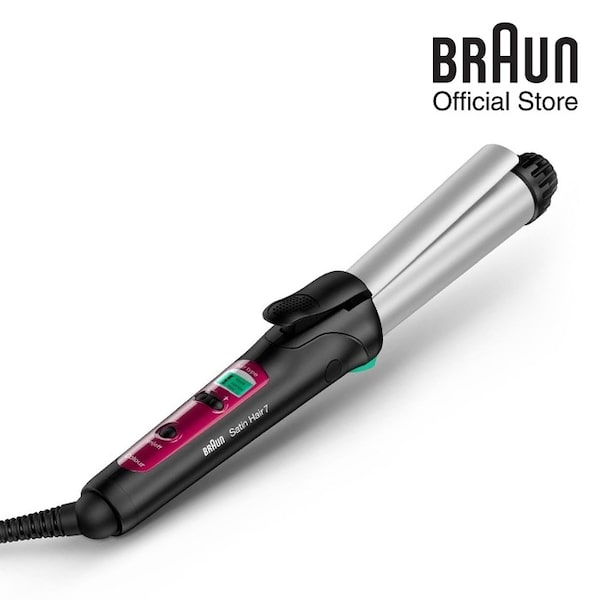 Just dyed your hair with your dream colour? You wouldn't want to let it fade too quickly! But fret not, you can still achieve your ideal locks with the Braun Satin Hair Curler (available on Braun Official Store) which boasts a colour saver technology that promises 50% less colour fade. Furthermore, it infuses your hair with millions of active ions as you curl them, eliminating static and frizz at the same time. The Braun hair curler also comes with five temperature settings so you can choose the ideal level of heat that's best to maintain healthy hair in the long run. That's why it is one of the best curling irons in Singapore.
Best hair curlers in Singapore for mermaid curls
Mermaid waves are one of the most effortless-looking styles that's perfect for a beach vacation! It features deep, tight waves that start a few inches from the crown of your head all the way to the bottom. To achieve mermaid waves easily, you'll either need a hair crimper or a 3-barrels curling iron. We recommend getting hair crimpers that achieve larger waves as they are more natural.
3. CkeyiN 3-Barrels Curling Iron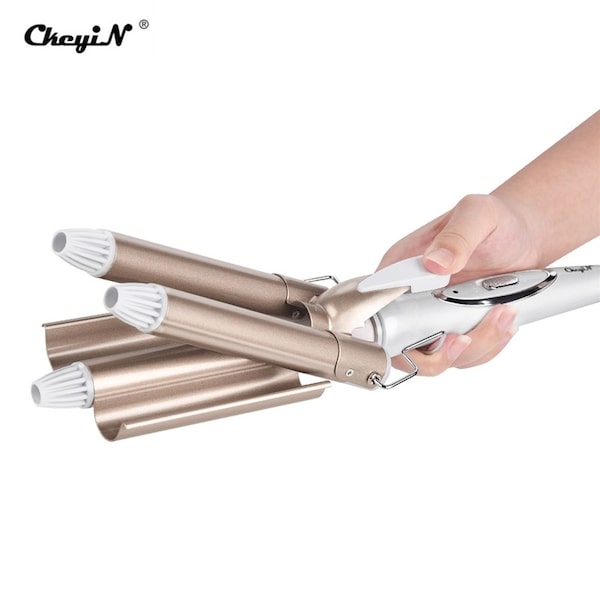 The bigger the wave, the greater the volume. If big waves and large volume is what you're going for, the CkeyiN 3 Barrels Curling Iron (available on CkeyiN Official Store) is the best hair curler in Singapore that'll do just the job. This product is suitable for those with long and thick hair and is the secret hair tool for achieving mermaid waves. Mermaid waves feature consistent "S" waves that start from near the crown and cascade to the ends of the hair. Inspired by your favourite K-pop idol's mermaid wave hairstyle? The CkeyiN curling iron is the best hair curler in Singapore for you!
4. Vodana Triple Flow Wave Iron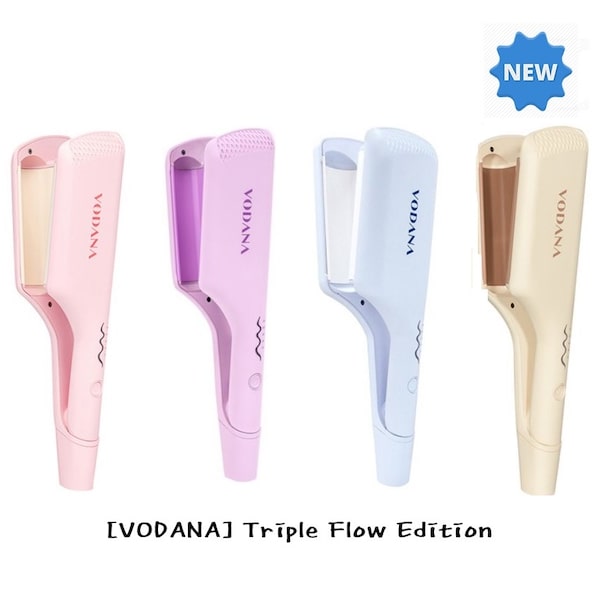 Those who caught Single's Inferno might already be familiar with the Vodana Triple Flow Wave Iron (available on todaytwoj.sg) which was used by one of its contestants, Song Ji-A to achieve her ultimate beachy curls. It sports a ceramic-coated heating panel which allows you to crimp (achieving a zig-zag texture) your hair just by pressing it in between. The Vodana hair curler also features five temperature settings that you can adjust according to your hair type. There's an automatic turn off feature which shuts the device off if left unattended for over an hour.
Best hair curlers in Singapore for salon blowouts
Salon blowouts let you enjoy shiny, voluminous hair that feature soft, natural curls. However, it can cost a fortune to get a regular blowout. Consider investing in one of the best hair curlers in Singapore that allow you to achieve that salon blowout look at home! These hair curlers help to defrizz your hair with an ioniser function to give you that gloss while curling them in large curls. 
5. Dyson Airwrap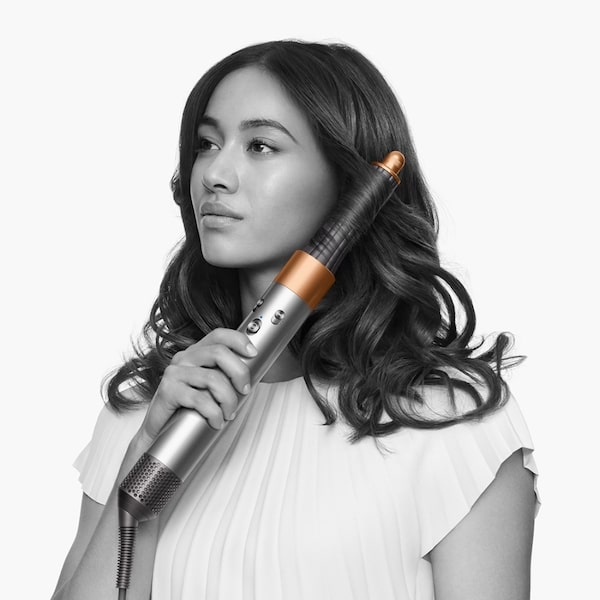 The Dyson Airwrap (available on Dyson Official Store) is like the Chanel bag in the world of curling irons – if you're willing to shell out for it, it's definitely worth it. It has been touted as the best hair curler in Singapore as it doesn't use extreme heat to help you achieve voluminous curls. Instead, the Dyson Airwrap combines a powerful airflow with controlled heat that allows you to both dry and style your hair at the same time. Talk about efficiency! What's more, you won't have to worry about the potential damage that heat does to your hair after rounds of styling them anymore. Check out our Dyson airwrap review to find out how you can use it!
6. Ubeator Hot Air Brush Hair Curler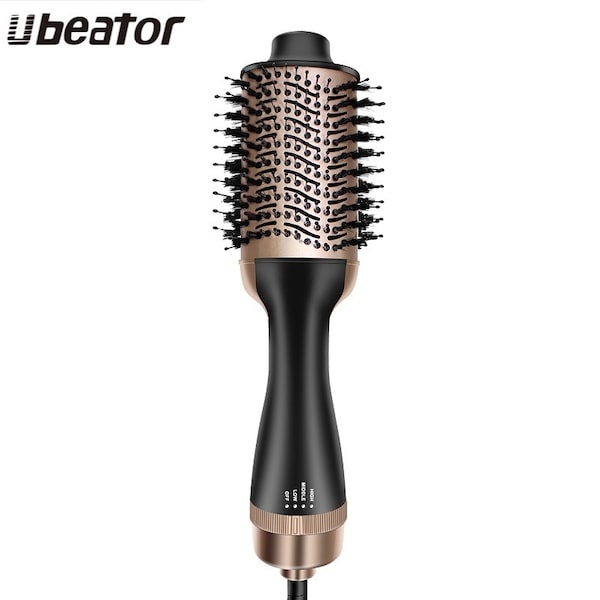 Every second spent getting ready in the morning counts when you're in a rush. Because of this, styling hairs with hair curlers may be a big no-no for the time-pressed Singaporeans. With the Ubeator Hot Air Brush Hair Curler (available on Ubeator Official Store), you can dry and style your hair at the same time. It comes with a range of heat levels so you can dry your hair at a safe temperature and minimise damage to your locks! Achieve effortless salon blowouts and loose waves with the Ubeator hair curler! If you're not keen on spending too much time styling your hair, this two-in-one tool that combines a hair dryer with a hair curler is the key to achieving quick and natural beachy waves.
Best hair curlers in Singapore for beginners
Anyone who has tried styling their hair with a curling iron would agree that it's a skill to be mastered. To avoid scalding yourself too much, get these beginner-friendly hair curlers that come with plenty of temperature options so you can work your way up from low heat to high heat. Alternatively, automatic hair curlers are a great entry-level option as all you need to do is to wrap your hair in!
7. Vivid & Vogue Automatic Hair Curler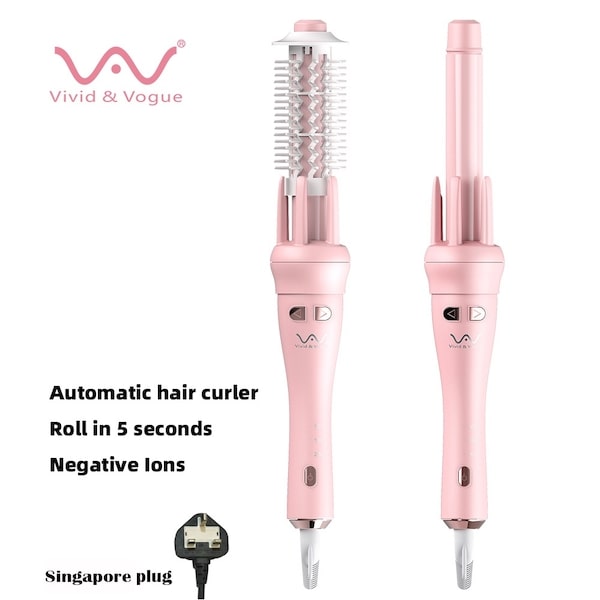 If you find curling your hair a hassle to learn, the Vivid & Vogue Automatic Hair Curler (available on K·SKIN Official Store) is a convenient and quick way to achieve those wavy locks. All you have to do is section a portion of your hair and roll it around this best automatic hair curler in Singapore. Then, press the button and the device will automatically curl your hair within five seconds. A sound notification will let you know when it's done too! The Vivid & Vogue hair curler also comes with a comb attachment that allows you to defrizz your hair with negative ions. Those who tend to be forgetful can also have a peace of mind as it has an automatic shut off function!
8. CkeyiN LCD Hair Curler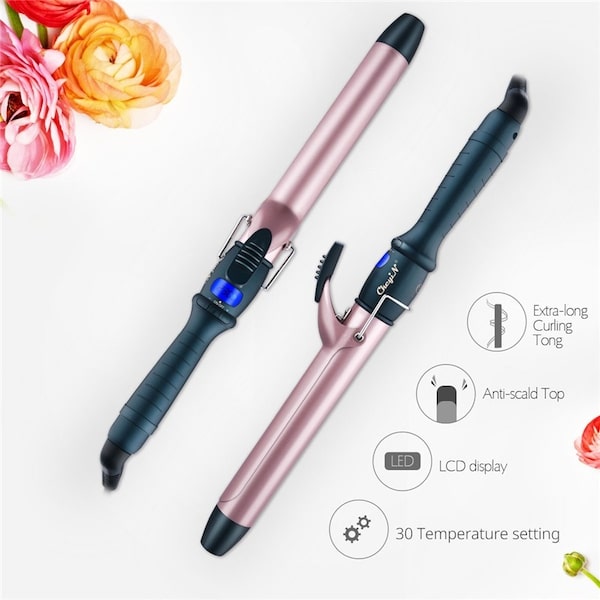 Calling all long-haired beauties, this is the curling iron for you! Ever run out of wand space whenever you're curling your hair? Well, the CkeyiN LCD adjustable hair curling wand (available on CkeyiN Official Store) accommodates extra-long hair as it can be extended to create more room when needed. Its tongs are also made of Tourmaline ceramic material to reduce hair moisture from being stripped when heat is applied. With 13 different temperature settings, switch up your daily look with loose waves or tight spiral curls depending on your mood. This device also has an LCD screen so you can monitor its temperature to prevent excessive exposure to heat. Beginners or amateurs, you don't have to worry about scalding as well because of its built-in anti-scald top.
Best hair curlers in Singapore for travels
Have an overseas vacation coming up soon? You'll definitely want to look your best when posing in front of the Eiffel Tower or the Grand Canyon. However, lugging a full-sized curling iron might just be deadweight while you're travelling. Instead, cue the best portable hair curlers that fit neatly into your luggage without taking up too much space! 
9. Pritech Wireless USB 2-in-1 Hair Curler And Straight ener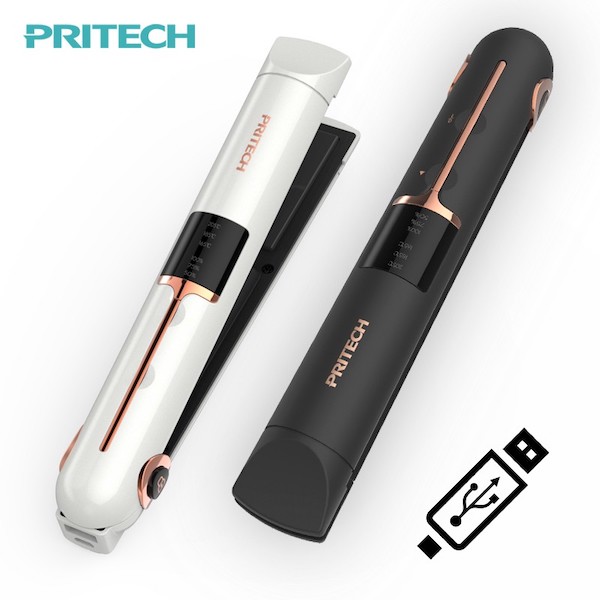 With the Pritech Wireless Hair Straightener & Curler (available on PRITECH Official Store), you can bring your hair curler with you anywhere in Singapore! Say goodbye to tangly electric wires and say hello to an effortless curling experience. This curler comes with a USB charging port to charge your mobile phone too. Did you know that you can achieve curls using a hair straightener? Take a look at the tutorial below to learn how to turn your sleek straight hair into luscious waves. The best part? With the Pritech hair straightener, you can always go back to where you started by straightening your hair if you mess up. This is truly one of the best hair curlers in Singapore that's both versatile and portable.
Best heatless hair curlers in Singapore
10. Hair Curling Magic Sponge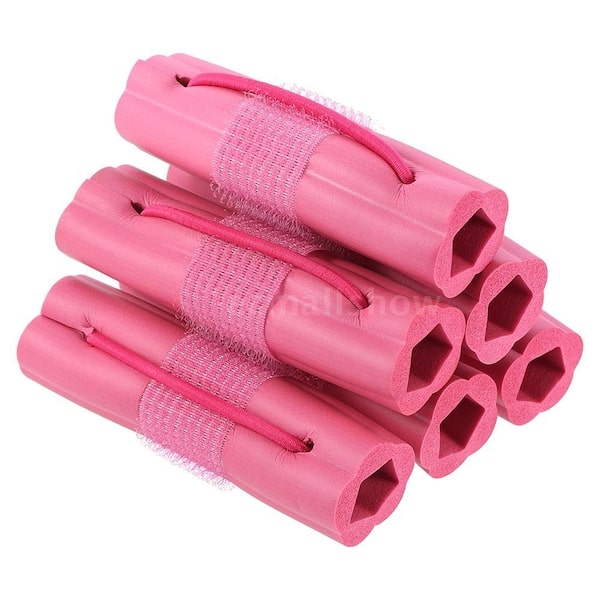 If you're looking for some heatless hair curler tools in Singapore, these Magic Foam Sponge Hair Curlers (available ecmallshow.sg) are a safe way to achieve big and voluminous curls overnight! Simply roll your damp hair into the sponge hair curler, secure it tightly and let it do its magic while you get a good night's rest. Wake up the next day, lightly comb and tousle your locks with your fingers and you're good to go! 
11. Magic Strip Hair Curlers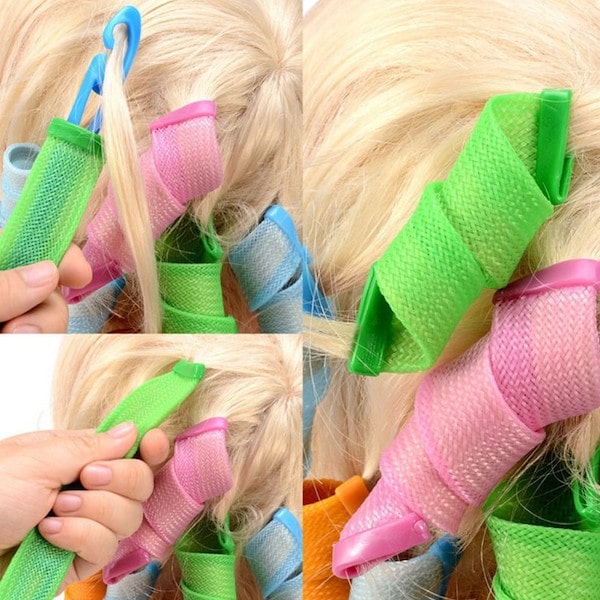 Always wanted to try the iconic Korean "hippie" perm but not ready to commit to a permanent perm just yet? Well, you can emulate the look with these Magic strip hair curlers (available on APINK Beauty)! This zero-heat method is designed to temporarily give your hair the volume and perm needed to rock that hippie look. You don't need to break the bank to buy electric hair curlers in Singapore, non-heat ones work just as fine without the added heat-damage risk!
12. Hair Roller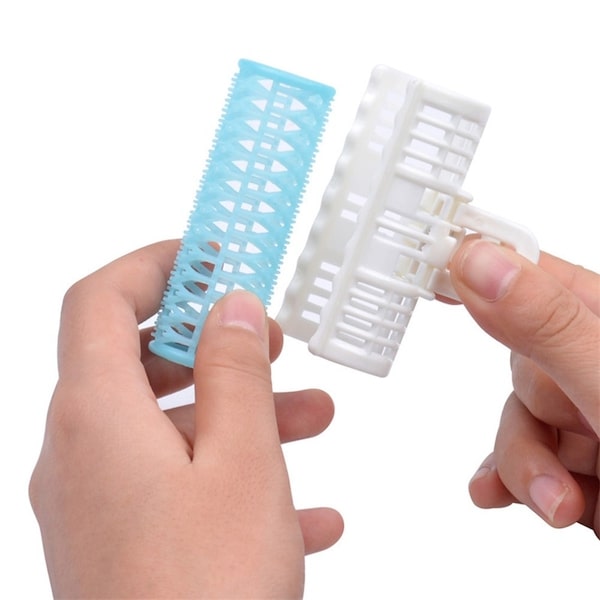 Growing up, you might have noticed your mum or even your grandma wearing one of these. Hair rollers are the OGs of all hair curlers in Singapore. They are meant for creating soft and delicate curls for a more natural and dainty look. Wear them to sleep or on a lazy day at home. Start with these Plastic Hair Rollers (available on CkeyiN Official Store) on your fringe to keep them bouncy. These are some of the best hair curlers in Singapore you can buy to achieve all kinds of gorgeous waves. Pack them in for travel essentials or include them into your daily grooming sessions. Curls are a great start to change up your look if you've run out of hair colour ideas, just make sure to practice good hair care habits to prevent them from getting fried from the heat! 
13. Heatless Curling Headband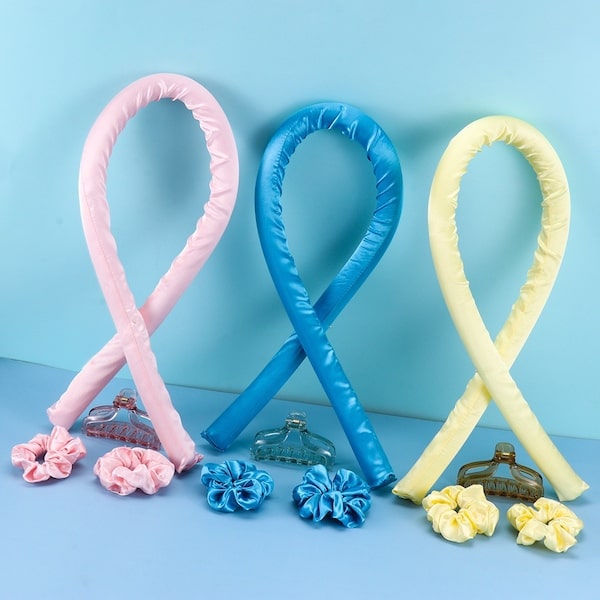 Heatless Curling Headbands (available on skybooth.sg) made waves on Tiktok as it impressed viewers with the natural and beautiful waves they could achieve overnight. To use it, use a rat-tail comb to section out your hair and wrap them around the rod. Then, fix it with the rubber band that's included in the set. Simply remove the rod the next morning and wake up to lovely waves! This way, you can save the precious minutes that you'll otherwise take to style your hair.
14. Heatless Curling Scrunchie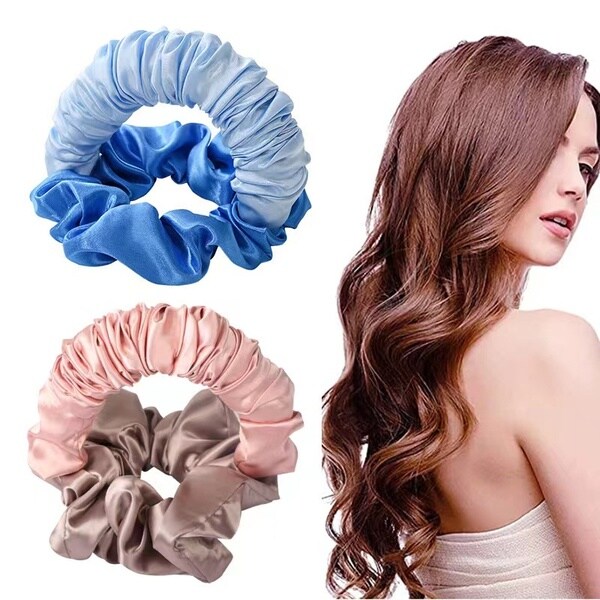 Recall how everyone used socks to curl their hair last year? We never fail to be amazed by viral Tiktok hair hacks. Now, people have moved on from socks to heatless curling scrunchies (also known as cloud curlers)! From the TikTok tutorials (check out the video below), you can see the results are incredible! The best part is that it's so easy to use — just like your typical hair tie, bun up your hair with the Heatless Curling Scrunchie (available on anara hair accessories) and leave it on for at least two hours or overnight. Simple as that! Moreover, its silk-material minimises the likelihood of frizziness, leaving you with effortless hair curls anywhere, even on the go! If you're still having difficulty dealing with your frizzy hair, have a read on the best hair serums to help tame your mane.
Rock those waves with the best hair curlers in Singapore
Apart from getting voluminous waves with the best curling irons in Singapore, consider sporting one of these popular types of Korean bangs to perfectly frame and complement your face shape so you can walk the streets with a refreshed sense of confidence! In addition, put on the best Korean cushion foundations and the best Korean lip tints to look your best for your next girls' night out!
This article was updated on 26 September 2022. Additional research done by Shermyn Tan.