Thinking of changing up your hairstyle but not sure what look to go for? Why not take  inspiration from your favourite K-pop idol's hairstyle? From adventurous haircuts to incorporating interesting hair accessories, we've compiled some of the hottest K-pop hairstyle trends for your big transformation!
1. Twice Momo hime K-pop hairstyle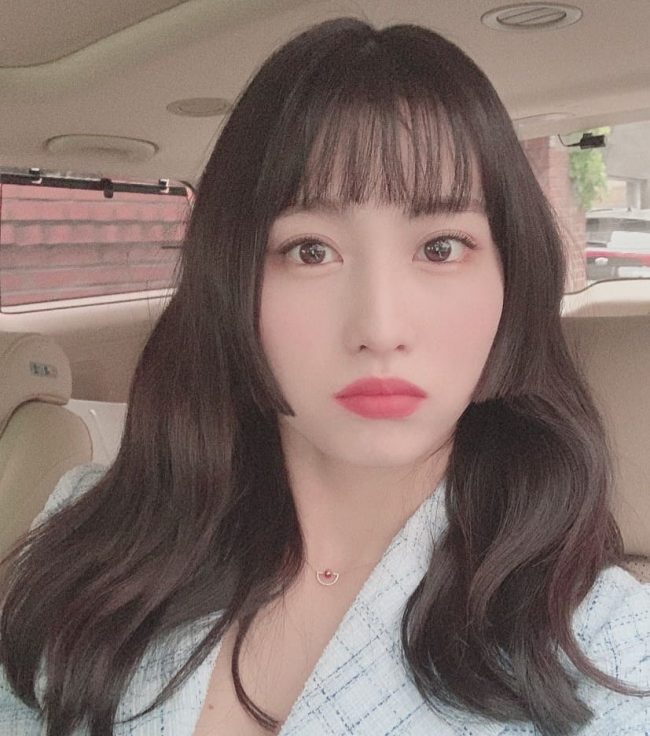 Let's be honest, this haircut is not for the faint-hearted. Inspired by the hair trend during the Japanese Heian Period, the Hime hairstyle's iconic cheek-length sidelocks can be spotted from miles away. K-pop idols such as Twice's Momo have injected some Korean influence into this hairstyle with air bangs and soft waves. If you're up to make a bold statement, why not try this K-pop hairstyle yourself!
How to:
https://www.youtube.com/watch?v=qAw7rWlKDyk
Step 1 – Firstly, part your hair in the middle and section the strands that fall between the end of your brows and ears. You should have a thick section of hair on each side of your face.
Step 2 – Using hair scissors (available on babibrown.sg), create a uniform straight cut across each section, ensuring that the hair is long enough to reach the corners of your mouth. If you want something more dramatic, you can cut your hair till your cheeks. 
Step 3 – Follow this guide to create stylish air bangs.
Step 4 – Lastly, use the Pritech Automatic Hair Drying Curler (available on PRITECH Official Store) to create soft natural waves in your hair. Check out our list of the best hair curlers in Singapore if you prefer non-heat hair curlers!
2. Red Velvet Wendy's shaggy lob K-pop hairstyle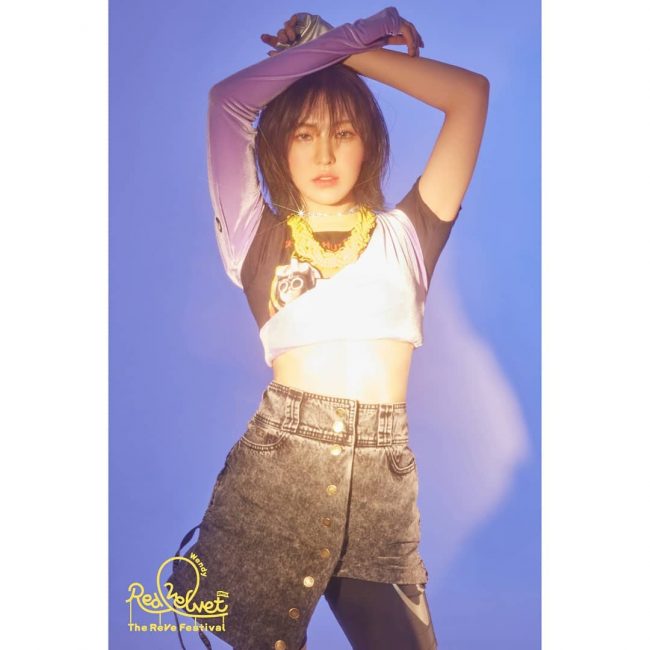 If you haven't noticed, short hairstyles have been the trendiest K-pop look this year. With many idols going for cutesy rounded bob cuts, Red Velvet's Wendy stands out from the crowd with her shaggy lob hair. We especially love how fresh and flattering this haircut is, bringing out her confidence and charisma. If this K-pop hairstyle is exactly what you're looking for, read on to find out how you can achieve the same look!
How to: 
Step 1 – A quick way to cut a lob hairstyle is to tie your hair into a low ponytail. Then, adjust the length you want your hair to be at by pulling the hair tie down towards the base of your neck.
Step 2 – Snip your hair right below the hair tie. 
Step 3 – Trim the ends of your hair such that the front is shorter than the hair at the back. Once done, position your scissors vertically and cut randomly at the ends to create a shaggy effect. 
Step 4 – Cut your fringe into air bangs. 
Step 5 – Next, section your hair into two layers and secure the upper layer with a hair clip. 
Step 6 – With a hair straightener, curl the hair that falls in front of your ears inwards to frame your face. Then, curl the rest of the hair in an S shape such that the ends poke outwards. 
Step 7 – Unclip the upper layer and curl your hair inwards. 
Step 8 – Now it's time to curl your side bangs! Curl them back towards your ears with a hair straightener for a more feminine vibe. 
3. Hyuna's dainty floral K-pop hairstyle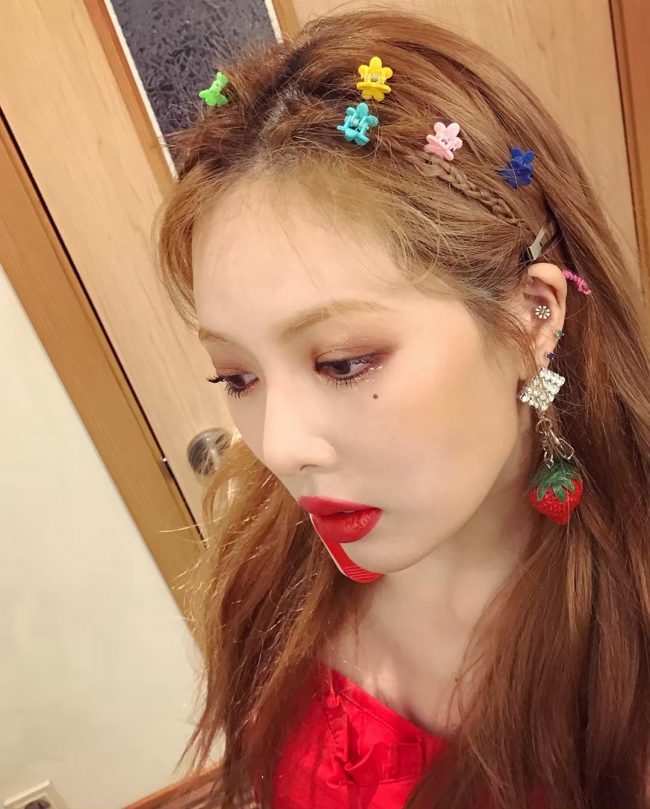 If chopping off your locks is just too intimidating, rock the latest K-pop hairstyle with some eye-catching accessories! Hyuna has always been a trendsetter, which is why it came as no surprise when her dainty floral hairstyle became the biggest hair trend worldwide. The best thing about this hair look is that it's unbelievably simple and easy to achieve!
How to:
Step 1 – To begin, part your hair in the middle and create two tiny braids on each side of your parting. Use colourful pastel elastic hair bands (available on icebeauty.sg) to secure your braids and add a pop of colour!
Step 2 – Now comes the fun part! Secure some colourful floral clips (available on Xijing-for your life) in your hair, focusing more on the upper portion. You can even use other interesting hair accessories such as these scissors hair clips (available on beauty.sg) to spice up this hair look! 
Step 3 – For extra details, style your baby hair with a mini hair curler (available on day6) for a more whimsical look! 
4. BTS V's comma K-pop hairstyle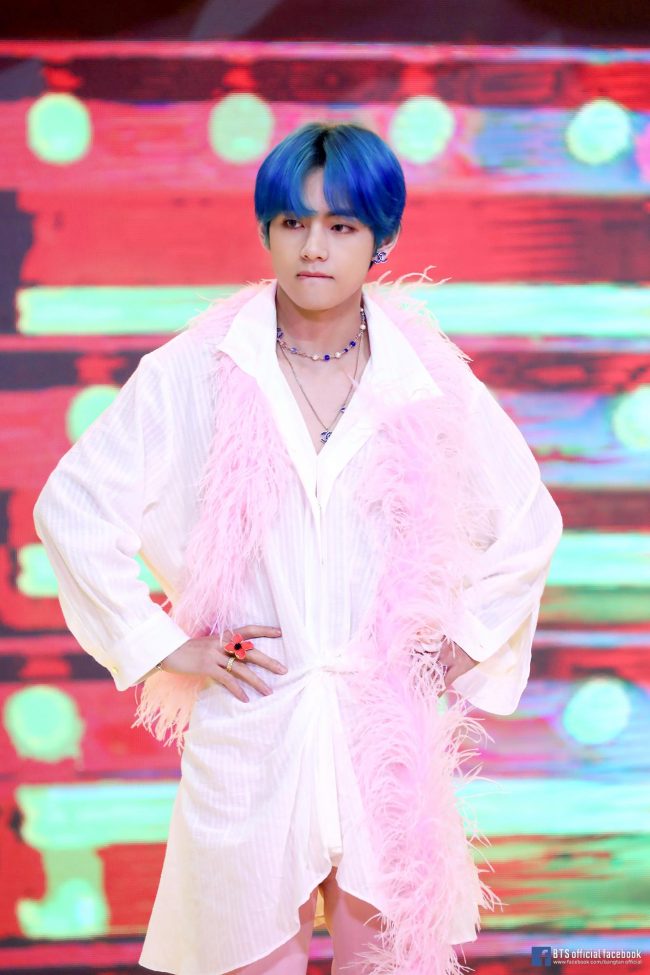 Even guys follow K-pop hair trends too! One of the K-pop idols who has inspired many fashionistas is BTS's Kim Taehyung, also known as V. V is adventurous when it comes to experimenting with different fashion styles and looks. In particular, his electric blue comma hairstyle during the Map Of The Soul: Persona album (available on Kmall24.kr) promotional period has stolen many girls' hearts. Find out how you can recreate this K-pop hairstyle below!
How to: 
Step 1 –  Start by bleaching your hair with APRILSKIN Turn Up Bleach (available on aprilskin_official). 
Step 2 – To achieve V's vibrant blue dye your hair with La Riche Directions Atlantic Blue Hair Dye (available on WunderKult). 
Step 3 – Divide your fringe into a 6:4 ratio and lightly blow your hair with a hair dryer to create a sweeping side fringe. With a mini hair curler, curl your side bangs towards your ears. 
Step 4 – Don't forget to add some volume to your hair by scrunching them at the roots while blasting hot air from your airdryer. For a better effect, curl the roots of your hair with the mini hair curler. 
Step 5 – To create the comma hairstyle, grab a small bunch of fringe on the right side of your parting and curl it towards the left. 
Step 6 – Apply some Hype Homme Supreme Clay (available on Hype Homme) to maintain your K-pop hairstyle throughout the day.
5. IU's
Hotel Del Luna
K-pop
hairstyle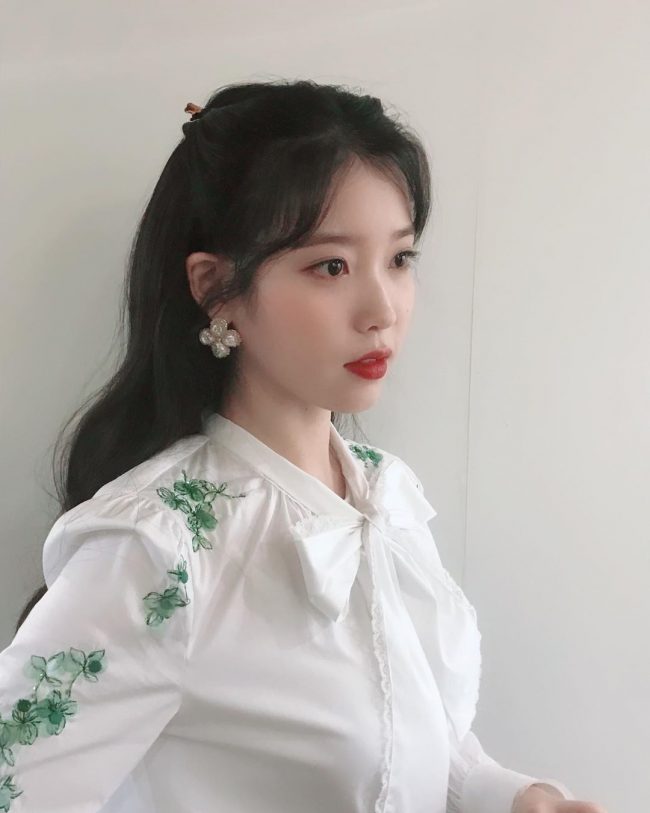 If you haven't watched Hotel Del Luna, one of the most highly raved Korean dramas of the year, you've no idea what you're missing out on. Besides its intriguing plot, IU's glamorous outfits and hairstyles have many audiences hooked on the show. Recreate IU's signature K-pop hairstyle and transform yourself into the haughty owner of spooky Hotel Del Luna!
How to:
Step 1 – Create a zig-zag middle parting with a rat tail comb (available on uieepgp.sg). Section about 1cm worth of hair to the front — this will be your fringe. Tuck the rest of the hair behind your ears. 
Step 2 – Then, split your fringe into three even sections. Position a mini hair straightener, such as the Pritech Portable Mini Hair Straightener (available on PRITECH Official Store), close to your roots and curl each section inwards (towards yourself). Then, tuck the longer strands behind your ears. 
Step 3 – If your sideburns are long, curl them inwards to frame your face. 
Step 4 – Using the rat tail comb, section the rest of your hair that falls between your hairline and ears. Twirl the hair outwards and pin it with a bobby pin at the back of your head. Repeat on the other side. 
Step 5 – Secure the half up-do with a pretty hair pin, such as one of these Korean Pearl Hair Clips (available on cynthia1.sg).
6. BlackPink Jennie's bobby pin K-pop hairstyle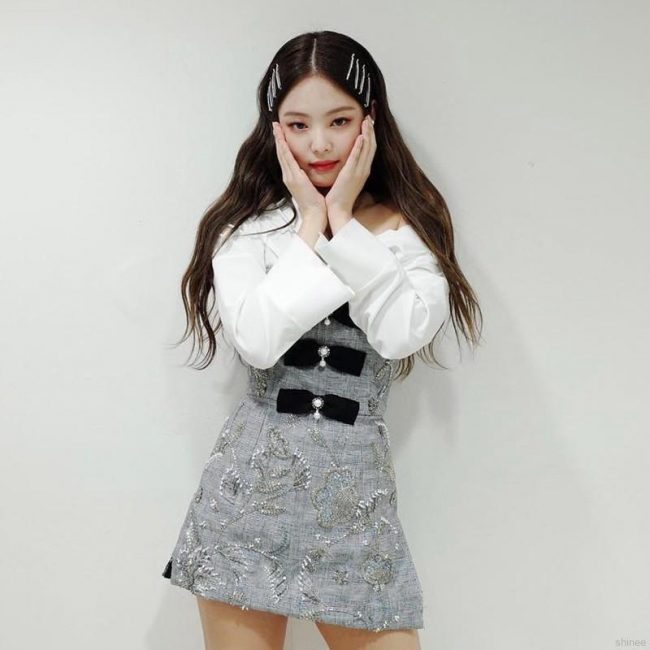 When Jennie says bobby pins are the next biggest K-pop hairstyle trend, we dare not object. Bobby pins made a comeback after Jennie's performance at Inkigayo — we are not talking about just one or two bobby pins but a whole stack of them! Read on to find out how you can incorporate these ordinary hair accessories into a K-pop worthy hairstyle!
How To:
Step 1 – Begin by parting your hair in the middle. Follow up with a hairdryer to keep the parting in place. 
Step 2 – Then, section your hair into two layers and pin the top layer up. 
Step 3 – Use a big barrel hair curler such as the Philips StyleCare Sublime Ends 28mm Curler (available on Philips Official Store SG) to curl the bottom layer. Starting from the roots, curl your hair inwards before sliding the curler down to curl outwards. Alternate this technique throughout the length of your hair to create soft and loose waves. Repeat this on the top layer. 
Step 4 – Holding a round ceramic brush (available on diyii.sg), tease your hair from the roots and focus your blow dry there to create more volume. 
Step 5 – Onto the fun part, grab a bunch of Strip Rhinestone Bobby Pins (available on Shinee Bags) and pin them on your hair. You should have four bobby pins on each side. Make sure they're evenly spaced out and should not extend beyond your temples. 
Step 6 – As a finishing touch, use a regular bobby pin that matches your hair colour to secure your hair behind your ears on each side. 
7. GOT7 Jackson's messy two-block cut K-pop hairstyle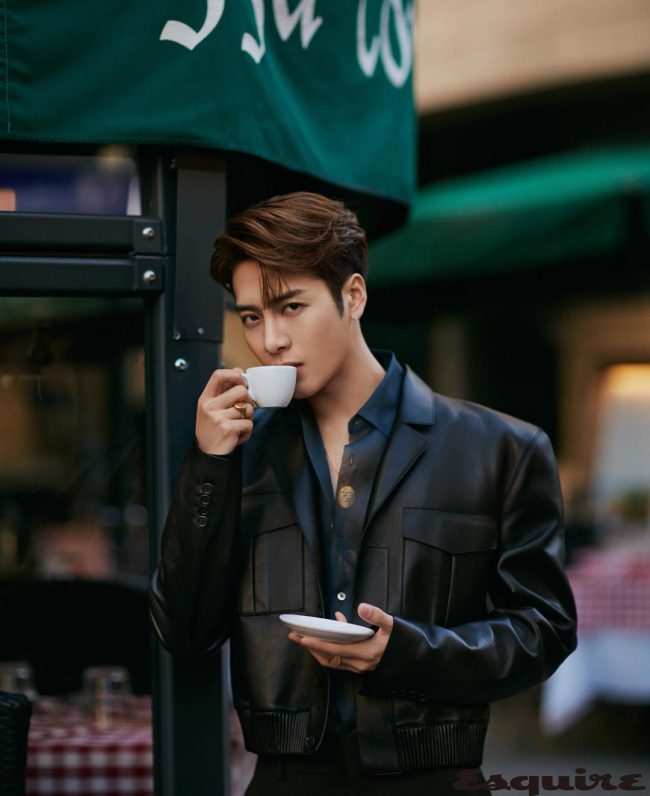 Jackson is undoubtedly one of the most popular K-pop idols in the scene right now. Over the years, Jackson has been experimenting with several hairstyles and has stuck with his signature two-block cut hairstyle for the longest period and much to our approval. If you share similar masculine features to Jackson, the two-block cut K-pop hairstyle may look good on you too!
How to:
Step 1 –  Section your damp hair into two layers and pin the top layer up. 
Step 2 – Use a 9mm hair clipper, such as the KEMEI Rechargeable Electric Hair Clipper (available on suiyue.sg) to trim the bottom layer. Follow with a 6mm hair clipper to trim the hair above your sideburns, extending to about 5cm above your ears. 
Step 3 – Switch to a 3mm hair clipper and trim your sideburns. Remove the trimming attachment and shorten the ends of your sideburns. 
Repeat steps 1 to 3 on the hair at the back of your head to create a gradual sloping effect. 
Step 4 – Trim your pinned up hair to about 11cm. Untie the hair and apply the TONI&GUY Sea Salt Texturising Hair Spray (available on Unilever Official Store), focusing on your roots.
Step 5 – Part your hair in a 3:7 ratio and blow dry your hair. The hair on the top of your head should be blown dry outwards. Then, blow dry your fringe upwards. The hair on the sides should be blown dry backwards while the hair at the back of your head should be blown dry downwards. 
Step 6 – Clip the side of your parting with more hair. 
Step 7 – For the side with lesser hair, wrap the top layer around a small round comb and blow dry with high heat to create a C-curl. Repeat this with the rest of the hair on this side. 
Step 8 – Moving on to the other side, unclip the hair and section it into three parts. Repeat step 7. Use Ubersuave Original Hair Wax (available on SGPomades Mens Grooming) to style your hair backwards, keeping the 3:7 parting.
Step 9 – Pull down some hair near your brows to achieve Jackson's messy two-block cut K-pop hairstyle!
Own your version of K-pop hairstyle today!
If you're not confident of cutting your own hair, leave it to the professionals at these famous Korean hair salons in town! Guys – can't find a hairstyle to your liking? Maybe these men's hair salons in Singapore will be able to help you out! Once done with your hair transformation, take your K-pop ensemble one step further with these popular Korean bags!