If you're thinking of a makeover, look towards the Koreans for style advice! From innovative skincare routines to trendy hairstyles, there's no doubt the Koreans are in the lead when it comes to the beauty department! Bid goodbye to bad haircuts and say hello to the best Korean hair salons in Singapore!
1. LEEKAJA Beauty Salon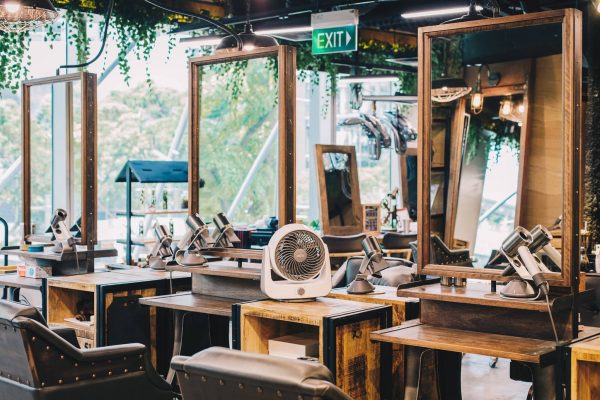 There's one thing big Korean stars like Big Bang, Lee Seung Ki and Song Hye Kyo share in common — they all frequent LEEKAJA Beauty Salon in Korea! In late 2016, this renowned brand arrived on our shores and has been taking the beauty world by storm! Be treated like a world star at LEEKAJA Beauty Salon, where their impeccable service will make you feel right at home! Customers are greeted with light refreshments of their choice, followed by a quick consultation with the Korean salon manager who speaks fluent English!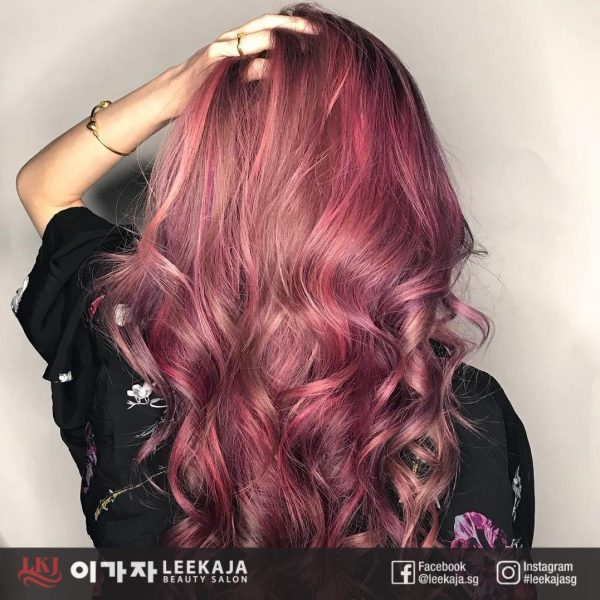 If you're looking to perm or experiment with a new hairstyle, you definitely won't go wrong with Ted, the Senior Korean Director Stylist. Meanwhile, Preston is the one to go to for a fresh coat of hair colour! He's an expert mixologist when it comes to vibrant and long-lasting hair colours. Remember to make your appointment in advance with this popular Korean hair salon in Singapore to avoid disappointment as this is one of the most popular Korean hair salons in Singapore!
Address: Mandarin Gallery, 333A Orchard Road, #03-13, S(238897)
Opening Hours: Daily, 10am – 8am
2. Apgujeong Hair Studio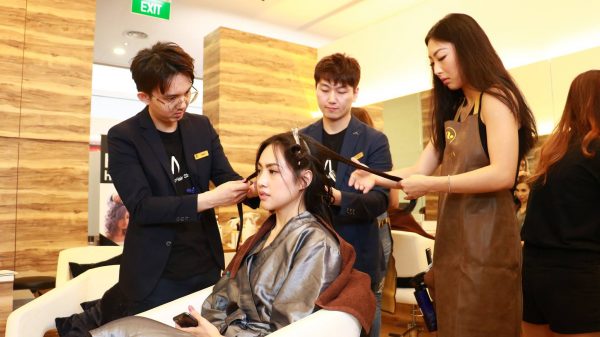 Most Singaporeans are no strangers with Apgujeong Hair Studio, a popular chain of Korean hair salons in Singapore all across our sunny island! The brand has a loyal following thanks to their thoughtful consideration for customers — providing value-added services such as free WiFi and even cup noodles after 6 pm! What's more, Apgujeong Hair Studio keeps its salons clean, classy and inviting so customers feel comfortable throughout their session!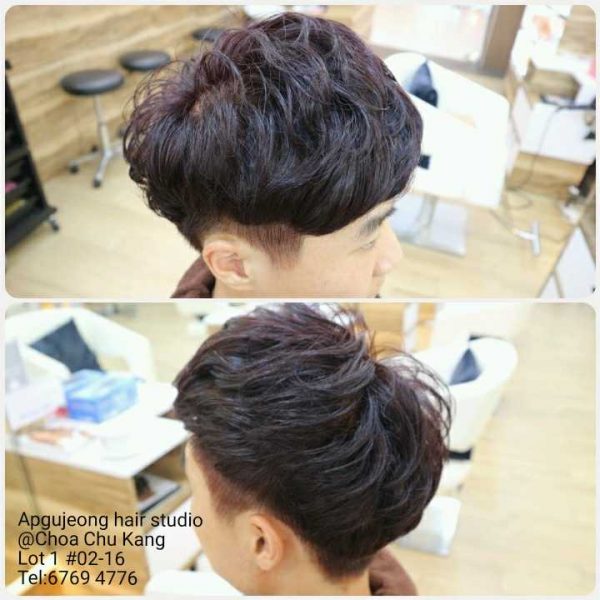 For the latest Korean hairstyles, employ Kyle Shin's expertise! Having more than 10 years of experience, Kyle specialises in all sorts of hair services including perming and colouring. Do note that customers must spend at least $450 to engage his services. Gio, the Assistant Director Stylist at the Punggol Waterway Point outlet is another popular stylist you may want to book for an amazing hair transformation! Do note that staff at Apgujeong Hair Studio may try to upsell hair care products based on your hair condition but it's ultimately up to you to make the purchase decision!
Address: Punggol Waterway Point, 83 Punggol Central, #01-40, S(828761)
Opening Hours: Daily, 10.30am – 9.30pm
Check out other Apgujeong Hair Studio outlets here
3. Zinc Korean Hair Salon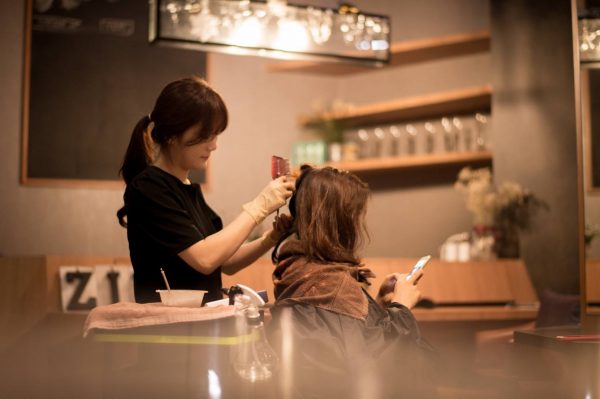 For an authentic Korean experience, head down to Zinc Korean Hair Salon for your next hair makeover! While many Korean hair salons in Singapore employ both Korean and local hairstylists, you'll find that the entire Zinc Korean Hair Salon team is made up of professional Korean stylists! There's no need to worry about language barriers though, as these  Korean hairstylists are fluent English speakers. When you're at Zinc Korean Hair Salon, you've got to try their Korean perms, which are often raved for being long-lasting and less damaging to the hair. Whether you're male or female, give your hair some added volume and dimension at Zinc Korean Hair Salon!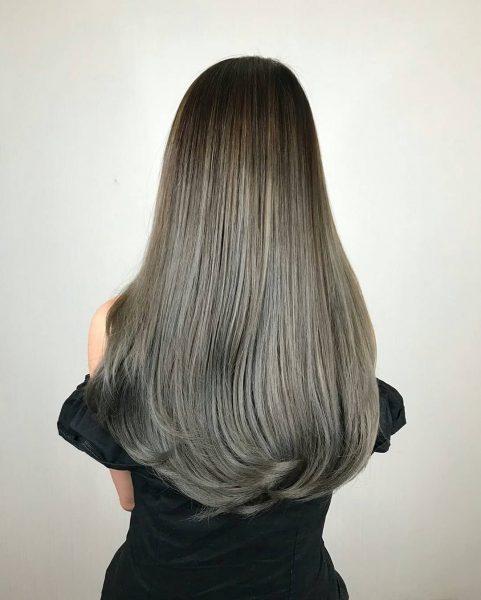 Book Rany, a popular Korean hairstylist based at the Orchard Central outlet, if you're looking for a stylist that would go the extra mile to ensure every customer walk out of the salon looking prettier than before! Those visiting the Orchard Central outlet can employ the expertise of Nicky, who's well known for his superb skills in creating bouncy and feminine Korean perms! Zinc Korean Hair Salon may not be the cheapest salon in town, but they're sure to produce the results you want!
Address: Millenia Walk, 9 Raffles Boulevard, #02-48/49, S(039596)
Opening Hours:
Mon – Fri: 11am – 8pm
Sat – Sun: 10am – 6pm
Check out other Zinc Korean Hair Salon outlets here
4. Walking On Sunshine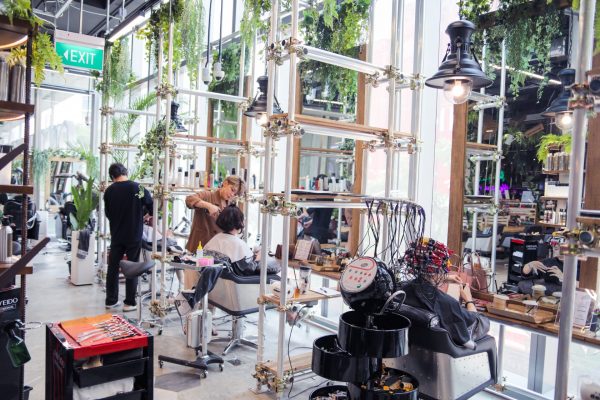 Walking On Sunshine is probably one of the most unconventional Korean hair salons in Singapore. It's founded by the same team behind LEEKAJA Beauty Salon, and is known to produce equally high standard services. Established with the likes of a concept store, Walking On Sunshine is a Korean hair salon, restaurant and photo studio all-in-one! Designed to look like an enchanted garden, the salon is filled with tons of instagrammable spots for your post-transformation selfies!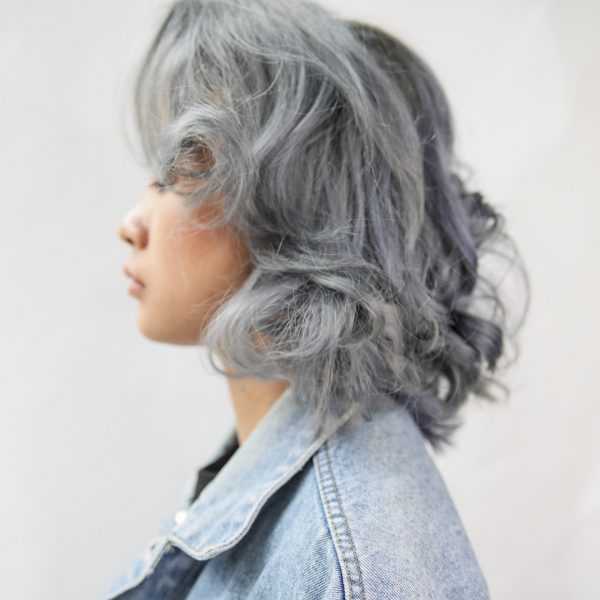 If you frequent LEEKAJA Beauty Salon, you may be surprised to find a few familiar faces at Walking On Sunshine. Both salons share some of their hairstylists, so it'd be good to check their schedules and the outlets they're located in before heading down! For soft and feminine tresses, book Senior Director Hyejin who specialises in volume rebonding and trendy Korean haircuts! Meanwhile, Walking On Sunshine also has a barber for guys who prefer a clean gentleman cut.
Go to barber Jessie, who can help you achieve the popular Korean two-block cut! Thereafter, dine at Walking On Sunshine and treat yourself to their healthy selection of Korean food menu!
Address: Orchard Central, 181 Orchard Road, #03-07, S(238896)
Opening Hours: Daily, 10am – 10pm
5. The Space Hair Salon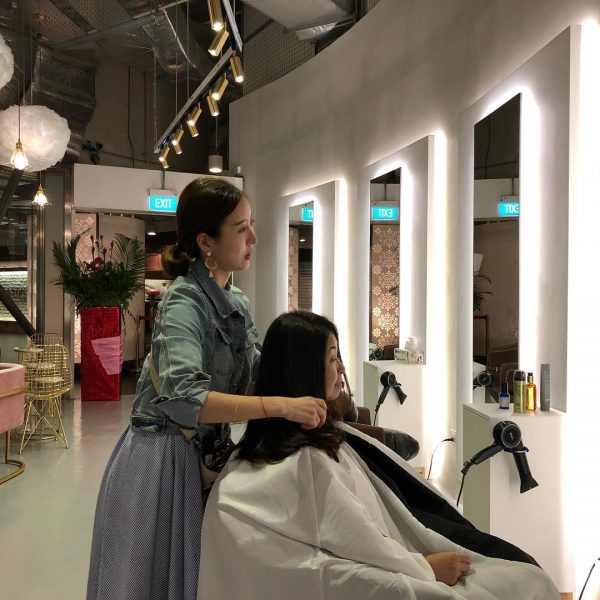 The Space Hair Salon is the place to go to for a no-frills, comfortable hairstyling experience. Located near Dhoby Ghaut MRT, The Space Hair Salon is a cosy place with a high ceiling that gives the salon its soothing and uplifting ambience. The team is intentionally kept small at The Space Hair Salon, with only two hairstylists for a more intimate and personalised experience. This is one of the best Korean hair salons in Singapore with a loyal following, as many customers enjoy the dedication and meticulous services provided by the team.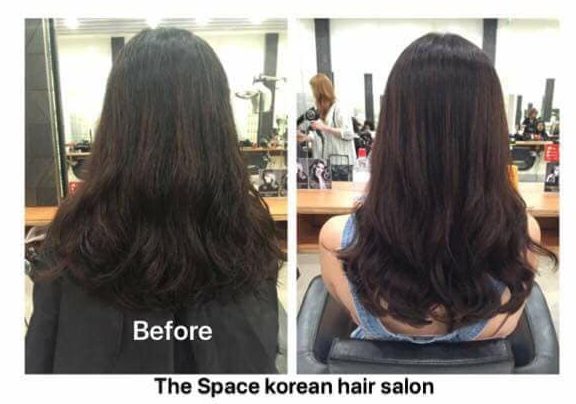 The main stylist, Lee Han, is highly sought after for his expertise in customising perms perfect for your hair condition. Whether you have fine or coarse hair, Lee Han is able to create natural and long-lasting curls that'll enhance your features! His secret? He prefers mixing different types of Korean perm lotions on various parts of the hair to create different volumes and dimensions!
Another equally professional hairstylist at The Space Hair Salon is Jenny, who specialises in creating bouncier and more defined curls that create a youthful appearance. The stylists are also more than willing to provide suggestions based on your budget, making this one of the best places to go for a hair transformation!
Address: The Cathay, 2 Handy Road, #04-06, S(229233)
Opening Hours: Daily, 10.30am – 9pm
6. Style NA Hair Salon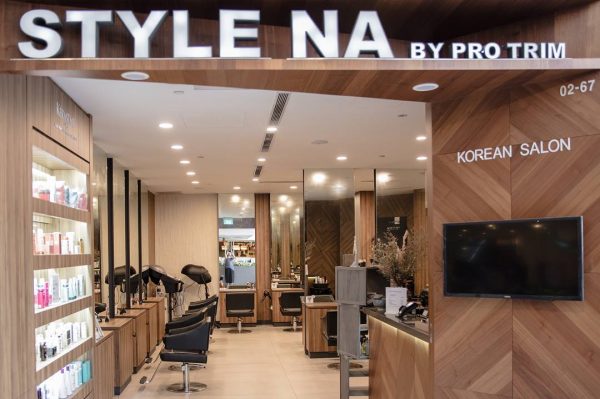 It's one thing to be a Korean hair salon and another to have actual Korean customers patronising the outlet. Style NA Hair Salon is one Korean hair salons in Singapore that's not only popular among the locals, but Korean customers alike. The salon prides itself in its ability to deliver the best hair transformation to help customers better express their personality. The interiors are designed to look professional and classy, with comfortable seats and good lighting for the best view of your new hairdo!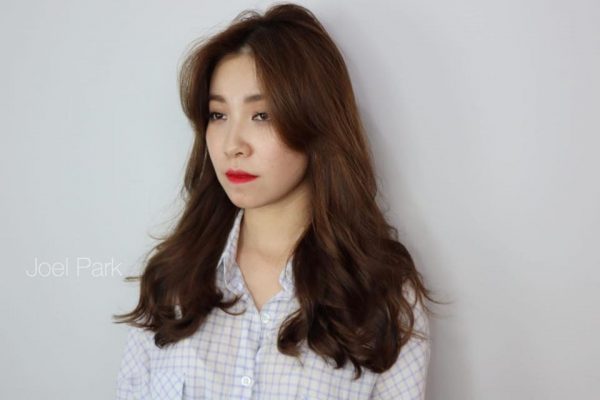 Bella is one of the most popular stylists in the salon and owned a salon previously in Korea! She excels in glamourous setting perms and volume magic rebonding to revive limp flat hair! Other stylists to look out for include Joel Park, who is highly raved for his superior perming skills! Joel customises the services according to the condition and texture of your hair so as to minimise unnecessary hair damage. Experience the magic of Style NA Hair Salon and never look back!
Address: Parkway Parade, 80 Marine Parade Road, #02-67, S(449269)
Opening Hours: Daily, 10.30am – 9.30pm
Check out other Style NA Hair Salon outlets here
7. DuSol Beauty Singapore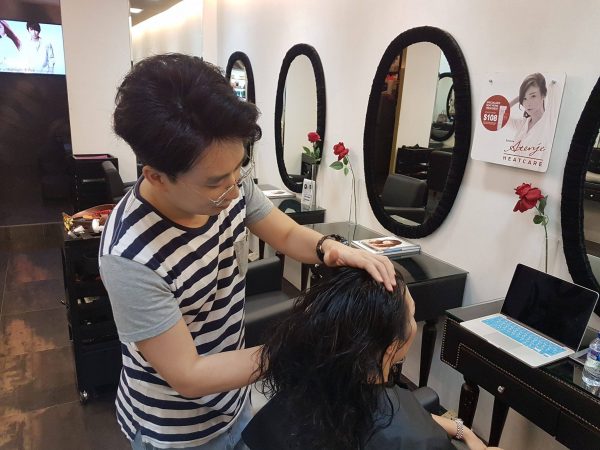 Established since 2006, DuSol Beauty Singapore is one of the first Korean hair salons in Singapore. The salon has gone through multiple rebranding but still successfully retained its fame in the local beauty scene! Sharing connections with Sidus HQ, a renowned Korean celebrity agency that houses famous Korean stars such as Jay Park and Kim Yoo Jung, it's no wonder DuSol Beauty Singapore is always in the lead for the latest Korean hairstyles. Most importantly, DuSol Beauty Singapore produces their own perm lotion and hair treatment to ensure maximum effectiveness and highest quality control.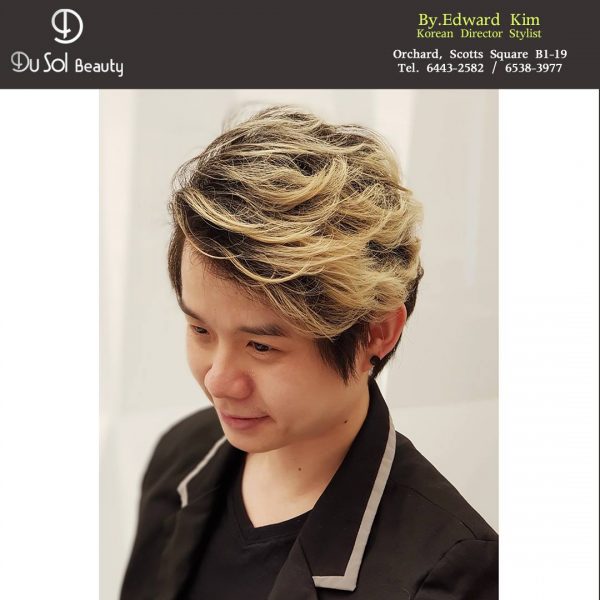 Engage the services of Mikhaila, the Korean Director Stylist, for soft and feminine perms. Guys with flat and stiff hair can also go to her for Korean perms to create volume and more dimensions to frame the face! If you're craving for a pop of colour, Edward is the hairstylist you're looking for! From lime green to ombres, he's able to achieve your dream hair colour and even adapt it to suit your complexion!
Do note that DuSol Beauty Singapore has ceased operations in their Orchard outlet and will be providing their excellent services at Novena Square 2.
Address: Novena Square 2, 10 Sinaran Drive, #03-73/76, S(307506)
Opening Hours: Daily, 10am – 9pm
Achieving the perfect hair transformation is an easy feat with these awesome Korean hair salons in Singapore. The best way for your hairstylist to meet your demands is through communication. Always let your stylist know your concerns such as your budget and other hair issues to ensure you get the best results possible! Meanwhile, learn more about the different types of Korean bangs and how to achieve the look! Gentlemen, keep up with the latest hair trends by using our recommended list of men's hair products!