Is your due date slowly creeping up? Excited to meet your little bub? To make labour and your post-labour hospital stay a little more comfortable we've created a checklist on what to pack in your hospital bag for delivery. Make sure you pack away these items (and anything else you need) at least two weeks before due date. Trust us, the last thing you'd want is to be without that cute bunny outfit you swore you'd bring your kid home in!
What to pack in your hospital bag for delivery — for the mummy
1. Dressing Gown
Snuggle up in a comfy dressing gown or your favourite PJs! Mothers consider packing comfortable sleepwear in your hospital bag for delivery. These should come with a front that's easy enough to undo for when you need to breastfeed the little one. We especially love this comfy, sea green bathrobe dressing gown (available on motorkits.sg) and this pair of white silk pyjamas (available on amigai sleepwear pajamas home clothes) — who said you can't have a little bit of sexy while in labour?
2. Anti-Slip Socks
Many mothers may not think of socks when wondering what to pack in the hospital bag for delivery but they're essential! You'll have cold feet while in labour — we mean it both literally and figuratively. So, pack away a pair of long toasty socks in your hospital bag. Get these anti-slip strong grip socks (available on ciaoXshop) that'll make it safe for you to walk around your labour room in. These are also perfect for doing some prenatal yoga or exercise you may already have started on!
3. Maternity Bras
Maternity bras or nursing bras are an essential item to pack in any hospital bag for delivery. Look out for stretchy maternity bras that provide good support and have clips for easy feeding. This seamless nursing bra (available on SGFastBuy) ticks all the boxes! You can also easily remove the padding and insert slim nursing pads (available on The Dinky Shop) to prevent embarrassing leakage situations.

While you're at it, don't forget to pack some breathable, comfortable maternity underwear to give air to healing wounds. We like these cotton high waist maternity panties (available on IU Baby Shop). They provide support and comfort during the painful (and messy) after-labour period!

4. Entertainment Essentials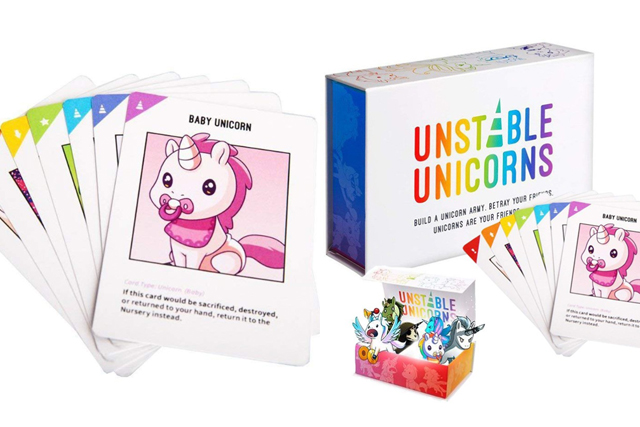 Wondering what to pack in your hospital bag for some entertainment value and sceptical of why you might even need them? That's because labour may take a long, long time. So make the most of your time while waiting! Keep yourself and your hubby occupied with adult card games like Unstable Unicorns (available on Receesoon Fashion). If you're not much of a card game person, then settle in with a copy of your favourite book or even an audiobook. You could also bring your laptop and catch up on the latest  Netflix shows together!
5. Snacks
A woman in labour is usually also a hangry woman! If there are certain foods that'll keep you in a good mood (or from scratching your husband's face) then pack them along! We hear carbohydrates are the way to go — they provide a slow release of energy compared to sugary food. If you're absolutely clueless as to what to pack in your hospital bag in terms of food, then stock up on this yummy Amazing Grace Granola Variety Box (available on Amazin' Grace)! With flavours like Salted Gula Melaka Granola and Matcha Green Tea Granola, labour's gearing up to be a rather yummy time!
6. Maternity Wear
You'd want to be dressed well when leaving the hospital — after all, you've just brought a new life into the world and you should be proud of yourself. Your hospital bag for delivery should include maternity wear that's comfortable, lightweight and made of breathable material.

We love this convenient breast feeding blouse (available on sunshineage.sg) that's perfect for nursing mothers. Simply lift the flappy material up to feed your little one. Match it with a comfortable pair of maternity bottoms and voila, you're ready! If you prefer wearing a dress when leaving the hospital, then this ruffle maternity dress (available on oeteosingapore) will do just fine! It also has a little flap for easy nursing.
7. Wash Bag
Now this may probably seem obvious but many may overlook packing essential personal care items in their hospital delivery bags.
Pull out your travel pouch and tick these items off as you pack them in: nipple balm, dry shampoo (we like Batiste dry shampoo), facial cleanser, moisturiser, lip balm, toothbrush for yourself and hubby and hair ties and scrunchies.
Wondering what makeup to pack in your hospital bag? We recommend going with a lightweight pressed powder, brow kit and mascara to open up the eyes and make you look as fresh as your newborn! After all, this is a once-in-a-lifetime moment and all mothers deserve that extra bit of TLC after a strenuous labour session.
What to pack in your hospital bag for delivery — for the baby
8. Baby Clothes
Now this has to be the highlight of our 'what to pack in your hospital bag' guide. Even though the hospital might provide your newborn with a few changes of baby outfits, there's just something about dressing your newborn in your hand-picked baby rompers!
We especially love this sky glaze ohayo romper (available on oeteosingapore) and this set of adorable 5pc baby rompers(available on duodi.sg). If you prefer to get a set of clothes that include mittens and hats, then check out this collection of baby sets & bundles — cute matching sets to dress your little one in when bringing them home for the first time!
9. Receiving Blanket
Receiving blankets are not just used for swaddling the baby but they can be used to wipe their mouths and can even make for good nursing covers. We say pack about two to four receiving blankets in your hospital delivery bags — they'll come in more handy than you think. Pick between these cotton receiving blankets (available on kids dress) or this cute baby blanket sleepsack (available on Baby Garden Shop).
10. Diapers
These are probably one of the most essential items to pack in your hospital delivery bag. Though most hospitals will provide you with disposable diapers, you may choose to bring your own pack if you prefer to. From Drypers to Pampers, Merries, Mamupoko and Huggies, the choices are endless. Whichever you decide on, be sure to pack enough in your hospital bags as your little monsters will go through at least 10-15 diapers each day!
11. Baby Wipes
Pack away some baby wipes in your hospital bag to clean your little bub up. These Pigeon baby moisturising wipes (available on Baby Kingdom Official Store) will suffice but if you're looking for something more natural, then these Nature Love ere Fine Eco-Friendly Wipes (available on The Dinky Shop) have no added preservatives and contain lavender and jasmine extracts to give your baby the gentlest (and nicest smelling) wipe downs.


With that, you're all set and know exactly what to pack in your hospital bag. Don't forget an infant car seat though — it's something that won't fit in your hospital delivery bag but is just as essential for the safety of your little one. If you're still looking for decor ideas for the nursery, fret not, our beautiful baby room designs will surely leave you inspired. Not pregnant but wondering what to gift a newborn? Our list of baby shower gift ideas will sort you right out!
---
New to Shopee? Get $7 off (min. spend $15) with code*: BABYDELIVERY
* TNC Applies. Valid for new users from 23 Apr to 5 May only.