As one of the most popular exercises in Singapore, yoga is widely practised to improve strength, flexibility, balance and to gain inner peace. However, the extensive range of yoga styles may seem daunting for any new yogi. Fret not, we've got you covered! From Ashtanga to Prenatal Yoga, read on to discover the different types of yoga and the best yoga studios in Singapore to practise them at!
1. Hatha yoga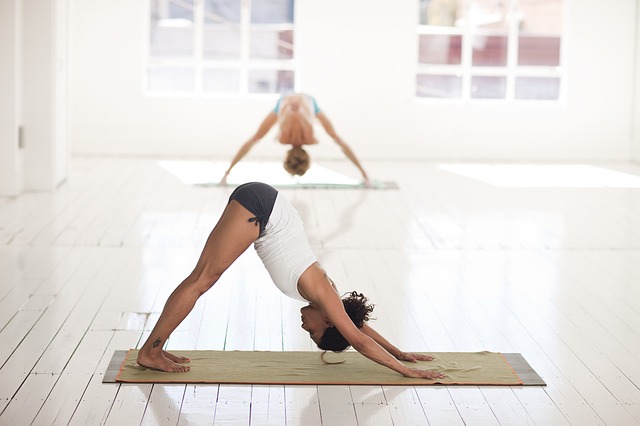 For those completely new to the world of yoga, Hatha yoga is the best style to begin your practice with. Hatha yoga is an umbrella term used to refer to yoga styles that involve any physical movement. Most Hatha yoga classes in Singapore will include a series of asanas (yoga postures) and pranayama (breathing exercises).
The main aim of Hatha yoga is to bring awareness to the mind and body through the emphasis on proper yoga breathing techniques. It's a relatively gentle and slow practice where basic yoga poses are held for up to five breaths.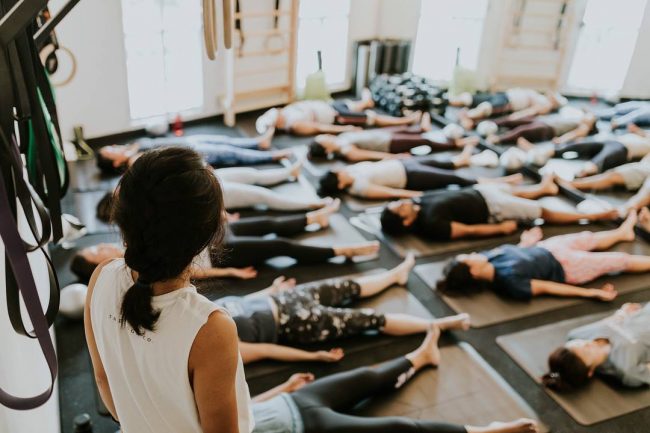 A great yoga studio in Singapore to kickstart your Hatha yoga practice is The Yoga Collective. Founded by Sandra Riley Tang (from The Sam Willows) and two other partners, The Yoga Collective is a conducive yoga studio for both new and experienced yogis alike. Join the inclusive community at this cosy shophouse yoga studio as you master different static poses while building strength and flexibility!
Address: 723A North Bridge Road, Level 2 & 3, S(189195)
Opening Hours:
Mon – Fri: 7am – 9.15pm
Sat: 11am – 4.30pm
Sun: 9am – 4pm
2. Iyengar yoga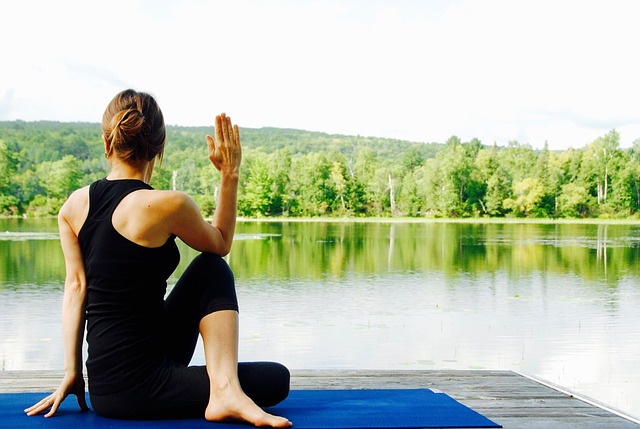 When it comes to Iyengar yoga, there are no cutting corners. This yoga style places a strong emphasis on proper body alignment in each and every pose. Employ the help of various yoga props including blocks, blankets, bolsters and straps to help you get into position! Even though most Iyengar yoga classes in Singapore are held at a relatively slower-pace, it's a good form of strength training, forcing you to build endurance to stay in each pose.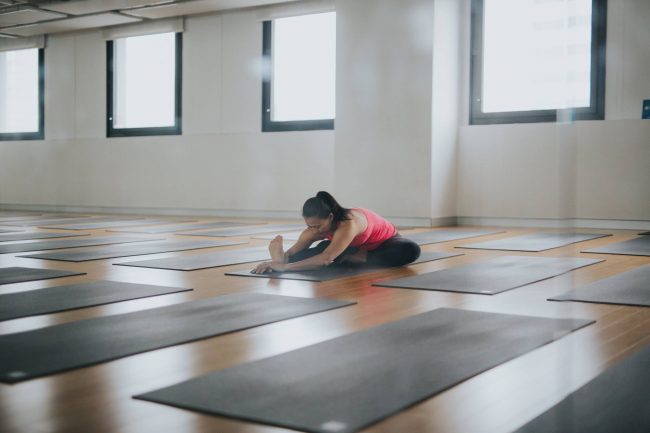 For the best Iyengar yoga experience, join other like-minded yogis at Pure Yoga — one of the poshest yoga studios in Singapore! Revitalise your soul with some chanting and meditation and put your balance to the test with advanced inversion poses! Done with your workout? Unwind in the sophisticatedly designed shower rooms and check out Pure Yoga's in-house retail store for the latest activewear and workout gears!
Location: Suntec City Mall North Atrium, 3 Temasek Boulevard, #01-501, S(038983)
Opening Hours:
Mon – Thurs: 6.15am – 10.30pm
Fri: 6.15am – 9.30pm
Sat – Sun: 8am – 7.30pm
Check out other Pure Yoga outlets here
3. Ashtanga yoga
Think yoga is slow and unexciting? Think again! With Ashtanga yoga classes in Singapore, things can get pretty fast paced as you transition through a sequence of challenging poses for up to 90 minutes! You're bound to break a sweat during this dynamic cardio workout! Beginners, don't be intimidated! Practice makes perfect and you'll be proud of your tremendous improvement at the end of every session — if you're consistent. Also, Ashtanga yoga is a great way to burn fat and tone up!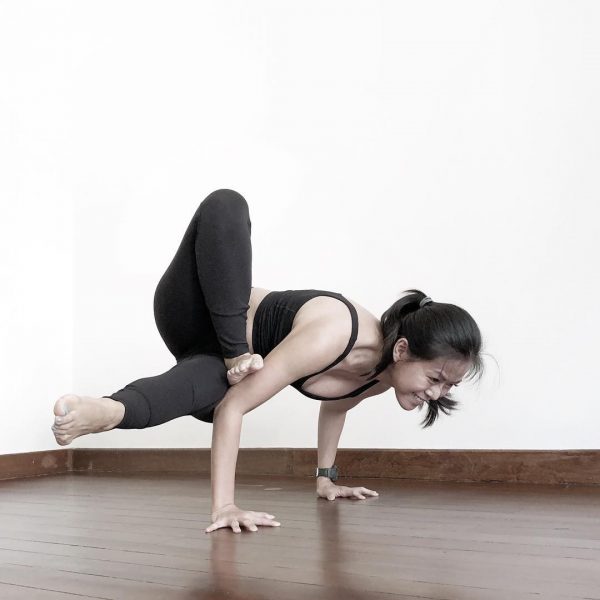 Ashtanga yoga, also known as Power yoga, can be a feat to learn by yourself. Instead, learn from the best at one of the most popular yoga studios in Singapore — Yoga Lab! At Yoga Lab, classes are designed based on a weekly theme to target different parts of the body. Push yourself to the limits and experiment with different poses to improve your strength and stamina! Don't forget to check for upcoming workshops at Yoga Lab too!
Location: 10 North Canal Road, Level 2, S(048823)
Opening Hours:
Mon – Thurs: 7.45am – 1.30pm, 3pm – 9pm
Fri: 7.45am – 1.30pm, 3pm – 8.30pm
Sat: 8.30am – 1.30pm, 3pm – 6.30pm
Sun: 8.30am – 1.30pm, 2pm – 6.30pm
Check out other Yoga Lab outlets here
4. Vinyasa yoga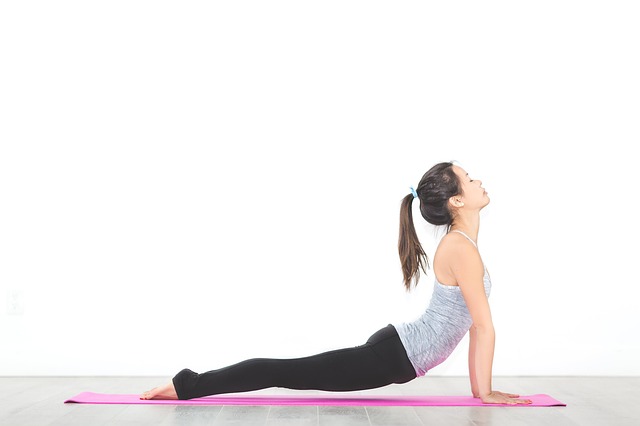 Another dynamic yoga style is Vinyasa yoga, which involves a series of physically demanding poses with few pauses in between. In other words, Vinyasa yoga classes in Singapore are perfect for those craving an intense cardio and toning workout! While Ashtanga yoga follows a specific sequence of poses, Vinyasa yoga allows for more freedom without a set structure. This means that finding a good and creative Vinyasa yoga teacher is very important.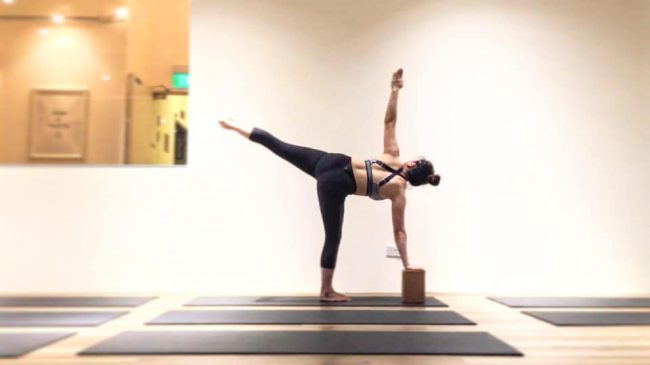 You're definitely in good hands at Hale Yoga, one of the most conducive yoga studios in Singapore. Located in the heart of the city, Hale Yoga not only boasts easy accessibility but is also led by a team of dedicated yoga professionals who never fail to make each class an exciting and satisfying one.

Designed to suit yogis of all levels, the Vinyasa Flow class at Hale Yoga revolves around basic poses with the option to spice things up with various alterations. Elevate your yoga experience with Aerial Vinyasa at Hale Yoga, which involves a series of exhilarating inversions and mid-air suspensions to help increase the intensity of your workout!
Location: Robinson Square, 144 Robinson Road, #19-02, S(068908)
Opening Hours:
Mon – Fri: 7am – 8.30pm
Sat: 8am – 4.30pm
Sun: 9am – 12.30pm
5. Hot yoga
Despite Singapore's sunny weather, you'll be surprised to find hot yoga classes gaining immense popularity among our local yoga community. Hot yoga is the practice of yoga in a heated room of 30 to 40 degrees Celsius. Also known as Bikram yoga, hot yoga may not be for everyone. Some may experience giddiness due to the intensity of the workout under such high temperatures.

Nonetheless, many are willing to brave through a sweaty session of hot yoga as it offers several health benefits. It's known to improve metabolism and blood circulation, excrete body toxins, burn fats, relieve swelling and constipation, release muscle tension and even has anti-ageing effects!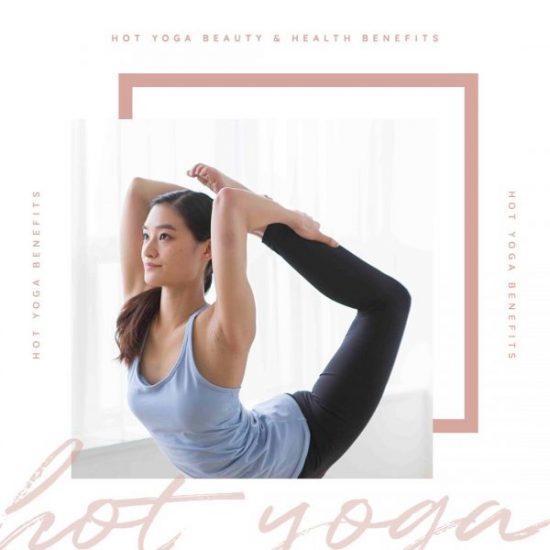 Ladies, not keen on sweating it out in front of the opposite sex? Fret not, you can practise hot yoga with ease at LAVA Yoga Singapore! As one of the best ladies-only hot yoga studios in Singapore, LAVA boasts a spacious heated studio that's clean and well-maintained for a conducive and comfortable workout. There's also an extensive range of yoga classes to choose from such as Nature Yoga and Lava Burn!
Location: 112 Katong Mall, 112 East Coast Road, #02-19/20, S(428802)
Opening Hours:
Mon – Fri: 8am – 10pm
Sat – Sun: 9am – 6pm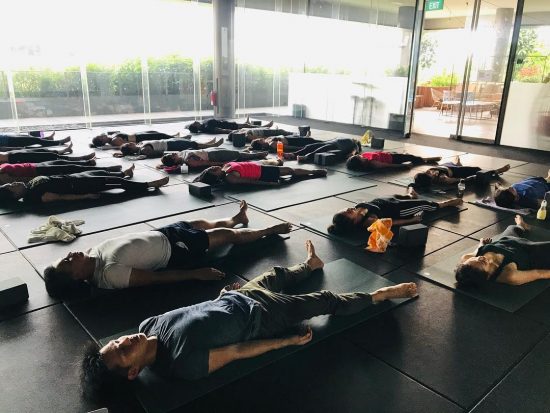 Another great studio to practise hot yoga at is Sweatbox Yoga. This unisex studio features four types of hot yoga classes in Singapore, including Hot Flow and Hot Hatha 1. They also cater to non-hot yoga fans with yoga classes such as Stretch Yoga and Yoga Core! Have fun in the heat, but don't forget to bring along a water bottle and towel to wipe off your sweat!
Location: The Grandstand, 200 Turf Club Road, #05-03/04, S(287994)
Opening Hours:
Mon: 7am – 12pm, 6pm – 9.30pm
Tue – Thurs: 9am – 12pm, 6pm – 9.30pm
Fri: 9am – 12pm
Sat – Sun: 8am – 1.30pm
Check out other Sweatbox Yoga outlets here
6. Yin yoga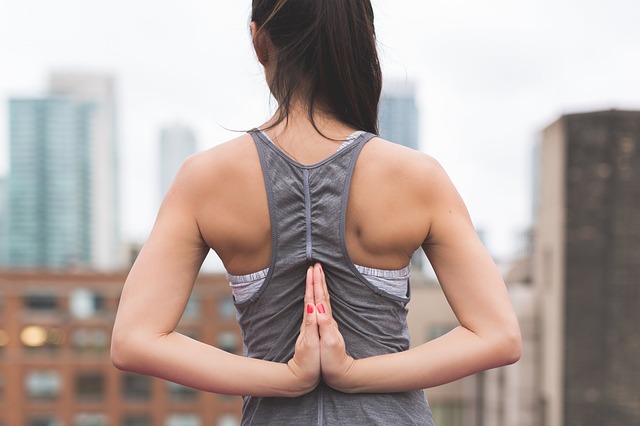 Looking for something of a slower pace? Yin yoga is just for you! This yoga style requires you to hold in each pose for up to 20 minutes so as to stretch out connective tissues and increase elasticity.

When you first settle into a pose, it's natural to feel a little discomfort especially if you're not very flexible. However, after holding in position for near a minute or two, you'll be able to sink deeper into the pose — this is the beauty of Yin yoga! Besides strengthening tissues, Yin yoga classes in Singapore also helps to lengthen the muscles, increase range of motion, improve blood circulation and Qi (life force energy) in your body.
As the only studio specialising in Yin yoga in Singapore, The Be.Live Practice is undoubtedly one of the best places to go to for a good stretch! Bursting with positive vibes, the studio is spacious and has ample yoga props to help you get into the poses with ease.
Ambience aside, their passionate and experienced teachers make The Be.Live Practice stand out from the rest of the yoga studios in Singapore. Whether you're taking a class under Jensen (co-founder and lead teacher) or Yingkai, you'll be happy to find that the teachers are attentive to your needs and generous with their advice! Enjoy 75 minutes of tranquillity and release at The Be.Live Practice's Yin yoga classes today!
Location: ARC 380, 380 Jalan Besar Road, #06-01, S(209000)
Opening Hours:
Mon:  6.30pm – 9.15pm
Tues & Fri: 7pm – 8.15pm
Wed: 6.30pm – 7.30pm
Sat: 9.30am – 3.15pm
Sun: 12.30pm – 5pm
7. Restorative yoga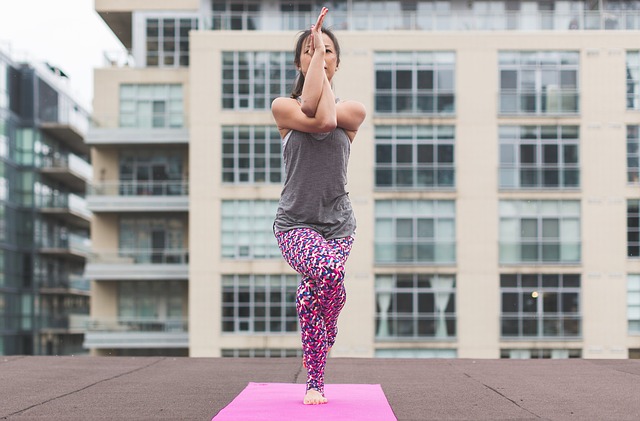 Amidst the hustle and bustle of life, sometimes all we need is a space to unwind and connect with ourselves. Restorative yoga creates this "space" for you as you loosen up through a series of easy and relaxing yoga poses. Otherwise known as Gentle yoga, restorative yoga classes in Singapore tap into your parasympathetic nervous system for a truly deep relaxation. This is the perfect mild workout for those who experience insomnia, anxiety, muscle tension and stress.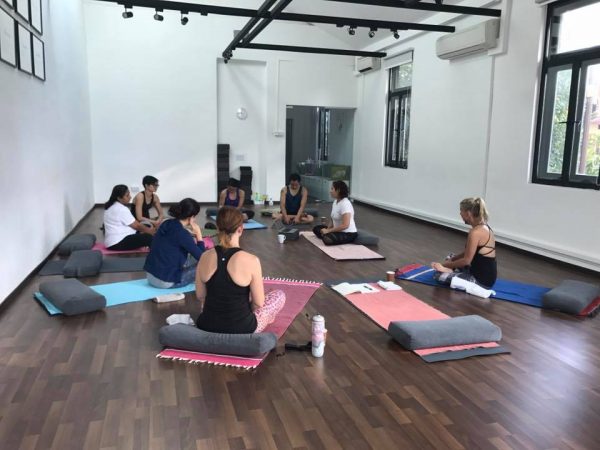 Give your body a mindful break at Art Of Yoga's Gentle yoga class! Specially designed to incorporate Hatha yoga poses, this class aims to help students achieve mental and emotional harmony. This slow practice is suitable for expectant mothers, new yogis and those picking up the exercise again after a long break! The roomy studio is a breath of fresh air, featuring a minimalistic interior and a ceiling window to gaze at as you unknot stiff joints and declutter your mind.
Location: 119/121 Upper East Coast Road, #02-01, S(455245)
Opening Hours:
Mon – Fri: 6.30am – 9.30pm
Sat: 7.30am – 5pm
Sun: 8am – 7pm
Check out other Art Of Yoga outlets here
8. Aromatherapy yoga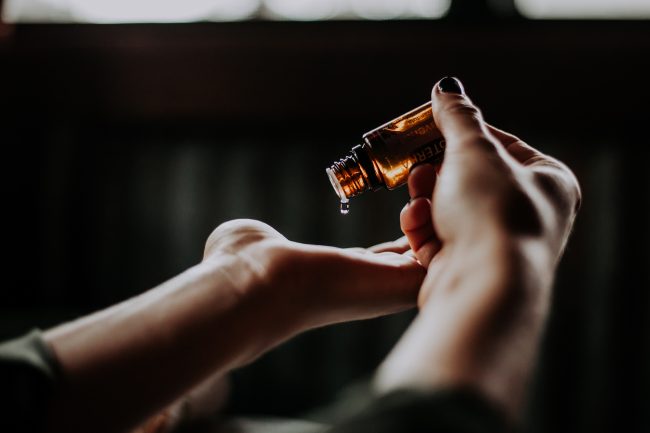 Ignite your senses with aromatherapy yoga classes in Singapore! As its name suggests, this form of yoga utilises the scents of essential oils to enhance your practice. Most classes introduce different types of scents throughout the session, tapping onto the various benefits of the essential oils to help achieve different effects. For example, lavender is relaxing and helps to boost stamina while lemongrass scents can alleviate pain and provide relief for sore muscles.
Needless to say, aromatherapy yoga tends to focus more on pranayama to maximise the effects of the essential oils. Don't belittle the role of essential oils in your yoga practice as this small enhancement can bring forth a big difference in your state of mind and body. A whiff of the scent sends you into deep tranquillity and allows you to direct your focus inwards to achieve a more balanced state of mind.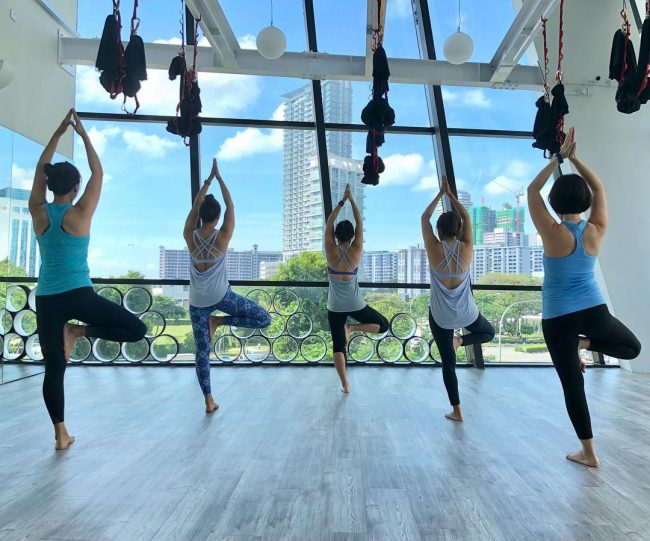 There's no better place for an aromatherapy yoga class than at Trium Fitness! The warm hospitality and vibrant culture at Trium Fitness channels endless positive vibes, making you feel right at home. The aromatherapy yoga class is dimly lit to induce relaxation so you can fully immerse yourself in the experience.
Usually, at the end of each class, students will be told to do Yoga Nidra (yogic sleep) which is a conscious resting state where you achieve deep relaxation and higher awareness of your body. Yoga Nidra is known to be more powerful than regular sleep, with several claiming that a 45 minutes yogic sleep is better than three hours of regular sleep. Walk out of the studio feeling rejuvenated and ready to take on the week again!
Location: Aperia Mall, 12 Kallang Ave, #03-01/12, S(339511)
Opening Hours:
Mon – Tues, Thurs – Fri: 7am – 9pm
Wed: 8am – 9pm
Sat – Sun: 9am – 4pm
9. Prenatal Yoga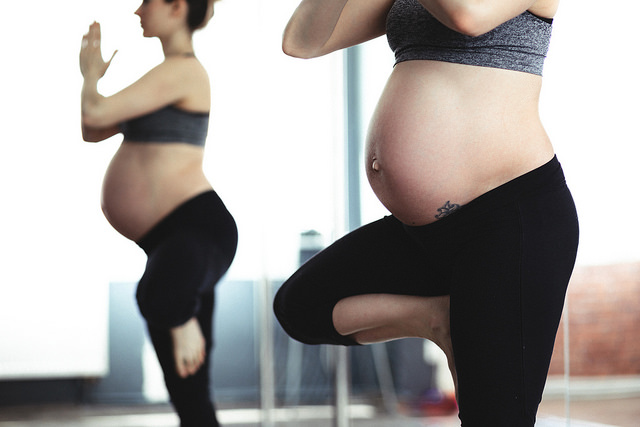 We already know swimming and brisk walking can help pregnant mums stay active and build strength in preparation for delivery. However, did you know that yoga is also a great form of exercise for expectant mothers? We're talking specifically about prenatal yoga, a form of yoga specially tailored for pregnant women in every trimester.
Prenatal yoga classes in Singapore train proper breathing techniques, which come in good use during delivery where women tend to experience shortness of breath. Additionally, the gentle stretches done during prenatal yoga classes in Singapore allow for better blood circulation and reduces the occurrence of swelling feet. By building strength and flexibility, prenatal yoga may contribute towards a smooth delivery!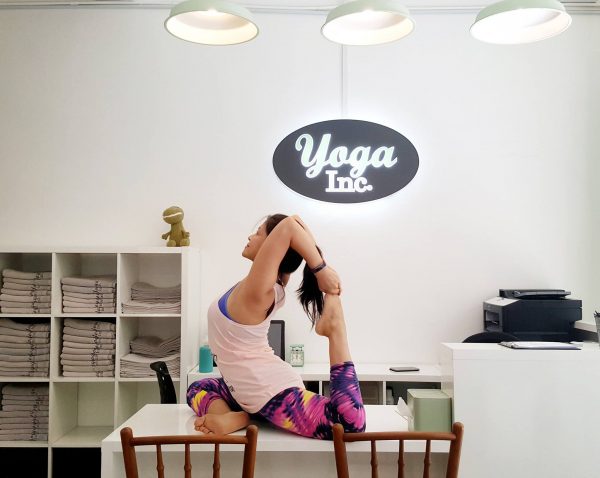 Mummies-to-be, pick up prenatal yoga at Yoga Inc., a boutique yoga studio with four outlets islandwide! Yoga Inc. is a fun yoga studio in Singapore that boast more than 30 passionate yoga teachers and 12 types of yoga classes in Singapore. Yoga Inc.'s prenatal classes place strong emphasis on building a persistent mind and cultivating a relationship between your body and the baby. As each prenatal yoga class is designed as a standalone class, expectant mothers can drop in anytime they want! The best part about attending a prenatal yoga class at Yoga Inc. is the strong communal bonds you forge. Bond with other pregnant mums and share your motherhood experiences with each other over yoga today!
Location: SAFRA Punggol, 9 Sentul Crescent, #01-03, S(828654)
Opening Hours:
Mon, Wed, Thurs: 10.15am – 8.45pm
Tue, Fri: 9.15am – 8.45pm
Sat – Sun: 7.45am – 4.30pm
Check out other Yoga Inc. outlets here
As you can see, yoga is more about connecting the mind and body than merely burning calories. The best type of yoga is one that encourages self-development and self-reflection. Give yourself the chance to try different yoga classes in Singapore and you'll eventually find your place in this beautiful practice. Gain more fitness inspiration from these Singaporean fitness celebrity influencers and condition your body with this 15-minute home workout!