Find yourself with dull looking and dry skin? Want that glow on your face but don't know where to start? Fret not because we're here to help! Read on to learn about the causes of lacklustre skin and be introduced to face exfoliators you can rely on to bring you that covetable skin luminosity!
Uncover the reasons behind dull and dreary skin
Having youthful and smooth skin all the time is sadly, not a given. Facial skin can appear lifeless due to the accumulation of dead skin cells and until they're removed, this dingy layer prevents your skin from reflecting light.
Besides that, dryness is another reason for dull skin. Dehydrated skin decreases the volume of blood flow to the skin, hence leaving us with that pale and sickly look. The lack of water content also manifests itself in the fine lines on your skin (also known as wrinkles). In the long run, you might even experience saggy skin.
Now you know the cause of that dreary skin of yours, you should take comfort in knowing there's a solution to it – exfoliation!
Exfoliation to the rescue!
Simply put, exfoliation is the process of removing the buildup of dead skin cells! The removal of old cells improves cellular turnover rate as well as the body's natural regeneration process. As such, it helps to stimulate collagen and elastin production which plays a vital role in the promotion of youthful and healthier skin!
But that's not where the benefits stop! Exfoliation also helps to get rid of the old cells clogging up your pores, leaving more room for better absorption of toners and moisturizers. Have oily, acne prone and sensitive skin? Fret not, exfoliation is a safe and effective solution for you! Just be sure to get a face exfoliator that suits your skin type!
Must-try face exfoliators
1. Dove Inner Glow Gentle Exfoliating Facial Cleanser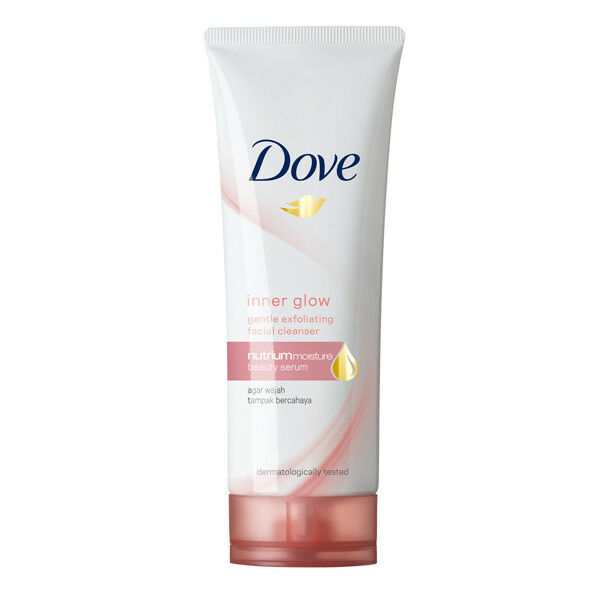 Dove's Exfoliating Facial Cleanser (available on Unilever) is enriched with NutriumMoisture — Dove's unique blend of moisturiser. NutriumMoisture sinks deep into the skin, clearing it of impurities and leaves our skin more refined and even! This exfoliating facial cleanser will reveal the natural luminosity of your bare skin, allowing you to achieve a natural and healthy glow every day!
2. The Face Shop White Seed Exfoliating Foam Cleanser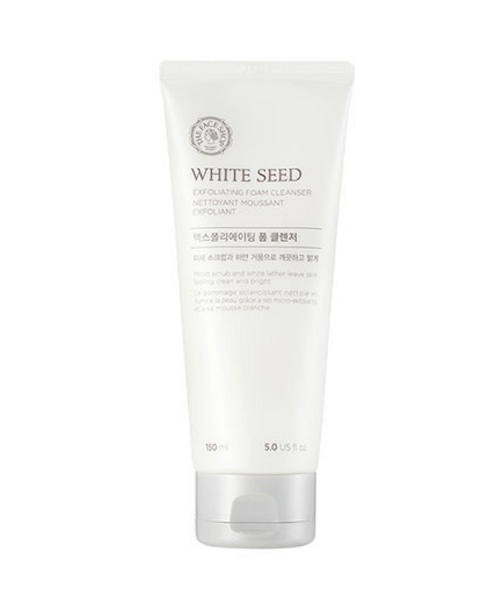 The Face Shop White Seed Exfoliating Foam Cleanser (available on Younfamily) is a soft foam cleanser that contains fine granules which gently removes old dead skin cells. This face exfoliator also includes a brightening complex containing natural brightening agents like white lupine seed and white daisy flower extract to revitalise your skin, leaving it almost luminescent!
3. BIOAQUA Facial Exfoliating Moisturising Cream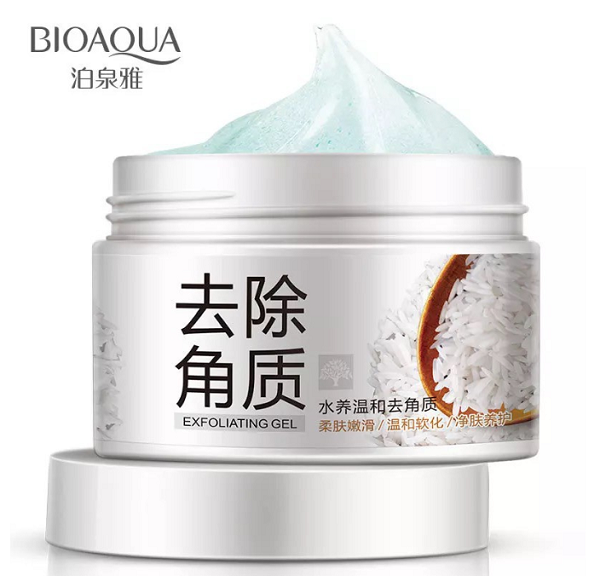 BIOAQUA Facial Exfoliating Moisturising Cream (available on BIOAQUA Shopping Mall.sg) is a great product for pore care and skin elasticity! This product contains rice botanical ingredients which cleanse and nourish your skin! It removes dead skin cells, sebum and dirt in addition to whiteheads and blackheads! Simply massage this into your face in circular motions for a minute or two, before rinsing with water to restore that hydrated and cleansed skin of yours!
4.

 

Laikou Camomile Facial Exfoliator
Laikou Camomile Exfoliating Liquid Face Care (available on apink.sg) is a gentle scrub formulated with organic and natural ingredients. The hero ingredient here is camomile. It's mild in nature and helps to enhance skin elasticity while retaining skin moisture. This gentle scrub also contains glycerol which helps to draw water from the air into the skin's outer layer, forming a protective layer to prevent moisture loss. For supple and soft skin, try this face exfoliator today!
5. Water Ice Levin Starry Sky Mask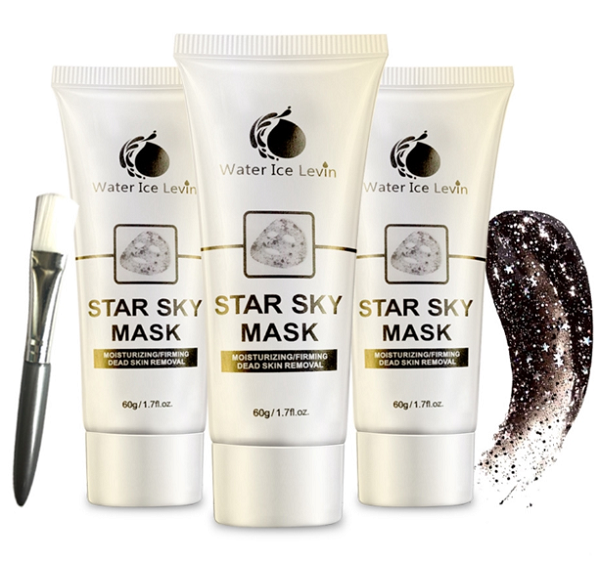 Water Ice Levin Starry Sky Exfoliating Face Mask (available on Beauty World.sg) is a deep pore cleanser, which helps remove impurities like blackheads and blemishes for toned and radiant skin. This face exfoliator is packed with vitamins, minerals and extracts essential to achieving healthier skin! With easy application and removal of the mask (you need only peel it off!) it 'll clean the dirt from deep within the pores, effectively tightening our skin and diminishing wrinkles. 
6. The Body Shop Tea Tree Mask Scrub
Need a gentle facial exfoliator for blemished skin? The Body Shop Tea Tree Mask Scrub (available on beauty_protocol) is a must-try face exfoliator! This 100% vegan product is enriched with ingredients like tea tree oil and glycerin! This scrub gently buffs the skin's surface to remove impurities and dead skin cells and smooths your face by filling in the microscopic cracks. All you need to do is to massage this scrub into your wet skin and rinse it with water! Your pores will be unclogged and your skin will be left clearer and brighter, just the way you want it!
7.

 

Ecophy Facial Exfoliating Cream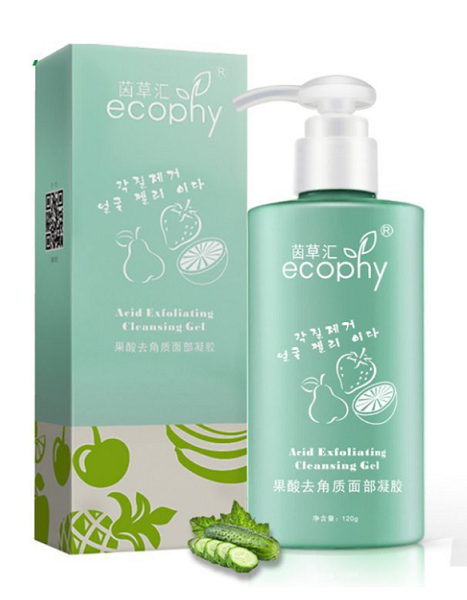 Looking for a fruity face exfoliant? Ecophy facial exfoliating cream (available on luckymeet.sg)  is filled with fruit extracts, promising to leave you with fresh and shiny skin! Tanin acid from apple protects your skin and provides brightening effects while lemon and orange leaf extract will keep your skin firm. Papaya fruit extract removes sebum and smooths your skin while the apple and sugar cane maple extracts moisturise and soothe your skin after exfoliation! 
8. Himalaya Herbals Gentle Exfoliating Daily Face Wash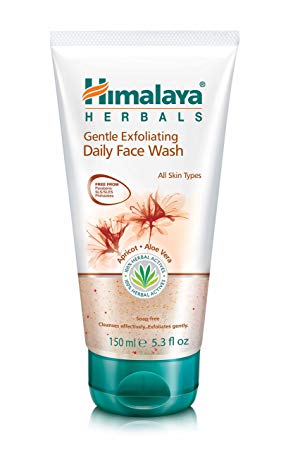 Himalaya Herbals exfoliating face wash (available on Be-Beauty) is a soap-free face wash that effectively exfoliates and cleanses your skin. It contains apricot granules which gently scrub off dead skin cells and helps to stimulate fresh cell growth while preventing the onset of blackheads! The lemon extracts remove excess oil while aloe vera maintains moisture balance, leaving the skin rejuvenated! All you need to do is massage your moist face with this face exfoliator, rinse and pat dry – a simple and fuss-free way of retaining that supple, youthful skin of yours!
9. Nceko Tea Tree Essence Purifying Exfoliating Face Scrub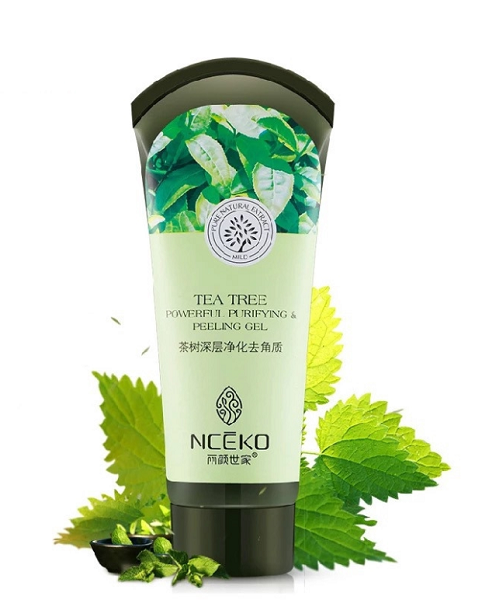 Nceko tea tree essence exfoliating face scrub (available on beautyangel.sg) helps to inhibit oil secretion and rebuild the skin's silky-smooth texture. Through restoring the skin's natural penetration levels, nutrients can be imported into the skin efficiently. With frequent use, it'll help exfoliate dead skin cells and reduce excess sebum to eliminate blackheads! This face scrub promises to leave you with a radiant glow!
Bid adieu to dull skin today!
With this go-to list of recommended face exfoliators, attaining that youthful and glowing skin is no longer a distant dream!
As much as this exfoliation process is important to revitalising your skin and brightening your complexion, you shouldn't forget about other skincare regimes too! Learn more about lip care from our guide to the best lip scrubs and lip masks you need in your life! While you're at it, make sure you check out the best makeup removers for every skin type too!
---
New to Shopee? Get $7 off (min. spend $15) with code*: FACEEXFOLIATOR
* TNC Applies. Valid for new users from 22 May to 25 May only.