Whether you love or hate them, you can't deny the attractiveness of a woman who wears her heels well. If you're one of those women in Singapore who believes there's no such thing as a comfortable pair of heels, then we're here to change your mind! Check out our list of comfortable heels below and get ready to strut out and about! Be it heels for work, a party or just a day of running errands, we've got our ladies in Singapore covered — quite literally on the feet!
1. Stiletto Heels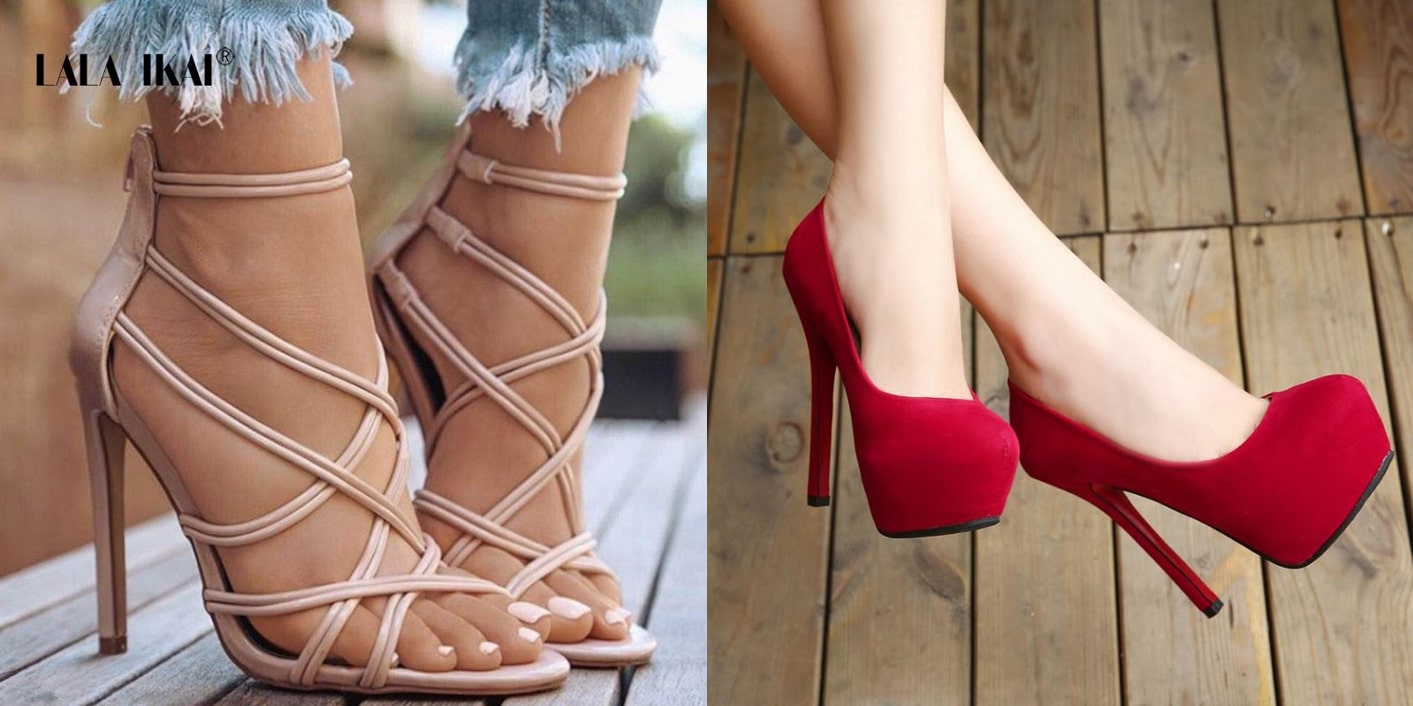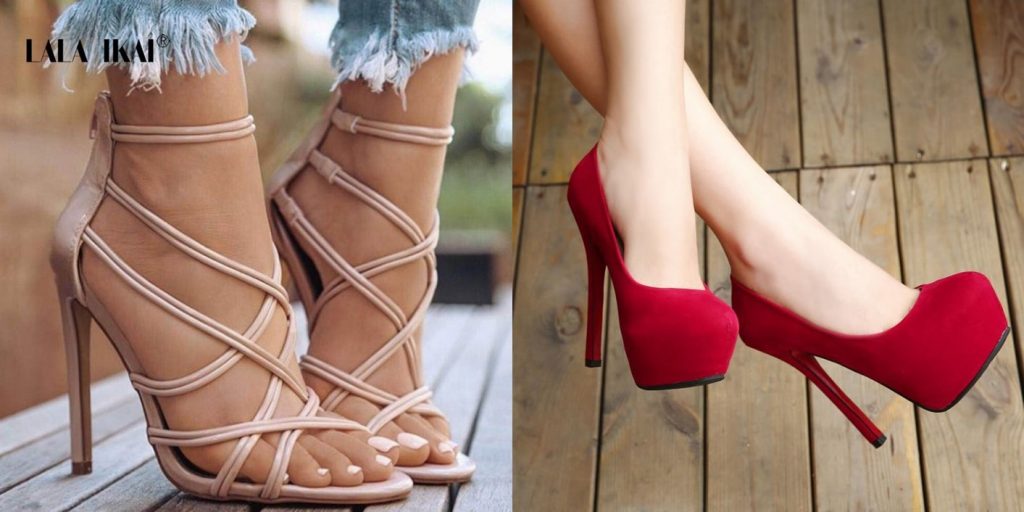 It'll be almost blasphemous not to start this list with the sky-high stilettos. These towering shoes have heels from four inches or higher. We would only advise you to don a pair if you're already an expert navigator in heels.
Nude heels are one of the easiest shades of footwear to style. Pick a pair of these strappy peep-toe stiletto heels (available on LALAIKAI) and pair it with a flowy midi dress or midi skirt you own. If you're looking for a comfortable pair of stilettos heels in Singapore, then pick these platform stilettos (available on briefs)! Available in black and chilli red, platform stilettos are more comfortable than non-platform ones because of the thicker soles at the front of your shoe, reducing the inclination between the balls of your feet and toes!
2. Pump Heels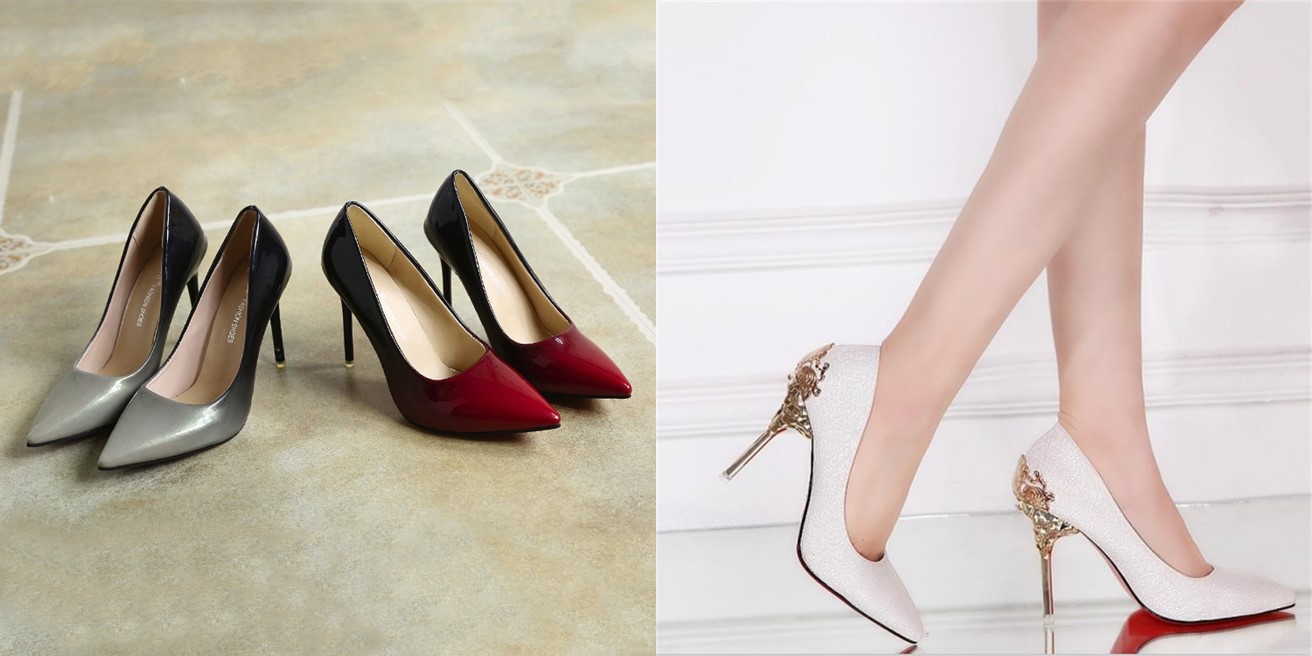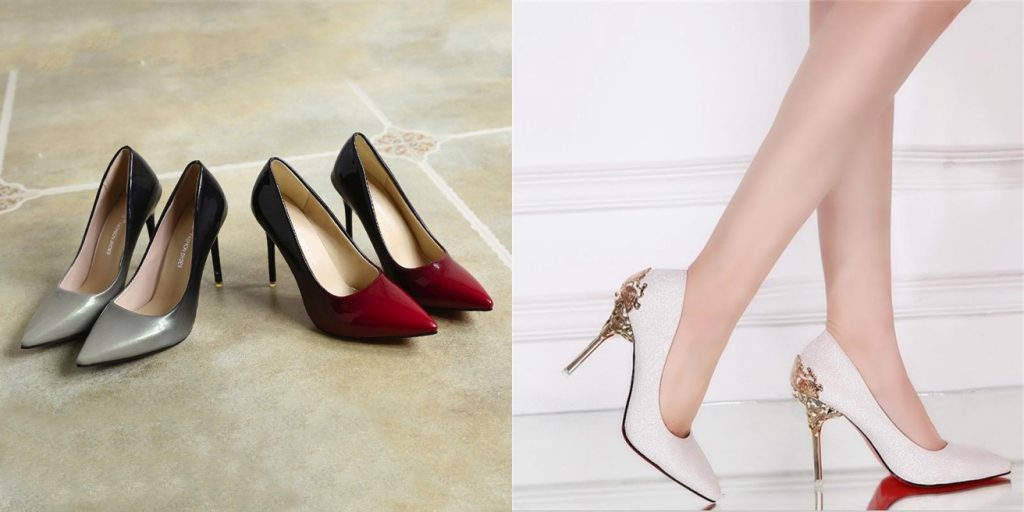 When one talks about high heels, chances are more often than not they're referring to pumps. Heels on pumps can be anywhere between one to three inches, often making them a more comfortable heel choice over their stiletto sisters. These patent leather pumps (available on bloomant/Women's shoes and handbags) are great for the corporate office lady boss. The pointy front only adds to the style and power factor.
Looking for comfortable wedding heels in Singapore that don't cost a bomb? This suede embellished high heels (available on NewBee) are the best accessory to pair with your wedding dress or even bridesmaid dress! Just be careful to avoid grassy fields when donning these — you don't want to sink into the mud!
3. Wedge Heels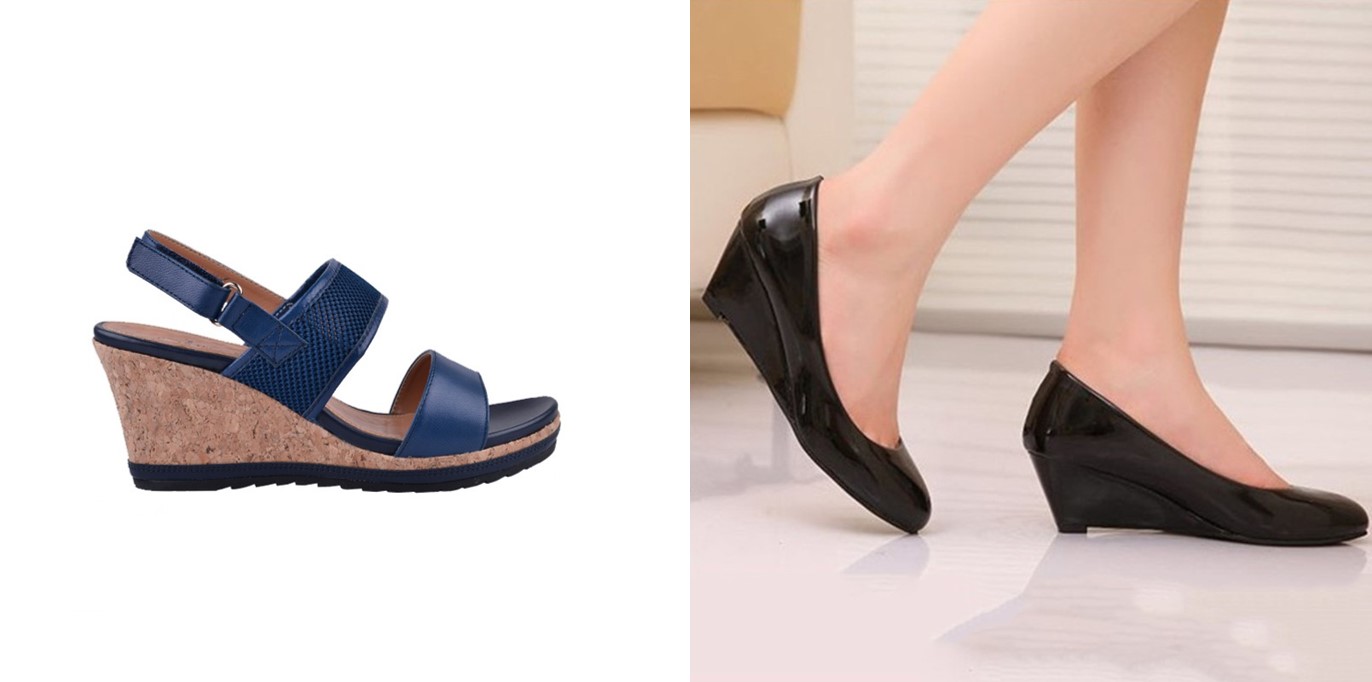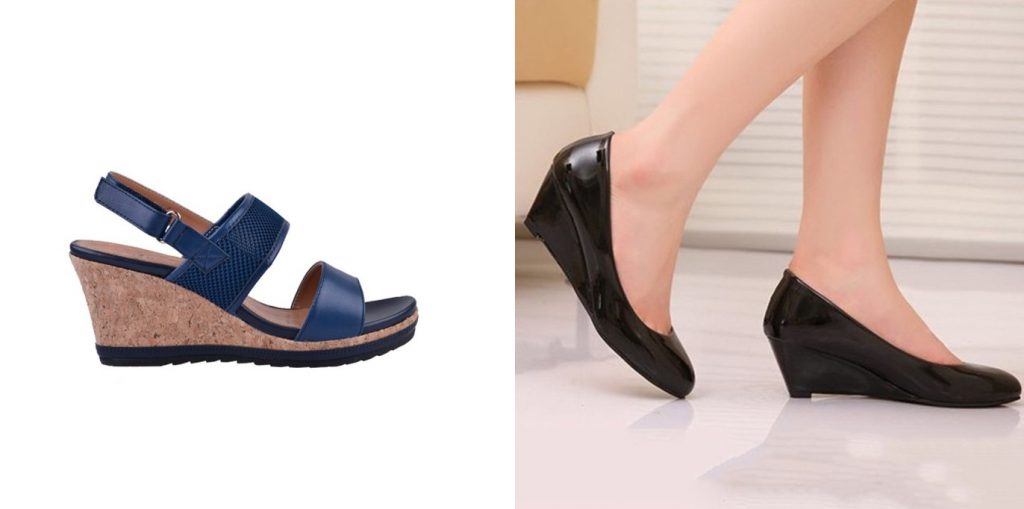 Wedge heels are great for ladies who love heels but seek more stability. Wedge heels allow the weight to be equally distributed across the foot, making it easier to walk in for longer. These Hush Puppies navy wedge heels (available on Hush Puppies Official Store) boast comfort and stability all in one. If you're a mama, match these with a pair of ankle jeans and do your school runs in style!
If you're looking for work appropriate wedge heels, then check out these court shoe pumps (available on babykoko.sg). The glossy rubber exterior makes it easy to wipe away any stains or spills while the slight heel wedge gives you that extra height (style) elevation. Choose from three other colours and amp up your OL style with a comfortable pair of wedge heels in Singapore!
4. Kitten Heels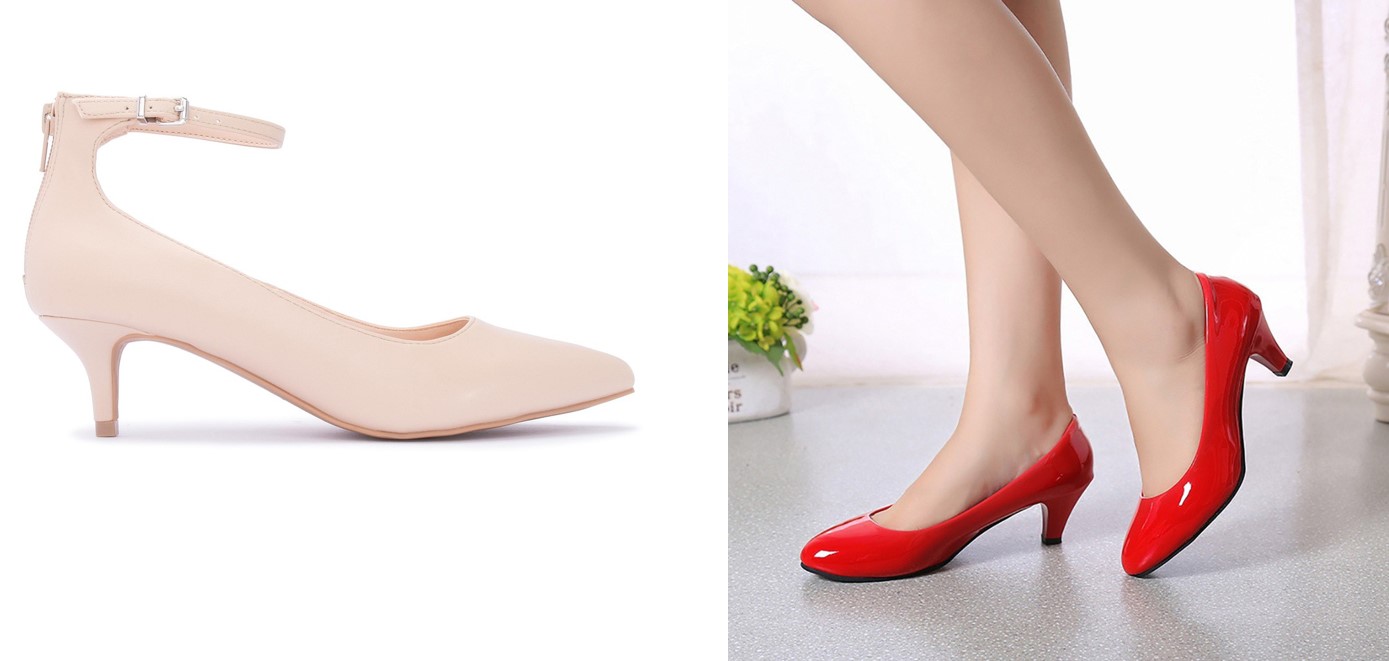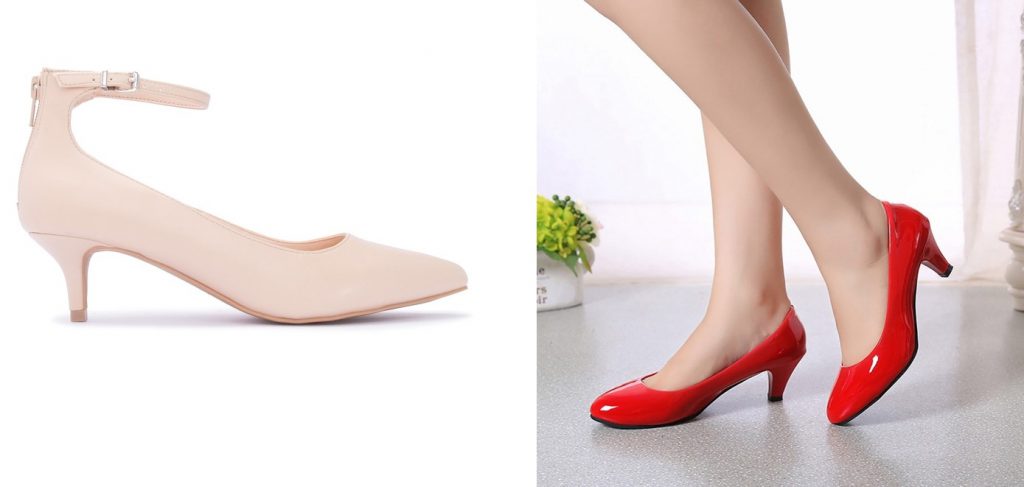 These are great for ladies who don't really need extra height but still want a bit of an oomph factor. Kitten heels made popular by the iconic Audrey Hepburn is proof that a lower heel isn't any less impactful.
We like these glossy pair of round toe kitten heels (available on walkingrunning.sg) which also come in black, nude and white shades. If you prefer strapped footwear, then get these ankle strap kitten heels (available on Bata) — a sweet and classy pair. Though you can match kitten heels with any outfit, we think these comfortable heels are best shown off with a flared dress or flared skirt.
5. Slingback Heels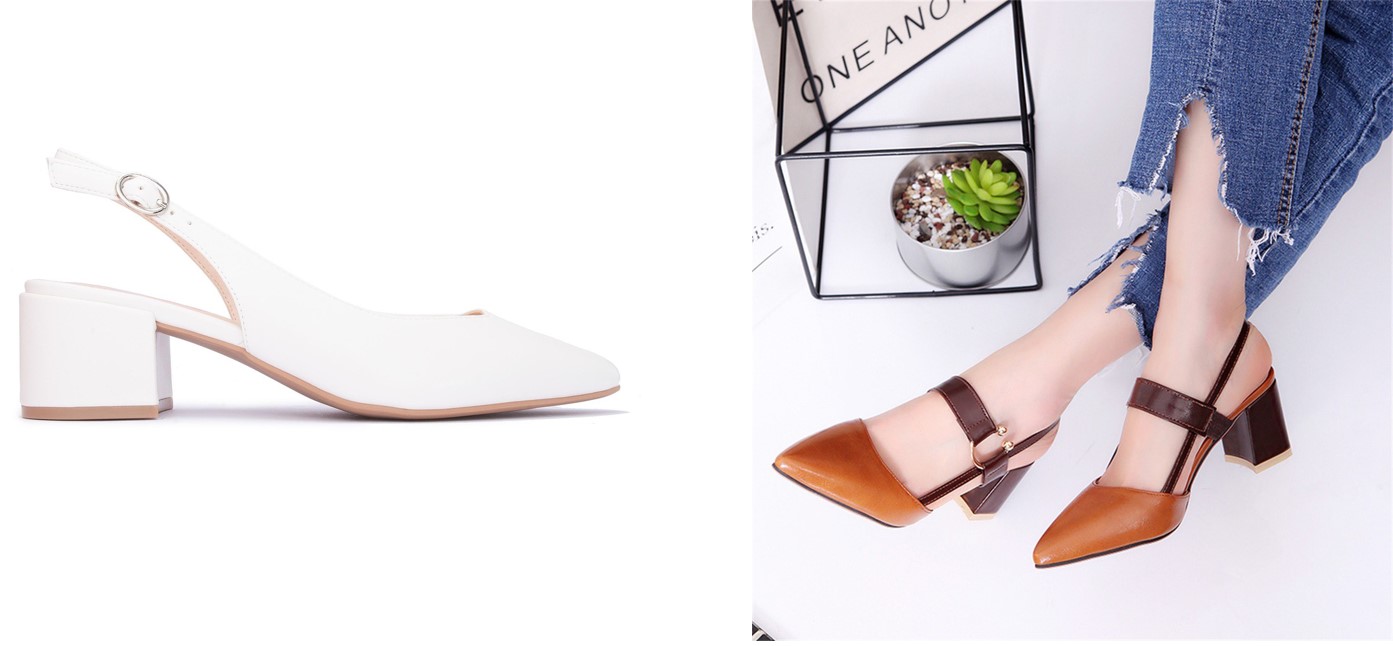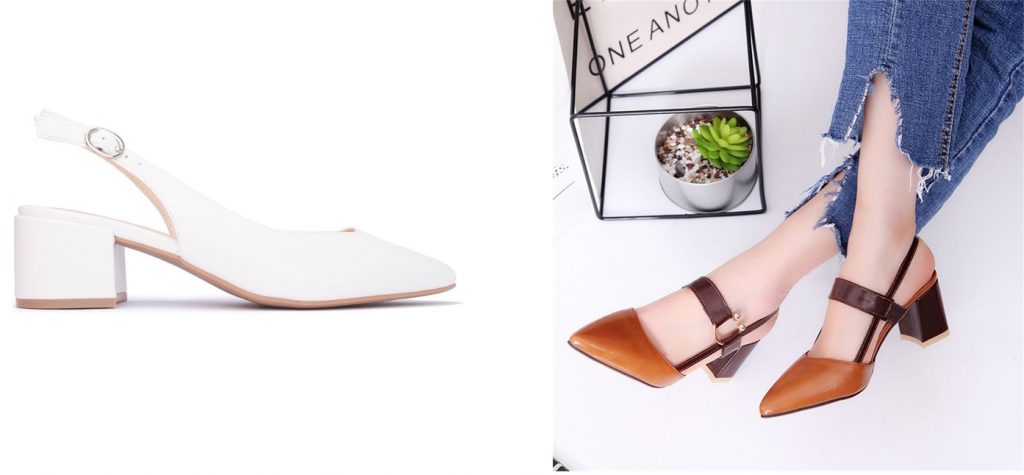 These are the perfect TGIF shoes! Invest in a comfortable pair of slingback heels in Singapore and welcome the weekend in style. These white slingback block heels (available on Bata) rival that all-white sneaker trend. Hook these on to the office in the morning and rock them at the rooftop bar in the evening! Available in black and printed design, Bata shows us that it's, in fact, keeping up with trends!
Whos says shoes need to be one colour? Let these pointed slingbacks (available on HIBISMIX FASHION) with a gold buckle do all the talking. We like how they're already styled with the cropped flared jeans. Complete the outfit with a crisp white shirt and statement handmade jewellery for a footloose Friday look!
6. Platform Heels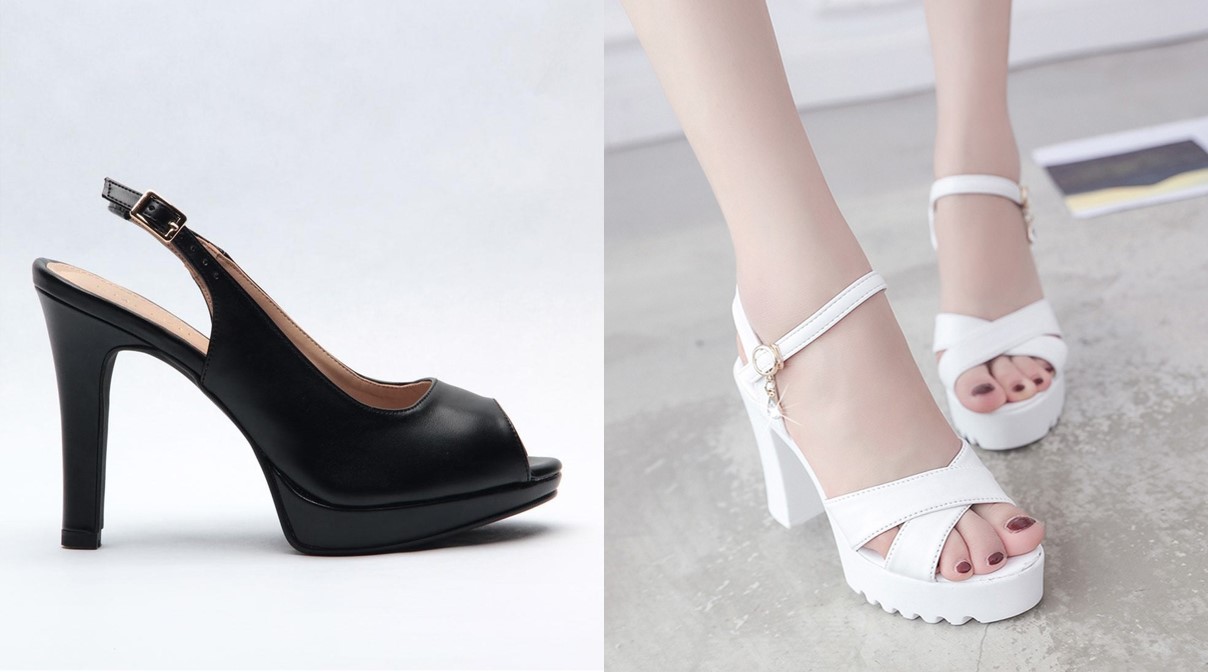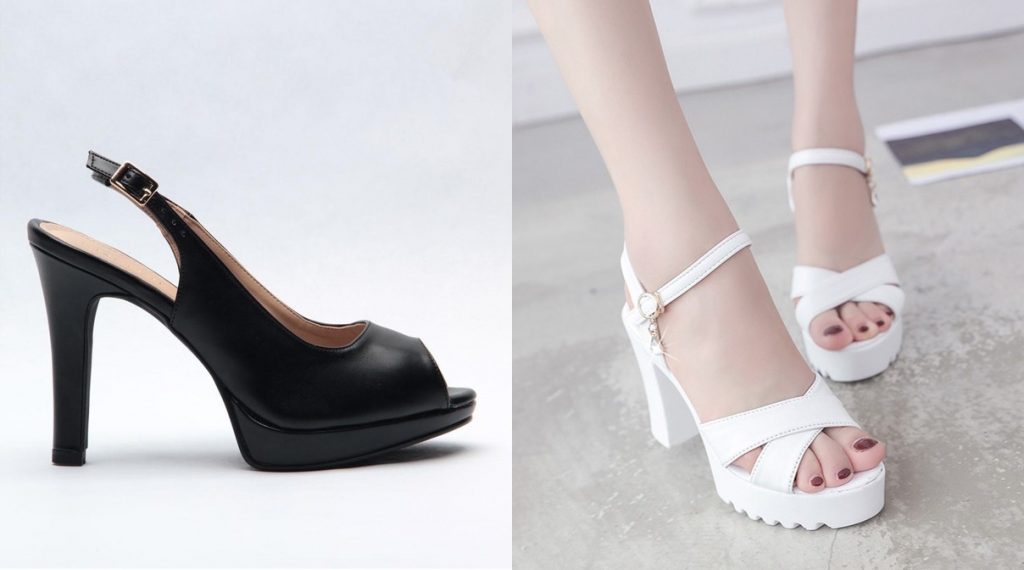 Platform heels are often mistaken to be wedge heels but the difference lies in the sole elevation. These heels have a thicker sole elevation which makes wearing platform high heels in Singapore less painful and more comfortable. The Emelyn black platform heels (available on Emelyn Shoes) are an elegant pair that can be matched with a long maxi dress.
If you're going for a music concert, then these cool white platform sandals (available on Everything ready stock!) styled with a leather jacket will help in achieving that cool grunge look!
7. Strappy Sandal Heels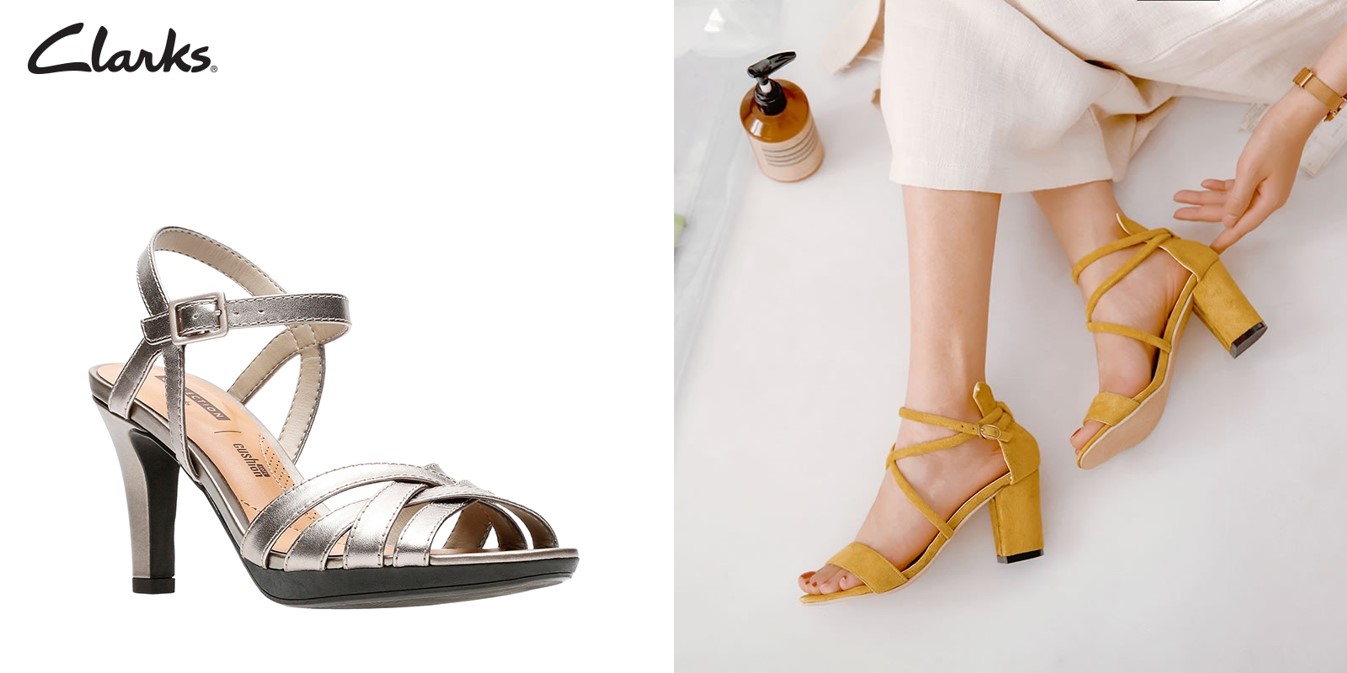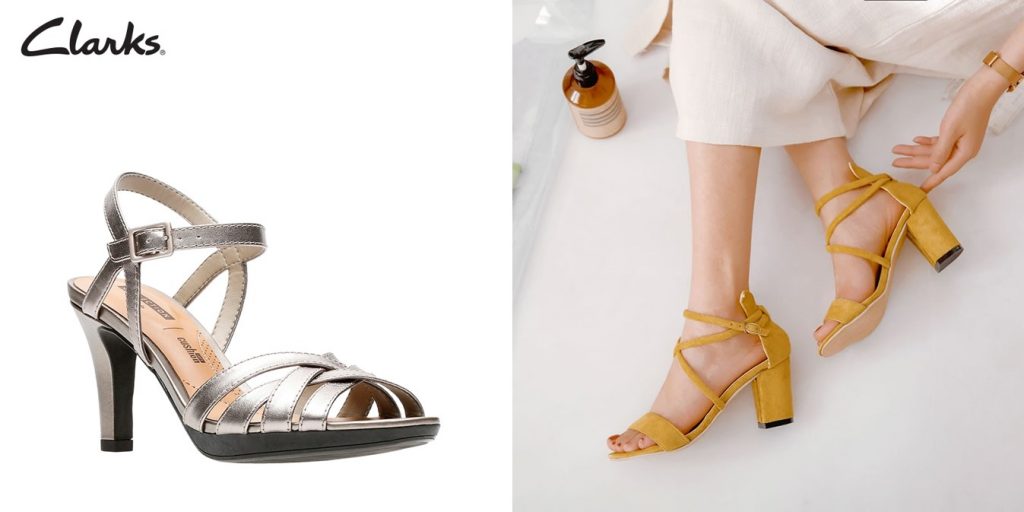 There's something carefree about donning a pair of strappy sandals. They exude charm while being sexy and stylish at the same time. Rock this elegant pair of high-heeled silver sandals (available on clarks_singapore) with any jumpsuit of choice for that corporate power look!
Looking to curate the perfect date outfit? These flirty and summery pair of cross strap heels (available on sunflower), will do the trick! Always reserve some extra time to tie or clasp on strappy heels — but at least you can be rest assured these won't fly off your feet while you're dancing the night away!
8. Oxford Shoe Heels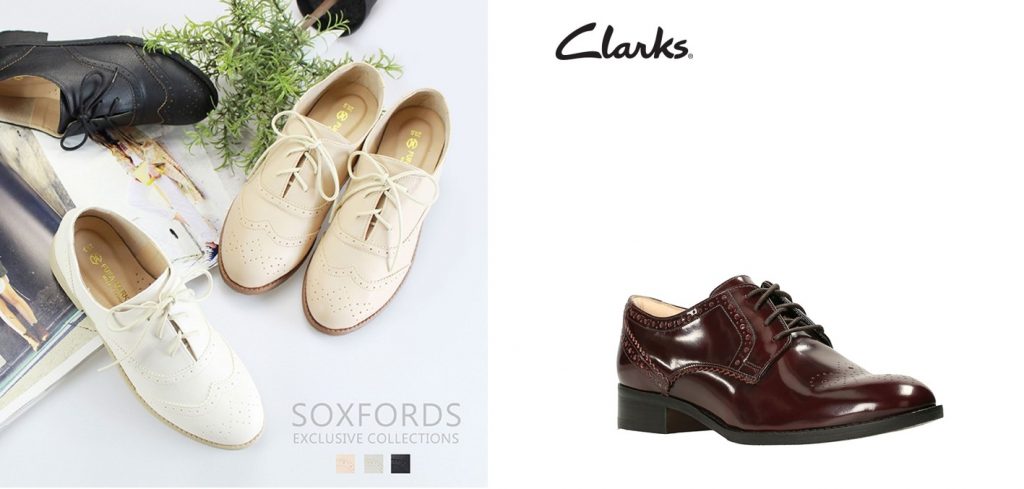 Not a heels person and prefer wearing covered shoes instead? Pair your smart office pants with Oxford shoes or brogues instead! Though not often thought of, Oxfords can make for comfortable heels in Singapore! These shoes exude a spiffy and well-put-together sense of style, difficult to achieve with other types of footwear.
New to Oxford heels? Then start with these soft low-heeled oxford shoes (available on The Taiwan Store). With pretty pastel colours to choose from and even the common black, these would look especially good paired with flared culottes. An Oxford shoe aficionado? Then you'd appreciate the patent leather and smart laces on these rose burgundy patent shoes (available on clarks_singapore). Though pricier, you can expect quality and durability with Clarks shoes. Don't forget to wear them with low-cut ankle socks to protect your feet all day!
9. Block Heels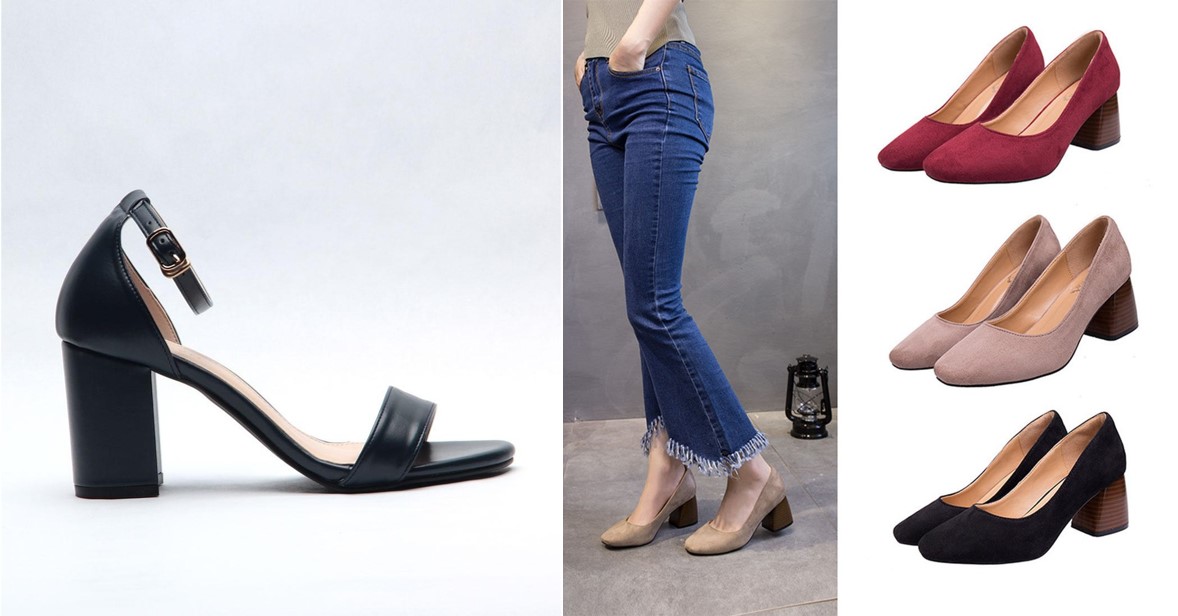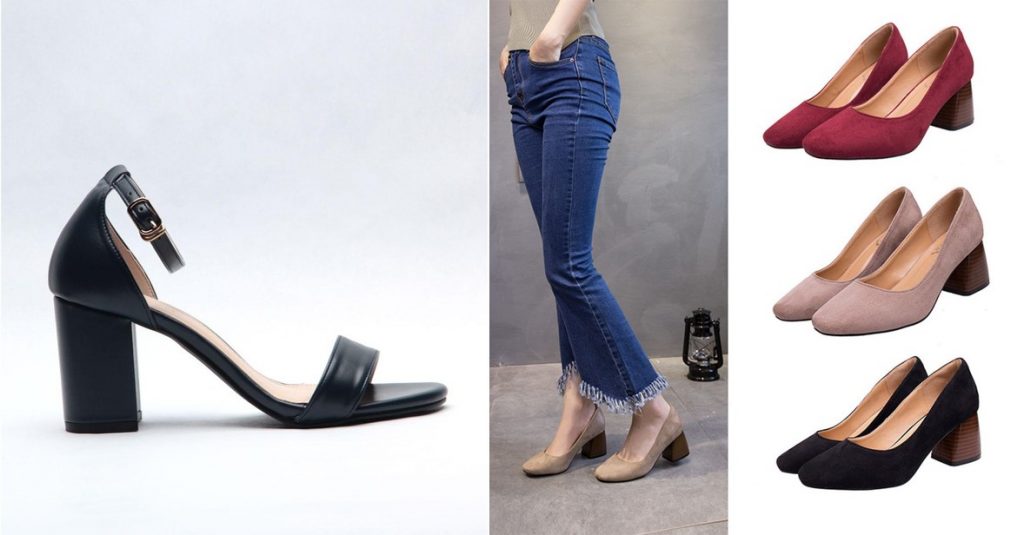 Block heels offer a lot more stability compared to the usual stilettos and are increasingly considered to be one of the more comfortable heels to wear in Singapore. You can easily rush from meeting to meeting in these heels or even wear them for a night in town after work.
If you're a fan of sandal heels, then these navy block heels (available on Emelyn Shoes) are a classic option. The heels add the perfect amount of height needed with the ankle strap providing enough support. Looking for the perfect pair of OL shoes? You've got to give these square heels pumps (available on Silife Shoes Bag) a try! These will also be great for those with round feet as it offers enough space at the front for toes to move about!
10. Slip-On Heels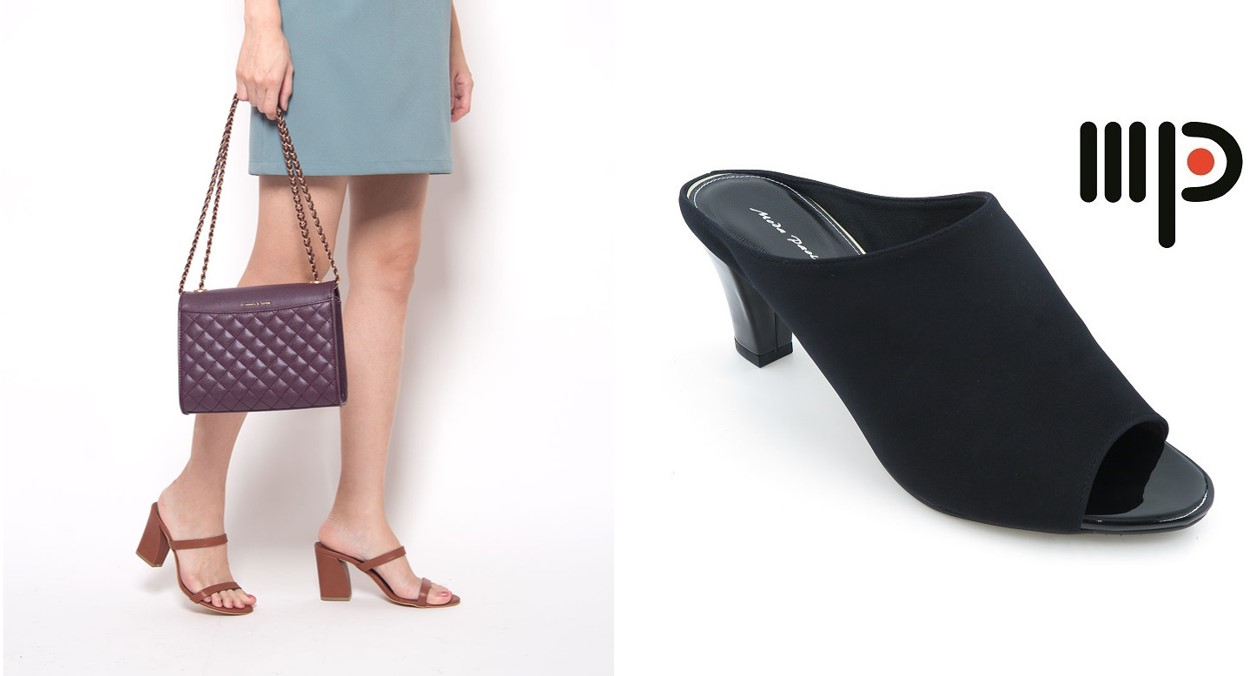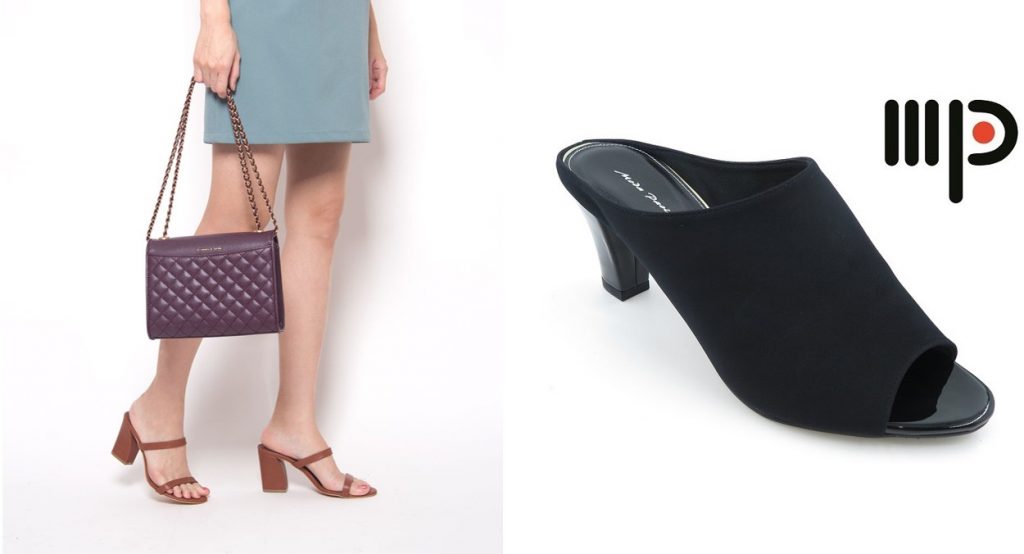 Want heels that you can simply slip into and remove easily? Slip on heels are a comfortable and fuss-free heel option in Singapore. Don't just dismiss them as the footwear choice for older aunties, these heels can be a great weekend option for younger women too!
These classy pair of dark brown slip-on strappy heels (available on Emelyn Shoes) have heel straps that keep your feet from slipping out and are great for a day of shopping and changing apparel. On the other hand, you can also pick mules — these are shoes with a front that comes up high over the foot. These black mule heels (available on Moda Paolo) sport mid heels that are perfect for even while travelling!
11. Peep-Toe Heels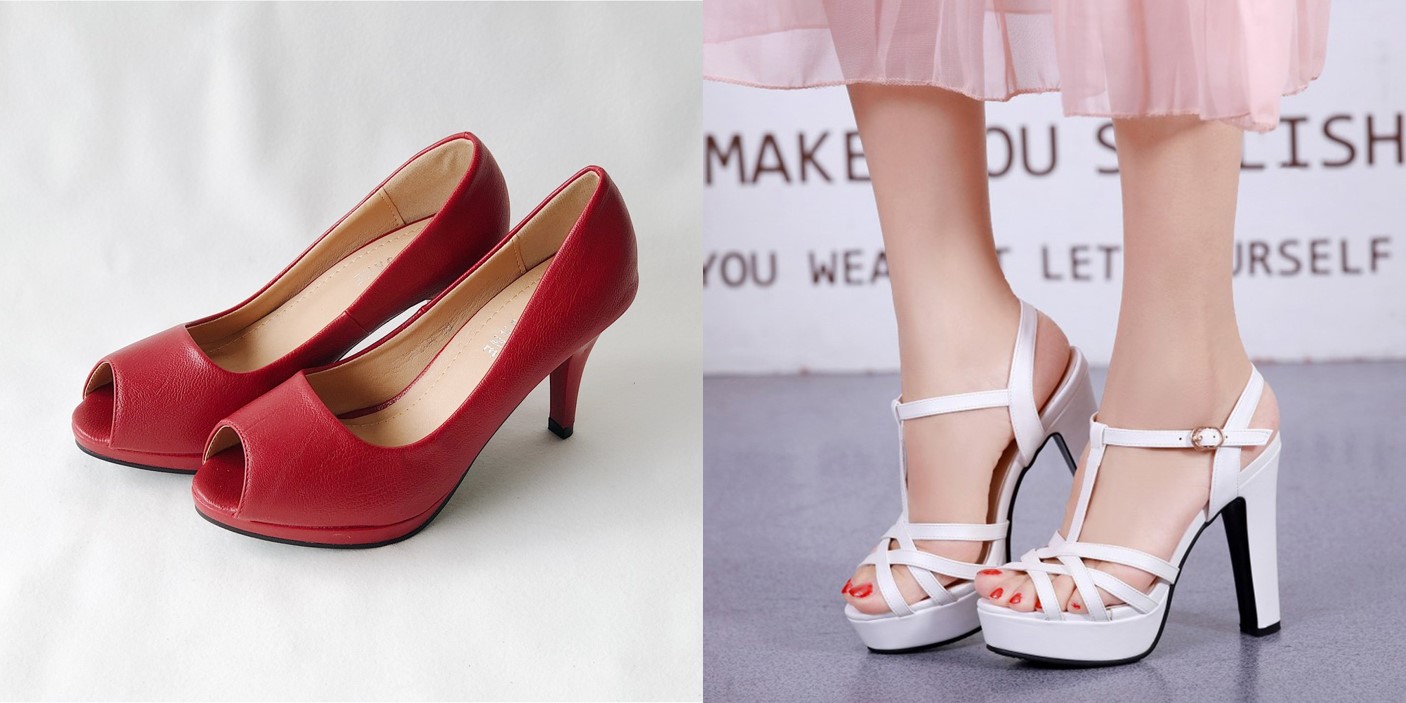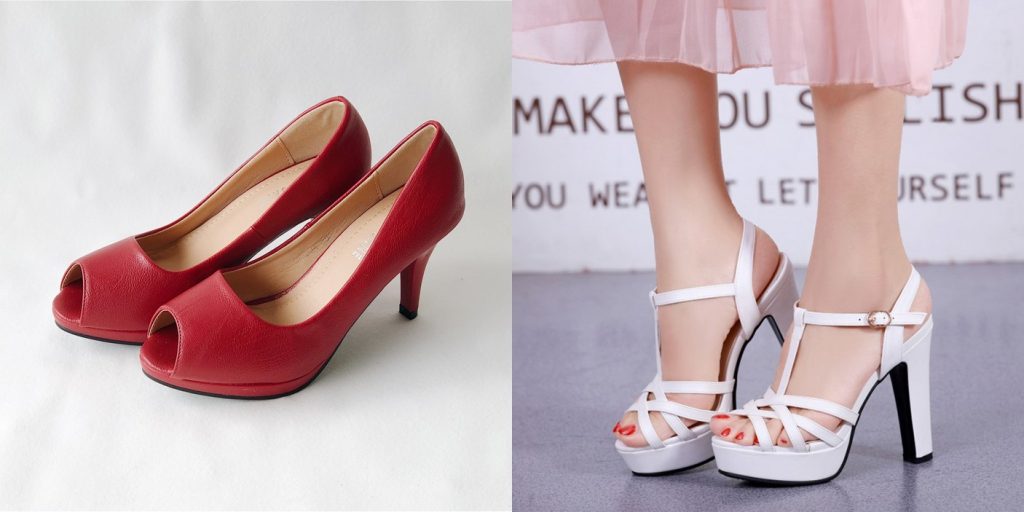 Have a pedicure you want to show off? Then make sure you get a pair of comfortable peep-toe heels in Singapore! They're classy enough to be worn to the office and even to that romantic restaurant date you've planned at night.
These gorgeous peep-toe heels in red (available on sarajaneshoes) will not only make your legs look more slender but add the perfect pop of colour to your outfit at work. If you have a dinner party to go to, why not wear these strappy peep-toe sandals (available on walkingrunning.sg). These are also available in a sweet blush colour or if that's too feminine for you then you can always fall back on the safe black option!
Don't forget to add insoles to your shoe for an even more comfortable time with the heels. If you find that heels are just not for you then check out our vast range of stylish and affordable women's shoes on Shopee. Keep your guys on their feet too with our guide of the trendiest casual sneakers for men!