While nothing brings more joy than watching your children tuck into their lunch boxes with gusto, some parents find it a dread to brainstorm new lunch box ideas every day. Don't sweat it anymore, we've collated some of the yummiest healthy lunch box ideas to satisfy your little picky eaters!
Tips on lunch box decorations
Even the most ordinary food can appear appetising with simple lunch box presentations! Read on for some useful tricks on how to make your children's lunch boxes look more enticing!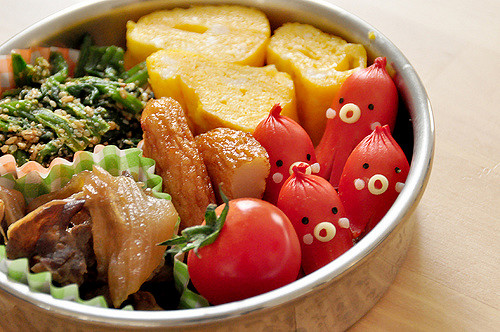 The last thing your child wants to see after a long morning in school is a lunch box that's cluttered and messy. As a general rule of thumb, always segregate the rice from other dishes in the lunch box. This prevents the rice from getting soggy and scattered. Also, aim to creatively position the food items. For example, instead of dumping an omelette onto rice, you can cut and roll the omelette strips before tucking them into the lunch box.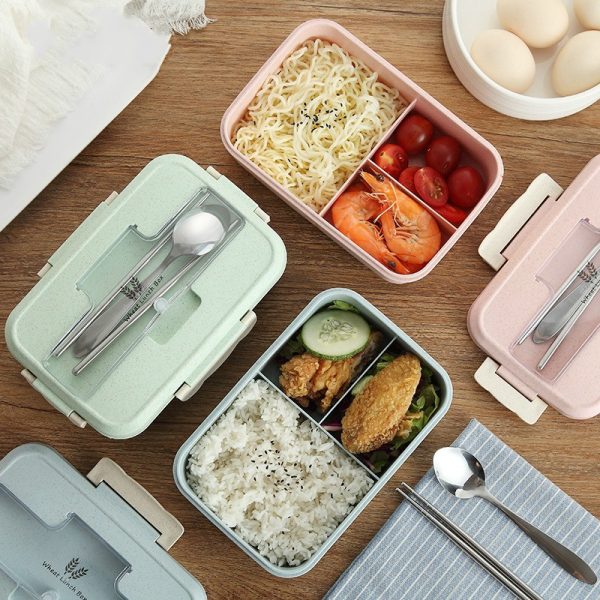 Another great way to keep the lunch box organised is to use a lunch box with compartments. These lunch boxes are perfect for separating wet food from dry ones. Some of them even have dividers that can be adjusted to suit different lunch box ideas!
Let's be honest, we associate the taste of our food to its appearance. Dull looking lunch boxes will only be met with your children's sulky faces. Brighten their day by filling their lunch boxes with an array of colours! Including healthy and colourful sides such as red cherry tomatoes, green peas and golden brown fried cutlets can stimulate their appetite and encourage them to finish their meals! You can even use cute fruit forks from our selection of adorable children's tableware to colour things up when recreating the lunch box ideas below!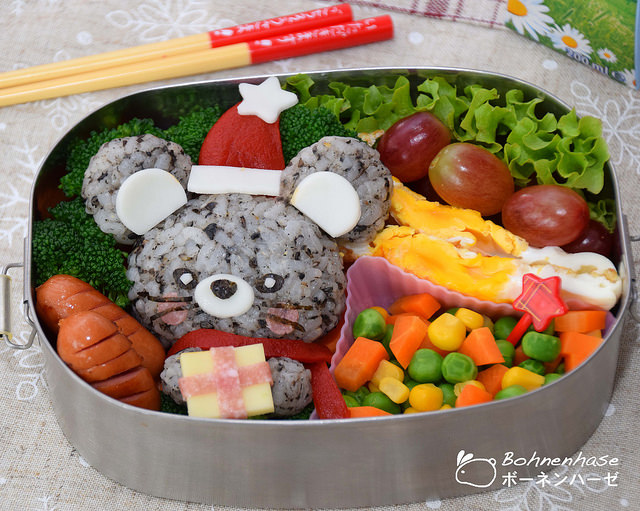 When it comes to lunch box ideas for children, you need to forgo some practicality to make way for more creativity. Use food moulds to mould rice or sandwiches into fun shapes! You can even cut seaweed or fruits to create adorable food designs. Whether it's the kids' favourite cartoon character or even a playful emoji, your creations are bound to make their lunch time more exciting!
Yummy lunch box ideas your kids will love
1. Kawaii Three Little Pigs
Total prep time: 23 minutes
Serves: 1
This is one of the must-try lunch box ideas for the year of the pig! Get your kids all pumped up for lunch with this Three Little Pigs inspired bento meal! If you're a busy parent who's looking for quick and easy lunch box ideas, this will make the top of your list!
You will need:
3 slices spam

½ tablespoon vegetable oil

1 ½ cups cooked Japanese short grain rice

1 slice ham

1 sheet of seaweed

1 piece of uncooked spaghetti noodle
Take the spam out of the tin and cut three thick equal slices. Add some oil to the frying pan and fry the spam slices until they turn slightly brown — these will serve as the pigs' bodies! Rinse the tin and line it with cling wrap. Then, scoop the Japanese short grain rice into the tin and press it down with a spatula. Pull the cling wrap out and remove to reveal a neat block of rice. Place one slice of spam on top of the rice and wrap it with a strip of seaweed.
Using a nori punch (you can do it free-handedly with scissors too), cut out the pig's eyes and nose from the seaweed. What's left is to cut the ham into a large oval for the pig's snout as well as six additional smaller ovals for the pig's ears and limbs. For the limbs, remember to cut an inverted "V" to create the pig's hooves. Position the slices of cut ham onto the spam and break the spaghetti strand into smaller pieces to secure the ham in place. Repeat these steps for the second and third pig, then lay them into the lunch box on top of lettuce slices for an additional pop of colour!
2. Sunny Omelette Rice
Prep time: 35 minutes
Serves: 1
This is one of the best lunch box ideas to boost your child's protein intake. Eggs are rich in iron, protein, Vitamins A, D, E, B12 and choline — nutrients necessary for children to grow up healthy, strong and intelligent! Don't be put off by the number of ingredients required for this recipe, it's actually one of the easiest lunch box ideas to master even for parents who don't cook often!
You will need:
2 eggs

1 bowl cooked rice

2 tablespoons ketchup

1 ½ teaspoons Worcestershire sauce

Olive oil

Salt

Pepper

1 sausage, cut into thin slices

¼ minced onion

¼ frozen mixed vegetables

2 cherry tomatoes

2 lettuce leaves

2 frozen broccoli
Begin by cooking the rice that'll go into the omelette. Boil the broccoli in salt water for three minutes before draining the vegetable. Heat a pan over medium heat and grease it with olive oil. Then, stir-fry the minced onion, sausage and frozen mixed vegetables. When the onion turns golden brown, throw in the cooked rice, ketchup and Worcestershire sauce and add salt and pepper to taste. Mix all of it evenly in the pan before allowing the mixture to cool slightly on a cling wrap. Thereafter, wrap the mixture into the cling wrap and adjust it to fit into the lunch box.
Moving on to the omelette, beat the eggs and add salt to season. Heat a frying pan over low heat and drizzle olive oil. Wipe away excess oil from the pan before pouring in the egg mixture. Tilt the pan to spread the egg mixture evenly. Eggs cook very quickly, so pay extra attention! After about 30 seconds, lower the heat. The bottom of the egg mixture will be cooked while the top is still soft. Using a spatula, gently peel the egg off the pan from its corners and lay it on a new sheet of cling wrap.
Unwrap the rice mixture and place it in the middle of the egg. Holding the sides of the cling wrap, wrap the egg around the rice mixture, checking to see that it'll be able to fit into the lunch box. Lay lettuce leaves on the base of the lunch box then place the omelette rice on top while gently removing the cling wrap. Fill the empty spaces in the lunch box with cherry tomatoes and drizzle ketchup on the omelette rice! 
3. Fruity Pancake Sandwiches
Prep time: 30 minutes
Serves: 2

We understand how much of a challenge it can be to persuade your kids to eat fruits. Fruits are a great source of vitamins, minerals, fibre and antioxidants and strengthen your children's immune system. Instead of feeding fruits directly to your picky kids, we've got one of the most creative lunch box ideas to help combine some fruity goodness into pancakes! After all, no child can resist the temptation of fluffy pancakes!
You will need:
150g pancake mix

1 egg

100ml milk

1 cup fruits of your choice, cut into thin slices

1 tablespoon oil

10g jam

¼ cup desiccated coconut

Chocolate sauce
To make the pancake batter, combine the egg and milk in a bowl and mix well. Then, pour in the pancake mix and stir the mixture gently until combined. Heat a frying pan over medium heat, then lower the heat to prepare for cooking the pancakes.
Grease the pan with oil and pour the pancake batter onto the pan. Depending on the space in your child's lunch box, adjust the size of the pancake by controlling the amount of batter you pour each time. Add a teaspoon of jam into each pancake, along with the fruits of your choice. We highly recommend crunchy fruits like apples and pears or sweet tasting fruits like bananas and pineapples! Don't forget to add some desiccated coconut onto the pancake as well! Top the mixture off with some more pancake batter and cook for about three minutes until bubbles begin to appear. Then, flip the pancake over and gently flatten the pancake with your spatula. Cook for another two to three minutes before removing the pancakes from the pan.
Drizzle interesting designs or a little message for your little monsters with some chocolate sauce! Make this lunch box idea more exciting by cooking the pancakes in a uniquely-shaped pancake frying pan (available on Pandada Pets Shop)!
4. Healthy Vegan Tortilla Wraps
Prep time: 20 minutes
Serves: 1

Do your kids have the misconception that vegan food isn't as yummy? Show them otherwise with this mouthwatering yet easy recipe! This healthy lunch box idea combines the goodness of fruits and vegetables into one hearty afternoon meal!
You will need:
2 tortilla wraps

4 tablespoons hummus

½ cup grated carrots

1 avocado, peeled, pitted and sliced

1 lime wedge
Warm the tortilla wraps in a microwave for about 30 seconds to make them more pliable. Spread two tablespoons of hummus onto the wrap evenly and top it off with ¼ cup of grated carrots. Add five to six slices of avocados, and keep them fresh till the afternoon with a few drops of lime juice. Roll the wrap firmly and cut it into half so it better fits into your child's lunch box! You can place them horizontally or vertically depending on the lunch box size.
5. Fluffy Spinach Egg Rolls
Prep time: 20 minutes
Serves: 1

This lunch box idea is perfect for little picky eaters who refuse to eat vegetables! While this recipe only uses spinach, you can customise your own creations by adding celery, green onions and even mushrooms! Don't underestimate these simple egg rolls — a small portion goes a long way and will keep your kids full for the whole afternoon!
You will need:
4 eggs

1 tablespoon mirin

¼ teaspoon salt

¼ teaspoon soy sauce

1 teaspoon olive oil

¼ cup cooked spinach, chopped finely

5 thin carrot slices
Kickstart this delicious lunch box recipe by mixing the eggs, Mirin, salt, soy sauce and spinach in a bowl. Heat a rectangular egg roll frying pan (available on bookmarkss.sg) over medium-high heat and grease the pan with olive oil.
Pour a thin layer of egg mixture into the pan, and tilt it to spread the egg evenly. After the egg has set a little, gently roll the egg into a log. It's easier to start from the end furthest away from you. Tip: Begin rolling once the bottom of the egg has set and the egg on the surface is still watery.
Shift the cooked egg to one end of the pan and repeat the steps above. Make sure to lift the cooked egg roll up before pouring another layer of egg mixture while ensuring the mixture covers the whole pan. Roll the egg again and repeat until all the egg mixture is used up.
Remove the egg roll from the pan and allow it to cool for about four minutes before cutting it into thick slices. Position the egg rolls neatly in the lunch box and voila, you're done! You can go the extra mile by cutting out dainty carrot flowers using a flower shape cutter (available on topfire). Simply punch flowers out of carrot slices using the tool and place it on top of the egg rolls! 
6. Smooshy Tuna Avocado Salad
Prep time: 20 minutes
Serves: 6
This is one of the best lunch ideas for kids who are losing their baby teeth! Featuring mushy avocadoes and tuna that packs a whole lot of omega 3 fatty acids and essential vitamins, this salad recipe will quickly become your child's favourite! If the salad itself is not enough to keep your darling full through the afternoon, you can add some fresh fruit skewers into the lunch box as a delicious after lunch treat!
You will need:
3 avocados

1 teaspoon Dijon mustard

2 limes, juiced

¼ cup chopped cilantro

½ teaspoon salt

Pinch of black pepper

570g tuna

1 cup red onion, finely diced

1 cup celery, finely diced

⅓ cup chopped walnuts
This lunch box idea is really simple! Just mash the avocados in a bowl using a masher and mix it with the other food ingredients except for the seasonings. Once everything is nicely combined, season to taste and load up your children's lunch boxes with this yummy goodness! For kids craving something crunchy, you can even include some rice crackers to dip into the salad!
7. Nutty french toast rolls
Prep time: 20 minutes
Serves: 1
Children love Nutella and other chocolate spreads, but did you know that two tablespoons of Nutella contain a whopping 21g of sugar and 11g of fats? Despite their tempting flavours, these spreads are not the healthiest for your kids. Opt for all natural assorted nut butters (available on Amazin' Graze), which come in flavours such as hazelnut, cashew, almond and ABC (a mixture of almonds, brazil nuts and cashews). Nut butters are low in carbohydrates, high in protein, trans fat-free and are free of preservatives and artificial flavouring! Create a wholesome meal for your kids with this lunch box idea!
You will need:
5 slices of bread

50g nut butter of your choice

2 tablespoons cinnamon sugar

1 egg

1 tablespoon milk

20g butter
Prep the bread slices by cutting off the crusts. Then, proceed to flatten each slice with a rolling pin. Spread a generous amount of nut butter on the bread before rolling the slice up into a log. Repeat this until all slices are rolled up.
Beat the egg and milk together in a bowl until you get a nice watery consistency. Heat your frying pan over medium heat and grease with butter. Once the butter starts to bubble, dip each bread roll into the egg mixture and place it in the frying pan. Let the rolls cook for about a minute on each side till they're golden brown.
To wrap things up, coat the french toast rolls in cinnamon sugar and pack them away in lunch boxes. This is the perfect yummy treat for kids to chase away those Monday blues!

Use this opportunity and prepare these easy lunch box ideas with your little ones today! Not only is it a great bonding activity but it also encourages them to learn new skills and develop an adventurous palate. Don't just stop there! Spend quality time with them at some of the best indoor playgrounds in Singapore or create the next art masterpiece with these easy art and craft projects!