I put forward my introductory question and ask the lady sitting across me what her role in the Shopee office is.
"Front-end web developer," she answers and quietly sips her tea.
I nod, praying she elaborates. Help, I haven't any idea what web developers do, let alone what front-end web developers do. There's a front-end?? What's a front-end?!
Perhaps she too hears the panicked voices emanating from within my head, because she smiles reassuringly in the next moment and kindly explains her job scope in layman's terms.
This is how I learn that Gao Wei, the bright mind before me, works hard with her team to code the website interface that millions of Shopee users browse daily.
By assembling web app designs and liaising with back-end developers, she ensures that her code runs smoothly in browsers and translates into a functional interface for a seamless online shopping experience.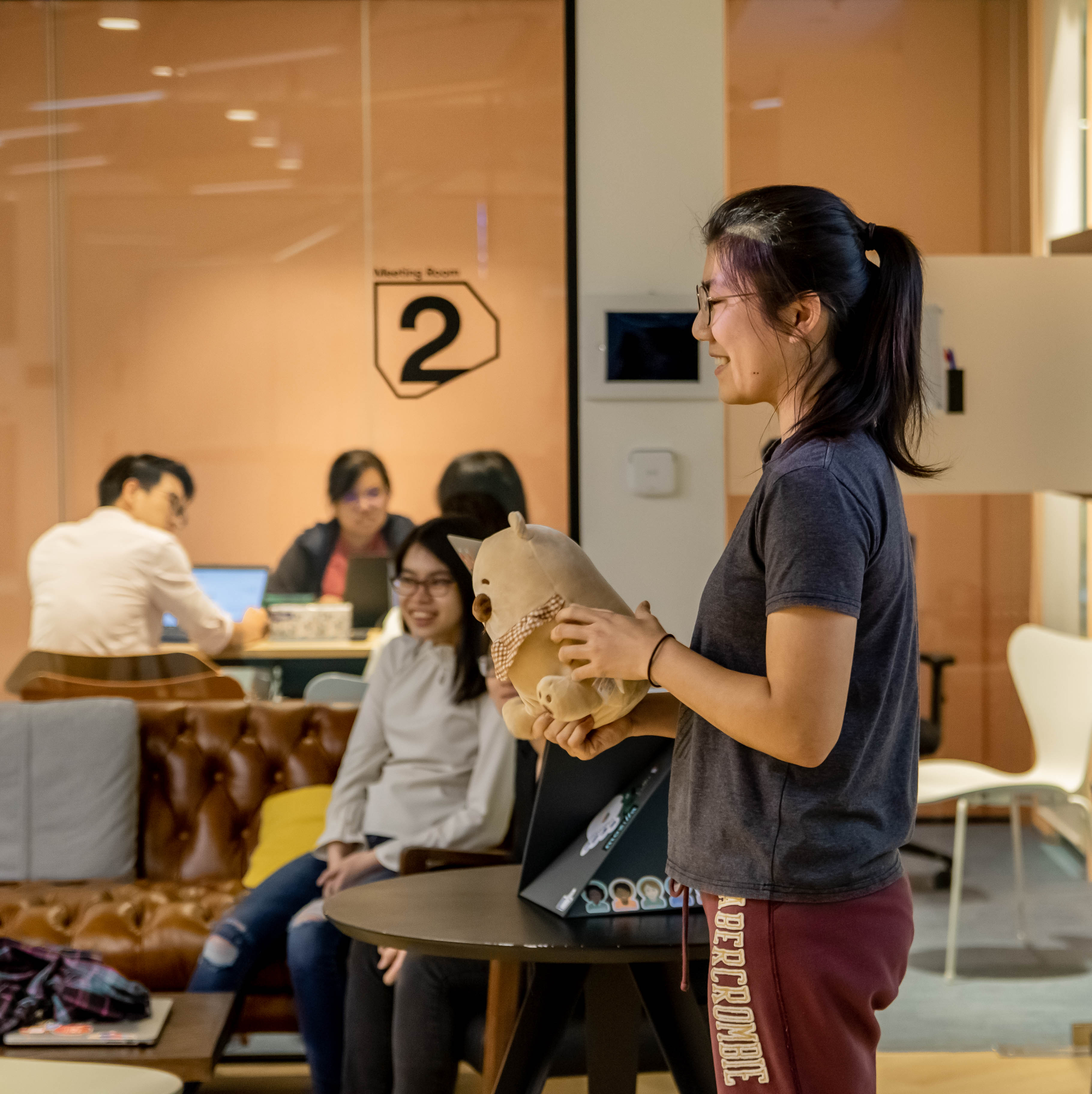 Up till this point, the conversation is professionally cordial with our respective roles as interviewer and interviewee clearly marked out.
But something shifts the moment I ask "So, I hear you're a rock-climbing enthusiast?"
Wei lets a bashful laugh escape, as though her rock-climbing hobby isn't something serious enough to be worth mentioning. But her eyes give her away, lighting up at my question, and I sense something substantial in this hobby of hers.
A community she didn't know she needed
Wei hadn't planned on sustaining an interest in rock-climbing.
"I was initially invited to climb by this friend who was interested in trying it out," she recalls. "After that first time he never climbed again [laughs] — but I stayed! And it developed into a hobby for me."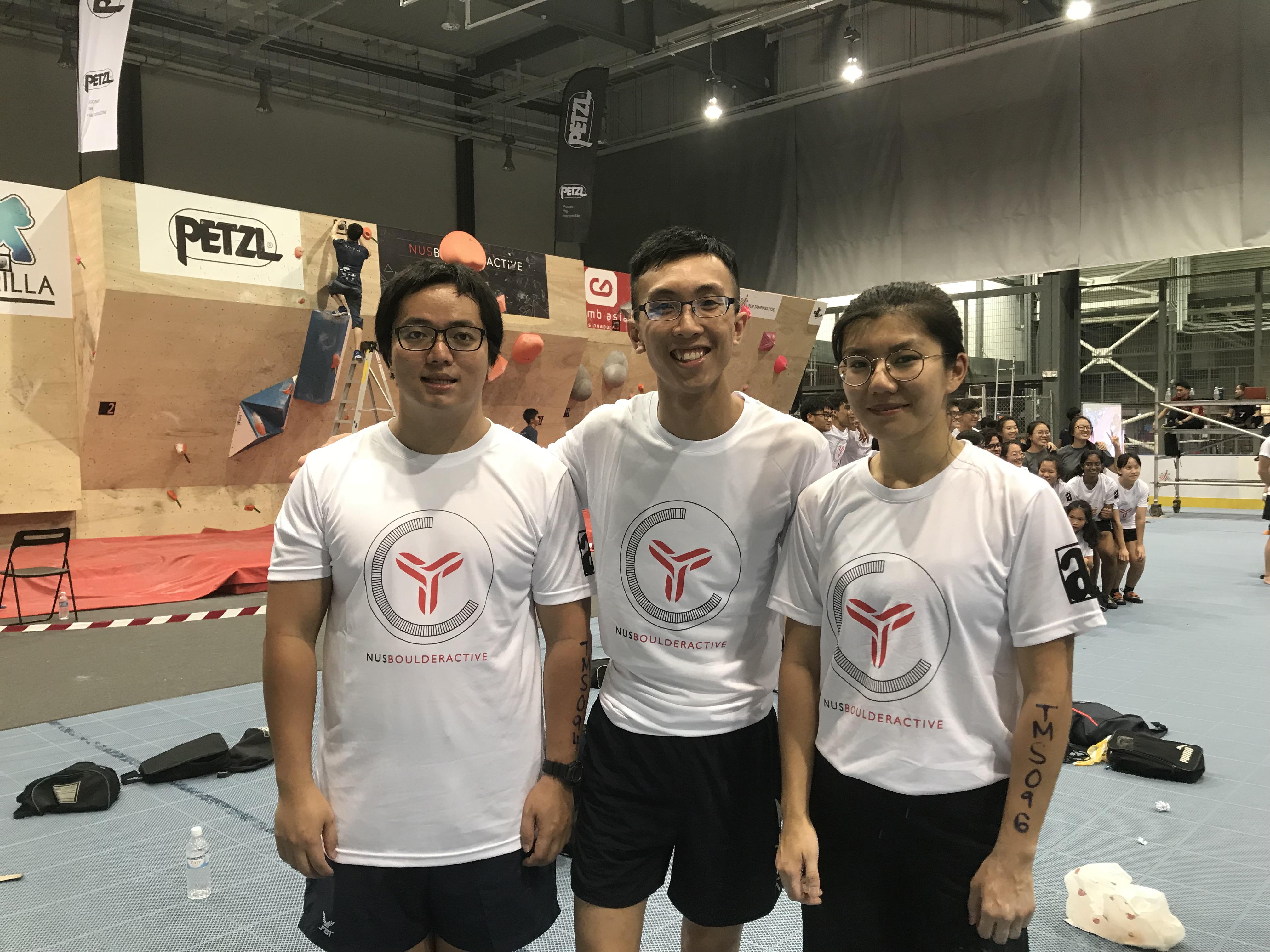 When she first started out, Wei joined the rock-climbing interest group over at SEA, Shopee's parent company, for weekly sessions. But last May, she and some others initiated one of their own here in Shopee.
"We meet weekly to climb, alternating between a weekday and Saturdays. Sometimes people bring friends from outside Shopee too, so the club has been rapidly expanding."
Hold up. A company-based interest group that doesn't exclusively cater to its employees? This takes workplace inclusivity to an entirely new level.
As Wei fondly shares snippets of her climbing experience, it becomes apparent that the team has quite successfully built a vibrant community, welcoming everyone from the climbing novice to the non-Shopee employee.
Learning to fall, on and off the wall
"…There's a way to fall off the wall?!" I ask, eyes wide.
We're mid-interview, and I've just discovered that there's a mechanics to falling.
"There's a better way of falling off a wall," Wei reiterates, amused.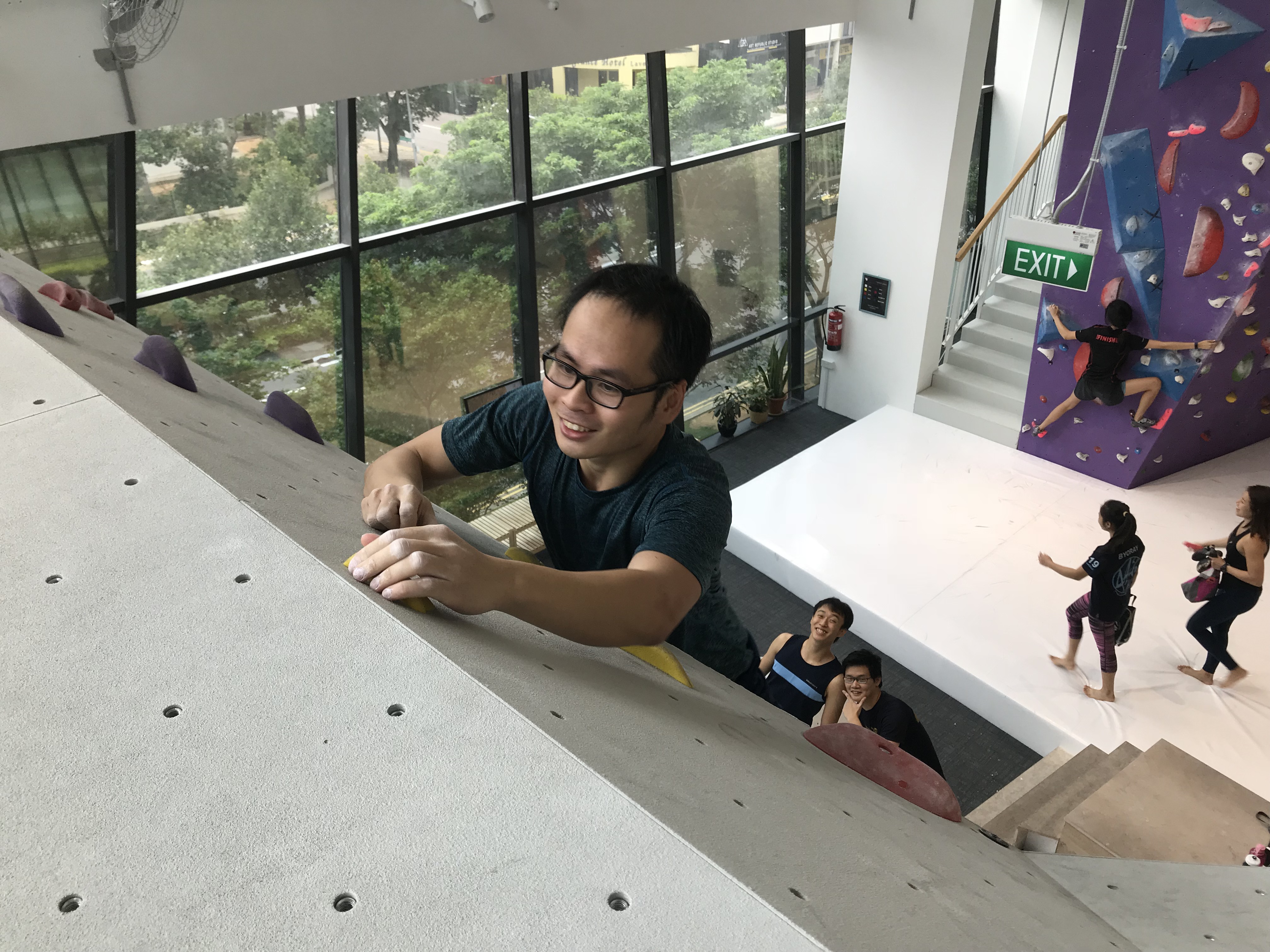 Safety is a priority in rock-climbing, and learning how to fall safely, as I soon gather from Wei, is as important as learning how to climb. The pre-climb safety briefing Wei conducts for new climbers includes a demonstration of the proper way to fall and land with both feet. After which, under her guidance, they practice falling in the same way.
"I'll ask if they feel like they're in full control when they fall. If they are inexperienced climbers, their bodies aren't ready for the impact — so it's better for them to fall with the knowledge of it happening."
Mastering this art of conscious falling has changed how Wei perceives her failures within the workplace. She likens the heightened awareness of falling to being mindful of one's limitations and mistakes when failing in a task. It's instilled in her an understanding that failure is requisite for self-improvement.
"I tell myself that it's a learning process, that everyone is constantly a work in progress. Even though someone is great at something, they can't claim that they're the best or have nothing left to improve at."
Gone are the days of feeling inadequate when mistakes occur. The present Wei channels her energy into recognising and accepting her errors before humbly learning from them.
A competition that boosted her confidence
Judging from her commitment towards rock-climbing, I expect Wei to be excited about throwing herself into competitions. But when the conversation veers towards the topic of competitive climbing, Wei shrugs and shakes her head, claiming she's not really "a competition type of player".
"Problems in competitions tend to be riskier as opposed to commercial settings where routes are standard," she explains. "And I'm a more conservative climber…"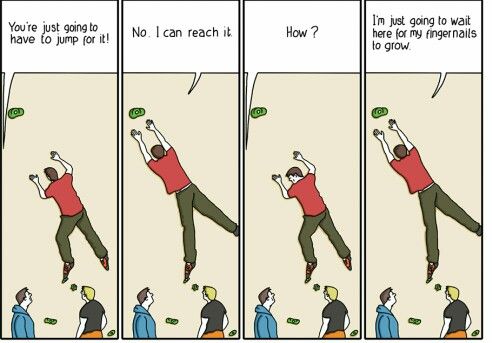 While she'd rather not scale walls under pressure, Wei admits that participating in the occasional competition has been fruitful.
"I'm sketchy when I climb under normal circumstances and tend to throw many attempts," she confesses, "but in last year's competition, instead of planning I told myself to spontaneously try a move. At the very worst I'd fail, but not trying would mean losing any chance of flashing the problem altogether—"
I listen intently.
"—I think I experienced my hardest attempt ever? But I eventually managed to flash the problem!! And it felt so cool."
She's beaming widely at this point, and I no longer feel like a stranger probing into her private pastime. Instead I feel like a confidante, listening to a friend let me in on a personal achievement.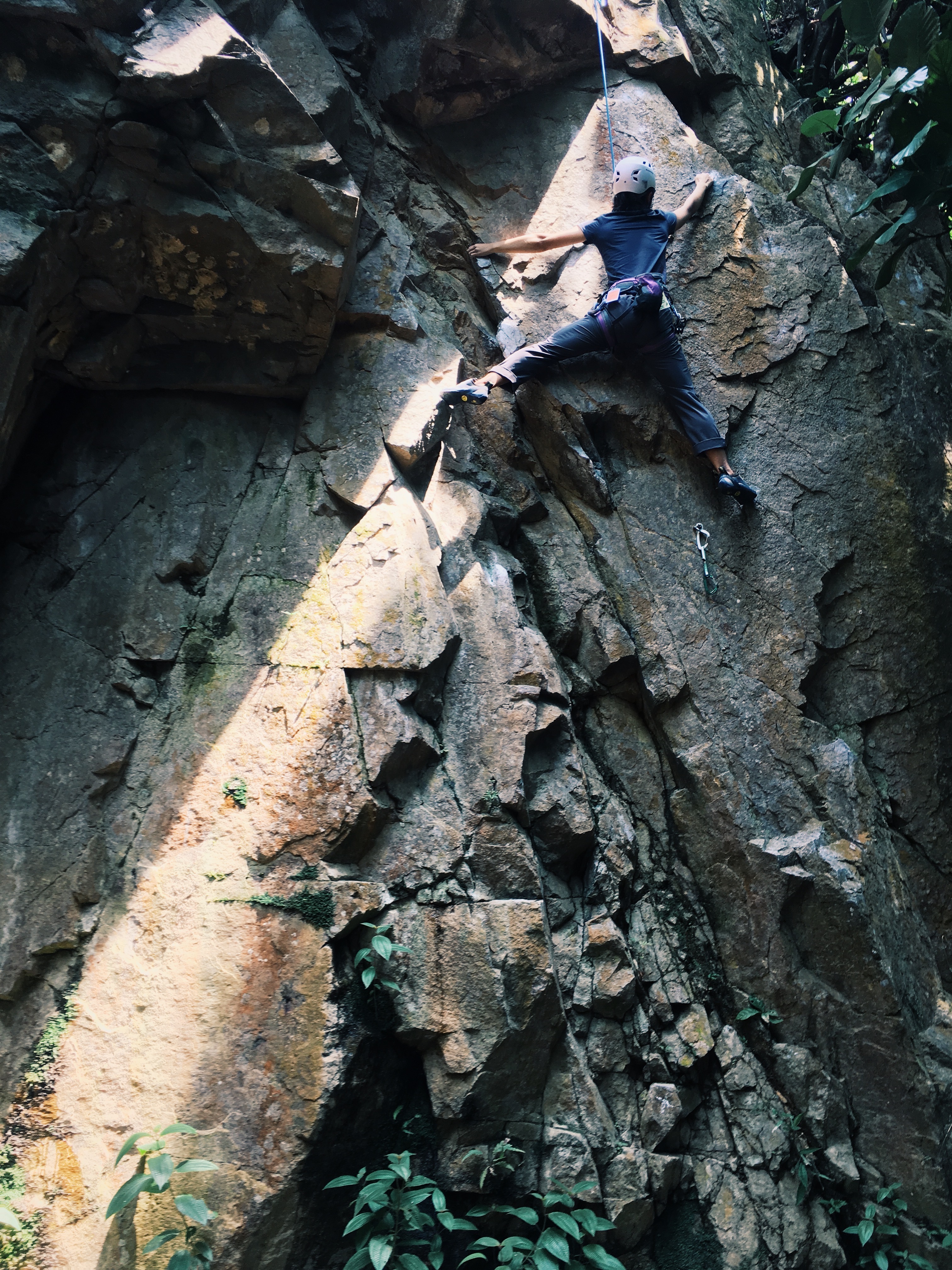 "Actually…… that experience made me want to participate in another competition this year," she discloses half sheepishly, half proud.
I nod encouragingly in full admiration for Wei, certain that this newfound confidence will support her as she continues to challenge her personal limits.
---
Feeling boulder? Come reach new heights with us here at Shopee!