Boasting generous amounts of spices, these Sichuan restaurants in Singapore aren't afraid to hold back their punches. They serve the authentic south-western Chinese cuisine without compromising on flavour. While some might dismiss the cuisine's peppery and numbing properties as pure masochism, spicy food fans look beyond and appreciate that these dishes have unique flavours that make the spice worth enduring! Still not put off by all these Sichuan food disclaimers? Here are some of the best Sichuan restaurants in Singapore to check out!
Best Sichuan restaurants in Singapore
1. Old Chengdu Sichuan Cuisine Restaurant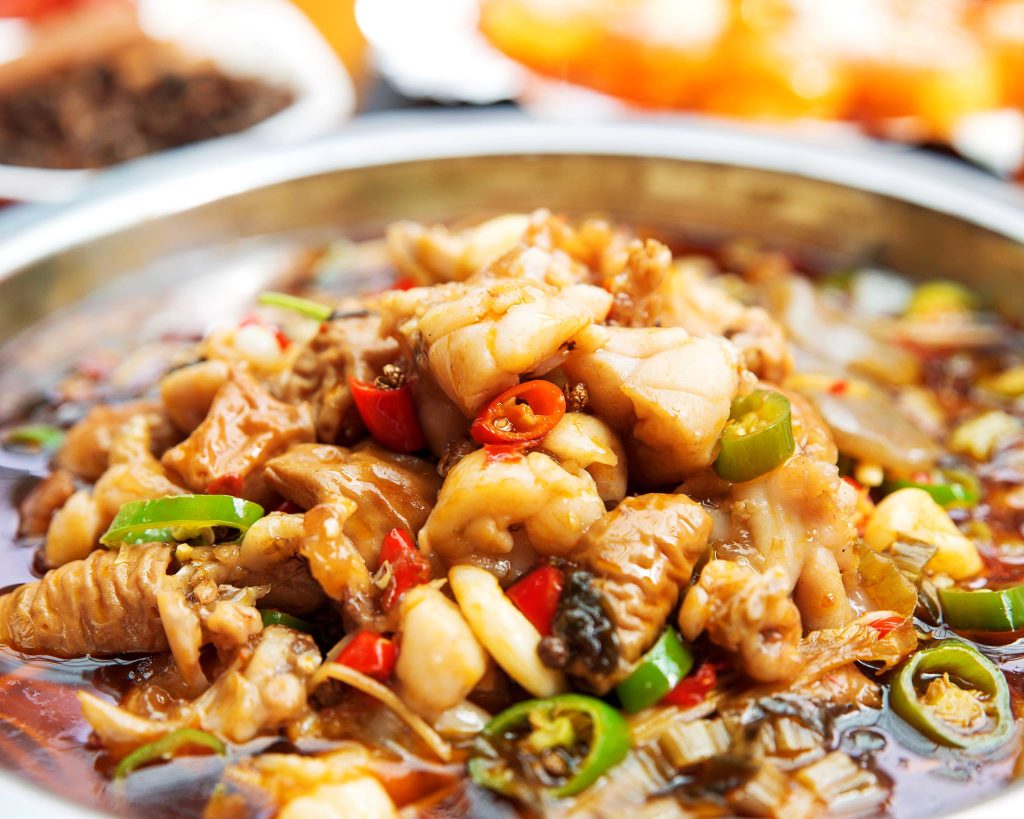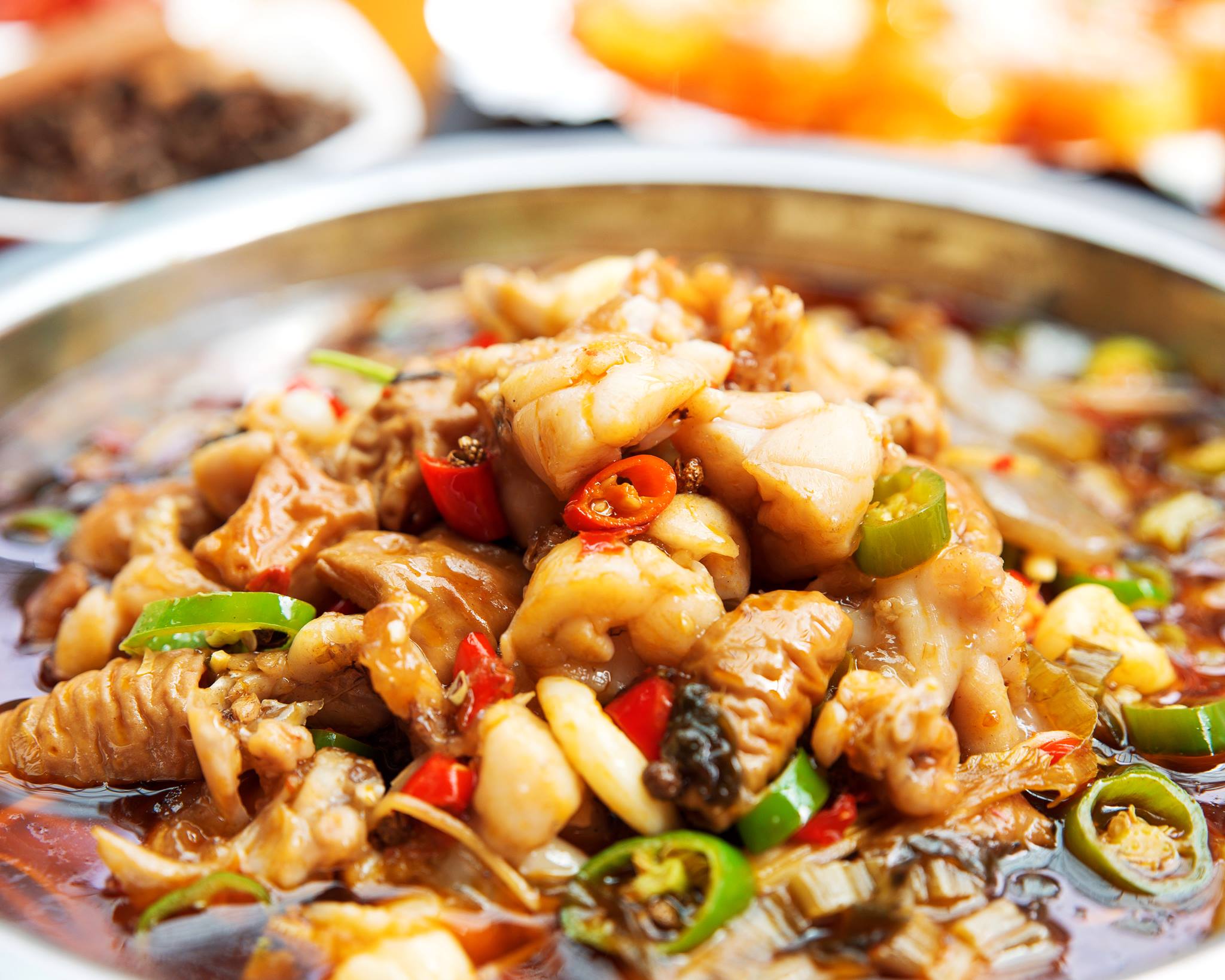 Located right outside Chinatown MRT, Old Cheng Du Restaurant is a hidden gem that prides itself on serving authentic Sichuan cuisine! Since being featured on a CCTV4 documentary, the restaurant has garnered a sizeable following with fans loving the hearty portions. It also helps that the restaurant is large enough to handle huge crowds — perfect for that last-minute supper plan!
With over 100 menu items, this Sichuan restaurant in Singapore doesn't shy away from doling out high spice levels across their dishes. If you're up for something different, check out their Spicy Frog. With the tender frog meat drenched in fermented chilli oil, the dish has a fiery hot but satisfying kick that will please any hardcore Sichuan cuisine fan!
Address: 80 Pagoda Street, S(059239)
Opening Hours: Daily, 11am – 1.30am
2. Szechuan Court & Kitchen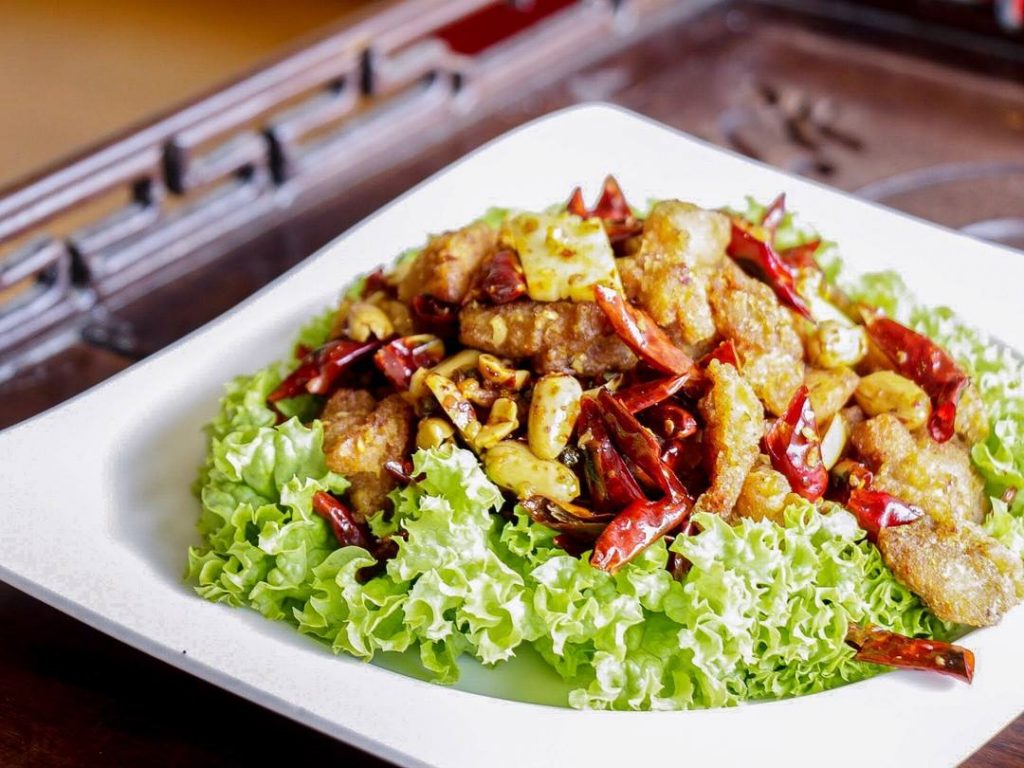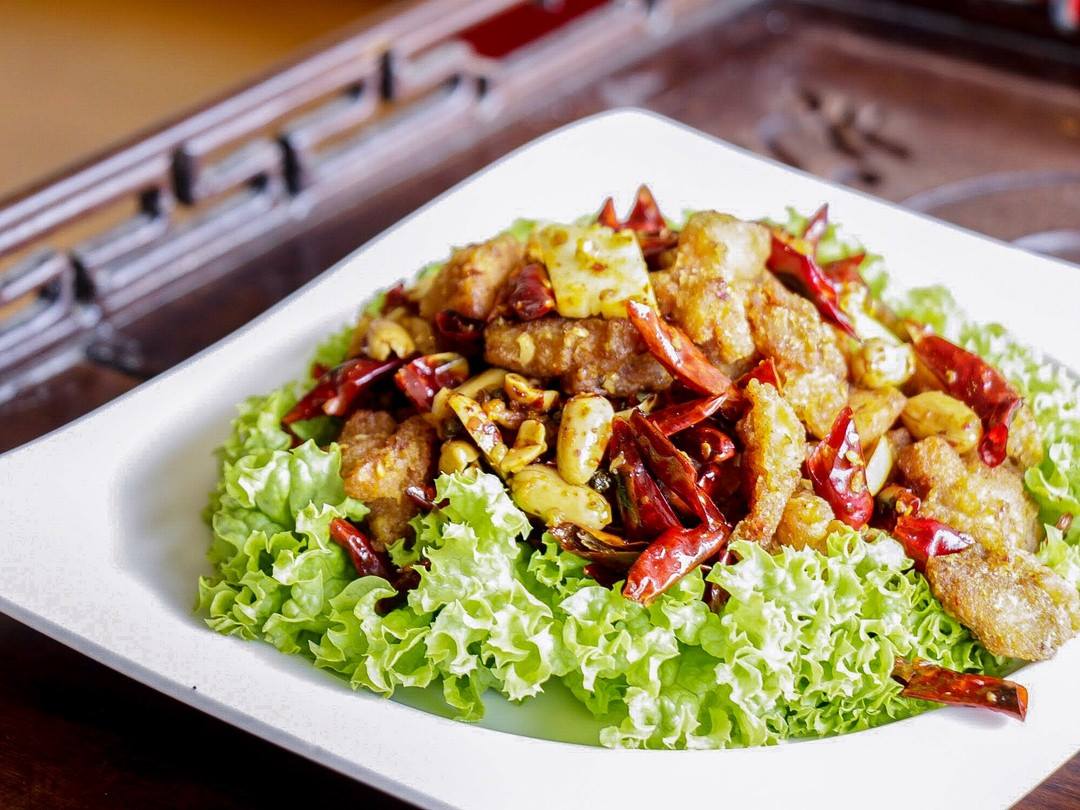 Housed in the famed Fairmont hotel, Szechuan Court & Kitchen blends two of Singaporeans' favourite cuisines: Sichuan and Cantonese. This establishment stands out from other Sichuan restaurants in Singapore by captivating diners with its elegant and charming decor like bright red lanterns and fuschia dividers.
Food-wise, Szechuan Court & Kitchen has a fairly wide selection of Sichuan and Cantonese dishes. From dim sum to luxury set menus, the restaurant caters to all kinds of palates ! We recommend checking out their Chong Qing Fried Diced Chicken. Magnificently presented with tons of peppercorn and dried chilli bits nestled within the crispy chicken, this seemingly basic dish is one to test your spice limits with.
Address: Fairmont Singapore, 80 Bras Basah Road, Level 3, S(189560)
Opening Hours:
Mon – Fri: 12pm – 2.30pm, 6.30pm – 10.30pm
Sat – Sun: 12pm – 3pm, 6.30pm – 10.30pm
3. Enjoy Mala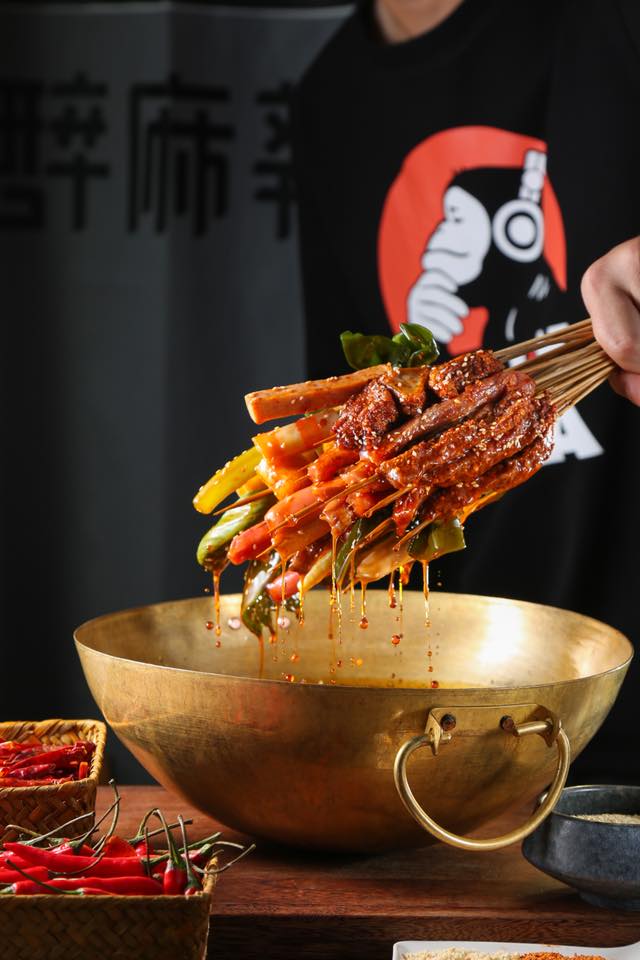 Ever wondered what Lok-Lok would taste like with a spicier soup base? Enjoy Mala joins our list of the best Sichuan restaurants in Singapore with its unique rendition of Sichuan cuisine! While they serve traditional Sichuan dishes like Spicy Wontons and Spicy Sour Noodles, the main stars here are the Sichuan Dip Pot Skewers.
After selecting a soup base, you can choose from a wealth of skewer options. These include mala staples like luncheon meat along with unconventional ingredients like spare ribs! Contrary to conventional mala hotpots, there's no cooking to be done here — you'll receive your skewers bathing in the warm broth and ready to eat.
(Also, we'd be lying if we said the headphone-wearing chimpanzee in Enjoy Mala's logo didn't tempt us over.)
Address: Orchard Central, 181 Orchard Road, #04-22/22B, S(238896)
Opening Hours: Daily, 11am – 10pm
4. Birds Of A Feather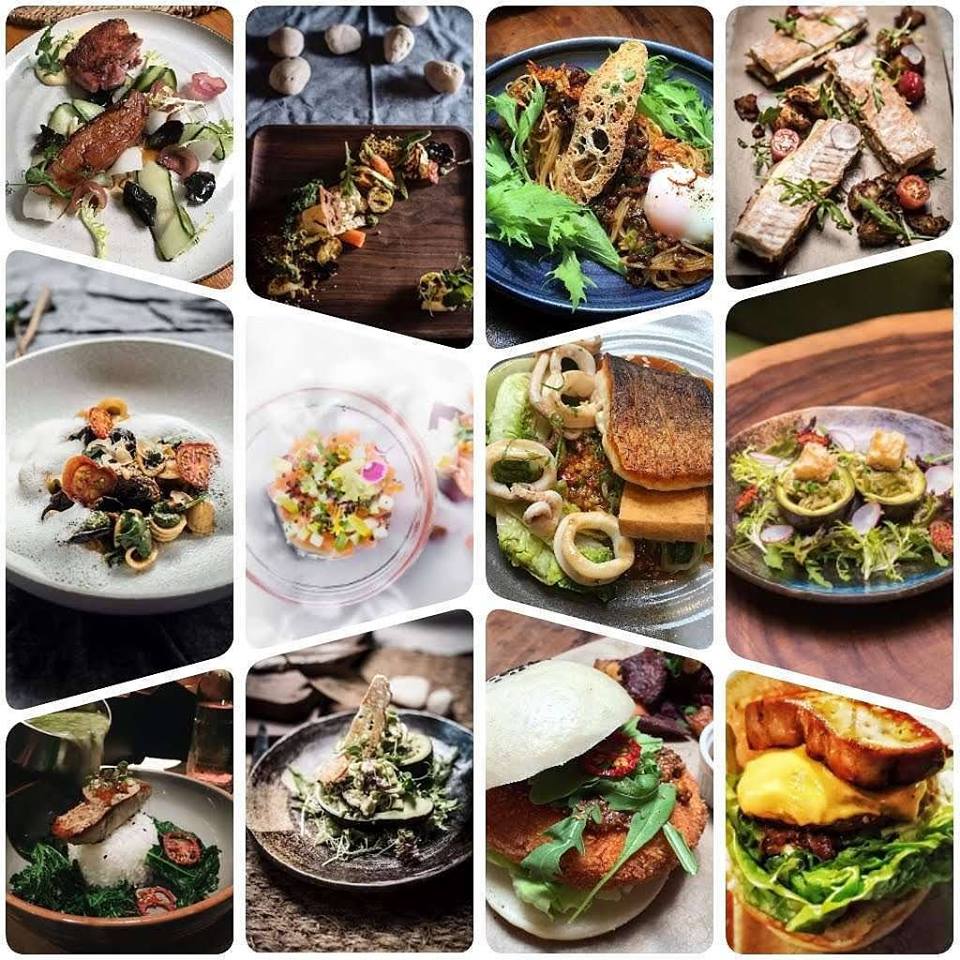 Pegged as a Sichuan-influenced modern European restaurant, Birds Of A Feather (BOAF) is the most unconventional entry in this list of the best Sichuan restaurants in Singapore! It effectively meshes traditional Sichuan cuisine with Western techniques to create a beautiful east-meets-west fusion.
BOAF's innovative strides towards pushing the limits of contemporary Sichuan cuisine has paid off, giving birth to unique creations like Hong Shao Short Ribs and Pig Ear Mosaic! Each of these Instagram-friendly dishes ooze creativity and puts BOAF far above the title of yet another pretty café. We especially love how the restaurant captures the essence of traditional Sichuan fare while expanding upon the ingredients' strength to birth wholesome and delicious flavours.
Address: 115 Amoy Street, #01-01, S(069935)
Opening Hours:
Mon – Thurs: 10.30am – 3pm, 5pm – 11pm
Fri – Sat: 10.30am – 12am
Sun: 10.30am – 10pm
5. Shisen Hanten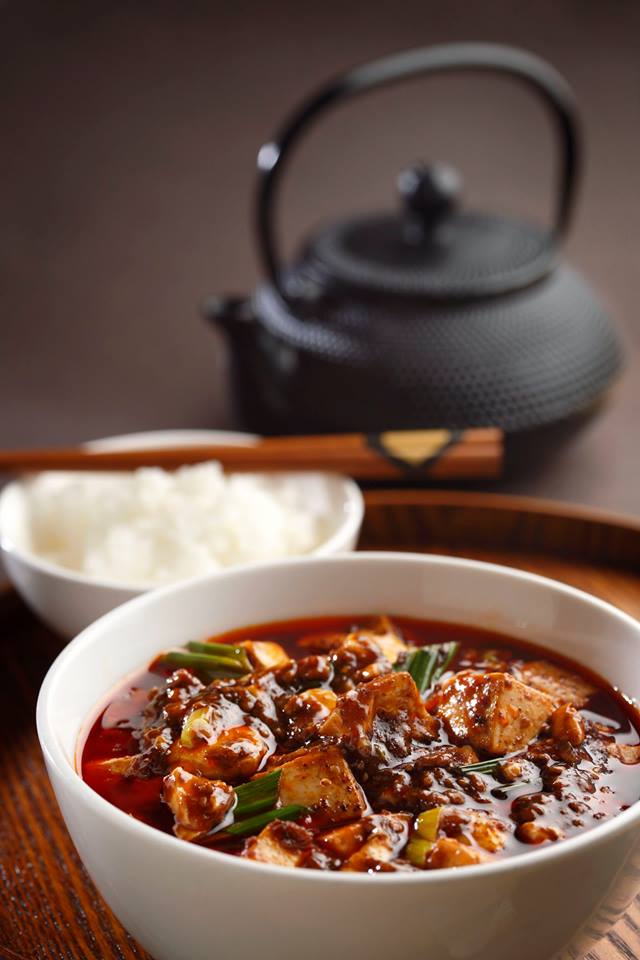 If you're a constant patron of the best Sichuan restaurants in Singapore, this next entry should be no stranger. Started in 1958 by Japan's Father Of Sichuan Cuisine, Chen Kenmin, Shisen Hanten is the by-product of decades of hard work and dedication to serve lip-smackingly good Sichuan cuisine! As the proud winner of two Michelin stars, the outlet champions an elegant and layered approach when serving its version of Sichuan food.
A must-try dish has to be their signature Mapo Tofu! As a recipe that's been handed down for three generations, the current iteration improves upon the original by presenting more robust flavours that allow it to stand head and shoulders above its competitors. The silk-like tofu combines well with the fermented chilli bean paste to deliver something out of this world!
Address: Mandarin Orchard Singapore, 333 Orchard Road, Level 35, S(238867)
Opening Hours:
Mon – Fri: 12pm – 3pm, 5pm – 10pm
Sat – Sun: 11am – 12.45pm, 1pm – 2.45pm, 6pm – 10pm
6. Le Fuse Café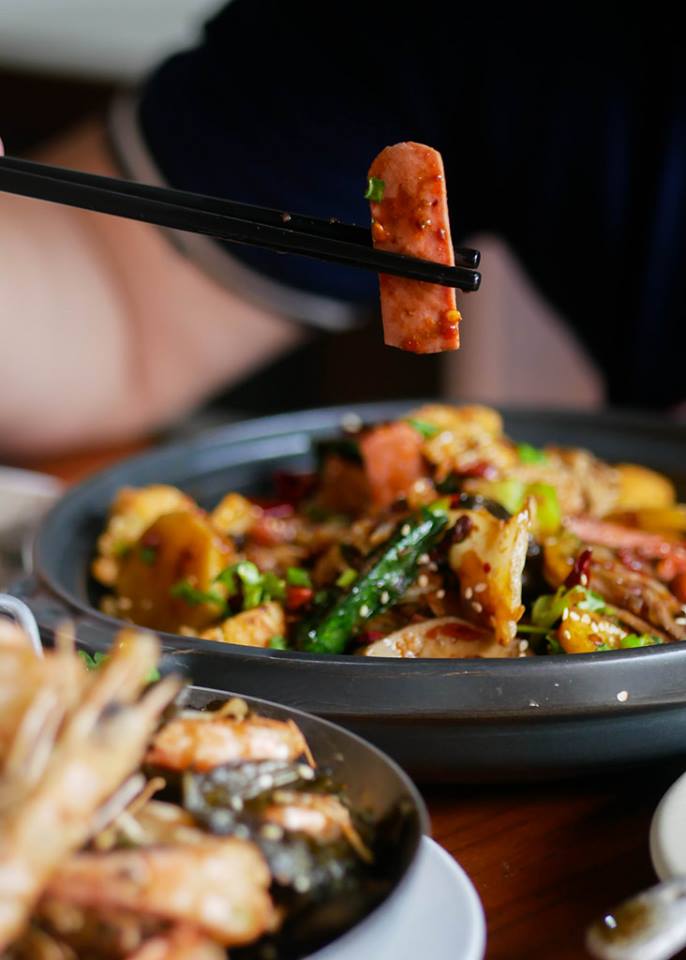 Fueled by the mala frenzy in Singapore, Le Fuse Café opened the doors of Sichuan cuisine to the Muslim community by being the first Muslim-owned Sichuan restaurant in Singapore! Besides offering traditional Sichuan dishes like Fu Qi Beef And Tripe and Sichuan Duck Rice, the restaurant also serves up a tasty serving of Mala Xiang Guo.
Instead of letting you choose the ingredients, Le Fuse's Mala Xiang Guo comes with the essentials like potatoes, fungus and sausages along with imported peppercorns to ensure it has the authentic spicy and numbing effects. The end product is a decent attempt at reinventing the formula to appeal to wider audiences so your Muslim friends will appreciate the fuss behind Sichuan cuisine!
Address: 22 Lim Tua Tow Road, S(547772)
Opening Hours:
Tues – Thurs: 12pm – 2.30pm, 6pm – 10pm
Fri: 4pm – 10pm
Sat – Sun: 12pm – 10pm
7. Si Wei Mao Cai 思味冒菜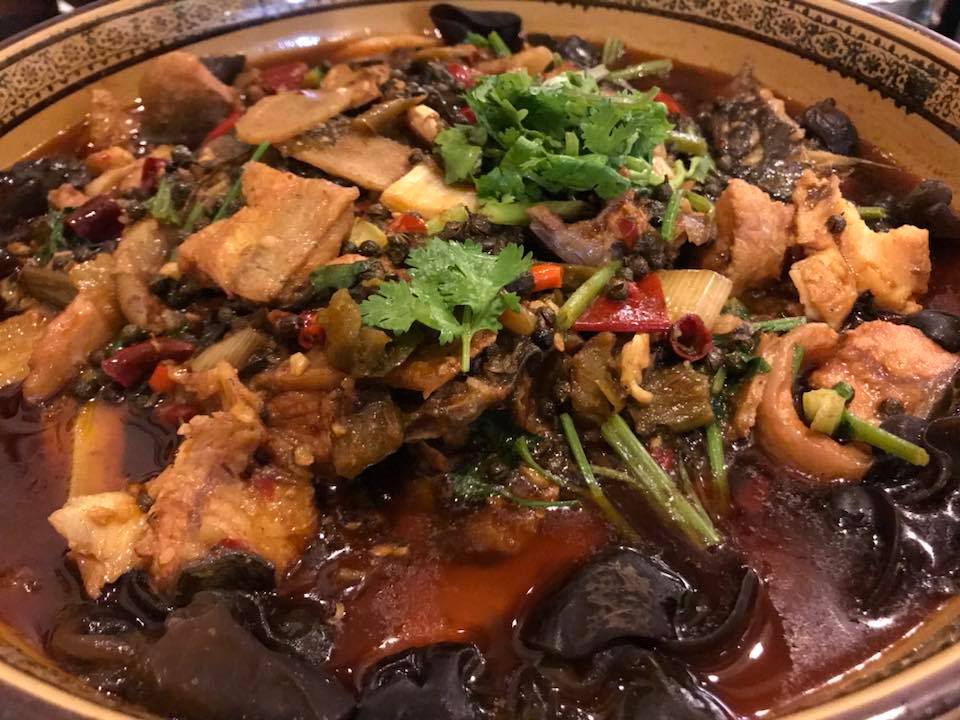 As one of the first Sichuan restaurants in Singapore to kickstart the mala trend, Si Wei Mao Cai is the go-to place for flavourful and spicy Sichuan dishes that'll leave you sweating buckets. Specialising in Mao Cai (meat and vegetables swiftly cooked in a mala stock), you'll definitely be spoilt for choice with their extensive menu that even encourages customers to suggest Sichuan dishes not found on the menu!
If you're there, you must try their signature Langzi Catfish! Meaty chunks of catfish are first fried before being cooked in Si Wei's fiery oily broth. Garnished with pickled vegetables and black fungus, the dish also includes an ample serving of sweet potato vermicelli that complements the catfish meat well. These ingredients combine to deliver an outstanding dish that's worthy of praises it has received!
Address: 33 Mosque Street, S(059511)
Opening Hours: Daily, 11am – 2.30pm, 5pm – 11.30pm
Not a huge fan of Sichuan cuisine? Why not check out our guide to the best ramen places in Singapore! Alternatively, if you have a sweet tooth, make a date to try one of these best bingsus in Singapore!
–
New to Shopee? Get $7 off (min. spend $15) with code*: SPICYLOVE
* TNC Applies. Valid for new users from 18 to 25 Mar only.