Is the cost of dining out eating into your student exchange budget? Although it's important to enjoy the local cuisine, expenses of dining out can pile on over time. So why not cook at home instead? If you're afraid of taking up the mantle of an amateur chef, don't fret — our list of easy meals to cook for Singaporean students on overseas exchange will tide you over!
Easy meals to cook for those who miss the taste of Singapore food 
1. Fried Rice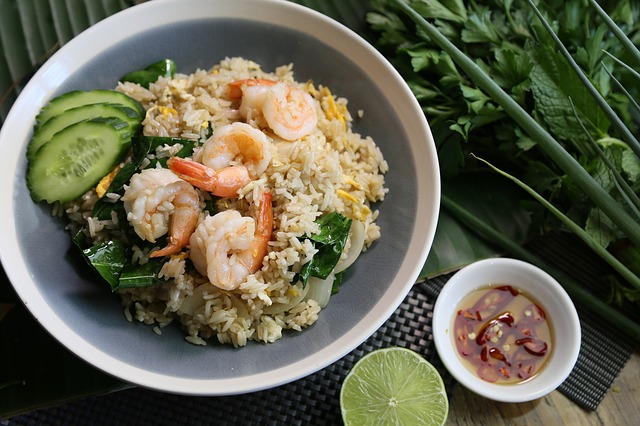 Have leftover ingredients from previous night's dinner gathering with friends? No list of easy meals to cook would be complete without including a Singaporean staple — Fried Rice.
You'll need:
Steamed white rice (300g, leftover)

Eggs (2, lightly beaten)

Chicken Breasts (or your preferred protein/seafood) (100g)

Frozen or fresh mixed vegetables (1 cup)

Cooking Oil (2 tablespoons)

Minced garlic (2 cloves)

Fish sauce (1 tablespoon)

Soy sauce (1 tablespoon)

Oyster sauce (1/4 teaspoon)

Grounded white pepper and salt for seasoning
Begin by heating your pan with oil and adding garlic. Fry the garlic till aromatic and toss in your protein and vegetables. Once they're half cooked, add in the rice and sprinkle a dash of white pepper and salt for seasoning. The trick here is to continually keep the pan's heat on high while adding the various ingredients.
Once you're almost done with stir frying, pile up the rice and make a central hole so you can pour the beaten eggs in. Let it settle for a bit before proceeding to fold the eggs with your rice. Continue to mix the eggs with the rice and your fluffy fried rice will be ready to be served in no time!
Bonus tip:
Fried rice tasting a little flat? What makes a fantastic plate of fried rice is its wok hei flavour! Literally meaning 'wok's breath', mastering wok hei grants your stir-fried dish a smoky flavour that arises from the blazing heat at which you're tossing your ingredients. You'll need plenty of zi char practice before achieving the complex charred fragrance that the dish is renowned for. For starters, try seasoning the wok with oil beforehand and avoid overcrowding the wok with too much food at one go.
2.
Bak Kut Teh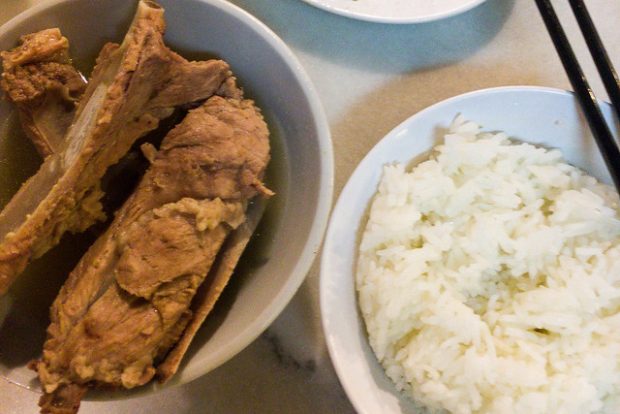 Bak Kut Teh is a must-try recipe for anyone looking to cook easy soup-based meals while overseas. Translating to Pork Bone Tea, the dish is synonymous with aromatic scents and a hearty broth that keeps you coming back or rather cooking several more times!
You'll need:
Pre-packed

Bak Kut Teh

herbs

(1 sachet)

Water (sachet-size dependent)

Pork ribs (500g)

Garlic (2 bulbs)

Tofu puffs /

tau pok

(handful)

Steamed white rice (1 bowl)

Soy sauce (2 tablespoons)

Dark soy sauce (1 tablespoon)

Oyster sauce (1 tablespoon)

Grounded white pepper and salt for seasoning
To begin, heat a pot of water to a boil and throw in the herbs, garlic bulbs, pork ribs and tofu puffs (tau pok). Reduce to low heat and let it simmer for an hour or so to let the ingredients infuse with the herbs. Then, add in the remaining seasonings and crank up the heat so the Bak Kut Teh is served piping hot. Bonus points for authenticity if you have a clay pot to serve the dish in!
3. Toast with soft-boiled eggs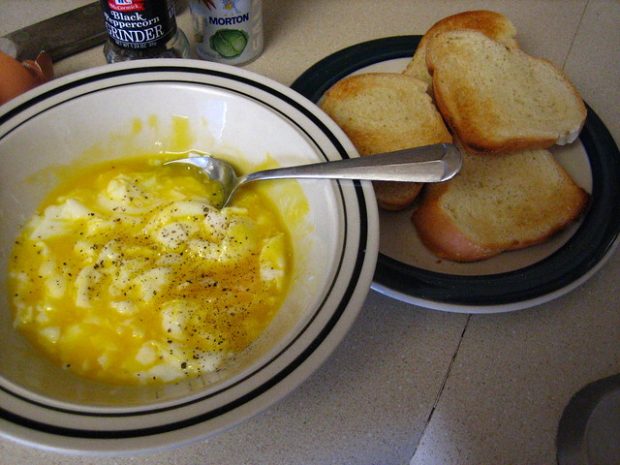 Toast with soft-boiled eggs is a popular and quintessential Singaporean breakfast option! Combining the simplicity of perfectly cooked eggs with crisp toasted bread, it's these easy to cook meals that'll keep homesickness away while on exchange. 
You'll need:
Eggs (2 or more)

Bread (2 or more slices)

Your preferred toast spread

Water (enough to submerge the eggs)

Soy sauce, pepper and salt for seasoning
Firstly, prepare a pot of boiling water to submerge the eggs in. Cover the pot with a lid and leave the eggs to cook for about five minutes. You can begin toasting the bread to a crisp while waiting for the eggs to cook. To test if they're done, remove one and carefully crack the egg into a bowl. You'll know they're done if there are no transparent whites! Scoop out the egg into the bowl and season to your taste preferences. Don't forget to dunk your toast into this gooey goodness and embrace the yolk dribbles and all.
Easy meals to cook for those short on time
4. Mac and Cheese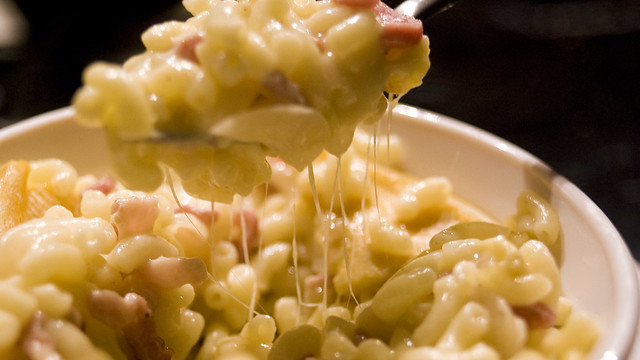 Need an easy to cook meal idea before your afternoon lecture? How about some good ol' Mac and Cheese? Although you could easily settle for a pre-made packet, making ones with actual cheese and additional ingredients can do wonders nutrition-wise.
You'll need:
Macaroni (200g)

Cheddar cheese (2 cups, shredded)

Butter (¼ cup)

Ham (1 cup, sliced)

Milk (2 cups)

Flour (¼ cup)

Salt (½ teaspoon)
First, prepare the macaroni! Bring a pot of lightly salted water to a boil and cook the macaroni in the mixture for about eight to ten minutes. Stir occasionally until the macaroni is fully cooked but still firm. Drain the water once done.
Next, for the cheese sauce, begin by melting the butter over low heat. Then, stir in flour and salt until you get a smooth buttery-flour mix. Following this, pour the milk in while continuously stirring for five minutes. Add the cheddar cheese and stir until the cheese is fully melted. Pour the cheese sauce over the cooked macaroni and add additional ingredients like ham or veggies to enhance the overall flavour.
5. Brownie in a mug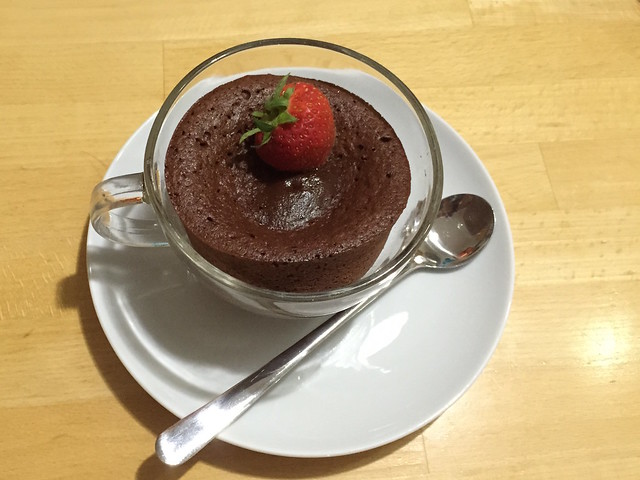 Sweet treats are also easy meals to cook! Boasting a preparation and baking time of just five minutes, you'll be coming back for seconds after the first bite of this mug brownie!
You'll need:
Cocoa (15g, unsweetened)

Water (60ml)

Butter (15g, melted)

Sugar (50g)

Flour (30g)

Salt (a pinch, for flavour)
Start by first mixing the dry ingredients (cocoa, flour, sugar and salt) in a mug that's safe for microwaving. Next, mix in melted butter and water and continue stirring while ensuring there are no clumps. Finally, place the cup into the microwave oven and leave it inside for about two minutes or so till brownie is fully cooked — do the toothpick test if you must! The end result should be a moist brownie ready to be served. For an added treat, serve with whipped cream or ice cream by the side!
Need more inspiration for easy meals to cook while overseas?
Equipped with this list of recipes, you're now ready to conquer your overseas culinary fears. Searching for more easy recipes to help you save time? Check out our guide to meal prep for the busy Singaporean. Alternatively, if you're in the mood for something healthy but can't spare the time to cook, take inspiration from these quick air fryer recipes instead!
---
New to Shopee? Get $7 off (min. spend $15) with code*: OVERMEALS
* TNC Applies. Valid for new users from 12 to 19 Oct only.