Not a fan of lacing up your shoes and heading outside for a run? Why not get your cardio done in the comfort of your own home by skipping instead! Skipping is a great aerobic exercise that helps build stamina and improve your lung capacity. It can be done as a warm-up or a quick exercise fix. Read on for some of the best skipping rope workouts you can follow, which are curated for different fitness goals such as for weight loss or muscle gain. Psst, we have included suggestions on the best skipping ropes you should get too! 
What are the health benefits of a skipping rope workout? 
With most skipping rope workouts lasting only 10 to 15 minutes (with rest intervals in between), there's no excuse to skip (pun intended!) your workout. After all, such a session would already easily burn approximately 200 calories. You'll also be pleased to know that health experts say that skipping for at least one minute each day is enough to feel the benefits, although it has to be consistent training. Here are some health benefits of skipping rope workouts: 
Improves heart health, reducing the rate of heart diseases

Improves coordination and stamina

Increases body flexibility 

Boosts mental health and keeps body calm

Decreases belly fat and strengthen abdominal muscles 

Strengthens bones, reducing the chance of osteoporosis
What are the best types of skipping ropes?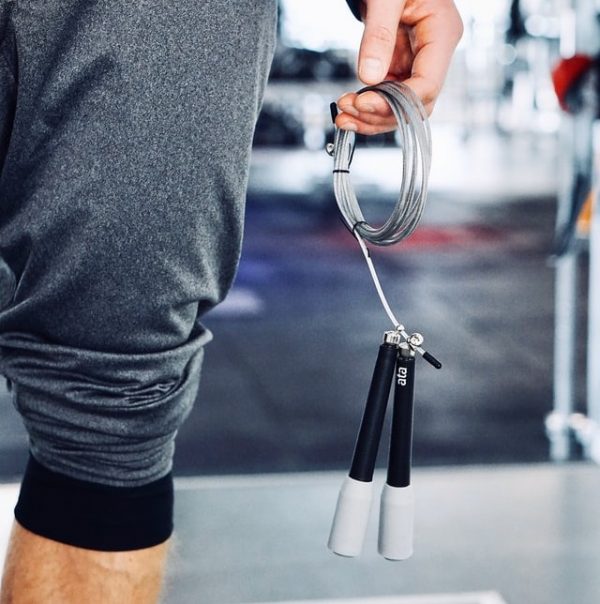 Before you embark on your skipping rope workout, it is important to get the best type of skipping rope that suits your fitness needs. After all, each type of skipping rope has its own specific benefits. Here are five common types of skipping ropes: 
Made from either cotton or a nylon cords, a basic skipping rope is most ideal for beginners of all ages. This is because the cable of these basic skipping ropes are a little thicker than other types of ropes. With wood or plastic handles, this allows for a better grip too.
Another great option for beginners are beaded skipping ropes which are made of plastic  multiple-segmented beads threaded around a cord. Beaded skipping ropes come in different colours with long handles and are extremely resistant to wear and tear. 
As its name suggests, weighted skipping ropes carry additional weight in the handles, the cable or both. This is best suited for advanced skippers or those looking to improve their strength-training, although beginners can also try them out at a slower pace. 
Speed skipping ropes are great for those who are concerned with weight loss and improving their stamina. Made of thin coated metal or vinyl, speed skipping ropes allow you to do faster rope rotations and more advanced techniques like double unders as the rope doesn't tangle easily.
Skipping Ropes With Counter
Skipping ropes with counters come with handy digital interfaces that let you focus on the actual skipping instead of getting distracted by keeping count of the number of repetitions. These ropes can measure the number of skips, calories burned and your overall fitness progress in real time.
Best skipping rope workouts in Singapore to follow
1. Skipping rope workout for beginners
Looking to commit to a skipping rope workout? Then you should start by following this workout curated specially for beginners of all ages. It starts off with 20 seconds of regular skips followed by 10 seconds of rest. This 30-second set is then alternated with other cardio exercises like jumping jacks, air squats, push-ups and front lunges. 
Total workout time: 10 minutes
Pro Tip: For starters, equip yourself with some of the best fitness trackers to help keep track and monitor your fitness progress.
Best skipping rope for this workout: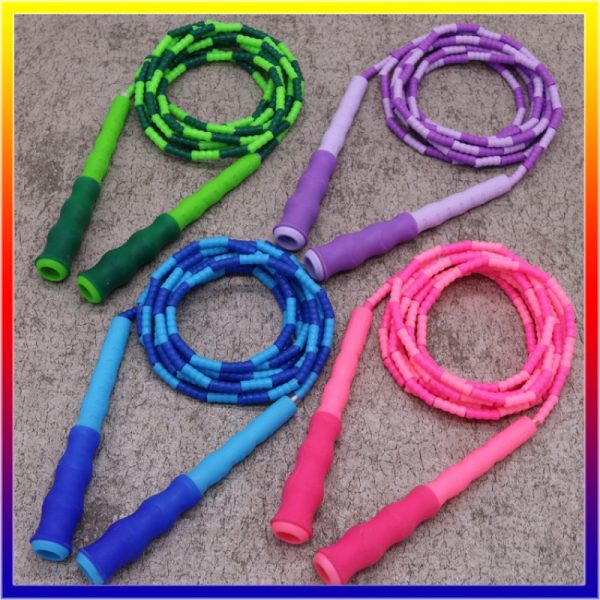 Made of lightweight soft beads, this Beaded Skipping Rope (available on audi8989.sg) is ideal for beginners as it provides better durability and helps you achieve smoother rotations. It is available in four bright colours which is sure to add some positive motivation in your workout! And if you don't have much space for workouts, do check out ropeless skipping ropes to alleviate space constraints!
2. Skipping rope workout for weight loss
Can't seem to shed the pounds? Then consider trying out this skipping rope workout for weight loss that guarantees you'll break a sweat! This skipping rope workout for weight loss consists of 30-second skipping exercises including regular skips, double unders, high knees, toe taps and sprints. Sounds intense? Fret not, there are intervals of 15 seconds rest in between each exercise. 
Total workout time: 10 minutes
Pro Tip: To track your weight loss progress, get one of the best weighing scales in Singapore for the most accurate readings.
Best skipping rope for this workout: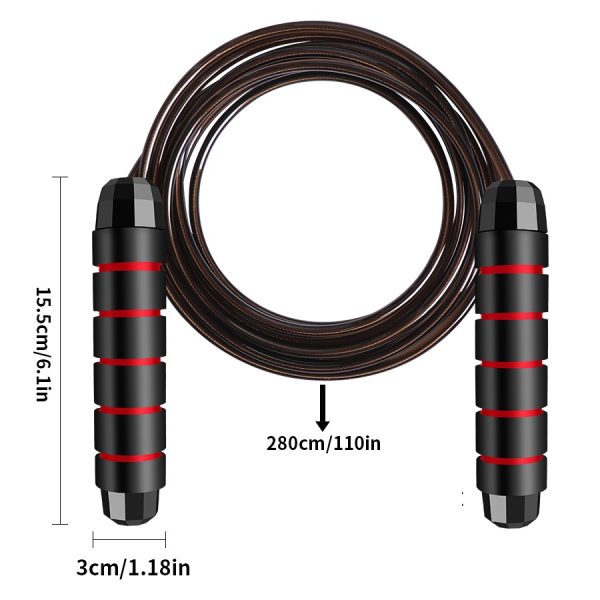 When it comes to trying skipping rope workouts for weight loss, you'll want a skipping rope like this Crossfit Skipping Rope (available on Warehouse clearance sales) that is designed for speed training. The length of this rope can be adjusted to suit your height so you'll be able to do faster rope rotations more easily since it won't tangle up as much. 
3. Skipping rope workout for endurance
This is one endurance skipping rope workout that will push you beyond your limits! Each set consists of three full minutes of jump rope boxer skips followed by 30 seconds of rest where you can choose to do some pull-ups as well. Repeat this set for five times and you would have done one of the most effective skipping rope workouts for endurance and weight loss! 
Total workout time: 18 minutes
Pro Tip: Since the sets are longer, the chances of you slipping is higher. To prevent that, use a workout mat as a steady and stable ground.
Best skipping rope for this workout: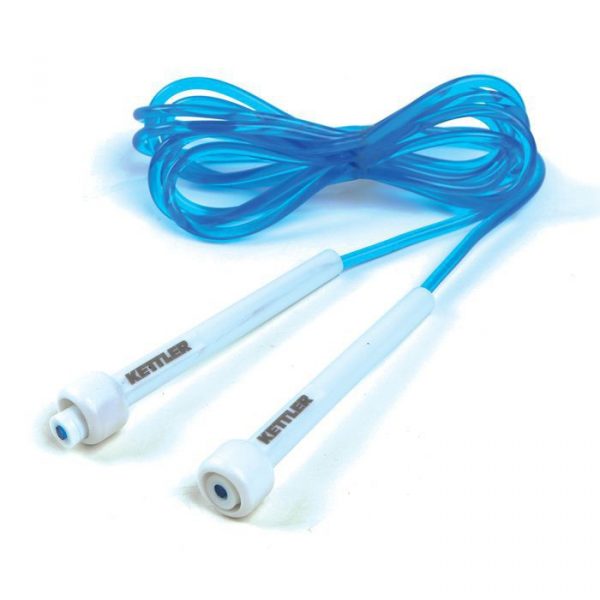 Another skipping rope you can consider getting is this Kettler KAL 401000 Speed Rope (available on Kettler Official Store) which caught our eye with its bright sky blue hue. Beyond its aesthetics, this best skipping rope is made of nylon string which provides greater control and lesser misses – great for a skipping rope workout for endurance!
4. Skipping rope workout for muscle gain
While skipping rope workouts help in weight loss, you can also try them for muscle gain. After all, skipping strengthens your abdominal muscles and increases your overall stamina. In this workout, one circuit consists of exercises like regular bounces and fast skips, with 30 seconds rest in between each exercise. Repeat the circuit up to four times, with one minute rest between each circuit. 
Total workout time: 15 minutes
Pro Tip: Complement your workout with some of the best protein powders to get the necessary macronutrients you need for faster muscle gain.
Best skipping rope for this workout: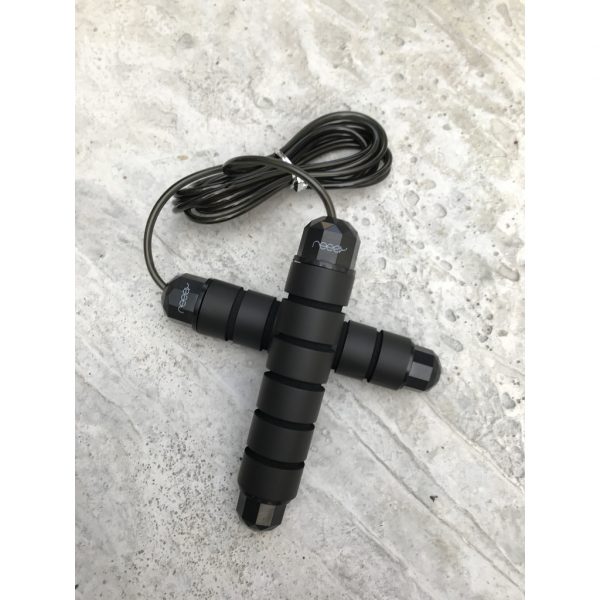 With additional weights of either 170g or 270g that can be slotted in its handles, this Reezy Weighted Skipping Rope (available on Reezy Official Store) is definitely the best skipping rope you need for muscle gain. This weighted skipping rope is available in sleek shades of red or black. 
5. Skipping rope workout for couples
Couples that exercise together, stay together! Instead of chilling in bed watching Netflix, you can always do some skipping with your significant other. Each set of this skipping rope workout for couples consists of eight 30-second intervals of different jump rope techniques and cardio exercises like high-five push-ups and planks. It is recommended to do the set at least four times, with a minute break in between sets.
Total workout time: 25 minutes
Pro Tip: Reward yourselves with the best keto meals in Singapore that are yummy and healthy at the same time! 
Best skipping rope for this workout: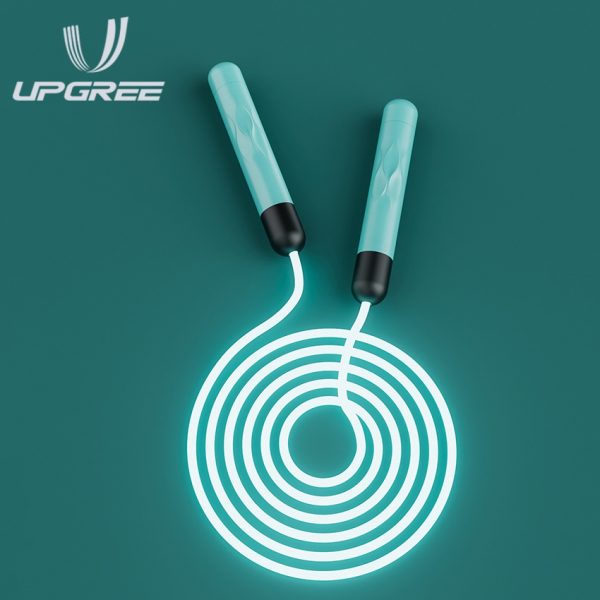 Since you light up each other's lives, we thought it would be cute and fitting to get this Upgree Luminous Skipping Rope (available on Upgree Official Store) to use for your couple skipping rope workout. Additionally, this skipping rope comes with silicone handles that have an ergonomic and skin-friendly design which is comfortable to use! 
6. Skipping rope workout for HIIT
Sweat it out by following this High-Intensity Interval Training (HIIT) skipping rope workout where each circuit consists of eight 20-second exercises. This includes the double side swipe and diagonal straddle, as well as statics like push-ups and ab crunchers. Complete the circuit at least four times with a minute break after each set, and end it off with a 60-second skipping rope sprint! 
Total workout time: 20 minutes
Pro Tip: You'll definitely be sweating buckets after this workout, so be sure to get exercise clothes from these affordable activewear brands that are breezy yet fashionable! 
Best skipping rope for this workout: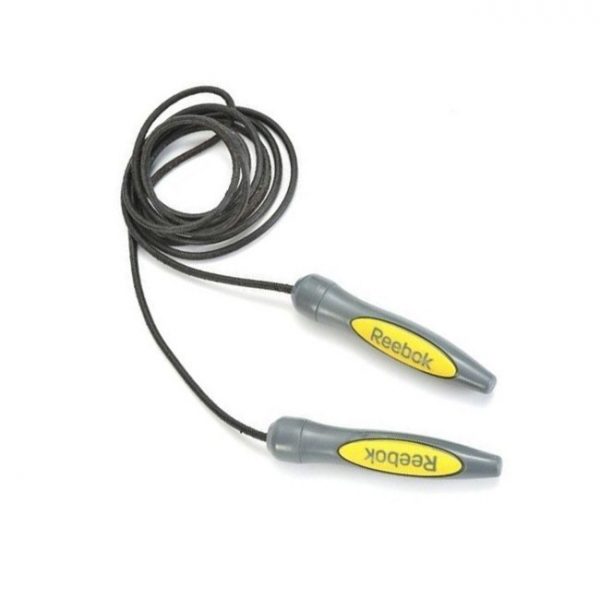 This Reebok Leather Speed Rope (available on Sporting House) makes a good skipping rope for your HIIT workouts since it is made of high-quality leather which makes the skipping motion more smooth and consistent. Moreover, its ergonomically designed handle ensures you maintain a natural grip throughout. 
7. Skipping rope workout one-hour challenge 
Ready for your biggest skipping rope challenge yet? Try this skipping rope workout which aims to keep you active for a whole hour! Each set consists of 45 seconds of freestyle skipping followed by 15 seconds of rest (do rest more in the later sets if you need to!) Repeat this for an hour and voila, you would have burned at least 800 calories! 
Total workout time: 1 hour
Pro Tip: One hour of skipping is no easy feat, so stay refreshed and hydrated with energy drinks or water that you can drink from the best water bottles in Singapore. 
Best skipping rope for this workout: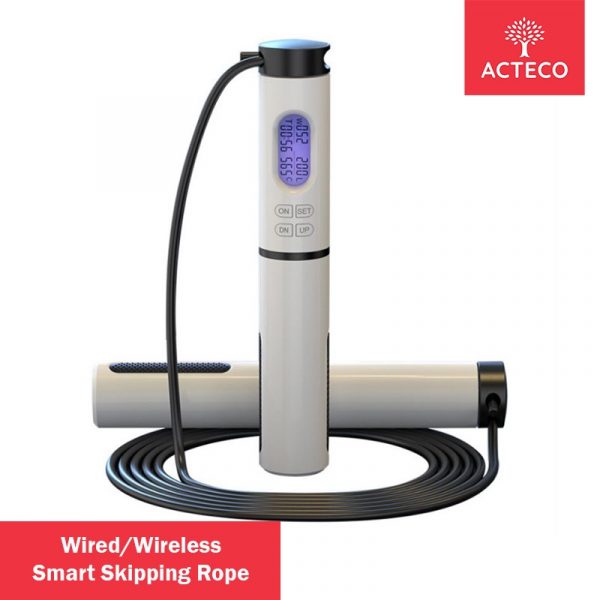 After an hour of skipping, you might lose count of the number of skips you've done. But you don't have to worry about that with this ACTECO Smart Skipping Rope (available on ACTECO Official Store) which comes with a built-in digital counter. All you have to do is input your weight in the system and it will help you track your timing, the number of skips and number of calories burned on its elegant LCD screen.
Stay in shape with these skipping rope workouts 
Whether you're intending to start skipping for weight loss or gain muscle, we hope that these skipping rope workouts will help you achieve your fitness goals. If you're serious about stay-home workouts, consider these best home gym equipment and best home treadmills to keep fit and active. Alternatively, you can follow these trainer recommended full body workouts or engage these best personal trainers to help you achieve your dream body.