While tap water in Singapore is generally safe for consumption, many of us still take to boiling water first in a feat to get rid of possible germs and contaminants. But waiting for the kettle to boil, literally, takes time that could well be spent doing something else. If you're looking for a more fuss-free way to enjoy water, why not consider a water filter instead? Here, we look at the benefits of a using water filter in your home, as well as a round up of the best water filters in Singapore!
Do I need to filter Singapore's water?
According to Public Utilities Board (PUB), Singapore's water is moderately soft and meets both the standards of the World Health Organisation and US Environmental Public Health Regulations. This means that it's safe to drink directly from the tap. However, the sanitary standards of buildings' water tanks and your water pipe condition can affect the quality of your water. Thus, buying the best water filter in Singapore for your home is an easy way to enjoy peace of mind the next time you hydrate. 
What is a water filter?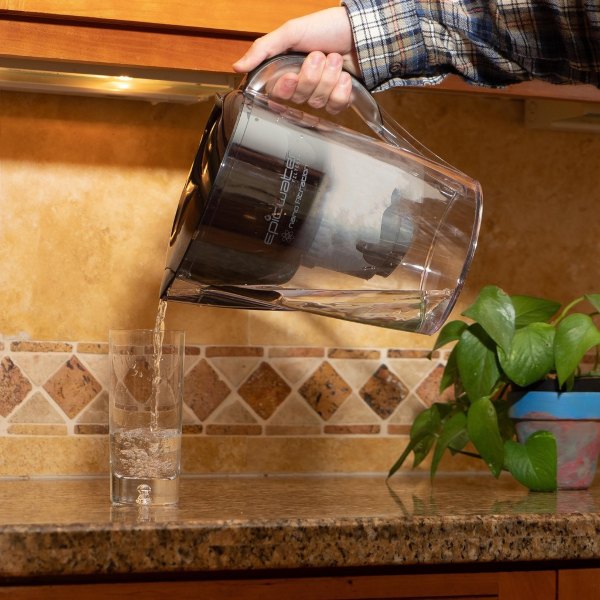 Just like how bakers sift out impurities and large particles from flour to achieve fluffy cakes, a water filter acts as a 'sift' to improve water quality. It removes unwanted impurities such as sediment and bacteria, reducing odd taste and odour from your water. 
What are the advantages of filtering water?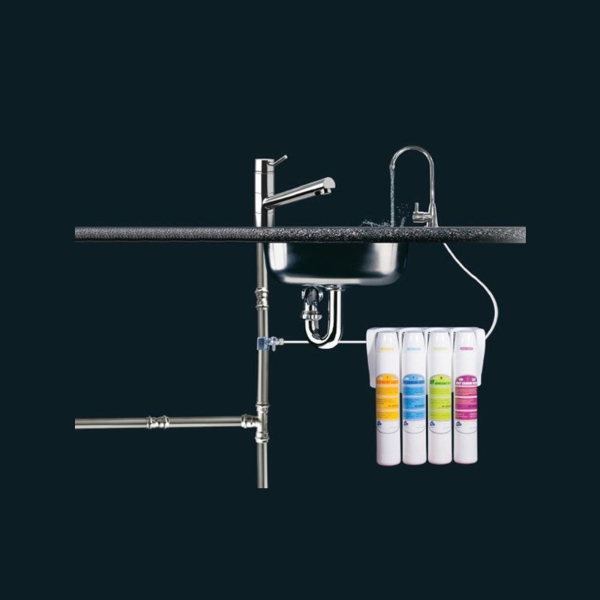 Water is not only used for drinking, it's also needed for cooking. As such, ensuring high water quality is essential for you and your family's health. A water filter is essential to maintain consistently high water quality and also provides several other benefits listed below. 
Remove harmful water impurities
One of the most direct benefits of using a water filter for your home is its ability to remove harmful contaminants. These include chlorine, post-processing by-products and heavy metals like mercury, lead and arsenic. With that said, there are some important minerals that should remain in your water. Examples include magnesium (reduce risk of heart disease and stroke), calcium (acts as a pH stabiliser) and zinc (an essential nutrient for body development). Water filters can cleverly ensure these minerals are not filtered out of your drink. 
Run out of drinking water because you forgot to boil extra in the kettle? This will no longer be a problem when you have the best water filter in Singapore for your home. Simply turn on your tap and you'll get clean, drinkable water any time of the day! In addition, using a water filter also means you no longer need to waste precious time waiting in front of the kettle for your water. This leaves you with more time to spend on the things you actually enjoy!
Improve the taste and smell of water
Are you or your kids picky about the taste of plain water? With the best water filter in Singapore, you can improve the taste and smell of drinking water. Since the water filter removes impurities, the water naturally becomes more refreshing. In addition, the water filter leaves behind healthy minerals which also helps to make the water taste better. 
Even though Singapore's tap water is safe for consumption, some of us may still turn to bottled mineral water for the best water quality. However, installing the best water filter in Singapore for your home can achieve the same results. Eliminate the need to buy bottled water once and for all when you install a water filter. You no longer need to spend money on bottled water and can also help to contribute to waste reduction! 
Water filter vs water purifier: What is the difference?
When it comes to water filters and purifiers, many of us use the terms interchangeably. Are water filters the same as water purifiers? Check out the table below to gain a better understanding of the differences. 
Water Filter
Water Purifier

How it works

Uses physical barriers to filter out physical impurities

Uses multiple layers of filters and chemicals to kill viruses. Some rely on ultraviolet light to treat pathogens.

Effectiveness

Removes bacteria and impurities such as dust and sediments

Removes bacteria, impurities and viruses

Pros

Saves time 

Usually cheaper than water purifier

Easy to install 

Saves time

Low maintenance

Ensures the best water quality, taste and smell

Cons

Not effective in eliminating viruses

Not effective in removing dissolved solids, heavy metals and chemical pollutants

Tap filter may affect the flow rate of your tap water 

May require regular replacement of filter cartridges

May have negligible results on improving the quality of Singapore's water

More costly than most water filters
How do water filters work?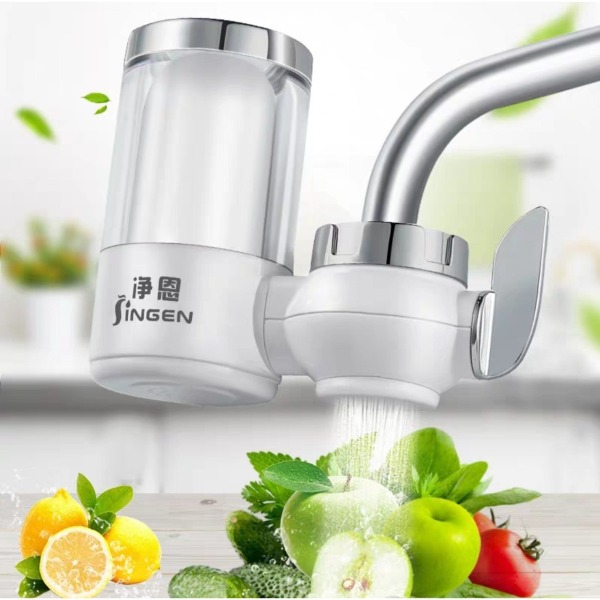 With the advancement of technology, there are now many different ways to filter your water. The following are some of the common filter technologies used by the best water filters in Singapore right now. 
Carbon and activated carbon:

Chemically bonds and removes contaminants as water flows through the filter. Helps to reduce the smell of chlorine and improve taste. 

Ceramic filter:

Uses ceramic material with small pore-sized holes to filter sediments. Does not remove chemicals and other contaminants. 

Reverse osmosis:

Blocks any particles that are larger than water molecules. Usually used in combination with activated carbon. This method also removes healthy minerals like iron, calcium and magnesium. 

Alkaline filter:

An electric current is passed through the water to increase its pH level. It is believed that higher pH level water is healthier. 

Ultraviolet filter system:

UV rays are emitted to neutralise harmful bacteria and viruses in the water. This method does not remove chemicals or particles. 

Ion exchange:

The ion resin attracts and removes calcium and magnesium found in hard water. 
Best water filter pitchers in Singapore for those on a budget
You don't need to install fancy water filter systems to get the best water quality. A simple pitcher or jug equipped with a water filter is a budget-friendly solution to better water. Some of these water filter pitchers even come with replaceable filters to ensure good hygiene and maximum effectiveness. Simply fill the pitcher with tap water and pour yourself a cup as per normal – no need to boil your tap water anymore!
1. Mistral 2L Compact Water Filter Jug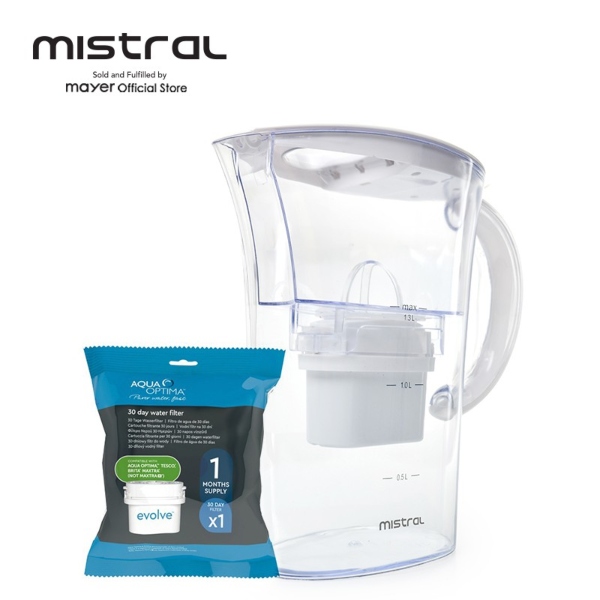 The Mistral 2L Compact Water Filter Jug (available on Mayer Official Store) is one of the best value buys available on the market. At less than $100, it even comes with a complimentary 2.5L electric kettle for your hot beverages!
Freebies aside, the water filter jug is equipped with the Aqua Optima five-step water filter system to remove chlorine, limescale, herbicides, pesticides, lead and heavy metals from your tap water. This is one of the best water filter systems in Singapore among filter pitchers. It comes with a replaceable 30-day water filter cartridge which can be easily attached to the jug for convenient filtration. When the one-month duration is up, the filter life indicator will remind you to make the replacement so you'll never forget!
2. novita HydroPlus Water Pitcher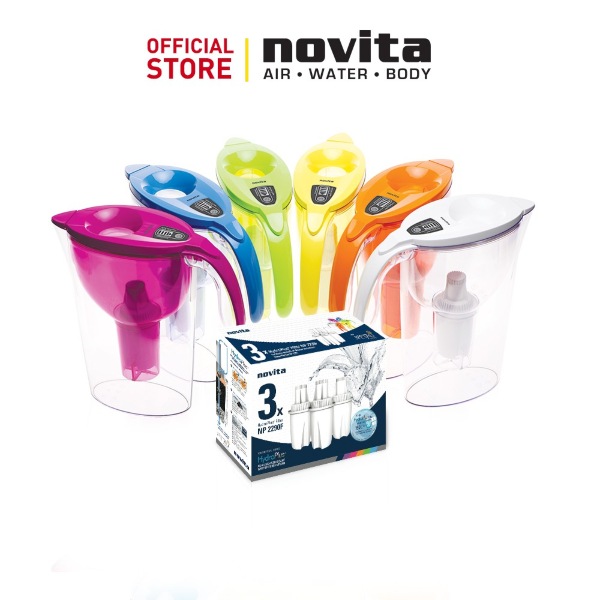 Unless you're considering an under sink water filter, aesthetic matters. The novita HydroPlus Water Pitcher (available on novita Official Store) comes in an array of attractive colours such as periwinkle purple and spring green. It's sure to add a pop of colour to your life!
Utilising a three-step water filter system that combines ion exchange, silver activated carbon as well as alkaline filter, high water quality is achieved instantly. This best water filter pitcher in Singapore removes 95% chlorine, unwanted chemicals and increases pH to mild alkaline level to promote pH balance in the body. This water filter for your home also enriches the water through Far Infrared Rays which help to oxygenise water to promote better metabolism rate and blood circulation. We highly recommend gifting this as a housewarming gift to help better the health of your loved ones!
3. Epic Nano Water Filter Jug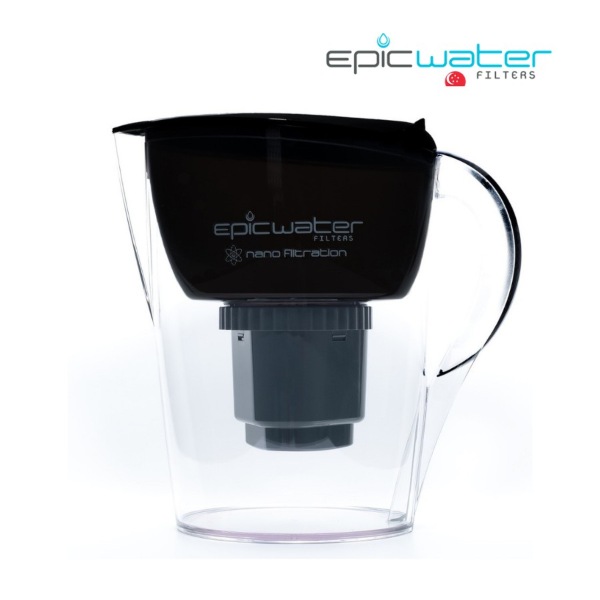 Hate changing filter cartridges on a monthly basis? Here's the good news – the Epic Nano Water Filter Jug (available on Epic Water Filters Official Store) doesn't require a replacement as often as you think. If you're the only one using the jug, you'll only need to replace the cartridge once every four to six months. Meanwhile, couples who are sharing the jug can change the filter every three to four months. Larger families will need to change it more often every two to three months.
But don't be mistaken, longer intervals between replacements don't undermine the filter's effectiveness. This best water filter jug in Singapore is designed to eliminate up to 99.99% of water contaminants including bacteria and viruses. In fact, it's so effective it can be used with hard or untreated water!
Best on-tap water filters in Singapore that are easy to install
Another convenient way to filter your water from the get-go is to install an on-tap water filter. As its name suggests, the water filter is specially designed to be attached to the tap. Water is passed through the filter when the tap is on, producing clean drinkable water on the spot. This is a great method if you want to wash your ingredients with filtered water before cooking. However, do note that the water filter may disrupt the usual flow rate of your tap. 
4. Nemo Kitchen Tap Filter Head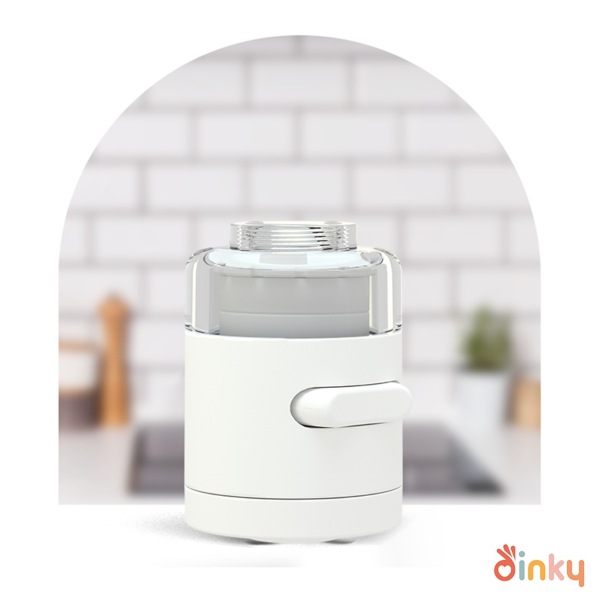 The Nemo Kitchen Tap Filter Head (available on The Dinky Shop 小家货 Official Store) allows you to access clean filtered water right from the tap. It uses a 5.0-micrometre sediment filter to trap impurities, heavy metal and fine rust particles in your tap water. This is the best water filter in Singapore for your home, especially for ageing water pipes which may rust over time. The tap filter will need to be replaced every 30 to 40 days. Before purchasing, do check that the Nemo Kitchen Tap Filter Head is compatible with your tap. 
5. Hexagon Water Filtration System 2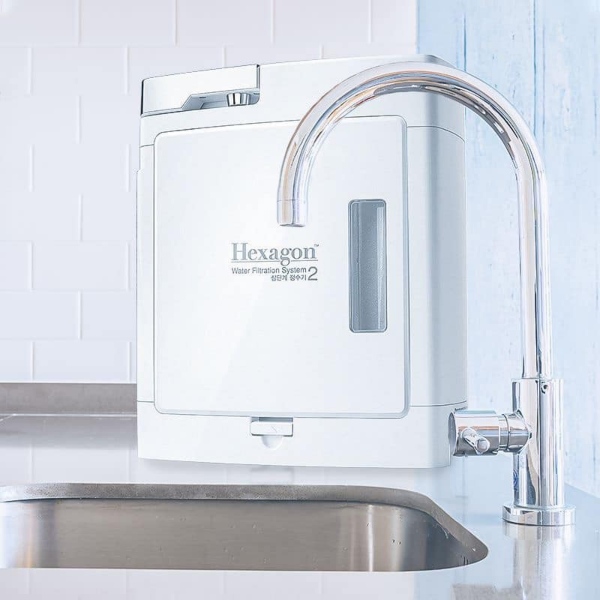 Out of all the best on-tap water filters in Singapore, the Hexagon Water Filtration System 2 (available on Onestop Mini-mart) has got to be the most bougie-looking. With a sleek, white encasing, this Hexagon water filter is a beautiful addition to your kitchen countertop while maintaining a minimalist aesthetic. This water filter comprises a special mineral block filter that prevents any harmful elements from winding up in your drinks. But that's not all this Hexagon water filter offers. The filtration system also alkalises tap water, converting it to hydrogen so it overflows with antioxidant properties! As alkaline water has been shown to improve bone health and reduce blood pressure, cholesterol levels and blood sugar, every sip of water you get from this filtration system will ultimately result in a health boost!
6. Doulton Tap Water Filter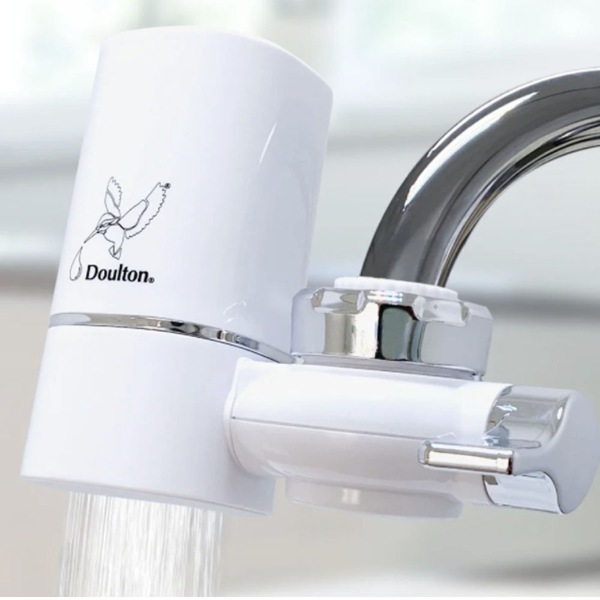 It can be a challenge to find the best on-tap water filter in Singapore that fits your tap to a tee. Thankfully, the Doulton Tap Water Filter (available on Doulton @Singapore) comes with a range of fittings to ensure compatibility with many styles of taps. The tap water filter also offers the option to choose between a ceramic or carbon filter depending on your needs. While the carbon water filter reduces chlorine, heavy metals and organic matter, the ceramic filter does all of these with additional micro-filtration of harmful pathogenic bacteria. At only $10 difference, we highly recommend going for the ceramic water filter for the best protection!
7. Konka Tap Ceramic Water Filter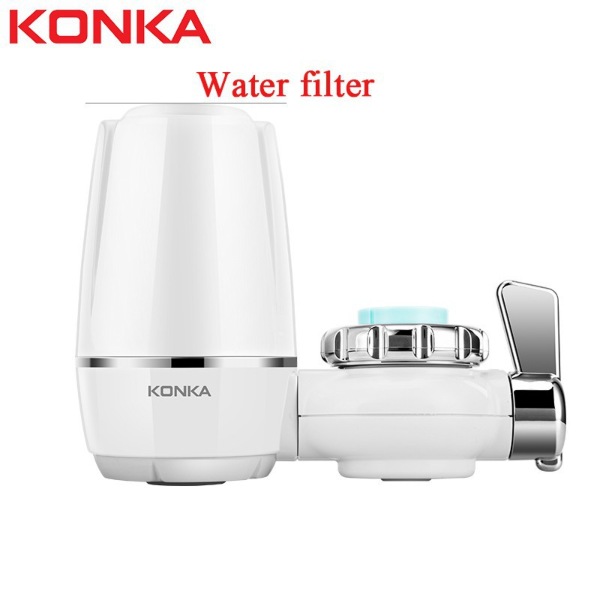 While it is common for on-tap water filters to slow down the flow of water, you will barely notice the delay in the Konka Tap Ceramic Water Filter (available on Konka Official Store). The Konka water filter works efficiently to deliver a flow rate of 2L per minute. While this is still slightly slower than the usual 4L per minute on a non-filtered tap, the difference is minimal and you won't be left feeling impatient when trying to fill up your glass. The ever-so-slightly slower flow rate is worth the wait when you know that your water is flowing through nine layers of filtration to eliminate any harmful substances. However, do note that this water filter for your home is not compatible with pull-out faucets or sensor faucets. 
Best under sink filtration systems to save on counter space
Get all the work done under the sink and away from your sight with under sink filtration systems. This type of water filter for your home usually comes with more professional filter systems for thorough protection. Under sink filtration systems can either be installed directly into the water pipe system or as an additional filter water supply at the side of your sink. As such, many under sink filtration systems require professional help to install. 
8. Waco 4 Stages Under Sink Water Filter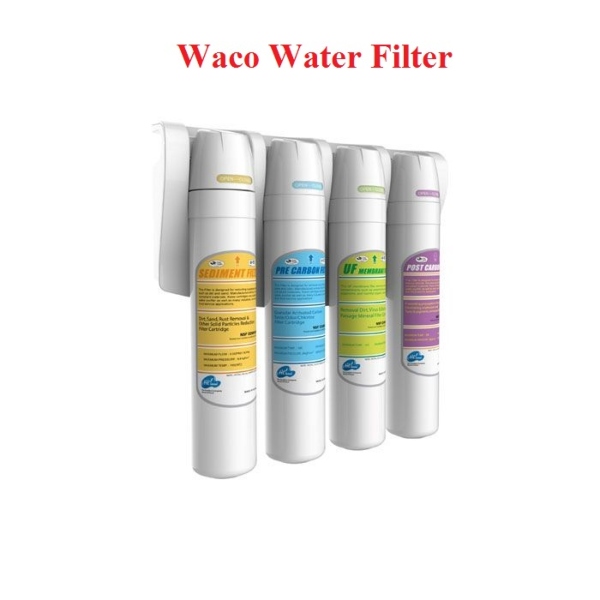 Enjoy a refreshing drink right from the tap when you equip your kitchen with the Waco 4 Stages Under Sink Water Filter (available on Takada Singapore Official Store). This professional water filter system works in four stages. The water first passes through the sediment filter to eliminate small particles. Then, it flows into the pre-carbon filter to remove chlorine and organic substances. This is followed by the post-carbon filter which removes dissolves gases and odours – something not every best water filter system in Singapore is capable of!
As for the last step, you have the option to choose between an ultrafiltration filter to remove high molecular weight impurities or a nano pH alkali filter. The latter converts your system into one of the best alkali water filters in Singapore, increasing the pH level of your water. 
9. AmGlow 6-Stage Water Filter System
As if a four-stage filtration system isn't impressive enough, the AmGlow 6-Stage Water Filter System (available on AmGlow Official Store) is here to surpass our expectations. Aside from the usual sediment, activated carbon, carbon block and post-carbon filters, this best water filter system in Singapore also comes with an alkaline remineralisation filter and another post carbon filter to double down on your water's quality.
The alkaline filter is designed with mineral stone and calcite to increase healthy minerals in your water. It raises pH by 0.5 to 0.8 for a good health boost. The extra post carbon filter is a non-electric powered one that works to kill remaining bacteria, germs and remove dirt. The results? Water that is way better than the quality of boiled water! Despite the complex stages, this setup is sleek and slim, taking up minimal space under your sink. It also comes with an extra faucet which you can install beside your original tap with minimal tweaks to your original sink setup. 
10. Doulton HISPF BioTect Ultra 2504 Drinking Water Filtration System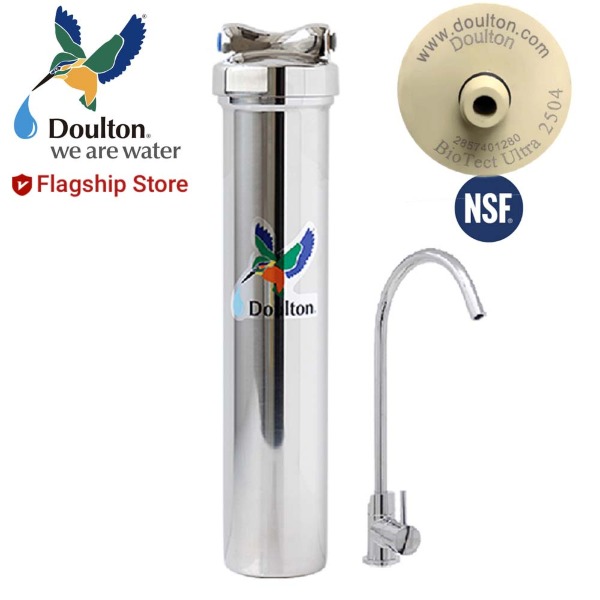 The Doulton HISPF BioTect Ultra 2504 Drinking Water Filtration System (available on Doulton @Singapore) may seem a little simplistic compared to its counterparts with multiple filters. But don't be mistaken, this is one of the best water filters in Singapore.
Instead of running the water through multiple filter stages, the Doulton achieves similar results through one single ceramic filter. This special ceramic filter contains granulated carbon and carbon block to remove bacteria, particles, chlorine, odour and heavy metals concurrently. Getting all of these done within one filter cartridge also means lesser maintenance is required for the system. Simply remove the ceramic filter, scrub the gunk off under water and voila, your filter system is as good as new again!
Stay hydrated with the best water filters in Singapore for your home
Water is an essential part of our lives, so it's always a good idea to invest in the best water filters in Singapore to ensure you're drinking the highest quality water. Once you've got your water filter in place, you'll need some of these best water bottles to get the hydration going. If the hot weather is getting to you, here's a quick tip to cool your body down. Simply pop a jug of filtered water into one of these best refrigerators to enjoy some refreshing chilled water that will help beat the heat!