National shuttler Loh Kean Yew made headlines earlier this year (22 Feb 2022) for ranking ninth in the badminton world rankings published by the Badminton World Federation (BWF). He was also crowned the world champion for the Men's Singles title at the BWF World Championships in December 2021, and recently represented Singapore at the Badminton Asia Team Championships in Malaysia. With such a long list of outstanding accolades, it's only natural to aspire (or hope for your kid) to be just like Loh Kean Yew! We'll give you a headstart with this list of best badminton rackets that will help you ace your game. 
How to choose the best badminton racket?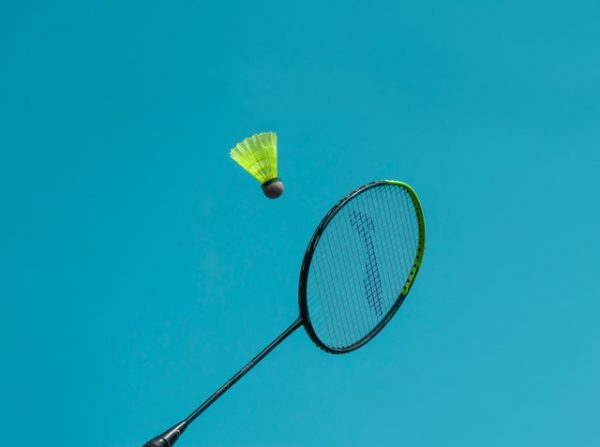 For starters, it is important to know your skill level and style of play and choose a badminton racket that enhances those attributes. Here are some things you need to consider when choosing the best badminton rackets: 
The weight of your badminton racket can affect how you play. Some feel that they serve better when using a heavier racket while others prefer a lighter option. The weight of a badminton racket is denoted by a "U", where the smaller the number, the heavier the racket. 
| | |
| --- | --- |
| Unit | Weight |
| 1U | 95g – 100g |
| 2U | 90g – 94g |
| 3U | 85g – 89g |
| 4U | 80g – 84g |
| 5U | 75g – 79g |
A badminton racket is divided into three main sections: head, shaft, and handle. When choosing the best badminton rackets, it is crucial to check its balance point, which refers to the area where the weight of the racket is largely located. To determine the type of balance your racket has, place a finger just slightly below the head of the racket to see which way the racket tilts.
Type of balance
Features & benefits 

Head-heavy balance 

More mass towards the head of the racket

Can increase power in the strokes 

Suitable for players who like to play a powerful game from the back of the court

Useful for players who likelong exchanges on court

Head-light balance 

Less weight towards the head of the racket

Easier to control and swing, reducing reaction time

Offers a lot more speed at the net and allows you to kill a game in the front court

Popular among doubles players

Even balance 

Middle ground between a head-heavy and head-light balance racket

Most suitable for beginners and those who are not sure of their playing style 
The string tension of a racket can also affect your play, depending on how much force you channel into your strokes. In a tropical country like Singapore, higher racket tensions are usually used as the strings tend to expand more. To test the string tension, press your palm against the strings and see how far it sinks. A 1mm sunken depth of the strings is the ideal tension for most players. 
It is also essential to consider the hand grip when choosing the best badminton rackets. For example, towel grips are softer and good for absorbing sweat, while synthetic grips are slick and less messy. 
Best badminton rackets for beginners
1. Mizuno Sky Warrior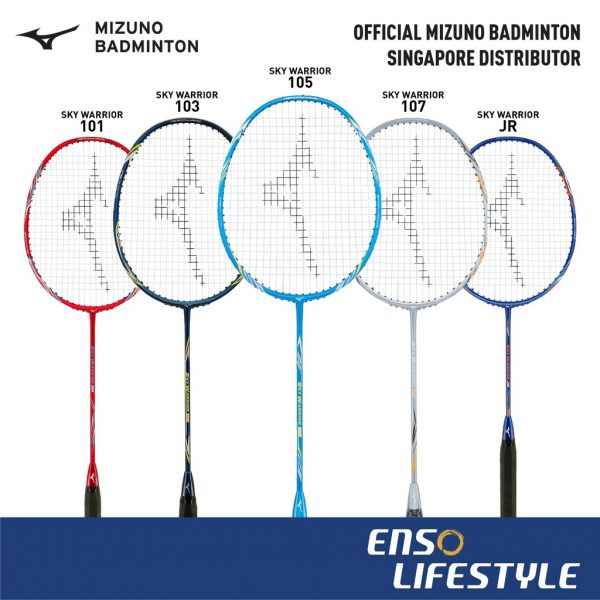 When it comes to the best badminton racket brands for beginners, Mizuno is a popular option. In particular, we recommend the Mizuno Sky Warrior (available on Enso Lifestyle Official Store) series which features five different models of varying colours such as teal, royal blue and frost grey. Made of aluminium and graphite, these Mizuno rackets provide a greater elasticity and have the ability to exert more power on the shuttlecock. Moreover, with a racket weight between 2U and 3U, you won't end up with a sore arm the next day! 
2. Yonex Nanoray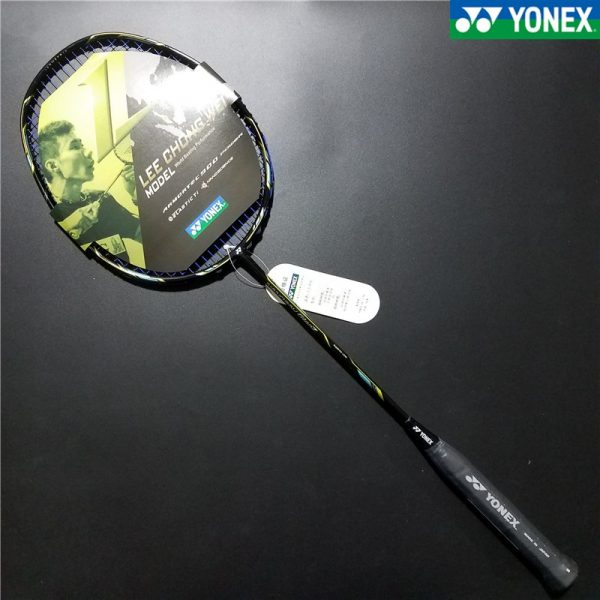 Having been around since 1946, it is without a doubt that Yonex is one of the best badminton racket brands around. We strongly suggest getting the Yonex Nanoray (available on topsportsshop8.sg) for beginners given its lightweight (4U) frame. This allows you to deliver quick serves and switch to different strokes easily, which helps build your momentum if you're just starting out. Did we mention that this Yonex racket purchase comes with a free badminton bag? What a steal! 
3. ALP GJ Racket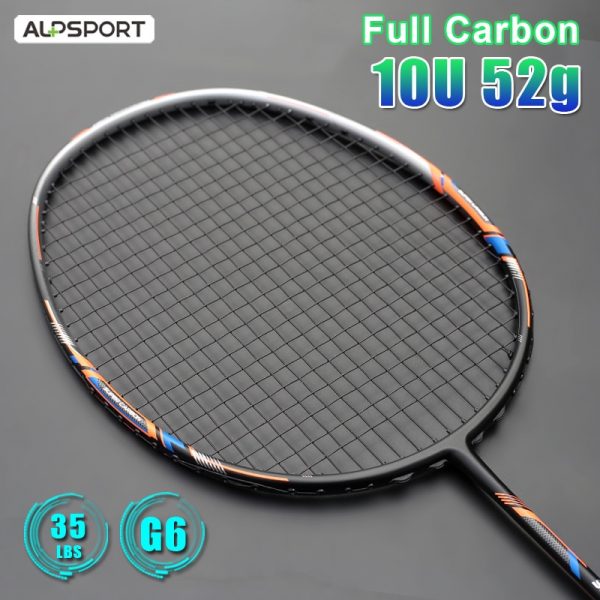 At only 52g (10U), the ALP GJ Racket (available on ALP-SPORT) is definitely one of the best lightweight badminton rackets on the market for beginners! Lightweight rackets are good because they are easier on the wrist and shoulders, reducing the chances of injuries for inexperienced players. Features-wise, this ALP racket is designed with stacked cup carbon nanotubes that have higher toughness as compared to other rackets, and even has a swing speed of up to 200km/h!
Best badminton rackets for intermediate and advanced players 
4. Kawasaki King K9 46T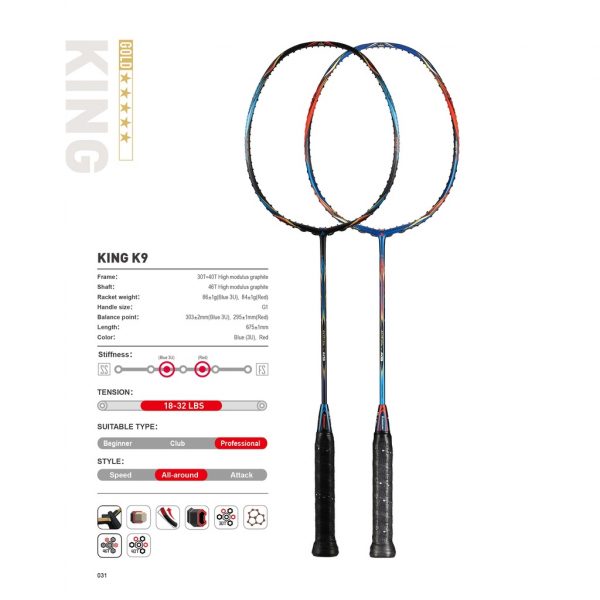 As a well-loved racket sports equipment brand, we can count on Kawasaki to produce some of the best badminton rackets in Singapore. Specifically, we adore the Kawasaki King K9 46T (available on KWSKI.sg) because of its hexagon frame structure. This ensures more accurate hits and creates a good damping effect. Made of high modulus graphite, it also allows you to swing at a higher tension with less risk of causing damage to the frame. Additionally, this Kawasaki racket comes in striking shades of blue and red – a win if you are big on aesthetics! 
5. Upgree Badminton Racket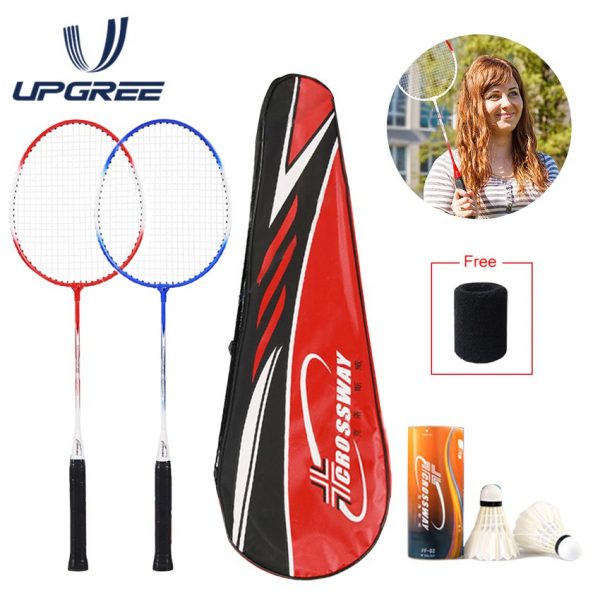 The Upgree Badminton Racket (available on Upgree Official Store) is another frontrunner on our list of best badminton rackets owing to its oval head design. This increases the effective area of the racket net and expands the spot where the shuttlecock can hit. On top of that, this Upgree racket is made of good elasticity and installed with high-strength wire holes that can better protect the strings. This extends the racket's longevity – great for those serious in training to be as good a badminton player as Loh Kean Yew!
6. Protech Zephyr Virtuous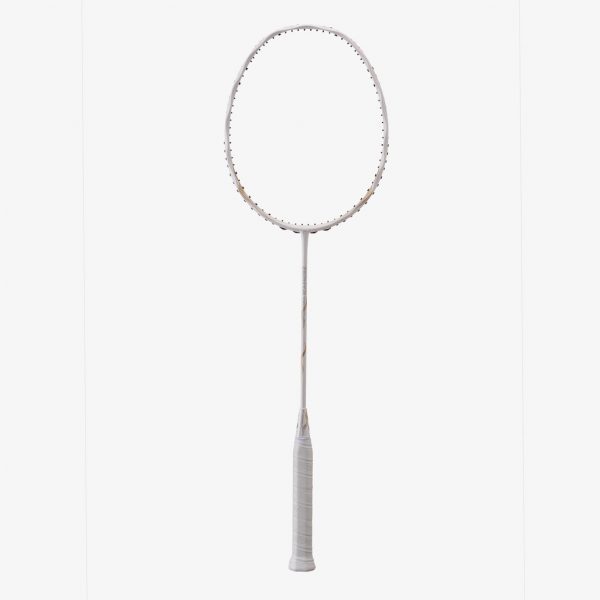 Another best badminton racket brand that is a fan favourite has got to be Protech, which produces rackets that have all the necessary qualities. Case in point: the Protech Zephyr Virtuous (available on L&T Shop) comes with an extra slim shaft which reduces air pressure and an all-rounded frame for solid hitting. What's more, this Protech racket also has a new gourmet pattern on the strings. Its grommet holes give the racket a higher density which in turn brings about more stable hits – great for experienced players who like to smash to win! 
7. Apacs Fighter Plus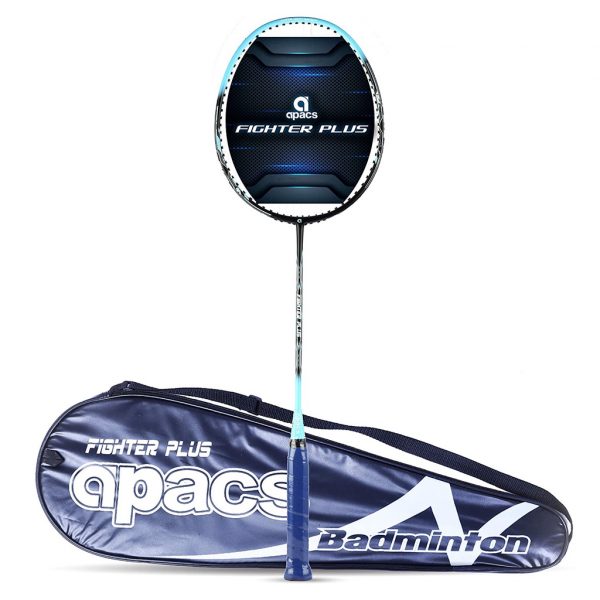 Whether you're going on the offensive or hunkering down in defence, the Apacs Fighter Plus (available on Sports-Zone SG Official Store) has got your back! As one of the best badminton rackets in Singapore, it is adaptable to a variety of playing styles. This is because this Apacs racket is designed with an isometric shape which gives you a larger sweet spot, hence making it easier for you to hit a shot efficiently. Available in stunning hues of red, blue and yellow, you'll be impressed by its aesthetics too! 
Best badminton rackets: Loh Kean Yew's recommendation
8. Li Ning Turbocharging Series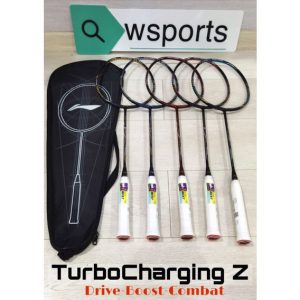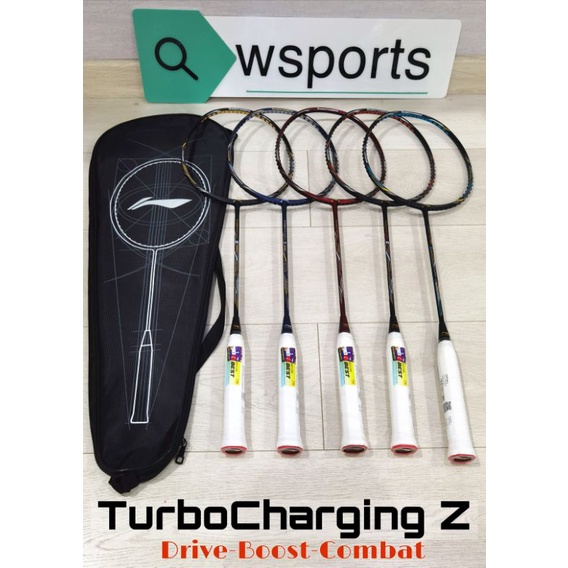 As an avid badminton player since the young age of eight, Loh Kean Yew has used a fair number of rackets. But his ultimate recommendation? The Li Ning Turbocharging 70C or any racket from the Li Ning Turbocharging series for that matter. While it is relatively heavier at 89g (3U), this Li Ning racket is built for speed. It comes with a string type that has high repulsion and durability, which makes doing strokes more comfortable and suited to LKY's playing style. Additionally, LKY suggests getting a good badminton grip especially if you often get sweaty palms!
Overview of the best badminton rackets 
| | | | |
| --- | --- | --- | --- |
| Badminton Racket  | Weight | Maximum Tension | Price |
| Mizuno Sky Warrior Racket | 2U or 3U | 20lbs | $26 – $29 |
| Yonex Nanoray Racket | 4U | 26lbs | $28 |
| ALP GJ Racket | 10U | 35lbs | $49.90 |
| Kawasaki King K9 46T Racket | 3U or 4U | 32lbs | $183.99 |
| Upgree Badminton Racket | ~3U | ~30lbs | $23.49 – $44 |
| Protech Zephyr Virtuous Racket | 5U | 35lbs | $92.50 |
| Apacs Fighter Plus Racket  | 1U | ~30lbs | $19.90 |
| Li Ning Turbocharging 70C Racket | 3U | 32lbs | $251.90 |
Badminton accessories and apparel needed for your game
1. Shuttlecocks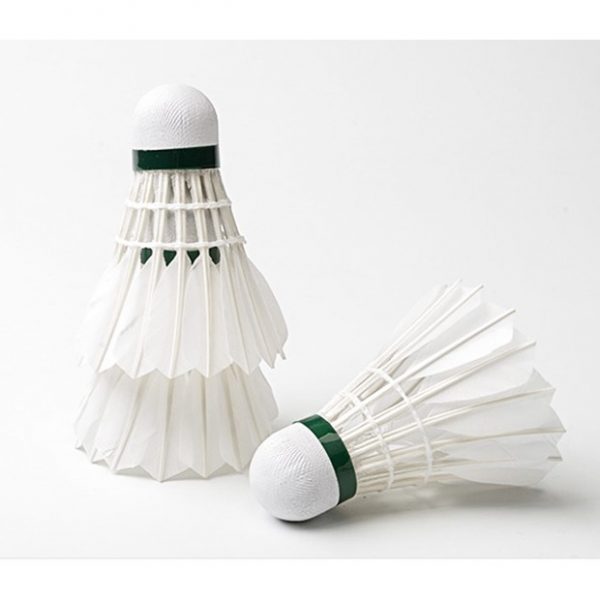 Now that you've got one of the best badminton rackets, all that's missing are shuttlecocks! After all, you can't play a game of badminton without them! We highly recommend these Goose Feather Shuttlecocks (available on outtobeshop.sg) which you can get in packs of six or 12. Designed with straight goose feathers and a lightweight durable cock, these feather shuttlecocks offer a better bounce than its competitors – making it ideal for casual and experienced players alike! Alternatively, nylon shuttlecocks are worth a shot too!  
2. Racket Grips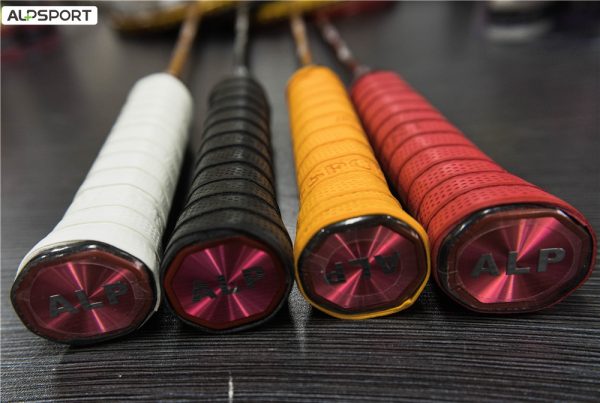 Worried that your sweaty palms will get in the way of a good badminton game? Fret not, these Non-Slip Racket Grips (available on ALP-SPORT) are here to save the day! All you have to do is wrap the grips round the handle, secure it with some super glue, and viola, you're ready to go! Available in nine different colours, you'll be spoilt for choice when choosing one from the wide array available. Psst, these racket grips can also be used for other sports equipment like golf clubs, hockey sticks and fishing rods!
3. Badminton Bag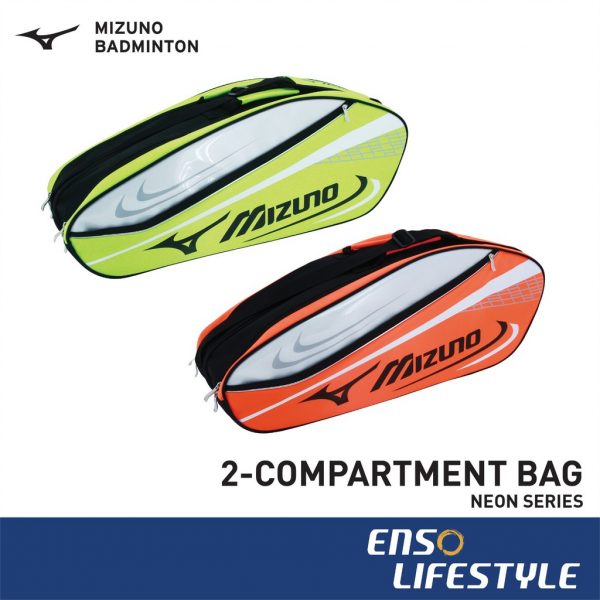 Armed with one of the best badminton brackets, you'll definitely also need a badminton bag to store them when not in use and also to bring around from place to place. Unsure of what to get? Try this Mizuno Badminton Bag (available on Enso Lifestyle Official Store) that comes with a single padded strap which will go easy on your shoulders after an already tiring game. Storage-wise, it has a streamlined zipper and even a ventilated compartment where you can keep your shoes – talk about practicality!

4. Badminton Headbands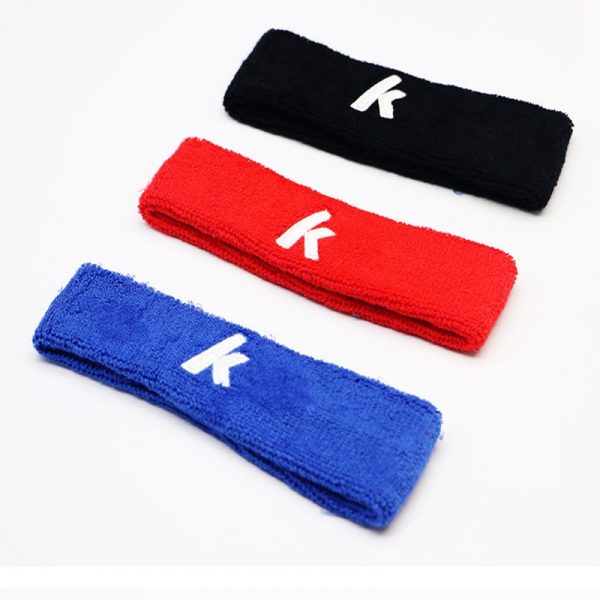 Ever wanted to look as cool as Loh Kean Yew when playing badminton? Then perhaps what's missing is a badminton headband! But beyond aesthetic purposes, athletes actually wear headbands when playing sports to prevent sweat from getting into their eyes and to keep stray hairs at bay. That's why you should get a good headband like this Kawasaki Headband (available on KWSKI.sg) which is made of 90% cotton that is comfortably breathable. Don't forget to give it a good wash after use! 
5. Badminton T-Shirts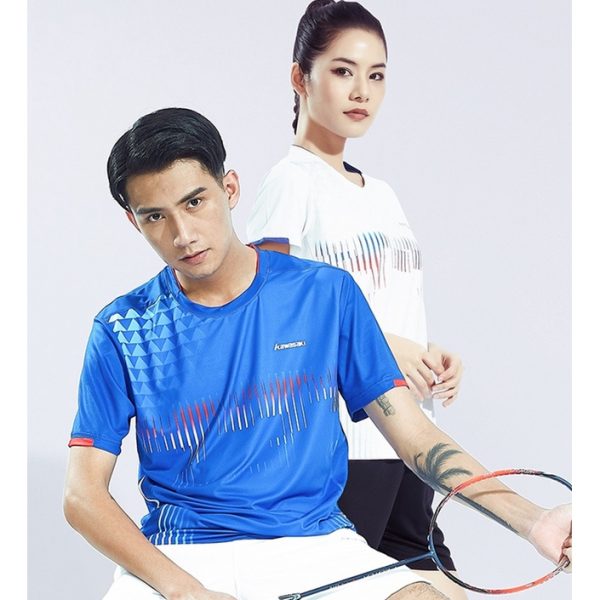 Who says that you can't be fashionable while playing sports? Don on these badminton t-shirts that are stylish and comfortable at the same time! In particular, we are in love with the Kawasaki Male Badminton T-shirt and Kawasaki Female Badminton T-shirt (both available on KWSKI.sg) which are wrinkle-resistant and moisture-wicking. Made of a comfortable 100% polyester material, it is also breathable and lightweight so your sweat evaporates through the fabric and you'll stay relatively dry! 
6. Badminton Shoes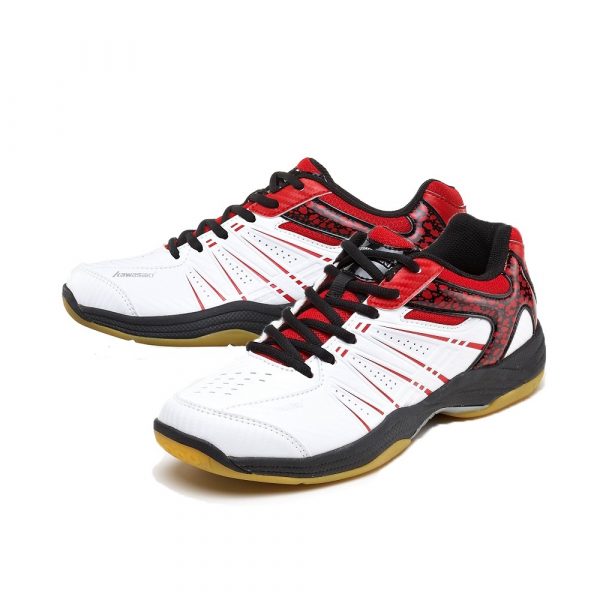 When playing badminton, it is important to be dressed for the game from head to toe, literally! Sneak on a pair of badminton shoes like these unisex Kawasaki Shoes K-063 (available on KWSKI.sg) which are available in over 10 sizes. Made with a wear-resistance rubber, we can assure you that these shoes are anti-slip and breathable too. Can we also just say that these have got to be one of the nicest pairs of sports shoes we've seen! 
Power up with these best badminton rackets 
Make your dreams of being a national shuttler like Loh Kean Yew a reality by getting these best badminton rackets in Singapore! Of course, that's not to downplay the training and hard work you have to put in. Start exercising today by following these trainer-recommended full body workouts or skipping rope workouts for weight loss. Alternatively, head down anytime of the day to these 24-hour gyms in Singapore and engage the best personal trainers who will push you beyond your limits!