Think Japan travel and chances are, cities like Tokyo and Osaka immediately come to mind. But if you're looking to venture out and explore more gems, Kobe is a city not to be missed. Sandwiched between the sea and the Rokko mountains, it is one of Japan's seventh largest cities. From relaxing onsens, mouth-watering Kobe beef, to scenic attractions, there's so much this place has to offer. Read on for our recommendations on the best things to do in Kobe!
What is Kobe, Japan most known for?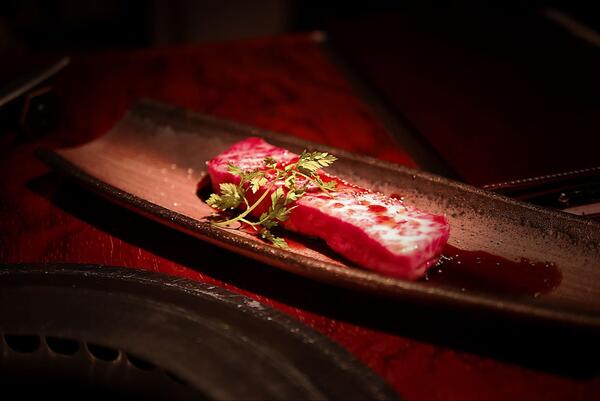 Kobe is heaven for steak lovers as it's home to the rare and luxurious Kobe beef. Touted as the caviar of meat, it is a type of wagyu beef that's known as one of the highest quality meats in the world. According to Masterclass, Kobe beef comes from the Tajima cattle strain of the Japanese Black Breed, which boasts great flavour, marbling, and texture. In fact, only 3000 to 5000 cattles meet the requirements each year. If you're going to Kobe, be sure to make a reservation early at top-rated Kobe beef restaurants to savour this delicacy. 
Pro tip: If you're travelling in a big group, it is highly recommended to make reservations in advance for your trip to avoid disappointments. For restaurants with high ratings (i.e 4.5 and above on Google or 4 and above on Tabelog, Japan's food review platform), you might have to reserve months ahead to secure a seat. The majority of restaurants in Kobe are very small, and many of them will turn you away if you're with a group of more than two pax.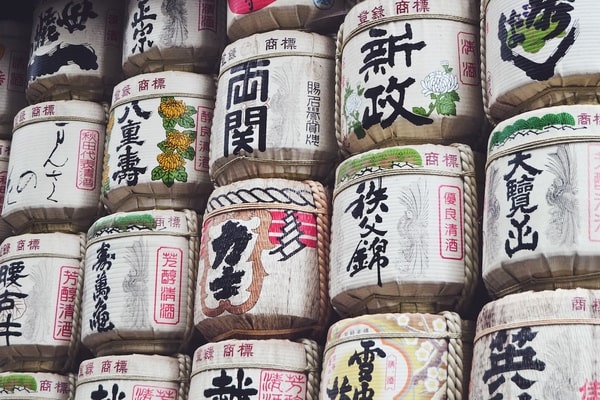 Kobe is also home to Japan's top sake producing region, Nada. This is because of the abundance of high quality rice, water, and favourable weather conditions for brewing sake. There is a deluge of sake breweries with tours and free sake tastings available. These free sake tastings include freshly brewed sake that just hits different.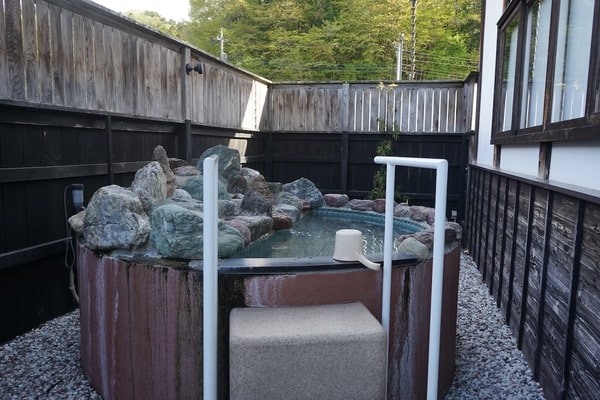 Your Japan itinerary isn't complete without a trip to an onsen – and Kobe offers some of Japan's best hot springs for you to melt your stress away. Arima Onsen is one of Kobe's most famous onsen villages that offers numerous hot springs that you can enjoy. If making a trip there is too much of a hassle, just Google "onsens near me" and you're bound to find a highly rated one.
Things to do in Kobe, Japan – sightseeing attractions
1. Kobe Nunobiki Herb Gardens & Ropeway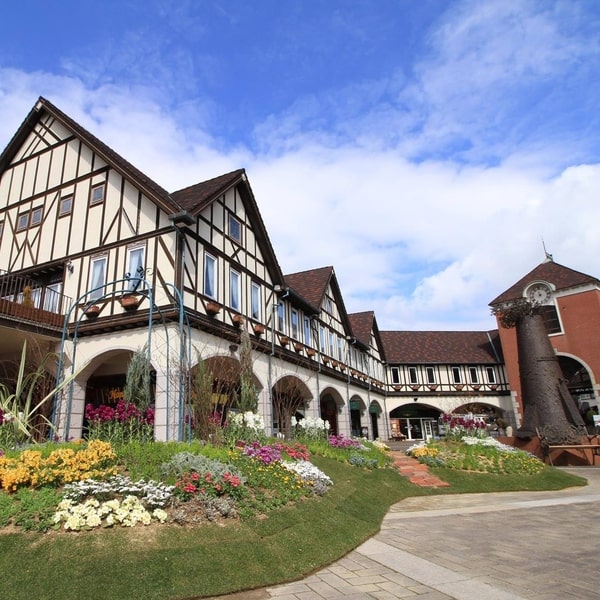 Home to over 75,000 herbs and flowers of around 200 species, the Kobe Nunobiki Herb Gardens & Ropeway is one of the best places to visit in the city for the nature lover. You start your journey with a gondola ride up the ropeway onto the mountains. Stunning sights of the waterfall and panoramic views of the cityscapes of Kobe greet you as you make your way up. Atop the mountain, enjoy bird's eye views of the landscape and breathe in the fresh air. If you love scents, you have to visit the Fragrance Museum, where you can compare over 80 essential oils.
You can also unwind at The Herb Dining, a restaurant that serves dishes with herbs and flowers sourced directly from the garden – talk about fresh! For desserts, head down to The Veranda at Kobe which offers intricately-made pastries. Don't forget to get yourself some souvenirs at the merchandise store, which offers a variety of herb-related products such as essential oils, room sprays, and tea. There are many hammocks that you can lie on to relax and enjoy nature, and even a herbal foot bath with seasonal herbs.
Address: 1 Chome-4-3 Kitanocho, Chuo Ward, Kobe, Hyogo 650-0002, Japan
Opening hours:
Mon – Fri: 10am – 5pm
Sat – Sun: 10am – 8.30pm
2. Mount Rokko
Mount Rokko is another must-visit destination in Kobe with a multitude of things to see and do. For panoramic views of the city and Osaka Bay, make a stop at Rokko Garden Terrace, a quaint spot just 10 minutes by cable car that's popular for magnificent night views of Kobe. You can also enjoy a meal and do some shopping at Rokko Garden Terrace, which is why it is one of the best places to visit in Kobe! At the attraction, there are four dining places and five shops to browse at. Many tourists recommend Granite Cafe, which serves aromatic teas and offers outdoor seating with stunning views. To make things even better, there is a garden of seasonal flowers such as lilies and roses.
Rokko-Arima ropeway operating hours:
First departure: 9.30am
Last departure:
Spring: 5.30pm (weekdays), 6.10pm (holidays)
Summer: 8.10pm, daily
Autumn: 5.30pm (weekdays), 7.10pm (holidays)
Winter: 5.10pm, daily 
3. Kobe Harborland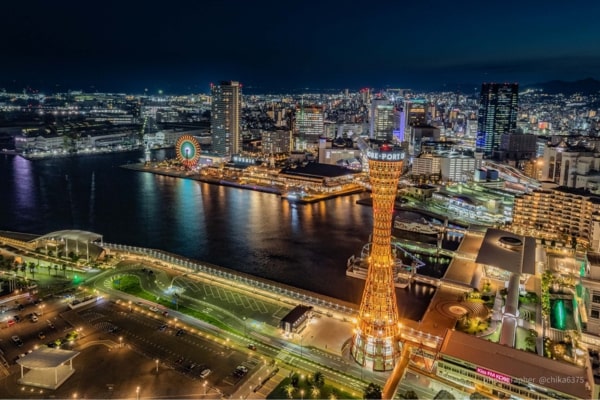 Kobe is known to be located between the seas and the mountains, and Kobe Harborland is one of the best places to visit for views of the ocean. It's especially beautiful at night, when the dazzling city lights turn on. You can go for a ride on the ferris wheel, take a stroll while enjoying the sea breeze, shop, or enjoy Kobe's local cuisine with a view. There's a myriad of shops, restaurants, museums and shopping malls around Kobe Harborland that'll keep you entertained. If you're travelling with kids, we recommend visiting Kobe Anpanman Children's Museum & Mall! But be sure to note their opening hours, as many places in Japan close early, especially during the winter.
Address: 1 Chome Higashikawasakicho, Chuo Ward, Kobe, Hyogo 650-0044, Japan
Opening hours: Daily, 10am – 9pm
4. Himeji Castle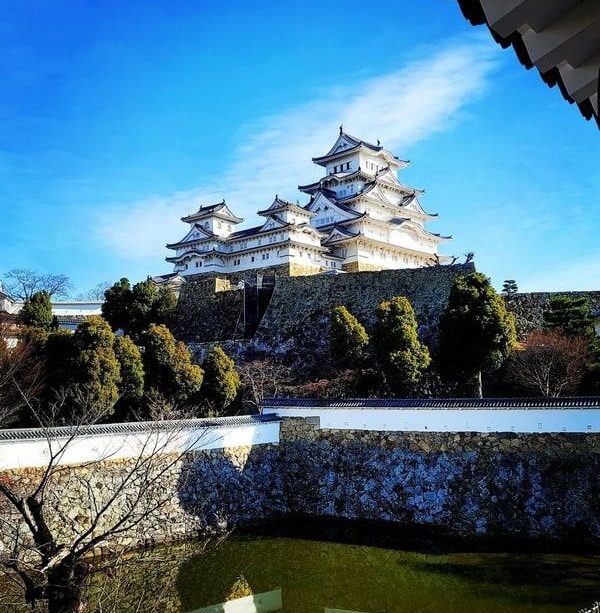 Time travel back to the 17th century, the Edo Period of Japan at Himeji Castle, one of the best preserved feudal castles today. The castle on the hill exudes elegance and beauty, and it is an adventure to explore within as well. Many visitors are blown away by its size, and in awe of the beauty of the multitudes of gardens, and pathways in the castle. To make the most out of your trip, head there when the cherry blossoms bloom, which is usually in early April. It is a popular spot for
hanami
,  a Japanese tradition to admire cherry blossoms during springtime. We recommend making a trip down early as it closes at 4pm.
Address: 68 Honmachi, Himeji, Hyogo 670-0012, Japan
Opening hours: Daily, 9am – 4pm
Things to do in Kobe, Japan – onsens and spas
5. Arima Onsen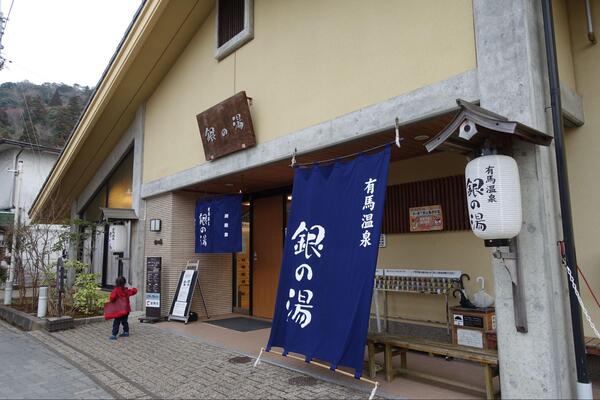 Located among mountains, Arima Onsen is the oldest onsen town in Japan that's founded 1300 years ago. Emperors and nobles of the past visited this place as a spa resort, and it's now a destination for relaxation for both locals and tourists alike. Arima Onsen is most known for Kin no Yu and Gin no Yu, which are golden and silver hot springs. The golden brown hot spring is loaded with salts and iron, which offer moisturising effects and helps to prevent joint and skin diseases. On the other hand, the silver hot spring is transparent, and is effective in boosting blood circulation.
Pro tip: It may be tempting to combine your trip to Arima Onsen and Rokko Garden Terrace as they're in close proximity, but we recommend dedicating a day to Arima Onsen. Don't head there too late if you want to explore the town, shop, and have a meal there as the establishments close early. 
6. Kobe Sauna & Spa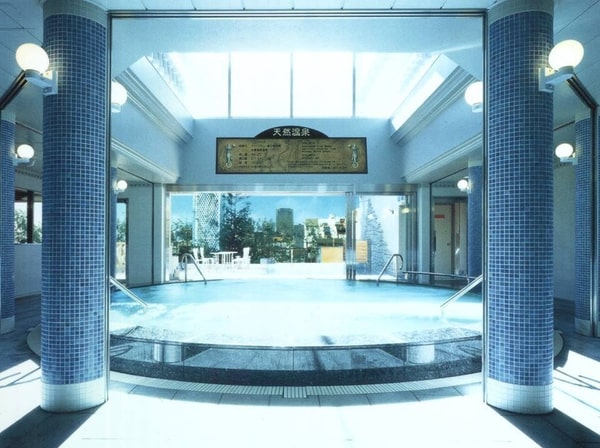 For a more bougie onsen experience, Kobe Sauna & Spa is a place that won't disappoint with amazing variety and quality amenities. Here, you get to try different types of onsens, saunas, and even bedrock bathing. The ladies' area has a rose thermarium, where you can soak in steaming aroma mist containing rose essential oil. It has the effect of calming nerves, soothing rough throats, and amazing benefits for your skin and hair. Before heading in, take a scoop of original rose salt and rub it on your skin to give it a good exfoliation while inhaling rose steam. You can also dip in Kaminoyu Onsen, Hinoki Wood Onsen, Finnish sauna, and cool down at the Outdoor Terrace.
The men's area has an even wider variety. There's a spacious Hungarian Bath with Kaminoyu Onsen water, a water bath that's open during summer, an open air bath with hinoki wood, jacuzzi, Finnish sauna, and a salt sauna. While onsens in Singapore can easily cost you $40 and above, Kobe Sauna & Spa offers an affordable price of $19/hour, and $29 for an unlimited time. If you're looking for accommodations, Kobe Sauna & Spa is also a capsule hotel located in a prime area in Kobe.
Address: Japan, 〒650-0011 Hyogo, Kobe, Chuo Ward, Shimoyamatedori, 2 Chome−2−10 神戸サウナビル 1階
Opening hours: 24/7
Things to do in Kobe, Japan – museums and breweries
7. Hakutsuru Sake Brewery Museum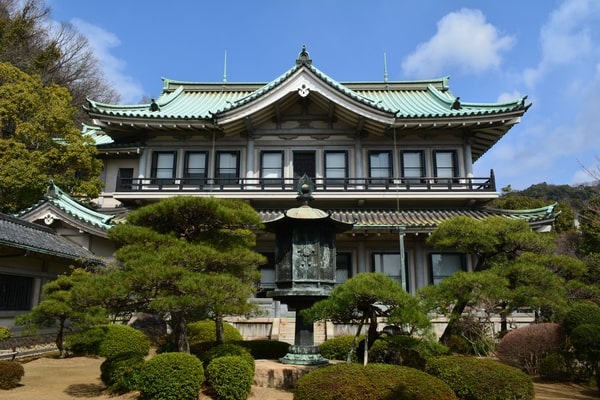 Sake lovers might have already heard of Hakutsuru, one of the most famous breweries in Japan with a long history dating back to 1743. The Hakutsuru Sake Brewery Museum offers educational material about the traditional brewing process. The best part? Entry is free. That's not all, you get to taste three different types of sake that are freshly brewed as well. You can also pay $5 to taste premium sakes, and bring home a Hakutsuru sake cup. After learning about sake brewing, shop at their souvenir shop which offers all-things-sake from face masks, moisturisers, sake curry, and more! You can also get a cup of sake ice cream to end your trip there on a sweet note.
Address: 4 Chome-5-5 Sumiyoshi Minamimachi, Higashinada Ward, Kobe, Hyogo 658-0041, Japan
Opening hours: Daily, 9.30am – 4.30pm
8. Takenaka Carpentry Tools Museum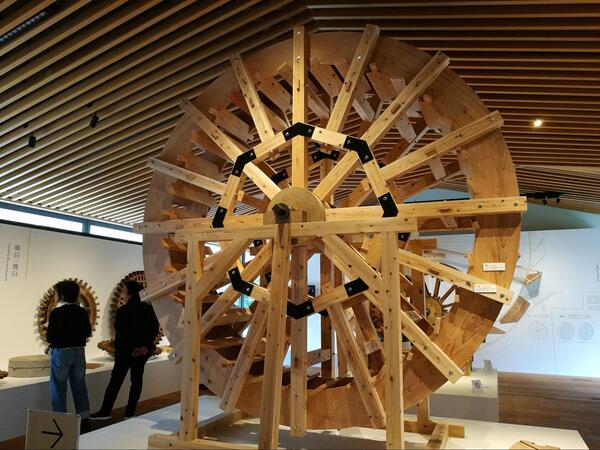 Delve into the world of wood and craftsmanship at the Takenaka Carpentry Tools Museum, one of the best places to visit in Kobe, Japan. This unique attraction showcases a myriad of specialised tools that are used in traditional Japanese architecture. You can spend your afternoon here playing around with hands-on exhibits, and see some 35,000 well-preserved tools. There are also outdoor gardens to explore and workshops for all ages available. If you're looking for a laidback, educational activity, this is one of the best things to do in Kobe!
Address: 7 Chome-5-1 Kumochicho, Chuo Ward, Kobe, Hyogo 651-0056, Japan
Opening hours:
Tue – Sun: 9.30am – 4.30pm
Things to do in Kobe, Japan – restaurants and bars
9. Tor Road Steak Aoyama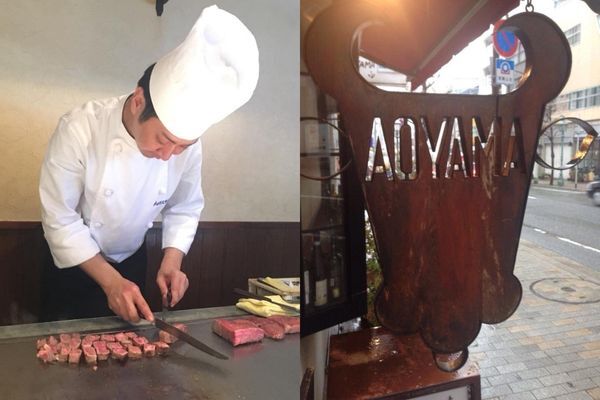 For die-hard foodies who want to experience the very best of Kobe beef, you won't be disappointed at Tor Road Steak Aoyama. Rated 4.8 on Google (which is no easy feat because Japanese people are pretty strict when it comes to reviews), this restaurant offers a one-of-a-kind experience with meticulous food preparation that's akin to a performance, hospitable service, and fantastic food. Their sauce is a 59 year old recipe that balances the flavour of the beef. For this, you have to reserve ASAP to secure your seats. 
Address: 〒650-0011 Hyogo, Kobe, Chuo Ward, Shimoyamatedori, 2 Chome−14−5 永和ビル
Opening hours: Daily, 12 – 2.30pm, 5pm – 9pm
10. Bar Mumbo Jumbo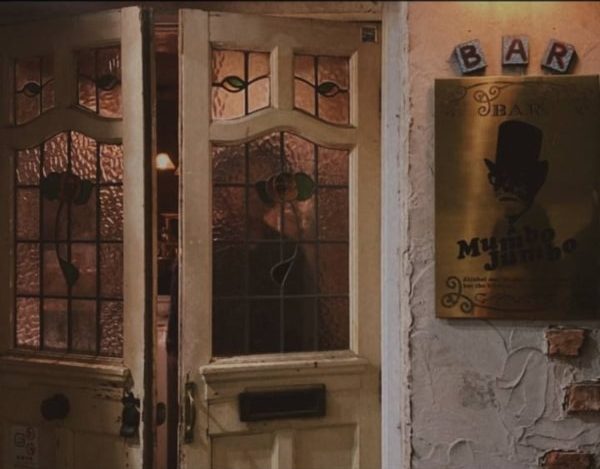 Craving a tipple? You won't regret walking through the doors of Bar Mumbo Jumbo, a bartender-owned gem that's located at the heart of Kobe. You'll be greeted by the friendly bar owner who rocks an afro. Choose between the bar seats or the box area, which fits a party of five. There's no menu at this bar, but you can trust the bartenders to concoct a bespoke cocktail based on your liking. They have a good selection of gin, whisky, rum, vodka – you name it. One of their regulars' favourites is earl grey gin, a beautiful blend of earl grey tea and gin. You'll also be served a platter of bar bites that includes chips, chocolates, cheese, and nuts to pair with your cocktails!
Address: Japan, 〒650-0012 Hyogo, Kobe, Chuo Ward, Kitanagasadori, 2 Chome−5-12 ミズキビル
Opening hours: Daily, 7pm – 3am
11. Sone Jazz Bar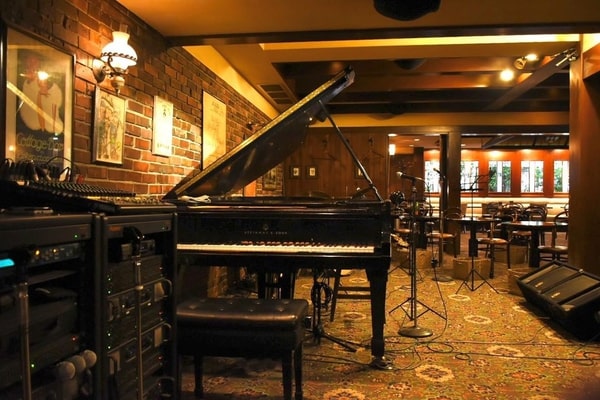 As a port city, Kobe is a melting pot of culture, which is why you'll see many buildings that exude a foreign charm. That's also a reason why the jazz scene in Kobe is noteworthy. To experience the music scene, Sone is one of the most iconic jazz bars that has daily jazz performances. In fact, their daily performance began way back in 1969, when avant-garde performers gathered here and held an impromptu show. If you're looking for things to do in Kobe at night, we recommend heading to Sone for its unique ambience and stunning interior decor.
Address: Japan, 〒650-0012 Hyogo, Kobe, Chuo Ward, Kitanagasadori, 2 Chome−5-12 ミズキビル
Opening hours:
Sun – Mon: 7pm – 2am
Wed – Thu: 7pm – 2am
Fri – Sat: 7pm – 3am
Plan your Kobe itinerary with our the best things to do and places to visit
Whether you want to experience nature, have an orgasmic meal, or melt your stress away in an onsen, Kobe offers a great variety of things to do for every type of traveller! Be sure to take note of tips like making reservations in advance and checking opening hours beforehand to avoid hiccups during your trip. For more recommendations on where to go in Japan, check out our list of places to see cherry blossoms in Tokyo and the best ski resorts in Hokkaido!