We're sure you've seen this fancy purple smoothie bowl flooding your social media feed at some point – acai (pronounced as ah-sigh-ee, not ah-chai) is the star ingredient that's hyped as a delicious superfood that you can indulge in guilt-free. Craving for a dessert but don't want 'em calories? Read on for our list of the best acai bowls in Singapore to level up your choice of healthy snacks! 
Is acai healthy?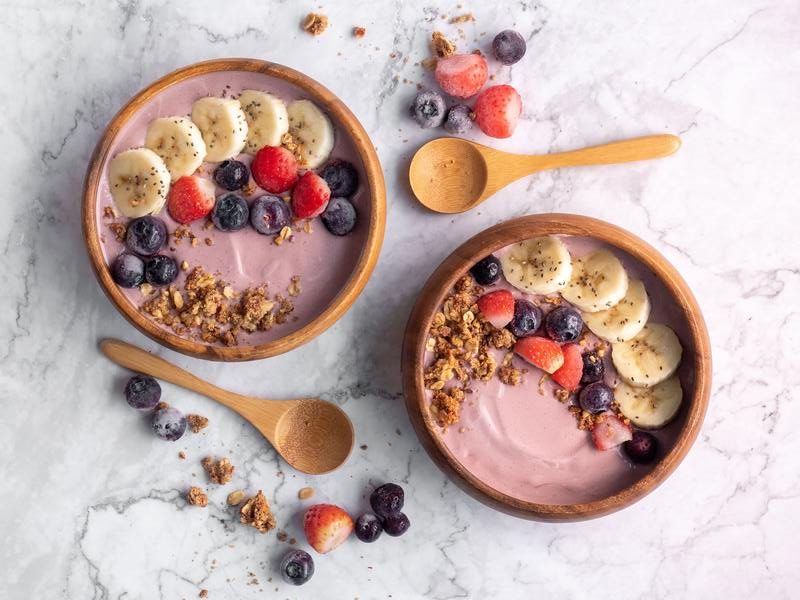 Acai bowls contain healthy fats and antioxidants, with their combination of fruits, nuts, and other ingredients that are good sources of fibre and protein. They are also rich in potassium, which can help to regulate blood pressure levels and cholesterol. When eaten in moderation, they're not only pretty for the gram but also good for your health! 
Best acai bowls in Singapore: North-east
1. The Acai Collective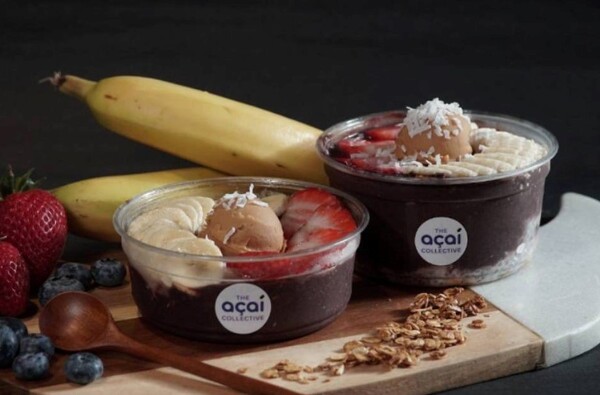 What sets The Acai Collective apart from other brands is their belief in using unsweetened
acai
and frozen
bananas
to create a smooth and creamy base. Topped with fresh fruits,
grains and seeds
, customers can always be certain that what they receive is 100% guilt-free goodness.
Furthermore, The Acai Collective is the first acai brand to introduce the Acerola Bowl in Singapore – the
Acerola Cherry
, a
superfruit
native to South America, is well known for containing high levels of
vitamin A
and
vitamin C
. With a blend of
mangoes
and bananas, they created one of the best acai bowls in Singapore that is healthy, tangy and with a tinge of natural sweetness!
Address: myVillage, 1 Maju Avenue, #01-08, S(556679)
Opening hours: Daily, 10.30am – 10.30pm
2. Summer Acai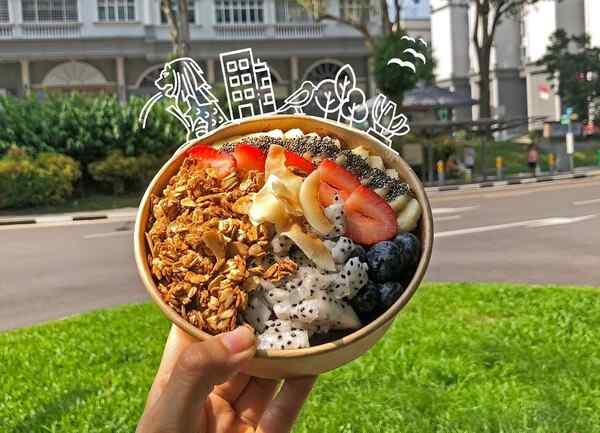 Summer Acai, which recently went viral on TikTok, is a surprising contender for the best affordable acai bowl in Singapore. They strive to bring acai to people of all walks of life and as a result, have made their organic acai base vegan-friendly, gluten-free, and dairy-free!
Additionally, Summer Acai always ensures that their bowls are filled to the brim with thicc acai base and an assortment of superfoods, crunches, and fresh fruits for the healthiest twist. As their acai berries are sustainably acquired from local Brazilian communities, what you're about to enjoy is a mouthful of quality happiness!
Address: 216 Joo Chiat Road, #01-03, S(427483)
Check out their other outlets here
Opening hours: Daily, 11am – 10.30pm
3. Acai Brothers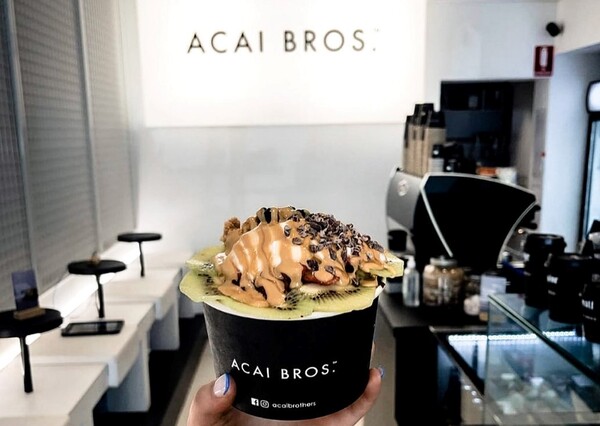 Acai Brothers – Australia's leading superfood bar – has finally made its debut in Singapore, with their flagship location nestled within the humble grounds of Kovan. Indulge in their all-time favourite "Choc Treat Yo-Self'" –  a rich
chocolate
-based acai bowl topped with
chocolate sauce
and chocolate treats. For gym goers, try the "Ain't Nothin' Butter," an acai bowl made extra healthy with fruits,
cacao nibs
, coconut
yoghurt
, and
peanut butter
sauce.
And good news for our environmentally-conscious friends: you can now scoop to your heart's content as everything served up at Acai Brothers is plant-based. Did we mention that their bowls,
cups
and
straws
are also biodegradable?
Mmm
, this best acai bowl in Singapore certainly knows how to capture our stomachs and hearts! 
Address: 1019 Upper Serangoon Road, #01-01, S(534757)
Opening hours: 
Mon – Thurs: 11am – 10.30pm
Fri: 10am – 11.30pm
Sat: 10am – 5pm
Best acai bowls in Singapore: East
4. An Acai Affair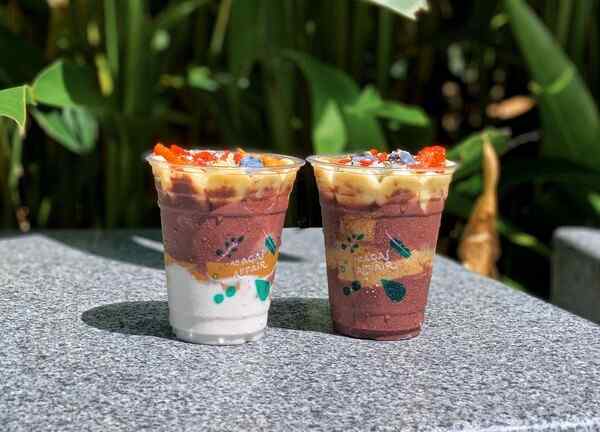 Almost every acai fan would peg An Acai Affair as the OG brand that started the hype. Priding themselves as Singapore's largest acai-specialty cafe, their concentrated organic acai blend is the epitome of "good flavour doesn't have to come with a crazy load of calories". 100% smooth and flavourful without being icy, this is the best acai bowl to indulge in Singapore if you like your desserts extra gao!
All acai bowls come with your choice of honey, peanut butter, almond butter or cookie butter; we'd definitely recommend the cookie butter for that sneaky bit of sweetness. And for those looking for an interesting twist, try their Ch-ch-ch-chia with chia pudding, or the Pitaya Punch with pitaya passion fruit sorbet. 
Address: 101 East Coast Road, S(428796)
Check out their other outlets here
Opening hours: 
Mon – Thurs: 11am – 10.30pm
Fri: 10am – 11.30pm
Sat: 10am – 5pm
5. W Acai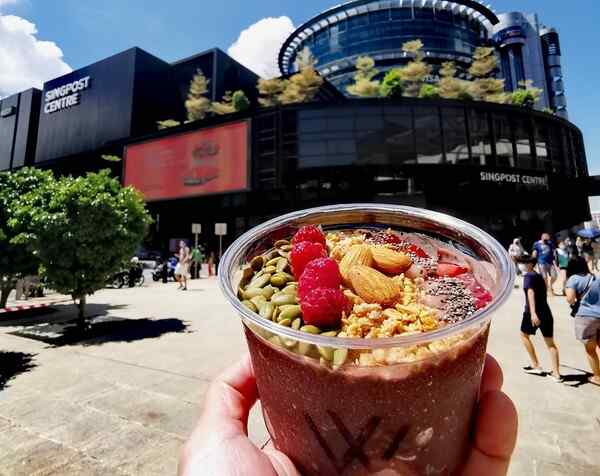 As its name suggests, this best acai bowl in Singapore is a "W" among the youngsters. Its acai menu boasts interesting titles such as Iron Man, Supermodel, and most notably, the KungFu Master – an organic acai bowl loaded with kiwis, almonds, and probiotic-rich Meiji Paigen Cultured Milk! Not to mention, the sun-dried Deglet Noor dates also give it an interesting chewy texture.
If you need a good perk-me-up on a lazy afternoon, W Acai also serves their signature white coffee with condensed milk. This aromatic coffee is not overly bitter, and it complements the sweetness of their acai bowls.
Address: PLQ Mall, 10 Paya Lebar Road, #04-11, S(409057)
Opening hours: 
Mon – Wed: 11am – 9pm
Fri – Sun: 11am – 9pm
Best acai bowls in Singapore: South
6. Project Acai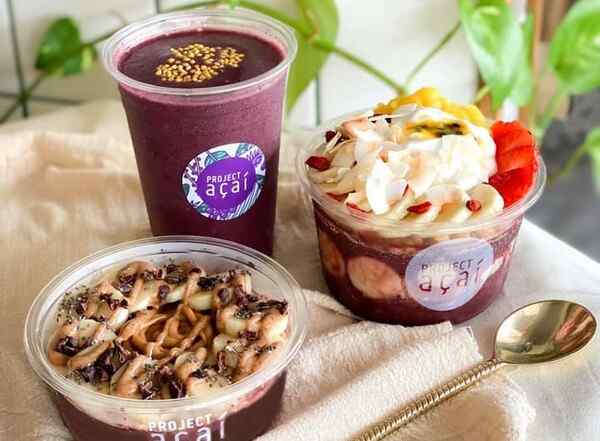 Project Acai at Holland Village is Singapore's first dedicated acai superfood cafe, serving Sambazon organic acai sourced from the Brazilian Amazon Rainforest. Their customers will enjoy only the freshest and best acai bowls in Singapore because it is blended in small batches right in the store! For those looking for a thirst quencher, try their acai smoothies – Beach Body To-Go, Yogi Wannabe-rry, and Where My Chocolate Abs. Doesn't that sound enticing?
What's even more heartening is their commitment towards supporting fellow small business owners and giving back to the local community. A portion of their proceeds from the sale of any Project Acai merchandise (cooler bags, embroidered patches, and T-shirts) will be donated to a charity of their choice. 
Address: 27 Lorong Liput, S(277738)
Check out their other outlets here
Opening hours: Daily, 11.30am – 10pm
7. Haakon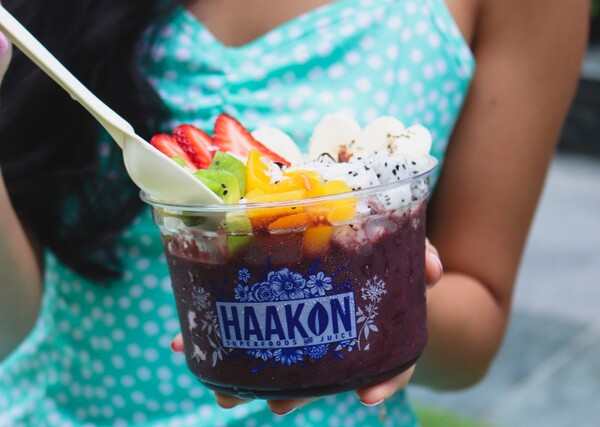 Pronounced 'haw-coon', this Scandinavian-inspired cafe packs superfoods from Norway into its menu. Aside from poke bowls and salads, there are four different acai bowls to choose from; each designed to give your body and mind a much-needed balance just like the best pilates studios. 
Chocolate lovers, rejoice! Their Cacao Bliss Acai Bowl resembles a cup of chocolate ice cream, except that it's totally guilt-free. Or if you're looking for a post-workout munch, their Green and Lean Bowl – made from spirulina, spinach and mango – is an interesting alternative to the best protein powders. 
Address: 118 Holland Avenue, #01-03, S(278997)
Check out their other outlets here
Opening hours: Daily, 10am – 7.30pm
Best acai bowls in Singapore: Central
8. Randy Indulgence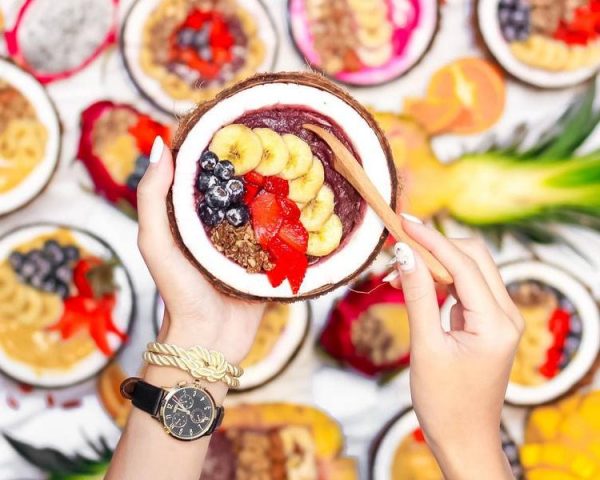 We get it – a midday snack is something that most of us need and sometimes, a bag of chips is just not it. For those working in the CBD, why not dig into a healthy bowl of acai by Randy Indulgence? They serve their acai four ways: Protein Bowl, Fruity Bowl, Combination Bowl and the Shiok Bowl. 
The Shiok Bowl is perfect for those who are indecisive. At $14.90, enjoy the best of both worlds with the acai and matcha chia seed pudding base. Topped with a generous amount of ingredients such as mangoes, chopped peanuts, and coconut flakes, this is the best acai bowl in Singapore to beat your work woes. 
Address: Guoco Tower, 7 Wallich Street, #B1-10, S(078884)
Opening hours: 
Mon – Fri: 8am – 9.30pm
Sat: 11.30am – 6pm
9. The Oatberry Café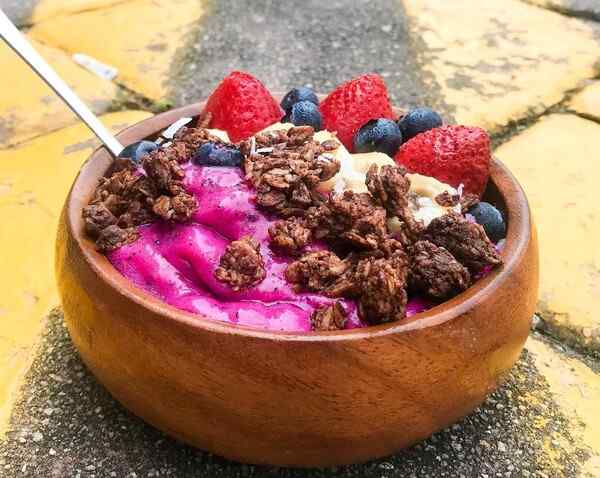 The Oatberry Café prides themselves on creating the best healthy snacks that appeal to both the young and the old. In fact, this is the place to start your day right with their thoughtful menu offerings – not only is it 100% plant-based, but they'll also go the extra mile to accommodate your special diet if you have any allergies.
Beyond acai bowls and pints, The Oatberry Café also serves something that's truly one-of-a-kind: an acai cake! This fabulous dessert is made with gluten-free granola crust, organic acai sorbet, and a variety of tropical fruits. What a healthy way to celebrate your birthday with one of the best acai bowls in Singapore! 
Address: Scotts Square, 6 Scott Road, #B1-K1, S(228209)
Opening hours: Daily, 9am – 6pm
10. Absolute Acai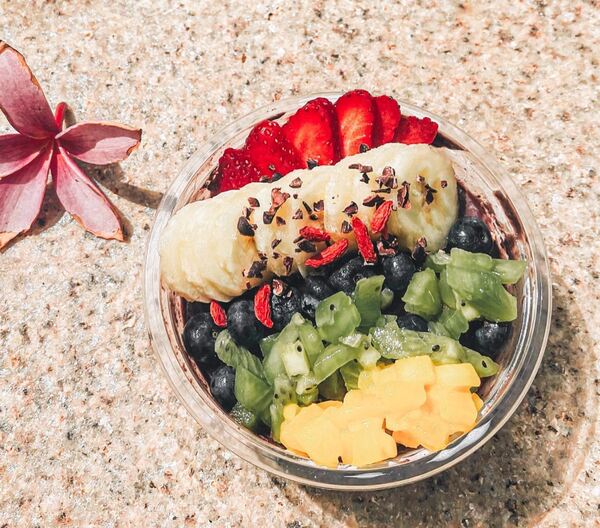 Not to be confused with the best spin studios, Absolute Acai is a takeaway dessert kiosk that is tucked away in the basement of Square 2 mall at Novena. Just a stop away from Orchard Road, this best acai outlet in Singapore provides a respite from a long day of shopping with organic acai flown in from Australia.
Well, what's not to love about freshly blended acai base topped with sweet bananas, crispy macadamia nuts, and cacao nibs? This is the Banana X Crunch Bowl that's highly raved. If not, go for their Signature Bowl that comes packed with a generous amount of fruits for a healthier choice. 
Address: Novena Square 2,10 Sinaran Drive, #B1-131, S(307506)
Opening hours: 
Mon – Sat: 10.30am – 9pm
Sun: 11am – 5pm
Bonus: Best acai bowl delivery in Singapore
11. The Acai Lab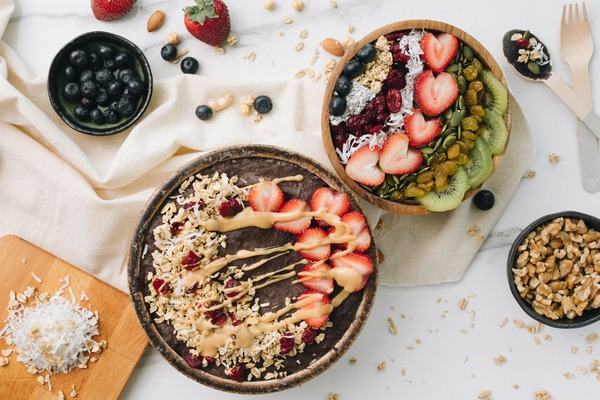 Don't want to eat out? With The Acai Lab, you can just sit back, relax and have one of the best acai bowls in Singapore delivered to your doorstep within an hour. Touted as Singapore's first and largest Acai delivery specialist, they have their own in-house Purple Blend™ that mixes acai with other nutritious ingredients like elderberries and figs in addition to vegan milk and banana. That's how they make a  thick creamy base that many customers love! 
There are 3 ways you can order your acai bowl: DIY, acai puree or their Specialty Bowls. Berry lovers should try their Berry Berries – an antioxidant-rich bowl with blueberries and raspberries, topped with raisins, granola and almonds! 
Address: Anywhere of your choice
Opening hours: 
Mon – Thur: 11am – 10.15pm
Fri – Sun: 11am – 12.15am
Enjoy guilt-free desserts with the best acai bowls in Singapore
The best acai bowls in Singapore are high in antioxidants and other nutrients, making them an excellent way to begin a healthier lifestyle in the new year. For those feeling a little adventurous, why not try making your own acai bowl at home? You might also want to equip yourself with the best blenders for an acai smoothie on the go!