If coffee is something that you and your partner can't live without, try your hand at pouring your very own liquid gold at a coffee workshop in Singapore. From latte art classes to coffee appreciation workshops, there's a myriad of options out there that you can explore. Not only is it a fun bonding experience, you'll walk away with a new skill up your sleeves (and finally crown your homemade latte with an IG-worthy latte art). This Valentine's Day, arrange a class for you and bae so you can whip up some cafe-level joe at home!
How much does a barista course cost in Singapore?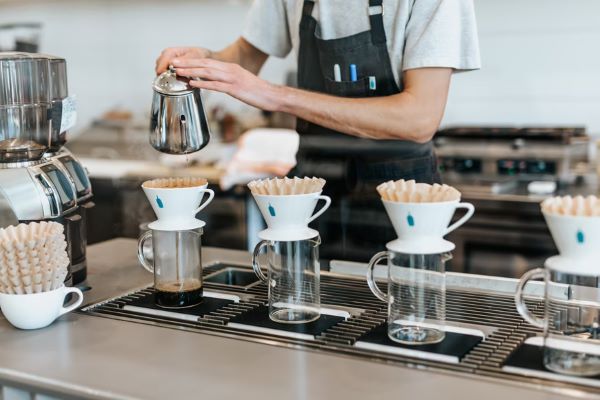 If your dream is to open a cosy cafe with your soulmate one day, take a step closer to it by signing up for a barista course in Singapore together! The cost of entry-level barista training courses can range from $120 – $400. As you further your training to intermediate and advanced courses, the cost can go up to over $900. However, some of these courses are SkillsFuture claimable for those over 25 years old, so you might not have to spend a single cent! 
Barista training courses aside, there are many different coffee workshops in Singapore that coffee enthusiasts can take part in so you can turn your kitchen into a mini brewery. This includes latte art classes ($80 –  $200) for aesthetic morning brews, cupping courses ($15 – $30) that help you achieve the best aroma, and coffee appreciation workshops ($50 – $150) to understand different taste profiles. 
Coffee workshops in Singapore
1. Dutch Coffee Colony Co.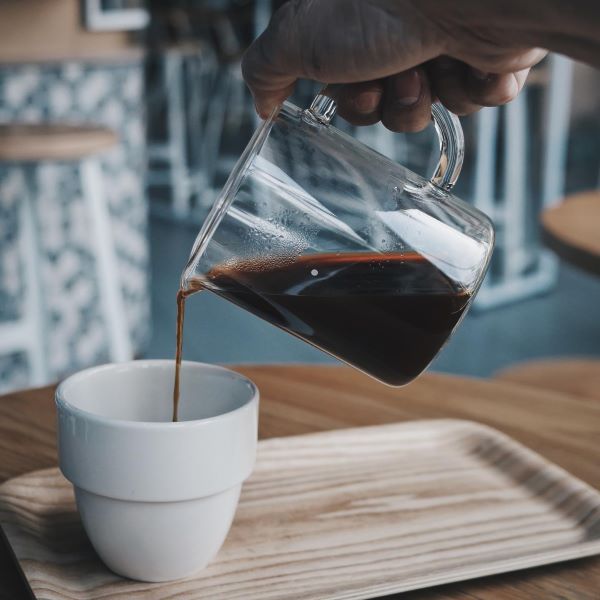 Whether you want to master some latte art skills or have a relaxing coffee appreciation workshop in Singapore, Dutch Coffee Colony Co. has got you covered. Their educational platform, Katalyst Coffee Academy, offers a deluge of coffee workshops that caters to both coffee enthusiasts and professionals alike. Their latte art class ($109) is aptly named "Pour Your Hearts Out" – perfect for the romantic occasion! This two-hour course in Singapore covers pouring techniques and the art of pouring and etching (refining your latte art with a sharp object like a toothpick). This will follow with a practical session where you and your partner can put your pouring skills to the test! 
If you want to learn more about coffee beans, we recommend opting for their "Appreciating Kaldi & The Berries" course ($49). This coffee appreciation workshop in Singapore covers how coffee beans transform from a cherry seed to the joe that you drink! Apart from these, there's many other fun courses such as Coffee Degustation ($39) and the Fundamentals of a Barista ($149) that you can explore.
Address: 127 Defu Lane 10, #02-03, S(539234)
Opening hours:
Mon – Fri: 9.30am – 5.30pm (by appointment only)
2. Musketeers Coffee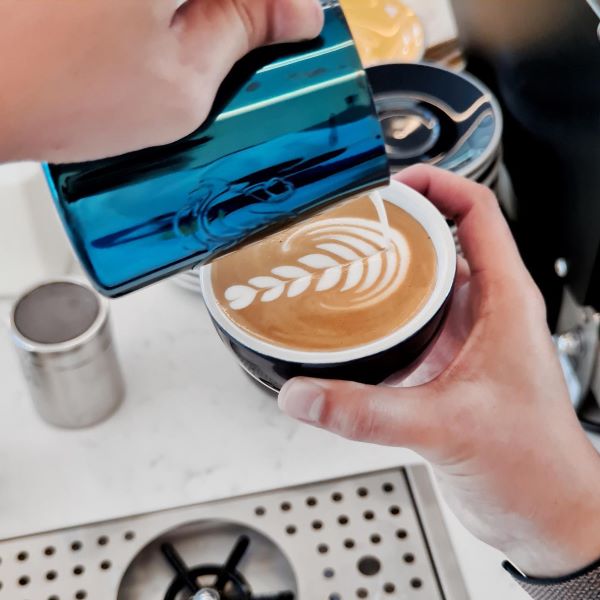 Spend a therapeutic afternoon practising your latte art this V'day with the kind folks at Musketeer Coffee, a cafe in Singapore that offers a host of coffee workshops like latte art and filter brew coffee classes. For complete greenhorns, start off with their Basic Latte Art course ($80/pax) that'll teach you everything from milk frothing techniques to different types of latte art. If you have some experience already, opt for their Intermediate Latte Art ($130/pax) or Advanced Latte Art ($150/pax) courses instead!
Fans of hand brewed coffee can opt for Musketeer Coffee's Filter Brew Coffee course ($60/pax). You'll get to learn some simple yet effective recipes that you can recreate at home. In addition, you'll also pick up knowledge about how to choose coffee beans and coffee equipment sets! To deepen your knowledge in coffee, we recommend going for their Entry To Specialty Coffee workshop ($100/pax). Apart from covering topics like coffee bean processes and how to make your own espresso, they'll also take you through a taste and sensory guide!
Address: Solaris @ Kallang 164, 164 Kallang Way, West Wing, Lobby, #02-K1, S(349248)
Opening hours:
Mon: 8am – 4pm
Thu – Fri: 8am- 4pm
3. The Coffee Academics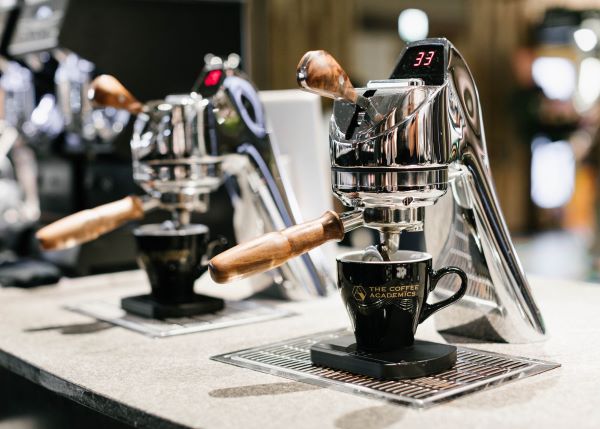 Coffeeholic couples might have been on a date at The Coffee Academics, one of the best cafes in town that serves quality brews. Their outlet at Scotts Square Flagship offers coffee workshops in Singapore including latte art classes, brewing courses, as well as a cupping workshop. The Basic Latte Art course ($100/pax) will equip you with techniques of steaming and texturing milk, as well as pouring latte art. Ambitious folks can even go on with the Advanced Latte Art workshop after completing this course!
Those interested in specialty coffee can head down for their Perfect Brew workshop ($100/pax) where you'll get to learn different brewing methods like pour over and brewing with full immersion! Upon completion, you'll even receive a course certificate (add it to your resumes, maybe?)!
Address: Scotts Square Flagship, 6 Scotts Road, #02-01, S(228209)
Opening hours: 9am – 8pm
4. The Brew Affinity x Daizu Cafe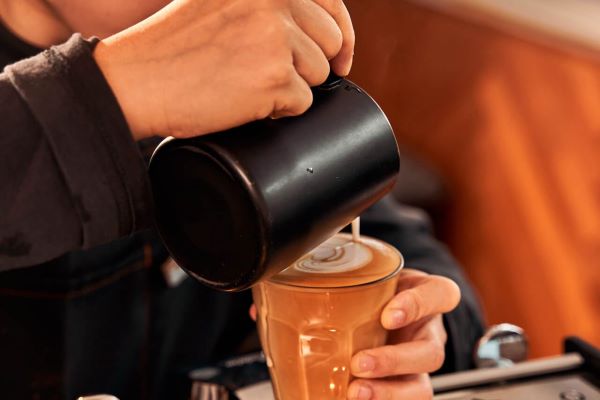 At the heart of Rangoon Road lies Daizu Cafe, a quaint eatery that serves Japanese-Western fusion nosh and soy desserts. In collaboration with The Brew Affinity (TBA), Daizu Cafe launched a series of coffee workshops in Singapore with comprehensive curriculums. Their latte art classes are split into three levels to cater to different individuals. Latte Art Level 1 ($130++/pax) will teach you how to pour a sweet little heart-shape and a wiggled heart. Next time you make a cuppa joe for your boo, add a touch of love to it with your latte art skills!
In addition, you'll be introduced to the anatomy of the espresso machine, as well as what makes a good espresso and healthy crema. Techniques on brewing espresso and milk frothing will also be covered over the course. Coffee geeks who want to delve into the origins and specifics of coffee can go for their Coffee Appreciation workshop ($130++/pax), an omakase inspired experience where you get to enjoy taster sized handcrafted coffees and Daizu's best-selling beverage!
Address: 129 Rangoon Road, S(218407)
Opening hours:
Mon: 8am – 3pm
Thu – Sun: 8am – 10pm
5. Bettr Coffee Co.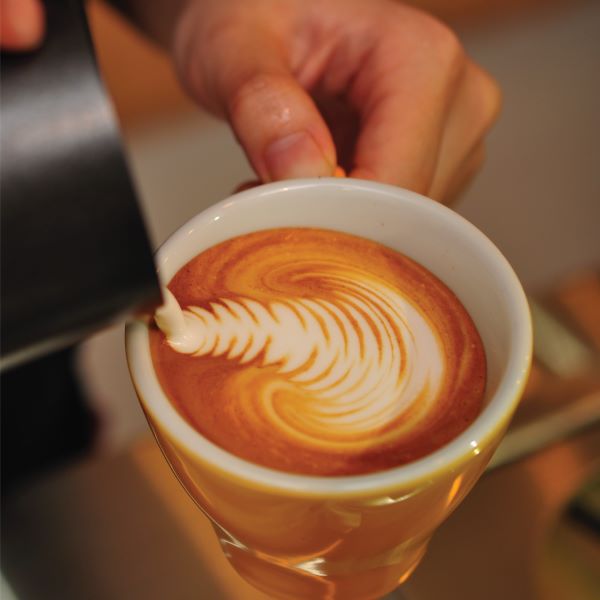 Established in 2011, Bettr Coffee Co. is a specialty coffee company in Singapore that provides everything from coffee workshops, professional coffee education to large scale corporate events. For Valentine's Day this year, book the Bettr Try Both: Kopi & Coffee Workshop ($54/pax), a 90-minute interactive class that gives you hands-on experience preparing coffee. This unique workshop not only covers specialty coffee brewing, but also how to la kopi – traditional Nanyang style.
On top of that, this coffee workshop also lets you try your hand at latte art, and even teaches you how to order kopi the Singapore way. It'll conclude with a fun "Close Shop" kopi game, where you'll be challenged to prepare and serve traditional kopi and kopi peng! If your love for coffee also includes the ones served at kopitiam, this will be the perfect coffee workshop for you and your bb this Valentine's Day!
Address: Harrison Industrial Building, 9 Harrison Road, #04-01, S(369651)
Opening hours: By appointment only
6. Nineteen95 The Espresso Bar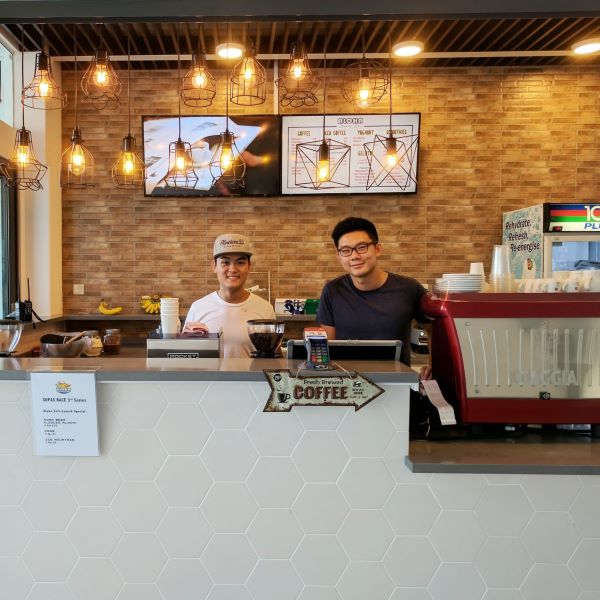 Perfect basic latte art shapes like the heart, tulip, and rosetta at Nineteen95 The Espresso Bar's latte art class ($120/pax) in Singapore! This beginner-friendly coffee workshop will teach you milk frothing techniques, proper cup and jug forms, how to mix milk, and how to master the pour. 
Alternatively, take your love for coffee to the next level with the Coffee Appreciation Workshop ($100/pax) that'll introduce you to specialty coffee and various types of beans from different regions. That's not all – you'll also get to learn cupping and brewing techniques hands-on, as well as taste the different brews. Aspiring barista couples can opt for their Barista Skills Workshop ($120/pax). This coffee workshop in Singapore will train you to troubleshoot and calibrate coffee machines and give you a deeper understanding about espresso-based beverages. 
Address: Spazio@Kovan, 767 Upper Serangoon Road, #02-08, S(534635)
Opening hours:
Tue – Sun: 9am – 3pm
7. TriVelope Academy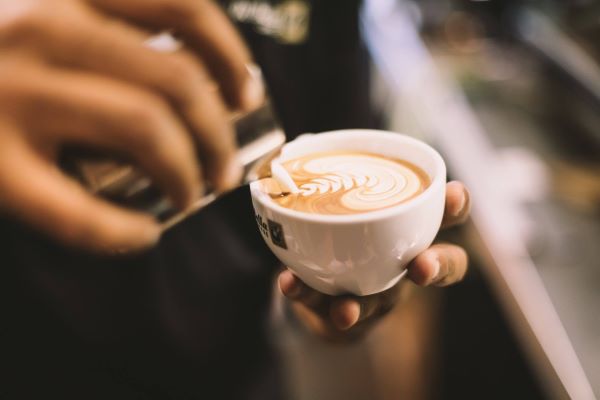 "If you want to be the best, learn from the best" – if you believe in this mantra, then TriVelope Academy is the place for you. Their coffee workshop in Singapore is taught by Chris Wong, a National Brewers Champion who has won a slew of other awards like the World Brewers Cup in Dublin. 
This is a full day course spanning seven hours – so be prepared to clear leaves if you want to do it on Valentine's Day itself! The class covers content on coffee history, varieties, espresso extraction, calibration, latte art, and more! You'll also get to learn how to differentiate core flavour characteristics of different espresso-based drinks like latte, flat white, and cappuccino. While the course is $408/pax, it is SkillsFuture credit claimable, so the course fee can be as low as FOC.
Address: Trivex, 8 Burn Road, #15-13, S(369977)
Opening hours: By appointment only
8. Santino Coffee Academy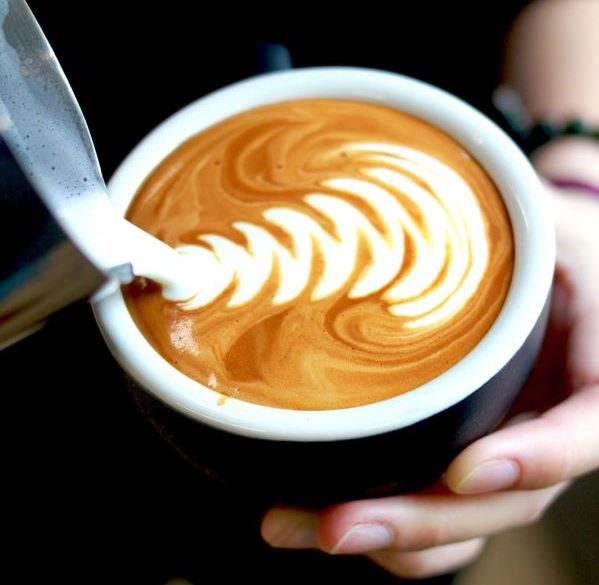 From latte art classes for casual coffee enthusiasts to Specialty Coffee Association (SCA) certified courses for aspiring baristas, Santino Coffee Academy is an established place to go for coffee workshops in Singapore. For Valentine's Day, we recommend their In House Latte Art Fundamental Class ($168+/pax) that covers basics of espresso extraction and milk frothing techniques. You'll also get to practice how to do up hearts, tulips, and rosetta! Do note that there is a minimum of three pax for this class, so grab your couple friends for a fun double date!
If you are interested in the V60 brewing tool, go for the Handbrew Coffee Fundamental Class ($188+/pax)! You'll get to see a demo on the tool and learn about the brewing procedure. What's more, bring home 100g of coffee beans to enjoy!
Address: Gourmet East Kitchen, 3017 Bedok North Street 5, S(486121)
Opening hours:
Mon – Fri: 8am – 5pm
Sat: 8am – 12pm
9. Kafve Coffee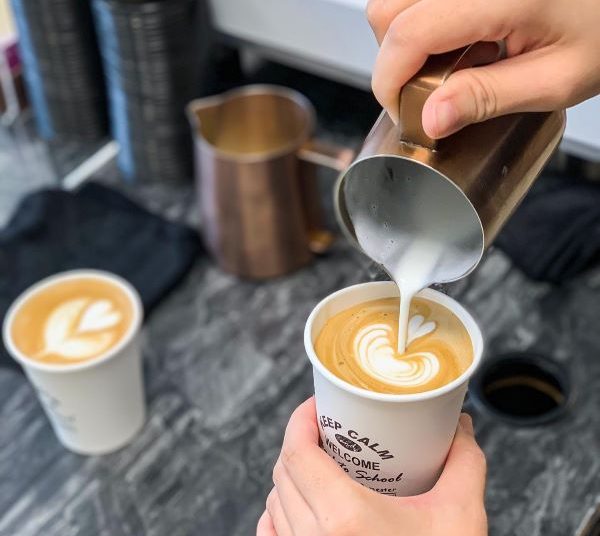 Kafve Coffee is a mobile coffee service that offers coffee appreciation workshops in Singapore – except it'll be held at the comforts of your home. Virtual options are also available for couples who want to stay safe during this season. In this workshop, you'll learn about the different aromas and flavours of various coffee types. 
Fundamentals of espresso making and how to choose roasted coffee beans will also be covered! The best part about Kafve Coffee's workshops that we absolutely love is that you can customise the course based on your interests. Simply drop them a note to let them know!
10 Kings Cart Coffee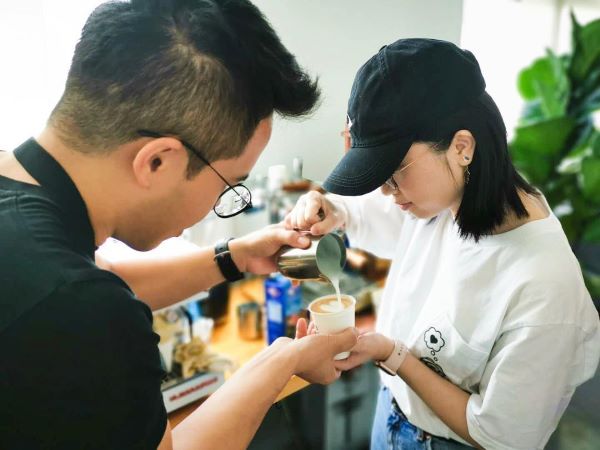 Nestled within the heartlands at Bishan Library, Kings Cart Coffee is one of the best cafes in Singapore that offers both latte art classes and coffee appreciation workshops. The Basic Latte Art Course brings you through milk steaming and various pouring methods over the span of two hours. They aim to help you pick up the art of free pouring within one session! 
Couples who prefer a more laid back coffee workshop can go for Introductory Coffee Appreciation. This exposes you to different roast profiles and tasting notes – so you can proudly say you're a coffee aficionado after. 
Address: Bishan Public Library, 5 Bishan Place, Level 1, S(579841)
Opening hours: 9am – 6pm
11. Tiong Hoe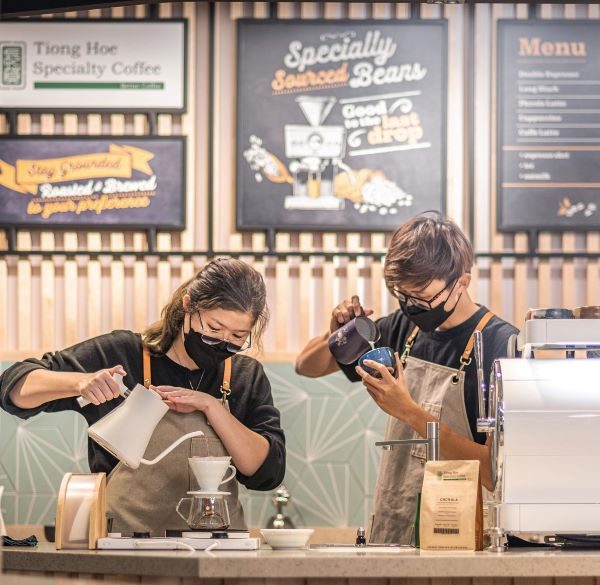 Coffee aficionados would probably agree that Tiong Hoe is one of the best cafes in Singapore for bean to cup coffee. They carry more than 20 different origins of specialty coffee, which are roasted and ground fresh daily. If you want to pick up the skills of a barista, learn it from the best at Tiong Hoe academy, which offers coffee workshops in Singapore that are catered for beginners with no background. The workshop consists of four modules, including coffee appreciation, basic coffee making for espresso, basic coffee making for hand brews, and basic latte art. 
Address: 170 Stirling Road, #01-1133, S(140170)
Opening hours:
Mon – Fri: 8am – 4.45pm
Sat – Sun: 8.30am – 4.15pm
Whip up brews and latte art with your boo this Valentine's day
This Valentine's Day, have some fun making some latte art at a coffee workshop in Singapore with your special one. Next time you have guests over at your crib, wow them with your newly acquired barista skills! Alternatively, head down to one of the best pottery classes in Singapore for a therapeutic time moulding clay. Don't forget to pick out a gift too – we've got you covered with a list of Valentine's Day gift ideas for her and gifts for men in Singapore. Snag them at amazing discounts during our Valentine's Day Sale!