Think pumping music, flashing neon lights and sweating it out as though you're in Zouk — but only this time, on a stationary bike. While spinning studios have been around for a while, they've become increasingly popular as more people have put their feet to the pedal (#sorrynotsorry). With the many spinning studios around town, it can be difficult to decide on which to sign a package with. Fret not — we've rounded up nine of the most popular spin classes in Singapore to help you make the best choice! 
However, do take extra caution while you're spinning — be careful not to over-exert especially if you're a beginner. It's always better to work at a pace you're comfortable with, so go slow to go far!
What do you do in a spin class?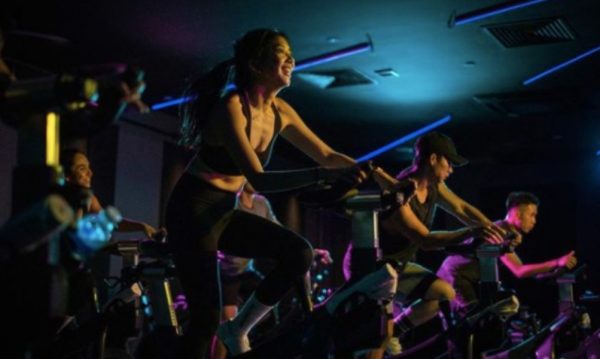 For the uninitiated, spin classes involve an adrenaline-filled, hyped workout, where you ride on a stationary indoors bike in sync with the beat of music blasting through loudspeakers. An intense cardio activity that usually lasts for about 40 – 60 minutes, spin classes rely on a mix of fast-paced cycling and strategic, lighter rest intervals so that you're recovered for the next burst. In fact, you'll definitely work up a good sweat while burning about 600 – 1000 calories or more! 
Benefits of spin classes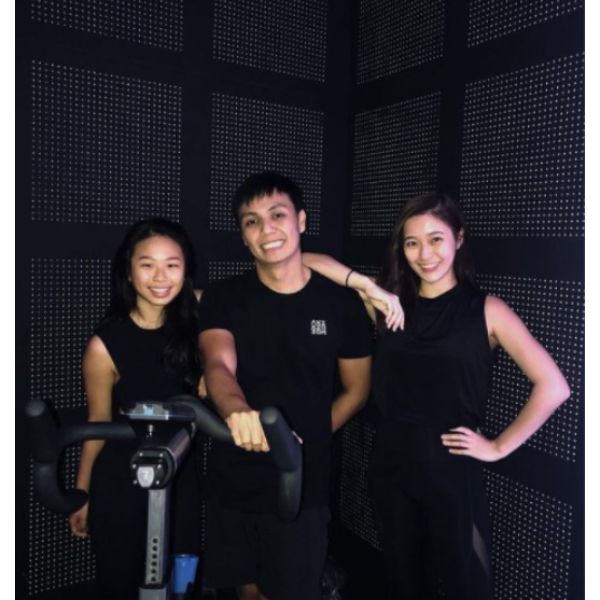 Apart from being a great cardio blaster, spin classes also improve power and speed, tone leg muscles and strengthen the core. It's also a low-impact exercise and is suitable for those recovering from an injury as it doesn't put extra pressure on your joints. 

Psst, before we move into the best spin classes in Singapore, it's also important to note that spin classes are different from Soul Cycle. While there are close similarities, the latter focuses on using hand weights to target the upper body and core. However, spin classes are an indoor cycling experience, with a routine designed with specific cycling movements and adapted to different types of terrains such as rolling hills, climbs or even mountains. Ultimately, spin classes boast several workout benefits such as toning the muscles, increasing cardiovascular fitness, while being a low-impact exercise that won't damage the joints. If you love cycling outdoors, spin classes will train you with the necessary skills to become a pro! 
Spin cycling classes in Singapore to work out a sweat at 
1. Ground Zero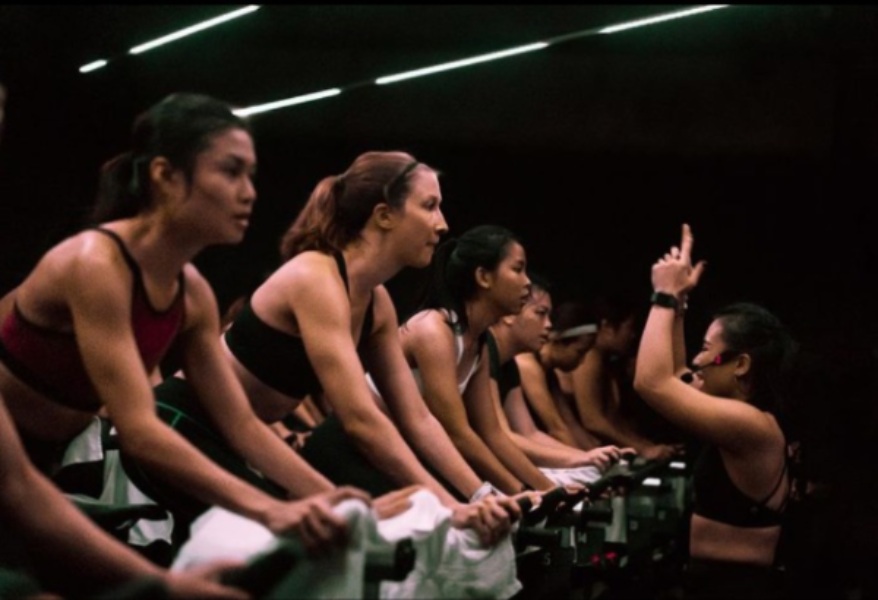 Offering two high-intensity spin classes, Ground Zero will definitely is the place to go for if you plan to take your spinning classes seriously. Consisting of a 45 – 60 minutes workout on a stationary indoor bike, their Ride class involves professional sound systems and trained instructors to push you to your limits. What's more, the futuristic lighting strips on the floor change colour in sync with the music, making this one of the best spin classes in Singapore for an immersive total-body experience. You'll definitely want to come back for more! 
Pro tip: If you're looking for a challenge, try out the Ride or Die class — a more advanced version of the Ride class with harder sets and a higher intensity to enhance one's endurance.
If you're curious to see how spin classes are conducted at Ground Zero, check out this video:

Address: Cross Street Exchange, #B1-120, S (048423)
Opening Hours:
Mon – Fri: 6am – 9:30pm
Sat – Sun: 7:30am – 6:30pm
Price: $45/class, from $215 onwards for class packages
2. Absolute Cycle Singapore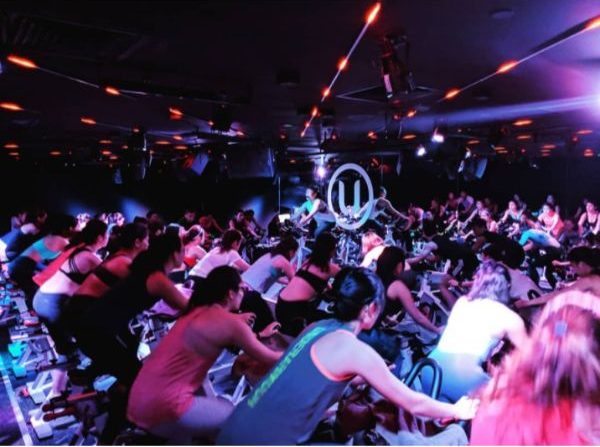 One of the most popular spin classes in Singapore, Absolute Cycle is Asia's largest rhythm cycling studio. Boasting a variety of exciting indoor cycling sessions — including Beginner 45, Absolute 45, Absolute 60, and seasonal Theme Rides, there is something for everyone here! Apart from regular classes, you can even attend the Absolute Cycle x Zouk classes located at the nightclub itself for an epic, thrilling rhythm cycling experience. 
For those who don't manage to snag a booking at the studio, Absolute Cycle also offers virtual classes too! They even come with a custom-made spinning bike for you to have a spin class in the comfort of your own home. Designed to make riders feel like they're in the spinning studio, the experience is complete with upbeat playlists, trippy lighting and classic moves like seated flats and climbs guided by instructors on screen. What's more, you can stream spin classes directly from any home device or sound system. 
Address: Millenia Walk, 9 Raffles Boulevard, #02-43, S(039596)
Check out other locations here
Opening Hours:
Mon – Fri: 8am – 8:30pm
Sat – Sun: 8:30 am – 5:30pm
Price:  Trial classes ($49/2 classes), class packages from $450/10 classes (access to all studios) 
3. Sync Cycle Singapore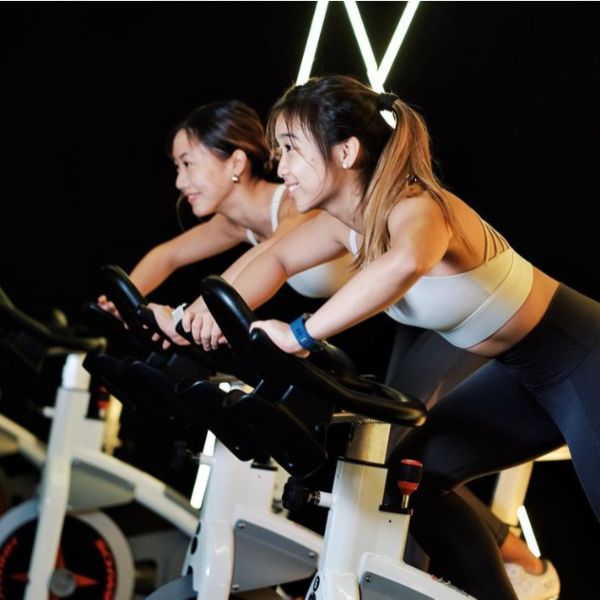 Looking for an indoor spinning studio in the heartlands? Sync Cycle is nestled in the Yio Chu Kang area and offers one of the most affordable spin classes in Singapore. However, don't underestimate this heartland gym for being any less good than the ones in town. Sync Cycle boasts a variety of spin workouts for all fitness levels. Combining a mix of upper body, core and lower body exercises, their classes aim to deliver a targeted workout for building endurance and stamina for all. The Rhythmic Ride class is tailored for both beginners and seasoned riders, where you'll go through a variety of challenging terrains (think rolling hills, climbs, sprints and steep mountains) in a neon lit room! 
Pro tip: First time trying a spin class? Sign up for the Beginner Rhythm class —  it comprises less challenging exercise combinations. You'll also be guided with step-by-step instructions on setting up the bike so you won't be completely at a loss! 
Address: Yio Chu Kang: 92 Yio Chu Kang Road, S(545572)
Check out the other location here 
Opening Hours: Contact outlet for information on opening hours
Price: $40/2 classes (newbies), class packages from $105/3 classes 
4. Revolution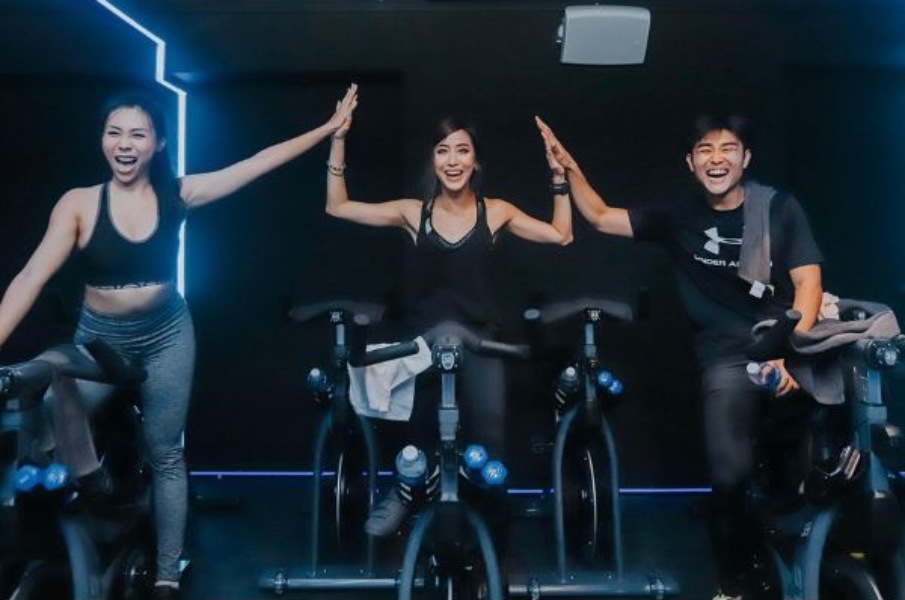 Located in the CBD, Revolution offers 45-minute spin classes in Singapore for office folks — perfect to head to during lunch break. Apart from a productive full body workout that gets your heart pumping, you can also look forward to psychedelic lighting in a dimly lit studio and upbeat playlists for an amazing riding experience. Fret not about having to head back to the office drenched in sweat — the studio boasts shower and changing room facilities in each of their outlets so you can freshen your workout. Psst, we spy student deals too. Be sure to check out their value-for-money student packages if you're still in school! 
Address: Hengda Building, 137 Cecil Street, Level 2, S(069537)
Check out their other locations here
Opening Hours:
Mon – Thur: 11am  – 10pm
Fri: 8am – 10pm
Sat – Sun: 8:30am – 6pm
Price: $45/2 classes (trial classes), from $205/10 classes (student class), class packages from $299/10 classes (members)
5.
Virgin Active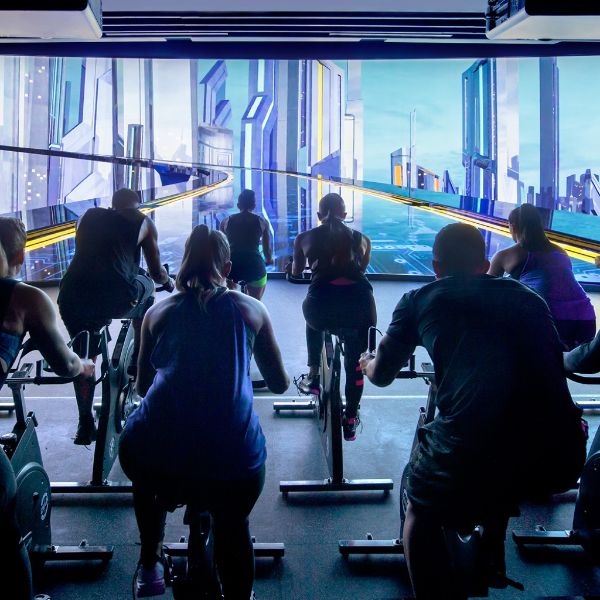 Are you someone who loves watching videos while you work out? Then you'll love spin classes at Virgin Active! As the first gym studio that reshaped its customers' workout experiences with the launch of Les Mills' THE TRIP™, Virgin Active has revolutionised the fitness scene with its immersive workouts. Through the use of visual and audio elements on a cinema screen and upbeat, pulsating music, it helps to give an illusion of motion push riders' to pedal even harder during the session. Those looking for a full-body workout can consider the Sufferfest class with various modes (power, speed, endurance, climb) for a more targeted workout. What's more, members of the gym can enjoy a range of other exercise classes other than spin, so you can mix up different workouts throughout the week for the best results. Trust us, this is one of the most value-for-money spin classes in Singapore! 
Address: One Raffles Place, Level 6, S(048616)
Check out other locations here
Opening hours:
Mon – Fri: 6:30am – 10pm
Sat: 8am – 5pm
Price: Class packages from $59/week (12 month package)
6. Crucycle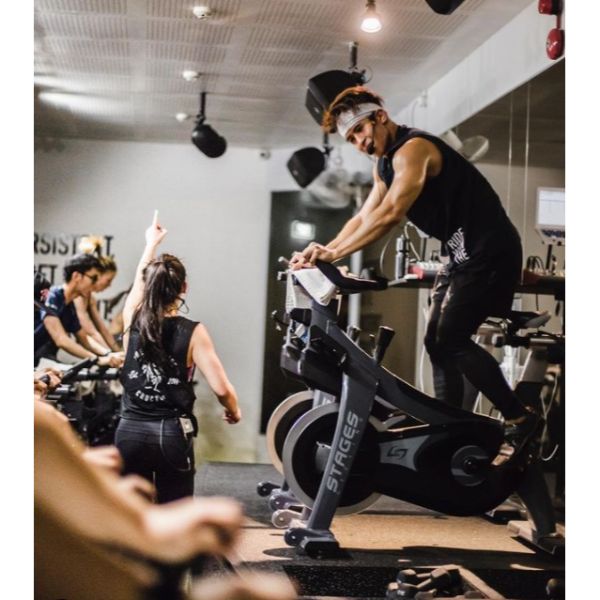 Crucycle offers rhythm-based spin classes in Singapore. Their signature class The Pack Ride incorporates light weights and core exercises into your ride for a high intensity experience, so you'll leave the studio feeling accomplished. Apart from this, there are also Themed Rides (think cycling to Drake or your favorite 80s bands) to look forward to with specially curated playlists for a more upbeat experience. 
Here's a sneak peak of what a spin class at Crucycle looks like:
Address: 68 Duxton Road, #01-01, S(089257)
Opening Hours:
Mon – Fri: 7am – 12:30pm, 6:30pm – 8:30pm
Sat – Sun: 8:15am – 6pm
Price: $75/3 classes (trial), class packages from $45/class onwards 
7. Pure Fitness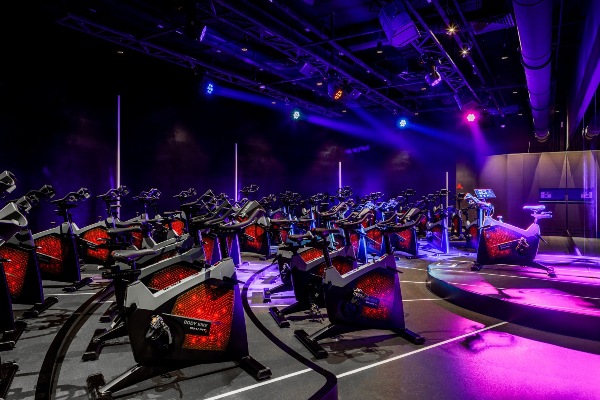 Your regular gym may  offer indoor cycling classes too! With a total of four different cycling classes (The Trip, Real Ryder, RPM and Cycle) at Pure Fitness, you'll be able to explore specific workout regimes catering to your fitness level. Being one of the first in a series of immersive fitness programmes, the TRIP™ class has cinema-like video content projected onto the studio screen for riders. Imagine riding your bike over hilly terrains or racing through a futuristic city! If you're looking to improve your cardiovascular fitness, check out the RPM class that pairs some amazing pre-set cycling choreography together with great music to build cardio endurance and lower body strength. Both classes are open to participants of all fitness levels s, so challenge yourself today with these spin classes in Singapore!
Address: Ocean Financial Centre, 10 Collyer Quay, Level 4, S(049315)
Check out other locations here 
Opening hours:
Mon – Thur: 6am – 12am
Fri: 6am – 10:30pm
Sat: 7:30am – 10:30pm
Sun: 8am – 8pm
Price: Complimentary trial, contact respective outlets for package rates 
8. Axiom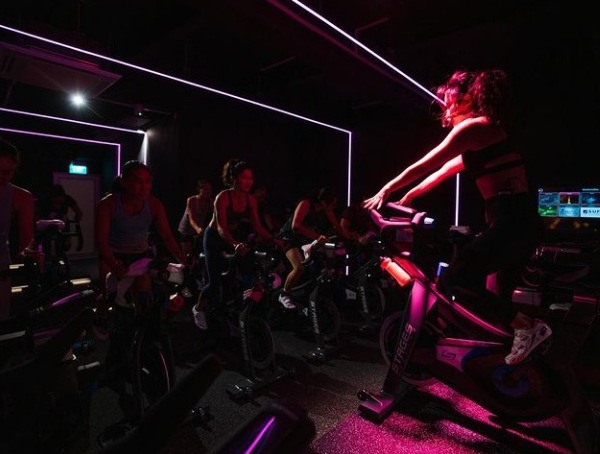 Apart from being famous for its many eateries and bars, Holland Village is also a hotspot for fitness classes in Singapore. A boutique spinning studio, Axiom has a smaller class size where riders are given more individual attention from trainers. Its two indoor cycling programs, Rhythm and Road, focus on toning and strengthening the body with upper body weights. Additionally, their workouts create a unique workout terrain using trendy music and virtual reality. Groove to the beat and watch cool animations while burning those calories at one of the trendiest spin classes in Singapore! 
Address: 18A Lorong Mambong, S(277678)
Opening Hours:
Mon: 7:30 am – 9:30am, 5pm – 9pm, 11:45 pm – 12am
Tue: 12am – 1:30pm, 5 – 9pm
Wed: 7:30 am – 9:30am, 5pm – 9pm
Thur: 7:30am – 1:30pm, 5pm – 9pm
Fri: 7am – 8am, 12pm – 1:30pm, 5pm – 8pm
Sat – Sun: 8:30am – 1pm
Price:  $45/2 classes, class packages from $165/5 classes onwards 
9. The Spin Pod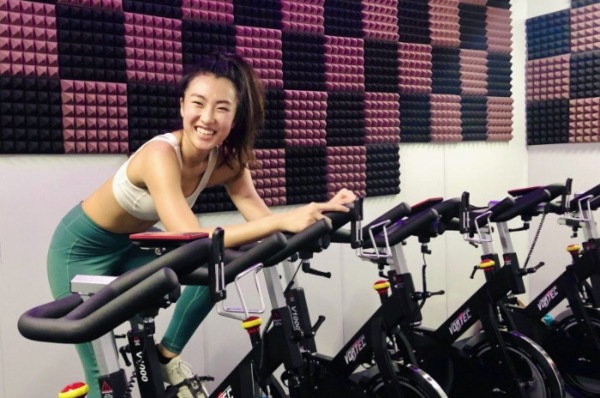 Enter the newest kid on the spinning classes block! The Spin Pod is a new concept from The Gym pod, one of the newest spin classes in Singapore. You can look forward to a wide variety of virtual spin classes of varying difficulty levels. The Trip, RPM, and Sprint are all physically challenging, with the Sprint offering power circuits, HIIT workouts and long and short sprints over the course of a 30-minute session. Hosting up to two riders in a pod, each bike gets a "front row" feel similar to spinning in a studio. Overall, this spinning studio is perfect for trying out spin with a friend in a fun and cozy environment!
Address: Changi City Point, 5 Changi Business Park Central 1, S(486038)
Opening Hours: 24/7
Price:  From $11/class, prices vary depending on peak or off peak times. Monthly plan at $9.90/month (unlimited use). Contact the studio for other packages.
Build endurance and strength with a  spin class today!
With the variety of spin classes in Singapore to choose from, you'll definitely be able to find one that's made just for you. For those who prefer working out late at night, check out these 24 hour gyms in Singapore to get a midnight workout in as well. Don't forget to get the right attire for comfort and safety before heading down to a spinning studio — these affordable activewear brands in Singapore are perfect for ladies looking for a cute, comfortable spin attire. For seasoned spin enthusiasts, check out our guide to the best spinning bikes in Singapore for a spin session at home!