Is one of your resolutions for this year to start on a skincare routine? Let's be honest, it can be even more daunting for men to start on a routine with the overwhelming number of skincare products out there all claiming to do the same thing! It'll be much easier and less of a hassle to stick to using products from just one brand. From Shiseido men cleansing foam to the brand new, Shiseido men Ultimune Power Infusing Concentrate, we unpacked some of the best Shiseido products for men to start using right away! Psst, we also included expert tips on how to use the Shiseido products so you can see for yourself how easy it is to start taking care of your skin!
What is Shisedo known for?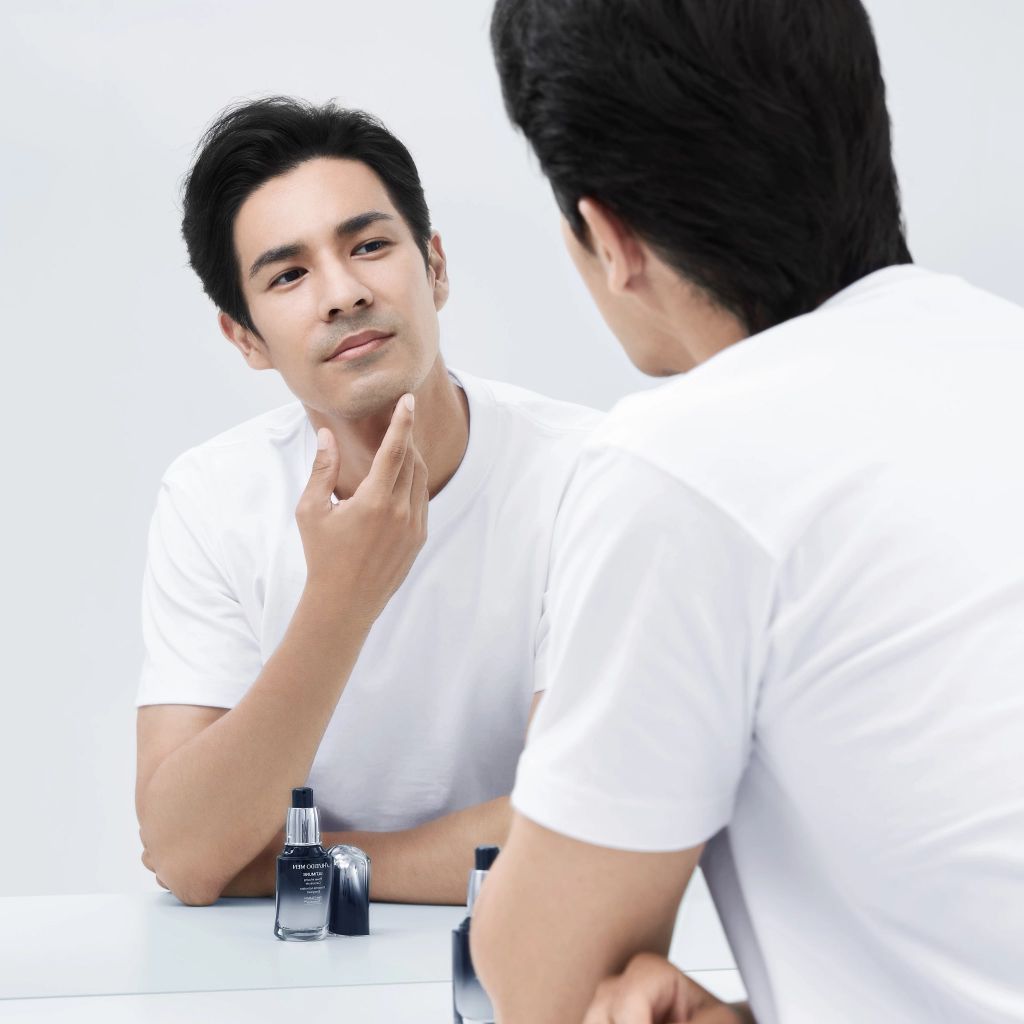 Shiseido is one of the Japanese skincare brands that have been around for as long as any of us can remember. Since they launched in Ginza, Tokyo in 1872, this skincare brand has harnessed technology and natural ingredients to manufacture the best Shiseido products for men (and women) that address common skincare concerns in today's fast-paced world. Shiseido Men is a dedicated line targeting men's skin. Their newest products help strengthen the skin's defensive power, are packed with antioxidants and speed up natural recovery of the skin!
What are the best Shiseido products for men?
1. Shiseido Men Face Cleanser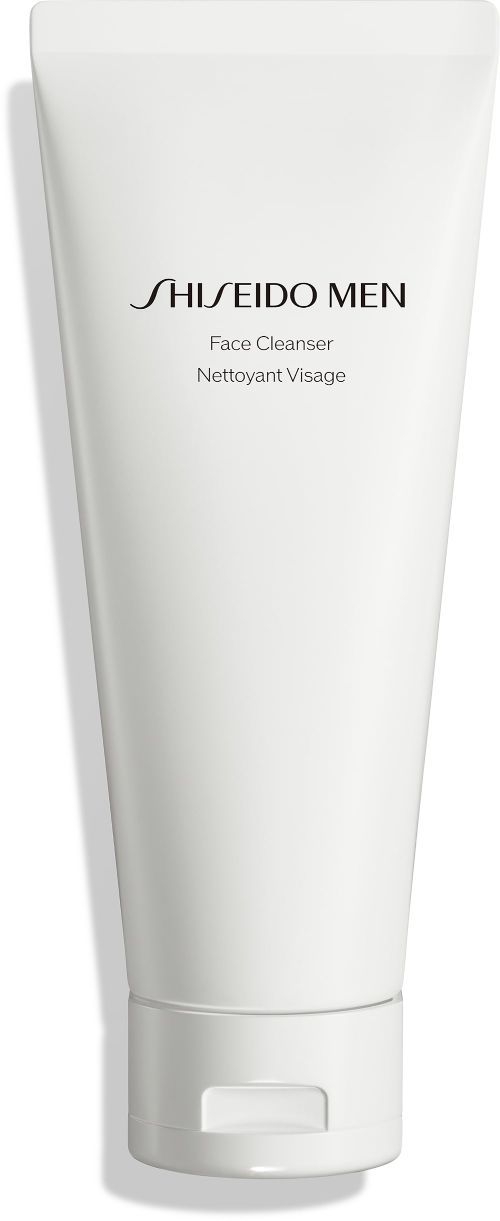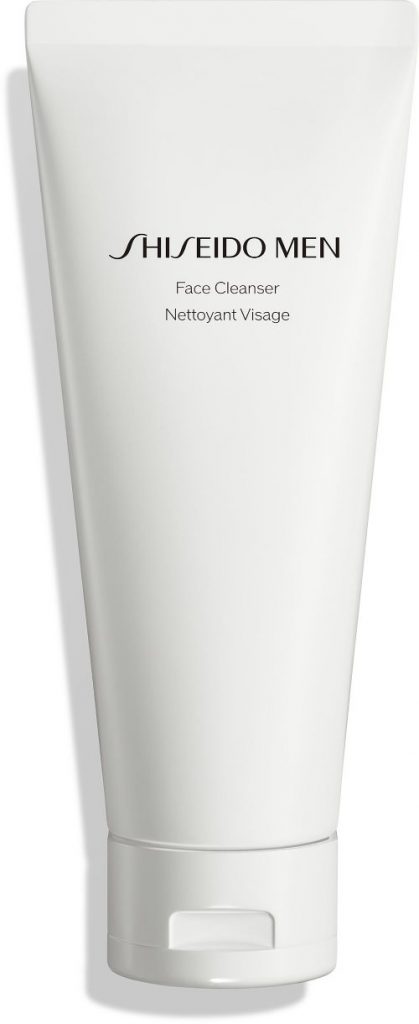 Cleansers are your skin's first defence. One of the first and probably most important steps in any skincare routine (whether for males or females), is to use a cleanser. Washing your face removes dirt, oil and pollutants. Plus, you can't help but feel refreshed after using a cleanser!
The Shiseido Men Face Cleanser (available on SHISEIDO Official Store) cleanses your face without stripping off its natural moisture — another thing to consider when looking out for the best face washes for men. This Shiseido men's cleansing foam also doubles up as a shaving cream so you can get more use out of it. The star ingredient here: Japanese plant camellia which acts as an antioxidant and allows the skin to repair itself and reduce the appearance of any visible skin damage.
How to use: Squeeze out a pea-sized amount of this Shiseido men's cleansing foam, lather well all over your face and rinse with cold or lukewarm water.
2. Shiseido Men Ultimune Power Infusing Concentrate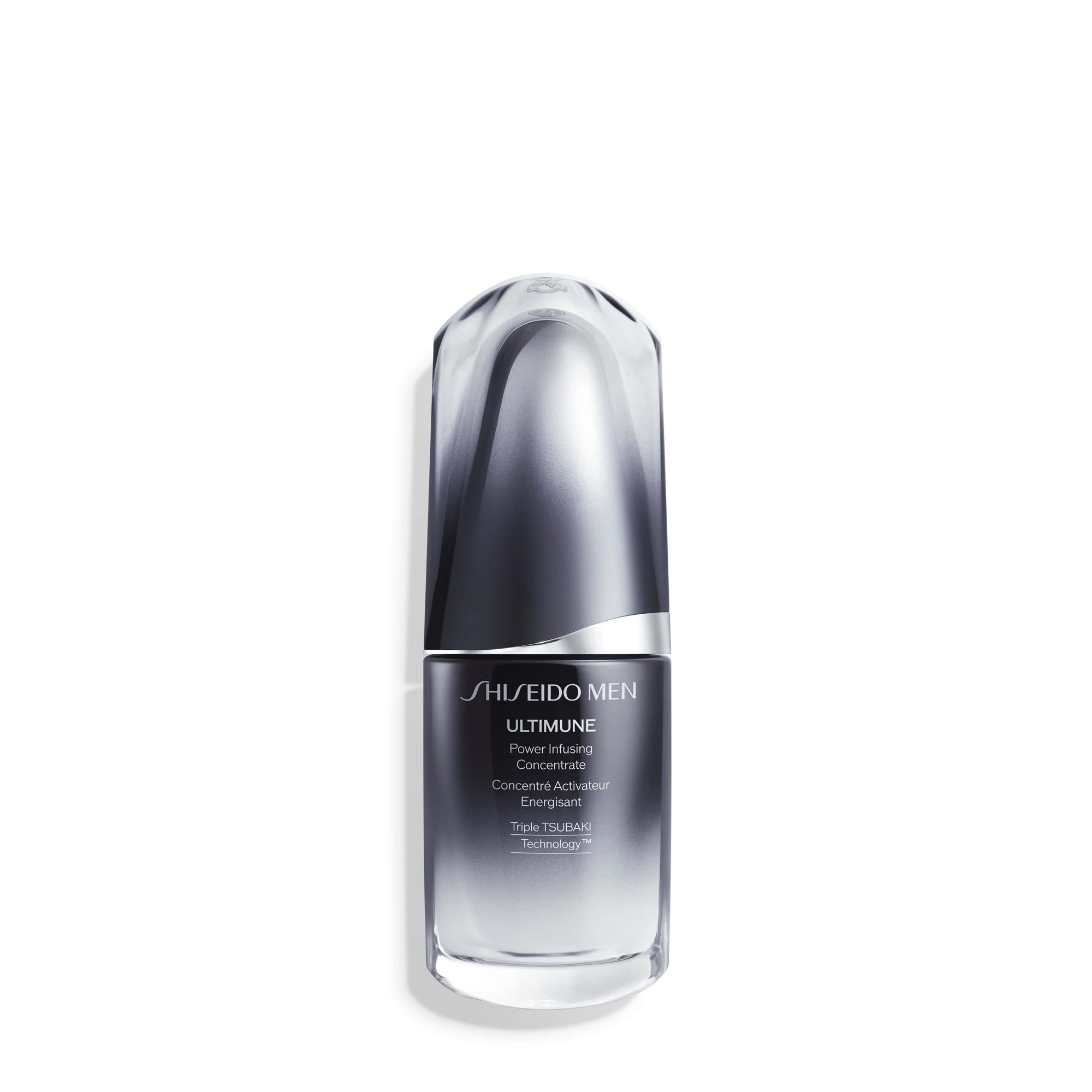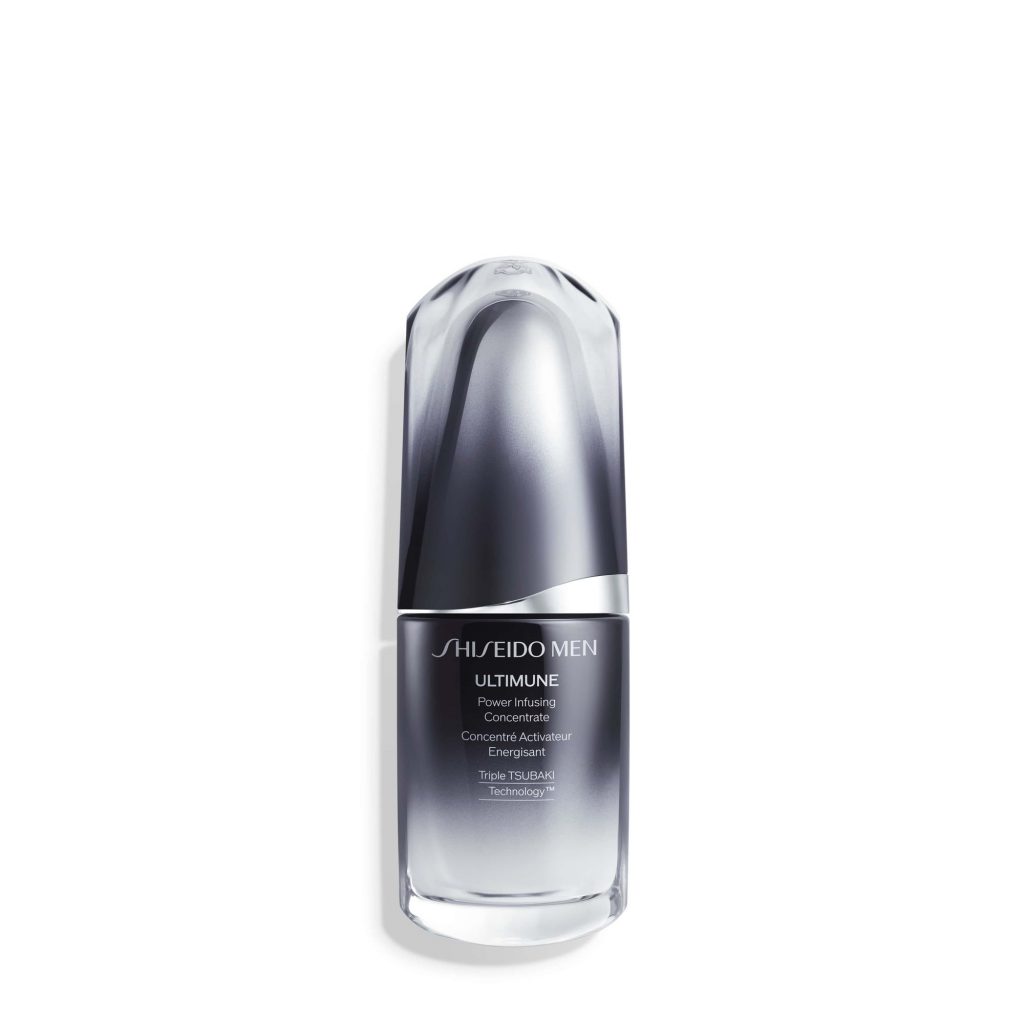 What is the jam with serum? A serum is filled with potent ingredients that'll target specific problem areas on your face — like discoloration and wrinkles to name a few. They usually come in smaller vials or bottles, filled with a gel-like consistency. It's also usually formulated with smaller molecules — making it easier for the skin to soak in all the goodness.
The Shiseido Men Ultimune Power Infusing Concentrate (available on SHISEIDO Official Store) promises to revitalise your skin, combats ageing skin and keeps it hydrated and plump for a whopping 32 hours! Does this jargon sound similar for that other serum (from another brand) you may have chanced upon? This Shiseido product has an added edge — it's been developed with the Triple Tsubaki Technology using extracts from the Japanese camellia plant to strengthen the skin's defence against daily pollutants, harsh sun rays while offering a good dose of antioxidants. Plus, you can't deny that this classy black packaging will blend perfectly well in your bathroom.
How to use: Use it after cleansing your face (before using your moisturiser). Gently towel dry your face after cleansing. Push the dispenser twice and pat the product all over your face and some on your neck too!
3. SHISEIDO MEN Energizing Moisturizer Extra Light Fluid


Lock in the goodness with a moisturiser. Activities like showering and shaving or even staying in an air-conditioned office for long can strip the natural moisture off your face. Hence, it's important to lock in your natural oils and restore lost moisture with a good moisturiser. Moistursisers also help to seal in all the goodness of the serum — packing it in to increase its efficacy.
Hands up if the first thing that comes to your mind when a moisturiser is mentioned, is a thick, viscous cream? The Shiseido Men Energizing Moisturizer Extra Light Fluid (available on GODWELL COSMETICS) is not that at all. It's so lightweight and won't feel like a chore when applying it — we daresay you might even enjoy it! This Shiseido product also diminishes your fine lines, hydrates your skin (again, keeping it locked in for 32 hours) and gives you an overall refreshed look.
How to use: Dispense two pumps of it into your dry palms. Apply it evenly and all over your face. Remember to use this after the serum!
OR
4. SHISEIDO MEN Total Revitalizer Cream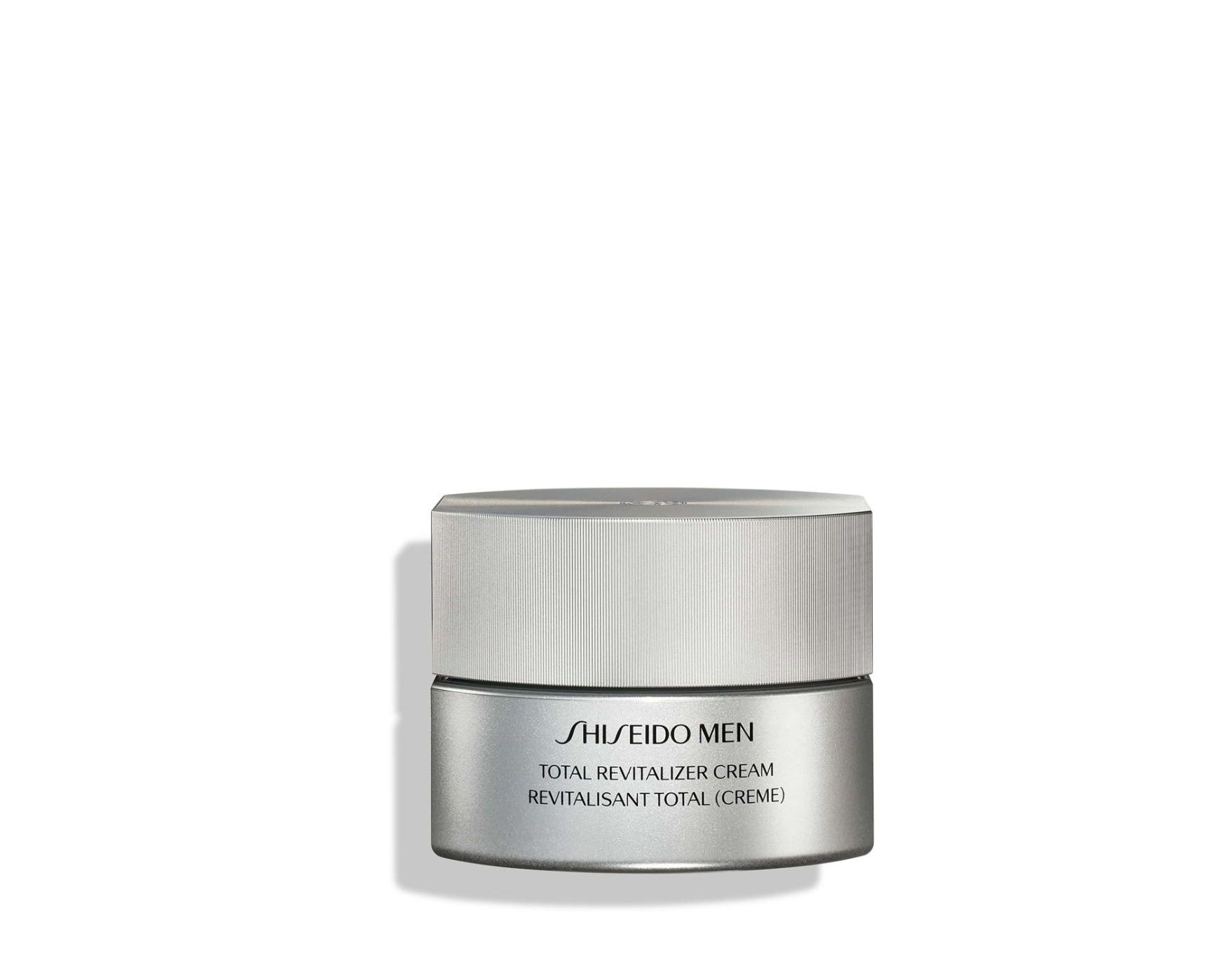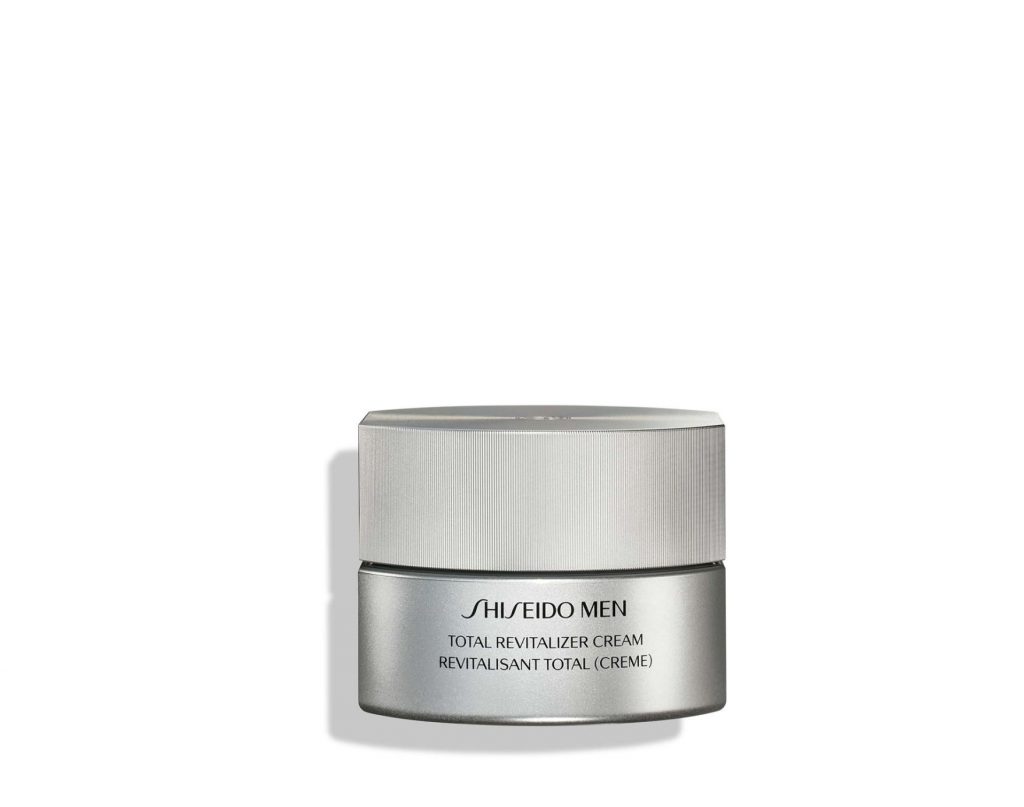 Have you started noticing fine lines around your eyes or have other signs of ageing starting to slowly creep onto your face? Then it's wise to reach for a more potent moisturiser like the Shiseido Men Total Revitalizer Cream (available on Strawberrynet SG Official Store). It includes Marine Protein Complex that keeps the skin uplifted, toned and prevents it from sagging. The ImmuBuild Complex enhances the skin's barriers and keeps the skin protected from external aggressors. The Shiseido product locks in moisture for 24 hours and keeps dryness and fine lines at bay!
How to use: Pick up two pear size drops and apply to your face in circular strokes — pushing your skin gently upwards as you apply.
 5. SHISEIDO MEN Total Revitalizer Eye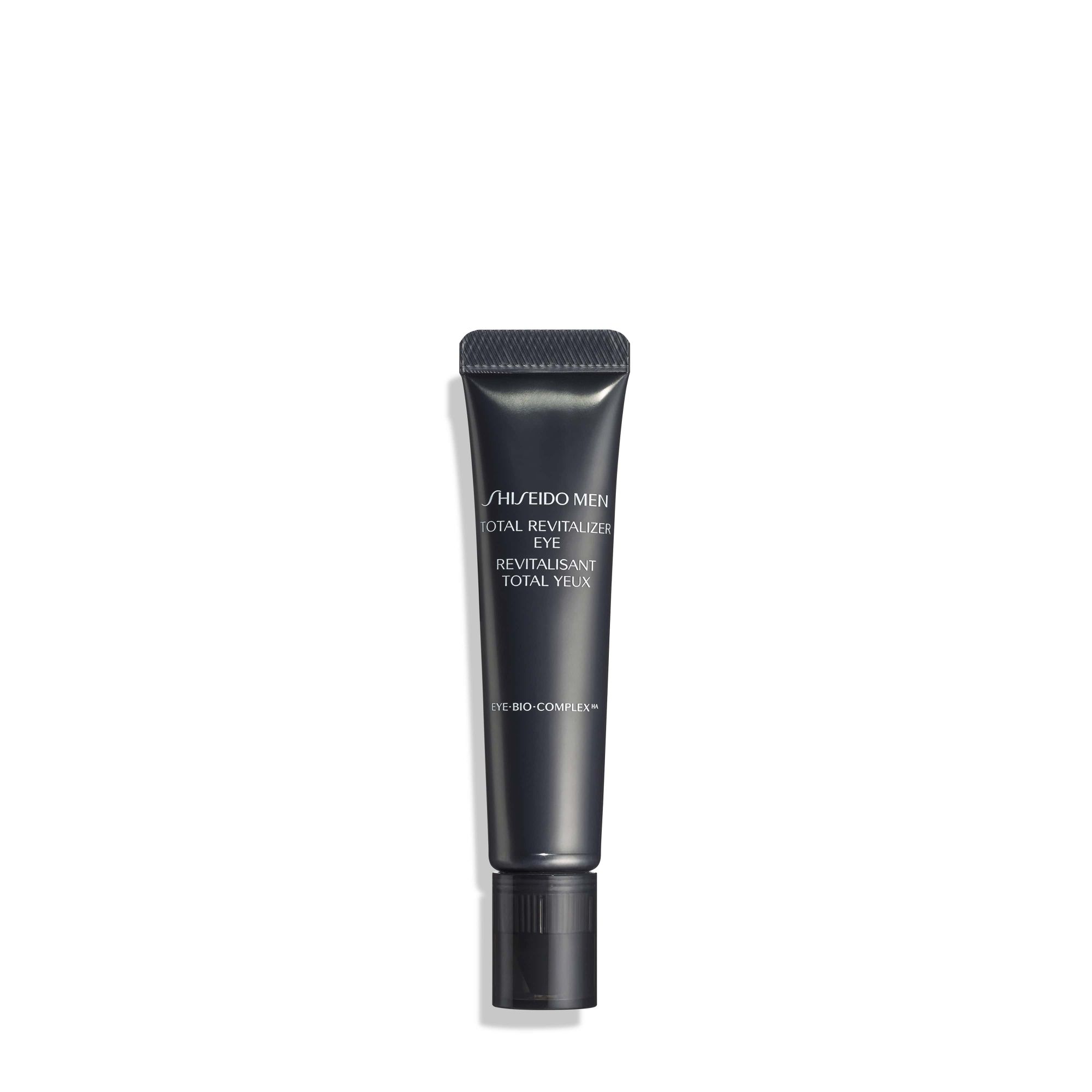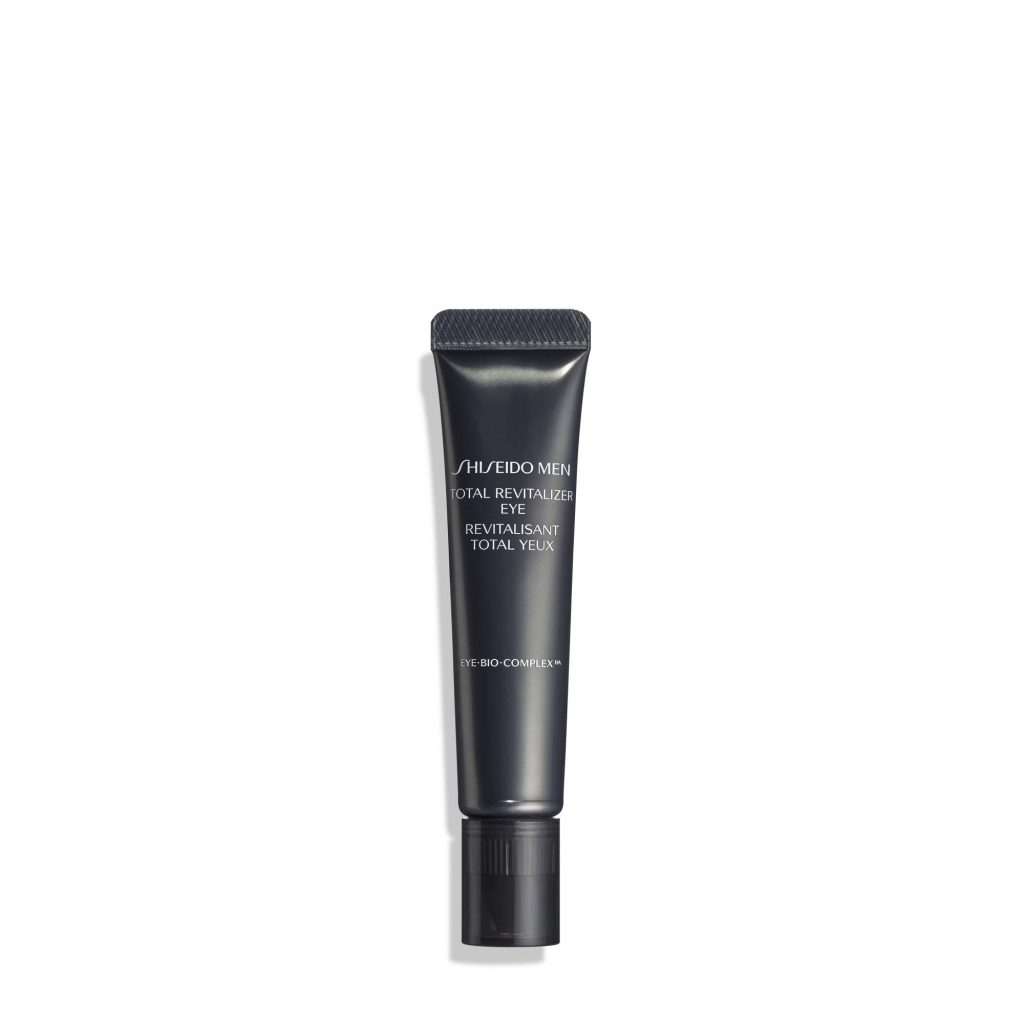 Aye for eye cream! If you've been pulling all-nighters and notice puffy eyes or *gasp* crow's feet, then it's high time to include another skincare essential to your grooming toolkit. Eye creams are a small but potent skincare product that can de-puff and invigorate the area around your eyes.
The Shiseido Men Total Revitalizer Eye (available on Strawberrynet SG Official Store) is formulated with hyaluronic acid — that hydrates, plumps up and brightens the skin or in this case, the delicate under eye area. This ophthalmologist-tested Shiseido product fights those pesky undereye circles, sagging skin and dark circles so your eye area looks more defined. This handy product might just help you look more awake during work meetings!
How to use: Use a small amount on your finger and smoothen over the under eye area. Use this product twice daily, as the final step of your skincare routine (but before sunscreen!)
 6. SHISEIDO MEN Clear Stick UV Protector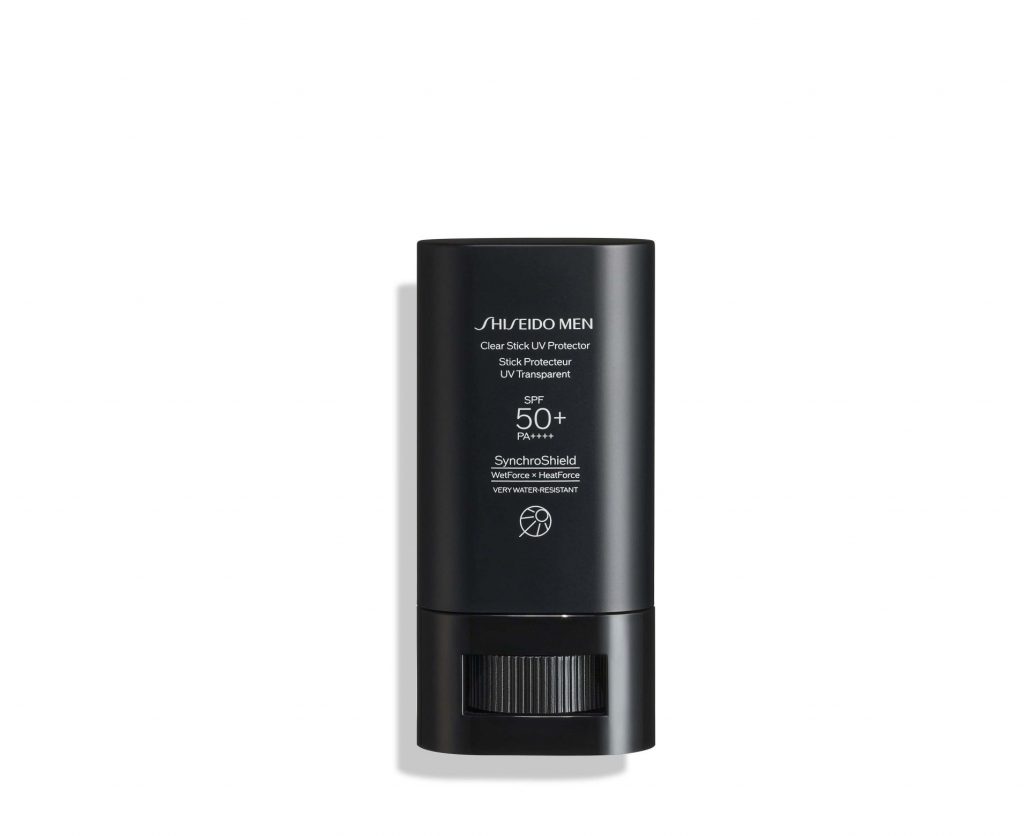 Take suncare seriously. A lot has been said about suncare products and why they are essential to use on a daily basis. In a nutshell, suncare products can reduce risks of skin cancer, prevent premature skin ageing and pigmentations. They are even more important to use considering we live in sunny Singapore.
Nobody likes the idea of using goopy sun care products, worse if they leave an obvious white cast. Fortunately, the Shiseido Men Clear Stick UV Protector (available on SHISEIDO Official Store) is anything but that. Its clever stick design allows you to apply it directly onto your skin with no white residue! The formulation is also something to write home about — this Shiseido product offers protection against both UVA and UVB rays with SPF (sun protection factor) of 50+ and PA (protection grade of UVA). Both are important indicators for protection against sun rays and reduce the chance of skin pigmentations.
How to use: Swivel the stick upwards and apply the sunscreen in a zigzag motion across your face. You can also take some of the product on your fingertips and apply on delicate areas like around your eye. The best thing is, you can use the Shiseido men's cleansing foam to wash this product away at the end of the day.
Bonus: SHISEIDO MEN Vibrant BB Moisturizer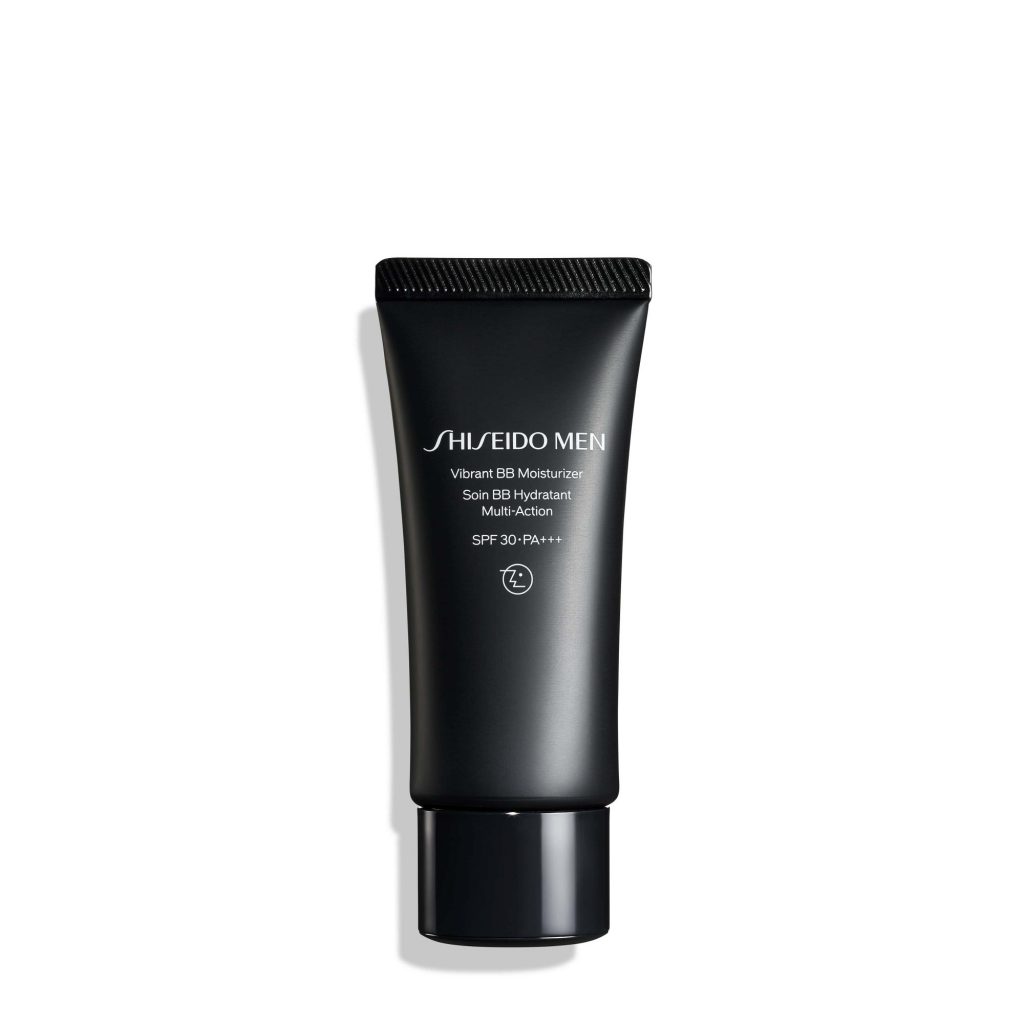 BB cream, what on earth is it? For the uninitiated, BB stands for 'beauty balm' or 'blemish balm' and is used to provide coverage over any redness, scars or pores on your face. It is essentially, wait for it… a kind of foundation/concealer for men. But don't just write it off! If you're conscious of uneven skin tone or just want your skin to look flawless, this product may just be the answer!
The Shiseido Men Vibrant BB Moisturizer (available on SHISEIDO Official Store) is a BB cream, moisturiser and sunscreen all in one. It includes a (very cool) colour changing ingredient to hide any imperfections. Afraid that you'll draw attention by wearing a foundation? No one would be able to tell as this Shiseido product blends in seamlessly with your skin to create an even skin tone. Japanese camellia oil, once again, plays a starring role in this product to give your skin a boost of essential antioxidants.  
How to use: Dispense some of the product onto your fingertips and apply evenly across your entire face starting from the center. Apply in circular motions so the BB cream blends into your skin seamlessly. Be sure to concentrate on the high points of your face (nose and cheekbones) to protect yourself from the sun. Similar to the clear stick above, you can use the Shiseido men's cleansing foam to wash off this product.
Start your grooming toolkit with the best Shiseido products!
From Shiseido men's cleansing foam to the powerhouse Ultimune Power Infusing Concentrate, we hope this roundup of the best Shiseido products for men has inspired you to build a skincare routine that works for you. Shiseido is now on Shopee Premium — so don't miss out on this chance to get your hands on Shopee exclusive Shiseido products like this Shiseido Ultimune Set (available on SHISEIDO Official Store)!
There are other ways to stay on top of your grooming game! Check out the best men's fragrances for a fresh and lasting scent. Need some help in the wardrobe department? Remember, less is more! Follow this guide to building a minimalist wardrobe for men for a style that'll never go out of trend.

---
New to Shopee? Get $7 (min. Spend $15) with code*: SHISEIDO7OFF
*TNC applies. Valid for new users from 27 Sep to 4 Oct 2021 only.