No matter how simple you plan for your wedding to be, you can't deny it's ultimately a costly affair. On top of outfit cost, there's also venue, decor and catering  cost. With so many expenses involved, it's no wonder more brides are turning to the internet for budget-friendly wedding dresses. After all, you'll only be wearing the wedding dress once. Listen up budget brides, we've compiled a list of cheap wedding dresses online below that look luxurious and won't bust your budget!
Cheap wedding dresses online below $100
1.  Semi See-Through Halter Neck A-Line Wedding Dress ($43)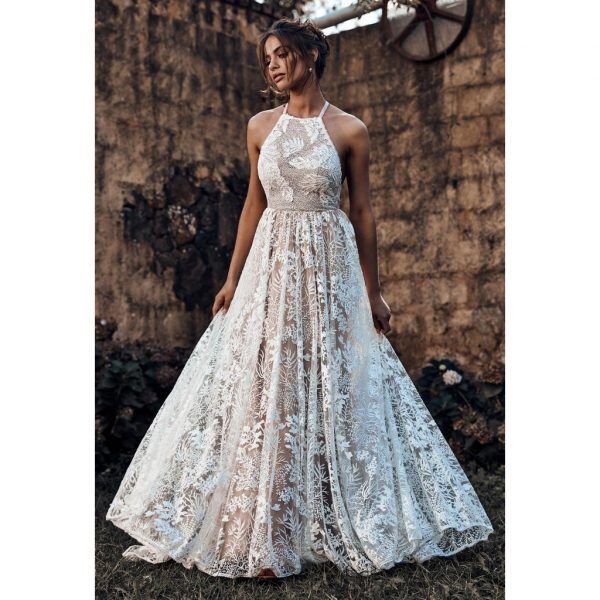 Afraid of drowning under a heavy wedding ball gown? You'd be better off with this Semi See-Through Halter Neck A-Line Wedding Dress (available on bingfenshangcheng.sg). This is one of the best cheap wedding dresses online for outdoor weddings or photoshoots, as the dress does not contain too many layers and allow for easier movement. Moreover, the flowy lace fabric will make for a priceless shot when you do a twirl!
The gorgeous halter neckline helps to direct the eye away from broad shoulders and enhances your femininity, perfect for those with lean frames or athletic body types! It also features a sultry open back with cross straps, adding to the sexy appeal of the dress.
2. Mermaid Beaded Off-Shoulder Wedding Dress ($86.81)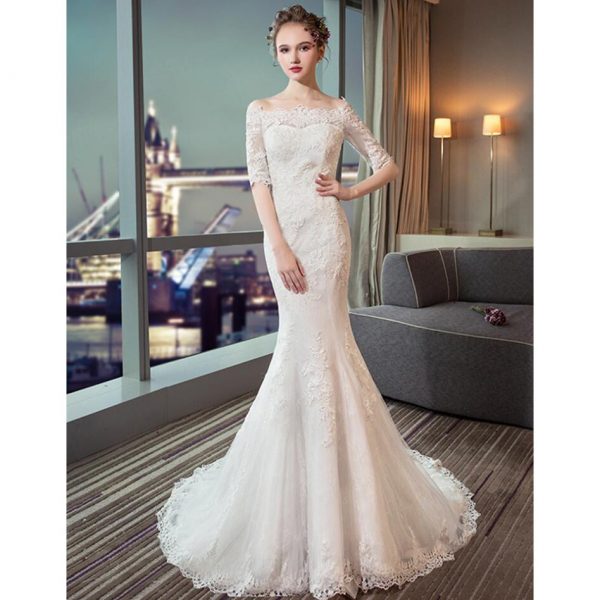 If you're looking for a glamorous wedding dress that's not too over-the-top, you've found yourself THE one with the Mermaid Beaded Off-Shoulder Wedding Dress (available on hometextile.sg). Fitted along the bodice and hips, this wedding dress shows off your curves like no other. The straight off-shoulder neckline draws attention to your collarbones and lends this cheap wedding dress an air of unparalleled elegance! 
As most mermaid wedding dresses have a form-fitting style, consider wearing nubras or seamless bras and seamless panties to avoid embarrassing VBL or VPL situations!
3. Sequined Off-Shoulder Ball Gown Wedding Dress ($93)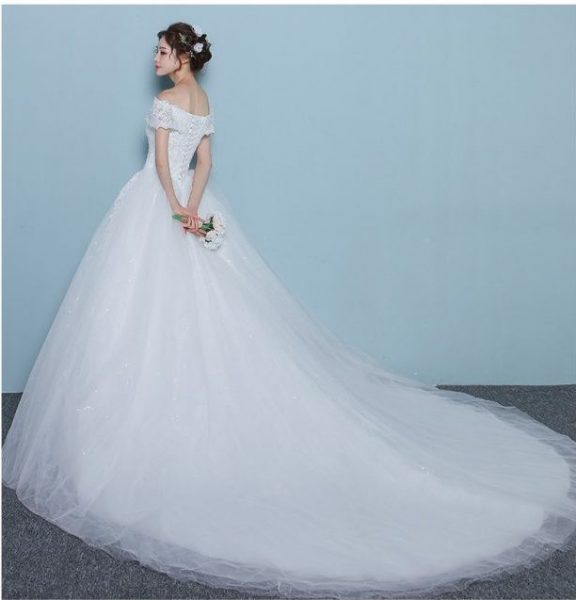 Who said you can't find affordable ball gown style wedding dresses online? The Sequined Off-shoulder Ball Gown Wedding Dress (available on Wedding Dress) costs less than $100 and features a dreamy long train fit for royalty. While many ball gowns can be heavy, this stunning tulle creation is lightweight, easy to move around in and has a dreamy and romantic look. Plus, it's decked in sparkly intricate sequins and lace embroidery around the bodice for that bling effect!
4. Sparkly Sequin Mermaid Wedding Dress ($66.80)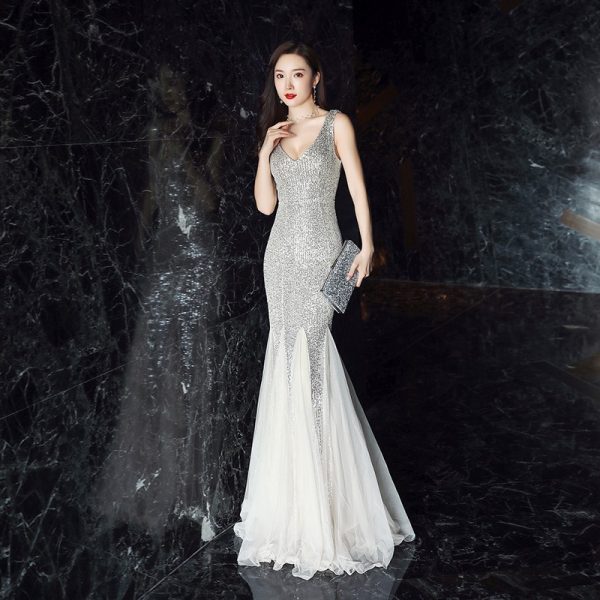 No one will be able to steal your limelight on your big day with this Sparkly Sequin Mermaid Wedding Dress (available on alan2017.sg). Decked in reflective silver sequins, this cheap wedding dress will dazzle all your guests when the spotlights shine on you. The fishtail design flares out from your thighs and complements the body-hugging dress to accentuate your feminine figure! The dress also comes with sewn-in bra cups so you can skip on lingerie entirely.
Cheap wedding dresses online between $100 to $200
5. Ethereal Cape-Sleeved A-Line Wedding Dress ($101)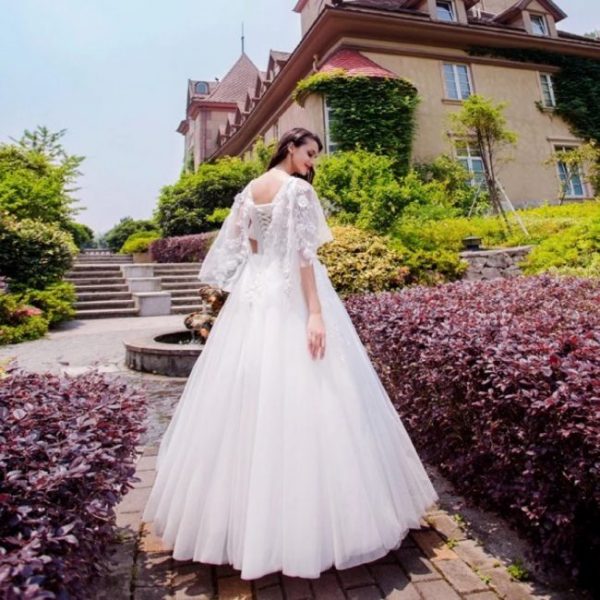 Looking for a cheap wedding dress online that can make a bold statement on your special day? End your search with this Ethereal Cape-sleeved A-line Wedding Dress (available on Wedding Dress). Blooming with embroidered floral lace and glittery sequins, the fluttery cape sleeves float in the air as you walk down the aisle. Brides-to-be who are conscious of their arms will appreciate the coverage provided by the cape sleeves. That's not all, the corset ties help to accentuate your back while providing a snug fit. Thanks to the A-line silhouette, this wedding dress is flattering on all body types and will make you feel like a princess on the actual day!
Pro Tip: Since the dress is filled with gorgeous details, we suggest keeping your hair accessories minimal with a simple pearl hair clip.
6. Blue Floral Cage Wedding Ball Gown ($163.93)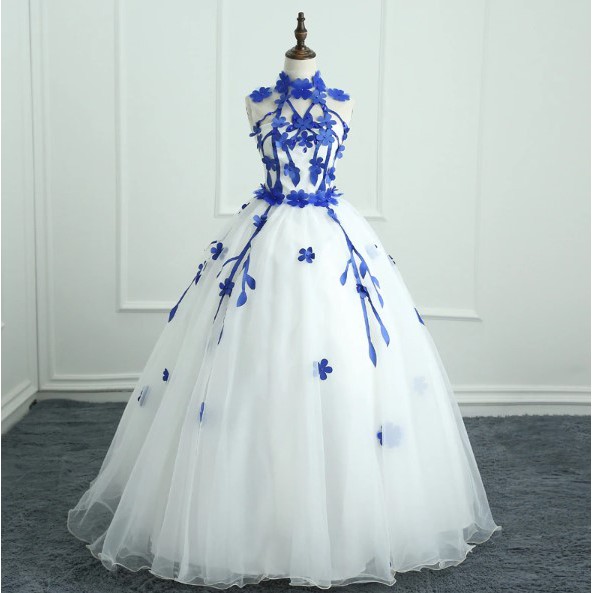 Dare to be different on your big day. Instead of going for a pure white wedding dress, look for something unique and memorable — such as this Blue Floral Cage Wedding Ball Gown (available on supermarket_wedding.sgv)! Designed with modern brides in mind, this dress is peppered with intricate royal blue florals that frame the bodice and extend down to the skirt. You'll also find some blue crystal embellishments all over the gown, giving this cheap wedding dress a sophisticated appearance. 
7. Simple Short Illusion Back Wedding Dress ($104.16)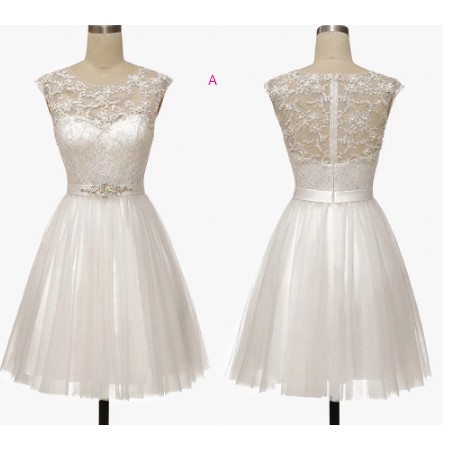 Don't see yourself in a long wedding dress? That's alright, because we've got you covered with the Simple Short Illusion Back Wedding Dress (available on weddingmarket.sg)! This mini wedding dress is perfect for petite brides as it shows off your beautiful legs! In addition, the fit-and-flare cutting will suit all types of body shapes. The organza fabric on the chest also provides modest coverage. We think this would also be a super cute and cheap wedding dress for any outdoor photoshoots in the forest or at the beach! With eight sizes to choose from, you can definitely find one that fits like a second skin.
8. Minimalist Satin Bow Wedding Dress ($175.81)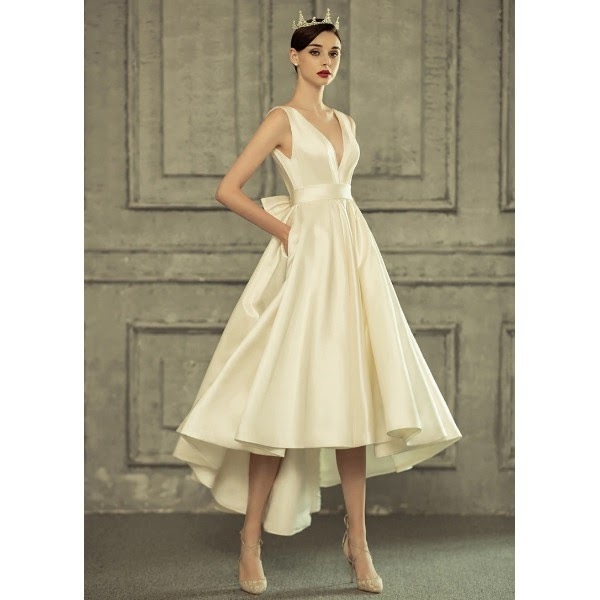 If the simple elegance of Meghan Markle's wedding dress had you gasping in awe, you need to say 'Yes!' to this dress. The Minimalist Satin Bow Wedding Dress (available on weddingmarket.sg) is made of high quality satin with a pearly sheen — no one would have guessed it's a cheap wedding dress! It features a feminine V-neck and an asymmetrical skirt to add more style to the otherwise simple-looking piece. The best part about this wedding dress? It comes with pockets! So brides can now keep their phones on them throughout the ceremony. Let's face it, there's so many things for you to keep track of, you need your handy dandy device in your pocket at all times! Wear a pair of heels or even these IELGY Solid Color High Heel White Boots (available on IELGY Official Store) for extra swag on your wedding day!
Cheap wedding dresses online between $200 to $300
9. Fringe Heart-Shaped Back Wedding Dress ($213)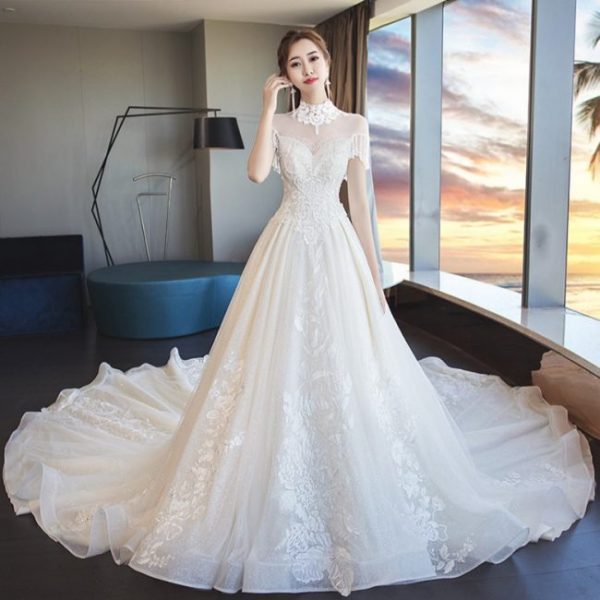 Looking to incorporate boho elements into your wedding dress? This Fringe Heart-shaped Back Wedding Dress (available on Wedding Dress) has everything you need to nail the trendy boho wedding style. The fringe design extends across the chest and down to the lower back, swinging elegantly as you boogie away on the dance floor! This wedding dress would especially flatter ladies with a smaller chest, as the high neckline will add dimension to your neck and upper chest. We also can't help but swoon over the cathedral wedding gown train that'll guarantee a grand entrance!
Skip wearing a necklace and instead, go for a pair of dainty dangling earrings such as these Chow Tai Fook 18K 750 Rose White Yellow Gold Dream Catcher Earrings (available on Chow Tai Fook Official Store)!
10. Tiered Tulle Wedding Dress With Floral Lace ($270.39)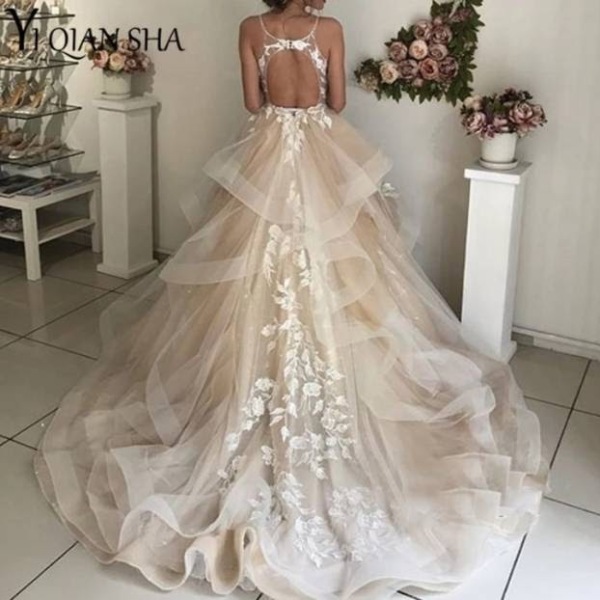 Tiered or ruffle tulle wedding dresses provide the volume of a full ball gown without the extra weight. It's no wonder these wedding dresses are so popular online! In fact, tiered skirts make it look like you're floating down the aisle with the layered fabrics swishing beautifully with each step you take.
The Tiered Tulle Wedding Dress With Floral Lace (available on supermarket_wedding.sg) not only includes whimsical elements but is also designed with a romantic floral lace train. This show stopping cheap wedding dress has a sheer illusion back lined with fabric-covered buttons to prevent any wardrobe malfunction! Allow the intricately layered skirt to shine through by opting for a shorter veil, such as this short satin bridal veil (available on shengwei.sg).
11. Periwinkle Enchanted Flare-Sleeved Wedding Dress ($220)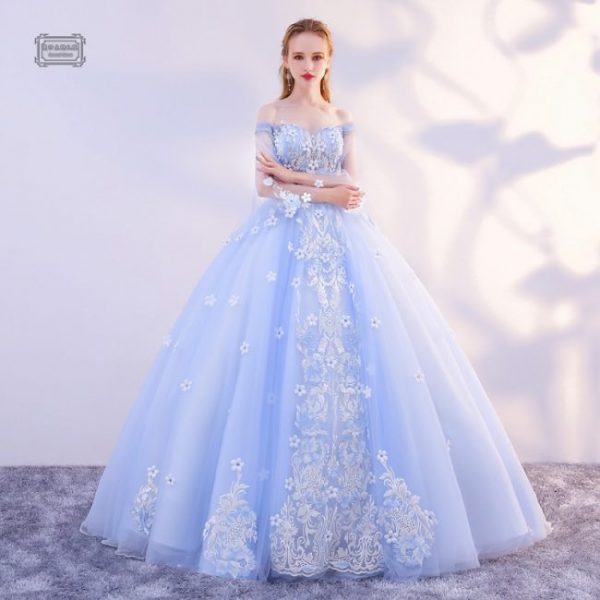 Did you know? Before white wedding dresses got popular, most women wore brightly coloured wedding gowns to celebrate the special occasion. Add some colour to your wedding with this Periwinkle Enchanted Flare-sleeved Wedding Dress (available on rainebelle.bridal), dotted with dainty florals from the enchanted garden.
The highlight of this cheap wedding dress lies in its fluttery flared sleeves, which adds a charming whimsical touch. Don't forget to complete the look with a pair of glitzy IELGY Pointed Diamond Wedding Heels (available on IELGY Official Store)!
Be the prettiest bride on your wedding day
Cheap wedding dresses need not look any less beautiful than their more expensive counterparts. We hope you've found your dream piece among these beautiful wedding dresses online! While you're busy shopping for your wedding gown, don't forget to get your bridesmaid dresses ready too! Meanwhile, explore our list of DIY wedding decor ideas for a budget-friendly wedding event. Also, it won't hurt to refresh your knowledge on wedding angbao rates for any upcoming weddings you might be attending!