From bridal gowns to third party vendors, wedding costs can add up to a hefty sum in a blink of an eye. This is why many budget-savvy brides-to-be look for creative ways to cut costs. One of the most effective ways to do so is to go for DIY wedding decors! Instead of engaging wedding stylists who usually charge $1,000 and above for the service, you can purchase the decorations you need for your venue and set them up however you want. Be it wedding arches or wedding car decor, make your dream wedding happen with affordable DIY wedding decor ideas in Singapore!
1. DIY wedding decor in Singapore for your solemnisation
Minimalistic solemnisation decor ideas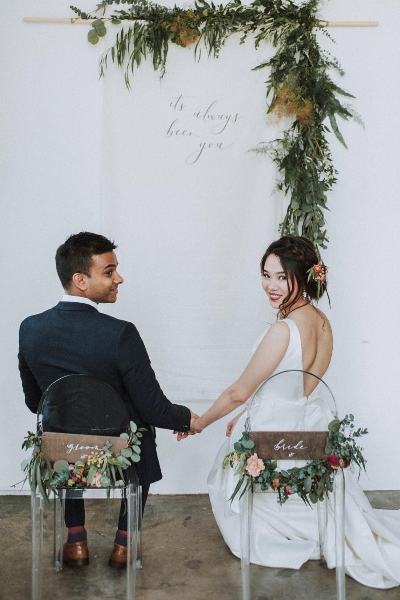 Say your wedding vows in a romantic setting with DIY wedding decor in Singapore! Instead of typical Tiffany chairs, we suggest turning your solemnisation into a minimalistic affair with Acrylic Transparent Chairs (available on Warm Home Furniture). These chairs give off a 'glass' like effect and provide you versatility to style them however you like — try hanging these Small Bride And Groom Signboards (available on Tic Tag Clover) or Wooden Bride And Groom Chair Banners (available on nancy1314.sg) on the back to spice things up! They will serve as great props for your solemnisation photos. 
Bohemian solemnisation decor ideas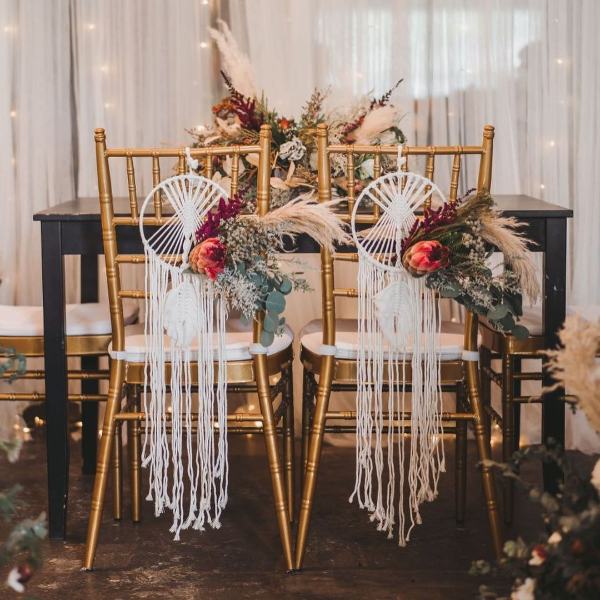 For a more bohemian solemnisation theme, go for unique DIY wedding decor such as LED Heartshaped Dream Catcher (available on shoplara) and Decorative Dried Flowers (available on crz2w3nkd9). Secure the flowers onto the dream catcher and hang them on the back of your chairs. Keep your solemnisation backdrop simple yet whimsical by layering a Wedding Organza Curtain (available on fashionshophr) over a Fairylight Curtain (available on Green life.sg). We're sure this DIY wedding decor idea will turn out great in your wedding photos! 
Solemnisation ring holder ideas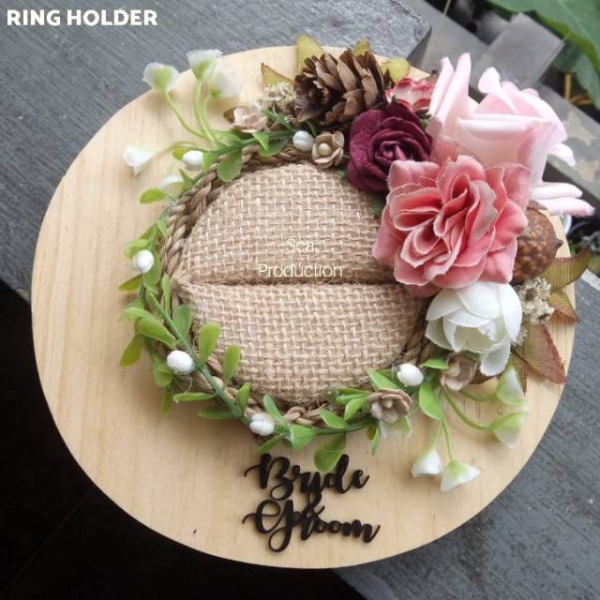 And let's not forget about the highlight of the solemnisation — the ring exchange! Many wedding photographers will take shots of your ring box or ring holder. Hence, be sure to pick one that's aesthetic! We suggest something classy like this Hexagon Ring Box (available on lampudecorative.sg) or rustic like Customisable Floral Ring Holder (available on sca.production.sg). Psst, you can even pick your favourite florals, colour theme and name tags for this ring holder! If you prefer something more simple and vintage, the Walnut Wood Ring Box (available on Infashion Accessories Mall) will do the trick. 
2. DIY wedding decor in Singapore for the photo table
Many couples keep their pre-wedding shoot photos a secret so as to showcase them on the day of the wedding. But with the new safe distancing measures in place, wedding photo albums are no longer allowed to be displayed at the photo station as they are considered areas of high touchpoint.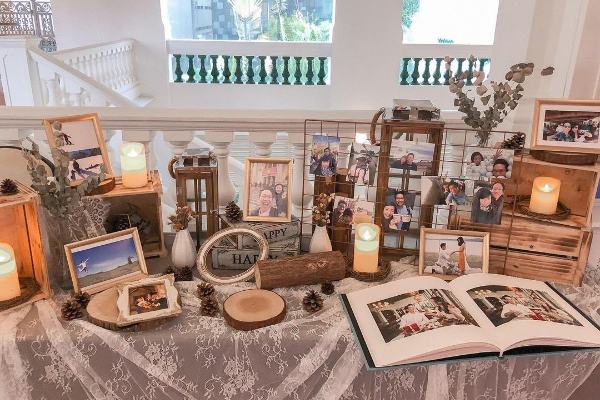 Fret not, you can still share beautiful photos with your loved ones on your big day! Instead of a photo album, we suggest stocking up on pretty photo frames. The MUJI Magnetic Frames (available on MUJI Official Store) and these HDD92 Slim Golden Photo Frames (available on cldeen Trading) make for great photo displays on your photo table as they are able to stand steadily on their own and can accommodate photos of various sizes. Aside from photo frames, wiremesh stands such as the Madison Garden Collection Cube Gold Wiremesh (available on Klosh Official Store) also make for great photo displays. Simply peg your photos to the wiremesh to create a pretty collage for your guests to admire from afar! If you wish to display larger photo posters, this Picture Display Stand (available on t764f37bah) will be right up your alley.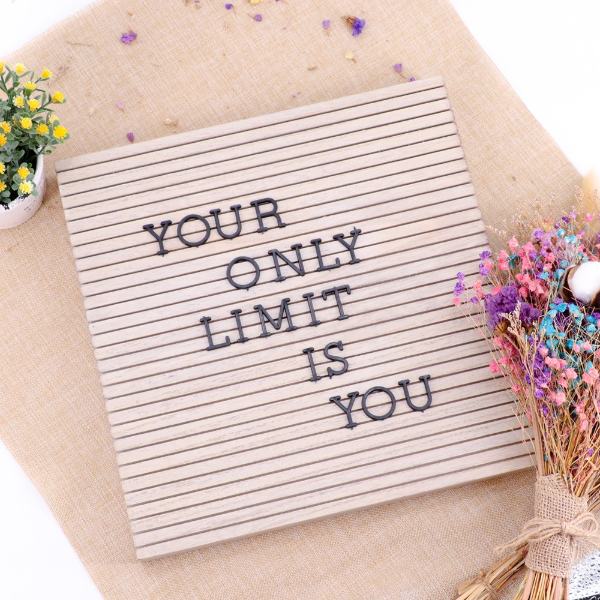 Other than photos, you will also need other decor to fill up the rest of the photo table. Here's where the Letterboard Collection Wood MDF (available on Klosh Official Store) comes in! You can use the letterboard to spell out punny phrases or your favourite love quotes. Another decor to consider is the Wood Sign Laser Cut Blessed Pink Boho Rainbow (available on Klosh Official Store) which will also add a hint of romance to your photo table. Don't forget to place some Homlly Real Wax LED Flickering Flameless Candles (available on Homlly) on the table to make it look cosy and heartwarming!
Oriental photo table ideas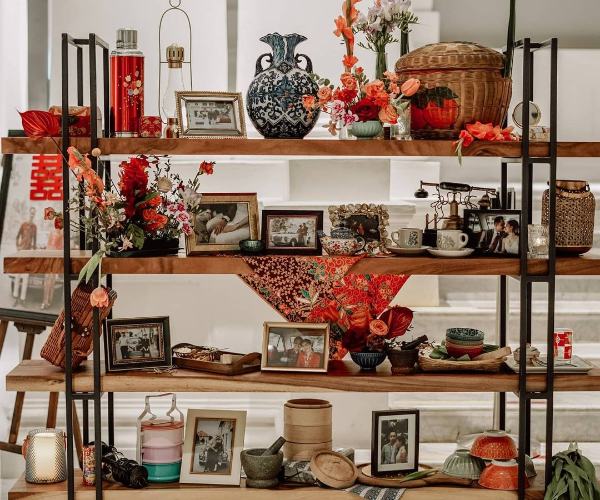 Here's another unconventional DIY wedding decor idea for your photo table if you're into quirky, oriental designs! Instead of a table, display your photos on a Choice Furniture Brogan Book Shelf (available on choice_furniture). Deck the shelves with Chinese Ceramic Vases (available on tteynliu2aa.sg), Flower Tingkats (available on Nctstores), old school Straw Sewing Boxes (available on superSuper.sg) and Dim Sum Steamer Baskets (available on Shiwaki home flagship store). This photo station will surely be a hit among the older guests!
3. DIY wedding decor in Singapore for guest tables
Long table wedding decor ideas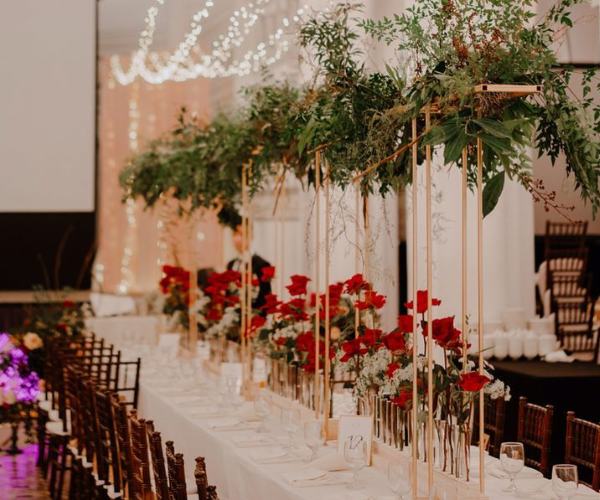 Many couples tend to be shocked when they realise decorations are not included for most unconventional venues (think cafes).  Luckily, there are a wide variety of DIY wedding decor you can get online to impress your guests! If you're going for a long table seating arrangement, these Metal Flower Racks (available on Home Fashion) can be placed in the middle of the table to instantly change up the look and feel of your space. You can engage a florist to deck the flower racks with fresh florals or drape these  Artificial Silk Cloth Cherry Blossom Garlands (available on melanie1.sg) for a soft, romantic look. Still find that the tables look too empty and boring? Line some Test Tube Racks (available on welleasyshop.sg) with fresh roses — you can also remind your guests to bring the stalk home with them!
Round table wedding decor ideas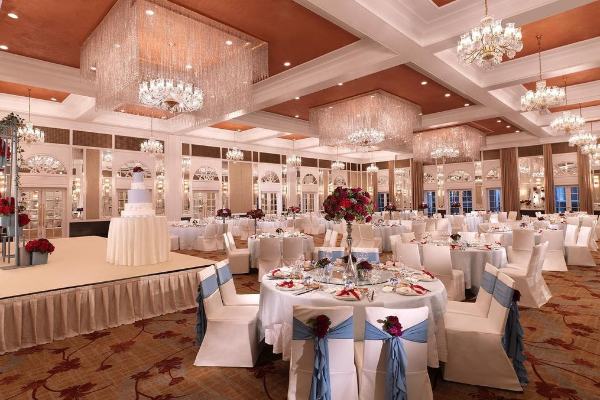 Compared to long tables, we find centrepieces for round banquet tables easier to design with DIY wedding decor. Usually, the VIP tables feature larger centrepieces. You can recreate this look with the tallest Gold Wedding Floral Centerpiece (available on HC.Home & Living). As for the rest of your guest tables, a small vase like this Brass Gold Vase (available on syhhsm1.sg) will be classy enough. In addition, consider getting some pretty place card holders such as the Wooden Log Card Holder (available on Insfree Home & Living) or Metal Heart Ring Card Holder (available on Huiran Home Decor Shop). They can hold cards with your guests' names and make them feel extra special. 
Banquet chair decor ideas
Don't like the look of the chairs at your venue? Switch them up easily with Banquet Seat Covers (available on qibeimaoyi.sg) — champagne, light purple and white are some of the most popular choices. You can also add a Banquet Chair Sash (available on meimeijingp.sg) to the VIP seats in a complementary colour. 
4. DIY wedding decor in Singapore for your march in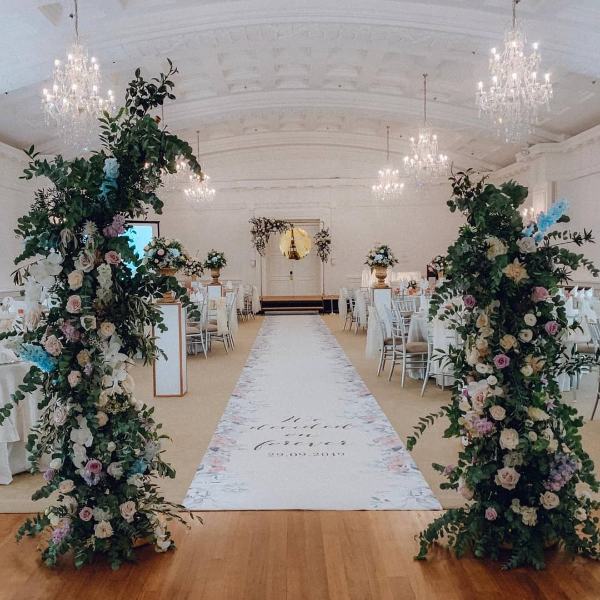 The first march down the aisle is one of the most memorable moments for the bride and groom. This is why you should invest more in sprucing the aisle up! With the current safe distancing measures, most aisles are now three meters wide. This leaves you even more space for DIY wedding decor! To transform your wedding into an event of great grandeur, we suggest laying a White Aisle Runner (available on toystory_x) and sprinkle Rose Flower Petals (available on timehebay1.sg) along both sides of the aisle. Alternatively, turn your walk into a flowery path with this Satin 3D Rose Aisle Runner (available on happylife6.sg) — a symbol of luck and a better life for the newly married couple!
Alternative queue pole decor ideas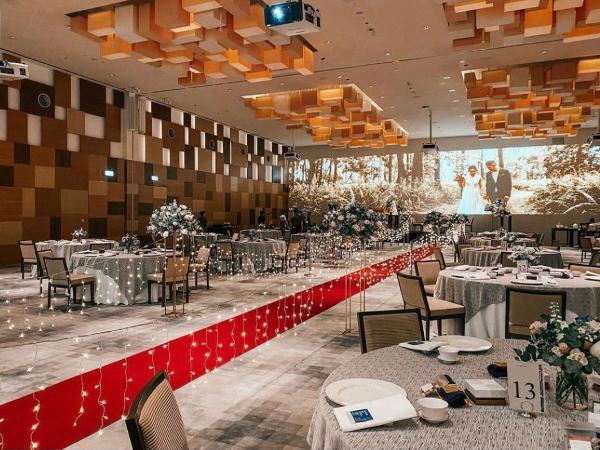 Some venues may also place queue poles on the sides of your aisle. This is to prevent your guest from mingling with others across the room. And truth to be told, queue poles are far from being aesthetic. Which is why many couples rather switch them out into long rows of fairy lights or satin ribbons instead! Position several Wedding Flower Columns (available on eruiopn) along the aisle and link them up with Fairy Lights Collection 10 LED Glass Bottle Lights (available on Klosh Official Store). When the lights dim for your march in, these fairy lights will twinkle brightly and make you feel like a princess!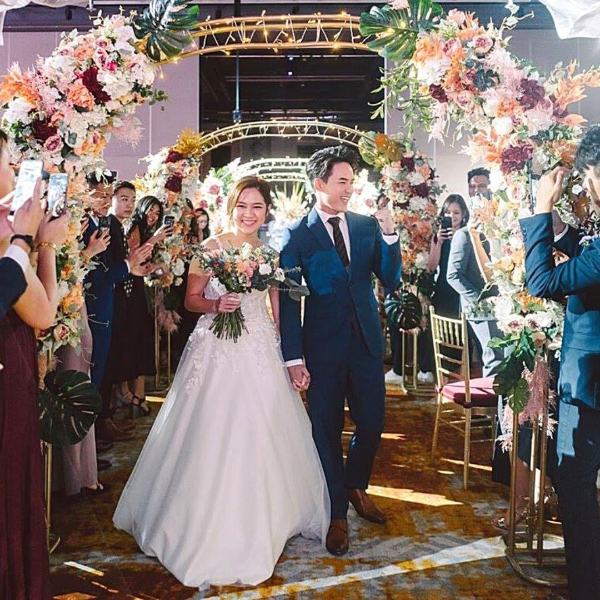 Dream of walking through wedding arches with your partner? You'll be happy to know that we've got the perfect DIY wedding decor in Singapore for you! Pick between the Square Metal Wedding Arch (available on Dongxi Store) for your indoor wedding or the Curved Wedding Iron Arch Way (available on Family room) for your outdoor venue (it can be pushed firmly into soil or sand to secure). Many of these wedding arches don't come with decorations and this allows you to add your own creativity to it. Deck the arches with Wedding Arch Dried Flower Arrangements or even Trailing Wisteria Vine Garlands (both available on beautifu) to match your enchanted garden wedding theme!
5. DIY wedding decor in Singapore for the stage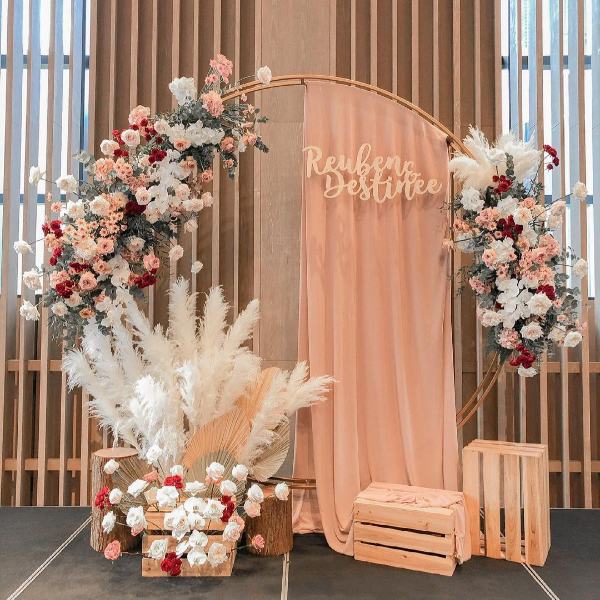 Stage decorations can easily cost a bomb and bust your wedding budget. This is why many budget brides take it into their own hands. For those who want something easy to assemble, the Wedding Curtain Backdrop (available on Dongxi Store) is a fail-proof DIY wedding decor in Singapore. Simply hang it up, add some fairy lights and you're good to go! Meanwhile, complex designs such as big circular backdrops can be conveniently achieved with this Party Hoop Stand Holder (available on Cat's Party & Event Supplies). Tie balloons or flowers around the hoop and drape a Silk Fabric Backdrop (available on Eternity.sg) down on one side — no one will know you've created the backdrop yourself!
6. DIY wedding decor in Singapore for your wedding car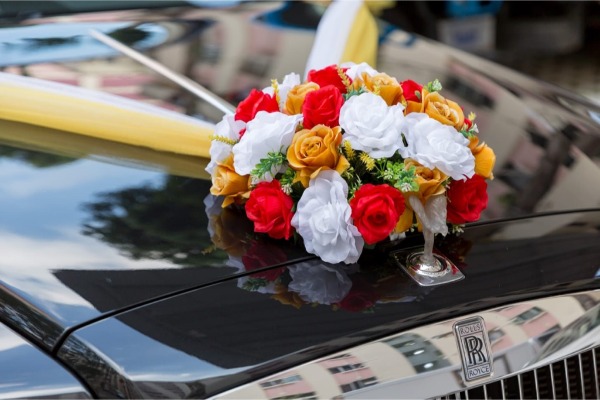 Don't forget to add some glitz and glamour to your ride for the day! Go for something cutesy like this Couple Bear Wedding Car Decoration (available on homeasy.sg) which will make every go 'Aww!'. Alternatively, stick to the classic Wedding Car Flower Bouquet Decoration (available on Karftwerks) which will never go wrong. 
Are you ready to tie the knot with the love of your life?  
Draw inspiration from our list of DIY wedding decor ideas in Singapore to create your dream wedding on a budget! If you're looking for other ways to cut cost, why not check out these affordable bridesmaid dresses your girlfriends will appreciate? Meanwhile, read this guide to wedding ang bao rates so you know exactly how much to give at the upcoming weddings you'll be attending!