The upbeat tunes, the flashing lights, the constant encouragement — nothing quite matches the intensity and fun of a group spin cycle session! Meshing the satisfaction of a completed workout with the fun of cycling, you'll feel your calories burning up as you pedal to the music's beats with fellow riders. While indoor cycling classes are on pause for now, why not bring the experience home instead? From comfortable recumbent bikes to full-scale spin bikes, here's our guide to the best spinning bikes in Singapore for home use.
Type of exercise bikes in Singapore
Benefits

Upright bikes

Offers a full body workout by engaging your core and arm muscles

Most affordable

Adjustable resistance levels

Recumbent bikes

Comfortable seat and backrest

Easier on your joints

Spinning bikes

Allows for sitting and standing workouts

Mimics real-life racing bike movements
Best spinning bikes in Singapore to put the pedal to the metal
1. AIBI Foldable Upright Recumbent Bike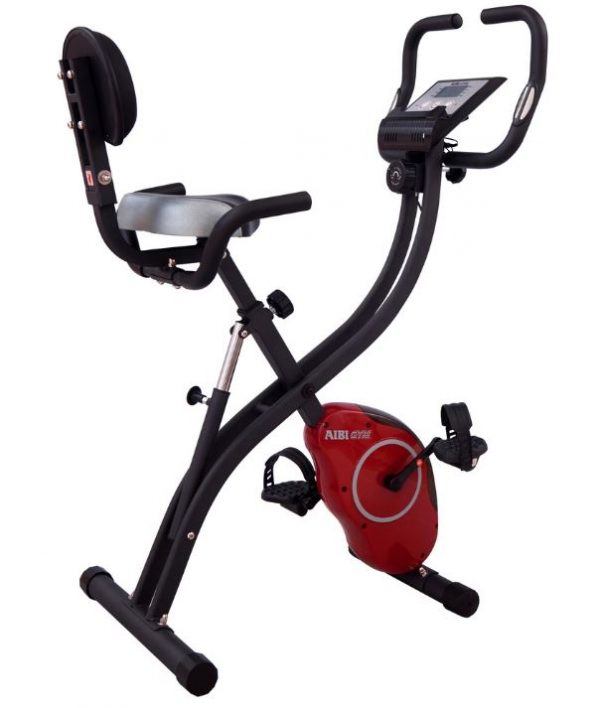 Contrary to popular belief, spinning bikes in Singapore don't take up that much space! This is especially so with AIBI's Foldable Upright Recumbent Bike (available on Aibi Singapore Official Store) — one of the few stationary bikes in Singapore that combines elements of recumbent and upright bikes. Yes, you read that right! AIBI's bike manages to effectively offer the best of both worlds by fitting everything into a sleek bike frame! This lets riders freely swap between upright and recumbent cycling positions and opens the doors to all kinds of cycling routines. Also, don't let its miniature size fool you — the foldable bike holds its own by withstanding up to 100kg and comes with a sturdy backrest, allowing you to take a breather when you need to.
2. TUNTURI Exercise Bike Performance E50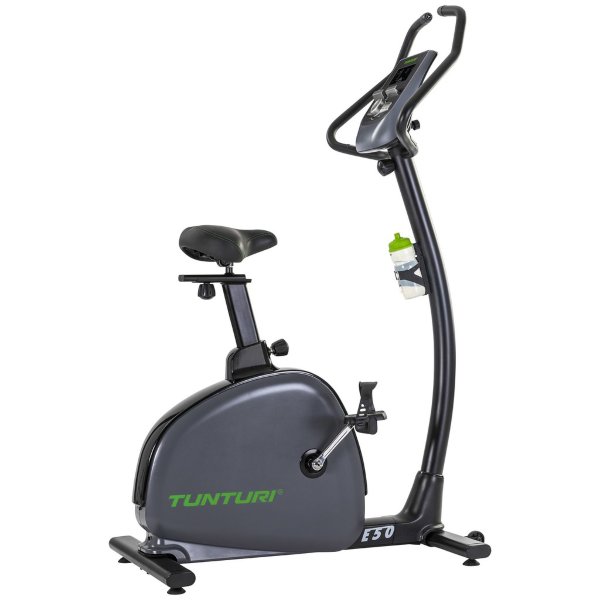 The TUNTURI Exercise Bike Performance E50 (available on AIBI Singapore Official Store) has a simple yet sleek design that helps this spinning bike fit into any home gym. With 32 different resistance levels and 21 programs, the E50 is intended for riders who're looking for challenging workouts. Also, you can create your own personalised training session on the E50 via apps like Tunturi Routes and more! Rock out to your favourite workout music and pedal hard with this nifty exercise bike in Singapore! See the E50 in action below. 
3. AIBI Recumbent Bike AB-B165R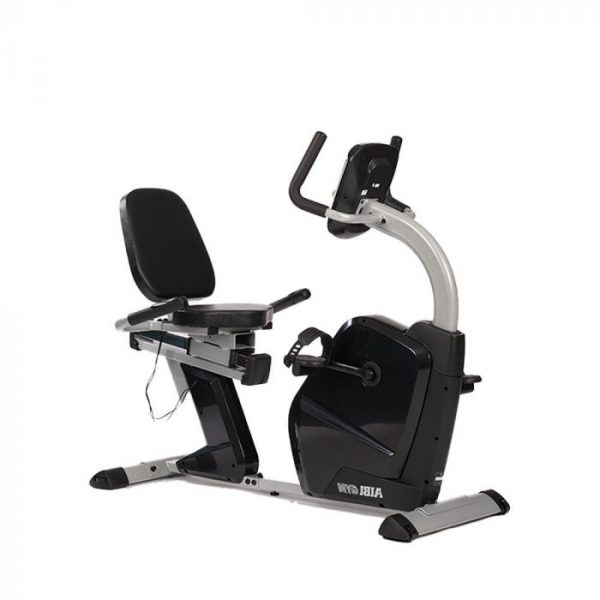 Whether you've recently recovered from an injury or want to reduce the strain on your joints and back, the AIBI Recumbent Bike AB-B165R (available on AIBI Singapore Official Store) will be your best bet! Boasting state-of-the-art heart rate monitoring functions, this recumbent bike enables you to set clear fitness targets so you can train like a professional cyclist. While pedalling can sometimes be a high impact workout, AIBI has put in place multiple measures to reduce risks of injury. From freely adjustable pedals that are useful for rehabilitation to multiple handlebars for better stability, this is one of the safest spinning bikes in Singapore for those who've suffered from an injury!
4. OTO Row Bike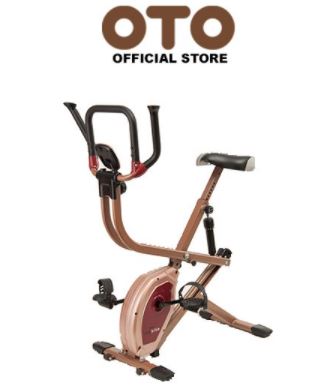 Think pedalling on these exercise bikes in Singapore is all about building lower body strength? OTO's Row Bike (available on Oto SG Official Store) will certainly change your mind! Combining the intensity of cycling with a strength-building exercise like rowing, this spinning bike in Singapore does a fantastic job of activating multiple muscle groups and increasing the amount of calories burnt. Active riders will adore how the OTO forces you out of your usual cardiovascular comfort zone as you involve your back and arm muscles. Convinced only with numbers? Just eight minutes on this dual-exercise machine can help burn up to 100 calories! Learn more about this best spin bike in Singapore below.
5. Desk Stationary Exercise Bike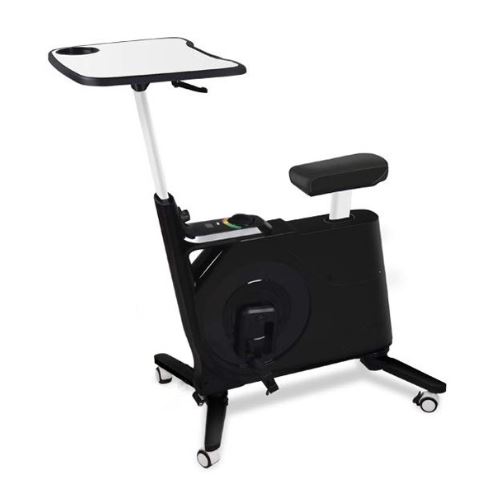 This unconventional spinning bike in Singapore immediately caught our attention! The Desk Stationary Exercise Bike (available on Cool Power Fitness Equipment Store) will be perfect for you as it ups your multitasking game! Aside from offering a silent flywheel and ergonomic seating, the main attraction here is the inclusion of a desk instead of proper handlebars. While high intensity spin class purists might scoff at such a feature, such stationary bikes in Singapore are handy for users who wish to keep their limbs active while working from home. With enough space to hold a laptop and mousepad, the sturdy desk is perfect for multitaskers looking to squeeze in a brief cycling session. 
6. Schwinn 570U
Lacking the motivation to push hard on your stationary bike? Why not give spinning bikes in Singapore like Schwinn's 570U (available on Gymsportz Fitness) a shot! As a brand that's synonymous with premium road bikes, Schwinn uses more than a century of bike design know-how to deliver a satisfying spinning bike experience. On top of offering features that allow for a comfortable and impactful cardio workout, you can also spice things up with the bike's Explore the World app. With route stimulation videos that include idyllic locations like the Scottish Highlands and Japanese countryside, you can immerse yourself while taking advantage of how the bike synchronises the video with your actual cycling speed. Find out other functions of the 570U in the following video.
7. Xiaomi Yesoul M1-Pro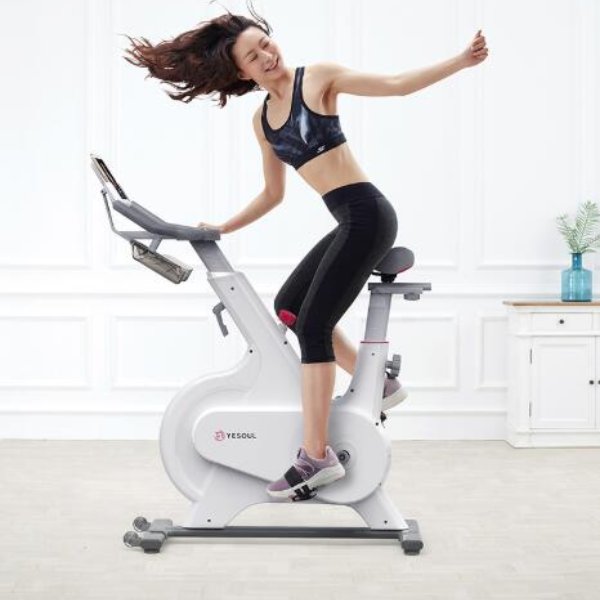 If you're on the lookout for the best spin bike in Singapore with an affordable price, look no further than the Xiaomi Yesoul M1-Pro (available on Superd Fitness Equipment Store)! Beneath its sleek aesthetics, you'll love how the Yesoul M1-Pro caters to maximising your indoor cycling experience. Afraid this spin bike will cause excessive noise? Don't fret — the spinning bike adopts a magnetic resistance system that promises noise-free operation! Compared to conventional direct contact resistance, this allows the bike to operate smoothly even if you crank up the resistance. This feature combined with over 3000 built-in workouts makes this a great budget option for spinning bikes in Singapore. Watch the video below to learn about all the useful features that comes with this exercise bike in Singapore. 
8. Sejan Indoor Cycling Bike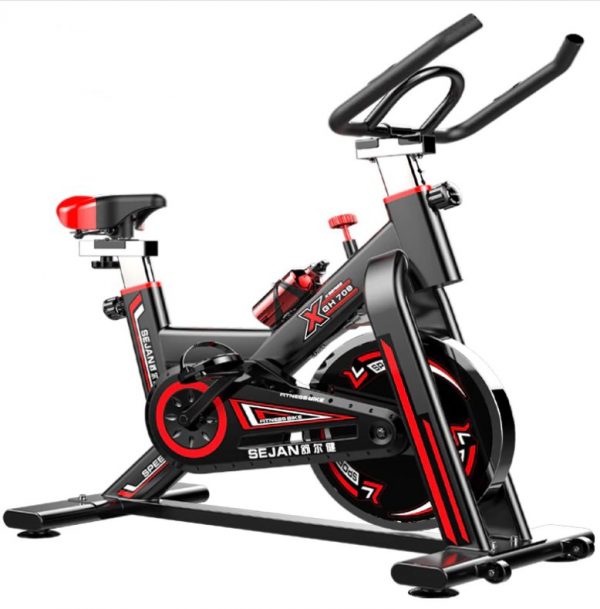 Who says you can't recreate your own spin classes at home on a budget? As one of the most affordable spinning bikes in Singapore, Sejan's Indoor Cycling Bike (available on easonkeji.sg) is a perfect way for avid spinners to get into cycling at home without breaking the bank. As this upright bike specialises in aerobic exercise, you'll be burning a tonne of calories sprinting and putting the pedal to the metal! Additionally, don't let its petite size fool you. Sejan's spinning bike can withstand a maximum load of 250kg and allows up to 11kg of flywheel resistance. This makes this a standout exercise bike in Singapore that's perfect for both new and veteran spin cyclists.
9. Xebex AB-1 Air Bike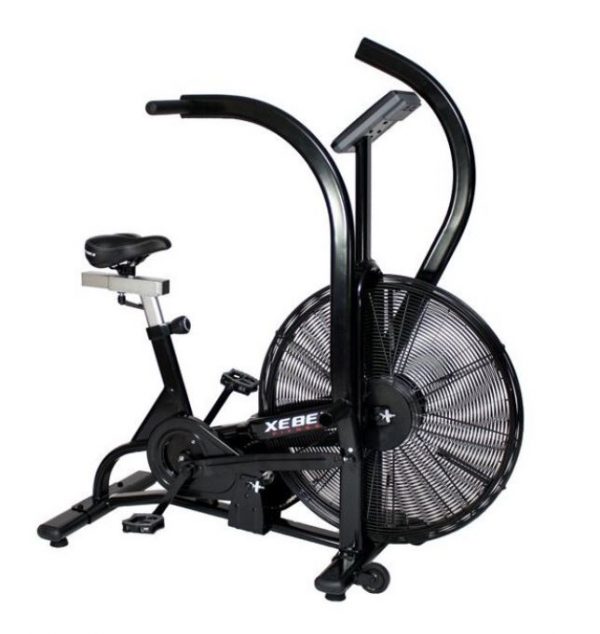 If you thought OTO's Row Bike didn't provide enough of a workout with its rowing mechanism, then Xebex's AB-1 (available on Gymsportz Fitness) will truly test your limits. Unlike most spinning bikes in Singapore, Xebex's AB-1 is an air bike. This means it has handles that move with your pedaling action, letting you get a full body workout! On top of having extra heavy duty padded handles, the Xebex AB-1 also has a 24-inch resistance fan. For a more intense cardio session, crank up the resistance to the maximum and turn on the Tabata intervals function. This allows you to simulate the intensity of a High Intensity Interval Training (HIIT) workout!
10. Xiaomi NEXGIM Smart Exercise Bike MG-03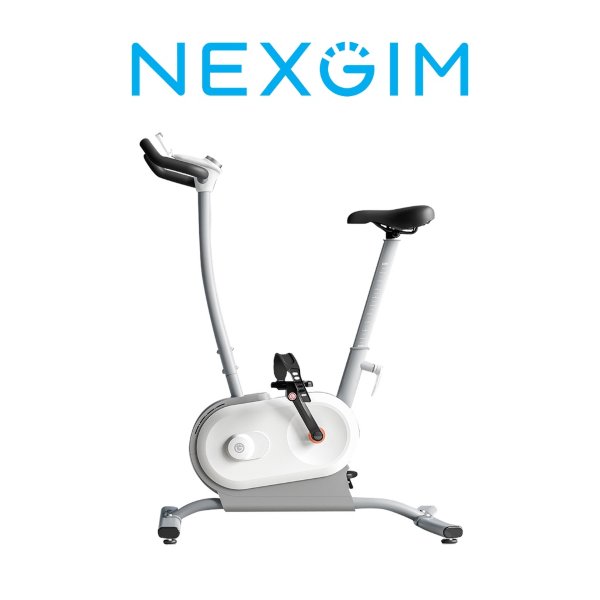 Your smart home deserves an intelligent exercise bike in Singapore, such as the Xiaomi NEXGIM Smart Exercise Bike MG-03 (available on Wearereadysg). Despite its minimalistic design, the MG-03 comes with an array of smart functions for you to explore. Connect to the NEXGIM app to select a range of courses to exercise on your bike. 
If you love your spin classes for the ambience and community, spinning alone at home can be boring. Thankfully, the MG-03 syncs up with popular apps like Zwift or RGT Cycling. Gather your friends for a virtual spin race to give yourself extra motivation to go the miles! Plus, the auto resistance adjustment technology built into the MG-03 will give you an edge over others. It provides precise smart controls so you won't be distracted trying to manually adjust your gears for the virtual race! 
11. STAGES SC2 Commercial Grade Spin Bikes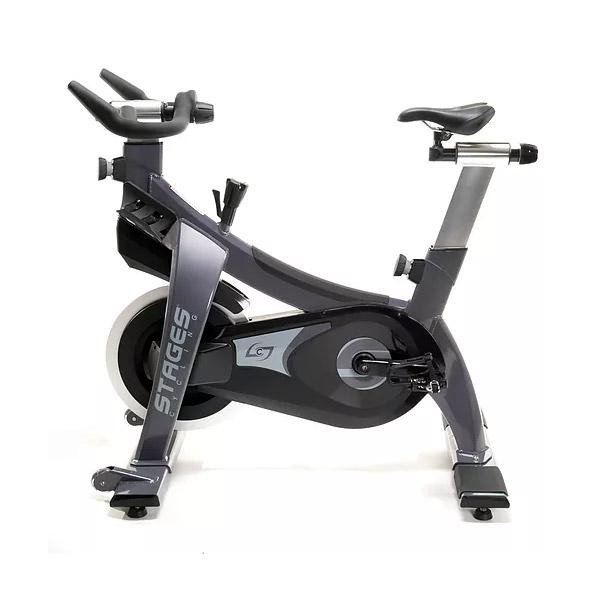 Enjoy an unparalleled smooth ride on the STAGES SC2 Commercial Grade Spin Bikes (available on FunctionalFitnessAsia). Its sturdy built comprises a carbon fiber belt that gives a real outdoor experience and a stages sprintshift for instantaneous resistance changes — perfect for your HIIT workouts at home! The SC2 is also one of the best spin bikes in Singapore with an unbelievably easy seat adjustment setup. In fact, it has the industry's fastest adjustment system! This ensures even beginners will be able to achieve a comfortable and safe position on the spin bike. 
Cycle indoors from the comfort of your home with these spinning bikes in Singapore
From recumbent bikes to upright bikes, we hope you'll find the right bike variations to fit your indoor cycling needs! Ride in comfort with a pair of biker shorts to prevent abrasion or chafing! Need more recommendations on fitness equipment? Visit our 2021 fitness guide to snag exclusive deals on essentials to get fit this year! Keen on supplementing your indoor cycling routine with additional strength training equipment? Read up on our guide to building your home gym to get started. Additionally, if you're set on shedding those extra calories, check out our guide to getting six pack abs in just 4 weeks!