Flags are up and national day anthem videos playing on the TV are giving us all warm and fuzzy feelings! Beyond the spectacular National Day Parade (NDP) fireworks and exciting performance lineups, the highlight of every National Day is undoubtedly the Singapore national day song of the year! Take a trip down memory lane with us and revisit classic NDP songs that have touched our hearts. Also, take our quiz and find out which Singapore National Day song best describes you as a Singaporean!
Try this Singapore National Day song quiz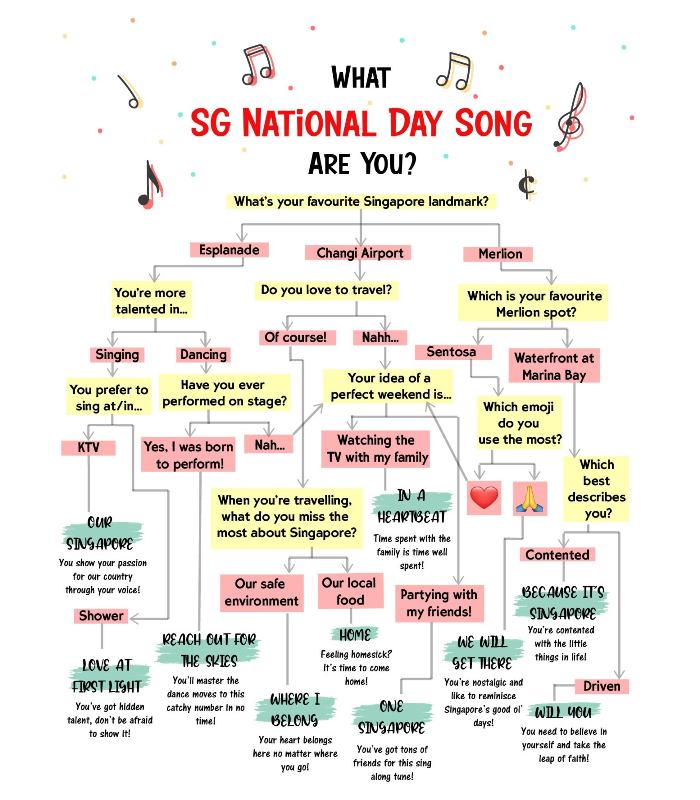 1. For the passionate Singaporeans —
Our Singapore
If Singapore National Day songs are found in karaoke bars, Our Singapore will definitely be one of the most popular tracks among Singaporeans! Performed by none other than homegrown artist JJ Lin, this NDP song features easy sing-along lyrics and an addictive chorus for everyone to chime in! What's more, we absolutely love all the good vibes we get watching the song's music video! The casual and free-spirited self-recorded footage by Singaporeans from all walks of life is relatable and puts a smile on our faces. 
2. For the talented Singaporeans —
Love At First Light
While its soft and tranquilising music has captured the nation's heart, what truly caught our attention are the performers behind the 2012 Singapore National Day song, Love At First Light. Sung by Singaporean artiste Olivia Ong, and child actress, Natanya Tan (who was only seven-years-old then), this number perfectly portrayed the multifaceted talents we have in Singapore. As the song goes, "My dreams can take flight if I dare", we hope this lovely track inspires Singaporeans to chase their dreams and contribute the talents they have to offer! 
3. For the superstar Singaporeans —
Reach Out For The Skies
If a slow ballad-like song such as Love At First Light isn't really your cup of tea, then this groovy number might be right up your alley! Bust a move with Reach Out For The Skies, the closest any Singapore National Day song has gotten to a dance track, yet! Featuring Singapore Idol winner Taufik Batisah and fresh-faced actress Rui En back in 2005, the song was an instant hit among Singaporeans. Challenge your friends and find out who still remembers the moves to this amazing song! Take it a step further and get everyone dressed in a red and white outfit to record the dance as a fun TikTok or Instagram video for NDP this year!
4. For the loyal Singaporeans —
Where I Belong
"Where I belong, where I keep my heart and soul…" Just drop the beat and most Singaporeans will have no trouble singing Where I Belong, a classic number that's easily recognisable anywhere. This National Day song was composed for Singapore's 36th birthday, featuring local singer-songwriter Tanya Chua's smooth vocals. The soulful beat reminds us that regardless big or small, our nation is filled with things we can take pride in as Singaporeans. So, let's be proud of our greenery, our safe environment and most of all, our wonderful fellow Singaporeans!
5. For the homesick Singaporeans —
Home
Guaranteed to give any Singaporean goosebumps, Home is one of the most iconic National Day songs in Singapore. Sung by Kit Chan for the 1998 National Day parade, this song stood out from the usual ra-ra and upbeat National Day songs we were familiar with. Its slow and soothing melody beckons each and every one of us to revisit the happy memories we've shared with our loved ones in this Little Red Dot. If you're a Singaporean who spends a large amount of time overseas, Home will surely make you homesick — in a beautiful way. 
6. For the family-oriented Singaporeans —
In a Heartbeat 
According to the triennial National Value Assessment Survey conducted in 2018, the family unit holds the utmost importance for Singaporeans, surpassing personal health and financial stability. This doesn't come as a surprise considering that family is the foundation of our society. So while this National Day is a celebration for Singapore, it's also a celebration for each and every Singaporean family! And no other Singapore National Day song quite fits this occasion than In A Heartbeat. It tells the story of the new beginnings of a Singaporean family and reminds us that no matter who we become or where we end up at, our hearts will always beat as one! 
7. For the sociable Singaporeans —
One Singapore
Love the feeling of being surrounded by a fun bunch of friends or people in general? Then this Singapore national day song is made just for you! One Singapore is a lively track performed by 68 talented Sing-A-Nation choir members from different walks of life. Taking on a musical-like structure, the song is a perfect sing-along for a big group of friends and fosters a sense of unity in diversity! Cue everyone to chime in at the chorus and sing at the top of your lungs!
8. For the nostalgic Singaporeans —
We Will Get There
If your body subconsciously starts to sway to the tempo of We Will Get There, you know you were part of the NDP fun dance generation! But it's not only the dance moves that make this track memorable. It's also the song's ability to stay relevant after so many years. From the skyline changing to us making a mark on the sports scene with the first Olympic gold medal, it's good to be nostalgic and remember where we started from! 
9. For the down-to-earth Singaporeans —
Because It's Singapore
Perhaps it's the depiction of our kampung-spirit or the reminder that it's the little things in life that matter, but Because It's Singapore hits closer to our hearts than we expect. This heartwarming Singapore National Day song is about the simple Singaporean life — something that seems so unattainable and yet precious for many of us who lead a fast-paced life. As we strive towards our dreams, let's remember to slow down and be content with what we have and seek happiness in simplicity! 
10. For the driven Singaporeans —
Will you
Yes, it's an old 2007 Singapore National Day song but Will You still gets our adrenaline pumping with its strong tempo and motivating lyrics! Sung by eight local artists, including the late Emma Yong who's best known for her part in the Dim Sum Dollies, this music video depicts the unison of different key areas of society. This includes education, businesses as well as sports and arts. This track is perfect for Singaporeans who need an extra boost of encouragement to take the leap of faith! If Will You brings about a swell of patriotism in you, you'd be amused to know that this is one of the rare NDP songs that did not mention the word 'Singapore' in its lyrics!
Wave your flag proud this August 9th!
Aside from these Singapore National Day songs in the quiz, you can celebrate our nation's birthday in many other ways! Check out our National Day Sale to enjoy unbeatable deals when you shop online this holiday! Keep a lookout for fireworks in your heartlands this year and soak up the atmosphere! Another great way to celebrate this happy occasion is by indulging in some local treats. Sip on popular local beverages like Teh Halia while enjoying your homemade nonya kuehs — incredibly easy to make with our nonya kueh recipes!