Singapore is a food paradise filled with tasty street food, swanky celebrity restaurants and everything in between. However, there's no forgetting our popular Singapore drinks that many of us grew up with! From sweet Milo dinosaur to the famous Michael Jackson and bandung, we pay tribute to these local drinks this National Day. Read on to see if we've got your favourite childhood drink on the list, as well as try your hand at our simple recipes to make these Singapore drinks at home while watching the NDP parade on TV! 
Singapore drinks for those with a sweet tooth
1. Bandung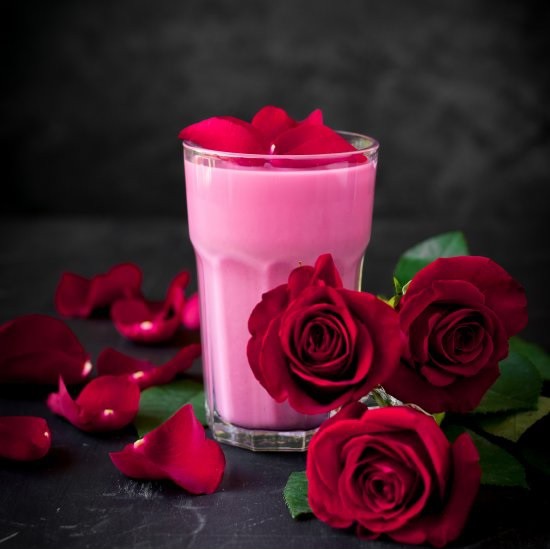 You don't have to go for fancy cocktails for an Instagram-worthy drink. The Bandung drink can be a great non-alcoholic alternative for the Pink Lady if you're looking for a Singapore local drink with a bright pink hue! This pretty beverage can be created with a few simple ingredients — rose syrup and condensed or evaporated milk. However, getting the correct ratio of milk to syrup is vital for the best taste. If you're lazy to make your own Bandung drink but crave for the drink's fragrant floral notes, then the Yeo's Bandung Rose Drink (available on Shopee Supermarket) will be right up your alley! Want to be able to customise your drink? Check out the Bandung drink recipe below for some DIY fun in the kitchen!
How to make Bandung drink
Prep time: 1 min
Cook time: 1 min (Blend time)
Servings: 1
Recipe Ingredients:
75ml rose syrup

150ml water

75ml evaporated milk
Recipe Instructions:
Mix the

Asia Farm Rose Syrup

(available on

Asia Farm SG Official Store

) with water to dilute the syrup

Add the

Teapot Evaporated Filled Milk

(available on

Shopee Supermarket

)

along with some ice cubes for a refreshing drink
2. Chendol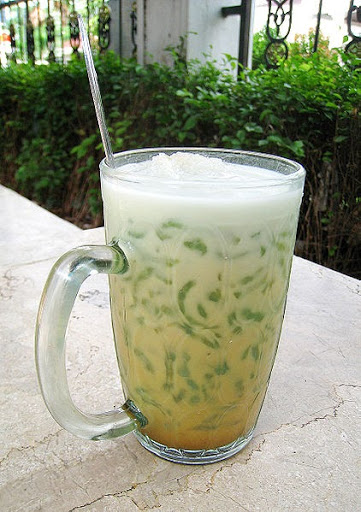 Originating from Indonesia, chendol has made its way into our list of must-try Singapore drinks with its delightful sweet taste. We've got to admit, this dessert drink may not seem appealing at first glance due to its tadpole looking green wormy jellies. However, these 'tadpoles' are just pandan-flavoured jellies that are a joy to chew on while you slurp! In addition, the drink is also laden with red beans, coconut milk crushed ice and drizzled generously with gula melaka. This Singapore local drink is undoubtedly a yummy treat for summer days! 
How to make chendol drink
Prep time: 20 min
Cook time: 5 min (Blend time)
Servings: 4
Recipe Ingredients:
300g Pandan-flavoured jellies

100g palm sugar

¼ cup water

300g cooked red azuki beans

Coconut milk

Crushed ice
Recipe Instructions:
Mix

Koi Fish Palm Coconut Sugar

(available on

Shopee Supermarket

) and water in a small

saucepan

and heat for five minutes until the mixture thickens. Then, let this sugar syrup cool.

Layer cooked

azuki red beans

,

Chendol Jellies

(available on

ckhfoodtrading

) and crushed ice in a glass

Add a splash of

coconut milk

(available on

Shopee Supermarket

) and top the drink off with the sugar syrup
Try this Singapore drink now: Did you know that there are two ways to indulge in chendol? Chendol can be eaten like a dessert or drank like every other Singapore local drink. Find out which method you prefer when you purchase the Malaysia Boleh Chendol Chendol digital voucher and redeem it in-stores! 
*Do note that the voucher is only viewable on mobile
3. Milo Dinosaur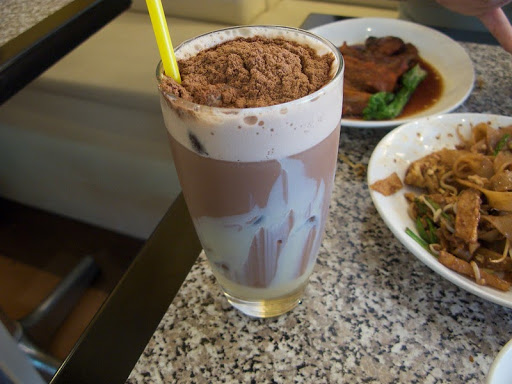 Imagine a huge glass of Milo topped off with a mountain of Milo powder and you'll get the legendary Milo Dinosaur drink! The drink got its name from its enormous size. This rich and chocolatey Singapore local drink is a favourite with the little ones and incredibly easy to recreate at home. Just make sure you don't sneeze when the drink is served!
How to make Milo Dinosaur drink

Prep time: 5 min
Cook time: 5 min
Servings: 1
Recipe Ingredients:
6 tbsp Milo powder (for blending)

2-3 tbsp Milo powder (for sprinkling)

100ml hot water

1 tbsp condensed milk

Ice cubes
Recipe Instructions:
In a tall glass, mix

Milo Activ-Go

(available on

Shopee Supermarket

) and condensed milk with hot water. Fill glass to half-way mark (leave space for ice).

Add ice cubes and stir well

Pile heaps of Milo powder over the drink and serve
4. Michael Jackson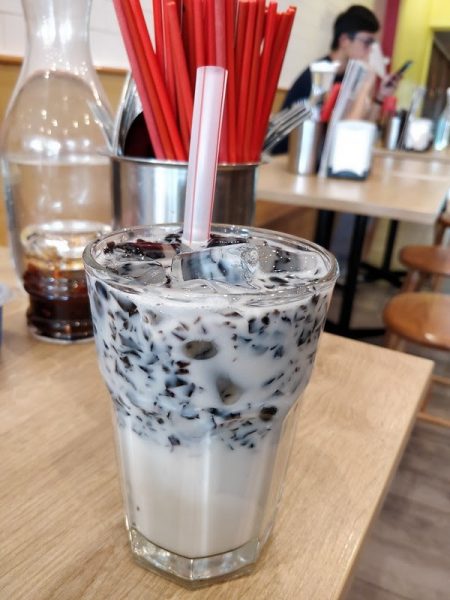 It's not hard to guess where this Singapore local drink got its name. Inspired by Michael Jackson's 'Black Or White', the Michael Jackson drink is a sweet concoction of soya milk and half grass jelly. It's often enjoyed as a breakfast beverage, but you can make your own too anytime of the day. 
How to make Michael Jackson drink
Prep time: 1 min
Cook time: 6 min
Servings: 1
Recipe Ingredients:
1 cup white sugar

1 cup water

Soya milk

1 can grass jelly, cubed

Ice cubes
Recipe Instructions:
Boil water and sugar in a pot and let it simmer for 5 minutes to create a sugar syrup

Pour the

Vitasoy Soya Bean Drink

(available on

Shopee Supermarket

) in a tall glass

Add the

Taiwan Food People Concentrated Grass Jelly

(available on

Shopee Supermarket

) and ice into the soya milk. Pour in the sugar syrup according to your preference.
5. Chin Chow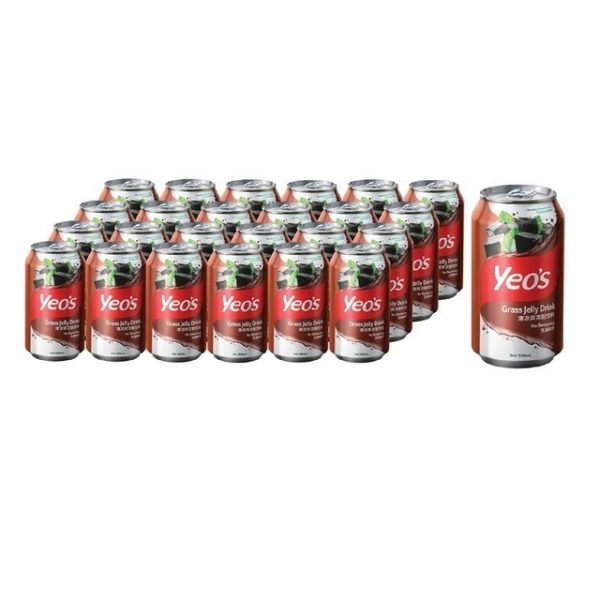 Grass jelly can also take the main stage in this refreshing Chin Chow drink. This famous Singapore local drink is well known for its cooling purposes and has a subtly sweet yet herbal-like flavour. It goes well with greasy fried food and can be used to subdue the heatiness after a durian delivery feast! Drink it straight from the can of Yeo's Grass Jelly (available on drinksrus) with no hassle at all. 
6. Barley Water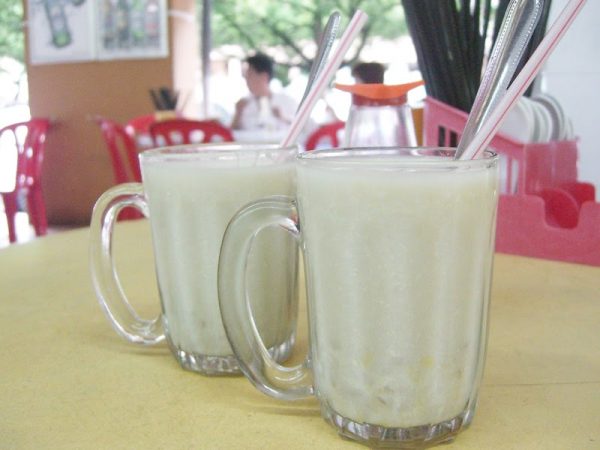 What's the most nostalgic Singapore local drink from your childhood? For us, it's definitely our mum's homemade barley water. In traditional Chinese medicine practice, barley is known for its cooling properties and is often recommended when the weather gets too warm. While herbal teas can help to cool off the summer heat as well, barley water has a sweeter taste and is more popular among kids. 
How to make Barley Water
Prep time: 4 min
Cook time: 40 min
Servings: 4
Recipe Ingredients:
150g Holland barley, washed and drained

100g candied winter melon sugar

4 pandan leaves, tied into a knot

1.5 litre water
Recipe Instructions:
Add all the ingredients, including the knotted

pandan leaves

(available on

Shopee Supermarket

) into a large

cooking pot

(available on

Shopee Supermarket

) and bring to a boil

Once boiled, lower the heat and keep the lid slightly ajar to release air. Simmer for 40 minutes until the

Holland barley

(available on

Shopee Supermarket

) pearls have softened. The water should look slightly milky.

Serve the drink with the cooked barley pearls for extra texture
Singapore drinks for a caffeine kick
7. Teh Tarik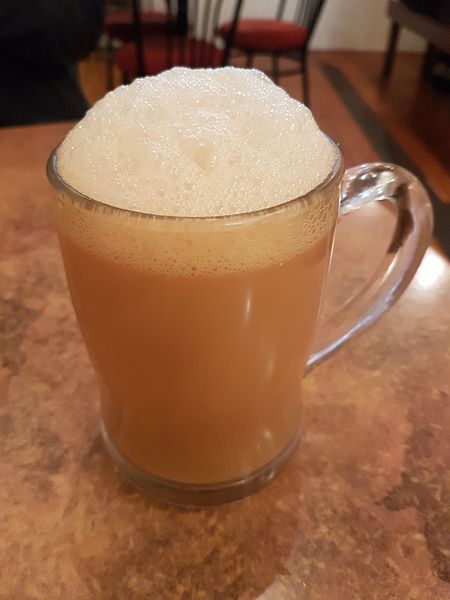 "Uncle, one teh tarik!" is something commonly heard at our neighbourhood coffee shops. But what exactly made this Singapore local drink so popular? Translated into 'pulled tea', Teh Tarik is a classic breakfast milk tea topped with dense froth. It's created by pouring the tea continuously from one cup to another at varying heights — sometimes up to one metre! This action helps to mix the milk and spiced tea evenly while creating its trademark frothy cap. While the whole process may be a feast to the eyes, we wouldn't recommend you to try this at home as it could lead to a mess in the kitchen. Instead, turn to the Owl Instant Teh Tarik (available on Shopee Supermarket) to satisfy your cravings easily! Even though this is an instant mix, it boasts the same local flavours that we adore and comes with a foamy texture too!
8. Yuan Yang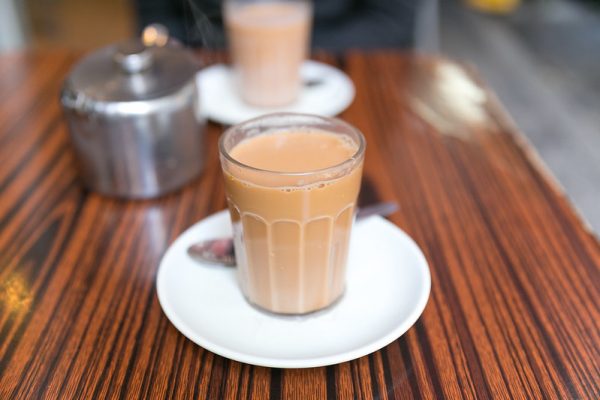 Can't decide between coffee or tea? Why not enjoy the best of both worlds with a cup of aromatic Yuan Yang! Also known as kopi cham, Yuan Yang is a combination of milk tea swirled in coffee. This gives the coffee a fragrant spiced flavour that's great for milk tea fans who want a stronger caffeine kick. Enjoy a cup of KOON KEE Premium Traditional Yuan Yang (available on pbccoffee_malaysia.sg) with your choice of Singapore local snacks like kaya toasts!
9. Teh Halia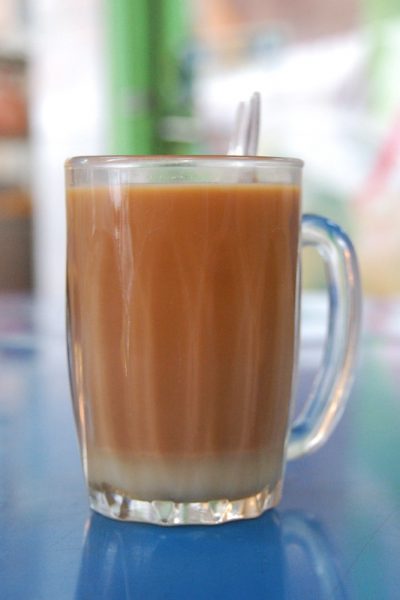 While many of our local drinks in Singapore are meant to counter the hot tropical climate, there are some beverages such as Teh Halia created to warm you up on the occasional cold rainy days! Teh Halia is a concoction of milk tea with ginger. As such, it has a sharp spicy taste. While the Teh Halia may not be everyone's cup of tea (pun intended), you'll love it if you're looking for a milk tea variation that doesn't lean so much on the sweet side. Make yourself a cup of Teh Halia easily with the Super 3 in 1 Instant Milk Tea Teh Halia – Ginger (available on Shopee Supermarket) or DIY one from scratch with the recipe below!
How to make Teh Halia
Prep time: 5 min
Cook time: 15 min
Servings: 1
Recipe Ingredients:
1-inch ginger, peeled

1.5 cups water

2 black tea bags

1.5 tbsp condense milk
Recipe Instructions:
Smash the

Ginger

(available on

Shopee Supermarket

) with a mallet

Place the smashed ginger into a saucepan and add water

Bring to a boil, then reduce the heat to medium-low and allow the mixture to simmer for 10 minutes

Remove the saucepan from heat and pick out the ginger

Steep the

Tetley Original Black Tea

(available on

Shopee Supermarket

) tea bags in hot water for 5 minutes, before removing them. Then, stir in condensed milk and serve.
10. Kopi Gu You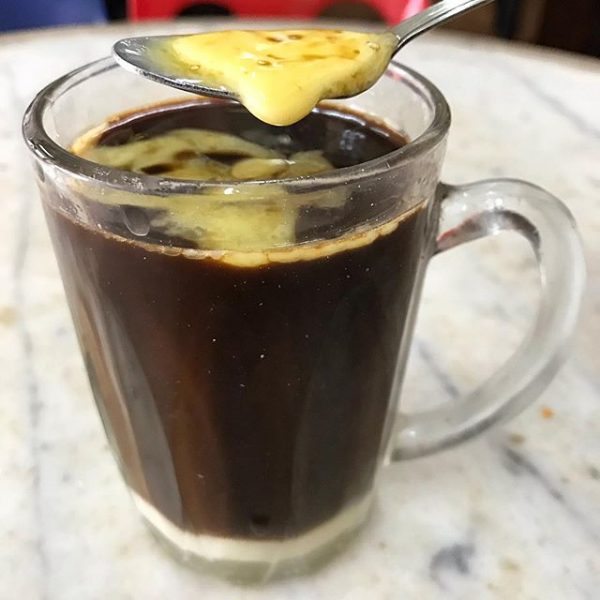 Coffee with butter, anyone? While this combination may sound odd to some, it's a Singapore local drink with a long history dating back to the 1930s. Initially introduced as an ol' school bulletproof coffee-like alternative for labourers, Kopi Gu You's greasy recipe gives an extra boost of energy to help the labourers get through their day. While you won't find Kopi Gi You as widely available as before, there are still some nostalgic coffee shops that carry this unique drink in Singapore. 
How to make Kopi Gu You
Prep time: 1 min
Cook time: 1 min
Servings: 1
Recipe Ingredients:
Recipe Instructions:
Make yourself a cup of

Gold Choice Charcoal Roasted Kopi O Traditional Black Coffee

(available at

Shopee Supermarket

)

Add a slice of butter while the coffee is still hot and stir to mix well
Discover Singapore local drinks and so much more!
Now that you've had your cuppa, it's time to explore other interesting aspects of Singapore this National Day! Check out these popular local snacks to go with your Singapore drinks, or try your hand at making Peranakan delicacies with these nonya kueh recipes. Gather some friends to enjoy the drinks, snacks, and challenge one another to these traditional games! While you're having fun, be sure to check out our National Day Sale for great deals!
This article was updated on 27 July 2021. Additional research done by Fatimah Tasmeem.
---
New to Shopee? Get $7 off (min. spend $15) with code*: LOCAL7DRINKS
* TNC Applies. Valid for new users from 1 to 8 August 2021 only.