Glazed turkey, smoked ham, mashed potato, and creamy log cakes…yum! This year's celebrations might be slightly muted but that doesn't mean we will enjoy it any less. Whether a hotel meal, delivery or takeaway Christmas options, check out these affordable 2021 Christmas dinners in Singapore under $100 per person and feast over the warm, fuzzy feeling of year-end festivities! Some even offer 2021 Christmas buffets in Singapore for you to eat till you drop!
Affordable Christmas dinner delivery and takeaway options in Singapore 2021
1. Fairmont Singapore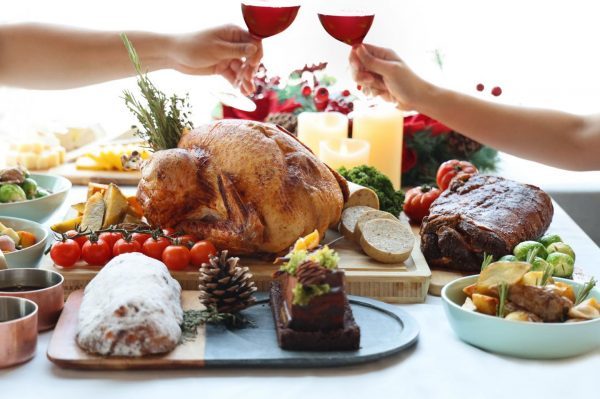 Even if you're planning to prepare a Christmas feast at home, you'd be glad to have some help, especially in the roast department. Fairmont's Café Noël is serving up delectable Christmas collections and a la carte treats for both delivery and takeaway. Good for a party of five, the Family Christmas Collection features nine premium festive treats. This includes the Wood-Fired Roasted Poulet succulent and smokey chook that will surely be a hit among the family. There's also Juniper Maple Glazed Ham alongside X'mas Wreath Salad, Oven Baked Country Beef Pie and many other sides. End the jolly night with some sweet desserts like the Raspberry Lamington and Christmas Minced Fruit Pie. At only $325 (less than $70 per person), this is definitely an affordable 2021 Christmas dinner option in Singapore that's worth more than its cost!
Christmas dinner delivery and takeaway in Singapore:
2 Nov – 25 Dec 2021
*Minimum advanced order of 48 hours is required.
2. The Marmalade Pantry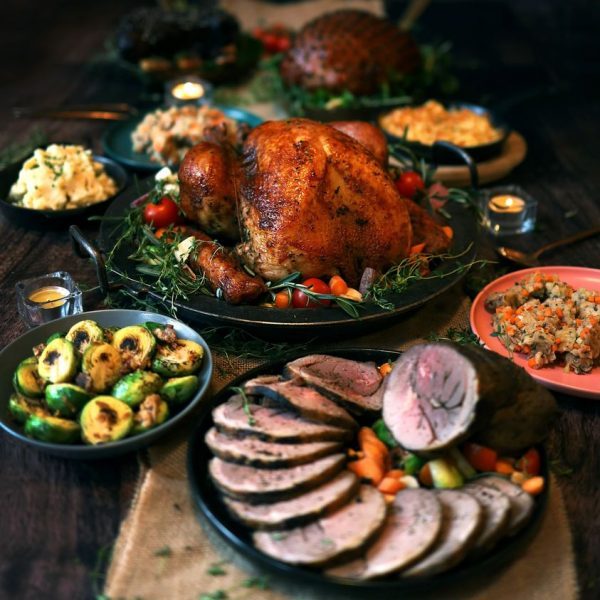 Usher in the magical time of the year with The Marmalade Pantry's Christmas In The Wood festive collection! Big families can celebrate over a dazzling assortment of tender roasts such as Moroccan Roasted Boneless Lamb ($88+) and Charsiew Beef Short Ribs ($138+) which can feed up to eight. That's less than $20 a person making this one of the best affordable 2021 Christmas dinner delivery places in Singapore! Your Christmas table isn't complete without some festive sides. We recommend The Marmalade Mac And Cheese ($24+) for an extra creamy and melty delight. Looking for a fuss-free festive bundle so you don't have to pick and choose? Go for the Winter Trove Bundle ($368+, serves up to eight pax) which comes with a turkey or ham, a lamb or beef, four sides, a log cake, gourmet crisps and even a $20 F&B voucher!
Christmas dinner delivery and takeaway in Singapore:
1 – 31 Dec 2021
*Order period ends 22 Dec 2021
3. SE7ENTH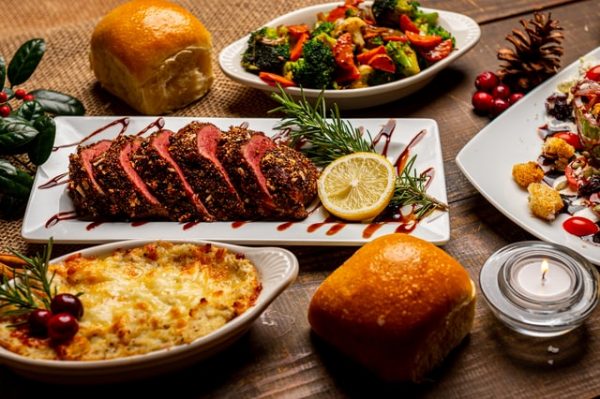 Skip the cooking and chill out this Christmas with SE7ENTH's Yuletide Feast Take-Home Gourmet Delights! As one of the most affordable 2021 Christmas dinner options in Singapore, the Yuletide Feast will only set you back at $155+ and serves up to a group of four. In the bundle you will find Oven-Baked Pancetta-Wrapped Turkey Leg, Pineapple-Glazed Honey Ham with three delectable sides and a Banana Chocolate Log Cake which will suit the palates of any age! Did we also mention that every order comes with a complimentary bottle of house wine? Christmas dinner ideas in Singapore cannot get any better than this!
Christmas dinner delivery and takeaway in Singapore:
25 Nov – 31 Dec 2021
*Minimum advanced order of 3 days is required.
4. One Farrer Hotel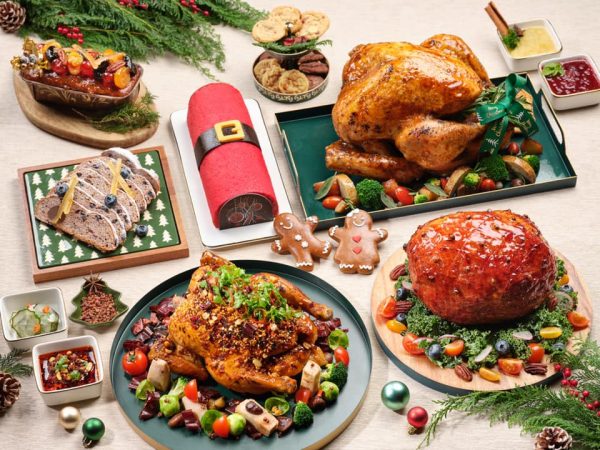 Jazz up your Christmas dinner platters at home with some mains and sides from One Farrer Hotel. Dig into Chef Marcus Tan's signature Salt-Encrusted Turkey ($148) or the spicy fusion Sous Vide Mala Turkey ($138) — both good for a group of four to five.  Not a fan of turkey? The Orange-Cinnamon Glazed Boneless Ham ($128) can be a good festive alternative with its roasted yet sweet flavour that lingers in your mouth. Aside from the mains, the highlight of One Farrer Hotel's Christmas offerings has got to be the adorable Chocolate Hazelnut Yule Log Cake ($58). Dressed in Santa's iconic red attire and thick brown belt, the chocolate crunchy sponge log cake boasts a nutty flavour that's not overwhelmingly sweet. Trust us, even grandma will go 'Hohoho!' when it comes to this X'mas treat!
Need something for a smaller party for two? One Farrer Hotel Singapore has it covered with their Christmas sharing platter ($98)! Enjoy a spicy Szechuan spring chicken, a decadent US Omaha steak, a juicy pork knuckle and more! End of the feast with a delicious Ondeh Ondeh Yule Log Cake or a rich Christmas fruit cake that's paired with some rum ice cream. These tasty delights definitely make one of the best Christmas platters in Singapore! What are you waiting for? Time to dig in to this mouth-watering Christmas feast!
Christmas dinner delivery and takeaway in Singapore:
11 Nov – 26 Dec 2021
5. Regent Singapore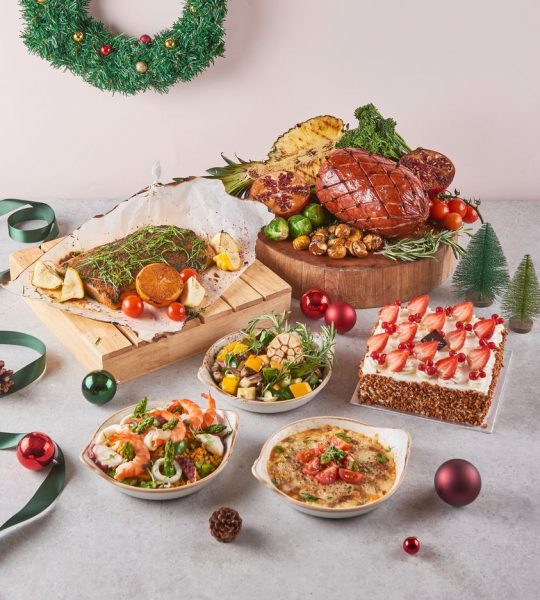 Celebrating Christmas at home can be marvellous too with the splendid offerings and platters presented by Regent Singapore. The Adriatic-Style Marinated Seafood Platter ($108) feeds up to three pax and includes a Boston lobster, crayfish, queen scallops and tiger prawns dipped in lemon and parsley aioli for a taste of freshness. For a bigger party of up to eight people, the Malfy Gin And Blood Orange-Infused Whole Roasted Turkey is sure to impress with its robust and deep smokey flavour. 
Psst, if Regent Singapore's takeaway selection seems impressive to you, you may also want to consider heading down to Basilico for a Festive Basilissimo 3-Course Lunch ($68/pax) or the Festive Basilissimo 5-Course Dinner ($88/pax).
Christmas dinner delivery and takeaway in Singapore:
14 Nov – 31 Dec
*Minimum advanced order of 48 hours is required.
6. Swensen's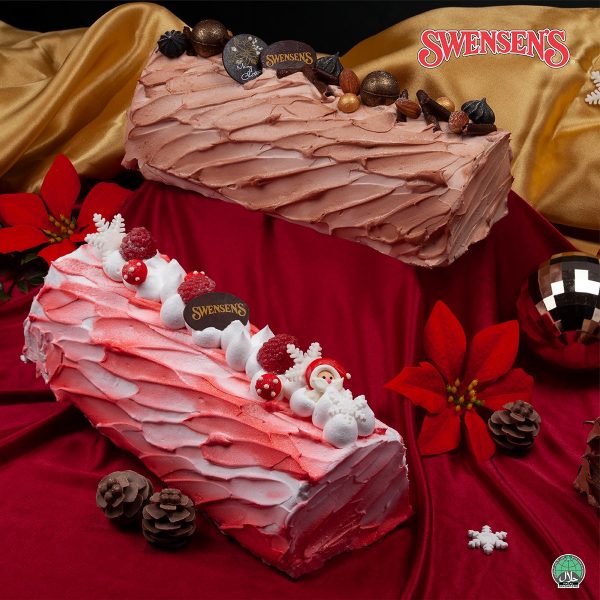 Know someone who could use a warm and hearty Christmas spread this year? Swensen's offers three different Giftmas Parcels perfect for up to 12 servings. Gift them a roast, sharing platter, pasta and side or a salad and a log cake. This hearty Christmas takeaway spread will surely put a smile on their faces. If this isn't up your alley, Swensen's also has a Giftmas package where you can design your own meal! The Giftmas package comes in a Gather, a Together and a Celebration Set that can feed between four and 12 people. You can choose from a wide selection of course meals that include a meat platter, a Christmas fruit salad, a mushroom bread pudding and cakes! The Giftmas package also has an IMPOSSIBLE Meatball Pasta so your vegan friends will have more food to choose from! 
Alternatively, if you're cooking sides and looking for a main or platter to complete your spread, their a la carte offerings will be up your alley. The Beef Wellington ($87.90) feeds up to four while their Herb And Citrus Roast U.S. Turkey ($108) is steeped in herb and spice marinate for a savoury and aromatic feast perfect for a party of 12. If you need more options for your carnivorous friends, Swensen's also has another one of the meatiest Christmas platters in Singapore! The Christmas meat platter includes succulent braised beef cheeks, grilled turkey breasts and chicken bratwurst sausages. These delectable treats are paired with a tangy mustard sauce that will create a burst of flavour in your mouth. 
What's a Christmas spread without seafood? Check out the Boston Lobster Seafood Bag ($58.80) that comes with blue mussels, prawns, fried fish fillets, squids, sausages and more mixed in cajun curry tomato cream sauce for a medley of flavours.
Christmas dinner delivery and takeaway in Singapore:
11 Nov – 31 Dec 2021
Affordable Christmas dinner dine-in options in Singapore 2021
7. Sofitel Singapore City Centre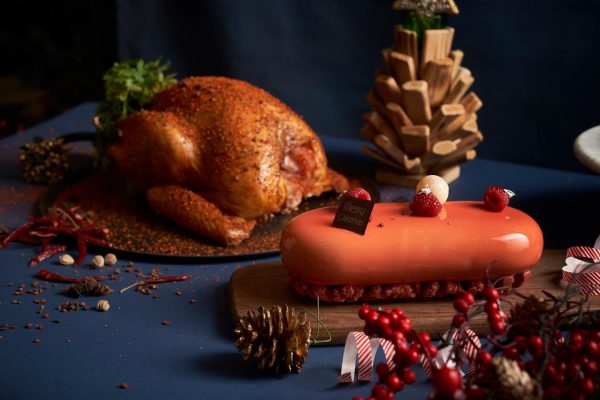 Celebrate Christmas the French way with Sofitel Singapore City Centre's Art De Noël and get ready for a glistening ensemble of festive delights! Can't make up your mind on what to eat? Let the chefs at Sofitel decide for you when you opt for the Racines' Christmas Joy Set Menus. The Lunch Set comes in options of two or three courses at less than $50 per person while the Dinner Set provides up to four courses at less than $70 per pax. This is quite an affordable 2021 Christmas dinner in Singapore considering Sofitel's five-star standing! You can also opt for a la carte island-wide deliveries like Roasted Turkey With Truffle, Black Forest Pot and other festive sweet treats if you decide to celebrate a stay-home Christmas!
Address: Racines Restaurant, 9 Wallich Street, Level 5, S(078885)
Racines' Christmas Joy Set Menus:
Date: 1 Dec – 2 Jan 2021 (except 25 Dec 2021), 12pm – 3pm, 5.30pm – 10pm
Lunch Prices: 2 course at $36++/pax, 3 course at $42++/pax
Dinner Prices: 3 course at $58++/pax, 4 course at $68++/pax
Christmas Joy At Home:
Pre-orders available from 5 Nov – 23 Dec 2021
Collection between 8 – 25 Dec 2021, 11am – 6pm
8. Hilton Singapore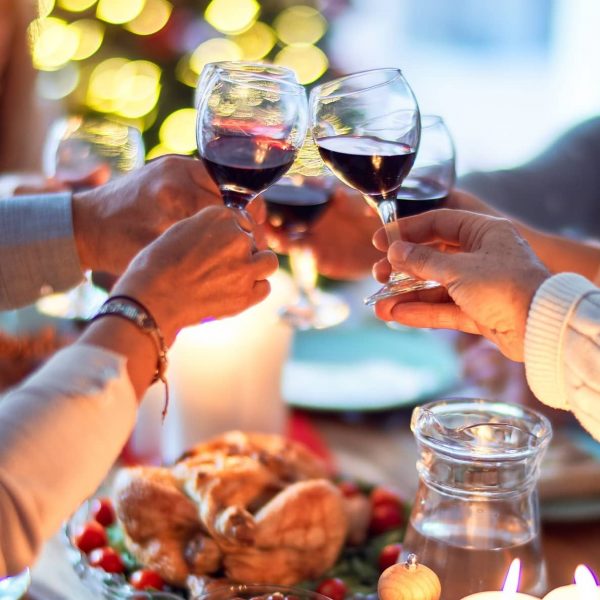 This year, Hilton Singapore presents a gastronomic festive experience with the 2021 Christmas And New Year's Eve Semi Buffet Lunch at Opus Bar & Grill, a renowned steak house in Singapore. Enjoy your choice of main course such as Braised Wagyu Short Ribs or Pistachio Stuffed Turkey Roulade alongside limitless seafood on ice. Think juicy maine lobsters, tiger prawns and freshly shucked oysters — yum! Live some room in your tummy for unlimited festive cheese and desserts. Don't forget to top up $50 per pax when you book this Christmas buffet 2021 in Singapore to enjoy endless champagne pours if your budget allows for it!
Address: Opus Bar & Grill, 581 Orchard Road, Lobby Level, S(238883)
Opus Festive Semi-Buffet Dinner:
Date: 24 & 31 Dec 2021, 8.30pm – 10.30pm
Price: $98++/pax
9. The Fullerton Bay Hotel Singapore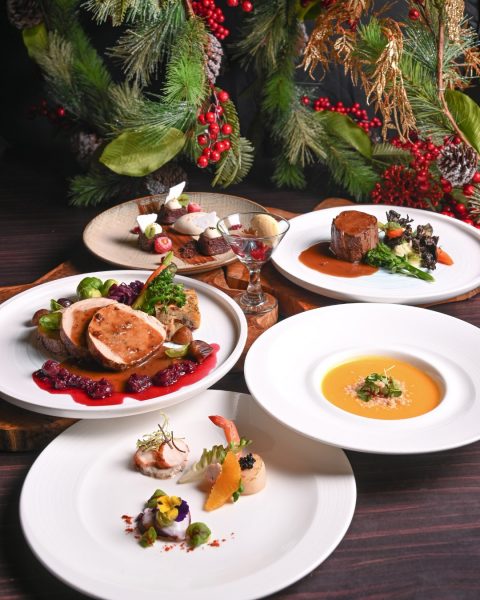 Nothing beats celebrating the season of giving with your loved ones by the glistening waters of Marina Bay. Although not much is revealed about the Christmas menu at The Fullerton Bay Hotel, we're certain La Brasserie won't serve up anything less than a scrumptious festive feast for this special occasion. The french restaurant introduced a festive set lunch and dinner starting at $42 per pax for a two-course meal to $98 per pax for a four-course meal. Pamper your loved one with a delightful treat at this affordable 2021 Christmas dinner option in Singapore!
Address: Opus Bar & Grill, 581 Orchard Road, Lobby Level, S(238883)
Festive Set Lunch:
Date: 16 Nov – 31 Dec 2021 (except 25 Nov & 24 Dec), 12pm – 2.30pm
Prices: 2 course at $42+/pax, 3 course at $58+/pax
Festive Set Dinner:
Date: 16 Nov – 30 Dec 2021 (except 25 Nov), 6.30pm – 10.30pm
Prices: 3 course at $68+/pax, 4 course at $98+/pax
10. The Masons Table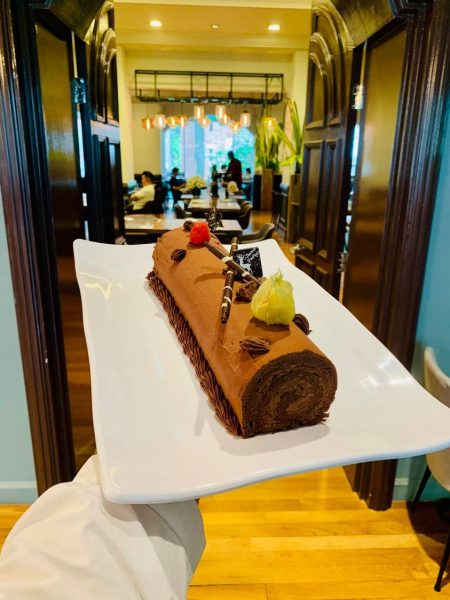 The advantage of enjoying an a la carte affordable Christmas dinner in Singapore 2021 is that you get to pick whatever dish you prefer and create a combination that sits well with your budget. You can do exactly that with The Masons Table winter a la carte menu inspired by the holiday spirit! Start off your feast with a homely bowl of warm Pumpkin Soup ($13), followed by the Roasted Turkey Breast ($30) dipped in cranberry sauce and turkey gravy before ending the night with a soft and fluffy Bread And Butter Pudding ($14). There are also other all-time favourite sides to go with your spread such as Truffle Fries ($14) and Crispy Whitebait ($18) that will fill your mouth with a satisfying crunch! The Masons Table will also be serving a Christmas three course lunch and four course dinner on the 24th and 25th of December — perfect for those who want to soak up the Christmas ambience at the colonial Freemasons Hall. 
Address: The Freemasons' Hall Of Singapore, 23A Coleman Street, S(179806)
Opening Hours: Tues – Sat, 12pm – 10pm

Welcome the Yuletide with affordable Christmas dinners in Singapore 2021
Be sure to reserve a seat or place your orders for these affordable Christmas dinners in Singapore 2021. Leave some space in your belly if you're planning to indulge in one of these 2021 Christmas buffets in Singapore. Aside from a festive feast, Christmas is also all about exchanging gifts! Check out our Secret Santa gift ideas under $30 or ultimate Christmas gift guides for inspirations catered to different budgets! 
This article was updated on 13 December 2021. Additional research done by Caryn Tan.
---
New to Shopee? Get $7 off (min. spend $15) with code: *XMASMEALS7OFF*. T&Cs apply. Valid for new users from 15 December to 22 December 2021 only.