Planning to go for a vacation now that travel restrictions have eased? Apart from booking accommodations for yourself, don't forget to make arrangements for your cat! To ensure that they are well-taken care of in your absence, engaging a reputable cat boarding service can put your mind at ease. Read on for our guide on how to choose a pet boarding service and our list of the best cat hotels in Singapore for a pawsome staycation!
Do cats feel abandoned when you go on vacation?
As independent as cats are, they do feel sad when their owners are absent for an extended period of time. They are also highly intuitive, which means your cat can sense that you'll be leaving them alone when they see things like packed luggages. This may cause them to feel upset, and withdraw from you or act extra needy.
When you're away, they are able to sense the change in routine, and absence of the love their owners shower on them on the daily. That's why many cat owners return home to their felines acting strange or even aggressive. They can become depressed, lose their appetites, and reject playtime. In addition, even though cats are known to be independent creatures, they experience loneliness when they are left on their own for extended periods of time. According to Forever Vets, you should not leave your cat completely alone for more than 24 hours. You can either arrange for a pet sitter to drop by every day or engage one of the best pet or cat boarding service in Singapore.
How long can you board your cat?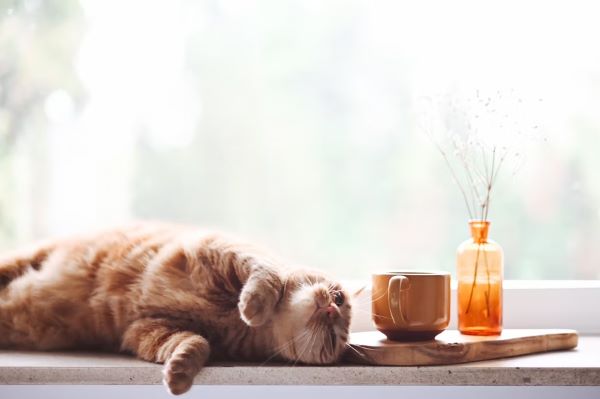 If you're asking about how long cat boarding services in Singapore will take your cat, there are options that cater to long term boarding for one month and above (charged at different rates). There is no fixed answer as to how long you should board your cat though, as this is subject to your circumstances and lifestyle. There are pet boarding services in Singapore who have cats on board for months while their owners travel, or are in situations where they are unable to be with their pets. 
You should also factor your cat's age into consideration, as elderly cats (11 – 14 years) need more care and are more vulnerable to injuries. The bottomline is, don't leave your cats alone for more than 24 hours and arrange for help such as a cat sitter or one of the best cat boarding services in Singapore!
How to choose a cat boarding service?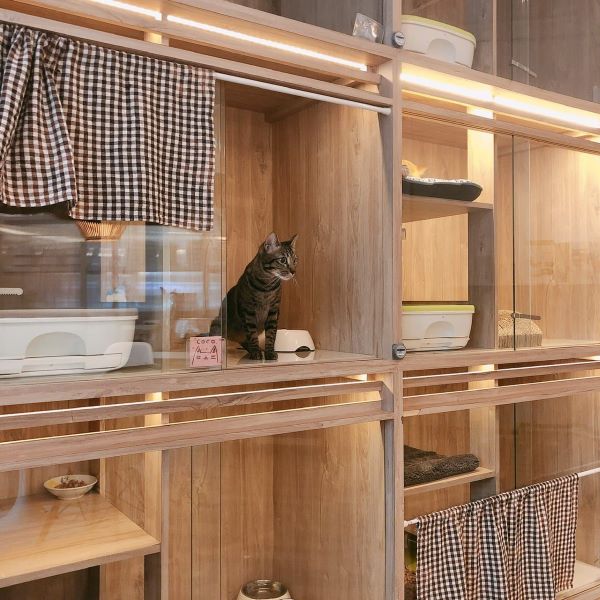 When you're away, you want to be sure that your furkid is in good hands. Here are some important things that you should look for in a cat boarding service to ensure your feline's comfort and well-being.
Cleanliness & air-conditioning
Clean living conditions are very important for our purry pals, and you also want 24/7 air-conditioning to ensure their utmost comfort. To confirm this, we recommend making a trip down to the cat boarding facility to see things for yourself instead of relying on pictures.
Another thing to look out for during your tour is how attentive the staff are towards the cats. These are the ones you'll be entrusting your cat to, and the ones that will be updating you about them. Observe how they interact with the cats there, and you can also observe whether the cats look stressed or at ease.
You definitely don't want your catto to be locked up in the cabin the whole time you're gone. Cats need dedicated playtime and someone to shower them with some love each day – that's the whole point of not leaving them alone at home! Therefore, private playtime is a non-negotiable aspect of cat boarding services. For their safety, it will be even better if there are no intermingling between the other pets at the facility.
How do I prepare my cat for boarding?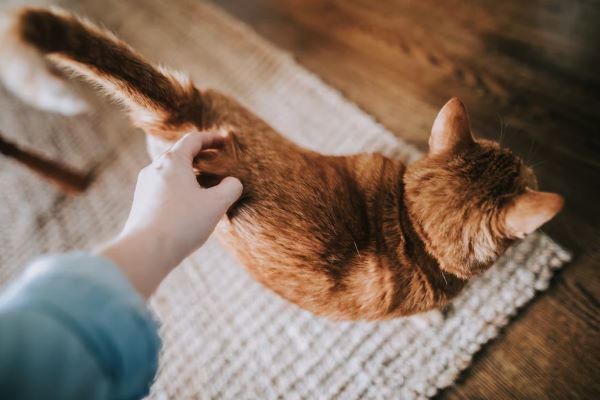 Ensure your pet is vaccinated & sterilised
Most cat boarding services in Singapore require paperwork including a vaccination card with a valid vaccination that covers the duration of boarding, as well as a sterilisation certificate. We recommend planning your cat boarding in advance to get these prepared. Do double check with the cat boarding service if any additional documentation is required.
Prepare an item of familiarity
Pack along one of your cat's favourite pet toys, blanket or scratch pad that they are familiar with to ease them into the new environment! You can even pack along a shirt with your scent. Your feline can seek comfort in these items of familiarity when you're gone. Do note that this is a requirement for some of the best cat boarding services in Singapore – there will be a packing list provided for you before boarding!
Although most cat boarding facilities provide food and water, it is highly recommended to prepare and label meals for your cat beforehand that can last for the entire duration of stay. This prevents any tummy upset and diarrhoea that may occur. Pack some of their favourite pet food, snacks, and kibbles to lift their mood when they're trying to adapt in a new environment!
Best cat boarding services in Singapore – West
1. Nekoya Cat Hotel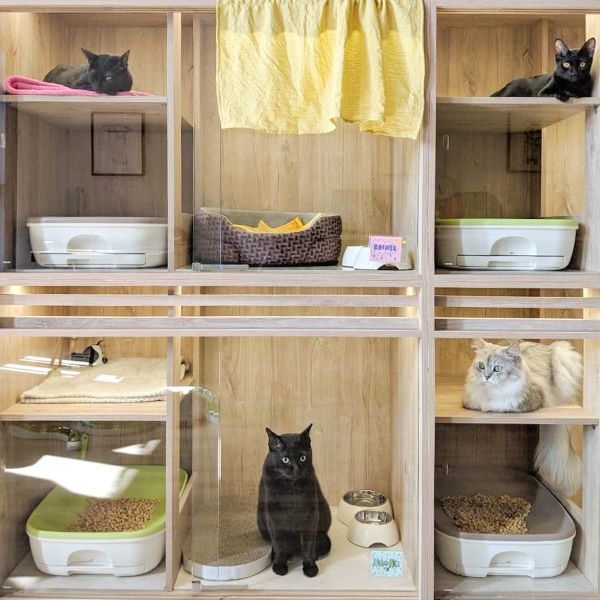 Cats can be put off or intimidated by the presence of other animals. To avoid stressing your fur kid out, opt for a cat-only hotel like Nekoya Cat Hotel – a trustable cat boarding service in Singapore that has received glowing reviews from paw-rents who've engaged them. The environment at Nekoya is not just clean, but also tranquil and well-lit. 
The best part is that they have attentive and patient staff who will be caring for your precious furkid. You can be well-assured that your fur baby will be treated like kings and queens with personal playtime without other cats for their safety. You'll also receive detailed updates with photos or videos about them while you're away to keep your minds at ease. This best cat boarding service in Singapore also has three outlets in the West, Central, as well as Northwest which makes it convenient for cat parents across the island.
Address: 9 King Albert Park, #02-20 KAP Mall, S(598332)
Check out other locations here
Opening hours: Daily, 11am – 7pm
2. Petpause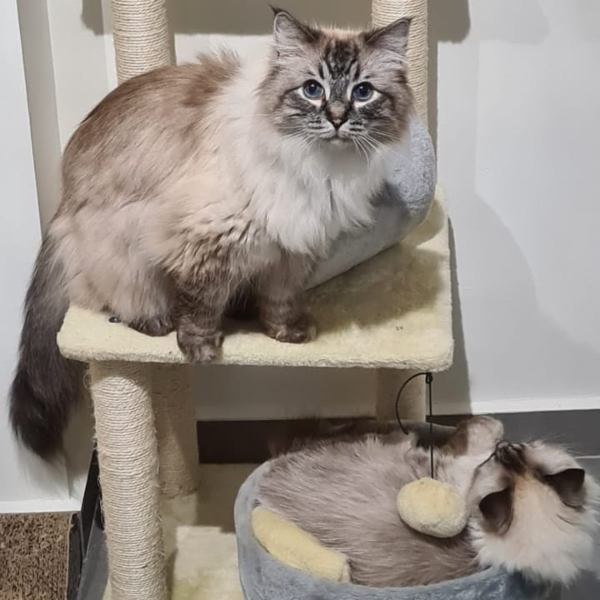 Other than being one of the best dog boarding places in Singapore, Petpause is also a perfect option for your cats. Petpause is helmed by animal lovers who have over 40 years of experience in boarding. So you can bet that your feline will be more than well taken care of here. The best part about this cat boarding place in Singapore is how each room has an orthopaedic bed. Coupled with soothing music and aromatherapy, your little pawpal is sure to settle in without a fuss! 
Petpause also makes sure your feline gets their daily playtime in. They're bound to have lots of fun at the indoor play area! And if you're wondering what they're up to, just look forward to Petpause's daily video update! 
Address: 59 Sungei Tengah, Block W, #01-54, S(699014)
Opening hours: By appointment only
Best cat boarding services in Singapore – East
3. Meow Homestay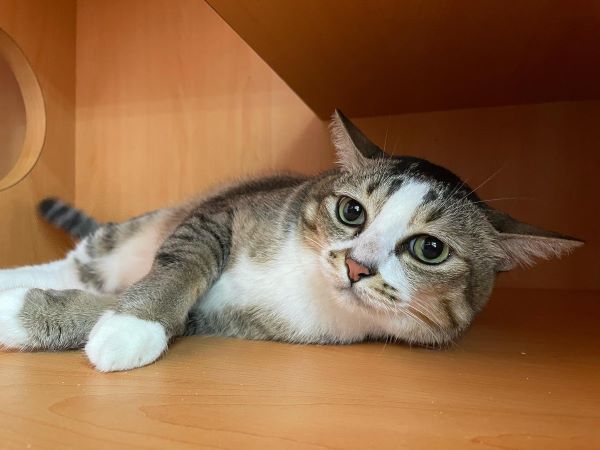 Meow Homestay is one of the best home-based cat boarding services in Singapore that provides both short term and long term boarding. Those who need to leave their cats for more than a month can look to boarding your feline here. While short term stays are priced at $35 per night, long term stays will be at a lower rate – do reach out to them for a quotation which will be calculated based on the length of stay! It's also one of the best cat-only cat hotels in Singapore which eliminates the potential stress from the presence of other animals. 
Your cats will be in the care of Evan, who dedicates time to each cat for playtime and keeps the place clean. He also sends daily updates about your cat so you'll be aware of their well-being and condition. Many reviews also stated that they love the quiet environment which is conducive for cats.
Address: 361 Joo Chiat Road, Singapore 427606
Opening hours: Daily, 12pm – 6pm
4. Catpurra Cat Care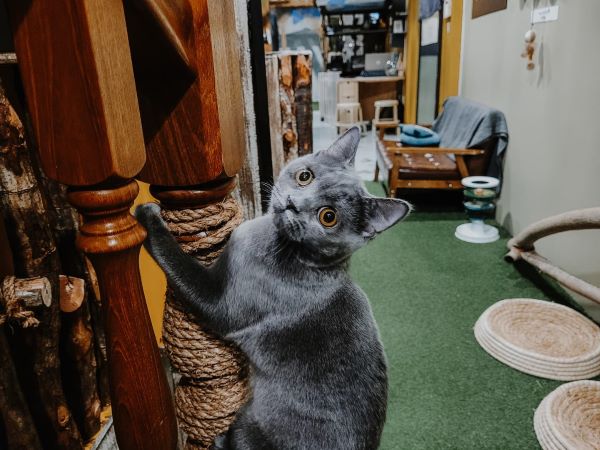 Boutique staycations aren't exclusive to humans – cats can enjoy them too at Catpurra Cat Care! This unique cat hotel rocks a rustic interior with foliage that is non-toxic to cats. If your feline is one that hates being cooped up, they'll definitely have a whale of a time here with the entire place designed to be their playground! There are three different types of cabins that you can choose from such as Cave, Maze, and Lava. The Cave cabin features natural elements like rocks and hand-picked tree branches, while the Maze cabin has tunnels and light for them to explore. The Lava cabin offers complimentary wheatgrass as well as a lava mountain!
With so many well-thought-out features, Catpurra Cat Care is easily one of the best cat boarding services in Singapore. Apart from the unique cat hotel, you can also enjoy other services such as cat grooming, cat taxi, as well as medical services.
Address: 767A Geylang Road, Singapore 389664
Opening hours: Fri – Wed, 1 – 6pm
5. Catopia Singapore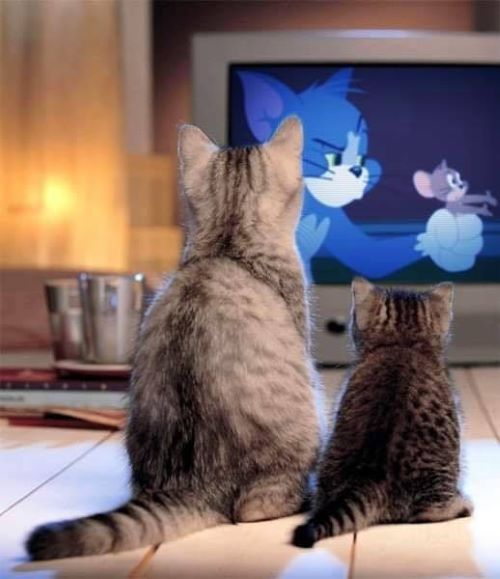 Cat lovers might already know Catopia Singapore as they're a popular cat cafe nestled along Dunlop Street. They are also a highly reviewed cat boarding service in Singapore that has their stamp of approval from many cat mums and dads! Your cat can enjoy ample playtime here and lots of cuddling too. While media updates are provided, you can also watch your furkid anytime through the 24 hour surveillance camera within the facility. This offers greater peace of mind for many cat parents, as media updates from the boarder can be inconsistent and may not present the full picture. 
Address: 46A Dunlop Street, Singapore 208375
Opening hours: Tues – Sun, 10am – 6pm
6. Mutts & Mittens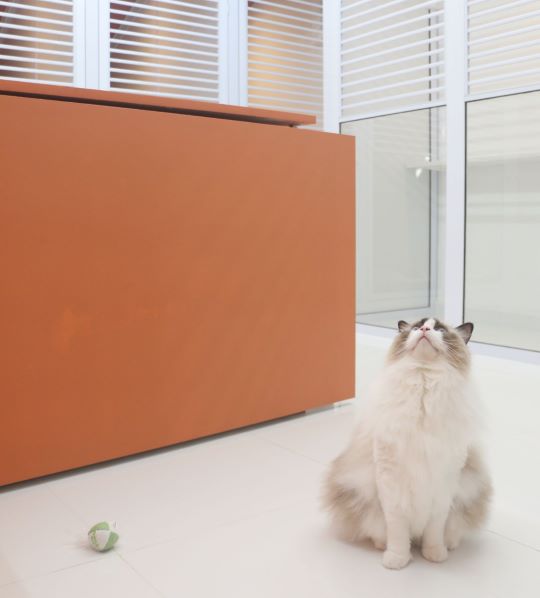 Mutts & Mittens is one of the best pet boarding services in Singapore with both dog and cat boarding facilities. But don't worry, your feline will be boarded in a separate location for the canines. Helmed by a team of animal lovers, your precious catto will be getting lots of love and belly rubs during their staycation with them. They also have resident vets in the house who can attend to them for special needs such as changing of dressings and feeding of medications. With a 24 hour CCTV available, you can also watch your furkid anytime you want to!
Address:  412A Joo Chiat Road, S(427637)
Opening hours: Daily, 9am – 6pm
7. Home Cat Boarding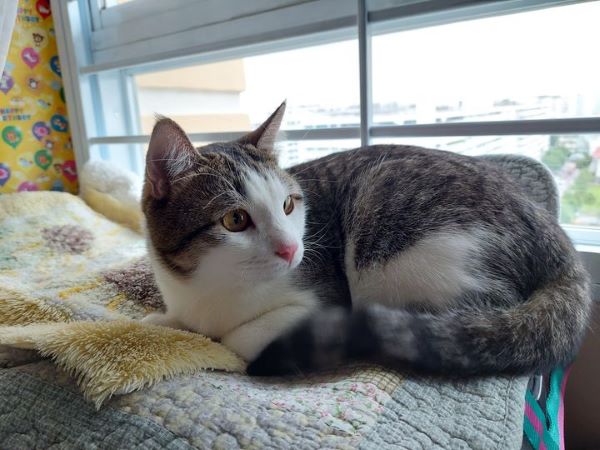 Home Cat Boarding offers the most affordable rates on this list of the best cat boarding services in Singapore at just $17 per night – a fraction of most other pet boarding hotels in Singapore. However, that doesn't mean you'll get a fraction of attention and quality as Grace, the owner of Home Cat Boarding, is a cat whisperer who'll make your stressed out cats feel calm in a day or two. Many cat mums and dads have dropped reviews about how their felines had a great time there as Grace is patient and showers them with love and care!
Address: Eunos Link, S410637 (PM for full address)
Opening hours: By appointment only
Best cat boarding services in Singapore – Central
8.

The Wagington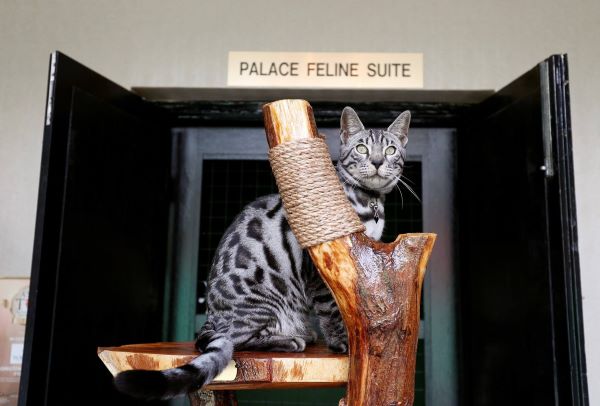 Want to give Mr Whiskers a staycay fit for royalty? The Wagington is one of the best cat boarding services in Singapore that fits the bill. This pet hotel in Singapore offers the ultimate luxury for your cats with their range of Purr-fection Feline Suites from 15 to a whopping 75 square feet to choose from. Each space is intricately designed with elegant furnishings and soft faux orthopaedic beds that'll ensure your king or queen enjoys the best comfort throughout their stay.
Each room is also equipped with a CCTV which allows you to check on your furry pal whenever you want. There's even soothing classical music played to create a calm environment, as well as private playtime and a dedicated feeder for your cat! 
Address: 27B Loewen Road, Singapore 248850
Opening hours:
Mon – Fri: 8am – 8pm
Sat – Sun: 8.30am – 7.30pm
Best cat boarding services in Singapore – North
9.

The Lux Meownor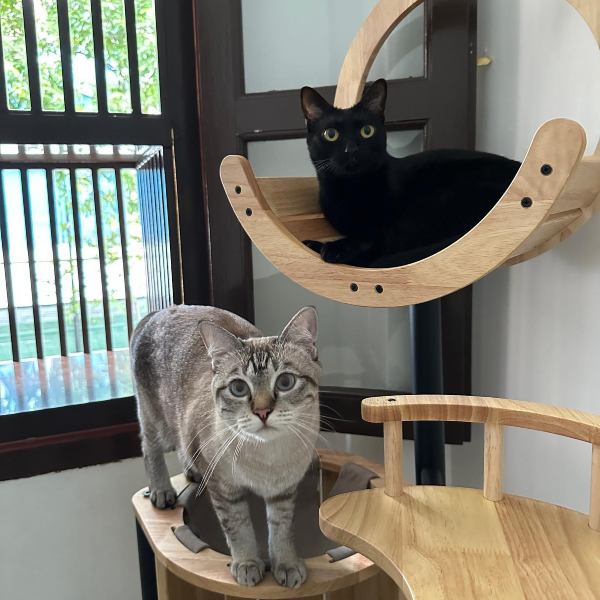 Every feline deserves to be pampered. So it's best to settle them into The Lux Meownor whenever you leave Singapore! Situated in the heart of Singapore, The Lux Meownor has spacious rooms that are furnished with customised cat furniture. This atas experience at the best cat boarding service in Singapore also includes a daily massage. Your feline will only be receiving undivided attention as all their knots get rubbed out – so shiok!
Apart from caring for your pet, The Lux Meownor also cares for you. They'll constantly update you with photos and videos of your kitty, assuring you that they're in good hands. In addition, they can set up video calls for you and your pet if you happen to be missing them a bit too much. Just note that they'll only take in about 15 cats at any given time, so make your reservations early!
Address: 259 Jalan Besar, Level 2, S(208934)
Opening hours: Daily, 10am – 10pm
10. Wanderlodge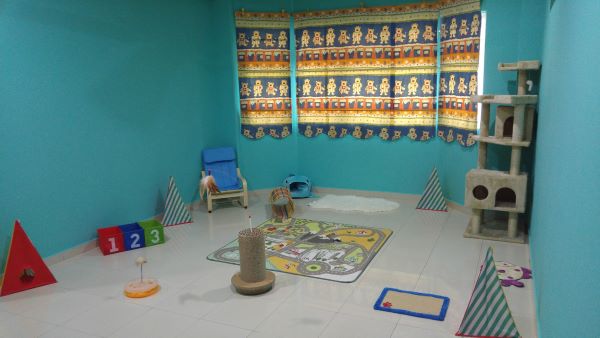 Located up north, Wanderlodge is one of the best home-based pet boarding services in Singapore that you can trust. They board both cats and dogs, but they are housed in separate rooms for safety. As seen in the picture, there's ample space for your feline to roam around. Since the location is situated close to nature, the (meshed) window view would be great for your cats to birdwatch. They will be under the care of a professional cat sitter who is also a certified cat groomer throughout their stay. An hour of private playtime will also be scheduled each day to ensure that they feel loved and cared for in your absence!
Address: Stratton Drive, S(805946)
Opening hours: By appointment only
11. Battlestar Boarding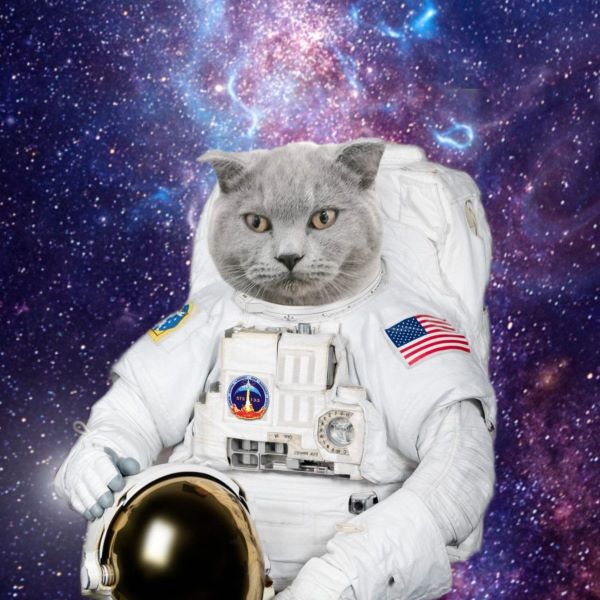 With a solid five stars on Google reviews, the folks at Battlestar Boarding are definitely worth considering for your upcoming vacation. However, do note that this best pet boarding service in Singapore is primarily a dog boarding facility, but cats have had good experiences there nonetheless. 
One of the biggest plus points of Battlestar Boarding is the meticulous staff who are patient and never give up on loving your pets even if they give them a cold shoulder at the start. That's why most furry pals returned home happy after their stay. Their boarding packages also include insurance coverage in case of any illnesses or injuries as well as showers before checkout. 
Address: 56 Sembawang Road, Hong Heng Mansion #01-05, S(779086)
Opening hours: Daily, 11am – 7pm
Overview on the best cat boarding services in Singapore
Cat boarding service
Location
Price per night
Aircon
Playtime
Daily media updates
CCTV
Other animals
Other services

Nekoya Cat Hotel

West, East, Central

From $33

Yes

Yes

Yes

No

No

Petpause

West

From $38

Yes

Yes

Yes

Yes

Yes

Meow Homestay

East

From $35

Yes

Yes

Yes

No

No

Catpurra Cat Care

East

From $30

Yes

Yes

Yes

No

No

Grooming

Vet support

Cat daycare

Cat taxi

Catopia Singapore

East

From $40

Yes

Yes

Yes

Yes

No

Mutts & Mittens

East

From $45

Yes

Yes

Yes

Yes

No (separate dog boarding available)

Home Cat Boarding

East

From $17

Yes

Yes

Yes

No

No

The Wagington

Central

From $29

Yes

Yes

Yes

Yes

Dogs

Grooming

Pet limo

Cat wheel training

The Lux Meownor

Central

From $48

Yes

Yes

Yes

No

No

Wanderlodge Pet Hotel & Suites

North

From $30 

Yes

Yes

Yes

No

Dogs

Pet taxi

Vet support

Pet daycare

Battlestar Boarding

North

From $45

Yes

Yes

Yes

Yes

Dogs
Have a paw-sitive experience with the best cat boarding services in Singapore
Jet off in peace with your furkids in good hands at the best pet boarding services in Singapore! Before you leave your cat, prepare some of these homemade cat food recipes and play dress up with these cute cat outfits. To stretch your dollar, sign up to be a part of Shopee's Pawrents Club to enjoy monthly vouchers and member-exclusive deals to get the best bang for your buck for your pet supply hauls!