As loyal K-drama fans, we've got to admit it's not just the good-looking cast and interesting plots that keeps us glued to our screen. More often than not, we find ourselves also craving the delicious Korean dishes that pop up from time to time. Case in point: the mouth-watering ram don topped with prime beef sirloin, as featured in Asian fil Parasite. (And yes, we've included this recipe in our list — see #3!) If your stomach is growling as you binge-watch your favourite Korean series or movie, it's time to hit the pause button and whip up some easy K-drama inspired Korean recipes in your kitchen!
1. Extraordinary Attorney Woo – Kimbap (Seaweed rice rolls)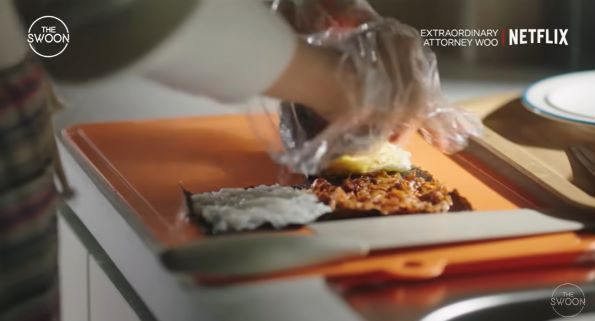 Has watching Extraordinary Attorney Woo got you craving for kimbap? This hearty dish is Attorney Woo Young Woo's everyday staple – she enjoys them in almost every episode, even the time she was being treated at an expensive restaurant. As someone with autism spectrum disorder, kimbap is something that is stable and predictable for her as you can clearly see the ingredients that you'll be eating! 
While the one Woo Young Woo's father makes on the daily is something you can get at most Korean restaurants, the one that her best friend, Dong Geu Rami makes is a special recipe unique to this hit legal series! Instead of the usual rolled kimbap, this one is folded up with fried egg and kimchi. Try your hand at this easy yet delicious kimbap with this step-by-step recipe!
Prep time: 5 minutes
Cook time: 5 minutes
Servings: 2
Recipe Ingredients:
1 pc laver sheet for kimbap

1 egg

1 cup rice, cooked

1 cup kimchi

2 tbsp sesame oil
Recipe Instructions:
Add 1 tablespoon of

Chee Seng White Sesame Oil

(available on

Shopee Supermarket

) to a pan and fry an egg until fully cooked. 

Mix white rice with 1 tablespoon of

sesame oil

in a bowl

Cut the

Laver For Kimbap

(available on

ChungJungOne O'food Store

) along the middle down to the halfway mark and place it on a

chopping board

Fill the top half of the

laver sheet

with a layer of rice

Place the fried egg on the top left quarter of the laver sheet

Place

kimchi

on the top right quarter of the seaweed wrap

Fold the laver upwards from the bottom left, followed by to the right

Fold the laver upwards from the bottom left

Finally, slice the folded kimbap into half and it's ready to eat!
2. Squid Game — Ppopgi (Dalgona candy)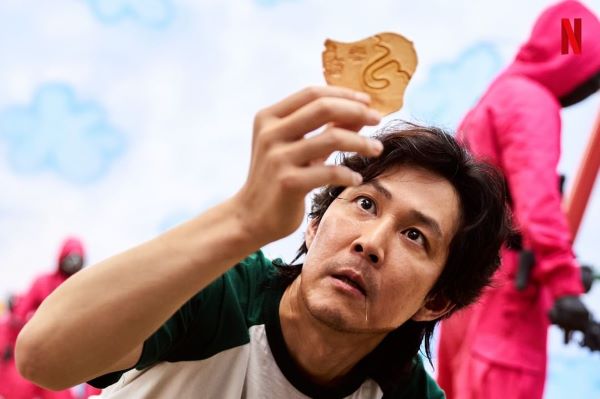 Thanks to the latest Netflix hit series, Squid Game, Dalgona has gone viral again! This time, it's ppopgi, a thin honeycomb cookie that was a popular Korean street snack back in the 1960s and 70s. You can still find this snack along the streets of Korea today. The challenge is to carve out the embossed shape (usually a star, circle or umbrella) with a needle without breaking it. And if you succeed at carving out the embossed shape at the stall, the kind Ahjumma will reward you with another ppopgi for free!
Want to see if you'll be able to clear this stage of the battle royale? Try your hand at making one yourself to find out! To make the perfect Squid Game candy, get the Dalgona Making Kit (available on BlueBasket, Korean Online Food) that includes tools such as circular press and shape cutters.
Prep time: –
Cook time: 2 minutes
Servings: 1 
Recipe Ingredients:
Recipe Instructions:
Add sugar to a pan over low heat and stir repeatedly until it melts

When the mixture sugar has melted, add a pinch of

baking soda

(available on

Shopee Supermarket

) and continue stirring vigorously

After the mixture is well-combined, pour it onto

parchment paper

(available on

ORIENT CO

).

Press the mixture down with a circular press to form a thin cookie

Stamp it lightly with your favourite shape and let it harden (take care to avoid stamping through the entire cookie)

Start carving, you only have 10 minutes!
3. Crash Landing On You — Nurungji (scorched rice with sugar)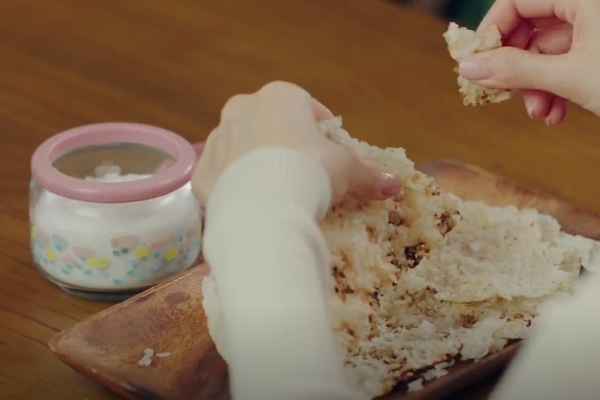 The record-breaking K-drama, Crash Landing On You, may have ended on Netflix but this unforgettable series is still causing a buzz on the internet. The drama follows South Korean heiress Yoon Se Riinto a whirlwind romance after a paragliding mishap landed her across the border. She gets rescued by North Korean army officer Ri Jeong Hyeok, who now must risk his life to keep her safe and sacrifice his larder of ingredients to keep her full!

One of the snacks that Yoon Se-Ri could not stop munching on during her stay across the border is nurungji. Nurungji means scorched rice in Korean and is a great alternative to crackers or chips as it shares the same addictive crunchiness and texture. If you're craving for a sugary snack, try this easy Korean recipe for nurungji today!

Prep time: 30 minutes
Cook time: 30 minutes
Servings: 2 
Recipe Ingredients:
2 cups white short-grain rice

3 cups water

1 tbsp sesame oil

Sugar (for dipping)
Recipe Instructions:
* The key to this easy Korean recipe is rice preparation. Wash the rice thoroughly to remove its starchy outer layer. The starchy outer layer will make the rice soggy — not something we want when making crunchy nurungji!

Pour two cups of

Okome short-grain rice

(available on

S-Mart by Shopee

) into a pot and wash with cold water multiple times 

Once clean, put the rice into your

rice cooker

and let it cook 

When the rice is cooked, gently fluff the rice up in the cooker. Let it air for about 10 minutes to reduce moisture. 

Using a non-stick frying pan, brush

Ghee Hiang sesame oil

(available on

Hen Tick

) across the pan with a paper towel

Place the pan on the stove over medium heat. Put in enough cooked rice to cover the base of the pan. Press down on the rice firmly to spread it out thinly and evenly across the pan. 

Cook each side of the nurungji, flipping it from side to side for about 15 minutes

Sprinkle sugar on each side to add some flavour 

Once the nurungji starts to get scorched on both sides, take it off the pan and let it cool 

Dip the nurungji into

SIS raw sugar

(available on

Lim Siang Huat Pte Ltd

) for a sweet yet nutty indulgence! 
4. Vincenzo — Bungeoppang (carp bread)
https://www.youtube.com/watch?v=h-FuA9rJWiQ
Another Netflix success this year is Vincenzo, starring our all-time favourite actor Song Joong Ki! This time he plays as a badass consigliere for the mafias in Italy under the name Vincenzo Cassano. But his glory days don't last long as he soon finds himself fleeing back to Korea to avoid a mafia war. Accustomed to the riches, Vincenzo wishes to get hold of the wealth buried underneath an old plaza. Here he meets Hong Cha Young, a haughty yet nosy lawyer who's determined to keep her father's law firm running — in the very same plaza. 
While both our leads started off at loggerheads with one another, the turning point came when they bonded over bungeoppang (Korean carp bread). As its name suggests, this snack comes in the shape of a fish and is a common street food found in South Korea. It has a similar crunch to waffles and is often stuffed with red bean, custard cream, Nutella or even chocolate filling. Try your hands at making some bungeoppang with our easy Korean recipe below — they are a crowd favourite among the kids!
Prep time: 10 minutes
Cook time: 15 minutes
Servings: 7 
Recipe Ingredients:
Batter
1 cup plain flour, sifted

2 tsp baking powder, sifted

¼ tsp fine sea salt

175ml milk

3 tbsp castor sugar

1 tbsp melted butter

1 egg
Fillings (1 tbsp per fish bread)
Sweetened red bean paste

Chocolate

Nutella 

Custard
Recipe Instructions:
Combine all the batter ingredients into a mixing bowl and mix well. Transfer the batter into a

measuring cup

(available on

Sweejar Official Store

) with a spout for easy pouring.

Preheat a

bungeoppang pan

(available on

hi_seoul.sg

) over medium low heat. Brush the pan with some butter or cooking oil to prevent sticking. 

Pour the batter onto the bungeoppang pan carefully, covering about half of the pan. Then, add one tablespoon of your choice of filling such as

red bean paste

or

Nutella

(both available on

Shopee Supermarket

) before pouring more batter over to cover the entire pan. Close the pan firmly and turn it over quickly.

Cook both sides of the pan for 2 minutes until the bungeoppang turns golden brown. Remove the bungeoppang from the pan and allow it to cool before serving.
5. Goblin — Miyeok guk (seaweed soup)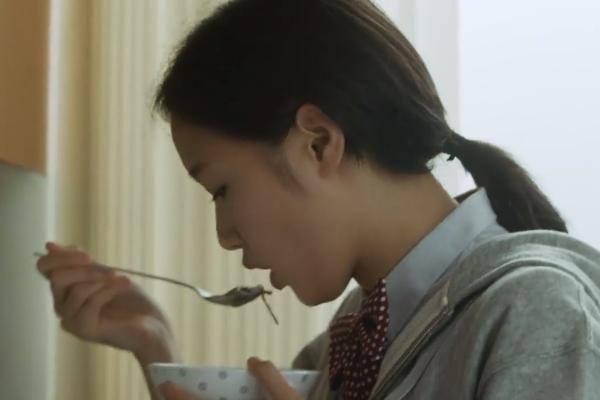 Goblin is one of the most exciting fantasy romance K-dramas we've ever seen! It revolves around Ji Eun Tak, a bubbly high schooler with the ability to see ghosts and who becomes more than just friends with an immortal goblin. Eun Tak lives with her grouchy aunt and greedy cousins who never remember her birthday. Nevertheless, our strong female lead throws herself a mini birthday celebration every year with a pot of miyeok guk!

It's a Korean tradition to have seaweed soup on your birthday. This is because expecting mothers in Korea consume seaweed soup during their pregnancy — which also makes it the babies' first meal! Koreans consume seaweed soup on their birthdays as a way of giving thanks. Follow this easy miyeok guk Korean recipe below — treat yourself to this heartwarming dish even if it's not your birthday!

Prep time: 15 minutes
Cook time: 30 minutes
Servings: 3-4
Recipe Ingredients:
15g dried seaweed

120g beef chuck, sliced

¼ tsp fine sea salt

Few cracks of black pepper

1 tbsp sesame oil

1½ tbsp soy sauce

5 cups water

1 tsp minced garlic
Recipe Instructions:
Soak the dried seaweed in cold water for about 10 minutes to allow it to expand. Drain the water and rinse the seaweed several times under running water. 

Squeeze the water out of the seaweed and cut the seaweed into short strips. Then, set aside.

Next, marinade the sliced

NZ Riverlands Angus beef chuck tender

(available on

Hen Tick

) with salt and black pepper. Put this aside for use later.

Pre-heat a pot over medium heat. Add sesame oil, seaweed and beef to the pot. Stir-fry the beef in the pot until it's partially cooked. 

Add soy sauce, garlic and water to the mixture and stir together. Cover the pot and bring to a boil over medium-high heat. 

After about 15 minutes, check that the meat is fully cooked. Add some salt for flavouring and you're done with this easy Korean recipe!
6. Parasite — Jjapaguri with steak (ram don)
Even though Parasite isn't technically a Korean drama, there's no way we could miss out on this Oscar-winning Asian film — especially when it came to sparking a massive ram don craving!  If you have yet to watch it, the psychological thriller depicts the class inequality between the wealthy Park family and the penniless Kim household. The Kims infiltrate the Parks by offering various services for the family — as a tutor, art therapist, driver and housekeeper.

As a housekeeper, mum Kim Chung Sook is tasked to keep the house in order and also to cook for the Park family. One of the most iconic dishes shown in Parasite is jjapaguri with steak, also known as ram don. The dish appears at one of the most heart-stopping moments in the film — will the Parks discover the Kims' secret?! — and it is perhaps this thrill that adds to its mouth-watering qualities! Either way, this easy Korean recipe is made by mixing two types of instant noodles (Chapagetti and Neoguri) and topped with premium Korean beef.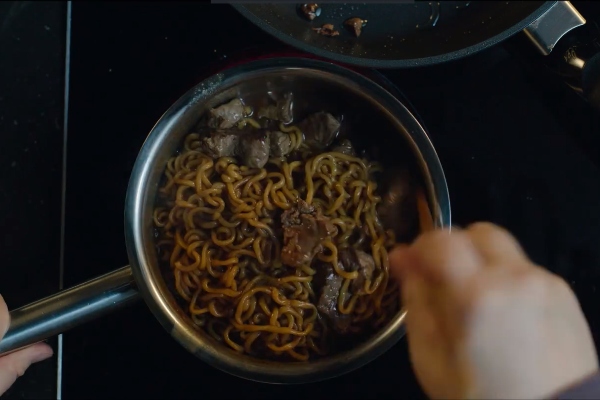 Prep time: 5 minutes
Cook time: 10 minutes
Servings: 2
Recipe Ingredients:
230g ribeye steak

Salt (to taste)

Pepper (to taste)

1 tbsp olive oil or butter

2 garlic cloves, crushed

1 pack Chapagetti instant noodle

1 pack Neoguri instant noodle

4 cups water
Recipe Instructions:
To recreate

Parasite

's ram don, start by slicing the

Hego beef ribeye steak

(available on

Hen Tick

) into bite-size pieces and season with salt and pepper 

Boil four cups of water in a medium-size pot

Pour olive oil or butter into a pan and let it gently heat up. Add the garlic cloves and let garlic slightly brown, before adding the steak. 

Pan-fry for a couple of minutes on each side, making sure to flip the meat from time to time for even cooking

Bring water in the pot to boil and add both the

Chapagetti

(available on

Sing Sing Mart

)

and

Neoguri instant noodles

(available on

threeflag.sg

). Scatter in the vegetable mix from both instant noodles and let the mixture boil for about three minutes. The noodles don't have to be fully cooked at this step.

Strain the noodles and be sure to keep the ramen water for later use

Add the dry noodles to the pan with the meat. Then, pour a cup of the ramen water into the pan.

Cook the mixture on the pan over medium heat. Add the whole packet of Chapagetti sauce and slightly more than half of the Neoguri sauce to the mixture. 

Stir the mixture for about a minute or until the sauce becomes slightly thicker and is evenly distributed on the noodles. Add more ramen water if necessary. 

Remove the pan from the stove and pour in the oil packet from the Chapagetti instant noodle to complete this easy Korean recipe. Nothing will beat eating your homemade ram don while rewatching

Parasite

— so put it on and dig in!
7. Strong Woman Do Bong Soon — Bibimbap (Korean mixed vegetable rice)
Whoever said girls are weak and frail surely hasn't watched Strong Woman Do Bong Soon yet!  Do Bong Soon is here to change this stereotype for females! In this K-drama, Bong Soon possesses superhuman strength despite her petite frame and is employed as a bodyguard for the rich CEO, Ahn Min Hyuk. When Min Hyuk shields Bong Soon and gets stabbed during a gang fight, Bong Soon rushes him to the hospital and cares for him.
Her family thanks Min Hyuk for saving Bong Soon by whipping up a huge pot of homemade bibimbap, but our poor male lead was denied the feast because he has yet to fully recover. 
Even though Min Hyuk failed to get a bite of the appetising bibimbap, it doesn't mean you have to hold back too! Recreate the Do family's inviting dish with this easy Korean bibimbap recipe — it's perfect for meal prep too!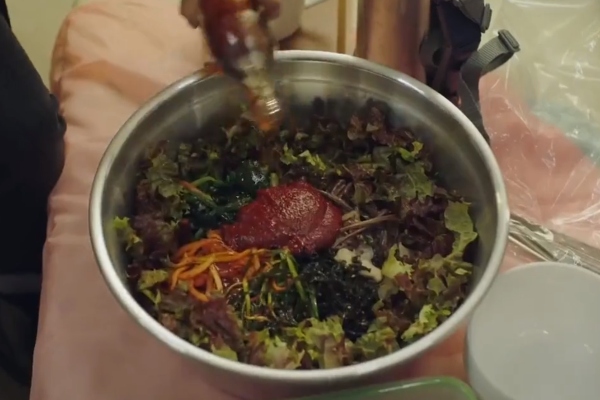 Prep time: 15 minutes
Cook time: 30 minutes
Servings: 2-3

Recipe Ingredients:
Rice
¾ cup short-grain brown rice

1¼ cups water

Pinch of sea salt
Veggies
3 tbsp sesame oil

1 cup finely shredded carrot

2 tbsp tamari

1 cup thinly sliced zucchini

1 cup spinach

2 cloves garlic, minced

1 cup bean sprouts

2 large eggs
Flavouring
2 tbsp Korean gochujang sauce

2 tbsp kimchi

1 tbsp toasted sesame seeds
Recipe Instructions:
Rinse the rice multiple times to ensure it's thoroughly cleansed

Add 1¼ cup of water, rice and salt into the

Happycall 18cm ceramic die cast saucepan

(available on

Happy Call Shop

). Heat over high heat to bring it to a boil. 

Then, reduce the heat to simmer and cover the saucepan with a lid 

Cook for about 20 to 30 minutes until all water is absorbed. The rice should be cooked and fluffy. Remove from heat and set aside with the lid still on. 

Next, heat the

Tramontina non-stick skillet

(available on

Tramontina Singapore Pte Ltd

) over medium heat. Once the skillet is hot, add a tablespoon of sesame oil to coat the pan. Sesame oil is the key ingredient to this bibimbap recipe as it gives the dish a nutty flavour and aroma.

When the oil is hot, cook the vegetables one type at a time until lightly browned. Season each with some minced garlic and a dash of

Health Paradise organic tamari sauce

(available on

Lifewinners Organic

). Put the cooked veggies aside.

Continue to heat the skillet over medium heat and add a little more oil to coat the surface. Crack the eggs into the skillet and cover with the lid for about a minute. 

Remove the lid and continue cooking until all the egg whites are cooked while the yolks are still runny. Set the sunny side ups aside. 

Place the rice into a

Korean stone bowl

(available on

BigSpoon Kitchenware

) and top with the cooked veggies and eggs. Pour two tablespoons of the

Chung Jung One sunchang gochujang paste

(available on

shopnca.sg

), kimchi and sesame seeds into the bowl and there you have it, a healthy yet easy Korean bibimbap recipe! Before digging in, mix everything together and chow down with big spoonfuls like the Koreans do!
8. Itaewon Class — Sundubu jjigae (soft tofu stew)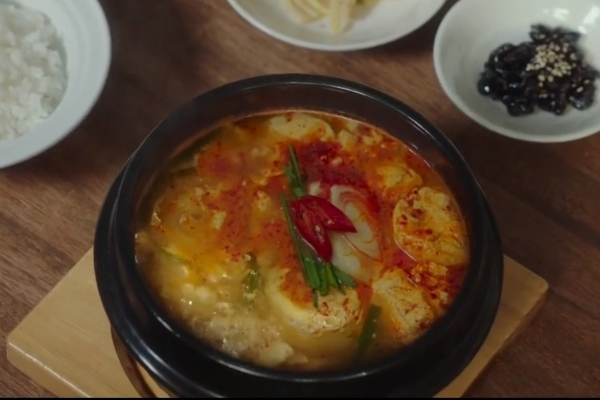 Park Seo Joon is back at it again with another hit asian Netflix drama, Itaewon Class! This time, he acts as Sae Ro Yi, an ex-convict who's determined to make his bar-restaurant in Itaewon (duh!) a success while he avenges his father's death. This action-packed drama is filled with many twists and turns but food is a key element in this show. One dish that stands out: Danbam's (Sae Ro Yi's bar) award-winning signature Soft Tofu Stew. It goes well with rice and the recipe can even be tweaked to suit vegans (eliminate pork, garlic and egg)!

Prep time: 10 minutes
Cook time: 20 minutes
Servings: 2
Recipe Ingredients:
340g silken tofu

⅓ cup sliced kimchi

85g pork

2 tsp gochugaru (Korean red chili pepper flakes)

1 tsp minced garlic

1 tbsp sesame oil

3 tbsp kimchi juice

½ tsp salt

1 cup water

A pinch of black pepper

1 scallion, chopped

1 egg
Recipe Instructions:
Start by slicing the

Churo pork belly

(available on

Hen Tick

) and

Bibigo Sliced Kimchi

(available on

Koryo Mart & K-Market

) into bite-sized pieces. Don't throw the can of kimchi away, you'll need the kimchi juice for later on.

Add the kimchi, meat, garlic, sesame oil and

Ommason gochugaru

(available on

Home of Quirky Funky

) into a pot over medium heat

Stir-fry the meat in the pot for about three minutes until it's almost cooked

Pour in one cup of water and three tablespoons of kimchi juice into the pot. Then, bring it to a boil for about four minutes. Use a spoon to remove the froth on the surface of the stew. 

Next, add big chunks of

silken tofu

(available on

GrocerKing Official Store

) into the pot. Sprinkle salt and pepper for extra flavour. Let the stew cook for five more minutes.

Before removing the pot from the heat, throw in some chopped scallions and crack an egg into the pot. Your sundubu jjigae is now ready to be served!
9. Weightlifting Fairy: Kim Bok Joo — Odeng soup (fish cake soup)
How often do you find a drama that revolves around the lives of female weightlighters? Weightlifting Fairy: Kim Bok Joo is an unconventional K-drama following Kim Bok Joo, a college female weightlighter who isn't popular among the guys because of her masculine energy. However, a fateful incident leads her to Jung Joon Hyung, a free-spirited college swimmer who takes a liking to Bok Joo's candidness.

As someone who eats a lot to keep up with her sport, Bok Joo can be seen gulping down an assortment of yummy food in various episodes. Needless to say, she's also a huge fan of Korean street food, which includes tteoboki and of course — odeng! Try out this easy Korean fish cake soup recipe, which Bok Joo extorts from Joon Hyung after he cancels on their movie date!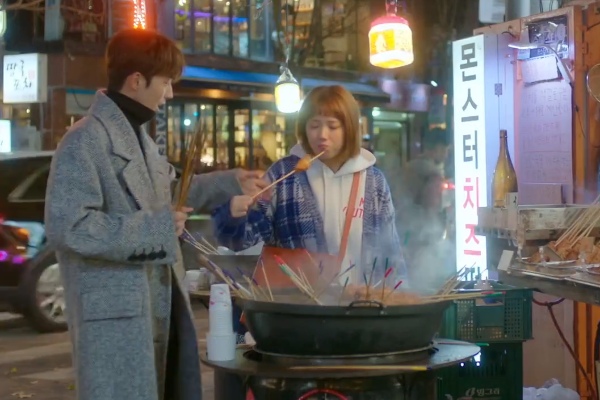 Prep time: 5 minutes
Cook time: 30 minutes
Servings: 2
Recipe Ingredients:
200g Korean fish cake sheet

30g green onion, sliced

1 tbsp soy sauce

1 tbsp rice wine

6 cups water

Cracks of black pepper

A pinch of fine sea salt

1 tsp minced garlic

10g dried kelp

30g dried anchovy, head and innards removed

100g white radish, thinly sliced
Recipe Instructions:
Put the anchovies in a

big stainless steel strainer

(available on

granty.sg

) and place the strainer into a large pot. Pour in the six cups of water and add the dried kelp. Boil the soup for about 10 minutes over medium heat without the lid. 

While waiting for the soup to cook, rinse the fish cake sheet with hot water to remove the oily coating on the surface 

Slice the fish cakes sheet into long strips and stick them through some

wooden skewers

(available on

fashionstorexx.sg

) 

Back to the soup, scoop and discard the kelp before adding the radish slices into the pot. Boil the radish along with the anchovy for another 10 minutes.

After which, take the radish out from the soup and set it aside. Remove the strainer. Sieve the soup by pouring it through a

linen cloth

(available on

yolandagoods.sg

) to eliminate leftover small particles. 

Next, add the radish back into the soup and keep the pot on medium high heat. Pour in some

Woh Hup premium light soy sauce

(available on

Lim Siang Huat Pte Ltd

),

Taiwan cooking rice wine

(available on

Food People

) and garlic. Once the soup is boiling, reduce the heat to medium. 

Now's the time to add in the fish cake skewers into the soup! Boil until they are soft and have completely soaked in the soup. Sprinkle some salt, pepper and green onions to serve! 
10. Descendants Of The Sun — Samgyetang (ginseng chicken soup)
Although the ship is no longer sailing for our beloved Song-Song couple, Descendants Of The Sun is still undeniably one of the most popular K-dramas of the decade. Song Joong Ki stars as the charming Yoo Si Jin, a captain of the South Korean Special Forces unit. He falls for the kind hearted Dr. Kang Mo Yeon (played by Song Hye Kyo) but fails to give time to the relationship due to his irregular work hours. However, the couple finds themselves both deployed on a peacekeeping mission in Uruk — the perfect opportunity to deepen their relationship!

During their stay in Uruk, Yoo Si Jin and his best pal, Sergeant Major Seo Dae Young tried to impress their respective love interests by cooking samgyetang! Samgyetang translates to ginseng chicken soup. While this invigorating Korean dish was a hit among the two female leads in the drama, it also became a worldwide sensation when fans of the series rushed to South Korea for an authentic taste of samgyetang! You can now enjoy all the health benefits of samgyetang with this easy Korean recipe.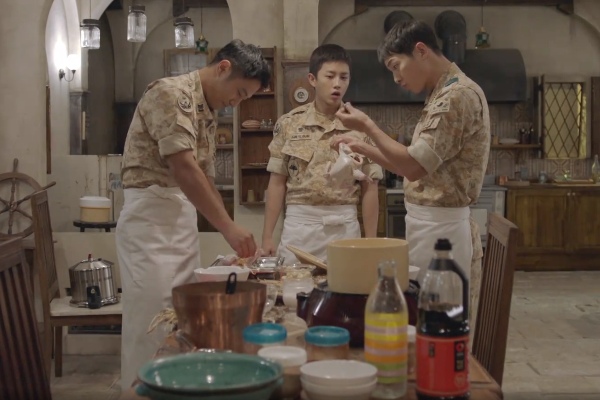 Prep time: 5 minutes
Cook time: 50 minutes
Servings: 3-4
Recipe Ingredients:
Broth
1.2kg whole chicken

1.5 litre water
Stuffing
¼ cup sticky rice, soaked overnight

1 Korean ginseng

4 peeled whole garlic cloves

5 dried red dates

4 peeled ginkgo nuts

4 peeled chestnuts
Flavouring
1 tbsp green onion, sliced

Fine sea salt

Ground black pepper
Recipe Instructions:
Start by washing the chicken thoroughly, both inside and outside, under cold running water 

Stuff the chicken with sticky rice, ginseng, garlic cloves,

Natural Brand Xin Jiang red dates

(available on

Natural Brand Trading

), gingko nuts and

Tong Garden chestnuts

(available on

tonggardensg

). This is the only tedious step in this otherwise easy Korean recipe!

To secure all the stuffing, cross the chicken legs and tie them together with a cotton string 

Pour the water in a large pot and place the stuffed chicken in. Boil the pot over medium high heat with the lid on for about 20 minutes. 

Thereafter, gradually reduce the heat until it reaches medium low and allow the soup to boil further for about 30 minutes until the chicken is fully cooked. Make sure to check that the stuffed sticky rice is fully cooked at this point. You can boil for even longer if necessary.

Skim off the froth on the surface of the soup 

All that's left is to serve the samgyetang and garnish with green onion slices! Pour some sea salt and black pepper into a saucer. This mixture is great as a flavourful dip when you're eating the chicken. 
11. Hotel Del Luna – Tteokguk – Korean Rice Cake Soup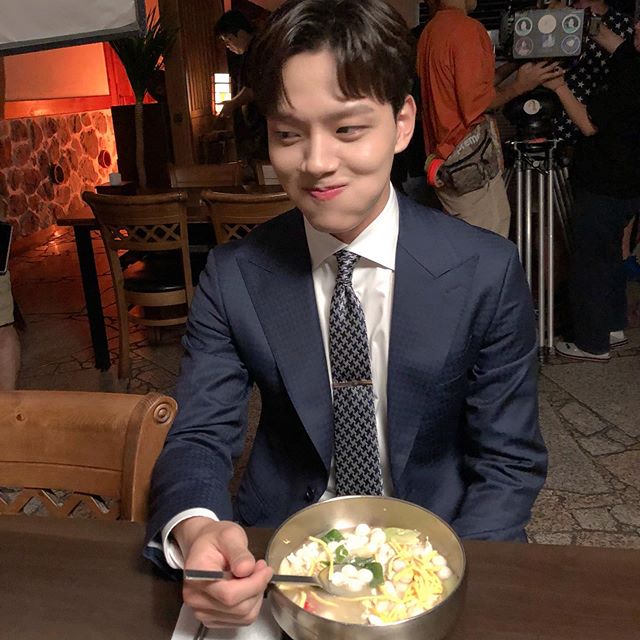 One of the most magical dramas of the 20th century, Hotel Del Luna features a supernatural hotel that serves ghosts! With Korea's sweetheart IU playing Jang Man-wol, follow her adventures with her hotel manager, Gu Chan-sung (played by Yeo Jin-goo). Due to a sin she committed, Man-wol's soul has been tied down to taking care of the hotel and its guests for years. Though she might look just a bit over 20, her actual age is over 1000 years old! One important aspect of their relationship is the need to feast on the best foods, which includes this classic yet satisfying dish of tteokguk.
This traditional Korean dish is commonly enjoyed on New Year's Day, and is believed to grant you good luck for the whole year. Plus, eating one bowl of tteokguk is said to symbolise the gaining of one year of age. Thus it's no surprise that Chan-sung raises a deal to eat as many rice cakes as possible to match Man-wol's age of over a millennium years old just so he can speak to her casually. Try this fuss-free recipe out if you're ready to welcome a year of good luck, or even figuratively grow a year older in an instant.

Prep time: 30 minutes
Cook time: 90 minutes
Servings: 3-4
Recipe Ingredients:
Beef Stock
500g skinless-fat less brisket
10 cups water
1 large onion
2 stalks green onion (just the white part, keep the green part for toppings)
10 whole black peppers
OR you could get a pre-ready beef stock or beef stock seasoning powder to cut your cooking time by half!
Main & Soup Sauce
400g Korean rice cakes for soup
1 Tbsp Korean Soy sauce for soup
1/2 tsp minced garlic
Fine sea salt
Toppings (optional, based on your personal preferences)
2 eggs
2 to 3 sheets of Korean roasted dried seaweed
1 to 2 stalks green onion (green part only)
Shredded cooked brisket
Recipe Instructions:
For making beef stock from scratch (otherwise, skip to 3):
1. Put the water, black peppers, onion and green onion into a large pot and boil on medium-high heat with a lid on. Once the water starts to boil, add the meat. Boil them on medium-high heat for a further 5 mins then reduce the heat to medium. Boil them further for about 50 mins.
2. Sieve the stock through a Cheese Cloth (available on jiamy1.sg). Discard the vegetables but keep the stock and the meat. Cool the meat down for about 10 minutes then shred the meat using a knife or hands. Season the meat with salt and sesame oil and set aside to cool.
3. Soak the Rice Cakes (available on Sol Mart) in cold water for 15 to 20 minutes to soften it.
4. While waiting for the rice cakes, prepare the Eggs (available on GrocerKing Official Store) for your topping. Separate the egg white and the yolk. Pan fry them separately at a low temperature with a little oil. Thinly slice them and set them aside.
5. Drain the water from the rice cakes
6. Boil the stock in a pot on medium-high heat and bring it to a boil. Once it is boiling, add the minced garlic, soy sauce and rice cakes. Cook the rice cakes for 2-3 minutes till they are softened but be careful not to overcook them as they can turn mushy
7. Serve the soup in a bowl and garnish with toppings!
12. Rooftop Prince – Omurice – Omelette Rice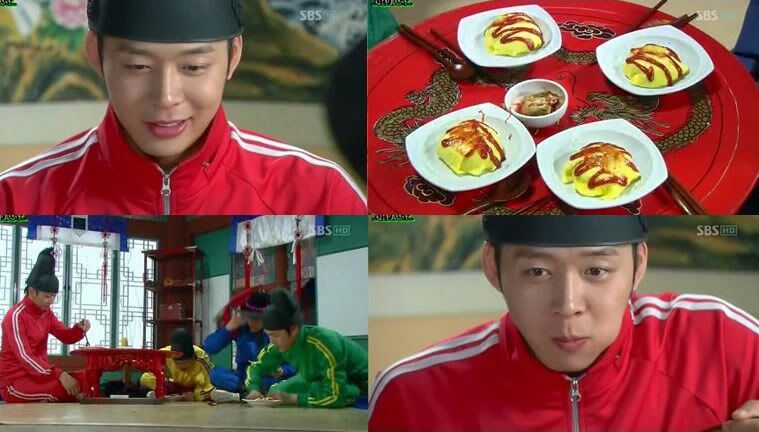 A classic K-Drama that won the war for Best Korean Drama in the year it was released, Rooftop Prince is a drama that combines romance, comedy and the fantasy of time travel into one exciting show. With four men from the Joseon era appearing in modern times, they were extremely fascinated when they were served the dish of Omurice! Omurice is known as a modern fusion of western and Asian cuisine that is surprisingly popular in Korea. Indulge in the tangy flavours of this dish that is incredibly easy to whip up!

Prep time: 5 minutes
Cook time: 25 minutes
Servings: 2
Recipe Ingredients:
1/2 medium onion
1 scallion
Oil for pan frying
1 small carrot
4 eggs
113g meat of your choice – beef, pork, chicken or shrimp
1 tablespoon soy sauce
2 servings of cooked rice
1-1/2 tablespoon ketchup
Salt and pepper
Recipe Instructions:
Prepare the onion, scallion, carrot and meat by finely chopping them
Pour 2 tablespoons of Tsuru Sunflower Cooking Oil (available on S-Mart) to a large non-stick frying pan and heat it over medium-high heat.
Add the onion, scallion, carrot and meat to the pan. Then, stir fry until the onion turns soft and the meat is cooked through. Stir in 1 tablespoon of soy sauce, add salt and pepper to taste.
Reduce the heat to medium and add the rice. Stir well till clumped up rice is broken and all ingredients are well combined. Add 1-1/2 tablespoon of ketchup and salt and pepper to taste, and continue to stir until the ketchup is evenly incorporated into the fried rice. Transfer to plate if using the same pan for the egg.
Crack and beat 2 eggs in a bowl with a fork. Stir in a pinch of salt. Heat a lightly oiled small non-stick pan over medium-low heat. Add the egg mixture to the pan and swirl it around to cover the pan.
When the bottom is set but the top still runny, turn off the heat and add on serving of the fried rice in the middle of the egg omelette.
Using a spatula, fold both sides of the omelette over the rice. Push the whole omurice to the side of the pan.
Once that is done, flip it onto a plate if desired. You can also shape the omurice by hand using aluminium foil or a paper towel. Repeat the last 3 steps for another serving.
Drizzle some ketchup on top and tuck in!
Discover a whole new world of flavours
We hope you had fun making these easy Korean recipes! If you have no time to recreate recipes like bibimbap, samgyetang or nurungji, we suggest you give these quick and simple air fryer recipes a try! More into baking? Check out our Mother's Day cake recipes which can be easily altered to suit any occasion. Don't leave your little ones out of all the kitchen fun! Get them involved with these kids-friendly baking recipes this stay home period.
This article was updated on 25 July 2022. Additional research done by Liang Shi Nan.