Getting those hunger pangs while working from home? There's nothing that comes quite as close to heart-warming food like Korean army stew or the ubiquitous Korean fried chicken. Instead of making an in-store reservation or pandering to your friend's numerous requests, why not get the food delivered to your heart (and tummy's) content? From Korean BBQ to Korean fried chicken delivery, we've scoured our tiny red dot for the best Korean restaurants worth ordering from.
Best Korean fried chicken delivery
1. Chicken Up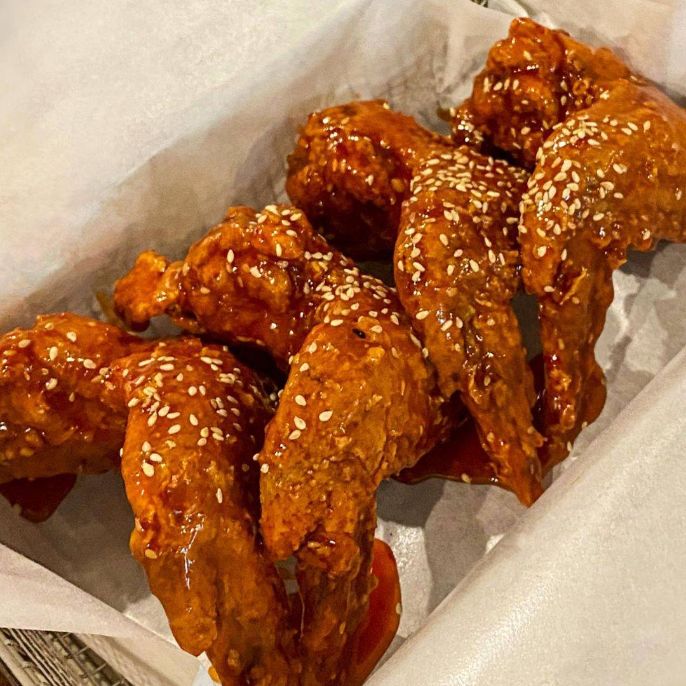 Whether you decide to go for their soya, spicy yangnyum flavour or the non-spicy yangnyum fried chicken flavour, your Korean fried chicken experience will definitely be elevated at Chicken  Up. The chicken wings are marinated for 12 hours, in the original Chicken Up recipe before being deep-fried to golden brown perfection. This Korean spot does serve up a variety of main rice and noodle dishes but the bulgogi fries and spam rice balls got us salivating. If you're not in the mood for a carb-heavy lunch, then this Korean food delivery spot might just be the spot to hit up!
Order from: GrabFood, Foodpanda, Deliveroo
2. Kko Kko Na Ra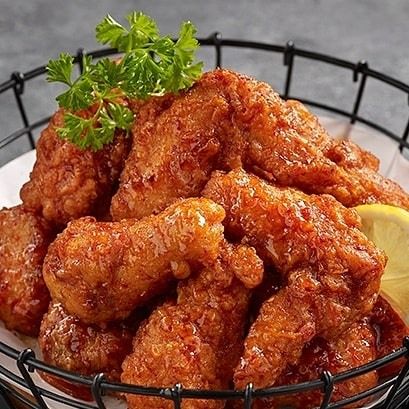 Kko Kko Na Ra is touted to be one of the original places in Singapore to started serving Korean fried chicken — their fried chicken comes in six different flavours from original to soy garlic, yangnyum (sweet & spicy), spicy garlic, cheese sprinkle and honey shiock. Psst, there's even a new mala flavoured fried chicken! Can't decide? Go for the Combo Chicken set to try three out the original, garlic and yangnyum flavours. Apart from fried chicken, you can also dig into Korean pancake, noodles like ramyun or bimbab. For their sheer variety of menu choices, this is definitely one Korean fried chicken delivery place you'll keep coming back to.
Order here
3. Oven & Fried Chicken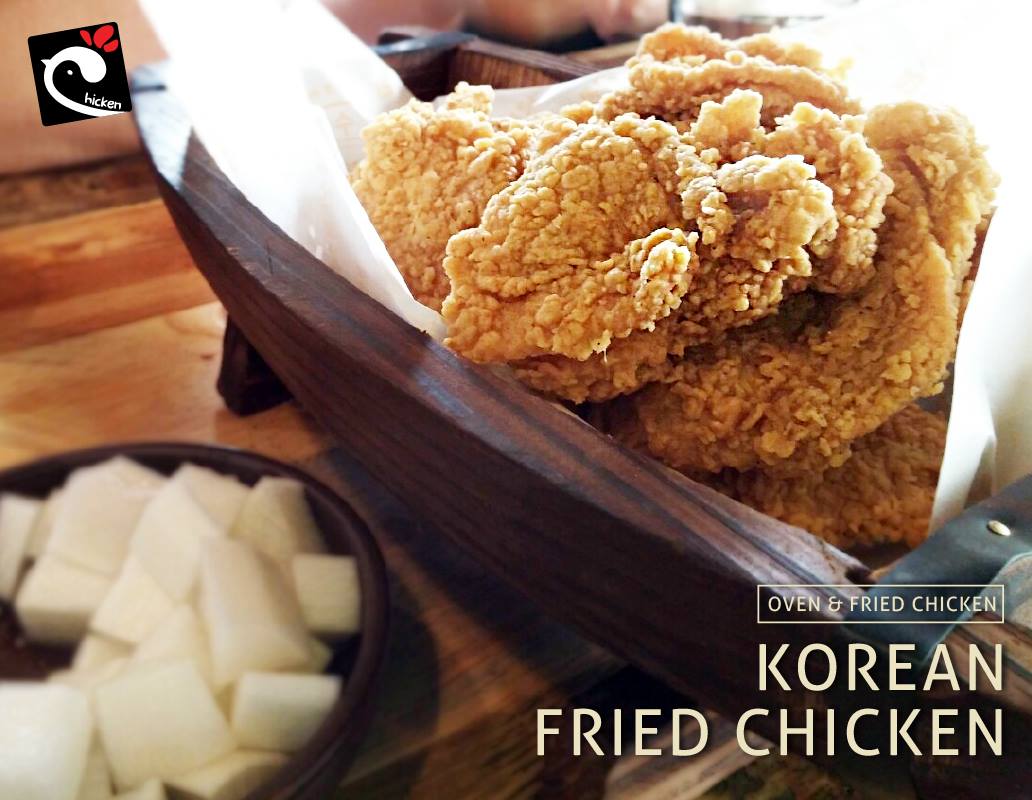 Oven & Fried Chicken plates up Korean-style baked and fried chicken and is one spot to hit up if you're watching your waistline! The chicken here is made from wheat flour instead of regular flour, which makes it more crispy and less oily. From healthy-grill roasted chicken to crunch chicken (cooked without oil) and fried chicken (using rice flour), this is the best Korean fried chicken delivery to order from if you want to indulge guilt-free.
Order from: Deliveroo, GrabFood
4. Jinjja Chicken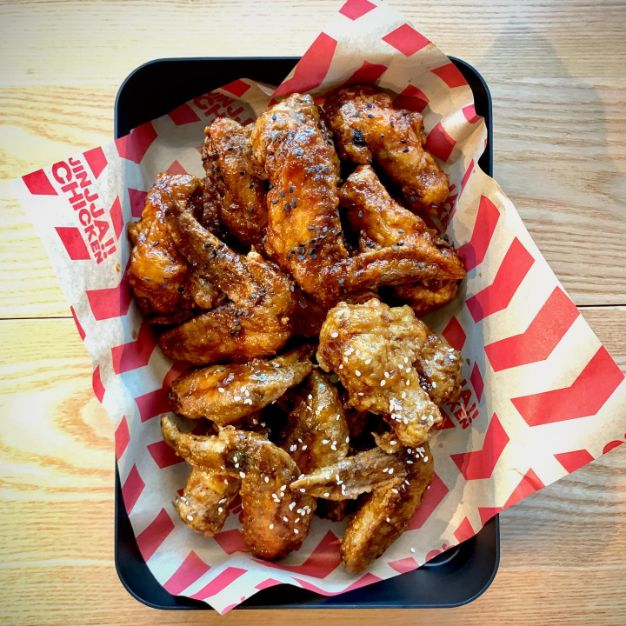 Enjoy your weekly dose of Korean fried chicken delivery from Jinjja Chicken. Choose from the fried chicken generously doused in three sauces —  from soy garlic and tangy yangnyeom flavour to the monster hot spicy sauce. Can't decide? Go for the Jinjja Mini Bang Combo (2-3 pax) that consists of 18 pieces of wings (you can mix up the sauces!), chicken kimbap, Kpop chicken (popcorn chicken), fries, mozzarella cheese stick and three soft drinks! Going for the spiciest sauce? Be sure to grab a chilled beer to cool the heat in your mouth. 
Order from Oddle, Foodpanda and Deliveroo
5. Twins Restaurant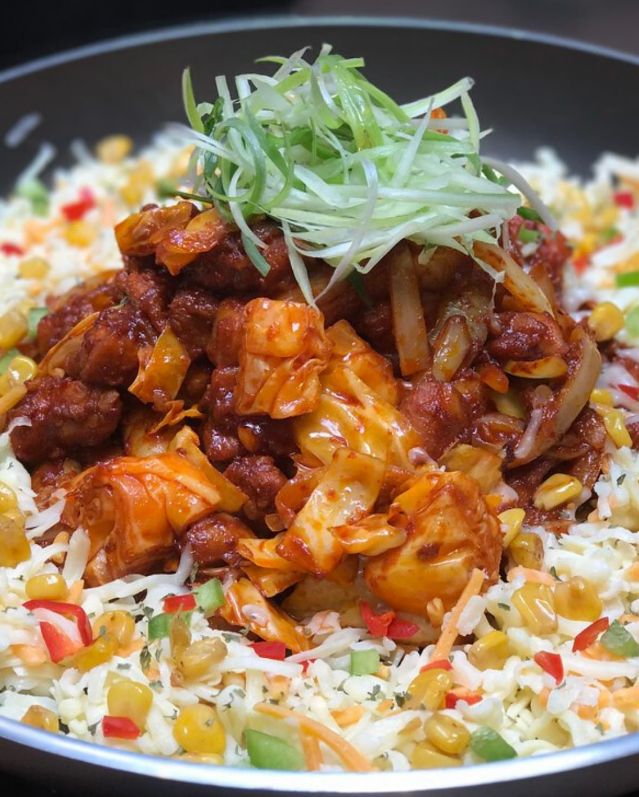 Spicy chicken BBQ with cheese anyone? The super tantalising dish (pictured above) is what fried chicken dreams are made of. Cooked with boneless stir-fried chicken and rice cake with Korean chili paste and cheese topping, this lunch option will keep you motivated to work through the day. Other spicy fried chicken options include soy and lemon kkanpunggi, spicy chicken BBQ and spicy dakgangjung. Aside from the fried chicken, you can also order hearty meals from this Korean food delivery spot. From soup to Japchae lunch noodles and Korean street food, there is something for everyone! 
Order from Foodpanda or WhatsApp 9006 3875 to order
Best Korean BBQ food delivery
6. 8 Korean BBQ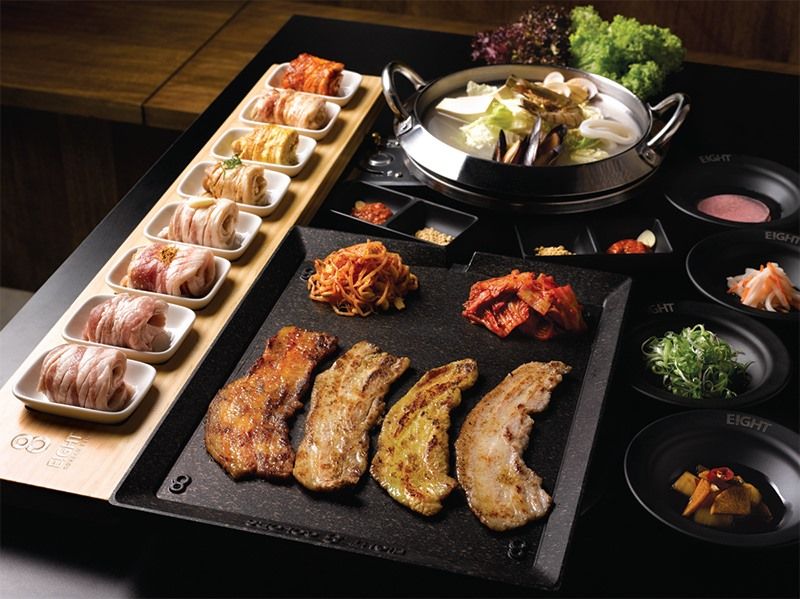 Isn't there something just comforting about indulging in a warm BBQ with friends? But sometimes, it's even nicer to have it at home. 8 Korean BBQ offers Korean BBQ delivery straight to your doorstep. Choose from their 8 Colours Set ($98) – pork belly slices in eight different flavours from wine to herb and garlic. These will be delivered cooked but you can indicate if you want it raw. Apart from that, you can also enjoy succulent Japanese wagyu ($88), prime short rib ($42) and pork jowl ($28) along with stews, kimchi fried rice and even vegetarian bibimbap ($18) for your vegetarian friends.
Min spend of $80 for free island wide delivery. $15 flat rate will be charged for orders under $80.
Order from here
7. Don Dae Bak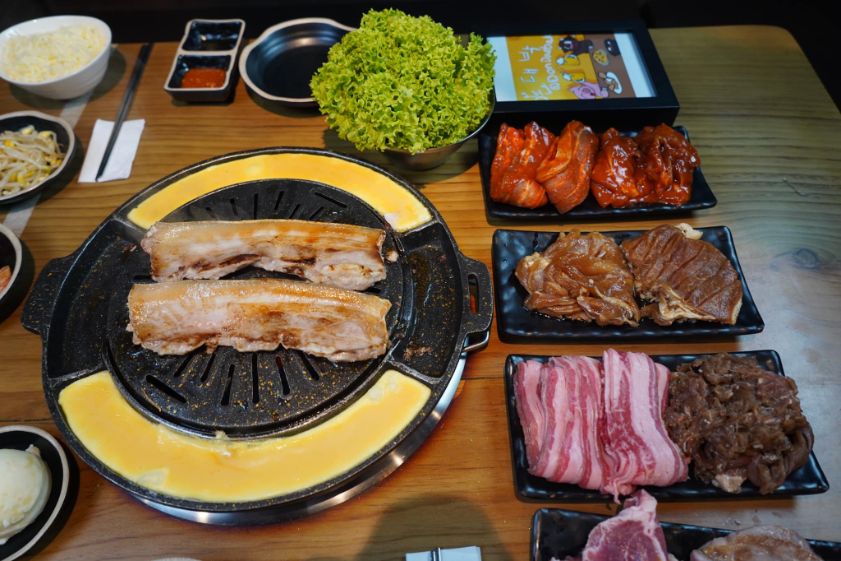 Don Dae Bak is a popular Korean BBQ haunt in Singapore with several of its outlets packed on Fridays through to the weekend. But you can also bring the party home if you order from this Korean food delivery restaurant. Choose from anju (or food that's consumed with alcohol) — options include bul jokbal (pork hocks) and sulguk (Korean pork sausage in a spicy paste sauce soup). Hot pot fans can also rejoice with options like Gamja Tang — a pork back bone stew or Dalgbokkeum Tang — spicy sauce chicken stew. Both stews come with potatoes, vegetables and glass noodles. But of course, if you want to barbeque the meat at home, then order their raw cuts from beef to pork and chicken sets — suitable for two to three persons. Just be sure to have a trusty electric grill at home. Otherwise, they also deliver their meats, cooked.
Order from GrabFood, Foodpanda
Best Korean food delivery for stews
8. Big Mama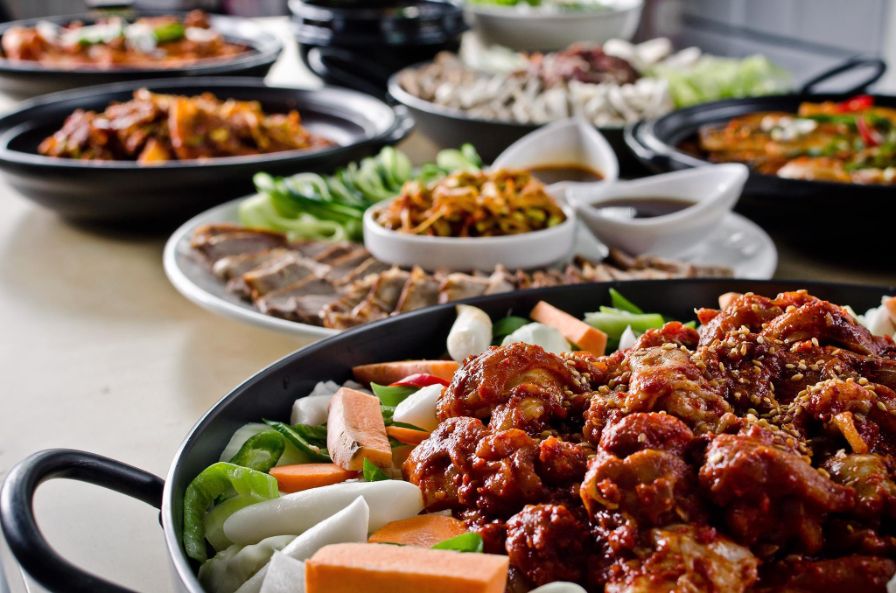 Looking for authentic Korean fare? It doesn't get more bona fide than at Big Mama. Owner, Candy Namgung Ji Yang, incorporates the use of sauces and marinades used by her own mum! There is also a strict no-MSG policy at this Korean food delivery spot in Singapore so you won't have to worry about it being too oily or unhealthy. Choose from sharing options like dakgangjeong ($35) and budae ($35) to single portion meals like suyuk or pork belly slices ($25) and pork bulgogi ($15). Calling your friends over for cards or boardgames night? Order from their best seller set menu which includes hotpot (Jeongol) and sharing dishes (hotpot sets start from $120).
Free delivery for orders over $100. Additional packing fee involved for delivery.
Order from here
9. SBCD Korean Tofu House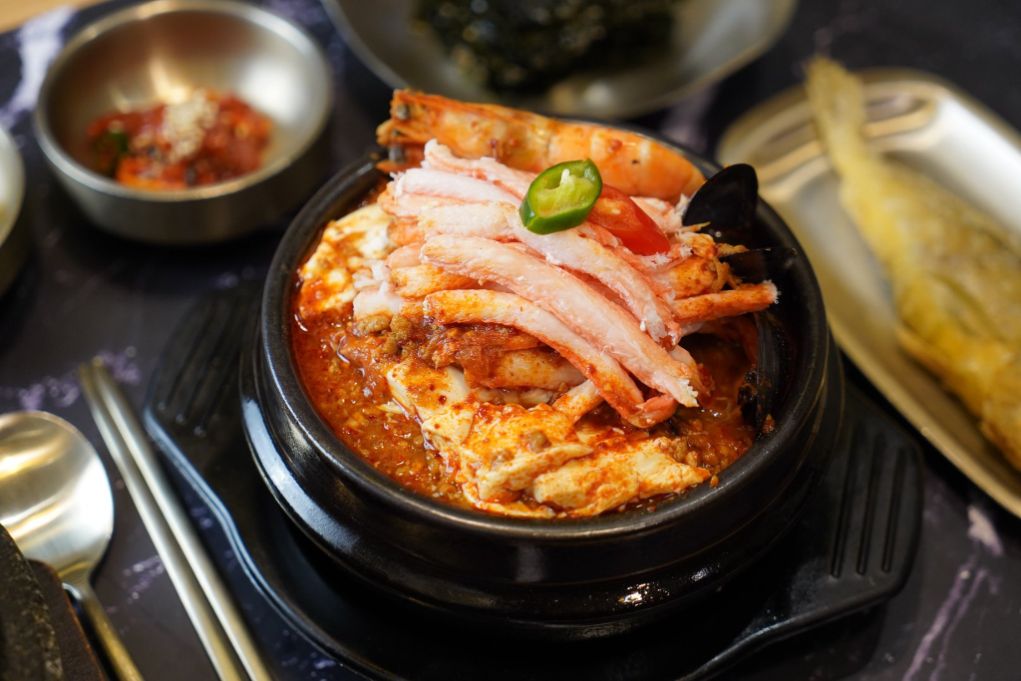 Craving for something warm and comforting? You can't go wrong with the tofu stews from SBCD Korean Tofu House. You'll be spoilt with a range of flavours like the original beef soontofu, pork soontofu and dumpling soontofu. Soontofu refers to the bubbling stews with silken tofu and strips of meat or seafood. It comes served with three side dishes, fermented squid, pickled cucumber and kimchi. Otherwise, their combo meals come with a smaller sized soonofu and mains. The bulgogi combo spicy baby octopus combo caught our eyes. The combo also comes topped with an egg and includes one bowl of rice that'll make for a wholesome lunch.
Order from GrabFood and Foodpanda
10. Huluruk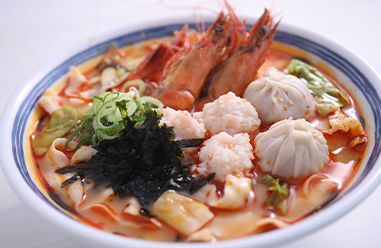 Are you a fan of myeon (noodles) soup? Then you've got to try Huluruk — known to dish out slurp-worthy bowls of Korean handmade noodles. The recipe is inspired from Halmuni (Grandmother) Song who started selling myeon soup in 1945, after Harabuji (Grandfather) Song returned from World War II. You can look forward to slurping on Signature 3 Treasure noodles and flower clam noodles among other soup noodle options. Choose between kalguksu (knife noodle), sujebi (flat noodle) or bap (rice) to go with your soup base. If you're not in the mood for a soupy noodle then go for other signature noodles like jjajang myeon and jjampong noodles alongside their yummy ramyeon varieties. Alongside that, you can also expect volcano fried rice, bibimbab and Korean steam dumplings.  
Order from GrabFood and Foodpanda
11. Muk Bang Korean Restaurant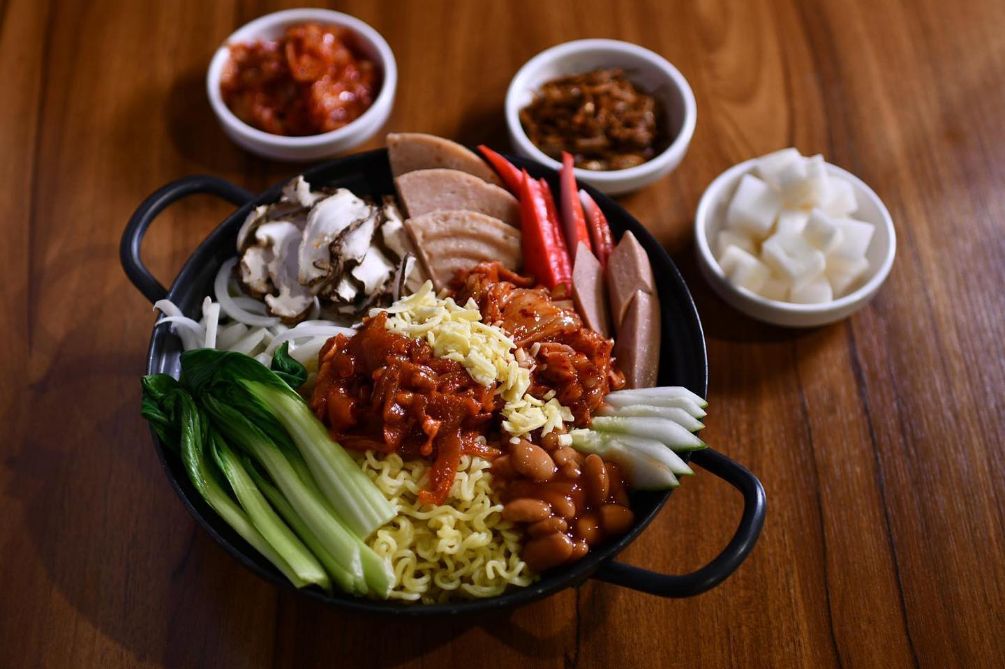 Muk Bang Korean Restaurant is one of the few halal-certified Korean restaurants in Singapore! This restaurant specialises in budae jjigae (or army stew) — a portion is good for three to four people. The pot comes with chicken, crabmeat, chicken luncheon meat, rice cake, chicken hotdog, baked beans, noodles and vegetables. Apart from that, you can also order their set menus, rice or noodle dishes — the beef and clams ramyeon and chicken jajangmyeon hold up well for takeaway too, making this one of the top Korean delivery places in Singapore!
Order from GrabFood
Which Korean food delivery spot are you going to hit up first?
Don't forget to check out GrabFood and Foodpanda vouchers with us before ordering in! Alternatively, if you want to prepare your own feast at home, why not organise a hotpot gathering — we've got the freshest meats and vegetables to help you along to prepare a scrumptious feast!