Firm believer in the adage 'you are what you eat'? If you're a dog owner, you'll want to give your furkids the best dog food so they grow up strong and healthy! With so many brands out there, we won't blame you if you feel overwhelmed as a new dog owner. So we've done the legwork and research on what are some of the best dog foods to feed your pups, from hypoallergenic dog food to wet dog food topper. Check out our list here!
What are the different types of dog food?
Dry dog food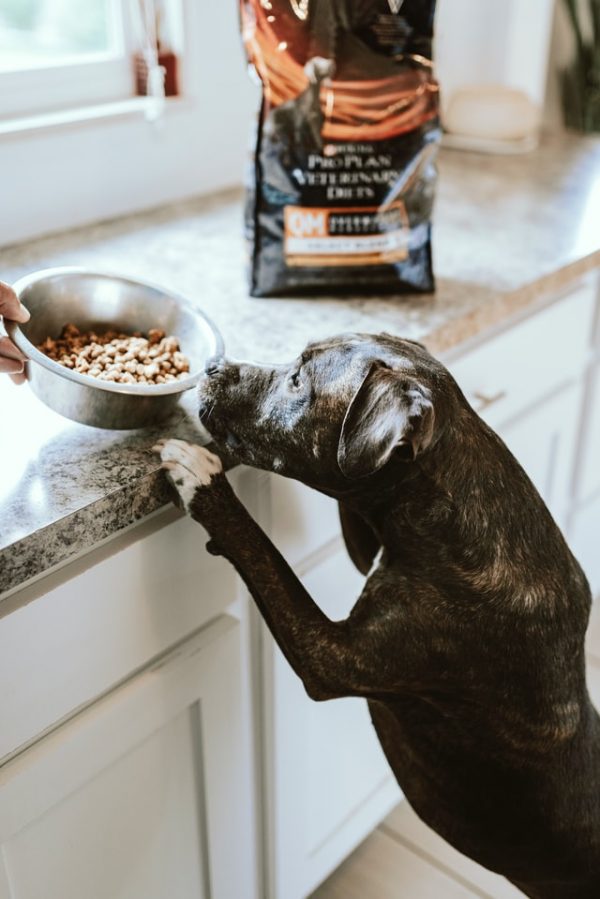 Dry dog food (or kibbles) is a common option among dog owners because of two reasons. Firstly, they're easy to store and have a long shelf life — meaning you can stock up on them without worrying about missing their expiry date. After opening the airtight packaging, you can easily serve it to your hungry furkids without hassle. Additionally, if you're on a tighter household budget, kibbles are the best dog food because they're affordably priced and include the necessary vitamins to nourish your dogs. Wondering what brands you can consider? Here are some of our picks.
Best dry dog foods brands
1. Absolute Holistic Air Dried Dog Food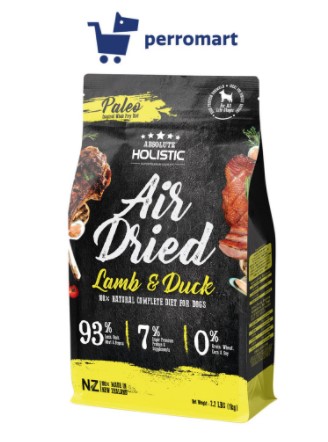 Heard of how a paleo diet can improve the overall well-being of your dog? From increased energy to reducing inflammation, the paleo-based Absolute Holistic Air Dried Dog Food (available on perromart) is certainly worth adding to your dog's diet! With premium protein ingredients like lamb and duck making up 93% of Absolute Holistic's dog food, you'll be getting your money's worth for your furkids. To seal the deal, each piece features a jerky-like texture that your dogs will enjoy chewing through!
2. Pedigree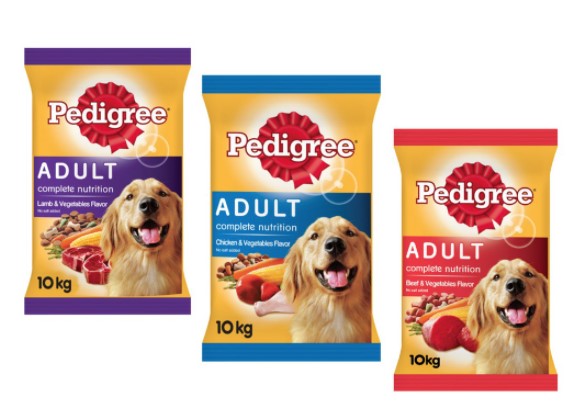 Shopping for the best dog food while on a budget? Get the most bang for your buck with Pedigree Dry Dog Food (available on CESAR and SHEBA Official Store). Interestingly, Pedigree was one of the first to make feeding convenient and affordable with their easily dispensible pellets. You won't find any fancy marketing here — Pedigree's dog food gets straight to the point by giving your canines the energy they need with its easy-to-digest formula and comprehensive nutrition.
3. Wishbone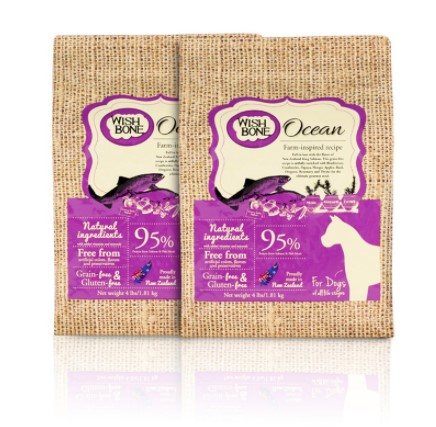 From free-range lamb to cage-free duck, Wishbone Dry Dog Food spares no expense in offering vibrant flavours and extra nutrition. Wishbone's Ocean (available on Pet Pantry Official Store) comes out tops as one of the best dog foods because of its inclusion of nutrient-rich king salmon from New Zealand. Thanks to the abundance of omega fatty acid and vitamin B, your furry friends are guaranteed a hearty feast with each meal. Did we also mention the mix includes superfoods? Yup, flax seeds and blueberries are thrown in so your dog will enjoy improved digestive health and reduced risks of heart disease!
4. Burp!
If you're curious about the benefits that hypoallergenic dog foods can bring to the table, give Burp dog foods a try! Essentially, hypoallergenic dog foods involve protein that have been hydrolysed. This makes the allergen present in foods undetectable for your dogs, resulting in fewer odds of an allergic reaction! If we had to pick one among these best dog foods, we choose the allergen-free recipe present in Burp's Hypo Lamb With Salmon (available on Pet Lovers Centre Official Store). By combining New Zealand lamb with salmon and adding in doses of prebiotics and omega 3 vitamins, your furkid is guaranteed a healthy and scrumptious meal!
Wet dog food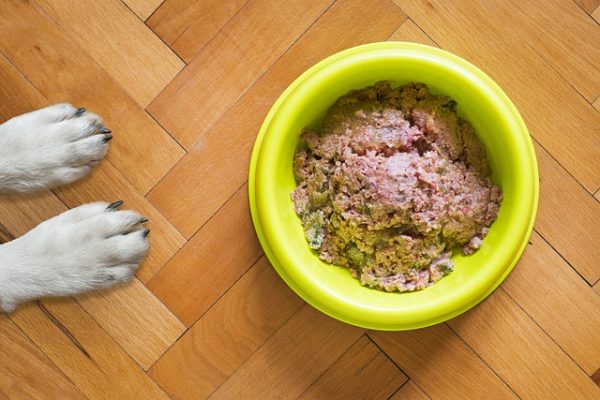 As an alternative to their dried counterparts, wet dog foods are the go-to choice for dogs who prefer their meals to be more well-balanced. Compared to other best dog foods, wet dog food trumps competitors with its higher protein and fat levels! Also, if your canine is on a diet, set them on a wet dog food meal plan. Due to its high moisture content, each serving can make your dog feel fuller and help them cut their food intake.
Best wet dog food brands
5. Cesar Wet Dog Food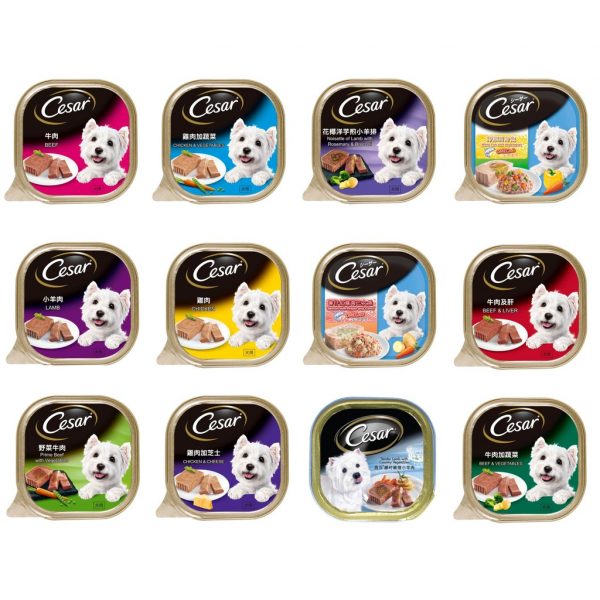 The best thing Cesar's dog food has going for itself is its variety of tasty flavours. From roast turkey to whitefish, there's 24 different choices for your pups to chow down on. Is your pooch a picky eater? They'll certainly adore the superior taste of Cesar Wet Dog Food (available on CESAR and SHEBA Official Store). By using it as a complementary topper or consuming it on its own, Cesar's Wet Dog Foods adds that zing that'll make any doggie's meal a scrumptious one.
6. Wellness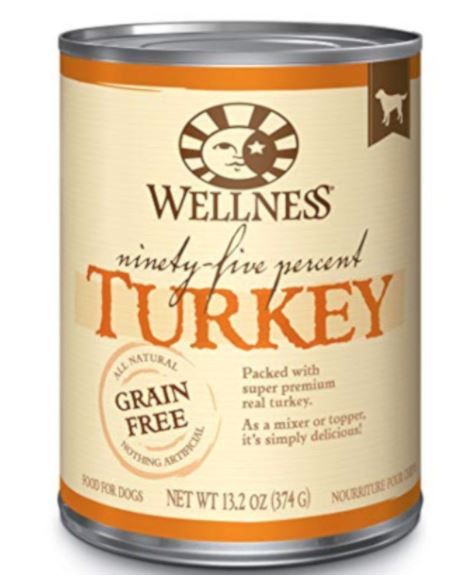 Tired of wet dog foods padding out their caloric content with fillers like soy or wheat? Wellness dog food keeps its products grain and artificial preservative free so your furkid enjoys an all-natural, high protein meal. Owners also need not be concerned about suspicious dog food quality as you'll find nothing of that sort here. Wellness Turkey (available on Pet Lovers Centre Official Store) is one of the best dog foods as they responsibly name their protein sources and keep it free of undesirable by-products.
7. Little BigPaw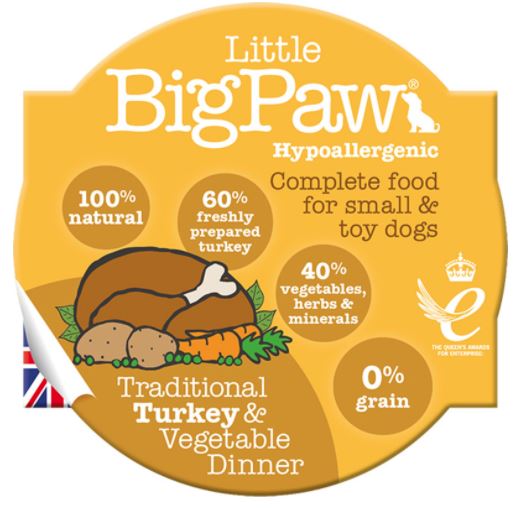 Just like how we can be allergic to dairy or peanuts, dogs can also have their allergies triggered by specific ingredients. That's where Little BigPaw dog food comes in handy. As one of the best hypoallergenic dog foods for smaller dog breeds, Little BigPaw Pot Dinner (available on Pet Lovers Centre Official Store) provides safe and tasty meals for your pooch. This is thanks to its 100% traceable ingredients that includes named sources of turkey and other lean meats. The end result is a nutrient dense and allergen-free meal for your dogs to enjoy!
Raw dog food
Want to serve up the ideal meal for your pooch? Give raw dog food a shot! From dehydrated proteins to frozen cuts, raw dog foods are considered the premium option because of their meaty aroma and genuine flavour. While it might require some extra meal preparation, your dog will thank you in the long run as each meal comes jam-packed with nutrients and flavour!
Best raw dog food brands
8. Instinct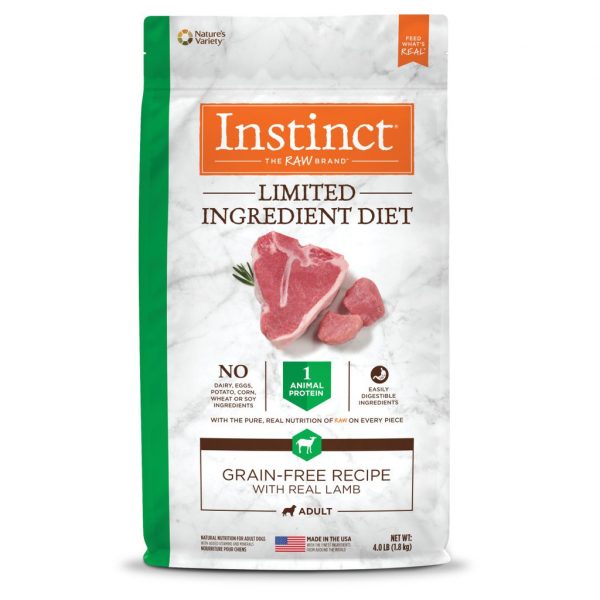 If you're puzzled when it comes to shopping for hypoallergenic dog foods because of the complicated ingredient list, you're not alone! To demystify the comparison process, Instinct dog food keeps things simple with its simple ingredient list. For example, the Instinct Limited Ingredient Diet Lamb (available on Instinct Pet Food) lists its sources for a single animal protein and vegetable, in this case being grass-fed lamb and peas. Ultimately, this makes it easy for owners to study the labels and understand what goes into manufacturing the best dog foods!
9. The Grateful Pet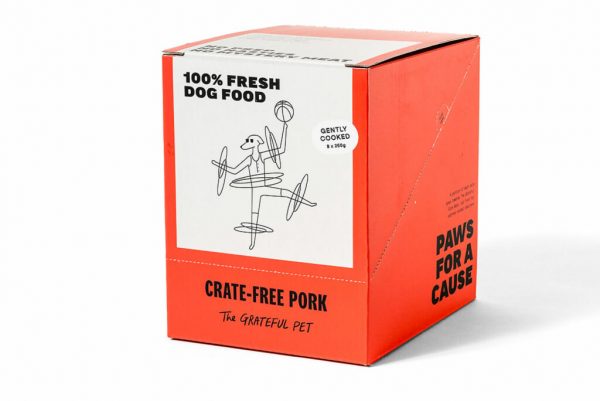 Does your pup have a sensitive stomach? Try The Grateful Pet dog food — a brand that specialises in catering to your pup's dietary preferences. By gently cooking the food at 80-degrees celsius to retain nutritional value and adding in nutritious ingredients like wolfberry and zucchini, it's safe to say The Grateful Pet certainly has your dog's welfare at heart! Their Crate-free Pork (available on The Grateful Pet) features premium ingredients and is 100% natural so you can take heart in knowing that your puppers are enjoying their meal.
Bonus: Furry's Kitchen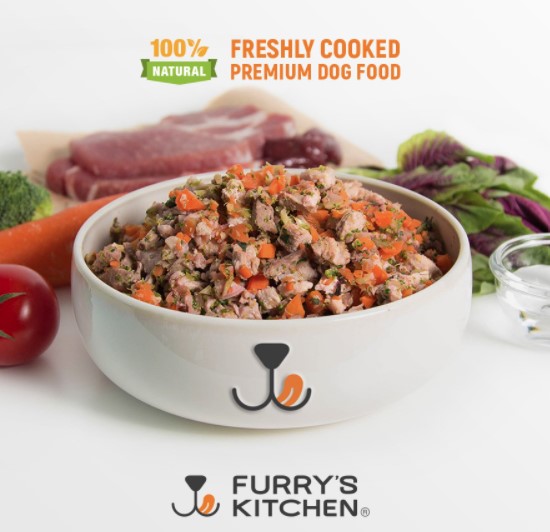 Always wanted to take to the kitchen to prepare some homecooked dog food for your pups but worried about dietary requirements and food safety? Enter Furry's Kitchen dog food — the service dedicated to delivering fresh meals for your dogs. With its strict no preservatives and additives policy, food like their Pork & Broccoli (available on Furry's Kitchen Official Store) gives your dog access to foods with the best nutritious value. With all this into consideration, it's no wonder Furry's Kitchen remains such a popular brand as dog owners sign up for their assorted subscription package! This plan grants you 14 different packs of fresh dog food goodness that include duck and potato alongside lamb and pumpkin.
Serving up a feast with these best dog foods
From hypoallergenic dog foods to the best kibbles for maximum convenience, explore the different dog food and treats to make mealtime a joy for your dogs. Interested in whipping up something on your own? Read this guide to easy homemade pet food recipes! Alternatively, you can also check out these dog friendly pet cafes in Singapore to bring your canines out for a good spread.